Established 1996 -- Celebrating Our 25th Year

Wed. 4/10/13

U14 Nationals Review
As players get older and move up to the U16 and U18 levels the cream of the crop gets skimmed off, with many of the top players moving on to the NTDP, USHL, prep schools, and major junior teams. Fortunately, all kids pass through U14s, so the skill level is both high and, due to its youth, rapidly developing. It's fun to watch, and we here at USHR were fortunate to be in Pittsburgh over the weekend watching the U14s compete at Nationals. For us, it was also a second look at an age group -- the '98s -- that we had seen back in November at the Nike Bauer Invite in Chicago. Despite observing the phenomena for years, we always get slightly taken aback at how much kids, right in the thick of physically maturing, can improve from October to April.
To start with, some general observations:
-- Honeybaked and Shattuck-St. Mary's were both really good. While there were a lot of fine teams here, those two squads were on an entirely different level. Each could wind up moving ten or more players on to D-I or major junior hockey -- possibly more, as we may well have overlooked some elite players playing a limited role, kids who, on a weaker team, may have really stood out. As expected, these two teams met in the final, with Honeybaked coming out on top, 3-2.
-- The '98s, unlike the '97s, are deep in the net. NTDP goaltender coach Michael Ayers is going to have his hands full when it comes to picking the top two goalies. The 2014-15 U.S. Under-17 team will likely be built from the net out.
- - Last season, the Wilkes-Barre/Scranton Knights won the U14 title with an all-star team of players from all over the globe, principally Russia. This season's winner, Honeybaked, did not import any foreign talent, but it wasn't exactly Team Michigan either -- not by a long shot. For a chance to star on the powerhouse Honeybaked team, many of the key players had relocated to Michigan from elsewhere in the U.S. We think this trend is going to continue until USA Hockey puts its foot down. Today, teams comprised purely of local talent do not have a chance to win Nationals. That's a shame.
-- Of interest to our base of readers in New England is Shawn McEachern's East Coast Wizards squad. McEachern, who coaches Rivers in the winter, had a handful of his talented young players here. They can play -- and the Weston, Mass. prep school is an up and coming program that will be competing for a New England title in the not too distant future. Also, Belmont Hill and St. Sebastian's had some very good players playing on their freshman teams this winter, and a number of them were here as well. We can tell you right now that all these players will be making an impact at the varsity level next season.
-- In total, there were 12 teams at the U14 level, and five of them were coached by former NHL players: Shawn McEachern (East Coast Wizards), Adam Foote (Colorado Thunderbirds), Pat Peake (Honeybaked), Patrik Stefan (Anaheim Jr. Ducks), and Matthew Barnaby (Buffalo Regals).
Here's how we ranked the players:
1. Patrick Khodorenko, F, '98 (Detroit Honeybaked) — The San Jose, California native plays on a deep, strong, and talented team – and he really stands out. Is dangerous at all times and is able to be both a formidable scorer and passer. Posted three goals in each of his first two games, and assisted on all three of his team's goals in a 3-2 win over Shattuck in the championship game. If we were to hand out an MVP award it would go to Khodorenko who posted a 7-8-15 scoring line in just six games played. Our only knock on the lethal forward is that he does have some earmarks of an early developer as he stands about 5'10" and is stronger than most of his peers.
2. Clayton Keller, F, '98 (Shattuck-St. Mary's) — Swansea, Ill. native is smart, skilled, and a lot of fun to watch. Keller is going to be a big-time player: he just makes plays every time he touches the puck and has the speed to take it to the net himself. Was by far the leading scorer on a very talented Shattuck U14 team, posting a 53-68-121 scoring line in just 54 games played. An elite talent who will have every option -- NTDP, NCAA, and OHL -- to choose from in the near future.
3. Logan Brown, F, '98 (St. Louis Blues) — The top pro prospect in this age group. Has scouts salivating because his upside is through the roof. It is not every day you find forwards who are 6'4", can skate, have vision, can score goals, and play in the tough ice. We are not saying he is going to be the next Eric Lindros, but he certainly has a chance to be.
4. Nicholas Pastujov, F, '98 (Detroit Honeybaked) — Strong, powerful, and skilled. Bulls his way around the ice and is extremely strong on his skates. His father left his Russian homeland at 28 and relocated to Florida. Pastujov calls Tampa Bay home and is one of many players billeting in the Detroit area and playing for Honeybaked. Is a top NTDP, OHL, NCAA, and pro prospect.
5. Ryan Lindgren, D, '98 (Shattuck-St. Mary's) — The Lakeville, Minn. native was the top defender here at the U14 level. Impacts the game every shift both offensively and defensively. Lindgren is a big kid who can skate and be downright dominant at times. Posted a 21-59-80 scoring line in just 50 games played this season.
6. Kyle Kawamura, F, '99 (TPH Thunder) — Kawamura is proof that the game of hockey is growing. It is not every day that you come across an elite talent of Asian descent from Franklin, Tennessee (about 30 minutes outside Nashville). Playing up a year, Kawamura put on a clinic in the opening day of the tournament, giving Shattuck all they could handle as TPH almost knocked off one of the tournament favorites. The Thunder star forward is small, but he is dynamic, strong, skilled, and loves to compete.
7. Nicholas McKeeby, D, '98 (Detroit Honeybaked) — One of the most powerful and explosive skaters we have seen in a long time. His skating is so strong that it's nearly impossible to beat him in transition. Can make a good first pass and keeps the game simple. Played for the Chicago Mission last year and jumped ship to Honeybaked in pursuit of a national title.
8. Mitchell Lewandowski, F, '98 (Detroit Honeybaked) — A top forward with a fantastic stick and a very quick shot release. Came over to Honeybaked from the Little Caeser's organization. Was the top performer in the playoffs, producing a 4-3-7 scoring line in the finals and semi-finals.
9. Graham McPhee, F, '98 (Shattuck-St. Mary's) — Strong power forward is going to be a goal scorer at the higher levels. Is the son of Washington Capitals GM George McPhee. Posted a 32-51-83 scoring line in 55 games played this season. Is a native of Bethesda, Maryland.
10. James Greenway, D, '98 (Shattuck-St. Mary's) — Potsdam, NY native is the brother of NTDP commit Jordan Greenway who, as you may have noticed, was just selected in the first round of the OHL draft by Plymouth, something that will surely raise the hairs on the back of the necks of the NTDP staff. The younger Greenway is a behemoth of a defender, standing at about 6'4" and weighing in at around 190 lbs. He does not project as an offensive defenseman. He's more of a ham-and-egger who plays a tough/physical game and can make a good first pass.
11. Trent Frederic, F, '98 (St. Louis Blues) — Has all the tools. The St. Louis native is tall, skilled, and projects well. A solid prospect. Is only going to get better as he fills out and adds strength.
12. Shaun Bily, F, '98 (Detroit Honeybaked) — Tall, slick forward is crafty and has the ability to make plays in high traffic areas. The New Jersey native also won a national title back in 2011 with the NJ Colonials U12 team.
13. Michael Pastujov, F, '99 (Detroit Honeybaked) — The younger brother of the aforementioned Nicholas Pastujov. Playing up a year, the younger Pastujov does more than hold his own as he is one of the top performers on Honeybaked's powerhouse squad. Plays on the team's first line with his brother and Shaun Bily. Is similar to his brother in that he is a big, powerful forward who has a good stick and stands out when driving the puck to the net. A top '99.
14. Tyler Johnson, G, '98 (Buffalo Regals) — In the games we saw, Johnson did not get a ton of help, but we feel he may have more upside than any other goalie here. At 6'2", he fills the net. He also competes hard and has sound technique.
15. Michael Latorella, G, '98 (Detroit Honeybaked) — We would have liked to see Latorella really withstand a barrage of shots, but Honeybaked is so good he rarely gets that kind of action. That said, when called upon, he delivered. Latorella is about 5'11", athletic, and quick. Is regarded as a top goalie in his age group.
16. Nick Sorgio, G, '98 (Connecticut Wolf Pack) — We will continue with our run on goalies here. Sorgio, the future Salisbury netminder, has all the talent in the world and could end up being a big-time goalie. That said, he did not play his best hockey here – and the Wolf Pack did not make it to the playoffs.
17. Mitch Eliot, D, '98 (Detroit Honeybaked) — The Michigan State recruit is a nice prospect who is solid in all facets of the game. He is a big kid, a smooth skater, and has a nice set of hands. Is not "dominant" at this level, but he really does not have to be because his team is so good. Was the first '98 to commit to a college. With OHL teams likely to come knocking, many are wondering if Eliot will ever arrive in Lansing.
18. Ty Farmer, D, '98 (St. Louis Blues) — Has gotten bigger and stronger over the course of the year. Is very confident with the puck and enjoys making plays from the backend. Projects as someone who could effectively run a D-I PP.
19. Kenny Johnson, D, '98 (Shattuck-St. Mary's) — Ann Arbor, Michigan native is the younger brother of Jack Johnson (Columbus-NHL). A tall, smooth-skating defender, Johnson is a top prospect with a lot of upside. Because Shattuck is loaded with talent and has the likes of Ryan Lindgren running the show on the PP we did not get to see Johnson in that role. Our guess is he would do just fine, as he moves the puck nicely.
20. Billy Overby, D, '98 (Connecticut Wolf Pack) — The Wolf Pack captain is an intelligent puck mover, similar in style to NTDP defender Brandon Fortunato. However, Overby did not make Team Connecticut for the Yankee Conference showcase, thus will not be at the Select 15 Festival. In our opinion, with the exception of Chad Krys (Connecticut Oilers U16), Overby is the top defenseman the New England district has to offer.
21. Luke Martin, D, '98 (St. Louis Blues) — Possesses a lot of raw talent. Has good size and his skating really jumps out at you right away. Could shoot up this list over the next few years.
22. Liam Schioler, D, '98 (Shattuck-St. Mary's) — Big, mobile defenseman with an intriguing skill set. The West St. Paul, Manitoba native projects as a shutdown defenseman who can make a strong outlet pass.
23. Michael Gurska, D, '98 (East Coast Wizards) -- Keeps his head up at all times. Is very good on the PP and can really zip the puck around. A D-I prospect who has yet to physically mature. One of many talented young players at Rivers.
24. Michael Young, D, '98 (East Coast Wizards) — Was an 8th grader at Rivers this past year and finished as their 2nd leading scoring defenseman. Is strong, stocky, and confident with the puck. Is physically mature for his age. May lack the upside of some of the aforementioned players, but there is no doubt he's going to be a heck of player for Rivers for a long time.
25. Max Gerlach, F, '98 (Colorado Thunderbirds) — Flashy skill set. Go-to guy for the Thunderbirds. Can really scoot, and is crafty in the offensive zone.
26. Brendan Less, D, '98 (NJ Devils) — Smooth-skating defender has a lot of offensive ability. Skating is effortless. Plays for Delbarton.
27. Jackson Koblick, D, '98 (Indiana Jr. Ice) — Lanky defender was the Ice's top player in our opinion. Assertive offensively. Took the puck coast-to-coast multiple times.
28. Ben Lown, F, '98 (Shattuck-St. Mary's) — Laguna Niguel, Calif. native. Is on the small side, but can turn on a dime, and has the puck on a string. Was the 2nd leading scorer on his team this season with a 44-46-90 line in 55 games played.
29. Ryan Edquist, G, '98 (Shattuck-St. Mary's) — Starting netminder for the 2nd best team in the country. Went 25-1-2 this season with a .937 save percentage and nine shutouts.
30. Liam Murphy, F, '98 (Connecticut Wolf Pack) — Big, strong, power forward who plays the game hard.
31. Keegan Mantaro, D, '98 (Colorado Thunderbirds) — Heady defender is excellent with the puck on his stick. Is only about 5'7" or 5'8", but is a D-I prospect.
32. Logan Hutsko, F, '99 (Shattuck-St. Mary's) — Pittsburgh, PA native is playing up a year. Is very small, but he makes up for his lack of size with speed and skill. Plays with a ton of pace and energy.
33. Ryan Bederka, D, '98 (Honeybaked) — Solid in all facets of the game. Makes great decisions with the puck. Effective on the PP. More of an offensive defenseman.
34. Ben Gleason, D, '98 (Honeybaked) — Keeps things simple and just moves pucks up to the talented forwards on his team. He's solid defensively -- very reliable. Is the cousin of NHL defenseman Tim Gleason.
35. Noah Lalonde, F, '98 (Honeybaked) — Michigan State recruit is quick and has an excellent first step. Creates a lot of turnovers and is able to get to loose pucks.
36. Bradley Ingersoll, F, '98 (TPH Thunder) — Waxhaw, North Carolina native is smart and versatile. Played the point on the PP and did a heck of a job skating the puck up ice and getting things set up. Plays on a line with Kawamura, and the duo make a lot of things happen.
37. Zach Solow, F, '98 (St. Louis Blues)—A pure finisher. Dangerous below the tops of the circles. Has a heavy shot for a 14 year old. Is from Naples, Florida.
38. RJ Murphy, F, '98 (East Coast Wizards) — Played for the St. Sebastian's freshman team this year. Is a big kid who protects the puck well and has nice hands around the net. His feet need to improve, but we think he will be a top player for the Arrows in the years to come.
39. Conner Ford, F, '98 (Pittsburgh Penguins) — An all-around forward who plays hard in all three zones and is not shy about getting his nose dirty to make a play.
40. Sam Field, F, '98 (NJ Devils) — Big kid who has a hard and accurate shot. Has a lot of potential and is only going to get better. Headed to Choate in the fall.
41. Drew Speckman, G, '98 (Shattuck-St. Mary's) — Is from Fairfield, Connecticut and will compete to be the top in goalie in New England in the coming years. Is not as big as Sorgio, but he is very quick and has great fundamentals. Played against the Connecticut Wolf Pack in round robin play and outdueled his competition as Shattuck won 4-0.
42. Niko Karamanis, F, '98 (Shattuck-St. Mary's) — Courtenay, British Columbia native. Was one of only two '98-born players to play U14 hockey at Shattuck last year (Ryan Lindgren was the other). Small, creative, and skilled.
43. Steven Lockwood, D, '98 (St. Louis Blues) — Always has his head up and finds the open man. We could see him being a PP defenseman as he progresses up through the ranks.
44. Callan Foote, D, '98 (Colorado Thunderbirds) — The son of former NHL veteran Adam Foote. Does everything well and runs the PP. Is not flashy, but gets the job done. He's almost a '99 – has a 12/13/98 birthdate.
45. Christian O'Neil, F, '98 (East Coast Wizards) — Played on the Belmont Hill freshman team this year. Is on the small side, but thinks the game well. A centerman, O'Neil really distributes the puck well. Makes the players around him better.
46. Frank Boie, D, '98 (East Coast Wizards) — Big defenseman is already over 6'0". Is a good skater for someone his size, and defends well. Will likely never be running a PP, but we think he will be a D-I defenseman when all is said and done.
47. Tommy Nappier, G, '98 (St. Louis Blues) — The only game we saw him play was against Honeybaked, and it's not entirely fair to judge any goalie when facing that type of onslaught. However, he displayed a lot of ability and athleticism.
48. Auggie Burkhardt, F, '98 (NJ Devils) — A workhorse who never gives up on plays. A heart-and-soul player with some skill. Someone you want on your team.
49. Andrew Petrillo, D, '98 (NJ Devils) — Niche defenseman who is excellent on the PP. Needs to get bigger, stronger, and faster in order to defend at higher levels, but he surely has an elite stick and mind. Plays for Delbarton.
50. Jonathan Folson, F, '98 (East Coast Wizards) — Strong forward with nice mitts. Played for the Belmont Hill freshman team. Will make an impact next season.
51. Billy Harris, D, '98 (Pittsburgh Penguins) — Sees the ice. Good in transition.
52. Paul Selleck, F, '98 (Anaheim Jr. Ducks) — Smart forward with good offensive instincts. Is always around the puck and has some finish to his game.
53. Brandon Yi, F, '98 (Colorado Thunderbirds) — Tall forward is a great skater with an explosive first step. Effective when he drives wide and uses his speed.
54. Joseph Woll, G, '98 (St. Louis Blues) — Given that we like his upside, we may be ranking the massive netminder a touch low. If he can bring it all together he could really be something.
55. Michael Joyce, D, '98 (St. Louis Blues) — Is very slight and skinny now, but smooth and slick with the puck. Could move into the top group of defensemen when he matures and fills out.
56. Brian Hawkinson, F, '98 (Colorado Thunderbirds) — Good stick, and has a nose for the net. His older brother, Brad Hawkinson (Lincoln-USHL), is headed to Denver in the fall.
57. Justin Bloomfield, F, '98 (Honeybaked) — Regarded as one of the top forwards in the country. Is productive and always finds the score sheet.
58. Sam Hesler, F, '98 (East Coast Wizards) — Younger brother of Dartmouth recruit Carl Hesler. The younger Hesler is tiny, but he has quick feet and hands. Plays for Belmont Hill freshman team. Will be a top player when he gets bigger.
59. Chris Conway, D, '98 (Pittsburgh Penguins) — Team captain. Has good vision and a reliable stick.
60. Jack Hoey, F, '98 (Connecticut Wolf Pack) — Works his tail off and plays hard.

Sun. 4/28/13

A Huge Loss for Hockey in the U.S.
Tim Taylor, a star Harvard forward who went on to coach at Yale for 28 years and coached the 1994 U.S. Olympic team, died yesterday at the age of 71. He had been battling cancer.

Those are the basic facts, but there's so much more.

Taylor, a Natick, Mass. native, played prep hockey at Milton Academy – class of '59 -- before going on to Harvard, where, in 68 games played, he posted a 46-33-79 line. That's not too shabby when you consider that he only scored seven of those points (1g,6a) as a sophomore.
The star of those Cooney Weiland-coached Harvard teams was Gene Kinasewich, an Edmonton native who centered the top line, with Taylor and Ike Ikauniks on his wings. This reporter is fortunate that his earliest college hockey memories included watching those teams in action at Watson Rink. In Taylor's three seasons -- remember, freshmen didn't play back then -- the Crimson went 60-12-4. Taylor was captain of the '62-63 team that went 21-3-2 and won the ECAC title in an OT thriller over BC at the Boston Arena. Harvard was subsequently invited to the NCAA tournament, but the university's athletic department, in a protest against the recruiting practices of the Western schools, had told Taylor and his teammates in advance that the school would not accept the bid if offered.

"We knew it was going to happen," Taylor told a reporter years later. "We were upset but it was explained very rationally to us. At that point, there was such a gap between East and West we wouldn't have had much of a chance anyway."

And that is how Taylor's college career came to an end. But Taylor, whose father was president of the Boston Globe – the Taylor family had published the paper since 1872 – had options. He could easily have stepped right into the newspaper business. His brother did, and eventually became president of the Globe. A cousin became publisher.

But Taylor, a Harvard freshman when the 1960 team won gold in Squaw Valley, had dreams of playing in the '64 Olympics in Innsbruck, Austria. There was really nothing else for a U.S. player straight out of college to shoot for back then. The NHL Draft didn't exist. It was still the Original Six era -- and Americans were virtually non-existent.

Taylor tried out for the 1964 Olympic Team. He was one of the final two players cut.

Taylor signed on to play that season for the Waterloo Black Hawks of the USHL, which at the time was a semi-pro league. For work, the scion of the Taylor family sold advertising for the Waterloo Courier.

He made his first US squad the following winter, going to Tampere, Finland for the 1965 World Championships. That squad, which included vets from the 1964 Olympic Team like Herb Brooks, the Christian Brothers, and Paul Coppo, was smoked 12-0 by Czechoslovakia and 9-2 by the Soviet Union. It gave Taylor first-hand exposure to the Russian style of play.

Taylor kept on playing for Waterloo, waiting until the '68 Olympics came around. In the fall of '67, Taylor gave it another shot, and was once again a late cut. He played one more year in Waterloo, his fifth, and then, in 1969, made his way back to Boston to join Billy Cleary as an assistant for Weiland. Taylor, now 27, worked with the varsity as well as serving as head coach of the freshman squad. When Weiland retired and Cleary took over in 1971, Taylor's role grew. The teams were good, too. With skilled players like Joe Cavanagh, the Crimson advanced to the NCAA tournament several times. Soon Cleary would be urging Taylor, who was actually quite happy where he was, to think about applying for a head coaching position.

Taylor put his hat in the ring when "Snooks" Kelley, BC's long-time head coach, retired after the '71-72 season, but that was a long shot. The job went to Len Ceglarski, a former All-America and alum – and someone who was already a Div. I head coach. Taylor got more serious in '75 when he applied for the Colgate job, but Jim Higgins got it instead. Taylor also applied for an opening at Dartmouth, but it went to George Crowe.

During this time, Taylor, along with the late Kinasewich, who died of cancer in Feb. 2005, began a youth program called the Boston Neighborhood Hockey League. Taylor also assisted the Harvard golf team, and ran a summer hockey camp in Natick.

In 1976, when the Yale job opened up, the program was in shambles, having won a total of five games over the previous two years. Contemporaries say that Taylor, at least initially, had misgivings about leaving his alma mater for Yale, and that Cleary had to give him a real nudge.

The misgivings probably faded pretty quickly. Taylor was 34, a serious man who seriously loved coaching.
"I think I can turn around the attitude pretty quickly and get the kids wanting to play," Taylor told a reporter from the Harvard Crimson in the spring of '76. "I also have to get more kids to come to Yale. That's the challenge: to get them to choose Yale over Harvard."

Current Yale head coach Keith Allain, a goaltender who would later become an assistant under Taylor, was in that first recruiting class. Guys like Dan Poliziano and Bob Brooke would arrive shortly after. Yale got better.

After his third year in New Haven, Herb Brooks, a teammate from the 1965 US World Championship team asked Taylor if he would be one of his assistants for the 1980 Olympic Team. Taylor felt that the Yale program was on its way up and that it was just too early to be asking to take a leave of absence. So he missed out on the Miracle on Ice.

When the Olympic games rolled around again, however, Taylor did indeed take a leave of absence, handing the Bulldogs off to Mike Gilligan for a year while he worked as an assistant to Lou Vairo on the '84 Olympic Team, a squad that had the unenviable task of following up the '80 Miracle on Ice. A young team, they finished 2-2-2 in Sarajevo, Yugoslavia, and failed to medal.

Nine years later, Taylor would be named the head coach of the U.S. Olympic team that competed in the 1994 Winter Olympics in Lillehammer, Norway, and took a second leave of absence from Yale. "I look on the Olympic job as the pinnacle of the coaching profession," Taylor told a reporter while the team was on its pre-Olympic tour.

U.S. goaltender Mike Dunham, who had played at the Canterbury School and the University of Maine, was on that team. Asked by a reporter about his coach, Dunham said, "He is very serious about the game of hockey, and he loves to get out on the ice and teach. I've never been with a coach who loves to practice so much and have a hands-on rapport with the team."

Dunham was pressed for more. Does Taylor have a lighter side? Does he kid around with the guys?

"I'd say once a week," replied Dunham.

In Lillehammer, the U.S. tied virtually everyone in the preliminary round – they went 1-1-3 – and then lost to Finland in the quarterfinals.

Back in New Haven, the Eli skaters would struggle during Taylor's absence. And more difficult campaigns were yet to come. In Taylor's final 12 seasons at Yale, he only had two more winning teams, but one of those came in '98, when Yale, behind Jeff Hamilton, Ray Giroux, and Alex Westlund, won a then school-record 23 wins and returned to the NCAA Tournament for the first time since 1952, finishing up the season with a loss to Ohio State in the NCAA quarterfinals. Taylor won the Spencer Penrose Award as the NCAA Div. I Coach of the Year.

A year later, in 1999, the Harvard position opened up when Ronn Tomassoni, Taylor was one of the four candidates. But he decided to withdraw his name from consideration.

"We have been able to build a great collegiate franchise here at Yale," he said. "To be able to combine hockey and academic excellence at the same institution has been a unique and ever so rewarding coaching experience. How could I ever leave this environment?"

Taylor was let go by Yale after the '05-06 season, which was a surprise, and not exactly the way anyone wanted things to end. If he was going to be leaving at all, Taylor felt he had earned the opportunity to go out on his own terms. He referred to his leaving – he was offered "reassignment within the athletic department" – as "less than ideal." The following October, Taylor started working with UNH – he had a summer house in New Hampshire -- as a volunteer, but was shortly afterward hired as a scout by the New Jersey Devils. In his mid-60s by now, Taylor could easily have slipped into a very comfortable retirement. But his heart was in coaching, and the following season, in '07-08, he joined the U.S. National Team Development Program as an assistant coach and advisor. To Taylor, this was no lifetime achievement type of job. He threw himself into it with energy, and a sense of purpose.

USA Hockey made an excellent decision when, in 2009, they named Taylor the Director of Player Personnel for the U.S. National Junior Team. Prior to naming Taylor to the position, USA Hockey, unlike Canada, appeared unwilling to make the required investment in -- and commitment to -- scouting for the National Junior Team. Specifically, it was an underfunded operation with no boss. Too many personnel decisions fell to the head coach, who had other things to do — like coach. There was no chief, and it frequently showed on the ice.

Upon receiving the position, Taylor worked it hard, constantly criss-crossing North America, catching a college game one night and then heading up into Canada to watch US kids playing major junior the next night. In short order, the U.S. National Junior Teams became less a collection of all-stars and more of a team. And in a short series like the world juniors, where one bad period at the wrong time can totally knock you out of contention, that difference can be crucial.

In Taylor's four full years in the position, the U.S. had its greatest prolonged streak – actually, its first prolonged streak -- of success at the World Junior Championships.

Breaking it down by year, the US won gold in 2010 under Dean Blais (in Regina and Saskatoon); won bronze in 2011 under Keith Allain (Buffalo, NY); finished 7th in 2012 under Blais (Calgary and Edmonton); and won gold again in 2013, under Phil Housley (Ufa, Russia).

For the record, those four teams won 19 of 26 games and outscored their opponents 127-55. In the WJC, the U.S. is currently the team to beat. It takes good fortune and a lot of guys pulling together to win such short tournaments, but one of the keys is being able to capitalize at crucial moments. And for that it's essential to have the right players on hand to take advantage of those situations.

With Taylor at the helm, the right players were on the ice in those moments -- and everyone knew it. The results speak for themselves.

Looking back, the greatest moment in U.S. amateur hockey this season was watching the U.S. power through the medal round in Ufa -- and then watching that celebration on the ice afterward, and seeing Tim Taylor out there. He did not look well, but seeing him out there was a grand moment, a perfect coda to a great career.

The other great moment was seeing Yale, under head coach Keith Allain, who not only was recruited to Yale by Taylor, but was also hired by Taylor as a Bulldog assistant, bring the school its first-ever NCAA title.

For Taylor, a proud man who kept his distance from the Yale program while plunging headlong into his work with USA Hockey, it had to be a really satisfying moment, if perhaps a bit bittersweet. At a time when Yale hockey was dying on the vine, he came on the scene, righted the ship, and gave Yale hockey an identity. He became the face of Yale hockey, and it was a face that people respected. Taylor cared about Yale and he cared about amateur hockey in the U.S. He cared about his players. He cared about people. If he disagreed with you, he disagreed respectfully, and for all the right reasons. The game is far poorer without him, just as jazz became poorer when Duke Ellington died.

Allain put it quite well a couple weeks back, after Yale had won it all, when, recalling the early '80s, he told reporters, "I didn't really know what I wanted to do, and Tim called me up and said, 'I think you should come back and coach.' The boost of confidence that gave me, "I'm thinking, 'Geez, if Tim Taylor thinks I can coach, maybe I can coach.'"



Sat. 4/27/13

The New 'Next One'
Jake Wise, a seventh-grader from North Andover, Mass., is beginning to get the same kind of buzz that St. Sebastian's '97-born defenseman and BC recruit Noah Hanifin has been enjoying the past couple of years.

In other words, he's the 'The Next One.'

The forward, who turned 13 last month, put himself on the map when his Minuteman Flames 2000 squad won the prestigious Quebec International Pee-Wee Tournament in February. Wise led the tournament in scoring with 19 points in six games and was named tournament MVP.

Wise, whose father is in the construction industry and has built an artificial rink in the basement of the family home, will be playing next season for the Middlesex Islanders 14 Team. Sean Tremblay, the head coach of the Islanders' Premier League team, hopes that Wise, who attends Austin Prep, will be playing for him someday.

"He's as good as any kid I've ever seen at that age level," says Tremblay. "My God, he shoots the puck as hard as any of my guys now. It's scary. And he's a 2000. He's really special."

Tremblay says that Wise, who is 5'10" and 135 lbs., is big and strong for his age, but is not a one-dimensional player who will cede dominance when other kids catch up to him in size.

"He's not one of those kids who just muscles by. He has hands, he's a good skater, and he has a head for the game. And he wants it. Watch him in skill sessions -- he really gets at it. He has a purpose out there. He has that drive. He reminds me of (Luke) Kirwan."

"He could play on our 16 Team," Tremblay adds, "but I don't see any need to rush him. He will be playing up as a 14."

Richard Gallant, the president of the Middlesex Islanders organization, coached the Minuteman Flames 2000 squad this season, and says Wise is "fast, strong, and he can skate. He's explosive. He can really dominate. He has a great shot, and he is a great finisher."

"Wherever we go -- any tournament we're at -- he always just happens to be the best player in his age group."

"He's a great character kid, too, always smiling. He went overseas to a tournament in Latvia, got the MVP, came back home, got five hours of sleep and was back out on the ice the first thing next morning. He just loves it."

"He's still very young," Gallant adds, "and I don't want to make any big projections, but you just know his future is really bright."
The Minuteman Flames 2000 squad, which, in winning the Quebec Tournament became only the second Massachusetts team to take home the title in the tourney's 54-year history (the '87 Islanders were the first), will be recognized between periods of the Boston Bruins final home game of the season, on Sunday night vs. the Ottawa Senators at the Garden. The team's dominance revolved around the top line of Wise, and linemates T.J. Walsh and Mark Gallant, as well as defensemen Colin Young, Sam Rand, and Jordan Harris. Rand, from the blue line, was among the tournament's leading scorers.
Next season, that core group of six players will splinter off and head in two different directions. While Wise is staying with the Islanders organization – we also expect that Austin Prep head coach Louis Finocchiaro will encourage Wise to play some high school hockey as well – several others will be playing for the Junior Bruins organization, which has a partnership with the Minutemen Flames.

Chris Masters, a partner with his brother, Peter, in the Junior Bruins organization, has coached Wise in the summer.

"He is a really dominant player, and has been for some time now -- since he was a mite, really. Jack Eichel was also a dominant player, but at the same age I think Jake might be slightly ahead of him. There is no doubt that (Wise) is a sure-fire NTDP/D-I prospect."
Masters is also very high on Walsh, a playmaker from Shrewsbury, Mass. who was the second-leading scorer at the Quebec Tournament with a 5-7-12 line. Walsh will be staying with the Flames/Junior Bruins.
Masters says that Wise and Walsh have "consistently been a cut above the rest."

"Both," he said, "have received a ton of attention in the way of agents and family advisors since the Quebec tournament. TJ has always played at the '99 level and this is the first year he has played with his own age group. We recently had him at our tryouts and he was far and away the top player at the '00 and '99 age groups. He is just incredibly smart and his play away from the puck is exceptional. The bottom line is that both of these kids have a ton of potential."

"But what is most important," Masters adds, "is that they are both great kids and both come from great families."

Mon. 4/22/13

World Selects Invitational ('98s)
The US Hockey Report spent the past weekend up in Saco, Maine at the World Selects Invitational hosted by the East Coast Selects in conjunction with Selects Hockey Academy. There were 24 teams present, seven of which were from of which Russia, along with single teams from Finland, Austria, Sweden, and the Czech Republic. Last year, the primary age group of the tournament was '96 birth year players; this year the tournament was for '98s, meaning it got younger by a year. Last year, there were some really high-end Russians, but that was not the case this year. Either it's an off year in Russia, or their top players simply didn't make the trip. With that in mind, we will, in this write up, cover a few Europeans that we felt were truly high end, but our primary focus is going to be on the North American talent. Some of the players here we have covered extensively in the past – specifically, the New Englanders. Here, we'll touch on some players who are from outside the area. We did not get to see everyone, though we certainly tried our best. Enjoy.

Sean Day, D, '98 (East Coast Selects-O) 6-2/195 — Day was recently granted 'exceptional player' status by Hockey Canada, meaning he, like Connor McDavid last year, Aaron Ekblad in 2011, and John Tavares in 2005, will be able to play in the OHL as a 15 year old. Day is touted as the top '98-born player in North America and it is pretty easy to see why. He is big, his skating is flawless, and he plays with quite a bit of snarl — a tough kid, he can throw punishing open-ice hits. A Canadian citizen who played in the US this year for Compuware's U16 team, Day has the potential to be a franchise defenseman at the NHL level. Selected #4 overall in the OHL draft earlier this month, Day will suit up for the Mississauga Steelheads in the fall.
Clayton Keller, F, '98 (New England Nordiques) 5-8/150 — We saw the Shattuck-St. Mary's forward at Nationals a couple of weeks ago, and wrote that he reminded us of Zach Parise at the same age. We'll stick with that. The Bellville, Ill. native is an effortless skater with a top-notch skill set. Makes plays every time he touches the puck. Is only going to get better when he begins to fill out. Our only knock on him is that we would like to see him add some more finish to his game — he's definitely a 'pass first' player. Regardless, we're convinced Keller is a young star in the making.
Jesse Puljujarvi, F, '98 (Finland Selects) 6-1/180 — Big, strong, powerful, and skilled. Plays the game an awful lot like Jaromir Jagr. While he appears to be exerting less than maximum effort, he is actually accomplishing a lot. Has excellent poise with the puck and is as strong as an ox when it comes to protecting it. Regarded as one of the top young prospects in Finland and plays with kids two years older. Was a notch above the other European players here. Needless to say, you can count on hearing Puljujarvi's name a lot in the years to come.
Patrick Khodorenko, F, '98 (East Coast Selects-Q) 5-11/170 — Was our #1 ranked forward at the U14 Nationals and deserved that billing. However, he did not play with the same sense of urgency here, finding himself on the perimeter a lot. Has a high-end skill level combined with excellent vision. Played for Honeybaked this season, though he lives in San Jose, California and is originally from Russia. We are not quite sure what his citizenship is, but if he is indeed an American he will likely be watched closely by the NTDP staff over the upcoming season.
Justin Cmunt, F, '98 (MB36) — No height or weight listed, but our guess is that he is about 5'8", 160 lbs. Plays for the Buffalo Regals during the year and we will admit that we overlooked him at Nationals. Cmunt is not someone who will jump out at you because his size and skating are pretty average, but he is, for lack of a better definition, a 'hockey player.' Has a great sense of the game and his play both with and without the puck is excellent. He can really shoot it too.
Mitchell Lewandowski, F, '98 (East Coast Selects-Q) 5-7/145 — Has a great stick and knows how to bury the puck. Is always on the scoresheet. Is very effective below the tops of the circles.
Alec Mahalek, D, '98 (East Coast Selects-O) 5-8/145 — Mobile defender who is at his best when moving pucks up ice. A top '98 defenseman who projects as an offensive, PP type at higher levels. Is on the smaller side, but his skating and stick more than make up his lack in height.
Adam Fox, D, '98 (East Coast Kings) 5-9/145 — A top offensive defenseman at the '98 level. Was just OK here -- he has a tendency to be casual defensively. When he is on his game he is really good. Has excellent hands and is slippery in traffic. Will be a candidate for the NTDP.
Josh Vertentes, F, '98 (New England Nordiques) 5-9/160 — This was the first time we were able to lay eyes on the Portsmouth Abbey star forward. We liked what we saw, and feel that the Rehoboth, Mass native is a D-I prospect. A smart hockey player, Vertentes has good patience with the puck and creates a lot of offense. He's not a natural skater, but he gets around pretty well. Reminds us of UMass freshman KJ Tiefenwerth.
David Farrance, D, '99 (MB36) 5-11/170 — Has a ton of ability and is very good at creating offense from the backend. We haven't gotten too familiar with the '99's just yet, but we are certain that Farrance is regarded as a top defender among that age group. That said, he has a lot of bad habits and did not play very well here. Completely lacked interest in playing defense and stopping and starting on loose pucks, though that does tend to happen in spring hockey.
Jake Ryczek, D, '98 (Selects Hockey Academy) 5-10/165 — Ludlow, Mass native is a strong, fluid skater. Makes a good first pass and has confidence in his offensive abilities. Solid defensively and strong on his skates.
Ian Khomenko, F, '98 (Silver Lions-Russia) 5-10/160 — Uber-talented, but is your stereotypical Russian. High skill level, excellent with the puck, but does not play too hard off the puck. In terms of skill and upside, Khomenko was the top Russian forward here.
Victor Mete, D, '98 (Pro Hockey I) 5-9/160 — Offensive-minded defender is an excellent skater. Is small, but stocky and strong on his feet. Took the puck end-to-end on multiple occasions. Did not play on a particularly strong team here. Plays in the GTHL for the Toronto Jr. Canadiens.
AJ Drobot, F, '98 (New England Nordiques) 5-8/165 — Played on a line with Clayton Keller here and the two looked very good together. Drobot, who plays for Team Comcast, is not very big and doesn't have a ton of upside, but he has a good first step and can beat defenders in 1x1 situations. Is tenacious around the net and knows how to score goals.
Graham McPhee, F, '98 (New England Nordiques) 5-10/150 — Strong forward with a good stick and a hard shot. The son of Washington Capitals GM George McPhee. The Maryland native is an NTDP candidate. Plays for Shattuck.
Igor Kabanov, F, '98 (Soviet Wings) 6-2/176 — Tall forward who is strong on the puck and possesses an absolute bomb of a shot. Projects well and has the tools to be a pro.
Jesper Juntto, F, '98 (Sweden Selects) 5-4/143 — Tiny, but an absolute spark plug. Plays with energy, grit, and skill. Would make for an exciting college hockey player, in the unlikely event that the young Swede is so inclined.
Sam Sternschein, F, '98 (East Coast Selects-O) 6-1/165 — Tall, lanky, and slippery in traffic. Has upside and is someone who could be a much different player once he matures and puts on some weight. Plays for the Long Island Gulls. Will be on the NTDP's radar.
Jack Flanagan, F, '98 (East Coast Kings) 5-11/167 — Good all-around player with offensive ability. Played for the Connecticut Oilers U16 team this year. Was cut from Team Connecticut and will not be at the Select 15 Festival over the summer, but certainly has the ability to be there.
James Sanchez, F, '98 (East Coast Selects-O) 6-1/175 — Big kid with offensive ability. Plays for the Chicago Young Americans.
Matthew Barnaby, F, '98 (MB36) 5-3/100 — The son of former NHLer Matthew Barnaby (thus the name of the team he played for here). Very small forward has yet to physically mature, but he has a good head on his shoulders and can make plays. Would be an excellent prep school player. Once he catches up to his peers physically he will appear on more and more scouts' radars.
Marcus Dickerson, F, '98 (Selects Hockey Academy) 5-10/185 — Played for Team Comcast last year and will be at Selects Hockey Academy this year. Works his tail off and plays in the trenches. Might not get much bigger, which could be problematic to his style of play as he progresses up the ranks.

Fri. 4/12/13

U16 Nationals Review
Two days, ago, in celebrating the skill on display at the U14 level at Nationals, we wrote that the starkest difference between the U14s and the U16s today is the simple fact that, by U16s, the top players have started getting skimmed off by the NTDP, USHL, U18s, and prep schools. That, however, doesn't mean that there is a lack of outstanding prospects to be found at U16s. Quite the opposite, actually. And here at USHR we have given considerable attention to many of them over the past year. Players like Tory Dello, Vas Kolias, and Christian Fischer of the Chicago Mission; Denis Smirnov, Nikita Pavlychev, and Ivan Provorov of the Wilkes-Barre/Scranton Knights; Jordan Greenway of Shattuck-St. Mary's; Charley Borek and Ryan Dmowski of the Connecticut Wolf Pack were among those in Pittsburgh who have been well covered. And, since all played to our expectations in Pittsburgh, we're not going to waste precious ink rehashing their skills. Instead, as is our custom late in the season, we are going to push ahead and bring attention to players who, via their play here, spurred us into either taking a second, deeper look -- or simply reinforced our previous positive impressions. All the following players, to the best of our knowledge, are uncommitted.

Ryan Wagner, F, '96 (Chicago Mission) — A year ago Ryan Wagner was cut from the Central District tryouts, thus he wasn't able to participate in the Select 16 Festival. OHL teams bypassed him for the entire 15 rounds of their draft. Finally, in the 4th round of the USHL Futures Draft, the Cedar Rapids RoughRiders selected the hard-working forward. Wagner was our MVP of the Bauer tournament back in November and we felt he was the MVP here in at Nationals too. In the championship game, a 4-3 Mission win over the Connecticut Wolf Pack, Wagner was on fire scoring twice on the PP and adding an assist. At around 5'7", Wagner does not have the upside of some of the other top '96s, but he makes up for it with an extremely high compete level, a desire to win 1x1 battles, and a skill level that keeps improving. Will be an impact player at the USHL/D-I level. Is one of the top '96 forwards who is still on the board and remains uncommitted to an NCAA school.
Maxim Letunov, F, '96 (Dallas Stars) — Made his way over to Dallas from Russia via the CSKA (Moscow) organization and has adjusted to the North American game well. When we watched him back in October we felt that, while he was his team's most noticeable player, he wasn't actually dominating games. Well, he does now. Letunov displayed a ton of confidence over the course of the week and was a scoring threat every shift he was on the ice. Surely, NCAA schools would offer him a full scholarship without batting an eyelash, but eligibility issues tend to make it difficult to recruit Russians. Our guess is that we will see him in the CHL in the not too distant future.
Caleb Jones, D, '97 (Dallas Stars) — We have liked the younger brother of potential #1 overall NHL draft pick Seth Jones for quite some time now, but he's gotten a heck of a lot better this season. While he is not as tall as Seth he is beginning to play more and more like him. Displayed a lot of confidence with the puck here. And, just like his brother, he's only going to get better as he continues to grow. A top NCAA prospect, he is committed to the NTDP.
Bryan Sienerth, F, '96 (Pittsburgh Penguins) — Here at Nationals, the Penguins captain had a coming out party of sorts. Was at the Select 16 Festival last summer and has been regarded as a solid prospect for the last year, but now schools will be ready to offer him. He has excellent feet, a quick stick, and plays with a lot of heart and passion. He is not very big and does not project to be a pro, but will make for a nice college player. Is a top student who has the grades to go to an Ivy League school.
Dakota Joshua, F, '96 (Honeybaked) — Has grown an awful lot in the last year or two and is now about 6'1" or 6'2". Is your typical power forward. He protects the puck well and is strong in the corners and in front of the net. Is only going to get better. Could garner the attention of NHL scouts next season.
Jacob Coleman, F, '97 (Pittsburgh Penguins) — A dynamic forward who could end up being an exciting D-I player. Is only about 5'8", but his skill and compete level are high-end — he really gets after it. Was at his best on the first and second days of the tournament; after that we felt he got a bit tired and his play tailed off.
Kevin Dineen, F, '96 (Shattuck-St. Mary's) — The Faribault, Minn. native was the top scorer on Shattuck's U16 team this season, posting a 32-36-68 scoring line in 50 games played. Has a good head on his shoulders and nice vision with the puck on his stick.
Zach Giuttari, D, '96 (Connecticut Wolf Pack) — Just a couple weeks ago we noticed Giuttari at the Yankee Conference showcase and he followed that up with a strong performance here. The Loomis defender has good size, skates and defends well, has great poise with the puck and makes smart decisions through keeping things simple. A native of Warwick, RI, Giuttari is a top student who will likely end up at an Ivy League school.
Michael Floodstrand, F, '97 (Chicago Mission) — With so many top players on the Mission, it is easy to overlook some guys, but the more we paid attention to Floodstrand the more we liked him. Has a ton of skill and is excellent on the man advantage. Scored a really nice goal against Wilkes-Barre/Scranton on a one-timer that was difficult to get off — a high-skill play.
Tanner Laczynski, F, '97 (Chicago Mission) — Is always on the scoresheet. Produced a 4-7-11 scoring line in six games played here. Does not dominate the entire sheet of ice, but does dominate in the area around the net. Has a good feel for where to be in the offensive zone and can make plays in tight spaces.
Rem Pitlick, F, '97 (Shattuck-St. Mary's) — Has grown over the course of the year, but is still very small at 5'5" or 5'6". What he lacks in size he makes up for in quickness and tenacity. Has figured out how to use his small size to his advantage as he darts through traffic in congested areas of the ice. Has a lot of filling out to do, but could develop into a player like BU's Cason Hohmann.
Keenan Murray, D, '96 (Pittsburgh Penguins) — Some players skate in the ice, some players skate on the ice: Murray does the latter. An effortless skater with a lot of glide to his game. Is tall and thin right now and could be someone to watch as he matures and gets stronger.
Joseph Rutkowski, D, '97 (Chicago Mission) — Has been a tiny defenseman for years, but has grown to about 5'8" and is big enough to hold his own physically now. Because he was so much smaller than everyone for years he has had to use his mind to outsmart opponents. Now, with some added size, he is beginning to move past a lot of his peers. A nice defender who can find the open man with regularity.
Mitchell Fossier, F, '96 (TPH Thunder) — Is a 12/21/96 birthdate and would likely have more of a buzz around his name if he were a '97. The Alpharetta, Georgia native is not an explosive skater, but he is really smart, makes a lot of plays, and has really good hands. Could be a late bloomer.
Alex Gross, G, '96 (Dallas Stars) — Gave his team an opportunity to win. Good-sized netminder who is athletic, quick, and aggressive in the crease.
Vincent Ditmore, D, '97 (Connecticut Wolf Pack) — Smart, puck-moving D-man who plays for Choate. Was injured for a nice chunk of the year this season but we think he is someone who will make a significant contribution next year. Is on the small side at 5'9". Will likely end up at a NESCAC school when all is said and done.
Jacob Turowski, F, '96 (Honeybaked) — Small, crafty, and makes a ton of plays. Is going to have to get stronger to be a factor at the higher levels.
Garrett Hallford, F, '97 (Honeybaked) — Persistent forward creates a lot of offense through hard work and grit. From McKinney, Texas.
Luke Bafia, D, '96 (Pittsburgh Penguins) — Big defenseman who skates well for his size. Is raw right now and his decision-making needs some work, but he has tools. From East Parrish, Florida.
Elijah Latimer, D, '97 (Wilkes-Barre/Scranton Knights) — Possesses both smooth feet and hands. Has a lot of poise with the puck and makes a good first pass.
Jason Dhooghe, F, '97 (Chicago Mission) — Is only about 5'8", but is ultra-quick and can make plays at top speed. Will be heavily recruited by D-I schools not only because he is a nice little player, but also because his younger brother is one of the top '99 born players in the country -- a package deal.
Andrew Cordssen-David, D, '97 (Shattuck-St. Mary's) — An absolutely huge defenseman who lists Montreal, Quebec as his hometown, but grew up playing in the Philadelphia area for the Junior Flyers. Moves pretty well for a 6'5" defender. Does not make a lot of plays, but there is a lot of to work with here. Will keep scouts intrigued.
Colin Saccoman, D, '97 (Shattuck-St. Mary's) — Stillwater, Minn. native was the top-scoring defenseman on Shattuck's U16 team this year, producing a 10-20-30 scoring line in 42 games played. Makes plays – or can lug the mail himself.
Aaron O'Neill, F, '97 (TPH Thunder) — Carrried a bit of a buzz into the weekend as he was an off-the-radar addition to the NTDP Final 40 Camp. While we would be surprised to see him make the NTDP, we do think he is a solid D-I prospect. He is a big kid who plays a nice possession game. Is good in the corners and along the walls.
Nathan Krusko, F, '96 (TPH Thunder) — A playmaker who sees the ice and is able to find his linemates. Is not a burner, but is smart and has an above-average skill set.
Cole Percifield, D, '96 (Dallas Stars) — A big defender who is a fantastic skater. Could be someone who transitions well to higher levels. Not an offensive guy, just someone who quietly goes about his business and defends well.
Johan Steen, D, '96 (Dallas Stars) — Doesn't have a lot of upside, but at this level he is really good. Does everything well.
Keanu Yamamoto, F, '96 (LA Jr. Kings) — We have written about the Spokane, Washington native over the years on this page and we still think he's going to be a nice college player. He is tiny, but he also has really quick hands and nice first couple of steps.

Fri. 4/12/13

U18 Nationals Review
As our primary focus was on the new crop of players coming in at the U14 level, we did not have a ton of time left over for watching the U18s at this year's Nationals. Nonetheless, we did give them a good look, putting in enough time so that we feel confident in spotlighting the following uncommitted players. While all caught our eye and deserve some ink, the players on the upper half of this list deserve even more – like immediate attention from D-I programs.
1. Nathan Noel, F, '97 (Shattuck-St. Mary's) — The St. John's, Newfoundland native, around 6'0" now and the possessor of a long reach that he uses to maximum advantage, is the youngest player on the Shattuck-St. Mary's prep team. He's also the top '97-born prospect out of Atlantic Canada — by a wide margin – and is likely to be a top five pick in the QMJHL draft later this spring. He has been deemed "The Next One" from Atlantic Canada, and many are expecting him to follow the Sidney Crosby/ Nathan MacKinnon path, jumping from Shattuck to the Q en route to the NHL. While Noel is an excellent player, we do not put him in the same category as those two. And while Noel posted a 10-30-40 scoring line in 52 games played this season, we also feel he might have been better off in a starring role on the U16 team. At the end of the day, should Noel break out of the mold and opt for the NCAA route, he would be a certain blue-chip recruit with All-American potential.
2. Alex Jasiek, F, '96 (St. Louis Blues) — We're surprised that he is still uncommitted. While Jasiek is small and limited in terms of pro upside, his stick is exceptional, making him very dangerous in scoring areas. Competes hard and plays with a lot of tenacity. Is going to be a goal scorer at the D-I level. Goes to one of the top high schools in Missouri and is an Ivy League-level student. His father is the former CFO of the St. Louis Blues (NHL).
3. Bradley Johnson, D, '96 (St. Louis Blues) — Skilled, puck-moving defender who makes a good outlet pass and is very good quarterbacking the PP. Is on the small side and is not an explosive skater, but he makes up for it with smarts and a top-notch hockey IQ.
4. Chase Phelps, F, '96 (Shattuck-St. Mary's) — Big, strong forward with a heavy shot and a soft set of hands. Edina, Minn. native finished 3rd in team scoring with a 23-37-60 scoring line in 57 games played. Has upside and will get better as he continues to fill into his wide frame. A versatile player, Phelps could play a number of roles at the higher levels.
5. Ryan Norman, F, '96 (Shattuck-St. Mary's) — Maplewood, Minn. native is a workhorse who never quits on plays and creates offense by putting pressure on the opposition's defenders and forcing turnovers. Might not have the skill level to project as a top six forward at a top D-I program, but will be a great 3rd line guy capable of moving up if need be. 5'10", 185 lb. forward finished 2nd in team scoring with a 27-41-68 scoring line in 57 games played.
6. Trey Bradley, F, '96 (Cleveland Barons) — The son of former NHL forward Brian Bradley and the younger brother of Cody Bradley (Colorado College). Played for the Toronto Young Nationals last year and was skilled, but tiny. Well, he is still one of the smaller guys, but he has begun to grow -- and the skill level remains intact. Plays with a lot of pace and is very quick. Bradley is definitely worth keeping tabs on.
7. Nathan Susese, F, '96 (Buffalo Jr. Sabres) — Small, quick, and crafty. The Fairport, NY native has a flashy skill set and is very good in transition. We do not think he has the upside to be a top six forward at the DI level, so he will need to raise his compete level and prove that he can play a gritty, tenacious, energy role. Once he does that, schools will be knocking at his door.
8. Anthony Petrella, F, '96 (Shattuck-St. Mary's) — Energy forward from Rochester, NY has a good stick and the ability to make plays. Is explosive out of the gates. 26-28-54 scoring line in 57 games played this year. Is only 5'9", but he is stocky and strong on his skates.
9. Nick Petrella, F, '94 (Shattuck-St. Mary's) — Is physically limited at 5'7", 165 lbs., but the older brother of Anthony Petrella played extremely well here, posting a 2-5-7 scoring line in round-robin play. A crafty forward who really gets after it, has a quick stick, and is a pest to play against.
10T. Tom Parron, D, '95 (Cleveland Barons) — Smart defenseman both on the ice and in the classroom. Has a good stick, sees the ice well, and does not complicate the game. A smooth skater who is positionally sound.
10T. Matthew Nuttle, D, '95 (Buffalo Jr. Sabres) — Small defender always has his head up and makes nice plays with the puck. Capable of playing on the PP at higher levels. If he can become more dynamic that could be at the D-I level; otherwise he will be a slam-dunk for D-III schools.

Sat. 4/6/13

Kawamura Among Standouts at Nationals
USHR has been scouting Nationals in Pittsburgh, PA for the past few days, and we'll have a full report next week. Please consider this an interim report.

The playoffs are starting today, and, in the U14 Division which, by the way, is extremely strong, the St. Louis AAA Blues will face Shattuck-St. Mary's in one semifinal; and Honeybaked will face the East Coast Wizards in the other. Honeybaked, which is undefeated here and has outscored opponents 18-4, has established themselves as the dominant team at the '98 level. Shattuck is not far behind, and they are followed by the St. Louis Blues.

Here are the players at the U14 level who have really stood out for us so far:

Let's start with Kyle Kawamura, a '99 birthdate playing up with the Atlanta-based TPH Thunder. An Asian-American from Tennessee, Kawamura is a dynamic, sparkplug type. He's small, fast, gritty, and makes plays. To get a better picture think 'prototypical Boston College forward.' This will not be the last time you hear of Kawamura.

Shattuck forward Clayton Keller has been consistently excellent. He's very high-end, a young Zach Parise-type of player.

Honeybaked forward Patrick Khodorenko has opened eyes as well. He's a pure finisher. Just a great shot. In his first three games Khodorenko has notched two hat tricks.

The best pro prospect at the '98 level is St. Louis Blues forward Logan Brown, who's huge -- 6'3", maybe even 6'4". While we think the three kids above are more polished and have actually played better here, Brown, the son of former NHL defenseman and current Indiana Ice (USHL) head coach Jeff Brown, is a great prospect, and one with all the earmarks of a pro. Naturally, he's still growing into his body.

On the blue line, Honeybaked's Nicolas McKeeby has been terrific. One of the most explosive skaters we've seen at this age level in a long time, Mckeeby is strong, stocky, and has a great first couple of steps.

Shattuck's Ryan Lindgren has been excellent. From the blue line, he is his team's leading overall scorer. And that's saying something: there's some serious talent up front for Shattuck.

At the U16 level, the Chicago Mission – they're undefeated so far and have outscored their opponents 17-6 – is the team to beat. The Connecticut Wolf Pack, however, are also really good, also undefeated, and have also outscored opponents 17-6. Look for a Mission-Wolf Pack final on Sunday.

A few standouts at the U16 level:

Mission forward Ryan Wagner, who we wrote about at length in covering last fall's Nike Bauer Invite in Chicago, has again been a standout here. He's skilled, gritty, hard-nosed, and can find the back of the net.

Denis Smirnov, a '97 playing up for the Wilkes-Barre/Scranton Junior Knights, and one of the fine Russian imports we wrote about in November 2011 when that organization's import-dominated group of '97s first popped onto the scene, continues to be a force. Smirnov is just crafty as hell, really strong on the puck, and has great vision. He's small, but that doesn't stop him.

Smirnov has not been the only Russian in the U16 division who has impressed here. Maxim Letunov, a '96 with the Dallas Stars Elite, has been tremendous. He has size – around 6'1" – is explosive, and is a dynamic goal scorer.
More to follow.

Sat. 4/6/13

OHL Draft Today
The OHL Draft begins this morning at 9:00 am. You can follow the results in real time at:

OHL Priority Selection




Sat. 4/6/13

"The P"
"It's been an amazingly torturous route," says Peter Masters, "but this is it. We're ready now."

Masters, who heads up the Junior Bruins' organization, is speaking about the Premier Junior League, which he and the Middlesex Islanders' Sean Tremblay and the Jersey Hitmen's Jim Hunt have been instrumental in getting off the ground.

The entire process has played out against a backdrop of intense hockey politics and infighting, but the league is here, more or less as originally envisioned. Yesterday, the league's nine-team junior loop was officially announced via a mid-day press release.
They didn't get all they wanted, though. The league's junior division, which had hoped to gain USA Hockey certification for the upcoming season, failed to secure that, in part because of the long waiting period that USA Hockey requires of new applicants.

This means "The P" will start its life as an independent junior league for '13-14 and apply for USA Hockey certification for '14-15. (After submitting an application by April 15, they will then state their case at the Junior Council meeting in June.)
"We are fully committed to getting sanctioned next season in USA Hockey and we feel our approach is the best way to position ourselves to achieve that goal," says Masters.

From a practical perspective, not having USA Hockey certification means that the new league will have to self-insure, and work with a private insurance company.

All the youth level teams have USA certification and will carry on as before.

"We are trying to be the top of the ADM pyramid for New England and the Northeastern states," said Masters.

Here, then, are the nine Premier League junior teams.

Boston Junior Bruins (Peter Masters)
South Shore Kings (Scott Harlow)
Islanders Hockey Club (Sean Tremblay)
Philadelphia Flyers Elite (Pat Ferrill)
Connecticut Yankees (Geoff Marotollo)
Jersey Hitmen (Toby Harris)
Portland Pirates (Brad Church)
Bay State Breakers (David McCauley)
P.A.L. Junior Islanders (Ron Kinnear)
In addition, the following organizations will be part of the league at the younger levels, though they will not be skating premier league junior teams: Rochester Stars, NH Jr. Monarchs, Springfield Pics, Team Comcast, and Selects Academy.

For more information check out the league's website at www.usphl.com
Around the Rinks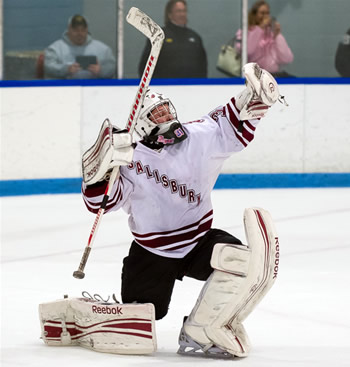 At the final buzzer of Sunday's prep title game, Salisbury sophomore G Callum Booth, who is about to get mobbed.
(Photo: Dave Arnold Photography)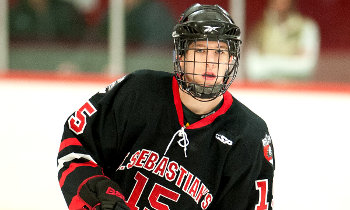 Noah Hanafin, St. Sebastian's '97-born d-man and BC recruit, is USHR's #1-ranked sophomore of the 2012-13 season.
(Photo: Dave Arnold Photography)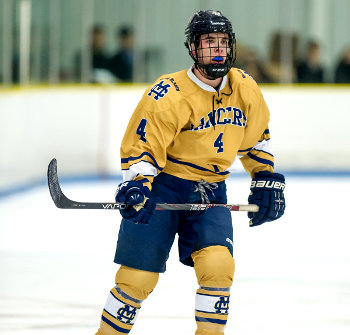 Casey Fitzgerald, Malden Catholic '97-born d-man and BC recruit, is USHR's #3-ranked sophomore of the 2012-13 season.
(Photo: Dave Arnold Photography)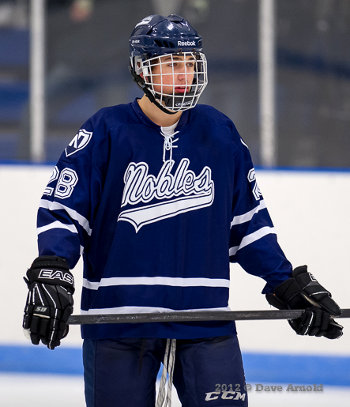 Miles Wood, Nobles forward and Brown recruit -- out for the season with a broken foot -- is USHR's #9-ranked sophomore.
(Photo: Dave Arnold Photography)