Championship Sunday: KUA Repeats
New England Boys Prep Hockey Championship Sunday Schedule ...
read more
Saturday's Semifinals Scoreboard
New England Boys' Prep Hockey Semifinal Scores for Sat. March 3, 2014 ...
read more
Nisbet, Mullahy Lead Dexter Past Milton. Brookline, Mass. -- Senior Jack Nisbet had two goals and junior goaltender Derek Mullahy kicked out 31 shots as #4 Dexter topped #5 Milton 4-1 in an Elite 8 quarterfinal here today. ...
read more
New England Prep Hockey News
Around the Rinks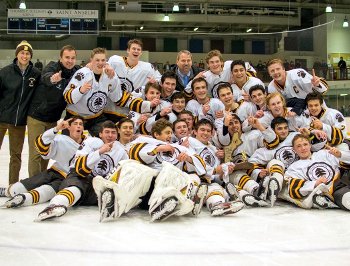 Brunswick celebrates its Large School Championship after a 4-3 OT win over Thayer.