Established 1996 -- Celebrating Our 25th Year

Thurs. 2/28/13

Prep Championship Weekend Schedule
All games at the IceCenter; Salem, NH. Please note that, after the quarterfinals, all teams were reseeded.

Fri. March 1:

Stuart/Corkery Tournament (Open Div.)
Semifinals
#1 Kent vs. #4 Gunnery, 5:30 pm
#2 Salisbury vs. #3 Westminster. 8:00 pm

Sat. March 2:

Piatelli/Simmons Tournament (Small School Div.)
Semifinals
#1 Kents Hill vs. #4 Holderness, 10:00 am
#2 Brooks vs. #3 Tilton, 12:30 pm

Martin/Earl Tournament (Large School Div.)
Semifinals
#1 Cushing vs. #4 Exeter, 3:00 pm
#2 Thayer vs. #3 Avon, 5:30 pm

Sun. March 3:

Piatelli/Simmons Tournament (Small School Div.)
Finals, 10:30 am
Martin/Earl Tournament (Large School Div.)
Finals, 1:00 pm
Stuart/Corkery Tournament (Open Div.)
Finals, 3:30 pm

Printable Brackets/Schedule for Prep Postseason


Prior Results:

Quarterfinals
Wed. & Thurs. Feb. 27-28, 2013

Stuart/Corkery Tournament (Open):
#8 Gunnery 4, #1 KUA 1 -- final
#7 Westminster 3 @ #2 Belmont Hill 2 (OT) -- final
#6 Salisbury 3 @ #3 Berkshire 2 (OT) -- final
#4 Kent 7, #5 Dexter 1 -- final

Martin/Earl Tournament (Large School):
@ #1 Cushing 4, #8 Governor's 2 -- final
@ #2 Thayer 4, #7 St. Sebastian's 3 (OT) -- final
@ #3 Avon 8, #6 Choate 0 -- final
#5 Exeter 6 @ #4 Milton 3 -- final

Piatelli/Simmons Tournament (Small School):
#1 Kents Hill 4, #8 Millbrook 1 -- final
#7 Holderness 4, @ #2 Rivers 3 (OT) -- final
@ #3 Brooks 4, #6 Middlesex 0 -- final
#5 Tilton 3 @ #4 Winchendon 1 -- final



Sun. 3/3/13

Salisbury Wins Third Prep Title in Eight Years

Stuart/Corkery Tournament (Open Div.)

3:00 pm, Salisbury 4, Kent 1 -- final


Salem, NH -- Salisbury, behind a pair of goals from junior Mitchell Smith and a 23-save performance from sophomore goaltender Callum Booth, topped Kent 4-1 to take the 2013 New England Prep Elite 8 title here on Sunday afternoon.

With the win, Salisbury now has three NEPSIHA Div. I titles – they also won in 2006 and 2009. In addition, they won a Div. II title in 1991.

The turning point in Sunday's game came late in the second period when Kent defensemen Keanu Hilaire (cross-check) and Bennett Morrison (hooking) were whistled for minors seconds apart from one another with roughly two minutes left in the stanza. Just like that, Salisbury had a 5x3 powerplay for virtually all the time remaining in the period. The Knights didn't squander it, either. A Jacob Hand shot from five feet inside the left point deflected off the upper body of Liam McDermott, parked in front, and got by Kent senior goaltender Charlie Fennell with 53 seconds left in the stanza to give Salisbury a 2-1 edge going into the second intermission.
Early in the third, Salisbury, gripping tightly to the one-goal lead, got a great save by Booth on a Mitch Allen shot.

Salisbury made it 3-1 with an insurance goal at 11:50 of the third. The play actually started deep in the Salisbury end when senior D Mark Hamilton made a great diagonal saucer pass from outside the left faceoff circle hash marks right onto the stick of a streaking Derek Barach at the far blue line. Barach's shot rebounded to the far side, where a waiting Mitchell Smith found a wide-open net to shoot at – and didn't miss.

Smith, from his twin brother Evan Smith, would salt it away for Salisbury, making it 4-1 off a 2-on-1 with 1:59 left on the clock.

Earlier in the game, back in the first period, the two teams traded goals, Salisbury striking first when, with Mitch Allen off for tripping, PG Matt Pugh scored just 1:46 in, with assists going to junior D Will Toffey and junior F Evan Smith.
Later in the first period, Kent, after hemming Salisbury in their end for an extremely long stretch, cashed in to make it 1-1 when senior Connor Mitchell whistled a high shot over the glove of Booth at the 14:20 mark.
The second period was tense, with both goalies coming up big. Kent's Fennell made a pair of excellent saves late in the second to keep it at 1-1. First, Fennell made a great save on Jason Kalinowski with about three minutes left. Then, less than a minute later, the senior from Elmira, NY came up with a great right pad save to rob Mitchell Smith.

Seconds later, however, Fennell, who had 23 saves in the game, was facing Salisbury's 5x3 powerplay, a task too formidable. Salisbury, as mentioned above, would cash in, take the one-goal lead into the dressing room, add a couple of insurance goals in the third, and take home their first NEPSIHA title since 2009.

Afterward, we asked Salisbury head coach Andrew Will, who won his first title in his first year at Salisbury ('08-09) and now has a second to go with it, what the keys to his team's win were.

"We wanted to make sure we limited Kent's power play opportunities, mainly by making sure we played with composure to make them earn whatever they got," Will said. "On the penalty kill, we wanted to get sticks in the lanes and keep the puck to the outside. We also wanted to limit odd-man rushes or at least have back side pressure coming back into the zone. In those things, I think we succeeded."

"We also play on a big sheet at Salisbury and we try to use the full width of the ice. We thought we could take it wide and get their D to turn and get it deep and work on the cycle."

As for individual players, Will spoke of Booth, his sophomore goalie. "He's a true sophomore," Will said. "And he relishes the big stage. At Berkshire, he gave up a goal on the first shot and vs. Westminster he gave up a goal on the first shot. For a young kid to not get rattled by that and to keep his composure speaks to the mental maturity and focus he brings to the game."

Will was pleased by the 'Smith Twins' line, which also features Derek Barach. "They have been relentless the past three weeks. They just put so much pressure on the D. They anticipate, and they are smart coming back through the neutral zone. They push back."

Will also spoke glowingly of his entire defensive corps. "The maturity really impressed me," he said. "Plus they are so sound defensively."


***

Cushing Wins Hard-Fought Battle over Avon
Martin/Earl Tournament (Large School Div.)

1:00 pm, Cushing 1, Avon Old Farms 0 -- final

Salem, NH -- Cushing, on a Shane Kavanagh goal just 24 seconds into the first period and a Mike Dion shutout, edged Avon 1-0 to take the Large School final here this afternoon.

On the winning goal, junior Matt Hoover, in the corner, dished the puck out front to Kavanagh, who whistled a shot past Avon junior goaltender Cody Doyle.

Both teams played hard, physical hockey with a lot more big hits than you normally see on an Olympic-sized sheet. The officials let stuff go, and let the players skate. A wide-open affair, the game had a good up-and-down pace for all three periods. It also picked up in intensity as it went along, and became a battle of attrition toward the end.

Three penalties were called on Avon over the first two periods, none to Cushing. No penalties were called in the third period.

In the third, Avon kept pressing the play, but just couldn't get on the board. Already depleted by playing without two of their top forwards, senior Vincent Russo and junior Daniel LaFontaine (both out with injuries), Avon also lost senior forward Brennan Kee, who broke his ankle in the second period.

Both goaltenders, Doyle (30/31) and Dion (29/29), played very strong games.

***
Brooks Upsets Kents Hill

Piatelli/Simmons Tournament (Small School Div.)
Championship Game

10:30 am, Brooks 4, Kents Hill 1 -- final

Salem, NH -- Brooks School got goals from four different scorers and upset top-seeded Kents Hill 4-1 in the Piatelli/Simmons Small School NEPSIHA Championship Game here this morning.

This was an efficient, workmanlike win for Brooks. Kents Hill was never able to get into the flow of the game, in no small part because of the fact that, by picking up 10 penalties (Brooks had four), they were constantly skating shorthanded.
In the first period, Brooks went on top 1-0 on a shot from the point by junior D Cam Armstrong that beat Kents Hill junior goaltender Kyle Porter 5-hole at the 4:09 mark.

In the second, Brooks made it 2-0 when sophomore KJ Moore took advantage of a defensive zone turnover, picking off a pass and whistling a quick wrister top shelf past Porter at the 5:19 mark.

Junior Ian Speliotis, on a breakaway, deked Porter and tucked the puck behind him at the 11:00 mark to make it a 3-0 game.

Kents Hill scored their only goal of the game when junior Drew Somerhhoff knocked home the rebound of a point shot by senior defenseman Logan Day at the 14:25 mark. On the play, Somerhhoff was cross-checked into the goalie from behind right after he scored -- and was called for roughing the goaltender. Not exactly a call we see every day.

In the third, senior Nick Vasilopoulos added an insurance goal for Brooks at the 2:49 mark, with assists going to sophomore PJ Kelleher and senior D Mitch Nylen.

Senior Colin Langham stopped 14 of 15 shots to pick up the win in the Brooks net.



Sat. 3/2/13

Small and Large School Semifinals
Salem, NH, Icecenter, Sat. March 2

Martin/Earl Tournament (Large School Div.)
Semifinals

#3 Avon Old Farms 3, #2 Thayer 2 -- final.

Entering the third period trailing 2-1, Avon struck for two quick ones within the first five minutes of the period to take a 3-2 decision from Thayer Academy and advance to face Cushing in the title game of the Large School Tournament on Sunday (1:00 pm).

Here, in brief, is how things happened in the third. With the Winged Beavers on the power play, senior D Griff Martin tied the game at 2-2 on a shot from the point at the 1:12 mark. Senior Mason Krueger got an assist on the play.

Minutes later, Krueger, from Brennan Kee, and defenseman Sam Loizeaux, scored the game winner. It was Krueger's second goal of the game.
In the first period, the two teams traded goals, one early, when freshman Montgomery Graham put Thayer up just 35 seconds in, and the other late in the period when Avon's Krueger, on the power play, scored his first goal of the game, with assists going to Cody Champagne and Kee.

Avon sophomore goalie Tucker Weppner came up with a big stop on Thayer's Robert Carmody with 7:43 left in the period.

In the second, Thayer took a 2-1 lead on a nice goal, when defenseman Stephen Cochrane got it up the wall to Adam Gaudette who moved it to Neil Conway. Conway, in turn, made an excellent pass to Tyler Amonte driving down the slot. Amonte buried it at 12:55, to give Thayer their second – and last – lead of the night.

#1 Cushing 4, #4 Exeter 2 -- final

Cushing Academy topped Exeter 4-2 in the first of two semifinals today in Salem, NH and will move on to face the winner of the upcoming Thayer-Avon game for the Large School Championship on Sunday (1:00 pm).

The turning point of this game came early in the second period when, with the score tied at 1-1 and Exeter on the power play, Cushing came up with a shorthanded goal when defenseman Richey Boyd sprung junior Adam Augusta on a 2-on-1 give-and-go. Mozzer buried it at 3:56 to score what would stand up as the game winner.

Less than five minutes later, Tommy DeFelice, with an assist going to Mozzer, scored to give Cushing a 3-1 lead.

Exeter made things interesting when, just 20 seconds into the third period, senior Jake Lessick cut the Cushing lead to 3-2. That was as close as it got, though, as Penguins' senior Garrett Hehir scored an empty-netter with 39 seconds left.

The two teams traded goals in the first period, with Hehir putting Cushing up 1-0 2:49 into the game.

Exeter senior Patrick Lackey answered at 12:56 of the period, on a low shot from the right faceoff circle.

Senior goaltender Mike Dion got the win for Cushing; sophomore Michael Lackey took the loss in the Exeter net. Shots on goal favored Cushing, 22-18.


Piatelli/Simmons Tournament (Small School Div.)
Semifinals
#2 Brooks 2, #3 Tilton 1 -- final

A second period goal off the stick of sophomore forward KJ Moore broke a 1-1 tie and lifted Brooks to a 2-1 win over Tilton in the second semifinal today in Salem, NH.

Brooks will face off against top seed Kents Hill Sunday (10:30 am) in the Small School Championship Game.

All scoring today came in the second period. Just 36 seconds in, on the power play, Moore found junior Ian Speliotis open at the far side. Speliotis didn't miss, and Brooks took a quick 1-0 lead.

Tilton tied it up at 1-1 at the 11:13 mark on a nice goal by senior Peyton Baldillez. As he was falling, Baldillez managed to chip it over Brooks senior goalie Colin Langham.

Fourteen seconds later, Brooks -- and KJ Moore-- came right back and nailed the game winner.

Both goalies played strong games – Langham for Brooks; and senior Brenden Cain for Tilton. Brooks outshot Tilton, 16-14.

#1 Kents Hill 5, #4 Holderness 1 --- final

Senior D Logan Day and senior forward Marc Dufour each had two goals to pace top seed Kents Hill to a 5-1 win over Holderness in the first small school semifinal in Salem, NH this morning. Kents Hill moves on to face the winner of Brooks vs. Tilton in Sunday morning's championship game.

Sun. March 3 Schedule -- Championship Sunday:

Piatelli/Simmons Tournament (Small School Div.)
Finals, 10:30 am, Kents Hill vs. Brooks
Martin/Earl Tournament (Large School Div.)
Finals, 1:00 pm, Cushing vs. Avon Old Farms
Stuart/Corkery Tournament (Open Div.)
Finals, 3:30 pm, Kent vs. Salisbury

Fri. 3/1/13-updated 11:10 pm

Prep Semifinals: Kent, Salisbury Advance
All games at the IceCenter; Salem, NH. Please note that, after the quarterfinals, all teams were reseeded.

Fri. March 1:

Stuart/Corkery Tournament (Open Div.)
Semifinals

#1 Kent 3, #4 Gunnery 0 -- final.

Whatever emotional capital Gunnery carried into the playoffs must have been spent in getting past #1-ranked Kimball Union in the quarterfinals because they were never able to get on track tonight, winding up on the short end of a 3-0 decision to Kent.

Senior goaltender Charlie Fennell picked up the shutout for Kent, though he wasn't challenged much.

The Lions played a steady, methodical game, picking up a goal in each period and never once allowing Gunnery to gain traction.

In the first period, Gunnery made it tough on themselves by taking a slew of penalties, including a major and game misconduct to senior Marc Cibelli for a hit from behind.

Gunnery, however, did do a good job killing off a 5-on-3, and senior goaltender Dawson Sprigings had too come up with some big saves to keep his team in the game.
Kent went up 1-0 at 6:55 of the first period on a power play goal – a shot from the point by senior D Chris Capizzano that found its way through traffic at 6:55. Assists went to Phil Klitorinos and Mitch Allen.

In the second, after Sprigings went out to play the puck, the disc deflected off the stomach of Kent sophomore d-man Keanu Hilaire and into the net at the 8:02. Sophomore Max Kaufman picked up an assist.

In the third period, junior Anthony Rinaldi, on a power play, tipped Mike Graham's point shot to put Kent up 3-0. Danny Casey also assisted on the goal.

And that was it. Gunnery was never able to pull the goalie or get any kind of late offense.

Kent moves on to play the winner of 8:00 pm Salisbury-Westminster semifinal in Sunday's championship.


#2 Salisbury 4, #3 Westminster 3 (OT) -- final


A power play goal off the stick of Salisbury junior forward Evan Smith at 13:25 of overtime – his second goal of the game -- lifted the Crimson Knights to a 4-3 overtime win over Westminster.
Salisbury will meet Kent Sunday afternoon for the 2012-13 New England Prep School Championship.

After a busy first period in which the two teams combined for four goals, traded leads twice, and entered the first intermission tied at 2-2, the game settled down and became a contest of momentum shifts anchored by solid goaltending at both ends. Salisbury soph Callum Booth and Westminster junior Zac Hamilton both had to be on their toes, with shots coming from all angles on the big sheet.

In the second, Salisbury had the edge in play and took a 3-2 lead at the 12:48 mark when junior defenseman Will Toffey's shot from the left point went wide, caromed off the end boards and onto the stick of sophomore Mitchell Smith – Evan's twin brother -- who buried it. Salisbury had the edge in play in the second but could not score again, and carried a slim 3-2 lead into the second intermission.

In the third period, Salisbury wasn't able to hold the lead, as Westminster junior forward Tristan Rai got the goal that would tie things up at 3-3 4:02 in. Sophomore Jack Fitzgerald made the pass that Rai converted. Junior D Erik Rost also got an assist. It was the only goal of the period, one in which Westminster held a slight edge in play.

As mentioned, most of the game's goal scoring came early on. Very early on, actually, as Westy started the scoring just 45 seconds after the opening faceoff when senior Vincent Gisonti came barreling down the left side and snapped off a quick shot that beat Booth far side to make it 1-0.

Salisbury senior Jacob Hand, with Westminster freshman Taggart Corriveau off for hooking, tied it up 1-1 with a shot from the left point at the 11:08 mark.

Less than a minute later, Westminster's Jack Fitzgerald broke over the blue line and ripped off a long shot that caught Booth flatfooted at the 12:05 mark to give Westminster a 2-1 lead.

With 43 seconds left in the period, Salisbury's Evan Smith got the puck at the top of the crease, held it patiently until Hamilton committed and lifted it over him to knot the game at 2-2.

Smith's big goal would come nearly 50 minutes later – and Salisbury moves on, with a chance at a title.
Around the Rinks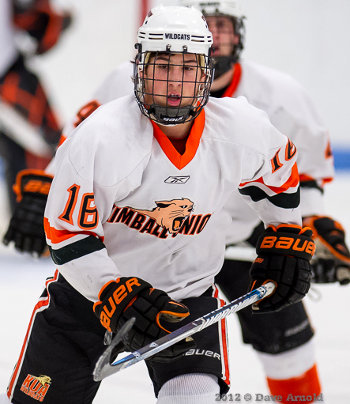 5'11" junior F Joey Dudek has 40 pts. in 28 games for Kimball Union.
(Photo: Dave Arnold Photography)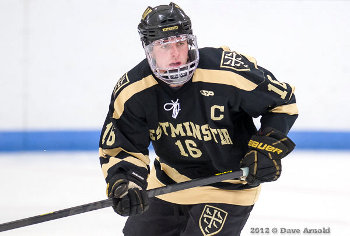 5'11" Sr. David Hallisey, a Princeton recruit, leads Westminster in scoring.
(Photo: Dave Arnold Photography)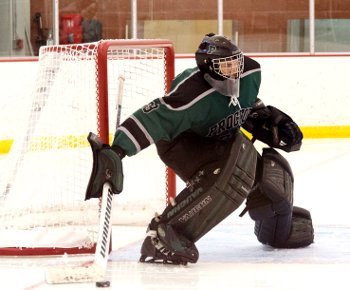 6'4" Harvard recruit Merrick Madsen was playing AA hockey for the California Heat before arriving at Proctor Academy last season.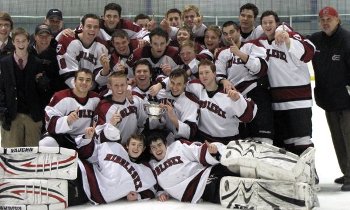 Middlesex School celebrates 2012 Barber Tournament championship.