Established 1996 -- Celebrating Our 25th Year

Sat. 6/8/13

Askew Top Yank in Q Draft
The Cape Breton Screaming Eagles selected 6'3" Amos Forestiers F Nicolas Roy, a native of Amos, Que., as the #1 overall pick in today's Quebec Major Junior Hockey League Draft.

Shattuck-St. Mary's F Nathan Noel was selected by the Saint John Sea Dogs with the #3 pick in the first round.

The top American-born player picked, as we expected, was Cushing Academy's 6'3", 175 lb. '97-born F Cam Askew, a former Northeastern and current Boston University recruit. Askew, a South Boston, Mass. native, was selected by Drummondville with the #11 overall selection.
Also of major interest was the fact that the Québec Remparts made a trade (with Chicoutimi) in order to obtain a selection high in the second round. With that pick, the Remparts took St. Sebastian's '97 defenseman – and Boston College recruit -- Noah Hanifin, who has committed to the US Under-17 Team for the upcoming season.

Americans Selected:

Round 1:
Drummondville – Cam Askew, '97 F, Cushing Academy
Round 2:
Québec – Noah Hanifin, '97 D, St. Sebastian's

Round 4:
Sherbrooke – Chase Harwell, '97 F, Selects Academy

Round 5:
Halifax – Connor Moynihan, '97 F, Middlesex Islanders U18

Round 6:
Moncton – Will Smith, '96 F, Springfield (EJHL)

Round 7:
Val d'Or – Lucas Michaud, '97 F, Berwick Academy
Moncton – Tucker White, '96 D, Wachusett HS
Gatineau – Max Prawdzik, '97, The Brooks School

Round 9:
Blainville-Boisbriand – Bobby Dray, '96 F, St. Mark's School

Round 10:
Saint John – Jack Eichel, '96 F, US U17
Moncton – Miles Gendron, '96 F, Rivers School
Moncton – Stephan Seegar, '96 F, Brunswick School
Charlottetown – Ben DiMaio, '96 D, Boston Advantage U18
Moncton – Jonathan MacLeod, '96 D, US U17

Round 11:
Shawinigan – Charlie Barrow, '96 D, Belmont Hill
Saint John – Joel Daccord, '96 G, Cushing
Val d'Or – Sam Michaud, '96 F, Middlesex Islanders U18
Rouyn-Noranda – AJ Greer, '96 F, Kimball Union
Moncton – Zach Malatesta, '96 D, Boston Junior Bruins U18

Round 12:
Cape Breton – James Winkler, '96 F, Berwick Academy
Shawinigan -- Gianni Paolo, '96 D, WB/Scranton (AJHL)
Acadie-Bathurst – Ean Mendensoon, '96 D, St. John's Prep
Gatineau – Ben Freeman, '96 F, NMH
Victoriaville – Ryan Blais, '96 D, Boston Junior Bruins U18
Rouyn-Noranda – Bryan Lemos, '96 F, Boston Junior Bruins (EJHL)
Québec – Joey Dudek, '96 F, Kimball Union
Baie-Comeau – Anthony Wyse, '96 D, Boston Advantage
Halifax – Bob Carpenter, '96 F, Austin Prep

Round 13:
Cape Breton – Matt Brazel, '96 F, Hingham HS
Sherbrooke – Cody Tedesco, '96 F, Nobles
Chicoutimi – John Carlson, '96 D, Hingham HS
Victoriaville – Austin Ricci, '96 F, St. Paul's School
Rouyn-Noranda – Bryan Nelson, '96 D, St. John's-Shrewsbury
Charlottetown – Trevor Fidler, '95 F, Dexter
Moncton - Jamie Dorsey, '96 D, NMH
Rimouski – Ryan Donato, '96 F, Dexter
Baie-Comeau – Peter Crinella, '96 F, Springfield Cathedral

Round 14:
Moncton – Bradley Power, '96 F, Bay State Breakers Jr. B
Acadie-Bathurst -- Zach Sanford, '94 F, Middlesex Islanders (EJHL)
Chicoutimi – Patrick Flynn, '96 F, Boston Advantage
Drummondville – Jake McCarthy, '96 D, St. Sebastian's
Moncton—Brandon Borges, '96 F, Williston-Northampton
Blainville-Boisbriand – Austin Jadovich, '96 D, Avon Old Farms
Rimouski – Tyler Bird, '96 F, St. John's Prep



Thurs. 6/27/13

Quinn Makes Greeley Hire Official

First year Boston University head coach David Quinn has officially named BU alum Steve Greeley as an assistant coach. Greeley replaces the departed Mike Bavis.
A Scituate, Mass native, Greeley returns to Comm Ave. after having spent the last seven years in the LA Kings organization as a scout. Greeley got his foot in the door in the summer of 2006, when Dean Lombardi took over as GM. Assigned the task of combing the NCAA waters for free agents, Greeley, during his three years in the role, helped sign the likes of Teddy Purcell (Maine), Kevin Westgarth (Princeton), and Davis Drewiske (Wisconsin), all of whom have gone on to establish themselves as full-time NHL players. In 2009, Greeley received a promotion to pro scout and has been in that role ever since. For the last four years the former Milton Academy and Thayer forward has been evaluating AHL and NHL players, ranking them, and assigning monetary values in preparation for free agency, trades, etc. This is not much different than the role he will play with the Terriers. Greeley will be Quinn's eyes and ears in the rinks and, much like he has done for the Kings, will be assigning scholarship value to prospective student athletes.
Greeley has been rumored to have had this job for some time now (we put out a tweet on May 28) , but contractual issues kept him and the Terriers from making it official until today. Quinn only ever considered two people for this job — Greeley and Harvard assistant coach Albie O'Connell. O'Connell has built a very talented team just across town and as soon as word got out that BU was interested in him he was given a nice raise from his current employer to stay put. That made Quinn's decision an easy one. Greeley played for the Terriers from '00-04 and in 77 games posted a 6-5-11 scoring line.

Tues. 6/25/13

Whitehead Looking Forward to KUA
New Kimball Union Academy head coach Tim Whitehead says that, after being bought out of his contract at Maine in April, he fielded calls about NHL scouting positions as well as an AHL assistant's position. "However," he says, "I didn't want to start bouncing around from place to place. I didn't want to move the family several times."

And that's how Whitehead, 51 years old and with over 25 years of college hockey coaching under his belt, including four Frozen Four appearances, wound up considering prep school. He had two possible destinations: Culver and KUA.

"I was supposed to visit Culver this week but after going to KUA I called and told them I'd unfortunately not be able to come out and take a look," Whitehead says. "I was flattered because that's a great program out there, but from a family perspective…my kids are New Englanders. And their cousins live in Montreal. Still, it was nice to have two options."

"My kids will get a great education and my wife will start her teaching career," he adds. "It's a pretty darn good opportunity."
Whitehead met his wife, Dena, when she was an assistant athletic trainer at UMass-Lowell while he was a head coach there. (She would go on to become head trainer at UMass-Dartmouth). However, since their oldest child, Natalie, was born in 1999, she has been a stay-at-home mom. Now, Natalie will be a 9th grader at KUA and her younger younger brother, Zach, who is going to be a 7th grader, will be at KUA before long. And, this year, Dena will be getting her teacher's certificate. In a year, she will be teaching math and computer science at KUA.

"It all came together at the right time," Whitehead says. "It was very much a family decision."

As for hockey, "At KUA, there's a big commitment to the game. I believe I can help kids develop both on and off the ice. I have been fortunate to be able to do that for 25 years at the college level. I'm looking forward to the challenge of being able to help kids move on to college and beyond. I can give kids an idea of what to expect."
Whitehead credits former KUA coaches Ryan Miller, now an assistant at UMass after two years at Culver, and Mike Levine, now an assistant at Brown, with bringing the program to its current level of competitiveness. "They did a fantastic job," Whitehead says. "The program is reenergized. It will be a very young and a mostly new team. I will also be new, so we'll be on similar ground that way. It's true that a lot of players were lost to graduation but the top two guys coming back, co-captains JD Dudek and AJ Greer, are both top-notch student athletes and great leaders. It's important that the two most important players are rock solid. We will keep recruiting and bringing in student athletes. We're in it for the long haul."

Whitehead did a lot of fundraising at Maine, for the Alford Arena Renovation Project, the Sean Walsh Hockey Center, and to supplement the program's operating budget. He says he will also be doing fundraising at KUA where, he said, there is the possibility of a new arena in the not-too-distant future.
As for the immediate future, Whithead will be packing up in Orono and moving to New Hampshire in August, and is looking ahead to the fall.
"As far as the timing is concerned, this came at the right time for me. We'll have fun with it. We're going to have a young team, but we'll have a blast. As I said, we have two great leaders coming back. I've never backed down from a challenge before, so this will be fun."
"Some people think I'm mellow but I'm actually pretty competitive – the players know that," Whitehead says.

Actually, there are a couple of prep coaches who have been players on teams coached by Whitehead. When Whitehead was an assistant at Middlebury from '88-90, Tabor head coach Gerry Dineen was one of his players. And during his year as an assistant at Maine, Taft head coach Dan Murphy was a member of the Black Bears. And when Whitehead played at Hamilton, Nobles' head coach Brian Day was one of his teammates.
As for a possible return to college coaching down the road, Whitehead says, "You never say never because you just never know what can happen. But we are looking to make this move to stay. That's our objective. This is where we want to be."

"We're going to move up there in August, and I will start recruiting as soon as possible."

***
As mentioned above, Penn State recruit A.J. Greer, who will be a junior and Boston College recruit J.D. Dudek, who will be a senior, will be KUA's co-captains.

A huge number of players have been lost to graduation, but there are some promising young players coming in. They include:

Senior Tyler Bird and junior Jack McCarthy. Both are forwards who played at St. John's Prep, and both are Brown recruits.

PG forward Bobby Hall from the Boston Advantage.

Junior Dominic Franco, a forward transferring in from the Pomfret School.

Sophomore forward George Sennott, coming in from Austin Prep.

Senior forward Chris Shero, the son of Pittsburgh Penguins GM Ray Shero, is coming from the U-18 Penguins.

Junior forward Brendan Riley, the son of Army Head Coach Brian Riley, played last winter for the U-18 Hitmen.

Sophomore forward Nic Hamre is arriving from the Eastern Ontario Wild.

Sophomore defenseman Ben Finkelstein is coming in from the Cardigan Mountain School.

Junior defenseman Alexandre Leblanc, a Laval native, is coming from Quebec's Midget AAA league.

Junior goaltender Gavin Nieto played last season for the LA Jr. Kings U-16 Team.

Tues. 6/25/13

Road to College Review
USHR was in attendance at the Road to College Showcase at Babson College this past weekend and, as usual, we walked away impressed. Dexter head coach Dan Donato and Chuckie Hughes, a goaltender on Harvard's 1989 NCAA championship team and a former Harvard admissions officer, do a fantastic job of creating a competitive environment with a lot of top players, provide excellent exposure to D-I and D-III schools, and educate the campers about the entire college process. This isn't just a money grab, either — every kid here has a chance to play D-I or D-III hockey and their chances of accomplishing that goal were improved by having attended.
We saw a nice mix of players here, from top D-I prospects, to potential D-I walk-on types, to players who could be great contributors at top D-III schools like Norwich, Williams, Babson, Middlebury, etc. There were six teams of players from '97s up to '94s.

Here are the players we felt were the standouts:
Ryan Donato, F, '96 (Dexter) — The son of Harvard head coach Ted Donato gets a little taller and a little leaner each time we see him. It is clear that he has found his way to the weight room and it is paying dividends on the ice. Donato put up 60 points as a sophomore last year, though it may be difficult for him to match those numbers, having lost much of his supporting cast to graduation. Donato has unbelievable hockey sense; he knows how to slow the game down and make the right decisions with the puck. Will enter the season as a strong candidate for USHR Prep Player of the Year honors. We are told that his father will not allow him to commit to Harvard until he is certain that he has the grades to be admitted, which will not happen until halfway through his junior year. If he does not turn out to have the grades for the Crimson we are all but certain he will have full scholarships offers from all the top schools in Hockey East. Is entering his draft year and we would expect him to compete with the likes of Joey Dudek (KUA), James Winkler (Berwick), and Michael Ederer (Nichols) to be the first prep player to hear his name called at the 2014 NHL draft.
Callum Booth, G, '97 (Salisbury) — The 6'2" netminder was the youngest player on hand and arguably the best. The Montreal native is tall, slender, athletic, and poised in net. He makes the game look easy. Has a calming presence and does not allow for many rebounds. Won a championship this past season with Salisbury and has proven that he can deliver when it matters most. Has a lot of options in terms of where he would like to go to college. We are told that BU, Notre Dame, UNH, and Harvard are the frontrunners for his services. UVM is also said to be in the mix as they have a geographical advantage. Look, as well, for UConn to make a strong push. Huskies head coach Mike Cavanaugh was in the building over the weekend to lay eyes on the promising tender. Was drafted in the round 3 of the QMJHL draft by the Quebec Remparts. Normally, that would be cause for concern, but with coach/GM Patrick Roy having left the organization in favor of the Colorado Avalanche it's more likely that Booth will indeed end up in college.
Will Brophy, D, '96 (Westminster) — Maybe we are a little too high on the Fairfield, Conn. native, but we can't ignore his long-term potential. The 6'3" defender does not complicate the game, he keeps things simple, and he is very reliable in his own end. We feel that he has a very high upside — he's skinny and is only going to get better as he starts to fill out. Is the same age as Yale defenseman and Bruins draft pick Robby O'Gara was when he entered Milton Academy, and there are a lot of similarities between the two. Brophy needs to add a little more knee bend to his skating and improve his first step. Is a 90% student and will likely have Ivy League options. We think he will be someone that NHL teams will be watching over the course of the upcoming season.
Teddy Hart, F, '96 (Phillips Exeter) — It is absolutely amazing how much better the youngest of the Hart brothers has gotten over the last two years. He doesn't play the game like his older brother Brian — a Harvard sophomore and 2nd round draft pick of the Tampa Bay Lightning — but is a much smoother skater and better in transition. Has two years with Dana Barbin in front of him at Exeter and we think he will be developed into a top D-I recruit. Exeter, by the way, is going to be a team to be reckoned with. Each event we go to we see more top players who list Exeter as their destination for the '13-14 season. With returnees like Spencer Young, Peter Christie, Derrick Spencer, and Trevor Cosgrove factored in with top recruits like Hart, Kevin Neiley (Team Comcast U18/PG), Devin Moore (Pinkerton Academy/sophomore), Andy Espinoza (Little Flyers U16/junior), Matt Foley (Springfield Cathedral/PG), Henry Hart (St Thomas Academy/PG), and David White (Fairfield Prep/PG), Exeter looks to enter the year ranked in the top three.
Cole Maier, F, '95 (Taft) — Rangy forward is progressing nicely at Taft. The former New York Saints product has improved his skating a great deal and has always had a knack around the net. Showed excellent poise in the offensive zone over the weekend. Is someone we think will have a breakout season this upcoming year. A D-I prospect.
Zach Guittari, D, '96 (Loomis-Chaffee) — We have reported on Guittari a good deal over the course of the last few months, and don't have much to add that we haven't already said. We like his game. He's solid in all facets, moves the puck up ice well, and is beginning to develop an offensive side to his game. An Ivy League level student who will attract D-I interest.
Dominic Franco, F, '96 (KUA) — Tall, lanky forward is intriguing. For a kid who is about 6'2" he has a lot of skill. Played for Pomfret last year and has flown under the radar. He is someone we think scouts will be watching closely early in the season. Needs to continue to build leg strength and add some explosiveness to his game. Plays on the perimeter more than we would like to see. Has D-I tools and should be an immediate contributor at KUA this year.
Steve Cochrane, D, '96 (Thayer) — 6'4" defender gets around the sheet pretty well for someone his size. Has improved a lot over the last 12 months. As he continues to grow into his body his overall coordination will improve. Is an interesting package and we think D-I and NHL teams will be tracking his progress closely. We are told that the senior-to-be is also a very good left-handed pitcher and may end up playing baseball in college.
Tipper Higgins, F, '95 (Berkshire) — Did not really jump out at us last year, but the South Burlington, Vermont native was a big part of Berkshire's successful season, playing wing on the Bears' top line and potting 20 goals. We watched him closely here and we can see how he scored at such an impressive clip. He has a fantastic release on his shot, thrives in the scoring areas, and does not shy away from traffic. Will end up playing D-I hockey. Played on a line with Charlie Corcoran (Brown) and Craig Puffer (UVM) at Berkshire last season and that trio returns intact. Look for them to once again be one of the top lines in prep hockey.
Max Daigle, D, '95 (Choate) — The 5'9" defender has grown a bit and appears to have bulked up a good amount over the last 12 months. The St. Lambert, Quebec native is a powerful skater with great acceleration. His skating alone could carry him into D-I hockey. Has a good stick and finds the open man in transition. Might not be dynamic enough offensively at his size to attract the interest of top Hockey East programs, but D-I schools will likely take a long look at him this year. We would also expect the NESCAC schools to try and convince him to go early decision.
Sam D'Antuono, F, '95 (Dexter) — The Hingham High product is an interesting prospect and will be a player to follow this year. He skates really well for a 6'2" kid and has power forward potential. If he shows that he is able to adjust to the pace of prep hockey, his game could really take off and D-I schools could be kicking themselves for not being on top of his progress.
Richard Boyd, D, '95 (Cushing) — The 6'2" defender is a strong skater, extremely competitive, does not get beat in 1x1 situations, and has an absolute bomb from the point. We think he could develop into a physical, meat-and-potatoes, low maintenance d-man at the D-I level. A loyal, character kid who is returning for his senior year to captain the Penguins while Connor Brassard, Shane Kavanaugh, and Cam Askew have all left prematurely for junior hockey.
Ace Cowans, F, '96 (Groton) — Was really good here. We didn't keep track of the statistics, but our guess is that Cowans finished right at the top of the scoring charts in three games played. The Beverly, Mass native was injured for the majority of last season and we expect him to be one of -- if not the -- top scorers in the Eberhart Division next year. He is really tiny, which may hurt his chances of playing D-I hockey, though we wouldn't rule it out either. That said, NESCAC schools will be tripping over themselves for his services.
Tim Doherty, F, '95 (St. George's) — Put himself on the map here with a strong performance. As a junior, the Portsmouth, Rhode Island native potted 55 points and will likely build on those impressive totals next year. Will need to get faster to attract the interest of D-I coaches, but he has good hockey sense and makes a lot of plays.
Nick Rutigliano, D, '96 (Boston Advantage) — 6'1" defender has a good stick and is very reliable with the puck, both in transitioning pucks out of his own end and also at getting pucks on net from the offensive blue line. Needs to continue to improve on his skating, but our guess is that a D-I school will offer him a spot.
Joe Sacco, F, '96 (Rivers) — Doesn't jump out at you because he is not overly big or fast, but he is a smart hockey player who is very good with the puck on his stick. Seemed to be on the ice with Ryan Donato a good amount -- and the two made a lot of plays.
Ethan Spaxman, D, '96 (Hill Academy) — The Guelph, Ontario native is pretty intriguing. The 6'2" defender has a long stride, brings some offense, and has a long reach. Is almost a '97 and is someone to keep an eye on.
Tyler Granara, D, '95 (Belmont Hill) — Someone once said to this typist that Belmont Hill teams have looked the same for decades --- a bunch of 5'10", 5'11" kids from the western and northern suburbs who are all pretty good, but seem to blend together. It's when you watch them individually that you begin to appreciate them more. We hardly noticed Granara during the year, but here he looked terrific. Intelligent defender who plays with his head up. Will be a top NESCAC recruit.
Jack McCarthy, F, '96 (Kimball Union) — Has definitely gotten bigger and much thicker. The St. John's Prep product is filling out, but his play hasn't changed all that much. Will go whole games without being noticed, though he will also show flashes of becoming a really good player. The Brown recruit is on an even keel at all times. This hurts him when he is competing for loose pucks, but helps him when he displays poise and confidence in the offensive zone.
Spencer Naas, F, '95 (Benilde-St. Margaret's) — Has a good stick and a nose for the net. Posted 60 points in just 28 games played for Benilde last year. Should be one of the top offensive players in the state of Minnesota this coming season.
TJ Moore, F, '94 (Benilde-St. Margaret's) — Not very big at 5'9", but was very noticeable. Constantly around the puck. Is limited in terms of upside, but he has a good skill level and the potential to fill an energy role at the D-I level. Put up 142 points in 97 high school games for Benilde.
Anthony Wyse, D, '96 (Boston Advantage) — 6'2" defender has a lot of skill and confidence with the puck. Good on the PP and creating offense in transition. Is an upright skater; will need to improve his feet. Formerly at St. Sebastian's.
Alex Esposito, F, '96 (Loomis-Chaffee) — Good in all areas, but in terms of projecting his upside we are not sure where he falls. Is a bit of a tweener in that he may not have enough skill to be a top six forward at a Hockey East school, while at the same time may not play with the pace and grit expected of an energy guy. However, we are confident that there is enough here for a D-I school to offer him, in due time, a spot in their locker room.
Matt Foley, D, '95 (Phillips Exeter) — PG defender at Exeter is solid across the board, and is going to be very good at the prep level.
Zach de Concilys, F, '94 (Port Colborne-GOJHL) — Big, strong power forward was one of the top scorers in the GOJHL last season, posting a 22-50-72 scoring line in just 41 games played. For a big kid – he's 6'1" -- he has soft hands and is very good around the net. His feet will hold him back, but if he trimmed down and added a step his game could take off. His brother, Joey de Concilys, attended Salisbury and is currently at Brown.
Frank Sullivan, D, '96 (Westminster) — Has an awful lot of ability, but as one coach here said, "He is a riverboat gambler." Sullivan loves to be involved in the offense and is constantly trying to join the rush. This pays off sometimes, but when he is on the ice there are also a lot of odd man rushes going the other way. Has D-I tools, but no school will take a chance on him until he demonstrates the ability to play consistently on the D-side of the puck.
Andrew Cross, D, '96 (Austin Prep) — Smart hockey player. Doesn't complicate the game or try to do too much, just finds the open man and moves pucks. Will need to get thicker, stronger, and more powerful to attract D-I schools. His mind for the game is very good.
JC Brassard, D, '95 (Nobles) — The former BC High defender is similar to Cross, but plays more of a high risk/high reward type of game. Will be one of the top PP specialists in prep hockey next season.
Cody Todesco, F, '96 (Nobles) — The Franklin, Mass. native put up a point-a-game at Nobles last season and will be relied upon for more offense in his senior year. The 5'9" sparkplug does not have a lot of skill, but, boy, does he play the game hard. Gives you 100% effort each shift, and creates offense through energy.
Tyler Drevitch, F, '95 (Boston Bandits) — Only put up 10 points in the EJHL last year, which is a bit surprising to us. The Middleboro, Mass. native has great stick skills and is very good operating in tight spaces. Has to improve his feet/explosiveness in order to create offense on the rush.
Matt Hoover, F, '96 (Cushing) — The Cushing winger is as gritty as they come. He loves to finish his checks and get his nose dirty. Has a good stick and a hard shot. Is only about 5'9" and is not a burner, which could limit his options. If he is able to make skating a strength as opposed to a weakness he could become a great role player at the D-I level.
Bobby Hall, F, '95 (Kimball Union) — The Boston Advantage product had a productive weekend, scoring a lot of goals. A Westwood, Mass native, Hall is a shifty skater who generates offense with his feet. It will be interesting to see how he comes along this year under newly-appointed KUA head coach Tim Whitehead.

Thurs. 6/20/13

Whitehead Taking over Wildcats
Former University of Maine head coach Tim Whitehead will be taking over as the new head coach at Kimball Union Academy.
The Lawrenceville School and Hamilton College alum, who had also reportedly been in touch with Culver Academy regarding the vacancy created there when Ryan Miller signed on as an assistant at UMass, will be taking the position at KUA that opened up when Mike Levine, the Wildcats coach for the last two seasons, recently accepted a position on Brendan Whittet's staff at Brown.
Whitehead has 17 years of Division I head coaching experience split between UMass-Lowell (1996-2001) and Maine (2001-2013). Whitehead guided Maine to Frozen Four appearances in '02, '04, '06 and '07 and captured the Hockey East championship in 2004. He was relieved of his duties in Orono in early April when Maine bought him out of the final year of his contract -- for $195K -- after the Black Bears had failed to reach the NCAA tournament in five of the last six years.

Whitehead is still an attractive head coaching candidate at the D-I/D-III level and coaching at prep school may be a stopgap measure for him, as KUA won't be paying anything remotely close to what he is accustomed to making. In addition, there is a good chance that a number of D-I schools will be looking for a new head coach following the upcoming season and Whitehead's experience could make him a strong candidate for certain positions. That said, there is obviously far less pressure in the prep ranks and Whitehead has two children -- 7th and 9th graders – who could benefit from the prep school experience. As for Kimball Union, it's a coup, and will certainly help bolster the school's recruiting as the Wildcats, a powerhouse stunned by Gunnery in the prep quarterfinals, lost a slew of high-end talent to graduation. BC recruit Joey Dudek and Penn State recruit AJ Greer are scheduled to return, though the two forwards are also likely getting pressure from elsewhere to jump ship. Whitehead could forestall such a thing happening.

Wed. 6/19/13

Road to College Camp List
The Road to College kicks off this weekend at Babson College. Games will be played Friday and Saturday (2-7 pm both days), and Sunday (11 am-4 pm). Most players on hand are uncommitted, which makes it a useful tool for both D-I and D-III coaches. Callum Booth (Salisbury), JC Brassard (Nobles), Will Brophy (Westminster), Andrew Cross (Austin Prep), Ryan Donato (Dexter), Dominic Franco (KUA), Zach Guitari (Loomis), Alex Esposito (Loomis), Vimal Sulumaran (Salisbury) and Cam Beecy (KUA) are among the players coaches will be eyeing.

For the full list, see:

Road to College Camp Roster




Wed. 6/19/13

First Recruit of Cavanaugh Era at UConn
The University of Connecticut has landed their first recruit under the Mike Cavanaugh regime. 6'1", 180 lb. defenseman Derek Pratt of the New Hampshire Jr. Monarchs (EJHL) has committed to the Huskies for the fall of '14.
The son of Northfield-Mt. Hermon head coach Tom Pratt, who played for Jerry York at Bowling Green in the '80s, the younger Pratt is a reliable, stay-at-home defender. Pratt is very competitive, solid in 1x1 situations, and will make the Huskies more competitive as they make the transition to Hockey East. The 3/12/94 birthdate posted a 1-6-7 scoring line this past season in 41 games played.

Mon. 6/17/13

East Coast Futures Showcase
USHR spent Sunday down in Connecticut at the East Coast Futures Showcase. We did not have time to watch every team -- not by a long shot, as the tournament was spread out between three rinks and we just had one day. So we homed in on Cromwell in order to watch the better teams in the U18 and '98 divisions. What follows, then, is by no means a comprehensive tournament review. It's more a list of some uncommitted players who jumped out at us, as well as a few others we feel may be of interest to certain programs.
Patrick Harper, F, '98 (New England Nordiques) — We have written about the small, creative forward a number of times previously, and he continues to impress. Our guess is that he has not yet received a ton of attention from D-I schools, but that could well change after the Select 15 Festival. The crafty speedster is a wizard with the puck on his stick and does nothing but makes plays and create offense. From all indications, Harper is a good kid -- someone you might want on your team.
Steven Ruggiero, D, '97 (Hockey Essentials) — Played for the Metro Moose (MET) this past season and we did not get the opportunity to see him in action. However, we had seen him the year before when he was playing for the Long Island Gulls U14 team. We can say that the defender has gotten bigger – he is 6'3" now -- and better in the intervening year. Ruggierio skates well for a big man, and has always been able to make a play. In March, we were a little surprised he was picked for the NTDP's Evaluation Camp, but can now see that he was definitely worthy of the invitation. Ruggiero was Youngstown's first round pick in the USHL Futures Draft last month and we expect to see the lanky defender in their lineup. A top D-I prospect.
Zach Guittari, D, '96 (Next Level Skills) — The 6'1", 180 lb. Loomis-Chaffee defender is solid across the board -- a good skater, agile, defends well, and passes the puck tape-to-tape with authority. Guittari is not someone who is going to run a D-I powerplay, but he does project as a great #4 who can give you a lot of stress-free minutes. Is a top student and Ivy League schools will be vying for his services.
Trevor Turnbull, F, '97 (Hockey Essentials) — The 5'8" sparkplug is relentless on loose pucks, has a good stick, and creates a lot of offense. Is limited in terms of upside. However, he's a pitbull type who is going to be a heck of a prep school player. Will be a sophomore at Milton Academy this year.
Josh Vertentes, F, '98 (New England Nordiques) — A top '98 forward who will be a sophomore at Portsmouth Abbey this fall. Is 5'9" and not someone who has pro upside, but he is a solid D-I prospect. Possesses excellent hockey sense and has a good feel for the game. Is always around the puck and has a great stick. As a freshman, he led Portsmouth Abbey in scoring by quite a margin.
Tyler Hall, D, '96 (Hockey Essentials) — Is not someone we were previously familiar with, but we really liked him here. Will play for the NY Bobcats next year. Has good hands and is confident with the puck on his stick. Is only 5'9", but he can move pucks.
Nick Hutchison, F, '95 (Hockey Essentials) — Spent one season at Avon and has since decided to leave the New England prep school in favor of Tri-City (USHL). Central Scouting pegged the 6'2" forward as their #94 ranked North American skater --- in our opinion, way too high. In fact, we would be surprised to see Hutchison drafted before the 7th round. That said, there is definitely something here. Lanky kids with hands and playmaking abilities are scarce, but there is also something missing about his game. Still has a way to go.
Keelan Ulnick, D, '98 (Next Level Skills) — 5'11" defender from the Anaheim Jr. Ducks organization is good on the PP and makes crisp, hard passes. Will be a top prep school recruit.
Vimal Sukumaran, F, '96 (East Coast Kings) — Played for the Lac St. Louis Lions this past season and was their top scorer. Headed to Salisbury this year and will be expected to make an immediate impact. Will no doubt be effective at the prep level, but in terms of D-I upside he didn't really do it for us this weekend. While he has good offensive skills, he appeared a little bulky and at 5'10" he is going to have to be very dynamic to attract D-I interest.
Daniel Sarracco, F, '95 (East Coast Kings) — Another forward from the Lac St. Louis organization. Has skill and sees the ice well. Is looking to play prep school hockey as a PG and still does not yet have a home. Would be an impact player at the prep level. Around 5'9".
Devin Moore, F, '97 (East Coast Kings) — The 5'6", 130 lb. forward is fun to watch. He is a water bug with a lot of skill. Reminds us of a poor man's version of BU's Cason Hohmann. Will be a nice player at Phillips Exeter for the next few years. Two years ago he played on a line with Boston College recruits Zach Sanford and Joey Dudek at Pinkerton Academy.
Danny Petrick, D, '99 (East Coast Kings) — Played as an 8th grader at Springfield Cathedral this past season. The young defenseman sees the ice and has great poise with the puck. Will develop into a top D-I prospect over the course of the next two years. Is around 5'10" now.

Tues. 6/11/13
Liberty Bell Games Review
USHR spent the weekend at the Flyers Skate Zone in Voorhees, NJ taking in the 2013 Liberty Bell Games. Ottawa Senators scout Lew Mongelluzzo does a great job in bringing the majority of the area's top high school-aged talent together for a five-team showcase. There's a little something for everyone here, ranging from players with D-I and major junior interest to a healthy number of really good prep school/NESCAC type players. And there is a variety of scouts on hand to watch them all. A nice plus for the scouts – who need to home in on exactly who they need to be watching -- is the amount of quality information they are given on the players. It's helpful to be able to immediately find out what any given player's GPA is, what his parents do for a living, whether or not he wants to play junior hockey or prep hockey, where he played last year, what type of college he would like to go to. It's all good info; it's all in the book; and very well done.

Here are the players who caught our attention:
Ryan Lohin, F, '96 (Philadelphia Flyers U16) 6-0/175 — For our money Lohin was the top player here. We are not stating he will end up being the best player of the bunch years down the line, but he is the most deserving of D-I recruiters' attention right now. The Chadds Ford, Pennsylvania native has an awkward stride, but he actually gets up and down the ice pretty well, and has an explosive first step. His hockey sense is high-end and he makes excellent decisions with the puck. Very underrated. Was at the Atlantic District festival tryouts and did not make it through to the festival — a mistake in our opinion. Will play for Team Comcast U18 team this year.
Shaun Bily, F, '98 (Honeybaked U14) 5-11/170 — A nice player who does everything well. Competes hard in 1x1 situations and has a very good stick. Is a top '98 who will be recruited hard over the course of the next 12 months by D-I programs. We are told Bily will be playing for the Long Island Gulls U16 team next year. The Gulls, by the way, are shaping up to be one of the top U16 teams in the country.
Dante Palecco, F, '98 (North Jersey Avalanche U16) 5-10/165 — Another top player who will be playing for the Gulls U16 team next year. Palecco is pretty one-dimensional, but he has a ton of skill and can bury the puck when given an opportunity to score. Great set of hands and a quick shot release. A top student with a 3.9 GPA.
Michael Ufberg, D, '97 (Team Comcast U16) 5-9/165 — Under-sized defender has a great stick and can see the ice. Has the ability to be a future PP quarterback at the D-I level. Is not very big and is an upright skater which could hurt his ability to defend at higher levels. That said, he can move pucks and create offense which could offset his negatives. Has a 4.25 GPA and will likely end up at an Ivy League school.
AJ Drobot, F, '98 (Team Comcast U14) 5-8/165 — A year or two ago Drobot was the name we kept hearing about as the next up-and-coming talent from the Philadelphia area. He has not grown much and some are beginning to question how much better he will get. We do not think he is someone NHL agents should be chasing around, but we do feel he will be a D-I player — and a good one at that. He sees the ice well, understands the game, and makes plays. Has a lot of confidence and is dangerous in transition.
Brandon Crawley, D, '97 (New Jersey Wildcats) 6-1/185 — Listed at 6'1", but our guess is that he is likely about 5'11". The Bergen Catholic sophomore is a heads-up, puck-moving defender who has good feet. He's someone D-I schools should be tracking.
Donovan Ott, F, '97 (Selects Hockey Academy) 6-1/205 — The Cornell recruit was recently cut from the Select 16 Festival district team and his stock has taken a bit of a hit lately. There is a lot of talent here and we can see why the Big Red has offered him a spot in their locker room. He is big, strong, physical, and has a good overall skill level. He could be a pro at the end of the day. So what is the problem? Well, his habits are very poor and his body language reads, "I am committed to Cornell thus do not have to work hard." He did not stop on a single puck this weekend and did a ton of looping. Our guess is he did the same thing at the district tryouts.
Andrew Petrillo, D, '98 (NJ Devils U14) 5-10/150 — Offensive-minded defender who can really zip the puck around. His passes are hard, crisp, and tape-to-tape. Always has his head up and is very smart, both on and off the ice. A 4.0 student , Petrillo will be an Ivy League recruit over the next couple of years. Excellent on the PP.
Gregory Hendrickson, F, '98 (Team Comcast U14) 5-9/162 — East Rockaway, New York native does an awful lot of driving in order to play for Comcast. The crafty forward isn't the smoothest skater, but he is always around the puck and has a nose for the net. Creates offense and makes things happen when he has the puck. Will develop into a good one.
Drew Hotte, G, '96 (Milton Academy) 5-11/165 — Consistently good. Does not allow soft goals and makes all the saves he is supposed to make. The top goalie here in our opinion and will be out at the Select 17 festival in a couple weeks. Still has room to get better. We would like to see him be more aggressive in the crease.
Andy Espinoza, F, '96 (Philadelphia Little Flyers U16) 6-1/180 — Lanky kid with a nice long stride and above-average hockey sense. Is headed to Phillips Exeter in the fall and we would expect him to be a major contributor. Will likely team up with Dartmouth recruit Kevin Neiley and the two will put up a lot of points in Dana Barbin's system of playing his top horses to exhaustion.
Guy Roby, F, '96 (Philadelphia Little Flyers U16) 6-2/190 — Put up huge numbers this season, posting a 44-48-92 scoring line in 54 games played. Will be at the Select 17 Festival and we are anxious to see how he does. The Philadelphia native is a big man with a heavy shot – an interesting prospect. Our big question involves his pace. He seems to react a little too slowly for our liking, and thus could struggle making plays when his time and space is taken away.
Nick DeSimone, G, '96 (NJ Rockets U16) 5-11/190 — Headed to Loomis in the fall and -- as Danny Tirone has graduated -- has some big shoes to fill. The Ambler, PA native is quick and athletic. Certainly has some ability and can make some eye-popping saves. Will need to improve his consistency. A top student who carries a 4.0 GPA.
Paul Vella, F, '96 (Metro Moose-MET) 5-10/160 — Has a lot of skill and a quick stick. Is very good in 1x1 situations and can make some flashy plays. That said, he tries to make the flashy play every time he touches the puck and it leads to a lot of turnovers. Would benefit from simplifying things and adding a north/south element to his play.
Nick Bohatiuk, F, '96 (Team Comcast U16) 5-10/155 — Had a heck of a weekend and was really productive. Has an above-average skill set and played with a lot of confidence here.
Simon Butala, D, '98 (Philadelphia Jr. Flyers U14) 6-0/175 — Big, strong defender with some ability. Can make a play and is pretty consistent. Is at that age right now where he is bigger and stronger than his peers. It will be interesting to see if he can continue to play at the same level as kids catch up to him in terms of size and strength.
Richard Brusco, D, '96 (Team Comcast U16) 5-8/145 — Small defenseman got a lot better this season and started to develop some offensive sizzle to his play. Great with the puck on his stick and finds the open man in transition regularly. Will need to get much stronger in order to have a shot at defending at the D-I level, but his puck play is very good.
Matthew Kidney, F, '96 (NJ Titans U16) 5-9/165 — Smart hockey player who sees the ice well. Has the ability to slow the game down and make a play. Needs to add another gear to his skating to attract D-I attention, but he thinks the game at high level. Stood out here.
Connor Matsinger, D, '98 (Team Comcast U14) 5-9/148 — Do not have a great feel for his game yet, but it is very evident that he can skate and make a play. Is interesting and caught our eye on a number of occasions. Worth watching.
Andy Iehle, D, '98 (Little Flyers U14) 5-9/145 — Young defender is smart, crafty, and competitive. At this point he is a great prep school prospect.
Ben Auerbach, G, '96 (Philadelphia Little Flyers U16) 5-9/160 — Stocky netminder squares up well to the shooter and plays his angles well. Is not very big, but he has a good presence in net.
Andrew Cordssen-David, D, '97 (Shattuck U16) 6-4/200 — Very much a project, but there could be something here. Has a long way to go, but at 6'4" there is also a lot to work with. In the tournament program players are asked what prep schools or junior teams they are interested in. Cordssen-David wrote, "Shattuck St. Marie (sic) & OHL or QMJHL" and then listed BC, Quinnipiac, Yale, and Minnesota as the colleges he is interested in.

Tues. 6/11/13

Guerriero, Levine Named Ivy Assistants
The defending national champion Yale Bulldogs will name Jason Guerriero to their staff, replacing Red Gendron, who was recently named head coach at the University of Maine.
Guerriero, who has spent the past two seasons with Holy Cross as an assistant to Paul Pearl, is a Northeastern alum, producing 147 points in his years on St. Botolph St. Guerriero's best season came as a senior in '04-05 when he posted a 17-31-48 scoring line in just 38 games played en route to being named a first team All-American. He was also the first player in Northeastern hockey history to lead Hockey East in scoring. After college, Guerriero embarked on a pro career that included two seasons in the AHL as well as stops in Finland, Austria, Denmark, Switzerland, and Germany.
The 32-year-old is certainly qualified, but another plus is the fact that he grew up on Long Island – he's from the town Manorville – and played for the Apple Core organization back when they were an EJHL power. While The Island has been producing elite talent in droves as of late, the Bulldogs have missed on key players like Jeremy Bracco (Harvard), Brandon Fortunato (Harvard), Sonny Milano (Notre Dame), and top flight '98 defenseman Adam Fox, who is said to be all but wrapped up by Harvard. The Vinny Smith-led Long Island Gulls U16 team boasts some of the country's top young talent and our guess is that Guerriero will spend an awful lot of time around that team and, in the process, help Yale reestablish their foothold in Long Island.
***
Look for Brown to name Kimball Union Academy head coach Mike Levine to their staff, replacing Mike Souza who accepted a position at the University of Connecticut.
The Sandwich, Mass native has spent the past two seasons guiding the Wildcats to an impressive 52-7-3 record. During the '11-12 season KUA won the small school championship and this year the #1-ranked Wildcats were upset in the first round by Gunnery. Prior to KUA the 31-year-old spent two seasons as an assistant at his alma mater, Utica College, under Gary Heenan. Levine's first coaching experience came at New Hampton where he spent four seasons and won a DII championship in 2009. The '05 graduate of Utica College played in 61 games for the Pioneers and posted a 10-22-32 scoring line.

Thurs. 6/6/13

U.S. Junior Evaluation Camp Roster
USA Hockey released a list of 40 forwards and defensemen who have been invited to the National Junior Evaluation Camp Aug. 3-10 in Lake Placid, NY.

Defensemen (16):
'94s (7) – Dylan Blujus (North Bay-OHL); Connor Carrick (Plymouth-OHL); Nick Ebert (Windsor-OHL); Matt Grzelcyk (BU-NCAA); Brett Pesce (UNH-NCAA); Patrick Sieloff (Windsor-OHL); Brady Skjei (Minnesota-NCAA);
'95s (9) -- Gage Ausmus (US U-18); Mike Brodzinski (Muskegon-USHL); Will Butcher (US U-18); Connor Clifton (US U-18); Anthony DeAngelo (Sarnia-OHL); Ian McCoshen (Waterloo-USHL); Steve Santini (US U-18); Keaton Thompson (US U-18); Tommy Vannelli (US U-18).

Forwards (24):

'94s (15) – Riley Barber (Miami-NCAA); Andrew Copp (Michigan-NCAA); Thomas DiPauli (Notre Dame-NCAA); Jake Guentzel (Sioux City-USHL); Vince Hinistroza (Waterloo-USHL); Nicolas Kerdiles (Wisconsin-NCAA); Matt Lane (BU-NCAA); Stefan Matteau (Blainville-Boisbriand-QMJHL); Boo Nieves (Michigan-NCAA); Danny O'Regan (BU-NCAA); Henrik Samuelsson (Edmonton-WHL); Quentin Shore (Denver-NCAA); Zach Stepan (Waterloo-USHL); Brady Vail (Windsor-OHL); Dominic Toninato (Fargo-USHL).

'95s (9) – Justin Bailey (Kitchener-OHL); Taylor Cammarata (Waterloo-USHL); JT Compher (US U-18); Adam Erne (Quebec-QMJHL); Hudson Fasching (US U-18); John Hayden (US U-18); Jimmy Lodge (Saginaw-OHL); Michael McCarron (US U-18); Tyler Motte (US U-18).

Goalies will be named later this month. Not sure why they didn't name Jon Gillies right now. He most certainly did not have a lousy season. A '94, Gillies is an incumbent, and played one period as the backup to John Gibson in last year's WJC.

Other incumbents – both '94s -- from last winter's team are Patrick Sieloff and Riley Barber, both of whom will be at Lake Placid. In addition, '94s from last year's team who are NOT on the roster issued by USA Hockey are Alex Galchenyuk (Montreal-NHL), Ryan Hartman (Plymouth-NHL), Seth Jones (Portland-WHL), and Jacob Trouba (Michigan-NCAA).

Eleven of the rostered players are from the US Under-18 Team; 11 are from the NCAA; 11 are from major junior (OHL 8, Q 2, WHL 1), and seven are from the USHL.

The camp runs Aug. 3-10 at the Olympic Center. Games are on Aug. Sun. 4, Mon. Aug. 5, Wed. Aug. 7, Thurs. Aug. 8, and Sat. Aug. 10. Off-days (practice only) are on Sat. Aug. 3, Tues. Aug. 6, and Fri. Aug. 9. There will be no USA White vs. USA Blue games this year: all games are against other countries, i.e. Sweden, Finland, and Canada.

The head coach this year is Don Lucia, of Grand Rapids, Minn. and the University of Minnesota. Assistants are Bobby Motzko, of St. Cloud State University, Greg Brown of BC, and David Lassonde of Denver. And let us not forget Dan Muse of Yale University, who will once again be breaking down the video.

The WJC will be played this winter in Malmo, Sweden from Dec. 26-Jan. 5. The US team's pre-tournament camp will be held in the Twin Cities Dec. 15-18.

Thurs. 6/6/13-updated: University of Maine 2000 grad Ben Guite, a Montreal native and former NHLer who just retired from playing pro in Italy this spring, is also a candidate for the vacant assistant coach's job at Maine.

Not-Quite Summer Reading
Newly-appointed Maine head coach Red Gendron has been busy. Last week, associate head coach Dan Kerluke informed his new boss that he would not be returning. Kerluke will be pursuing a business venture of his own, Double Blue Sports Analytics, whose chief product is an application designed to monitor goalies' play. Associate head coach Bob Corkum was hoping to remain on staff, but on Tuesday it was reported that Gendron will be moving in a different direction. As for Corkum, the Maine alum and former NHLer would like to stay in college hockey and is rumored to be interested in the vacant head coaching position at Alabama-Huntsville.
So, who will Coach Gendron hire? He has extended an open invitation to Maine legend Grant Standbrook, who spent 18 seasons in Orono. Being able to lure Standbrook, one of the top recruiters in college hockey history, out of retirement would certainly add instant credibility to Gendron's staff. However, if it happens at all, it would most likely be on a part-time basis. Over the past few years, Standbrook has come out of retirement to work part-time with the Dubuque Fighting Saints, as coach Jim Montgomery, from his four years in Orono, knew first-hand what Standbrook could do. Gendron knows too.

We have been told that Gendron's #1 choice is longtime NHL assistant coach Jay Leach. Leach has an abundance of coaching experience that includes four years as an assistant to Shawn Walsh at the University of Maine ('84-88), 14 years as an NHL assistant coach with stops in five different cities, and, finally, five years as an AHL head coach (Springfield and Hershey). The challenge for Gendron will be convincing Leach to come back to college hockey after spending virtually his entire career in the pros. Another name to come up is Maine alum Ben Murphy. An Andover, Mass. native who played at Cushing, he has spent the last four seasons as an assistant at Bentley. Murphy, who scored the overtime winner in the 2004 Hockey East championship game, has a strong work ethic and is someone who would pound the pavement for Gendron. We have also been told that Mercyhurst College assistant coach Bobby Ferraris could be in the mix. The Falmouth, Mass. native is a '97 graduate of St. Anselm College and has spent the last ten seasons in the Atlantic Hockey League, with AIC and Mercyhurst.
***
The QMJHL draft will be taking place this coming weekend -- Sat. June. 8, to be precise. This year, there is an unusually strong crop of Americans located in the QMJHL's draft territory. Noah Hanifin (Boston College), Casey Fitzgerald (Boston College), Colin White (Boston College), Cam Askew (Boston University), and Lincoln Griffin (Northeastern) are all potential first rounders in Saturday's draft -- if they decided they wanted to play major junior hockey. The one to look for on the news ticker is Cushing Academy's Askew. QMJHL teams have been flocking to South Boston to meet with the family in hopes of enticing the BU recruit north of the border. Askew was tendered by the Indiana Ice (USHL) and thus excluded from NTDP consideration. Hanifin, White, Fitzgerald, and Griffin have all made it very clear that they intend to play college hockey. We are not saying Askew has decided on major junior, but we also do not feel he is totally sold on NCAA hockey. One thing is certain: if a team selects him in the first round they will have likely gotten a good indication he will report to camp.
Speaking of the QMJHL, the Halifax Mooseheads recently forfeited the rights to Boston University recruit Jack Eichel. The '96-born NTDP forward has top five NHL draft potential and is considered the top forward in the country in his age group. The North Chelmsford, Mass. native is a late '96 and thus not eligible for the NHL draft until 2015. Halifax dropping his rights is a very strong indication that Terrier fans will get to see Eichel at Agganis Arena -- for at least one season.
***
Recent UNH graduate Scott Pavelski has hung up the skates and accepted a position as an assistant coach with Waterloo Blackhawks (USHL). The younger brother of San Jose (NHL) forward Joe Pavelski played for PK O'Handley for two seasons prior to enrolling at UNH. The Plover, Wisconsin native produced 11 points during his four-year career in Durham, NH.
***
Alaska-Anchorage has named six finalists for the vacant head coaching position: Augsburg head coach Chris Brown, Air Force associate head coach Mike Corbett, Adrian head coach Ron Fogarty, former Sioux Falls head coach Kevin Hartzell, Stockton Thunder (ECHL) head coach Matt Thomas, and Dartmouth associate head coach Dave Peters.
The search process up at Anchorage has been strange (to say the least), but in our opinion Corbett and Peters really stand out amongst the group of finalists. Last year Corbett was a finalist for the UMass-Amherst head coaching position and we did a piece on him at the time (see the July 2012 USHR News "UMass Dark Horse from the West.")
As for Peters, he has been at Dartmouth for the last 13 years and has helped build some very good teams. The Big Green squad in '04-05 was a goalie shy of a national title and featured eight players who went on to reach the NHL including Lee Stempniak, Nick Johnson, David Jones, Tanner Glass, and Ben Lovejoy — all full-time NHLers. Peters simply knows how to recruit and would immediately elevate the talent level up at Anchorage. The college hockey veteran was recently described to this typist as "a recruiter who will slit your throat — but in the most gentlemanly way possible."

***
Sioux City Musketeers (USHL) netminder Kyle Hayton has committed to St. Lawrence University. The '94-born Shattuck-St. Mary's alum was #8 on our most recent "Top Uncommitted" list. The Faribault, Minn. native posted a 13-8-5 record this season with a 2.65 GAA and a .911 save percentage — impressive numbers for a rookie.

Tues. 6/4/13-updated

Privitera Brothers and BU Part Ways
Boston University defenseman Alexx Privitera, suspended by former Terriers head coach Jack Parker for the final 13 games of his sophomore season, will not be returning to the school for his junior year, and will be looking to transfer elsewhere in the fall of '14.

"I have great respect for Coach Parker, Coach Quinn and the BU Hockey program," Privitera said in a statement. "I wish them nothing but success."

In addition, Privitera's younger brother, Jarrid, a left-shot center committed to BU for this fall, will also not be part of new head coach David Quinn's inaugural squad. The younger Privitera, who had committed to the Terriers while at the Gunnery over two years ago, played last season for the Dubuque Fighting Saints (USHL). A '94 from Old Tappan, NJ, Privitera posted a 15-11-26 line in 56 games played.

Alexx, now 20, is a '93 with junior eligibility remaining and will be doing a 4-2-4 in either the USHL or the BCHL. The defenseman's USHL rights are owned by the Muskegon Lumberjacks, for whom he played between the NTDP and his matriculation at BU.

Both Priviteras are said to be wide open in regards to college options for the '14-15 season. However, given that they are New Jersey natives, it's likely to be in the East.
Note:

The Muskegon Lumberjacks, after letting go its entire coaching staff a couple of weeks ago, is reportedly in the process of being sold to the Ferraro Brothers -- Peter and Chris, twin brothers who won an NCAA championship at Maine in '92-93 before going on to play together in the NHL. Along with outside investors, the Ferraros, who own the Long Island Gulls (AJHL) are developing a spiffy new arena on Long Island. The facility, on the first weekend in September, will host the Atlantic Challenge, a series of pre-season games that will feature six as-yet-to-be-determined USHL teams.
Around the Rinks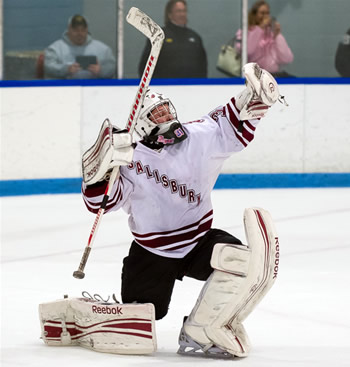 At the final buzzer of Sunday's prep title game, Salisbury sophomore G Callum Booth, who is about to get mobbed.
(Photo: Dave Arnold Photography)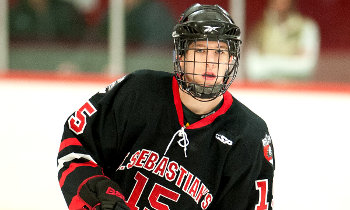 Noah Hanafin, St. Sebastian's '97-born d-man and BC recruit, is USHR's #1-ranked sophomore of the 2012-13 season.
(Photo: Dave Arnold Photography)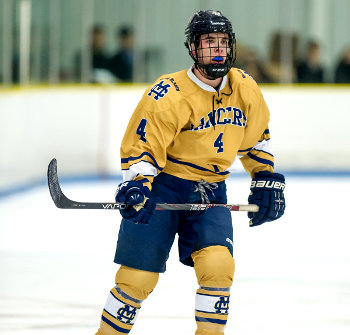 Casey Fitzgerald, Malden Catholic '97-born d-man and BC recruit, is USHR's #3-ranked sophomore of the 2012-13 season.
(Photo: Dave Arnold Photography)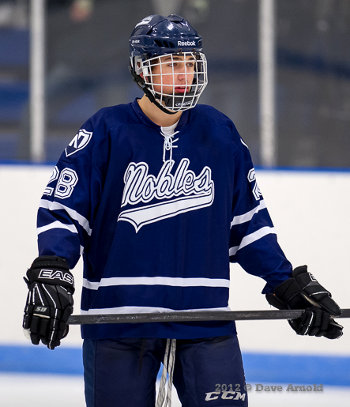 Miles Wood, Nobles forward and Brown recruit -- out for the season with a broken foot -- is USHR's #9-ranked sophomore.
(Photo: Dave Arnold Photography)