U.S. Hockey Report
---
3/29/01

At the Great 8

The Great 8, which ran last weekend at the Wakota Arena in South St. Paul, Minn., was missing a number of Minnesota's top seniors as Trevor Stewart (Elk River), and Tim Hambly (White Bear Lake) were playing in the USHL; and Judd Stevens (Wayzata), Mike Erickson (Eden Prairie), C.J. Nibbe (Breck), Chad Gromek (Osseo), Travis Kieffer (Hastings), and Casey Welch (also Hastings) didn't make an appearance, because of injury or other reasons.

From the tournament, which is for seniors only, a 20-member all-star team, composed entirely of kids who do not yet have firm Div. I scholarships, is selected. They will be appearing in the Chicago Showcase April 18-22. (We'll post the roster when we get it.)

Here, then, are some of the players who jumped out at us:

-- Eric Aarnio, G, White Bear Lake, 6'1", 175. Hybrid goalie who presents big target. Stays square to puck. Handles rebounds.

-- John Adams, D, Breck, 6'2", 180. Smooth skating D with good puck skills. Likes to jump up into the rush. Tall, lanky -- and a lot of upside. Going to BC.

-- Jake Brenk, F, Breck, 6'2". Good puck skills. Physical. Strong, stable stride, but lacks speed.

-- Mark Bucholz, D, Moorhead, 6'2", 190. Big, raw D-man. Steady defense-first type, but not afraid to join rush, either. Needs to work on hands a bit, as they're merely decent. Going to Topeka (USHL).

-- Grant Clafton, D, Grand Rapids, 5'10". Lanky type. Good feel for game, and good hands. Smooth skater but no power behind stride. Good puckhandler who jumps up into the rush.

-- Mike Dagel, D, Greenway, 5'11". Solid in all areas. Good Jr. A prospect.

-- Matt Duncan, F, Bloomington-Jefferson, 6'0". High energy, bang-and-crash type. Works hard. Good puck skills. Average to good skater. Works hard; is consistent.

-- Mike Forconi, F, Greenway. 6'2", 200. Big strong power forward who will crash the net. Has gained jump in step and added quickness.

-- Tom Gilbert, F, Bloomington-Jefferson, 6'1". Tall and lanky. Skates well for a big kid. Good puck skills. Hockey sense average.

-- Dominick Hammer, D, Crookston, 6'0", 195. Good Jr. A prospect. Skates well. Blocky build, like a hammer. Showed little flashes here and there.

-- Dan Hoehne, G, Duluth East, 6'0". Hybrid goalie. Good size. Strong, stable stance. Good feet.

-- Matt Hoese, F, Hopkins, 6'4". Raw, skilled. An intriguing prospect -- a project, really -- and one that will require patience.

-- Beau Kretzman, F, Edina, 6'0". Good size. Good speed. Good hands. Good in all three zones. Good Jr. A prospect.

-- Jeff McFarland, F, Wayzata, 5'11". Skilled forward with speed.

-- Kelly Plude, F, Elk River, 5'9". Sparkplug with knack for net. Very good from blue line in, and good in traffic, too.

-- Rob Rankin, F, Holy Angels, 5'10". Good skater, good puck skills, good playmaking ability -- and a knack for finding the net.

-- Marty Sertich, C, Roseville, 5'9". Won state's Mr. Hockey award. A crafty little player with excellent quickness. A playmaker. Can jump into holes. Great hands, good vision. Michigan Tech, where his uncle, Mike Sertich, is head coach, is working him hard. USHL rights are owned by the Sioux Falls Stampede.

-- Weston Tardy, D, Duluth East, 5'11". Good little D. Mobile. Breaks puck out nicely.

-- Clay Wilson, D, Cloquet, 6'1", 195. Good north-south speed, but a little raw on his edges. Pretty good hands. Big kid.

-- Nick Worden, D, Rochester Century. 6'1", 185. Big, moves well, and handles puck well. Has on-ice presence. Good Jr. A prospect.

3/29/01

Little Man; Big Man

Chicago Steel (USHL) forward Josh Anderson, an '81 from Fergus Falls, Minn., has committed to St. Lawrence University for the '01-02 season. Anderson, 5'9"and 175 lbs., is a speedy two-way left-shot center who compiled a 12-18-30 line in 54 regular season games this season. Last year, he played 20 games for Fargo-Moorhead before moving with the team to Chicago this season.

6'2", 200 lb. Cushing Academy junior RW Steve Jacobs, Jr. has committed to play for Toot Cahoon at UMass in the fall of 2002. Jacobs, a physical winger with an edge to his game, is from Westminster, Mass., right down the road from Ashburnham, and was Cushing's 4th leading scorer with a 17-26-43 line in 33 games this season. He's the son of Cushing coach Steve Jacobs.

3/28/01

Whitehead Out, ???? In

The two top candidates for the UMass-Lowell head coaching position are, as reported in this morning's Lowell Sun, Niagara University head coach Blaise MacDonald and Edmonton Oilers scout Bob Mancini.

The search, which under Mass. state law must be publicly advertised for 10 days, opened immediately after fifth-year head coach Tim Whitehead resigned yesterday after he and Lowell AD Dana Skinner failed to reach an agreement on a new contract.

Skinner, a basketball star at Merrimack College in the '70s, told the Sun that he would "like to move very quickly after the 10-day period and zone in on a couple of candidates."

Skinner added that he didn't necessarily have anyone in mind. However, as an assistant AD when MacDonald serving as an assistant coach under Billy Riley from 1988-90, Skinner knows MacDonald, and most observers feel that this is a done deal.

But, then again, maybe it isn't.

Skinner has never met Mancini face-to-face, though the two have spoken by phone. Mancini, who rebuilt programs at Ferris State and Michigan Tech, became Jeff Jackson's first significant hire at at the U.S. National Team Development Program in early 1997, and served as Associate National Coach and Director of Player Personnel. One of Mancini's first recruits was Lowell sophomore D Ron Hainsey, a Montreal Canadiens first round draft pick last summer. Also, current Lowell assistant John Hynes coached under Mancini while a graduate assistant at the NTDP in 1999-2000.

Earlier this evening we were able to reach Mancini, who's in Calgary scouting game #4 of the WHL playoff series between Calgary and Regina for his current employer. Mancini said that coaching was still his passion, and expected to talk further with the athletic director. Mancini said his main interest right now was finding out just how serious Lowell was about its search effort as well as how committed the school was to the future of the program. "I'm approaching all this with an open mind," Mancini said. "It came up quickly and I really haven't had much time to think about it."

3/27/01

Collins Leads Mass. Publics/Catholics to HNIB Title

You know it's a prep school tournament when, as happened on Saturday, a stretch limo appeared outside Merrimack College's Volpe Arena. But inside, at the HNIB All-Scholastic Tournament, it was the Mass Publics/Catholics who were in the process of rolling through the field, finishing up on Sunday with a 4-1 win over New York/Mid-Atlantic.

Afterward, UNH-bound forward Sean Collins ( Reading HS), who scored the game-winning goal and added an assist in the title game, was named tournament MVP.

In contrast to other years, there were a lot of close games this time around, with seven of the twelve tilts being decided by one goal (and four of those needing both OT and a shootout before a winner could be declared).

For whatever reason -- injury, sickness, vacations, etc. -- a number of the top seniors were not here. Among the missing were Noah Welch (St. Sebastian's), Ed Caron (Exeter), Paul Lynch (Valley Junior Warriors), Jim Hakewill (Westminster), Ryan Lannon (St. Sebastian's), and Colin FitzRandolph (Exeter).

Others were here, some of whom looked like they were playing charades and some of whom made the effort. Players who stood out over the weekend -- through skill, hard work or (even better) a combination of the two -- were:

Forwards:

1) Sean Collins (Reading HS). 5'8" LC/RW. Explosive in offensive zone. Accurate shot with quick release. 11 points in four games. Tournament MVP. Going to UNH.

2) Tom Cavanagh (Exeter). 5'10" LC. Strong on the puck, great in traffic, superb vision. Created a ton of scoring opportunities. Going to Harvard.

3) Michael Woodford 5'11" RW. Uses his speed to get the puck deep into opponents' end. Going to Michigan.

4) Chris Snizek (Choate). 5'8" RW/RC. Played on Cavanagh's line, and the two had opposing defensemen running around like chickens with their heads cut off. 11 points in four games. Going to Dartmouth.

5) John Toffey (St. Sebastian's). 6'2" LC/LW. He can snipe, and, with days like Friday (3g,2a), should have a firm college commitment any day. 10 points over the four games.


Other Forwards (listed alphabetically):

-- Kevin Brooks (Lawrence) 5'10". Notched a hat trick on Thursday. Played very hard, and showed good offensive skills. Will likely be playing junior hockey next season.

-- Chris Chaput (New England Jr. Coyotes) 5'9" LC. Smart center who sees the iece well, can finish, or make a play. Going to Providence.

-- Torry Gajda (New England Jr. Coyotes) 5'10" LW on Chaput's line. Quick, hardworking, and puts up the points. Instant Div. I prospect -- when he gets his grades up

-- Ned Havern (Arlington HS) 6'0" LC. Played on a line with Collins -- call it the EMass Senators line -- and forechecked, hit, and completed plays. Going to BC.

-- Chris Higgins (Avon) 5'11" LC. Very smooth, gifted player. Hands. Pin-point shot. Going to Yale.

-- Christian Jensen (Taft) 5'10" LW. Always moving, always working. Good skater and finisher. Going to Yale.

-- John LaLiberte (Exeter SnowDevils) 6'1" LW. Big power forward. Blitzed the Mass Privates with a hat trick on Sunday. Needs to be a bit more consistent.

-- Andrew Madeiros (Valley Junior Warriors) 5'11"RC. Helped himself a great deal by leaving Matignon for the EJHL. Has gained strength.

-- Greg Mauldin (Boston Jr. Bruins) 5'10" RW. Excellent speed, which he uses to swoop in and create scoring opportunities, often out of broken plays. Going to UMass.

-- Ben Murphy (Cushing) 5'10" LC. Worked hard. Teamed up nicely with younger brother, Danny. Going to Maine.

-- Dan Murphy (Cushing -- 11th grade) 5'11" LW. A sniper who gets open well. Will be getting a lot of Div. I action

-- Ryan Shannon (Taft) 5'9" RC. Sees ice superbly. At beginning of tournament, he was saddled with less-skilled wingers than he's accustomed to at Taft. Going to BC.

-- Jamie Solon (Cushing -- 11th grade) 5'10" RC. A hard-working two-way centerman who can finish.

-- Brendan Timmins (Arlington HS) 6'1", 200 lb. RW. Big, with soft hands. Taking a PG year at Deerfield.

-- Eric Thomassian (Deerfield) 5'11" RW. Worked hard. He, and linemate Chris Higgins, were the keys to NY/Mid-Atlantic's attack.

-- Ryan Trowbridge (Taft) 6'1" RW. Has gotten leaner and more agile this year. A power forward type who is effective when using his size along wall and in front. Going to Yale.

-- Michael Zbriger (Gov. Dummer) 5'10" RC/RW. He can score. Montreal native looking to play junior hockey next year, but to do so stateside he'll need a team with an import slot open.

Defensemen:

1) Brandon Rogers (Hotchkiss) 6'1"RD. Played a more physical, poised game here than he did during the regular season. Helped his draft position. Going to Michigan.

2) Jamie Sifers (Taft -- 11th grade) 5'11", 195 lbs. RD. Paired with Rogers on the New England blueline -- a formidable combo. A punishing body checker and strong puck handler, Sifers is very hard to knock off his skates. We expect he'll have a large number of schools to choose from once July 1 rolls around.

3) Donny Grover (Catholic Memorial) 6'0" RD. Played a solid, well-rounded game. Strong in all areas, spectacular in none. Going to Northeastern.

4) Danny Spang (Winchester HS -- 11th grade) 6'0" LD. Skates well with the puck. Potential power play guy at Div. I level.

5) Mike Hutchins (St. Paul's -- 11th grade) 5'11" LD. A little rough defensively, but that should improve with work. Good offensive upside. Played physically.

Other Defensemen (listed alphabetically):

-- Joe Callahan (BC High) 6'2" RD. Good poised d-man with size and presence. Going to Yale.

-- Dustin Demaniuk (Mount St. Charles) 6'2" RD. A little raw on his edges, but with work will be OK at UMass.

-- Ryan Foster (Northfield-Mt.Hermon) 6'1" RD. Played with more of a snarl than we expected.

-- Jeff Lang (Tabor) 6'0"LD. Smooth skater, good edges, can break out the puck. Going to UMass.

-- Joey Mormina (Holderness) 6'5" Raw, but his size makes him intriguing. If he can get his feet moving, he could develop into a player at Colgate.

-- Pat Nugent (Exeter) 5'10" RD. Just solid in all areas. Going to Middlebury.

-- Brian Yandle (Cushing -- 11th grade) 5'11" RD. Excellent at moving the puck with a long outlet pass. Will jump up into the play at the other end.

Goaltenders:

1) Jeff Pietrasiak (Berkshire -- 11th grade). 6'0". Playing with poise and the confidence that comes from a strong season. Squares himself to the puck nicely, and has good feet, too.

2) We're going to be generous and give this slot to a bunch of guys. All showed something here or there. They are: Jim McGonagle (Austin Prep); Tim Warner (Avon ); Matt Hanson (Deerfield -- 11th grade); David Caruso ( Boston Bulldogs); Bobby Lemelin (Pingree); and Jimmy Merola (LaSalle).

Warner is going to UMass and Merola, the MVP of the RI State Tourney, is going to St. Anselm's

3/27/01

Hanson Fingers Preps

In front of several hundred players and parents at the HNIB banquet Saturday night at the Ramada Rolling Green in North Andover, Mass., Catholic Memorial head coach Bill Hanson picked up his trophy for leading his squad to a fourth straight Super 8 title. He then began his speech by thanking Sean Collins, Ned Havern, Donny Grover, Mark Noble and other members of the HNIB Mass. Publics/Catholics squad who, by steering clear of entreaties from prep school hockey coaches, had shown "loyalty" to Massachusetts high school hockey.

From that point on, graciousness took a back seat. Hanson, in front of players and parents from all the teams in the tournament, said that not only was the Mass. Publics/Catholics squad the best team in the whole tournament, but that they'd go out the next day and win it all. (Which they did.)

Continuing with the goading, Hanson, whose teams have won nine of the last 11 "Super 8" titles, declared the Massachusetts high school leagues to be the best in the country.

By then, most diners had heard enough, and some began booing.

Hanson, visibly angry, then upped the ante, attacking private schools for a wide range of things, from tuition rates to coaches "stealing" players from CM and other Mass. public and parochial schools. As the speech continued in this vein, the boos increased. Finally, Hanson picked up his trophy and, with the hand carrying it, gave the finger to the prep portion of the room -- clearly and aggressively, according to numerous observers.

He then walked offstage.

Those are the basic facts -- and the speech was all anybody was talking about at Hockey Night on the day after.

Hanson, of course, is a top coach, as his track record proves, and opinionated, too, though he used up a golden chance to acquire converts with Saturday's attempt at public speaking. Actually, Hanson is lucky to still have a job. If he were coaching at a prep school, he'd almost certainly be out the door by now.

3/27/01

Our Take

Hanson's grievances, at least recently, include losing underclassmen Brian Yandle, Pat Noonan, and Craig MacDonald from last year's team. By next season, there will be at least two more top underclassmen from CM moving on to prep school. And yes, there were coaches from top prep programs in attendance at this year's Super 8 Tournament, as there will be next year and forever onward. They paid their money and should be able to enter the building without feeling unwelcome. The bottom line? The decision concerning where a player wishes to play -- be it juniors, preps, or wherever -- is a private affair. Also, parents usually want what's best for their kids, whatever and wherever that may be. Making them feel like traitors for weighing their options is wrong.

As for CM hockey, too many incidents like Saturday's may cause parents to think twice before sending their hockey-playing kids to the West Roxbury school. Right now, players beat a path to his door, something we expect will continue, even as we know that nothing is forever.

03/26/01

National Matchups Set

New York finished up its district playoffs on Sunday, so the field is set for the USA Hockey Tier I National Championship, which gets underway next week at Iceline, which is in West Chester, Pa., just outside of Philadelphia. The tournament will run from Wed. April 4 through Sun. April 8. Here, then is the field.

Atlantic:

Midgets: Philadelphia Junior Flyers (host)

New Jersey Devils.

Bantams: Philadelphia Junior Flyers (host)

New Jersey Devils.

Pee Wee: Philadelphia Junior Flyers (host)

New Jersey Rockets.

Central:

Midgets: Team Wisconsin

Bantams: Madison Capitals

Pee Wee: Team Illinois

Massachusetts:

Midgets: Eastern Mass Senators

Bantams: South Shore Dynamos

Pee Wee: N/A

Michigan:

Midgets: Compuware

Bantams: Michigan Ice Dogs

Pee Wee: Little Caesars

Mid-America:

Midgets: Cleveland Barons

Bantams: Pittsburgh Hornets

Pee Wee: Cleveland Barons

Minnesota:

Midgets: Shattuck-St. Mary's

Bantams: Centennial Bantams

Pee Wee: Arctic Lions (Alaska)

New York:

Midgets: Buffalo Saints

Bantams: Syracuse Stars

Pee Wee: Apple Core

New England:

Midgets: Warwick (R.I.)

Bantams: Seacoast Spartans (N.H.)

Pee Wee: S. Conn Stars

Pacific:

Midgets: Mustangs (Alaska)

Bantams: Alaska All-Stars

Pee Wee: L.A. Jr. Kings

Rocky Mountain:

Midgets: Pikes Peak Miners

Bantams: Vail (Col.)

Pee Wee: Madison Capitals (Wisc.)

Southeast:

Midgets: Washington Little Caps

Bantams: Washington Little Caps

Pee Wee: Washington Little Caps

3/22/01

Bruckler Storms USHL

The USHL's Tri-City Storm (a name not only grammatically incorrect but limping in at the tail end of the '90s craze for naming teams after weather patterns) has hit pay dirt over the past couple of months with Austrian import goaltender Bernd Bruckler, currently the most heavily-recruited goaltender in the U.S.

As of now, Wisconsin, St. Cloud State, Mankato State, Michigan State (yes, the Buffalo Sabres might come calling for Ryan Miller), and Michigan Tech have all reportedly made offers to Bruckler. Colorado College is seriously talking with him. Ferris State, Nebraska-Omaha, and Western Michigan are also in there making their pitches. Suffice to say, Bruckler is the man of the hour.

At 6'1", 180 lbs., Bruckler exhibits excellent fundamentals, size, poise and reflexes. His .920 save percentage leads the league. His 2.43 gaa has him bunch up with half a dozen of the league's top goaltenders.

Bruckler, a 9/26/81 birthdate, came over to Canada two years ago to play in the Alberta Junior Hockey League. Precisely the wrong time, as it turned out, for, shortly after he arrived, the CHA passed their rule prohibiting European imports in Tier II. So Bruckler went and played Jr. B in Ponoka, Alberta (on Highway 2 between Calgary and Edmonton). Last year, Bruckler returned to Austria, and played for ERC Graz. Early this season, former Sioux City Musketeers (USHL) coach Leigh Mendelson, now back in the USHL with the Omaha Lancers, was hired to coach Graz, saw immediately that Bruckler had ability, and worked to get him to the USHL, which finally happened in mid-December. The rest, as they say, is history.

One opposing forward that Bruckler would love to see on his eventual college team is Sioux Falls Stampede 6'2" LW Thomas Vanek, who is also from Graz. Before a Jan. 11 game between Tri-City and Sioux Falls, Vanek told his hometown friend that he would be, "going upstairs, glove side, all night." Vanek, an '84-born 11th grader, scored a hat trick on Bruckler that night, and every shot was exactly where he said it would be. Kind of explains why Vanek's on everyone's wish list, doesn't it?

3/20/01

Mount Wins 24th Straight R.I. Title

Going into the third period of the deciding game of the R.I. State High School Tournament last night at an overflowing Schneider Arena, Mount St. Charles and LaSalle were deadlocked at 2-2 despite the Mount holding a 2-1 shot advantage.

Just 29 seconds into the third, however, Mount senior forward Matt Byrnes backhanded a shot past LaSalle senior goaltender Jimmy Merola. Several minutes later, Mount junior defenseman Steve Snizek ripped one from the point to make it 4-2.

La Salle narrowed it to 4-3 midway through the third when Keegan Rosenberger scored his second goal of the night. And that's where it held until LaSalle pulled Merola with 1:26 to play, and the Mount responded with two empty-netters to salt it away.

Merola, a skinny 17-year-old from North Providence, finished with 34 saves on the night and was awarded the Tournament MVP award, the first time in the Mount's 24-year run that the hardware has been given to a player from the losing squad. In 1988 Bishop Hendricken center David Emma, who would go on to win the Hobey Baker award at Boston College, was a co-winner of the award.

3/20/01

Skinner a Pioneer

6'1", 170 lb. Brett Skinner, a left-shot defenseman with the Trail Smoke Eaters (BCHL) has committed to Denver for 2002. Skinner, an '83 from Brandon, Manitoba, is a high-skill guy who can run the powerplay, skate with the puck, and make excellent outlet passes. Skinner is friends with Denver freshman defenseman -- and fellow Manitoban -- Ryan Caldwell. Skinner had narrowed his choices to Denver and Northern Michigan, where he also has a hometown connection in the persons of Wildcat assistant coach Dave Shyiak and freshman forward Dave Bonk, both Brandon, Manitoba natives.

Other schools interested in Skinner were CC, UNH, Michigan State, and North Dakota.

3/20/01

Ronan Leads Walpole to EJHL Title

With the Boston Jr. Bruins holding a 2-0 lead in last night's EJHL championship game at Exeter, N.H., Walpole Stars forward John Ronan scored a power-play goal with 40 seconds left in the second period to make it a one-goal game. Early in the third, Ronan added an unassisted shorthanded-goal to tie the game at 2-2. Teammates Wally Siggins and Paul Falco (assisted by Ronan) scored to make it 4-2 before Jr. Bruins winger Greg Mauldin scored his second goal of the night to cut the lead to 4-3 with 34 seconds left in regulation. Walpole's Paul Markarian notched an empty-netter to account for the final margin of victory.

3/20/01

Nathe a Huskie

6'1", 192 lb. RD Bryan Nathe of the U.S. National Team Development Program has committed to Northeastern University for this coming fall. Nathe, who played for Elk River (Minn.) HS before going to the NTDP in September 1999, is a solid, defensive defenseman who has proved himself against top international competition. He'll be able to step in right away and help out at Northeastern. A 2/8/83 birthdate, he's the son of Joe Nathe, who played minor pro hockey in the I during the '70s.

Also coming to Northeastern this fall is 5'10", 190 lb. goaltender Keni Gibson of the Ottawa Jr. Senators (CJHL), recently named the league's most valuable goaltender. Gibson's 2.29 gaa ranks him second in Canadian Tier II hockey, and he's third nationally in save percentage. A 3/20/81 birthdate, Gibson is a protege of Ottawa-area goaltending coach Tom Dempsey, who also coached Marc Robitaille, Northeastern's All-America goaltender who signed with the Toronto Maple Leafs after his sophomore season nearly three years ago, and is now playing with the Leafs AHL farm club. The Huskies have been trying to come up with another Robitaille ever since, and are hoping Gibson is the one.

In other college commitments, Omaha Lancers (USHL) forward Yan Stastny will be going to Notre Dame this fall. Stastny, a 5'11", 170 lb. native of St. Louis, where his father Peter Stastny wound up his 15-year NHL career, started this season with the St. Louis Sting (NAHL), but, when things turned weird there in the fall, moved to the Lancers. In 42 games with Omaha, Stastny has a 17-14-31 line and 101 pims. He's a 9/30/82 birthdate.

6'1", 205 lb. forward Adam Gerlach of the Dubuque Fighting Saints (USHL) will be going to Mankato State in the fall. Gerlach, who graduated from Hastings (Minn.) HS last June, has posted a 15-15-30 line with Dubuque this season. He's a 6/19/81 birthdate.

LD Andy Wozniewski, who played a year at UMass-Lowell before joining the Texas Tornado (NAHL) this season, will be going to the University of Wisconsin in the fall. Wozniewski, a 6'2", 220 lb. native of Buffalo Grove, Ill., is the NAHL's second-leading scorer among defensemen with a 10-34-44 line in 50 games. A 5/25/80 birthdate, Wozniewski will have three years of eligibility at Wisconsin.

Wozniewki's teammate, LD Nick Martens, will be going to the University of Michigan in the fall. A 6'1", 195 lb. native of Ann Arbor, Martens played midgets for the Ann Arbor Ice Dogs before going to Texas two years ago. He's a 9/11/82 birthdate.

3/19/01

EJHL Final Tonight

In the EJHL semis last night, #1 seed Walpole Stars snuck past #6 Valley Jr. Warriors in overtime; and the #2 Boston Jr. Bruins beat the #4 New England Jr. Coyotes. .

Walpole and the Jr. Bruins, the top two regular-season teams in the league will meet for the league championship tonight at 6:30 at The Rinks at Exeter, N.H.

Last night, forward Chris Casey scored two first period goals as the Peter Masters-coached squad rolled past the New England Jr. Coyotes, 5-3.... In overtime, Walpole center Paul Falco drew the puck back to defenseman Steve Wenzel, who stepped it into the middle and fired a good low shot to the far side, beating Joe Palladino and giving the Stars a 4-3 win and a slot in tonight's final.

3/18/01

Guyer AP Minnesota Player of the Year

Greenway/Coleraine junior center Gino Guyer, who led the state in scoring this season with a 38-49-87 regular season mark, has been named the Associated Press' Minnesota Player of the Year.

Marty Sertich, who posted a 43-22-65 line for Roseville High, was named Minnesota's Mr. Hockey, which goes to the top senior in the state. Unless things change, Sertich, who has offers from CC, St. Cloud State, Denver, and Minnesota for 2002, will be playing this fall for Sioux Falls (USHL).

3/18/01

CM, Again

Catholic Memorial junior RW Chris Meyers scored at 1:49 of overtime to give Catholic Memorial a 1-0 win over BC High in the Mass. Division 1A tournament tonight at the Fleet Center.

The win was the fourth straight "Super 8" title for CM, and the school's ninth in 11 years.

On the winning goal, junior forward Pat Forshner skated the puck down the right side into the BC zone, and took a shot which deflected off the shinpad of a BC High defenseman stationed at the edge of the crease. Meyers scooped up the loose puck, swung behind the net, and, before BC High senior goaltender Mike Sweeney was able to slide across and cover, fired it into the open net.

CM sophomore goaltender Ed Nehiley picked up the shutout.

Without taking anything away from either team, this game was far from a classic. Very few Grade A scoring chances. Little in the way of end-to-end action. And not a lot of passes strung together, either. The first two periods were possibly the dullest in the tournament's history, with a lot of tenuous play.

In the Div. I final, Hingham sophomore defenseman Jed McDonald scored his second goal of the game with 57.6 seconds remaining to lift Hingham High to a 5-4 win over St. John's-Shrewsbury.

3/18/01

Merola Stands on Head

The big story in the Rhode Island State High School Tournament has been the play of LaSalle goaltender Jimmy Merola, who had 40 saves on Friday night as LaSalle stopped Mount St. Charles, 2-1, and added another 55 last night in a 3-2 overtime loss, the winning goal coming at the 1:09 mark when a Justin Laverdiere shot from the right faceoff circle deflected off Merola's shoulder and into the net.

It was, observers agreed, one of the great goaltending performances in the tournament's history. The series is now tied 1-1, with the third and deciding game tomorrow night (Mon. 3/19) at Providence College's Schneider Arena. Faceoff will be at 7 pm. Mount St. Charles, which has outshot LaSalle by a 99-31 margin in the two games, will be going for its 24th straight RI title.

Merola will have to be every bit as spectacular tomorrow night, and hope that his young teammates -- LaSalle is dressing 10 freshmen and eight sophomores -- can execute the trap, clear out in front, and get a few bounces.

3/18/01

EJHL Semis; Mass. HS Final Today

The Eastern Junior Hockey League semis are on tap for this afternoon, with the New England Coyotes going up against the Boston Jr. Bruins at 3 pm, followed by the Valley Jr. Warriors vs. the Walpole Stars at 5:45.

Today at the Fleet Center -- isn't it time to implode this building? -- Catholic Memorial, which knocked out Arlington 6-1 on Thursday night, and BC High faceoff in the Mass. Div. 1A final at 5:45 pm. BC High and CM met in second round action eight days ago at the Fleet Center, with BC High skating off with a 4-0 win and knocking CM into the loser's bracket. The seeds going into the tournament's opening day exactly two weeks ago were #1 Winchester; #2 Arlington; #3 Catholic Memorial; #4 Austin Prep; #5 BC High; #6 Reading; #7 Springfield Cathedral; #8 St. John's-Shrewsbury; #9 Archbishop Willams; #10 Matignon.

3/17/01

Minnesota HS Tournament Top Prospects

Here's our list, by grade, of the top performers at last week's Minnesota State High School Tournament.

Top Sophomores:

G -- Tom Sobtzak, Greenway / Coleraine, 6'1" 195. Well positioned for the initial shot. Plays deep in crease and tends not to come out much. Goes down on almost all initial shots. At times not able to recover quickly enough for rebounds.

D -- Chris Anderson, White Bear Lake, 6'3" 190. Good lateral movement. Solid shot. Quick to step up into the play. Uses his size well.

D -- Dustin Mercado, White Bear Lake, 6"3" 190. Sees the ice well, and makes good decisions. Effective passer. Given his size, he could be more physical defending the front of the net. Needs to step up into the play quicker.

F -- Jesse Polk, Hastings, 6'1" 160. Uses his size to advantage. Good out side speed in the offensive zone. Gets himself up into the play quickly. A scorer. Injured last season.

F -- Ryan Hawkins, Eden Prairie, 5'9" 155. A player worth watching. He isn't very big, but he plays hard. Good acceleration. Seems to find open ice; makes opportunities for himself. Another scorer.

F -- Brad Wiechmann, Austin, 5'11" 160. During the regular season, Wiechmann scored 17 goals with 26 assists in 25 games. During the tournament, Austin scored 5 goals of which Wiechmann figured in four ( 1g,3a).

Top Juniors:

G -- Orlando Alamano, Eastview, N/A. Played two of the three games for Eastview, facing Elk River and White Bear Lake. Posted best save percentage in the tournament, stopping 44 of 46 shots for a .956 save percentage.

D -- Adam Welch, Hastings, 6'3" 185. All- around good play with no notable weakness. Plays physically in the defensive zone and can step up into the play and contribute in the offensive zone. Had two goals and an assist in the tournament.

D -- James Marcy, Moorhead, 5'10" 160. Did a good job keeping the play in front him. Plays under control.

F -- Gino Guyer, Greenway / Coleraine, 5'11" 180. Led the state in scoring during the regular season. He's both fast and quick. Excellent with the puck around the net. Good hands. Knows how to use all players in the offensive zone. Always on the puck. Fun to watch.

F -- Andy Sertich, Greenway/Coleraine, 5'11" 165. Skated on the same line with Guyer. Fast, quick and excellent with the puck. Good hands. Anticipates the play and makes excellent decisions with the puck. Makes things happen when he has the puck on his stick.

F -- Andrew Panchenko, Eastview, N/A. One of the leading scorers in the tournament ( three goals). Good around the net. Creates opportunities.

Top Seniors:

G -- Eric Aarnio, White Bear Lake, 5'9" 180. Maintains excellent position on the initial shot and recovers well to face secondary shots. Handles puck well. Good with the glove as well as the stick. Faced 64 shots with 59 saves for a save percentage of 92.2%, the second best in the tournament.

D -- Mark Buchholz, Moorhead, 6'2" 175. Liked him a lot. Good hands. Plays physically. Excellent at holding the blue line. Steps up into the play and directly contributes to the offense. Strong shot from the point. Moves the puck quickly. Effective when passing.

D -- Chris Nathe, Elk River, N/A. Does a good job keeping the play in front of him. Makes good decisions with the puck. Breaks the puck out of the defensive zone effectively. Notched a goal and three assists in the tournament.

F -- Kelly Plude, Elk River, N/A. Led his team in the regular season with 25 goals and 42 assists. Played on a line in the tournament with Trevor Stewart and Joel Hanson. Demonstrated excellent offensive potential. Good hands. Effective around the net. Makes good decision with the puck. Supports the player with the puck.

F -- Trevor Stewart, Elk River, N/A. Nice player -- 14 goals and 41 assists in the regular season. Led the tournament in scoring with four goals and four assists. Quick to go to the net. Good hands. Makes good passes. His decisions with the puck are excellent.

F -- Travis Kieffer, Hastings, 5'11" 175. Scored 32 goals with 27 assists during the 28 regular season games. Added three goals and three assists in the tournament. Finds open ice and creates his own opportunities. Good hands. Effective around the net.

3/16/01

HNIB All-Scholastic Rosters Set

The Hockey Night in Boston 2001 All-Scholastic Tourney will run from Wed.-Sun. March 21-25 at, as is customary, Merrimack College. The first day, Wednesday, will be a practice day, followed by games Thurs.-Fri.-Sat. and playoffs on Sunday. Approximately 150 players have been selected for the tournament. Over 125 are seniors/PG's, and 20-25 are juniors who will reach their 18th birthday by September 15.

3/14/01

Schremp, Hennessy Dazzle in Ann Arbor

Sorry about the absence, folks, had to check out some action in the OHL, NAHL and, last but far from least, the NTDP tryout camp, which concluded yesterday in Ann Arbor -- and which we'll focus on here.

The skinny: the '85s are the deepest group of forwards and goaltenders to come along in the last five years. Defense, on the other hand, was a little thin.

The top players trying out at Ann Arbor? Virtually everyone agreed that LW Robbie Schremp, the 14 year old who played for the Syracuse Jr. Crunch (OPJHL), and LC Josh Hennessy, who is 1½ years older and has played for Milton Academy the last two seasons, were the two best prospects in camp. Schremp and Hennessy were paired on the same line and, from what they showed, would look awfully good working off each other when fall rolls around.

Schremp, who is well put together for his age -- he's 5'11" and 189 lbs. -- has had his hockey exploits talked and written about for several years already. In Ann Arbor, he showed excellent offensive instincts, combining stick wizardry with great vision, strong skating, and a bullet of a shot. On one play, he was upended inside the offensive blue line but managed to hold on to the puck, and, while sliding backward on his knees toward the wall and away from the play, hit streaking RW John Vigilante with a hard tape-to-tape cross-ice pass.

Hennessy, who is 6'0", 177 lbs., is an extremely difficult player to defend. He skates well, is hard to knock off the puck, has a good low center of gravity and is always in motion, with stick on ice. He can make a play or take a pass, and has a deadly shot -- hard and accurate. On one of his goals he roofed it so hard and with such a quick release that the goaltender had no chance to even begin reacting.

Other top playerw were:

-- 5'11", 170 lb. RC Mike Bartlett of the Chicago Chill Midgets, a smooth-skating center who has a nice pair of mitts and knows what to do with the puck on his stick.

-- 5'10", 157 lb. LW Joe Rooney of St. Sebastian's School (Mass.), a tough, hard-nosed, elusive wing with puck skills and vision. Rooney, by the way, is the son of Steve Rooney, who played at Providence in the early '80s, then went directly to the NHL with the Montreal Canadiens.

-- 5'7", 149 lb. LC J.D. Corbin, a Littleton, Colorado kid who moved north this season to play for the HoneyBaked '85s. Corbin combines quickness, excellent passing skills, and consistently works to get open.

-- 6'1", 176 lb. RC Adam Pineault of the Boston Junior Bruins (EJHL), who, along with Schremp, was the only other '86 invited to the camp. Pineault, who's a 14-year-old in a man's body, has a dynamite shot, both accurate and hard, wins draws consistently, and is tough. Pineault had to leave camp early to get back to Massachusetts in time to play in yesterday's EJHL playoff game, so he may have been gripping the stick a bit tightly.

Before going further here, it should be mentioned that the camp is not a tryout camp, per se, since these players are watched by the NTDP scouting staff year round and the whole season is looked at in the evaluation process. Thus, some of the Michigan players, who showed up at camp hours after playing four games in four days, were tired on arriving -- and then had to go out and compete with the best the country has to offer in their age group. One of these was 5'8" T.J. Hensick, a 12/85 birthdate from the HoneyBaked Midgets. Hensick, a pure scorer who lit it up in the MNHL all year, was wiped out and it showed -- he didn't quite have his customary zip. He's still one of the top '85 prospects up front.

A few others wheo stood out were 5'10", 150 lb. winger John Vigilante of the Compuware '85s, who is extremely consistent for his age, never seeming to take a shift off; 5'10" RW Mike Brown of the Chicago Chill Midgets, who has an excellent shot, though he wasn't quite as good here as during the regular season; and 6'0", 192 lb. Shattuck-St. Mary's LW Aaron Bader, a prototypical power forward with a nice long stride and a big booming shot.

We could go on, because there is just so much depth up front, and much of it from nontraditional hockey areas -- guys like speedy 5'11" wing Robert Earl of the Los Angeles Jr. Kings; 6'1" LW Dusty Collins of the Phoenix Polar Bears (Arizona), burly 5'10" wing Jason Beeman, a Los Angeles-area kid playing for the Spokane (Wash.) Braves; and 6'0" wing Jacob Dowell, who plays high school hockey in Wisconsin, which, just in case you haven't seen it, is not to be confused with high school hockey right across the border in Minnesota.

Like we said, it's a deep group and there will be some heavy competition for the last few forward spots.

The top two defenseman in this typist's eyes were 6'2", 197 lb. Zach Fitzgerald, a left shot from Duluth East High School; and 6'1", 176 lb. Ryan Suter, a right shot from Madison, Wisconsin playing for Culver Military Academy. Suter is the son of Bob Suter, a defenseman who won an NCAA title at Wisconsin in 1977 and then followed that up with a gold medal at the 1980 Olympics in Lake Placid.

Also looking good were RD Jimmy Sharrow of Cardigan Mountain, a 6'2", 157 lb. converted forward who has a great frame, a long stride, agility, and, when he gets the fundamentals of defense down, should be a good one; and 5'11", 169 lb. HoneyBaked Midget LD Matt Hunwick, who's nothing fancy, but just very, very solid in all areas.

Those were this typist's top four, with perhaps 6'0", 186 lb. LD Casey Borer of Shattuck the best of the rest, at least for now.

6'3" Joe Fallon of Bemidji (Minn.) HS and 6'0' Mike Brown of the HoneyBaked '85s were perhaps the two best goaltenders, though James Kalec of the Nichols School (N.Y.) and Brenden Goetz of Burnsville HS (Minn.) were solid, too. There are some other '85 goalies who couldn't be here who will be getting a look, like Zane Kalemba, a freshman who backstopped Bergen Catholic to its first-ever New Jersey state high school championship on Monday night; and Alvaro Montoya of the Texas Tornado (NAHL). And the top '85 in the country, 6'3" Under-17 Team goalie Gerald Coleman of Evanston, Ill., is already in the program.

In sum, this group could be very, very good. It's early, but we already like the United States' chances at the 2004 World Junior Championships.

Note: The above views are the views of this scout only, and do not necessarily reflect the views of the entire NTDP scouting staff. The tryout camp is part of an ongoing process that can, in the case of the final few roster spots, continue right up to the USA Hockey select festivals in the summer.

3/9/01

Top '85s Arriving in Ann Arbor for NTDP Camp

The country's top '85s -- and two '86s -- will be arriving in Ann Arbor, Michigan this weekend for USA Hockey's annual National Team Development Program invitation-only camp.

Four of the selected players are from the HoneyBaked '85s, three are from the Chicago Chill Midgets. Two apiece are from the HoneyBaked Midgets, Compuware '85s, Culver Military, and Shattuck-St. Mary's. The 17 remaining players come from 17 different organizations and schools, from the West Coast to the East.

The two '86s are noted with an asterisk below.

FORWARDS (17):

Aaron Bader, Shattuck-St. Mary's

Mike Bartlett, Chicago Chill Midget Major

Jason Beeman, Spokane Braves

Mike Brown, Chicago Chill Midget Major

Corey Carlson, Two Harbors (Minn.) HS

Dustin Collins, Phoenix Polar Bears

J.D. Corbin, HoneyBaked '85

Kevin Coughlin, Cushing Academy

Jake Dowell, Eau Claire (Wisc.) Memorial HS

Robert Earl, Los Angeles Jr. Kings

Josh Hennessy, Milton Academy

T.J. Hensick, HoneyBaked Midget Major

Brian Moore, Culver Academy

* Adam Pineault, Boston Junior Bruins (EJHL)

Aaron Roberge, Eugene Thunder

Joe Rooney, St. Sebastian's School

* Robbie Schremp, Syracuse Junior Crunch (OPJHL)

John Vigilante, Compuware '85

DEFENSEMEN (10):

Casey Borer, Shattuck St. Mary's

Zach Fitzgerald, Duluth East (Minn.) HS

Lars Helminen, Compuware '85

Matt Hunwick, HoneyBaked Midget Major

Jeff Likens, Chicago Chill Midget Major

Chris Robinson, HoneyBaked '85

Bob Selden, Marquette Electricians Midget Major

Jimmy Sharrow, Cardigan Mountain School

Alex Spezia, HoneyBaked '85

Ryan Suter, Culver Academy

GOALTENDERS (4):

Mike Brown, HoneyBaked '85

Joe Fallon, Bemidji (Minn.) HS

Brenden Goetz, Burnsville (Minn.) HS

James Kalec, The Nichols School (N.Y.)

Note: A handful of candidates have commitments to their regular season teams and will be unable to make the trip. Among them are F Josh Sciba and D Frank Rediker (Compuware Ambassadors), D Bryan Cirullo (New England Jr. Coyotes), Alvaro Montoya (Texas Tornado), and G Zane Kalemba, who is in the New Jersey state playoffs with his high school team. In a whole different category is Cleveland Barons (NAHL) star center Danny Fritsche, who'll likely be playing next year in the OHL or, possibly, in the U.S. National Team Development Program.

3/9/01

McKenna to St. Lawrence

6'4", 210 lb. goaltender Mike McKenna of the Springfield Jr. Blues (NAHL) has committed to play for St. Lawrence University next season. KcKenna, a right-catch, is a 4/11/83 birthdate from Manchester, Missouri. He's big, of course, and can handle the puck, too, showing a willingness to fire it up-ice to an open man. In 41 games for a team that's really struggled this season (second-worst record in NAHL), he has a 4.37 gaa and a .887 save percentage. Last year, in 16 games with Springfield, he had a 3.28 gaa and a .867 save percentage.

McKenna will be competing for playing time with fellow incoming freshman Kevin Ackley of the Chicago Steel (USHL). Both of the Saints' current goaltenders, Jeremy Symington and Sean Coakley, are graduating.

3/8/01

Minnesota State HS Tournament: 'We Have Lift-Off.'

The space shuttle Discovery blasted off this morning into what the New York Times web site described as "a stunningly clear sky tinged peach from the rising sun."

Today in Minnesota, there are a whole mess of folks who don't care what the color of the sky is or what the temperature is (for the record it's 30 degrees and cloudy). They're the ones who'll be hunkered down at the Xcel Center in St. Paul, or back home watching on television as Class AA action gets underway.

If you don't live in Minnesota, you can watch the action via cybercast on KMSP-TV's web site. You'll need Windows Media Player, which the TV station offers a link to.

On the right-hand side of the page, it will ask you for a login and password. Use:

login: prepsports9

password: cybercast

Today's games and USHR predictions:

Upper Bracket:

Eastview vs. Elk River, 12:05 pm CST. Prediction: Elk River, 4-2.

Austin vs. Hastings, 2:45 pm CST. Prediction: Hastings, 4-1.

Lower Bracket:

Moorhead vs. White Bear Lake, 7:05 pm CST. Prediction: WBL, 3-2.

Eden Prairie vs. Greenway, 9:45 pm CST. Prediction: Greenway, 3-2.

We see Elk River topping Hastings, 4-2 in tomorrow's first semi (7:05 pm CST), and Greenway edging White Bear Lake, 4-3, in the late game (9:45 pm CST).

Saturday's final? How about Greenway over Eden Prairie by a 3-2 score. That's going out on a limb a bit, to be sure, and certainly runs contrary to the morning line. However, Greenway has the best single line in the tournament, with junior Gino Guyer, the state's leading scorer, centering Andy Sertich and Mike Forconi. Depth, of course, will be a concern for the Iron Range entry. In net, Greenway is strong with sophomore goaltender Tom Sobtzak, who was playing JV early in the season while he worked to get his grades up. On taking over in January, Sobtzak recorded shutouts in six of his first seven starts and Greenway has gone 14-2 since.

To follow the action by print, we've selected some of the best resources in the state to help you keep abreast of the action. Whenever possible, we've tried to set the links directly to hockey. Enjoy.

Minnesota State High School League

3/6/01

In Like Flynn

6'2", 213 lb. U.S. National Team Development Program RW Rob Flynn, who entered the current academic year as an 11th grader, will be accelerating and attending Harvard this fall. This has been in the planning stage for a while, but became official yesterday in the wake of the admissions department giving its final approval.

Flynn, who's from Canton, Mass., and played for Milton Academy before going out to Ann Arbor this past fall, is a high honors student at Pioneer H.S. who'll be pursuing a double major in math and engineering at Harvard. Flynn didn't seriously consider other schools -- it was Harvard all the way.

On-ice, Flynn, a power forward, derives a large part of his success from his play along the wall and in the corners where he can use his strength -- he leads the NTDP in off-ice testing -- to win the one-on-one battles and get the puck out front. Flynn also sees the ice well, is a strong two-way player, and is a leader in the dressing room. He's a 1/8/83 birthdate.

Harvard is now all done with their recruits for this fall.

3/6/01

Bochenski, Lalonde Make Their Picks

While we were at the prep tournament (and digging out from the blizzard), two other recruits made their final decisions.

--- Lincoln Stars (USHL) RC Brandon Bochenski has committed to North Dakota, which he chose over Wisconsin, Minnesota, and Colorado College.

Bochenski, a 6'1", 180 lb. pure scorer who played for Blaine (Minn.) HS last season but scared off a lot of Div. I schools because of his poor skating, went on to the USHL where he became a hot property. To date, he's scored 41 goals in 47 games for the Stars, a clip that puts him on track to score another nine or ten goals and become the league's first 50 goal scorer since current N.Y. Islanders LW Jason Blake (also a former UND player), who potted 50 while playing for Waterloo in 1993-94.

Bochenski, despite his skating, is excellent without the puck, and has the first step and quickness to get open. He has quick hands, a quick release, and shoots it hard. A 4/4/82 birthdate, Bochenski is one of 15 recruits coming in to North Dakota this coming fall. Of that group five are from Lincoln, coached by former Fighting Sioux forward Steve Johnson. In addition to Bochenski, center Chris Fournier; defensemen Nick Fuher and Andy Schneider; and goalie Jake Brandt are all Grand Forks-bound.

--- Prince George Spruce Kings (BCHL) LW Mike Lalonde has committed to Michigan State. Lalonde, who's 5'11", 195 lbs., has a 27-27-54 line in only 29 games this season, having missed the first half of the season as a result of a thigh injury he received playing in an all-native tournament last April.

Lalonde, who's a 12/1/80 birthdate, is a skilled playmaker from Chetwynd, B.C. He was a teammate with current Spartan defenseman Brad Fast with Prince George two years ago.

3/4/01

St. Sebastian's New Kings of Prep Hockey

St. Sebastian's, on the strength of a third period goal by John Toffey and stellar goaltending by Dave Cacciola, took the 2001 New England prep title with a 1-0 win over traditional powerhouse Cushing Academy in a classic up-and-down game before roughly 2,000 fans at the Icenter in Salem, N.H. this afternoon.

3/3/01

It's Cushing and St. Seb's

When Cushing and St. Sebastian's meet for the New England prep title at 3:00 p.m. tomorrow at the Icenter in Salem, N.H., the former will be seeking to become the first prep school to go undefeated in 28 years while the latter will be hoping to become the first Keller Division team to win a prep title in 11 years.

3/2/01

Senior All-Star Game Rosters Finalized

The NEPSIHA East-West Senior All-Star game, back after a one-year hiatus (due to last year's expanded prep tourney) is back, and will face off Sunday at 10:30 am at the Icenter (sic) in Salem, NH.

The game's goal is to showcase the best seniors whose teams are not in the semis, while also having representation from as many member schools -- both Div. I and Div. II -- as possible. The game will consist of two 25-minute halves.

3/2/01

Prep Final Four Set to Go

Tomorrow, the Final Four of prep hockey takes over the Ice Center in Salem, N.H. with the Div. II semifinals at 11:30 am and 2:00 pm; and the Div. I semifinals at 4:30 and 7:00 pm.

Let's look at the Div. I semis.

In the first Div. I semi, Deerfield vs. St. Sebastian's, we're going with St. Seb's, the slight underdog in most people's eyes, and we're sticking with the 3-2 final. Why? St. Sebastian's has a batch of forwards -- Mike Morris, John Toffey, Brian Boyle, Kenny Roche, Joe Rooney et al -- that can score. And that's not even to mention the defense, from where Noah Welch adds to the attack. Since the beginning of February the Arrows have ratcheted up the offense, scoring five or more goals in six of their last eight Div. I games while only allowing roughly two goals against. St. Sebastian's is a high-skill team, and their confidence level is high.

Deerfield features a bunch of buzz bomb forwards who skate hard and hit hard, but don't score a lot. The proof? They've scored three or fewer goals in nine of their last 12 games. (Loomis, Kent, and Exeter were the three teams they were able to break the three-goal mark against.) Deerfield's strength, clearly, is defense, which allows them to win all those one-goal games they find themselves in. Deerfield has six solid d-men they can put out there, while St. Seb's relies heavily on four, which may lead to fatigue, particularly as they get deep into the game. Deerfield is an older team, and is likely to hit hard and frequently in an effort to wear down the Arrows.

With goaltending -- Dave Cacciola for St. Seb's and Matt Hanson for Deerfield -- pretty much a wash, look for the Arrows' edge up front to be the difference.

Prediction: St. Sebastian's 3, Deerfield 2

***

Don't think for a minute that Cushing (26-0-1) needs reminding that the only blemish on an otherwise perfect season was a 2-2 tie at Berkshire on Jan. 13th, a game in which Cushing squandered a 2-0 first period lead.

While memories of that game will supply plenty of motivation, even the most skilled and fired-up team in the world can go out and play hard for three periods and still come up empty-handed -- that is, if they run up against a hot goalie.

And Berkshire goalie Jeff Pietrasiak, who propelled Taft and its followers into another twelve months of hand-wringing and self-doubt by shutting them out in Wednesday's quarterfinals, is the hot goalie in prep hockey right now.

But Cushing is a better, deeper team than Taft, and tomorrow Pietrasiak will need to get the same level of support he got from his teammates on Wednesday. Against Taft, Berkshire played a very tight defensive game, slowing down the Rhino forwards by laying the lumber and body on them. In short, Berkshire played a better team game, and gained an edge in little ways, like winning a high percentage of faceoffs and moving the puck out of harm's way.

Against Cushing, Pietrasiak will need his teammates to step up for him again. However, a potential problem for the Bears may be emotional letdown. They pulled off an upset on Wednesday while Cushing had a walk in the park vs. Nobles and is now lying in the tall grass, knowing they have some unfinished business to take care of. Of course, you can flip this around and look at it another way, too, and say that Berkshire has nothing to lose and will come out loose while Cushing, as the favorite, could come out tight.

The bottom line: Cushing, with Ben and Danny Murphy, Mike Woodford, et al, is too explosive up front. And they also have the best group of d-men in prep school hockey in Ryan Lannon, Marv Degon, Phil Youngclaus, Blake Pickett, and Brian Yandle.

The only area in which Cushing falls short of Berkshire is in goal, but since Cushing is likely to roll up a 2-1 shot advantage over the course of the game, that, in the end, just might not matter.

Prediction: Cushing 4, Berkshire 2

Driving Directions to Salem, N.H.

3/2/01

Div. II Prep All-Stars Named

The New England Prep School Ice Hockey Association named its Division II All-Stars today -- and here they are. All players are seniors unless otherwise noted.

3/1/01

Szabo Commits to Black Bears

Danville Wings (NAHL) center Peter Szabo will be bringing his offensive prowess to the University of Maine in the fall.

Szabo, a 5'9", 172 lb. LC from Nitra, Slovakia, has, in 30 games with Danville, posted an 11-39-50 line with 26 pims. His 1.66 points per game leads the NAHL. Szabo has missed 16 games between an early-season injury and a few weeks absence to play for the Slovakian National Junior Team -- he was named his team's MVP -- at this winter's World Junior Championship in Moscow.

Other schools in the hunt for Szabo, a 3/22/81 birthdate, were Denver, Miami, Nebraska-Omaha, and St. Cloud State.

Szabo's greatest strength is his speed and playmaking ability. He's fun to watch, as his style of play forces teammates to play a more uptempo game. He's also very good on draws, and works hard every shift.

Current Danville coach Josh Mervis, then an assistant under Dave Peters, saw Szabo -- then a linemate of Minnesota Wild 6'1" LW Marian Gaborik -- at a Four Nations Tournament in Previzda, Czechoslovakia three years ago, and brought him stateside. The rest, as they say, is history.

3/1/01

Mormina a Red Raider

6'6", 215 lb. Holderness School defenseman Joey Mormina will be going to Colgate in the fall. A defensive defenseman who showed an offensive touch (14-14-28 in twenty games this season), Mormina is from Montreal. In addition to Colgate, he took visits to UNH and Middlebury.

An '82 birthdate, Mormina is the first kid from Holderness, until recently a Div. II program, to be actively recruited by an NCAA Div. I school.

Another school new to the Div. I prep ranks is Millbrook (N.Y.) School and they'll be sending bruising 6'4", 205 lb. RW Matt Blabac on to Union in the fall. Blabac is a 2/23/83 birthdate. Union also received a commitment last week from Salisbury School's Matt Vagvolgyi, a 5'10", 175 lb. defenseman from Milford, Connecticut.

Northfield-Mt. Hermon goaltender Scott Sortal, a native of Wilmette, Ill., has committed to UVM for the fall

3/1/01

Brother Act

Soo Indians (NAHL) 6'2", 185 lb. RD Jared Nightingale has committed to Lake Superior State for the 2002-03 season, where, for that one season, he'll be skating with his two older brothers, Adam, a freshman forward this season; and Jason, a junior forward who, because he was redshirted due to an injury his freshman year, will also be on hand when the youngest brother arrives.

Nightingale, a 10/3/82 birthdate, is a physical, defensive d-man who, in 40 games with the Indians, has a 2-11-13 line and 89 pims.

The last time three brothers played for the same Div. I team was last season when Harvard's Moore Brothers -- Steve, Mark, and Dominic -- all played together.

As long as we're on this theme, we should mention that Omaha Lancers right-shot defenseman Chris Harrington, the son of John "Bah" Harrington, who played at Minnesota-Duluth and on the 1980 gold-medal winning U.S. Olympic team, committed to the University of Minnesota this week.

Harrington, who played his high school hockey at St. Cloud Apollo, made his final pick from between St. Cloud State and the Gophers, ultimately deciding to head down the road to the big city. Harrington, who's 6'0", 170 lbs, is a 5/7/82 birthdate. He may take another year of juniors before going to college.

***

Copyright © 2001 U.S. Hockey Report
All rights reserved.
Duplication or redistribution in any form is illegal.
Around the Rinks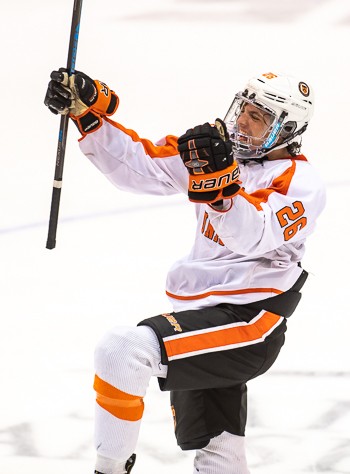 Paul Dore, who scored the game-winner with 52 seconds left to lead KUA to a 4-3 win over Salisbury in the Elite 8 Championship, is a senior the Wildcats will be counting on heavily as they go for a record 4-peat.
(Photo: Dave Arnold Photography)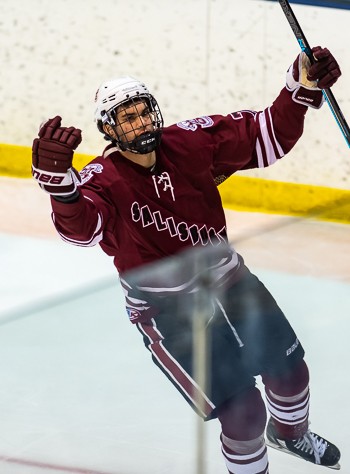 With Justin Hryckowian and Nick Capone taking their senior seasons in the USHL, classmate and UVM recruit Lucas Mercuri is Salisbury's leading returning scorer.
(Photo: Dave Arnold Photography)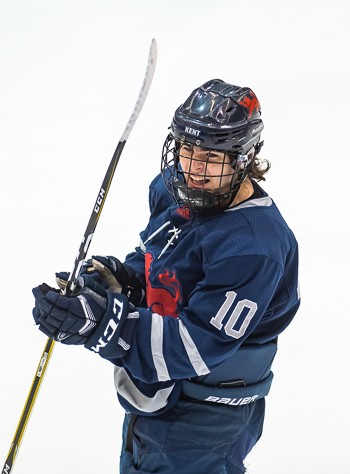 Kent's Aidan Cobb, now a senior, committed to Cornell after helping lead Kent to the Large School Championship last March.
(Photo: Dave Arnold Photography)
New England Prep Hockey News