U.S. Hockey Report
---
12/2/00

Eden Prairie on Top in Minnesota

Last year, we had Eden Prairie and Elk River #1-#2 in our Minnesota high school pre-season poll. We were on the money, too, for that's where they sat throughout the winter. Then came the sectionals. There, on the last night of February, Elk River blew a 4-0 lead and wound up losing to Osseo 5-4 in double overtime on a Matt Wilmes goal. The next night, Eden Prairie was victimized, losing 4-3 to Edina as Steve Cornelius scored at 1:05 of the fourth overtime. Suddenly, the field was wide open -- and Blaine emerged as the ultimate winner.

This season, on paper and ice, anyway, Eden Prairie is the team to beat. We see them cruising to the state title.

In class A Breck took home the bacon, and, with players such as d-men John Adams and Jake Brenk, both 6'2", and forward C.J. Nibbe, they are the odds-on favorite to do it again. If they were a Class AA team, they'd be in our top 10, and might even crack the top five.

2000-01 Minnesota Class AA Pre-Season Poll

#1 Eden Prairie: Despite losing key players such as defenseman Colin Peters, who's at St. Cloud State now, Eden Prairie returns University of Minnesota-bound forwards Mike Erickson and Garrett Smaagaard, both of whom played on the State Champion Eden Prairie football team, and will now be going for the double. Eden Prairie is solid in net with senior Dan Kuhl. While this team is not as strong as last year's, neither is the rest of the state.

#2 Greenway: This team has five players who played at one time or another in the USA Select Festivals. And then there's the Guyer factor, with one of Minnesota's -- and the nation's -- top players in highly skilled (junior) Gino Guyer who has played in select International tournaments with the US National Program, younger brother Andrew Guyer, a sophomore defenseman, cousin Jamie Guyer, and premier coach Pat Guyer. Lets not forget the rest of this highly skilled bunch, either. Every team would love to have junior forward/defenseman Andy Sertich, senior defenseman Mike Dagel and senior power forward Mike Forconi on their team.

#3 Duluth East: There are several major reasons why the Hounds could reach the State Tournament, which will be played this year -- and probably for many years to come -- in St. Paul's state-of-the-art new arena, the Excel Energy Center, home of the Minnesota Wild. One reason is Coach Mike Randolph, who has coached many tournament teams, and a bunch of players who went on to Division 1 play. Another reason is the forwards, starting with Nick Licari, a playmaker and goal scorer, and Tommy Kolar. On defense, keep an eye on Weston Tardy, and youngster Zack Fitzgerald, who should fill in nicely for Tom Sawatske, who's with the US National Program now. In goal, Dan Hoehne is the man.

#4 Edina: Should be solid with top forward Beau Kretzman, who was sharp at the USA Select 17 festival this past summer, and Steve Eastman, also a forward. On the blue line, watch Bill Jenkins. In goal, returnee Chris Kaspen is a good one.

#5 Bloomington Jefferson: Back again -- it's his 28th year -- is coach Tom Saterdalen and two of Minnesota's top players in forward Matt Duncan and defenseman Tom Gilbert, both of whom were excellent at the USA Select 17 Festival in St. Cloud. Another forward opponents will be keeping an eye on is Mike Bernhagen.

#6 Hill Murray: Always solid -- year in and out -- and they consistently find ways to make it to the tournament. Top returning players are Matt Schillings and Kyle Hotzinger. Forward Tom Dickhudt has returned to the team after playing last season at Woodbury. If he can stay out of the box, he will be a strong addition.

#7 Rochester Mayo: Has 14 returning players back from last year's State Tournament team. Senior Sam Everson and goaltender Jeff Jakatitis, who has received some strong USHL attention, are players to watch. Another is forward Scott Thauwald, who will add to the scoring punch.

#8 White Bear Lake: Behind the bench is former Golden Gophers player and coach Bill Butters. On the blueline is one Minnesota's best in Tim Hambly, who played in the USHL this fall. That experience should help him guide this team to the Excel Energy Center in March. Along with the strong supporting cast, there's a good mix of young players and veterans. They are strong in goal with senior Eric Aarnio and sophomore Jon Anderson.

#9 Hastings: Should have depth up front, with two of their top scorers back in the persons of Casey Welch and Travis Kieffer. Even though Hastings should be deep, goaltending could be a weak spot. However the road to the state tournament is easier then it would be if they were in any other section.

#10 Wayzata: Is the darkhorse of the top ten. They have highly skilled, tough defenseman Judd Stevens, who opened the eyes of a lot of college recruiters at the USA Select 17 Festival in July. Stevens, who is likely to receive a Division 1 scholarship this season, played in 10 games for USHL's Green Bay Gamblers this fall. Another Wayzata returnee is Jeff McFarland, a playmaker who can finish, too. Others to keep an eye on include Kyle Menken and Joe Cummings.

Other Teams to Watch: Elk River ,Holy Angels, Roseau, Hibbing, Cloquet, Blaine, Burnsville, Roseville.

11/30/00

Umberger Top-Ranked Collegian in CSB's Preliminary Rankings

The NHL's Central Scouting Bureau released its preliminary rankings earlier today and Ohio State left-shot center R.J. Umberger heads up the list of draft-eligible players currently in the NCAA ranks. Immediately following Umberger in the rankings are #2 Michael Komisarek, a RD at Michigan; #3 Dennis Packard, a LW at Harvard; and #4 Rob Globke, a RW at Notre Dame who would have to opt-in to be eligible for the June draft. All four of the above-named players were teammates in the U.S. National Team Development Program. Rounding out the Top 5 is a Canadian, Boston College RW Chuck Kobasew, a native of Osoyoos, British Columbia

Players in American high school and junior leagues, are rated as "A" or "B" prospects and listed alphabetically, though this will all change with the Bureau's mid-season rankings, to be released in January.

Not surprisingly, the USHL leads all U.S. Jr. A and high school leagues with 12 "A" prospects (three are opt-ins). The New England Preps have five "A" prospects (two are opt-ins). Minnesota High Schools have four "A" prospects (three are opt-ins). The NAHL has three "A" prospects (one is an opt-in). The EJHL has two "A" prospects (one is an opt-in). The AWHL has no "A" prospects right now, but might by the end of the season.

There are a number of top-ranked Americans playing major junior we should take note of. In the OHL, Michigan native Tim Gleason, a defenseman for the Windsor Spitfires, is ranked #4, while Toronto St. Mike's D Mark Popovic, a dual citizen, comes next at #5. Over in the WHL, Prince Albert centerman Greg Watson, another dual citizen, is ranked #3 in the league; LW Jake Riddle, a former USNTDP player from Minneapolis, Minn., is ranked #16; and Medicine Hat center Ryan Hollweg, a Californian, checks in at #25. The fourth-ranked netminder in the WHL is Anchorage, Alaska native Steve Belanger, another former USNTDP player.

Of the current players in the U.S. National Program, six are considered "A" prospects: LW Lee Falardeau, C Brian McConnell, LW Eric Nystrom; LW Jason Ryznar, RW Barry Tallackson, and D Ryan Whitney. All are '83s and opt-ins.

Anyway, here is the full list of North American players broken down into five groupings.

(Note: We posted the rankings last night as Microsoft Word attachments. However, we took them down when some people reported a virus, which turned out to be totally benign. However, so as not to worry anyone unnecessarily, the files below are no longer Microsoft Word, and, while the formatting isn't as nice as it was, all the info is there -- and it's safe as milk, too. Thank you for your patience.)

U.S. Colleges -- CSB Preliminary Ranking

U.S. Other -- CSB Preliminary Ranking

OHL -- CSB Preliminary Ranking

QMJHL -- CSB Preliminary Ranking

WHL -- CSB Preliminary Ranking

11/29/00

Massen Drawing a Crowd

The most highly-coveted recruit in the USHL right now is 6'1", 220 lb. Sioux Falls Stampede power forward James Massen.

Massen played high school hockey in his hometown of Bismarck, ND as a 10th grader, then moved over to the Bismarck Bobcats (AWHL) as an 11th grader. For his senior year in high school he headed to the USHL where, at Christmas last year, he had but two goals. In the second half, however, he came on strong, scoring 14 goals and finishing with a 16-17-33 line for Bob Motzko's expansion team. After the season, Massen returned home, graduated with his Bismarck High class, and spent the summer preparing for this season, where he's picked right up where he left off last spring. As of today, he has an 11-15-26 line in 20 games, good for second in the USHL scoring race behind teammate Jamie Mattie, a defenseman who was nabbed early (a steal of a deal, folks) by Bemidji State.

Massen, who has excellent hands and a bomb of a shot, has a huge top end. Bit by bit, he's getting there, too. Pro scouts will be be interested to note that he's worked hard on his skating, particularly his first couple of steps (he has little problem under a full head of steam). Massen has also been learning to consistently use his 220 lbs. to maximum advantage. In short, he's come a long way in a short time..

As for college, Massen has narrowed his choices to four -- Colorado College, North Dakota, Denver, and Notre Dame.

11/27/00

Cushing Tops Pre-Season Prep Poll

Penguins don't dress up in purple and they can't fly. However, Michael Woodford, last winter's USHR Prep Player of the Year, can, and he's a big part of the reason Steve Jacobs' squad will be there on the final weekend. After winning two times in three years, Cushing has bowed out in the semis the last two years, both times to Deerfield -- and both times by one goal. Look for that to change this year.

The Complete USHR Pre-Season Prep Poll

11/22/00

Hammer Falls on Curtale, Deitsch Brothers

The NAHL has handed down suspensions relating to the Texas-Danville post-game brawl of last Friday, a 12-15 minute bloodbath that an internal memorandum issued today by the league describes as "a travesty of the sport."

The report places blame quite decisively on Texas, in particular on head coach/general manager Tony Curtale, who was tagged with a 27-game suspension; and the Deitsch brothers -- Jason Deitsch was given a 15-game suspension, while Marc Deitsch was suspended indefinitely. In addition, four other Texas players received suspensions. They are: Lee Jacobson (8 games); Adam Davis (7 games); Brian Billiard (7 games); and Jason Guerriero (3 games).

For Danville, associate head coach Chico Adrahtas received a three-game suspension; Brad Sullivan and Ryan Reid each receive seven, and Peter Szabo receives three.

Each team received fines as well, with Texas getting slapped for $2,250, and Danville $500.

The report, built up from written and verbal testimony from numerous sources, most notably NAHL supervisor of officials Bill Hunt, and the officials working the game, points out that, as the violence escalated after the game, it took on an ugly nature primarily manifested in the form of unfair fights. "Texas players," the report states, "repeatedly took liberties with defenseless Danville players by ganging up in 2 on 1 and 3 on 1 fashion. At no time did any observer witness Danville employing these tactics."

The report goes on to state that Texas coach Curtale, five minutes into the brawl, refused to comply with a request by referee Stephane Hebert to get his players back to the bench area, instead shouting obscenities in the referee's direction. Hebert quotes Curtale as saying, "You suck, this is all your fault."

It was after this point in the whole mess that the most serious of the assaults occurred, among them Marc Deitsch connecting with a punch to the head of linesman Mark O'Brien (and attempting, but failing to land, a second punch), and also punching at several Danville players who had stayed on their bench.

In addition, there were, as previously mentioned, repeated assaults of Danville players in odd-man situations. The report states that a Texas player was seen holding a Danville player while a second Texas player pried the facemask off the Danville player's head. The report also states that another Danville player, tied up with a Texas player, was kneed in the head by a third, positively identified as Jacobson. Later, as the melee was being brought under control, Jacobson, who's 6'4" and hard to miss, was seen standing at center ice challenging Danville players to come out and fight him.

The report also notes that an otherwise engaged Danville player, Brad Sullivan, was sucker-punched by a Texas player who could not be identified with any degree of certainty. This blow may have been the one that fractured Sullivan's orbital bone. (Editor's note: Sullivan, who suffered other injuries as well, may require surgery, and Danville is reported to be looking into pressing charges on his behalf).

In addition, the report notes that Texas argued that because of the Szabo cross-check at the buzzer Danville should bear the majority of the responsibility for the incident, and receive the majority of the punishment. However, the report notes, "Szabo was penalized for his actions and the retribution exacted by the Texas players was excessive, unnecessary, and dangerous."

Some notes on the suspensions: Marc Deitsch's suspension -- the indefinite aspect of it, anyway -- is centered on the fact that he hit an official. He will have a hearing on December 5th.

Jason Deitsch's 15-game suspension is based on his being "consistently identified as a player prominently involved in going from altercation to altercation and assaulting defenseless opponents with sucker punches."

The league's case against coach Curtale was based on two things: 1) his alleged refusal to comply with referee Hebert's request to get his players back to the bench, which, the league claims, "acutely aggravated an already inflammatory situation" and 2) the fact that he is a "repeat offender in the realm of NAHL supplemental discipline." According to the report, in an early September pre-season tournament in St. Louis, Curtale verbally assaulted opponents and also verbally assaulted NHL referee Don Koharski, who was serving as an NAHL supervior. Also mentioned were fines meted out at different times over the past two months for using an ineligible player, failing to get his players to the bench during an altercation, and, lastly, violating the league's gag rule against making derogatory comments to the media with respect to officiating.

In addition, Curtale, who coached the Windsor Spitfires (OHL) during the 1998-99 season and the Springfield Jr. Blues before that, was suspended for a total of seven games last season for three separate incidents, two of which were related to the abuse of officials. The other stemmed from a physical confrontation with an opposing coach.

Curtale's suspension bans him from any Texas Tornado game or event up to and including the game of March 3, 2001, which, probably not coincidentally, is against Danville (and in Texas, too). Curtale is also banned from attending any NAHL game, and, the report states, "cannot recruit any prospective players, or attend any USA Hockey sanctioned games for the purpose of evaluating prospective players on behalf of the Texas Tornado during this period."

A phone call to Curtale went unreturned today, so it's unclear if he'll appeal the decision. All players and coaches have the right to appeal, provided the league receives notice by Monday at 5 pm.

Several recent suspensions in the CHL may have provided guidelines for the NAHL in determining length of suspensions here.

Exactly two weeks ago, former NHL player Mark Hunter was suspended for a full year from his duties as co-owner and director of hockey operations for the OHL's London Knights because he ordered a player onto the ice with instructions to fight. At the time of the incident Hunter had been filling in behind the bench for Knights coach Lindsay Hofford, who was suspended for ... instructing a player to fight. Hunter clearly didn't learn anything from the Hofford incident -- and now he's banned from having anything to do with the team he's part owner of until next November.

Twelve days ago Lethbridge Hurricanes (WHL) forward Derek Parker was suspended for 15 games for sucker punching an opponent and breaking his nose.

Three weeks ago, eight players from the Maritime Jr. A League were suspended a total of 54 games for their roles in a brawl on Oct. 21.

Clearly, the tide is turning in hockey, and has been for a while. And while it's ironic that the Canadian major junior leagues are taking the lead in dealing with on-ice violence, we're coming around. Hopefully, something's been learned from this sad chapter and, after a day off tomorrow for Thanksgiving, we can start getting back to the good things in the game.

11/22/00

Hell on Ice

"I've never seen anything like it," reported one observer in the wake of a massive bench-clearing brawl following the Danville Wings 2-0 win over the Texas Tornado Friday night in the Lone Star State. "It was right out of Slapshot."

This, folks, was a nasty one, and it looks like the repercussions could be long-lasting, as NAHL commissioner Fred Pletsch, who was at the game but reportedly puzzled as to how to begin adjudicating the mess, will likely be handing down some lengthy suspensions later this morning.

The game, between two teams that clearly don't like each other, was relatively cleanly played until midway through the third period when Texas' leading scorer Jason Guerriero slashed Danville's Peter Szabo. While Szabo didn't retaliate there, he did at the final buzzer, cross-checking Guerriero, though exactly how hard the push was depends on who you talk to. At any rate, Guerriero and Szabo, the two most highly-skilled players on the ice at the time, both skated away without further ado. However, when Szabo turned to congratulate goaltender Nick Aulich on his shutout, he was jumped by Guerriero's linemate, Marc Deitsch.

At that point, all hell broke loose.

Danville players reported that they'd heard Texas coach Tony Curtale yelling at his players to "Get Szabo!" Curtale, however, denied the accusation yesterday.

The worst part of the melee -- and there's no disagreement here -- was the Deitsch twins sucker- punching of Danville players -- not only Szabo, but others paired off harmlessly with Tornado players. Danville trainer Jan Clifton, a woman, was reported to have been shoved by Marc Deitsch as she tried to help get Szabo onto the bench and clear of the brawl.

When order was finally restored and penalties meted out, Texas received nine misconducts to Danville's three. For Texas, Marc Deitsch was given three game misconducts and Jason Deitsch got two games, Lee Jacobson got a game and a five-minute kneeing penalty, and Brian Billiard, Guerriero, and Adam Davis each received games. For Danville, Szabo got a game plus a minor for cross-checking, while Ryan Reid and Brad Sullivan each picked up games. All of the above players had to sit out Saturday night's rematch (also won by Danville), as did Texas head coach Curtale and Danville associate head coach Chico Adrahtas (head coach Josh Mervis didn't make the trip due to a sinus infection).

Most seriously hurt in the donnybrook was Danville defenseman Brad Sullivan, who was jumped and sucker-punched. Sullivan, a bloody mess, was taken to the hospital with fractures of his face, eye orbit, and cheek. On his behalf, Danville is considering legal action.

When suspensions are handed out tomorrow, the Deitsch brothers are likely to pay a price, as the league may go for a pre-emptive strike to keep this out of the courts.

This incident gives the NAHL a big black eye. For the league to thrive, players -- and their parents -- need to feel that safety comes first. On Friday, vengeance came first.

11/20/00

Another Coyote!?

Providence College, sitting on top of Hockey East after a home-and-home sweep of Northeastern, received a commitment from New England Junior Coyotes (EJHL) right-shot defenseman Jeff Mason.

When Providence starts play next fall they will have six former Coyotes on the roster as Jon DiSalvatore, John Luszcz, and Peter Zingoni will be joined by Eric Lundberg, Chris Chaput, and Mason.

Mason, who's 5'10", 175 lbs. and a native of Easthampton, Mass., was an EJHL All-Star last season. This season, he's the Coyotes' co-captain (along with Lundberg). An 8/11/81 birthdate, Mason is a very good skater, solid defensively, and competes. He should be able to step in and help the Friars from the get-go.

11/16/00

UNH Lands A Top BCHL Blueliner

Tyson Teplitsky, a 6'1", 180 lb. LD from the Nanaimo Clippers (BCHL), has just committed to the University of New Hampshire. Teplitsky, who has good feet and puck skills, has been coming on strongly of late, as evidenced by his five points (2g,3a) in Tuesday night's 6-2 win over Powell River. His style of play is similar to current UNH sophomore Garrett Stafford.

Other schools recruiting Teplitsky included Denver, Lake State, Colorado College, Maine, North Dakota, and several Ivies. Most BCHL observers feel that Teplitsky, after Michigan State recruit Duncan Keith, is the league's top recruit on defense.

Teplitsky, a native of Saskatoon played for the Saskatoon Contacts Midget AAA program last year, and was on Saskatchewan's Air Canada Cup team where, despite getting injured, he opened a lot of eyes. He's a 2/4/82 birthdate.

While we're on the subject of UNH, we should mention that the father of head coach Dick Umile died Sunday afternoon at age 82 after a year-long fight with cancer.

Jim Umile, a retired detective with the Melrose (Mass.) Police Department, where his son starred in the 60's, was buried today under full police escort in his hometown. Attendees at the funeral included virtually every big name in the region's college coaching fraternity, former players, and the full current UNH squad.

Umile, who left the team in the hands of assistants Brian McCloskey and David Lassonde while in Massachusetts attending to funeral arrangements over the week, is expected to be back behind the Wildcat bench for tomorrow night's game at BU.

11/15/00

An Eye-Popping Debut

Exeter forward Tom Cavanagh, a PG out of Tollgate HS in Rhode Island and a Harvard recruit, scored six goals in Exeter's 7-6 season-opening win over the Exeter SnowDevils (EJHL) this afternoon.

Cavanagh, who last season tied Chris Chaput for the Rhode Island State High School scoring title, is the son of Joe Cavanagh, a three-time ('69,'70, and '71) All-America at Harvard. Cavanagh senior is #5 all-time in Harvard scoring.

According to Exeter coach Dana Barbin, Cavanagh's six-goal game is, if not an all-time school record, certainly a modern school record. Barbin said Russell Bartlett, who notched five in a February 1996 loss to Cushing Academy, was the previous record holder.

Cavanagh, more of a natural center, is playing right wing on a line centered by Colin Fitzrandolph and with Eddie Caron on the left wing. Caron picked up four assists in the game, on each of Cavanagh's first four goals. Fitzrandolph had Exeter's other goal -- and also added an assist.

The unofficial final shot total was Exeter 53, Snowdevils 32, though that's likely a bit steep. Exeter's margin of victory could have been higher, but SnowDevils goaltender Ryan MacNeil kept his team in the game. Not to be lost in all this is the fact that SnowDevils forward Justin Postiglione had a four-point afternoon (2g,2a).

Note: Though most schools won't get started until after Thanksgiving, and leaving aside the fact that the SnowDevils are a junior team, let's call today's game the opening of the prep school season in New England. That said, when will the New England prep page open on this site? Well, you can start looking for things tomorrow, with more stuff to be added every day. Over the past week, we've been hustling to complete our USHR prep composite schedule, which is 60 pages long and required countless hours of painstaking cross-checking. It's done now, and will go out in Thursday's mail. This means we can now get serious about the prep page -- and other things, too.

11/13/00

Go, Cats, Go

Cornwall Colts RD Derek Wagar has committed to the University of Vermont (by the way, the Catamounts looked sharp over the weekend, knocking off both Harvard and Brown on the road).

Wagar, who's 6'2" and 190 lbs., is an '81 from Williamstown, Ont. Considered a late bloomer because he's just beginning to fill out, Wagar has a heavy accurate shot, is mobile, and makes strong, accurate passes. An aggressively offensive defenseman with good judgment about when to jump up into the play, Wagar has the potential to put up numbers like current Vermont senior d-men Andreas Moborg and Martin Wilde. Wagar was picked in the second round of the June 1997 OHL draft by Guelph.

Speaking of the Colts, 5'7" freshman forward Anthony Masotto of Air Force has left school and is playing with the CJHL team in hopes of landing a scholarship at another DI school. Cornwall is his third CJHL team in three years -- he's also played for Hawkesbury and Cumberland. An Edina HS grad, Masotto is a 3/19/80 birthdate. At Air Force, he saw limited playing time, appearing in just two of six games.

Vermont also got a recent commitment from Scott Misfud, a 5'8", 165 lb. forward for the Thornhill Rattlers (OPJHL). An '82 birthdate, Misfud is currently second in league scoring, averaging better than two points per game. In 12 games played, he has a 13-16-29 line.

11/12/00

Keith a Spartan

5'9" Penticton Panthers LD Duncan Keith has made his choice -- it's Michigan State.

Keith, who, up until making his decision, was the top big-time college prospect still available, made his final choice from among Boston College, Denver, and, of course, the Spartans.

Keith is a Phil Housley type of d-man. Right off, you'll notice his skating, which is outstanding -- smooth and swift. Keith also has quickness, excellent puck skills, vision, and a good shot. He could log significant powerplay time, even as a freshman. His birthdate is 7/16/83.

Keith, who has All-America potential, is a big catch for the Spartans.

11/12/00

Three for Bowling Green

Defensemen Matt Lynn and Taylor Christie, both from the Provincial League; and BCHL goaltender Jordan Sigalet have committed to Bowling Green.

Lynn is a right-shot defenseman from the Wellington Dukes (OPJHL). An '83, he's 6'2", 190 lbs., and was taken in the third round of June's OHL draft by Sarnia.

Christie is a left-shot D from the Thornhill Rattlers (OPJHL). He's also an '83, and was selected in the third round of the June 1999 OHL draft (Day 2 -- Bantams) by the London Knights. Christie is 6'3", 185 lbs.

Sigalet, an '81, is 6'0", 190 lbs. In 20 games for the Victoria Salsa (BCHL) this season, he has a 3.32 gaa and a .911 save %.

11/11/00

U.S. Bows to Russia, 4-1; Settles for Silver

The U.S. Under-18 Team, playing in front of a crowd of 10,157 at the E Center in West Valley City, Utah, where the 2002 Olympic Hockey games will be played, bowed to Russia, 4-1, in the gold medal game of the Five Nations Cup last night.

Russia jumped to an early lead 50 seconds into the game on an Alexander Poloushin breakaway goal. At 3:54, Stanislav Tchistov beat U.S. goatender Dwight LaBrosse to put Russia up, 2-0.

In the final minute of the period, with the U.S. on the powerplay, Dave Spina drove home a one-timer. Assists on the play went to Eric Nystrom and Dwight Helminen, and the U.S. suddenly trailed by only one.

After a scoreless second period, Russia's Ilya Klyuchnikov and Andrei Taratoukhin scored in the third to put it away for the motherland.

The U.S. outshot Russia, 35-26.

11/10/00

Big Green Load Up

Dartmouth has gotten verbal commitments from three players. They are:

-- John Ostapyk, a 6'0", 175 lb. left-shot D from the Ottawa Jr. Senators (COJHL). Ostapyk, the Senators' captain, is intelligent, makes good decisions, and is good on the powerplay. Ostapyk visited Cornell and Harvard last year. In 1999, he was drafted in the 6th round of the OHL draft by the hometown Ottawa 67's. He's a 4/18/82 birthdate.

-- Nathan Szymanksi, a teammate of Ostapyk's on the Junior Senators, is a 5'11", 170 lb. left-shot wing who has breakaway speed. Szymanksi, a 4/20/82 birthdate, was also drawing interest from Colgate.

-- Lee Stempniak, a 6'0", 185 lb. RC from the Buffalo Jr. Lightning (OPJHL) has been averaging nearly two points a game this season. A hard worker, Stempniak, a 2/4/83 birthdate, moves the puck nicely, and sees the ice well. Niagara and Cornell were also dealing with him.

11/10/00

Hanafin RPI-bound

C.J. Hanafin, a 6'0", 170 lb. LC from Austin Prep, has made a verbal commitment to RPI.

Hanafin, a slick skater with great hands, helped lead his team into the Mass. High School Super 8 last spring, where they reached the semifinals before losing to BC High. Austin Prep's final record was 21-4. Hanafin, an '82 birthdate, finished with a 35-30-65 line in 25 games.

Hanafin's coach at Austin Prep is Bill Flanagan, who played for RPI in the '80s.

11/10/00

Trowbridge to Yale

Ryan Trowbridge, a 6'0", 190 lb. RW from the Taft School, has made a verbal commitment to Yale University.

Trowbridge, a power forward, is a 5/11/83 birthdate and a native of Southbury, Conn. He was a key player on last year's Taft team that went undefeated during the regular season before getting knocked out in the first round of the playoffs.

11/10/00

U.S. Rolls Over Finland; Russia Looms

The U.S. Under 18 Team, behind a Lee Falardeau goal that broke up a 2-2 tie at 5:54 of the second period, added three more the rest of the way, and skated off with a 6-2 win over Finland and a gold-medal matchup with Russia tonight (7 pm MST).

Defensemen Bryan Miller (1g,2a) and Jesse Lane (2a) led U.S. scorers. Single goals, in addition to Falardeau's, which came on a long shot from outside the blue line, were scored by Barry Tallackson (pp), Brian McConnell, Joey Crabb, and Stephen Gionta (an empty-netter). Travis Weber kicked out 26 of 28 shots. Finland was outshot by a 37-28 margin.

Looking ahead to tonight's game, Russia and the U.S. sport identical 3-0-0 records, but scouts at the tournament are favoring Russia, which has six potential first rounders -- all wingers -- among the 11 forwards they brought to the tournament. For the most part, Russia has gone with three lines throughout the tournament. The U.S. has looked very good so far, but, even so, it will require a Herculean effort to get past Russia.

11/09/00

Imports Open Eyes at AWHL Showcase

A couple of years back, the Frontier League changed its name to the America West Hockey League. We have no idea why. The old name had a nice romantic/historical ring to it. The new name sounds like... an airline company. And never mind the fact that there are two Canadian teams in the league.

Anyway, enough editorializing. The AWHL held its showcase last weekend. The main story? Most of the dominant players were imports. We're talking about high-skill players with solid Div. I and, in some cases, pro potential. We'll have more on them below.

The other story is that this is an up-and-coming league. If you placed Great Falls, Bismarck, Minot, and Billings in the NAHL, for example, they'd be competitive, probably finishing in the middle of the pack. This was definitely not the case in the past.

The tournament was held in Bozeman -- nice arena, beautiful city, great atmosphere -- and was decently attended. USHL scouts were omnipresent. A number of CCHA and WCHA schools were there as well, though not many guys from the ECAC and Hockey East. The MAAC was under-represented, too, which was surprising. They should be all over this league.

Anyway, here's a look at the key players, arranged by team:

The Great Falls Americans were, along with Billings, perhaps the highest-skilled team in the tournament. They skate well, and they're not loaded up with 20-year-olds, either, so they'll improve between now and the end of the year.

They also had the tournament's best prospect in Patrick Dwyer. We said above that most of the top prospects here were imports. However, we didn't say all were, and this kid is the best of the bunch, a 5'10" right-shot forward from Great Falls, Mont. who can fly, can score, and forechecks like a madman. The best thing about him is he's just an '83 so he's going to keep getting better and better. Look for him in the USHL next year, and in Div. I the year after that.

Great Falls' top defenseman was 6'5", 220 lb. David Printz, a Swede with unbelievable feet for his size, great puck skills, and a mean streak. Printz, a serious Div. I prospect for next year, and a pro prospect for the future, played for AIK juniors last year. He's a 7/24/80 birthdate..

His defense partner, Sauli Seikkula, also an '80, is a Finn who, skill-wise, is a bit better than Printz -- he's just smaller, that's all. Whenever Seikkula stepped on the ice, he controlled the flow of the game. Great puck skills.

The Bismarck Bobcats are an older team, heavily laden with 20 year olds. While short on talent, they make up for it with hard work.

On D, Josh Singer, a left-shot who played in the USHL for Waterloo last season, is 6'1", 190 lbs. and mobile. An '80, Singer has very good feet for his size. The Bobcats other standout D is Matt Erickson, a 5'9" left shot from Roseau, Minnesota. He's an '81. Singer and Erickson are two of the three top-scoring defenseman in the league.

Up front, Ales Perez, a 6'2" import from the Czech Republic, was the top guy. He's not only big, but he has a good stick, is hard-nosed, and has a good sense of the game. He does a lot of things right. He's a borderline Div. I prospect.

Other forwards who looked good were Ryan Wiggins, a 5'10" late '80 who used to play for Cushing Academy; and 5'10" Nate Ronning, also an '80. These two stood out because they are two of the better skaters on the team. Ronning is tied for second in league scoring, and Wiggins is right up there, too.

6'1" Keith Townsend, on the other hand, is not a great skater, but he does have a good stick, finds ways to get the puck in the offensive zone, and knows what to do with it once it's there. He's the sixth-leading scorer in the league.

5'7" forward Brad Zancarano, an '82 from Michigan and a former Danville Wing (NAHL), is a good energy guy.

The Bozeman Ice Dogs are a good young team, well coached by John LaFontaine.

Their top D was Kelly Reinarz, a 6'0" left shot. Reinarz, a late '81 who played last season for the Bemidji (Minn.) Lumberjacks, was just recently acquired from the St. Louis Sting (NAHL). Reinarz is tough and competitive, a physical presence who is very good in his own end.

Another D to keep an eye on -- an excellent long-term prospect -- is Evan Stoftlet, who, as an '84, was one of the youngest players in the tournament. Stoftlet, 6'1" and presumably still growing, played for the Madison (Wisc.) Midgets last year. He has puck skills, great feet, and real toughness. Was in two fights and held his own in both.

Up front, 6'3" Brady Lundblad showed flashes of being a Div. I prospect. A late '81 from Centennial HS in Minnesota, Lundblad has both size and skating ability.

Other forwards who played well were 6'2" Gary Bowman, who, like Reinarz, also started the season with the St. Louis Sting; 5'9" Marcus Baxter, who has a good stick and a sense of the game to match; and 5'8" Luke Parillo, who consistently made things happen whenever he stepped on the ice. .

5'7" goaltender Tom Fortunate, who played for Compuware (NAHL) last year, is a nice addition to the team, and is working his way back to being the prospect he was. Fortunate is an early '81.

The Minot Muskies, coached by Chad Johnson, the brother of Lincoln Stars (USHL) head coach Steve Johnson, are a solid team with some high-end skill guys. Minot could be in the hunt come the end of the season.

The top gun is 6'0", 190 lb. forward David Ludvik, a 6/15/81 birthdate from the Czech Republic who's leading the league in scoring. Ludvik is a big-time player who may have been the top forward -- right now, that is -- in the whole tournament. A left-shot, he showed skill, speed, and, quite simply, was a threat every time the puck was on his stick. Definite Div. I potential.

Ludvik's linemate, 6'0" Juha Kiilhoma, a 6/22/82 birthdate from Finland, was also outstanding. While not as dominant as Ludvik, who's a year older, the two worked together extremely well. Kiilhoma is an outstanding skater with very good puck skills. He, too, is a player to keep tabs on.

Minot has three solid D in Cramer Hickey, a 6'1" '81 from San Jose, Calif. who started the season last year in Sioux City (USHL). Hickey has the tools to play Div. I hockey -- he moves the puck well, and has good hands and size -- but needs to crank up the intensity level a notch.

Dryden Henry, a 6'1", 175 lb. RD out of Devil's Lake, North Dakota is a very good '82. Like Hickey, he started last season in Sioux City. Very mobile. Competes. Makes good decisions. Great feet.

Adam Sando, a 5'9", 180 lb. LD out of Grafton-Park River HS in North Dakota, is another to check out. Sando, an '81, has good skills and feet, moves the puck well, and is excellent on the powerplay.

The Billings Bulls are one of the more skilled teams in the league. Observers at the showcase said they didn't play as well as they are capable of. However, they have some outstanding players, many of whom are young.

'83 goaltender Layne Sedevie, whose excellent play at the Select 17 Festival last summer earned him a slot on the team that went to the Czech Republic, showed here that he's developing nicely. While displaying flashes of being a big-time goaltender, he also is still quite inexperienced, i.e. he'll make a great save, then let in a soft one. Bear in mind that Sedevie was playing last season at Bismarck HS, so wasn't exactly facing quality shooters. He could be a good one in time.

6'3", 190 lb. defenseman Brady Greco, an '83 who played for Madison Edgewood HS in Wisconsin last year, is still learning the game, but the high-end physical skills are there. An outstanding college prospect.

Center Kevin Ulanski also showed flashes of being a top player in the league. A skill guy who shines on the powerplay, Ulanski, 5'11", played last season for Madison West HS (Wisc.) and is now learning how to develop consistency at a higher level. Ulanski, a left shot, is an '82, and tied for second in league scoring.

Joey Gasparini, an '81 from Grand Forks, ND and the son of USHL commissioner Gino Gasparini, has chosen to stake out his turf on his own in the AWHL, where he went into the weekend's play tied for the top spot in the league scoring race. Gasparini sees the ice extremely well, and is very savvy with the puck. He's tied for second (with Ulanski) in league scoring.

Trevor Cook, who plays on the same line as Gasparini and Ulanski (as a group they weren't as dominating as they were at the Hayward Tournament in early September), is a hard working 20-year-old with above-average skills. A Colorado native, Cook is a good skater who plays with a lot of heart. Sixth-leading scorer in league. Was with the Omaha Lancers last season.

The Fairbanks Ice Dogs, well-coached by Rob Proffitt, are an affiliate member of the league this year. Next year, they'll be full-fledged members.

Goaltender Wylie Rogers, the youngest player in the tournament, is just an '85 and an excellent prospect. 5'7"' and growing, Rogers is quick, agile, and has the makings of a big-time goaltender. He competes, and, in our experience, 15-year-olds facing Tier II shooters do well over the long run. Keep an eye on him.

The two standouts on the Fairbanks blueline are Travis Eggleston and Steve Anderson.

Eggleston, 5'10" and a left shot, is an '81 and a tough, hard-nosed D. Very solid defensively.

Anderson, who's 6'1" and also an '81, is not as physical as Eggleston, but he has better size, outstanding puck skills, and very good hands. Very patient, too, and very good on the powerplay.

Daniel Larranaga, the younger brother of Felipe, is an '83 who can play up front or on the blueline. He's an outstanding skater who's strong on his feet, competes hard, and is always in motion -- an energy guy.

Up front, 5'8" Tommy Webster, an '81 from the LA Jr. Kings Midgets, showed himself to be a solid, hard-working forward.

5'5" Derek Ward, an '80, is a waterbug -- good puck skills, makes the plays in the offensive zone, and just creates a lot of offense.

The Butte Irish don't have a lot of skill, and came into the weekend with an 0-11-1 record. However, they came out flying in Saturday's game and crushed first-place Billings, 6-1.

Their top forward is 5'9" Matt Grew, an '80 from Yarmouthport, Mass. who played for the Bridgewater Bandits (EJHL) last season. Grew, who plays with speed, had a hand in everything his team did offensively.

Goalie Joe Reese, an '81 who was a backup in Dubuque (USHL) last season, played well for the Irish.

The Fernie Ghostriders were the top team in the AWHL last season, but did it with the help of a slew of 20-year-olds who have since moved on to the BCHL and, in the case of Charlie Mattersdorfer, major junior.

They are down a bit this year, but head coach Todd Jones has done a good job rebuilding on short notice and they have some players.

Their best, 5'10" Jakub Komma, an '82 forward from the Czech Republic who played for HC Ceske Budejovice, is an extremely skilled forward who can fly. He creates a lot of offense.

Alex Staudt, a late '84 left-shot D who stands 6'2", is an outstanding Div. I or major junior prospect who at this time last year was playing for the Cranbrook (B.C.) Bantams. He does everything well, with no one aspect of his game overshadowing another.

Another excellent '84 is forward Ryan McLeod, who's 5'7" and probably the second-best forward on the team. He has a future. He can fly, he has outstanding hands, he competes hard, and he's likely to keep growing. An excellent prospect. He and Komma worked well together.

The Kimberly Dynamiters, the other Canadian team, were solid top to bottom. However, they are Canadian, and we didn't spend as much time on them -- or Fernie, for that matter -- as the other teams.

In addition, 5'11" right-shot center Glenn Thoben, an '81 and their top gun up front, got hurt after a few shifts. So we don't have much to report on him, either.

However, Anders Lindin, a 6'4", 230 lb. forward from Sweden is very, very good. He has great size, can make plays, and finish.

We liked the pair of brother goalies, Chris and Matt Climie. Both are technically sound, and both move well. However, Chris, an '83, is two years younger and two inches taller, so we're putting our money on him.

11/8/00

Coming Next Week!

The Northeastern U.S. Division I Prep Composite Schedule, 2000-2001 will be published next week.

This schedule book, which got a big thumbs-up from all who used last year's edition, is a must-have for anyone combing the highways and back roads of New England looking for players. The centerpiece, of course, is the composite. Before USHR took on the task, such a thing did not exist. Now it does, and not only will you get all games for each day, but they're listed in order of starting times, so you can quickly analyze your options and retain flexibility when you're on the road.

In the book's other sections you will find each team's individual schedule, total Christmas and New Year's Tournament Schedules, telephone numbers, and other handy information.

No longer will you have to sift through piles of schedules simply to put together a scouting itinerary. Everything you need is here.

11/08/00

Michigan Hits the Daily Double

Michigan's already strong recruiting class has just gotten a little stronger, as Burnaby Bulldogs 5'10" LC Milan Gajic and Hotchkiss School 6'2" RD Brandon Rogers have just committed to the Wolverines.

Gajic (it's pronounced "guysh"), is a 6/1/81 birthdate, and Canadian born. He's in his third year in the BCHL, and, while he could have been had for a song last season, his stock has skyrocketed this season. His 13 points in three games last weekend allowed him to pull away from the pack in the league's scoring race. Not only does Gajic have big-time scoring ability, but he has the speed, too.

Rogers (it's pronounced "rogers") is a player who's really come on nicely in the last year or two, improving his skating while at the same time continuing to add inches. He's a physical, determined player, and smart defensively. As we reported the other day, Rogers, over the past two months, whittled down a list of over a dozen schools to three -- Michigan, Dartmouth, and UNH. He was going to visit UNH, 15 miles south of his home in Rochester, NH, this weekend, but, obviously, he'll be canceling that.

11/8/00

Spina Leads U.S. Past Czech Republic

West Valley City, Utah -- With the U.S. skating with a two-man advantage early in the third period of a 3-3 game, Dave Spina knocked home a rebound at the 53 second mark, giving the Americans a 4-3 win over the Czech Republic and a 2-0-0 record here at the Five Nations Cup.

Earlier, Jesse Lane, Lee Falardeau, and Brian McConnell tallied for the United States. McConnell (1g,1a) and Tallackson (2a) each finished the game with two points. Dwight LaBrosse kicked out 25 of 28 shots in the U.S. net.

The U.S. has an off day today, before resuming action with a game tomorrow against Finland. On Friday, they face off against Russia in the tournament finale. There is no playoff round here -- final standings determine the winner.

11/7/00

Watters Vaporized; Sertich Resurrected

Excuse us for asking, but couldn't this have been done over the summer?

In one of the weirder stories of this young season, Michigan Tech AD Rick Yeo has fired hockey coach Tim Watters and replaced him with Mike Sertich, who had been head coach at Minnesota-Duluth for 18 seasons until resigning under pressure last spring.

Ironically, Michigan Tech's first two games with Sertich behind the bench will be this weekend -- at Minnesota-Duluth. Look for the DECC-hands to be out in full force.

Look, as well, for Michigan Tech to schedule a press conference in Houghton tomorrow to introduce Sertich, who hardly needs introducing.

Watters, a Tech alum ('81) who went on to a 13-year pro career as a defenseman with the Winnipeg Jets and L.A. Kings, was hired in the summer of '96 and led Tech to seasons of 8-27-4; 17-20-3; 9-28-1; 4-34; and then 1-7-1 this season. That adds up to 39-116-9, a .265 winning percentage.

Sertich, 52, led Duluth to the 1984 NCAA Championship game, where the Bulldogs -- featuring Bill Watson, Matt Christensen, Tom Kurvers, Jim Johnson, and Norm MacIver -- lost a 4-OT heartbreaker to Bowling Green.

According to Minnesota hockey scribe John Gilbert, this morning Sertich announced his own hiring on a sports talk show he's been hosting in Duluth for the past few weeks. That's a tacky way to announce a new coach, but nothing compared to Yeo choosing to fire Watters now. Did Yeo suppose the freshman brought in were going to turn this team into world beaters? If so, he's the only one who did.

Not good, not good at all.

11/07/00

U.S. Opens Five Nations Cup with a Bang

West Valley City, Utah -- Fifty seconds after Sweden took a 2-1 lead on a powerplay goal at 6:38 of the first period, U.S. Under-18 Team center Dwight Helminen roofed a backhander to tie the game at 2-2. It was the first of five unanswered goals, as the U.S. cruised to a 6-2 win in opening night action here at the Five Nations Tournament.

Big point producers for the U.S. were Helminen (2g,1a), Dave Spina (1g,2a), Brian McConnell (2g), and Bryan Miller (2a).

Travis Weber kicked out 18 of 20 shots to pick up the win. The U.S. plays the Czech Republic tonight.

11/07/00

Whither Keith? Gajic? Rogers?

The "dead period" began yesterday at 8 am and runs through Friday at 8 am, meaning that, apart from telephone calls, there is no contact allowed between colleges and recruits. It also means that swift-skating 5'9" Penticton Panthers LD Duncan Keith, the most coveted college prospect out of British Columbia -- or all of Canada, for that matter -- gets to stay home all week. Next week, however, he'll be back on the road, visiting Orono, Maine, where the Black Bears will be rolling out the red carpet. Keith has already visited Michigan State, Boston College, and Denver.

Meanwhile, look for a decision today or tomorrow from Burnaby Bulldogs 5'10" LC Milan Gajic, who, after scoring 13 points (6g,7a) over three consecutive nights last weekend, has stretched his scoring lead in the BCHL to 13 points over his nearest competitor. Gajic -- it's pronounced "guysh" -- has it down to five schools -- Michigan, UNO, Minnesota-Duluth, St. Cloud State, and North Dakota.

The last time we checked in on 6'2" Hotchkiss defenseman Brandon Rogers he had about a dozen schools he was mulling over. Now, he has it down to three: Michigan and Dartmouth, both of which he's already visited, and the University of New Hampshire, which he'll probably be visiting sometime after the dead period ends Friday morning. Rogers is from Rochester, NH, about 15 miles from the UNH campus, which may or may not mean anything.

The early signing period begins tomorrow (Wed.) and runs through next Wednesday, Nov. 15th.

11/07/00

Skating Saints Get a Gun

5'11", 200 lb. center Stace Page of the Georgetown Raiders (Ontario Provincial Jr. A League) will be headed to St. Lawrence next fall. Page, who leads Georgetown in scoring with a 18-27-45 line in 19 games, has been one of the league's top scorers for the past two years. He's an '80 birthdate who, because he'd never taken his SATs until this past April, didn't become eligible until June.

11/06/00

Ryznar Makes His Pick

6'4", 202 lb. U.S. Under-18 Team LW Jason Ryznar will be a Michigan Wolverine when next fall rolls around.

The Anchorage, Alaska native, who is in Salt Lake City, Utah, where the U.S. opens Five Nations Cup play against Sweden tonight, is a big, strong power forward with an excellent chance of going in the first round of the June 2002 draft. The other schools on Ryznar's final list were Maine, Michigan State, and Minnesota.

Ryznar, a 2/19/83 birthdate, made his official visit to Michigan about a week ago, just moseying on over after class at Ann Arbor's Huron High School. In 18 games this season, Ryznar is 7-11-18 with 15 pims.

Ryznar is the fourth forward to join Michigan's current recruiting class. The other three are National Program teammates Dwight Helminen and Eric Nystrom; and Cushing Academy's Michael Woodford.

11/06/00

See You in April

The formality is over. With yesterday's 4-0 win over the Neponset Valley River Rats in the title game of the Mass. Tier I Midget Tournament, the Eastern Mass Senators once again got their tickets punched for the Midget Nationals. From April 4-8 they will defend their national title at Philadelphia's Ice Line.

In the four-game sweep, the Senators outscored the opposition, 29-6. The tournament's top five point producers were all from the Senators -- Ned Havern (4-8-12); Sean Collins (6-3-9); Rugo Santini (5-4-9); Brendan Timmins (4-5-9); and Ray Ortiz (2-6-8). Havern, a BC recruit, goes to Arlington HS; Collins, a UNH recruit, goes to Reading HS; Santini goes to Winchester HS, Timmins goes to Arlington HS, and Ortiz goes to Belmont Hill.

In the title game, Collins (2g), Santini (1g,1a), and Havern (2a) each had two-point games. Arlington HS defenseman Tom Walsh, who has several top Div. I programs onto him, had the Senators remaining goal. Avon Old Farms goaltender Tim Warner, a UMass recruit, kicked out 29 shots for the shutout.

In late March, the Senators will get back together. For now, though, they return to their prep, parochial, and high schools.

11/06/00

Bunch o' College Commitments

-- 6'4", 215 lb. Jim Hakewill, a LD from the Westminster School, has committed to St. Lawrence University. Hakewill, a 6/7/82 birthdate, is from Wilmette, Ill. and played for Team Illinois before heading to prep school to play for former Colgate All-America Tom Earl a year ago. Hakewill took official visits to Colgate and Vermont before settling on St. Lawrence, where he'll be the biggest player on what is already a very big team. Of the 19 players who appeared in a recent game for SLU, only four were under 6'0" (and three of them were 5'11").

-- 6'2", 205 lb. RD Joe Callahan, who splits his season between the Boston Bulldogs and BC High, has committed to Yale. Callahan, who's from Abington, Mass. is a 12/20/82 birthdate.

-- Deerfield Academy PG Peter Trovato, who was the second-leading scorer and assistant captain on the Catholic Memorial squad that last year won its third consecutive Mass. Super 8 Title, will be going to UMass to play for Toot Cahoon next fall. Trovato, a 10/31/81 birthdate -- that's Halloween -- is from North Attleboro, Mass.

-- 5'11", 190 lb. Stratford Cullitons forward Matt Craig, a top scorer in the Mid-Western Ontario League, has committed to Quinnipiac. Other schools interested in Craig were Niagara, Western Michigan, Bowling Green, St. Lawrence, and Northeastern. Craig is an '82.

11/03/00

Badgers Land a Native Son

6'4", 180 lb. Des Moines Buccaneers (USHL) defenseman Joe Campbell has committed to the Wisconsin Badgers. Campbell, an '82, is a native of northern Wisconsin, having graduated last spring from Superior High School.

In our notes on September's Buc Bowl, where we last saw Campbell play, we had him as our #4 prospect on D, right behind Keith Ballard, Bryce Lampman, and Andy Schneider. "Campbell is making the huge jump from Wisconsin high school hockey to the USHL," we wrote, "so there will be growing pains along the way. Has excellent size, good feet, good stick, and likes physical play. Has pro potential down the line."

Another Buccaneer, 6'1", 190 lb. winger Ryan Bennett, made his college commitment this week, picking Lake Superior State. Bennett, an '81, played for Jim Salfi's Capital District Selects before heading to Des Moines last season. He's a native of Queensbury, NY. Going back to our Buc Bowl notes, we described Bennett as "a hard-nosed player who really competes. He bangs, crashes, hacks -- whatever it takes. A battler who'll bang home a goal every now and then."

So far this season, Bennett has banged home six goals and added four assists in 10 games played. He also leads Des Moines with 46 pims.

11/03/00

Collins Facing Busy Week

Tonight, Reading HS 5'8" forward Sean Collins will be suiting up with his split-season midget team, the Eastern Mass. Senators, as they begin play in the Massachusetts State Midget Tournament -- yes, in Mass. the midget finals are in the fall.

On Monday morning, Collins, a UNH recruit, will fly to Salt Lake City, Utah and join the U.S. Under-18 Team in the Five Nations Tournament. Collins, the only player from outside the National Program being brought in for the tournament, will be coming off three -- and, almost certainly, four -- games in one weekend. Add a near-transcontinental flight and you can bet on Collins watching Monday's opener vs. Sweden in civvies. Collins will definitely be in the lineup against the Czech Republic (Tues.), Finland (Thurs.), and Russia (Fri.).

The tournament is an excellent opportunity for the U.S. coaching staff to see where Collins fits into the picture for April's World Under-18 Championships in Europe. Call it an audition.

The tournament is actually a pressure cooker for all the players on all five squads. Not only will they be playing for their country, but their every move will be closely scrutinized by the NHL scouts in attendance -- each team is likely to have one or more guys there.

Before heading out to face the best '83s from the other side of the Atlantic, Collins has to help the Eastern Mass Senators get past the Neponset Valley River Rats, District 10 Bulldogs, and GBL Bruins

They shouldn't have any trouble. The Senators, winners of the Nationals in April, are once again loaded. In goal, they have UMass recruit Tim Warner, on D they have Harvard recruit Noah Welch, and up front they have BC recruit Ned Havern, who actually has been outscoring Collins -- and everyone else -- this fall. In addition to Collins and Havern, other big producers at forward are Winchester High's Rugo Santini, Arlington High's Brendan Timmins, and Belmont Hill's Ray Ortiz (the only '84 on the squad). Winchester's Danny Spang, an '83, is a standout on defense.

Look for the Senators to cruise here -- and get their ticket to the Midget Nationals (in Philadelphia, April 4-8) stamped. Anything less would be a huge upset.

11/02/00

Prince of the Rockies

The son of Colorado Avalanche head coach Bob Hartley opened eyes with his play at this past weekend's King of the Rockies Tournament in Colorado Springs. The younger Hartley, an '85, is a goaltender with the Arvada AA Midget squad. He's a legit prospect -- very patient, and very good on the initial shot (though he could use a little work on controlling rebounds). He's also Canadian to the bone, as are both his parents. How good is Hartley? Well, if he were an American, he'd likely be be in the top five for his birth year. And, given that the '85 goaltending crop in the U.S. is a strong one, that's high praise.

By the way, the LA Jr. Kings -- they have a solid prospect in 5'10", 184 lb. Adam Bartholomay, an '83 RC with quickness and excellent puck skills -- won the tournament, knocking off HoneyBaked 5-4 in Sunday's final. The Jr. Kings are the protected team of the Topeka Scarecrows, a USHL expansion team that begins league play next fall under coach/GM Bliss Littler.

The host Pike's Peak Miners have a good Jr. A prospect in 6'2" Kieran O'Connor, a big, rangy '82 defenseman.

11/02/00

Three Inducted into U.S. Hall

Last night at the Xcel Energy Center in St. Paul, Minn., Neal Broten, Larry Pleau, and Doug Palazzari were inducted into the U.S. Hockey Hall of Fame (yes, it's still located in Eveleth).

-- Pleau, a 6'1" center from Lynn, Mass., went from the Montreal Jr. Canadians to the '68 Olympic Team to a 10-year pro career with the Montreal Canadiens and New England Whalers (WHA). Through most of the '80s, Pleau coached the Whalers, by then merged into the NHL. Today, the 53-year-old Pleau is the general manager of the St. Louis Blues.

-- Broten, who has an NCAA Championship ring (University of Minnesota, 1979), an Olympic Gold Medal (1980), a Hobey Baker Award (1981), and a Stanley Cup ring (N.J. Devils,1995), was a 5'9" center out of Roseau, Minn. who went on to a 15-year pro career -- 11 with the Minnesota North Stars, and the remaining years with the Dallas Stars, New Jersey, and the L.A. Kings. For several years, before getting passed by Joe Mullen, Broten was the highest-scoring American-born player in NHL history.

-- Palazzari, a 5'5" center, starred at Eveleth High in the late '60s before going on to Colorado College ('70-'74), where he was a two-time All-America. After graduation, Palazzari went on to an eight-year pro career in the St. Louis Blues organization, mostly with the Salt Lake City Golden Eagles, the Blues' top minor league affiliate. There, Palazzari was twice named CHL player of the year. After retiring, Palazzari was an assistant at Colorado College from 1985-91 before joining USA Hockey. In June 1999, Palazzari was named executive director of USA Hockey.

11/1/00

Szabo's Stock Rising

Danville Wings 5'8" LC Peter Szabo, back from a hand injury as a result of a slash, is drawing heavy college interest, with Denver, CC, UNO, Clarkson, Miami, and Ferris State all in the hunt. Szabo, a highly-skilled playmaker and superb passer, is the only NAHL player averaging over two points per game this season: in eight games played, Szabo has a 4-13-17 line. (The overall league leader, with a 8-10-28 line in 28 games, is Chicago Freeze center Craig Piscopink.)

Szabo, a 3/22/81 birthdate from Nitra, Slovakia, is the only player in the U.S. junior leagues who'll be playing -- definitely, as of now -- in the World Junior Championships in St. Petersburg, Russia starting Dec. 26. (Omaha Lancer D Keith Ballard, U.S. National Program defenseman Ryan Whitney, and Chicago Freeze G Jason Bacashihua head up the list of U.S. Jr. A players being looked at for the U.S.)

Anyway, Szabo, in his second year with Danville, is taking lengthy daily tutoring in English so as to be able to pass his ACTs, which he can take as often as he'd like. Back home in Slovakia, Szabo posted excellent grades.

Danville coach Josh Mervis saw Szabo three years ago in a Five Nations Tournament in Slovakia in which the future Danville center was playing with -- and outscoring -- Minnesota Wild LW Marian Gaborik.

11/1/00

Ryznar, Spina Mull Things Over

6'4", 202 lb. U.S. National Program LW Jason Ryznar finished up his visit to the University of Michigan after yesterday's practice and a college decision could come soon.

Ryznar, a 2/19/83 birthdate from Anchorage, Alaska, had previously made official visits to Maine, Minnesota, and Michigan State. Boston College was on Ryznar's list a couple of weeks ago, but the big winger decided to cancel his visit to the Heights, so the Eagles would appear to be out of the picture.

5'9" RW David Spina will be holding off until after the early signing period, and will visit Omaha-Nebraska and Denver over the next couple of months. Spina has already visited BU and Notre Dame.

***

Copyright © 2000 U.S. Hockey Report
All rights reserved.
Duplication or redistribution in any form is illegal.

Around the Rinks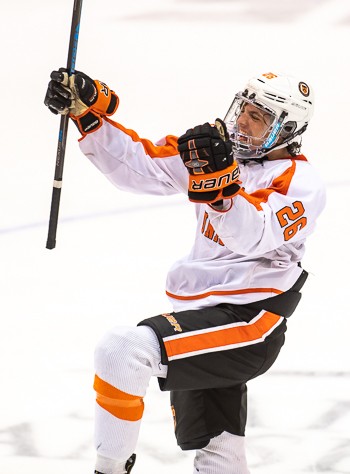 Paul Dore, who scored the game-winner with 52 seconds left to lead KUA to a 4-3 win over Salisbury in the Elite 8 Championship, is a senior the Wildcats will be counting on heavily as they go for a record 4-peat.
(Photo: Dave Arnold Photography)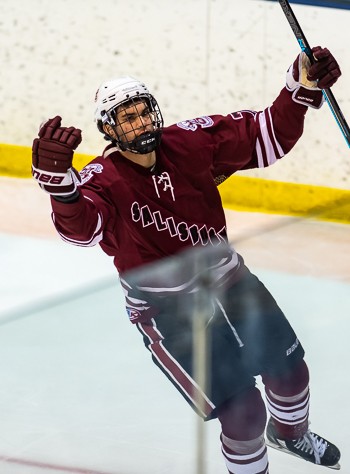 With Justin Hryckowian and Nick Capone taking their senior seasons in the USHL, classmate and UVM recruit Lucas Mercuri is Salisbury's leading returning scorer.
(Photo: Dave Arnold Photography)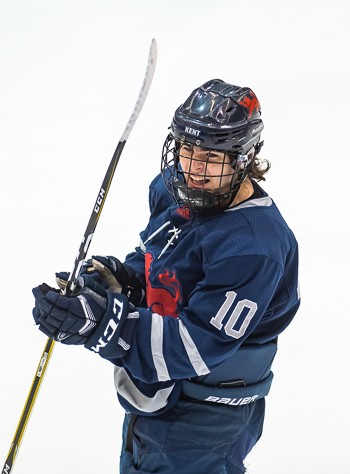 Kent's Aidan Cobb, now a senior, committed to Cornell after helping lead Kent to the Large School Championship last March.
(Photo: Dave Arnold Photography)
New England Prep Hockey News