U.S. Hockey Report
September News
---
9/30/01

Apple Core Looking Polished

The Boston Junior Bruins Shootout, held September 21-23 in Marlboro, Mass., was won for the third consecutive year by New York Apple Core (EJHL) in a 1-0 win over Suffolk PAL Jr. B (Met), with the only goal a shorthanded tally from Deerfield grad Eric Thomassion, an assist going to Dartmouth-bound A.J. Palkovich.

The game ended five minutes before the end of regulation, when a bench-clearing brawl erupted. These two teams, two of the three junior programs on Long Island, don't much like each other. It doesn't help that Apple Core beats Suffolk on an almost continual basis.

Listed below, in no particular order, are some of the top players. It was a huge tournament featuring both a midget and junior division, roughly 40 teams in all, and we were not able to see all the teams. Please keep that in mind.

Junior Division:

Apple Core's Andy Gartman was named tournament MVP. Gartman, a 5'11", 185 lb. forward from Baldwin, NY, is a good skater and strong along the boards. An '84, Gartman worked hard in all three zone. Very involved. He's the brother of Des Moines Buccaneers (USHL) goaltender Chris Gartman.

A couple of defensemen on the Junior Bruins stood out: 5'11" right shot Adam Staniech, an '84 and team captain, played a very steady game, while 5'9" Brett Tyler, an '85, was his usual hard-nosed, tenacious self. When those two were on the ice the Junior Bruins looked their sharpest.

Up front, Junior Bruins 5'10" LW Chad Pillsbury, an '82, showed himself to be one of the best players in the EJHL. Pillsbury is more of a playmaker than a bust-in-off-the-wing sniper. He's not afraid of being hit, either.

6'2", 190 lb. Apple Core defenseman Jekabs Redlihs, an '82 from Latvia, is a steady defenseman who can run the powerplay, has good vision, and is a great passer. His foot speed is a question mark, however.

Capital District has a good Russian '84 in Eugeny Kadatskiy, a 6'1", 185 lb. LW with impressive stick skills. He's not a bad skater, but lacks explosiveness.

Walpole's Valdis Sustko, a 6'0", 180 lb. left-shot forward who played with Redlihs in Latvia last winter, also looked good. An '82, Sustko is a smooth skater, and he keeps his head up, too. Also looking good was Stars forward Paul Markarian, one of the top scorers in the EJHL last year. Markarian, a 5'11", 195 lb. left-shot forward, is an '81.

Erstwhile Canterbury goaltender Brad Roberts was excellent, and a key to Apple Core's winning the tournament. Roberts, 5'11" and 185 lbs., will probably commit to West Point shortly, but is reported to be hedging his bets a bit, as other Div. I schools are taking a look. He's an excellent position goaltender, just letting the puck hit him.

5'10" LW Josef Fostik, an '84 from the Czech Republic playing for the New Hampshire Jr. Monarchs (formerly the Exeter Snow Devils), jumped out at us, scoring a couple of nice goals, going into the corner, taking the body, etc. He was always moving, always looking for open ice. Needs to become physically stronger.

5'11" Apple Core center Tom Collingham, an '84 who can handle the puck and sees the ice well, looked good. So, too, did his teammate, Kevin Schaeffer, a 6'0" '84-born RD who moves puck well, is strong on his skates, and likes to go for the big hits in center ice.

6'1", 175 lbs. Cape Cod Whalers RD Chris Murray, a late '84 who plays in the winter for Lawrence Academy, looked very good, hitting with verve, and showing increased confidence carrying the puck. Came up with big solo rush vs. Apple Core when his team was down 1-0 with 20 seconds remaining. The Whalers converted on the rebound of Murray's initial shot.

6'1", 190 lb. Walpole Stars LW Jordan LaVallee, an '86, can skate, and he's aggressive, too. Showed no hesitation in getting getting his nose in there.

Whalers '84 forward Kenny Roche was on fire all weekend, scoring some nice goals. Roche, 5'11", 165 lbs. and a left shot, plays for St. Sebastian's in the winter.

The Junior Bruins' Jerrod Kuhn, a 5'10", 160 lb. RW who played for Team Ohio and the Cleveland Barons Midgets last year, is a quick, skilled '83 with hands and good vision. Not overly physical, but not afraid, either.

Cape Cod's Anthony Aiello, a 6'0", 165 lb. LD who plays for Thayer Academy in the winter is another good '86. Aiello carried the puck well coming out of his zone, and was just solid all-around, though perhaps a little better with the puck than without it.

Apple Core 5'10", 160 lb. RD Michael Brennan, who played for both Apple Core's junior and midget teams here, is only 5'9" but plays with a nice edge, in the manner of Sergei Zubov. Brennan is a feisty type who likes to handle the puck a lot in his own end. It's a little risky at times, but he does show a lot of creativity and confidence for a kid his age.

UMass-Amherst recruit and Gov. Dummer senior goaltender Gabe Winer, a 5'9" '84, also playing for the Cape Cod Whalers, was excellent. This is not unusual. Junior Bruins '85 goaltender Nevin Hamilton was top-notch, too, using his quickness to make some unbelievable saves.

A couple of large '82s , neither of whom skate particularly well, but showed an edge and a physicality to their play were 6'2 winger Peter Alden of the Capital District Selects and 6'3 RW Morgan Ward of the NH Monarchs. The Monarchs also got a good showing out of '6'4", 210 lb. goaltender Joe Pearce, an '82 from New Jersey.

6'0", 170 lb. RD Andrew Andricopoulous, an '87 playing for the Junior Bruins Prep Team (he's going to Tabor) has size and knows how to use it. Andricopoulous is good, though not spectacular with the puck. On the other hand he's just 14, though at times he looked more like a 17-year-old.

Note: 5'8" forward Ruslan Kazanchin, one of the best '85's playing in the Northeast last winter, left Apple Core two weeks ago to return home to play for the Russian Under-17 Team.

Midget Division:

Apple Core Midgets 6'1", 170 lb. goaltender Thomas Samaris was excellent in beating the Little Bruins, and awesome against the division-winning Hamilton (Ontario) Reps, who were all over Apple Core. Samaris, a butterfly goalie who wears Koho equipment, making him look even more like Patrick Roy, was the key, keeping his team in the game, and giving them a chance to win. Samaris, who needs to improve moving the puck on his backhand, is from Brooklyn, NY. The borough appears to be recovering from the fact that the Dodgers left for LA 43 years ago. Time, it appears, does heal all wounds.

Walpole Stars Midgets forward Seth Seidman, a 6'0", 195 lb.'86 has size and good hands, which can take you a long, long way. Could use his linemates better, however.

6'0", 182 lb. Little Bruins LD Topher Bevis carried the puck well, and was impressive overall. Teammate Brian McCafferty, also a left-shot D, and also an '86, appears bigger and stronger than last year.

'86 RD Nick Schaus of the Perinton Blades is a 5'8" super mobile RD who can skate and has a mean streak, too. He carries the puck well, doesn't panic, and makes nice passes.

Apple Core Midgets' Mike Karwoski, a 5'3", 110 lb. Dec. '86 birthdate, may have a way to go in the size/strength department, but there weren't many catching him. Karwoski is a charge of electricity. And he has the knack, too, beating the Little Bruins with on OT goal, turning a D-man inside out and then deking the goalie to finish. He's fun to watch.

9/28/01

Walsh to Notre Dame

Noble & Greenough School goaltender Rory Walsh has committed to Notre Dame. Walsh, 5'10", 175 lbs., was a key to Nobles reaching the New England Prep School Tournament last winter. Prior to playing for Nobles, Walsh was at Milton Academy.

Walsh is the son of Brian Walsh, who starred at Matignon HS in the fair city of Cambridge, Mass., and went on to star at Notre Dame from 1973-77. A two-year captain, Walsh was an All-American his senior year. To this day, Walsh is Notre Dame's all-time leading scorer (89-145-234).

9/28/01

It's a Problem Here, Too

Below you will find links to three well-thought-out articles that have appeared in the Vancouver Sun over the past couple of weeks.

The problems in youth hockey that columnist Gary Mason is writing of are as relevant below the 49th Parallel as they are in Canada. And you don't even have to have a nine-year-old cut from a travel team to see how such decisions may affect the player pool five or more years down the road.

9/27/01

Top USHL Prospects at Super 16

A few thoughts from this past weekend's Cedar Rapids Super 16 Tournament, which included all 13 USHL teams, along with the Danville Wings (NAHL), the Billings Bulls (AWHL), and Team Minnesota, comprised of players, mostly seniors, from that state's fall prep league.

First off, sorry it took so long to get this together, but, as you can see, the document is on the long side.

As for the hockey, there weren't a lot of top-end forwards, something that manifested itself in the shootouts that decided a number of games. A lot of pucks were shot wide, or right into the goaltenders' pads. Very few dekes... and very little imagination.

Given all that, it's also very early. These were pre-season games; they don't count in the standings; and the season ahead is long. Kids that don't show that well in September could be lighting it up in a couple of months, particularly rookies who, if skilled enough, will adjust. So, if a player you think is a top talent isn't on this list, well... we saw a number of talented kids who had poor weekends. It happens every year -- and it's no big deal. Remember, this is just a snapshot in time, only intended to give a pre-season sense of who some of the better DI prospects at this particular tournament are. Nothing more; nothing less.

That said, the best forward in the tournament was Thomas Vanek (Sioux Falls). The best defenseman was Brett Skinner (Des Moines). And the best goaltender was Bobby Goepfert (Cedar Rapids).

We're going to do things a little differently this year. Instead of running a straight ranking of the players we thought stood out, we're going to rank players by birth year, a more apt comparison. In all, we ranked 70 players. Roughly 60 are college eligible next year. The league, traditionally, sends about 100 players on to Div. I schools each season.

At the risk of getting off the subject at hand, we feel there are far too many 20 year olds in junior hockey, both here and in Canada. The skill level at this age ('81s) is low. And the reason is simple: practically all the top players have already been scooped up and are playing in college. The USHL is a business, and winning teams do better at the gate, hence rosters get clogged with the more experienced, physically mature older kids. The problem is, very few stand out. And what do they get for it all? They get to enter college as 21-year-olds, about the same age many of their high school classmates will be entering their senior year, and preparing to move on with their lives. It's time to put a cap on the number of 20 year olds allowed per team. We suggest a limit of three, with the eventual goal of eliminating 20 year olds entirely.

With the above in mind, it's not surprising that the teams with the fewest 20 year olds were also the most skilled and enjoyable to watch. The Sioux Falls Stampede deserve credit in this regard. So, too, do the Danville Wings.

The tournament was won by the Sioux City Musketeers, who crushed the Chicago Steel, 10-2, in Sunday's title game.

It doesn't look like there will be a powerhouse team in the league this year, unless someone pulls off some miraculous trades. There's plenty of parity, however, and, with the regular season getting underway tomorrow night, here's how we think they'll finish up.

1) Des Moines Buccaneers; 2) Omaha Lancers; 3) Sioux Falls Stampede; 4) Green Bay Gamblers; 5) Lincoln Stars; 6) Sioux City Musketeers; 7) Cedar Rapids RoughRiders; 8) Chicago Steel; 9) Tri-City Storm; 10) Waterloo Black Hawks; 11) Topeka ScareCrows; 12) Rochester Mustangs; 13) Tulsa Crude.

Note: You can throw a blanket over the teams ranked in the middle, say 5-10. In that range, it's a total guess.

Here, then, are the players.

1981 (6 forwards, 3 defensemen, 0 goaltender)

F1 -- Konrad Reeder, 5-8/165, Tri-City Storm -- Veteran RW from Vanderhoof, B.C. Shifty in traffic, good hands, and an excellent scorer. Posted 34-24-58 line in 54 games last year; should do even better this year. Fun to watch. Going to St. Cloud State.

F2 -- Aaron Slattengren, 6-0/185, Omaha Lancers -- LC from Duluth, Minn. and Proctor HS. Smooth with puck. With the Lancers last year, he had 16 points in 40 games a year ago. Going to Colorado College.

F3 -- Ryan Langenbrunner, 5-11/175, Waterloo Black Hawks -- Veteran from Cloquet, Minn. Smooth, handles puck well. Posted a 6-18-24 line in 53 games last season. Has the ability to do better than that. Going to Minnesota-Duluth.

F4 -- Trevor Frischmon, 6-0/195, Lincoln Stars -- From Ham Lake, Minn. Played for Lincoln last season, posting 13-18-31 line in 55 games. Good all-around player.

F5 -- Ales Parez, 6-2/195, Chicago Steel -- Right shot LW From Czech Republic. Played last year for Bismarck (AWHL). Good size. Gets open well; patient with puck.

F6 -- Kyle Worner, 6-2/200, Tri-City Storm -- Second-year LW from Sioux City, Iowa. Played two years ago for Helena (AWHL). Physical winger with improved foot speed. Complemented linemates Luger and Reeder well. Posted 10-18-28 line in 55 games last season.

D1 -- Marek Dora, 6-1/197, Danville Wings -- LD from Czech Republic. Younger brother of Denver forward Lukas Dora. Size. Skating ability. Moves puck well. Second year with Wings.

D2 -- Luke Irwin, 6-2/200, Des Moines Buccaneers -- Second-year LD from Bloomington, Minn. and Benilde-St. Margaret's. Showed poise; steadiness.

D3 -- Ben Tharp, 5-11/173, Chicago Steel -- Noticeable in glimpses. He can do better -- on athletic ability alone. Has two years varsity experience at the University of Minnesota. Left school in the spring.

1982 (13 forwards, 8 defensemen, 1 goaltender)

F1 -- Vince Bellissimo, 6-1/190, Topeka ScareCrows -- Toronto native is a 12/82 birthdate. Played for the St. Mike's Buzzers (OPJHL) last season, putting up a ton of points. He's a dynamic, hard-nosed aggressive RC who makes things happen every shift. Strong shot, too. Going to Western Michigan.

F2 -- Marty Sertich, 5-8/165, Sioux Falls Stampede -- Late '82 from Roseville HS. Minnesota's Mr. Hockey last season. His skill came through in flashes here. The test for Sertich -- and all rookies -- comes in time. Going to Going to Colorado College.

F3 -- John Snowden, 6-0/200, Lincoln Stars -- LC from Snohomish, Wash. played for Lincoln last season, notching 49 points in 55 games. Going to Mankato State next season.

F4 -- Bille Luger, 5-10/190, Tri-City Storm -- A second-year player out of White Bear Lake HS. A good skater who works hard, fights through checks, and never quits on the play. A RC, he's going to St. Cloud State. Had 14-20-34 line in 54 games last season.

F5 -- Jeff Corey, 6-0/180, Sioux Falls Stampede -- Veteran RW from Philadelphia area. Excellent skater. Strong in all three zones. A late '82. Posted a 20-14-34 line in 51 games last season.

F6 -- Quinn Fylling, 5-8/180, Sioux Falls Stampede -- From Minot, ND and the University of North Dakota. Scored a fine goal against Green Bay on Saturday, using his speed off the right side and letting fly with a wicked shot. He could look around more -- sometimes he does things almost too fast.

F7-- John Zeiler, 6-0/190, Sioux City Musketeers -- Veteran RW from Pittsburgh is stronger than a year ago. Never slows down. Just goes as fast as he can at all times. Going to St. Lawrence. Had 28 points in 56 games last year.

F8 -- Jeff Genovy, 6-3/190, Des Moines Buccaneers -- A 12/82 birthdate. Kalamazoo, Mich. and the Soo Indian (NAHL). Dec. '82 birthdate. Great size, still a little raw. A LC, he won draws, used size well in front and along wall.

F9 -- Brad Zancanaro, 5-6/160, Sioux City Musketeers -- A RC in his second year at Sioux City. Was good for 26 points in 42 games last season. Small, quick, energy guy. Feisty, too.

F10 -- Dan Krmpotich, 6-0/180, Waterloo Black Hawks -- Second year USHL player out of Eden Prairie HS. Good speed, and he can score. Posted a 20-26-46 line in 55 games last year.

F11 -- Jon Booras, 5-11/180, Topeka ScareCrows -- Late '82 from Billings, Montana. Played for Sioux Falls Stampede last season, scoring 14 points in 55 games. He has the offensive skills to do better, and being in Topeka, instead of on Sioux Falls, which was deep up front, should give him more of an opportunity to be a go-to guy.

F12 - Ted O'Leary, 6-0/190, Cedar Rapids RoughRiders -- Second-year RW from Arvada, Colorado. Had excellent game Friday night. Manned point well on PP. Injured; missed Saturday's action. Had 15 points in 42 games last season.

F13 -- Andrew Stearns, 6-0/188, Chicago Steel -- Late '82 from played for Billings last season. Pretty raw, but the LW, a native of Wadena, Minn., has a good, strong skating stride, good-enough hands, and plays physically.

D1 -- Chris Harrington, 6-0/180, Omaha Lancers -- Veteran RD from St. Cloud, Minn. Good size, good feet, and aggressive. Puck lies flat for him. Going to the University of Minnesota.

D2 -- Michael Hutchins, 6-0/195, Des Moines Buccaneers -- Late '82 LD from Wolfeboro, NH and the St. Paul's School. Excellent tools, but a little raw. A year in the USHL will fine-tune his game. Going to UNH.

D3- Tim Conboy, 6-1/206, Rochester Mustangs -- RD is back in Rochester, though he may be traded for before long. Big, strong, fearless, and can skate. Decent hands. Very aggressive -- had 256 pims in 51 games last year. Going to St. Cloud State.

D4 -- Nate Guenin, 6-2/200, Green Bay Gamblers -- Second-year player from Aliquippa, PA and the Pittsburgh Hornets organization just keeps getting better. Smart, reliable defensive defenseman. A right shot. Going to Ohio State.

D5 -- P.J. Atherton, 6-2/195, Cedar Rapids RoughRiders -- Second-year RD from Edina, Minn.Good size; good stride. Played with confidence. Physically stronger than a year ago.

D6 -- Chris Busby, 6-0/180, Danville Wings -- RD who has a year of college experience, at Brown -- not a bad school, and it seems a good fit for his ability. Busby has decent size, poise, and can handle the rugged going. Skating is just OK.

D7 -- T.J. McElroy, 6-0/180, Lincoln Stars -- RD from Golden Valley, Minn. and Armstrong HS has good size and skating ability. 11/82 DOB.

D8 -- Chris Nathe, 5-11/165, Tri-City Storm -- Late '82 from Elk River HS. A rookie, he's on the smallish side. Needs to get stronger. Sees the ice well, and has skill.

G1 -- Kyle McNulty, 5-10/170, Waterloo Black Hawks -- From E. Greenwich, RI and the Hotchkiss School. Had a nice game vs. Lincoln on Sat., allowing two goals in 3-2 win.

1983 (5 forwards, 9 defensemen, 5 goaltenders)

F1 -- Joey Crabb, 6-1/185, Green Bay Gamblers -- From Anchorage, Alaska and the U.S. National Program. Didn't score a lot, but a presence nonetheless. Hard to knock off his skates. Played physically. Going to CC.

F2 -- Joe Jensen, 5-11/175, Sioux Falls Stampede -- Second-year player from Plymouth, Minn., where he played for Osseo HS. Keeps getting better and stronger. Plays a hard-nosed game -- grit and skill. Keeps his feet moving. Had a 14-20-34 line in 56 games last season. Going to St. Cloud State.

F3 -- Jason Tejchma, 5-10/180, Danville Wings -- From Muskegon, Mich. and the HoneyBaked Midgets. LC has great stick and great vision. One of the best playmakers in the tournament. Doesn't have high end speed or size, but he'll get by without it. His skills are more nuanced than that.

F4 -- Marty Guerin, 6-0/200, Omaha Lancers -- A veteran right-shot wing from Michigan, where he played for the HoneyBaked Midgets before going on to the Lancers last season. Has improved overall agility. Hands and skating better, too. Needs to become a little more physical. Had eight points in 42 games last year. With Riddell, Welch, Fleming, et al gone, look for Guerin to make a big leap in that department.

F5 -- Mark Langdon, 6-2/195, Des Moines Buccaneers -- LW who had 22 points in 55 games last year is stronger and much improved. Good hands, Good size, and good head for the game. Doesn't have great speed, but gets there and is opportunistic. Scored nice breakaway goal on Friday.

D1 -- Brett Skinner, 6-1/180, Des Moines Buccaneers -- LD from Brandon, Manitoba. Played for the Trail Smoke Eaters (BCHL) last season. Denver recruit who could easily fit in there this season, but wanted to play a second year of juniors and come in as an impact freshman. Has size, great skating ability both backwards and forwards. Moves puck smoothly. Showed poise. Excellent pro and college prospect.

D2 -- Mike Vannelli, 6-2/185, Sioux Falls Stampede -- A late '83 RD from Mendota Heights, Minn. and Cretin-Derham Hall HS. Excellent size, excellent skater. A rookie, he played a conservative game, so don't quite have a line on his puck skills yet. Going to the Gophers.

D3 -- Jake Taylor, 6-4/205, Green Bay Gamblers -- Rookie from Byron, Minn. A right shot. Great size, yet agile. Vicious fighter, as Omaha's Aaron Slattengren found out the hard way.

D4 --Tom Gilbert, 6-3/195, Chicago Steel -- Big solid RD from Bloomington-Jefferson HS.

D5 -- Rob Lehtinen, 5-11/175, Waterloo Black Hawks -- From the Upper Peninsula, a nice place to be this time of year. Played for the Marquette Electricians Midget AAA last year. Smart, heady player with solid fundamentals. A left shot, he's versatile, as good up front as on the blue line. A bit of a sleeper.

D6 -- Jon Saunders, 6-2/195, Danville Wings -- Second year LD has size and athleticism. Could have a break-out year.

D7 -- Matt Greene, 6-3/210, Green Bay Gamblers -- From Grand Ledge, Mich. Played for U.S. National Program last season. Good physical defensive defenseman. Right shot. Still a little rough around the edges. Needs to work on moving feet

D8 -- Rob Dubel, 6-4/180, Team Minnesota -- From Maple Grove (Minn.) HS. Great height; lanky. Strong skater. Left shot.

D9 -- Matt Olinger, 6-0/195, Cedar Rapids RoughRiders -- Physical RD from Madison, Wisconsin is in second year in Cedar Rapids.

G1 -- Bobby Goepfert, 5-10/150, Cedar Rapids RoughRiders -- Veteran from Kings Park, NY and Suffolk PAL Jr. B. Second year with Cedar Rapids. Just excellent here. A bulldog with great reflexes and intense concentration. Going to Providence College. Clear-cut top goalie in tournament.

G2 -- Marty Magers, 6-1/180, Omaha Lancers -- Didn't get to see him much. It seemed that every time strong teams were playing on one rink, there were also two strong teams on the others rink. But he can play. 2.32 gaa in 27 games last year.

G3 -- Layne Sedevie, 5-10/170, Sioux Falls Stampede -- Allowed three goals over two games. From Bismarck, ND. Played last season with the Billings Bulls (AWHL).

G4 -- Bobby Pruchnick, 6-1/195, Billings Bulls -- From Livonia, Mich. and the Ann Arbor Ice Dogs Midget AAA program. Quick, with a good glove. Came up big on Friday, leading Billings to a 3-1 win over Chicago.

G5 -- Brandon Zickler, 6-3/170, Danville Wings -- From the Chicago Chill Midgets. Fills up the net. Looked good in Wings' 3-1 win over Lincoln on Friday.

Unranked: Omaha's Kulakov, a Latvian left-shot RW who played on a line with Guerin and Slattengren. He was in the Columbus Blue Jackets' camp and, from what we could gather, he may be signing with that organization. At any rate, he's not college eligible.

***

1984 (6 forwards, 6 defensemen, 1 goalie)

F1 -- Thomas Vanek, 6-2/205, Sioux Falls Stampede -- Second-year player from Graz, Austria. Best college and pro prospect in whole tournament, though was reportedly much better at the Buc Bowl than here. Sometimes he can be invisible, then all of a sudden he rips off a shot that floors you. Also, as one wag put it, "he only backchecks hard when he turns over the puck." Frequently injured last season, Vanek appeared in just 20 regular season games, posting a 19-10-29 line. Two schools mentioned most prominently in connection with Vanek are Minnesota and Wisconsin. However, he'll also be visiting Michigan.

F2 -- Chris Collins, 5-7/175, Des Moines Buccaneers -- Rookie from from Fairport, NY and Taft, where he was a sophomore last year. Will be fast-tracking and heading to college next fall. Grit and skill. A left shot, he played RW here.

F3 -- Travis Morin, 6-3/170, Chicago Steel -- Big LW from Brooklyn Park, Minn. and Osseo HS. Going to Mankato State.

F4 -- Ryan Dingle, 5-11/160, Des Moines Buccaneers -- From Steamboat Springs, Colorado. Played for Vail Midget AAA last season. Going to Denver in two years. A LW with quick hands, and he can fly.

F5 -- Ryan Potulny, 6-0/178, Lincoln Stars -- LC from Grand Forks Red River HS. Tentative at times, but he's a rookie.

F6 -- Pat Borgestad, 6-3/190, Tri-City Storm -- From St. Paul, Minn. and Como Park HS. Big, young, and possessor of a lot of raw ability.

D1 -- Danny Richmond, 6-1/175, Chicago Steel -- LD from Buffalo Grove, Ill. Played for TI last winter. Plays with poise; is physical; and shines at both ends of ice. Son of Steel coach Steve Richmond.

D2 -- Tim Cook, 6-4/190, Omaha Lancers -- RD from Montclair, NJ and the Hotchkiss School has great frame and ability to skate with puck. Adapted quickly here.

D3 - Jason Dest, 6-0/156, Omaha Lancers -- A late '84 from Fraser, Mich. and the Michigan Jaguars Midget AAA. Fast, mobile. As good laterally as N-S.

D4 -- Evan Stoftlet, 6-1/175, Des Moines Buccaneers -- Played last year for Bozeman (AWHL); Madison Midget AAA the year before. Reliable, smart, but needs to get physically stronger.

D5 -- Jeremy Smith, 5-10/170 -- Sioux Falls Stampede -- A 12/84 birthdate from Anchorage, Alaska. Has excellent first step, N-S speed, and offensive ability.

D6 -- Clay Rehm, 5-10/160, Billings Bulls -- 11/84 birthdate from Park Rapids (Minn.) HS. Aware, mobile young d-man. Needs to fill out a bit.

G1 -- Dominic Vicari, 5-10/170, Omaha Lancers -- From Clinton Township, Mich. and the HoneyBaked Midgets. Excellent reactions. Gets low for a good look. Shut out Green Bay on Friday.

***

1985 (3 forwards, 0 defensemen, 4 goalies)

F1 -- James Unger, 6-2/180, Topeka ScareCrows -- From Cleveland Barons Midget AAA program. Big, raw, young power forward.

F2 -- Brent Borgen, 5-11/195, Team Minnesota -- From Mahtomedi (Minn.) HS. Sees ice well, creates good scoring opportunities.

F3 -- Brett Beckfield, 6-0/175, Cedar Rapids RoughRiders -- Rookie LW from Plymouth, Minn. and Armstrong HS. Good size; good skills.

G1- Joe Fallon, 6-3/175, Rochester Mustangs -- Great prospect from Bemidji HS. Has size, a quick glove and quick feet.

G2 -- Michael Zacharias, 5-10/160, Team Minnesota -- From Plymouth, Minn. and Armstrong HS. A junior, Zacharias was excellent. A lot of poise.

G3 -- Chris Holt, 6-2/200, Billings Bulls -- From the Semiahmoo Bantams and White Rock, BC. Made a splash in the first game of the tournament, making 40 saves as Billings shut out Green Bay, 2-0.

G4 -- Eric Pfligler, 5-8/170, Green Bay Gamblers -- Very young, but already a veteran. Illinois native was excellent Saturday, holding potent Sioux Falls forwards to one goal.

***

1986 (1 forward)

F1 -- Tyler Haskins, 5-11/160, Sioux City Musketeers -- RC from Madison HS and Phoenix (WSJHL) was very noticeable, particularly for an '86 in this league. Plays assertively. Strong all-around skills. Haskins was the only '86 in the tournament.

9/25/01

Gionta to BC

U.S. National Team Development Program forward Stephen Gionta will be going to Boston College.

Gionta, who's 5'7", 185 lbs., made his decision on Saturday night, while he was on his official visit to the Heights. It was his first visit there, by himself, and he loved it. "He's on Cloud Nine," his parents said today.

Last night, Gionta told the coaches at Miami of his decision. Clarkson was also interested in getting Gionta in for a visit, but that became a moot point.

A hard-working, feisty right wing who plays hard in all three zones, Gionta -- like 99.9% of the players out there -- doesn't have his brother's skill, though he does share his brother's leadership qualities. The younger Gionta is valued by coaches and teammates, and he's level-headed, so any unrealistic expectations others may have for him because of his name probably won't faze him. He'll just go out and play hard every shift.

This fall, because he's suffering from a couple of bruised vertebrae, Gionta hasn't taken the ice. However, he should be back in action soon.

Last year, Gionta, in 54 games overall, had a 10-7-17 line with 44 pims. In nine games vs. colleges, Gionta was 2-1-3. In 17 international games, he posted a 4-1-5 line.

Before coming to Ann Arbor, Gionta, a 10/9/83 birthdate, played for the now-defunct Rochester Jr. Americans (NAHL).

9/24/01

Shawn Walsh Succumbs to Cancer

We thought, after the events of the last two weeks, that we'd be back to printing at least some good news by now. But, to quote William Shakespeare in Hamlet, "When sorrows come, they come not single spies, but in battalions."

And hasn't that been the story of this month?

This afternoon, as many of you may know by now, long-time Maine head coach Shawn Walsh died at age 46 after a 15-month battle with renal cell carcinoma, a rare form of cancer.

Walsh arrived in Orono after a grim three-year stretch in which the Black Bears, under Jack Semler, lost 52 of 63 games. In Walsh's first two seasons, 1984-86 (also the first two years of Hockey East's existence), Maine's troubles continued, with the Black Bears losing 51 of 68 games. But the seeds of future success were coming on board -- Eric Weinrich, Scott King, Mike Golden, David Capuano, and Mike McHugh -- and they'd pay off in years three and four of Walsh's regime, when the Black Bears went 24-16-2 and then 34-8-2. Five years later, in 1993, Maine won its first national championship. A second one would come in '99.

Walsh, a consummate salesman, won recruiting battles and, with the help of long-time assistant Grant Standbrook, picked up a few overlooked gems. A list of the most memorable players of the Walsh era would include Scott Pellerin, Paul Kariya, Cal Ingraham, Chris Imes, Jim Montgomery, Garth Snow, Mike Dunham, Jean-Yves Roy, Bob Corkum, Keith Carney, Bob Beers, Blair Allison, Jeff Tory, and Steve Kariya.

Whatever one thought of Walsh -- and he certainly had numerous detractors -- there can be no denying that, in his 17 years behind the bench, he brought spice to Hockey East, and, along with Boston University head coach Jack Parker and league commissioner Lou Lamoriello, helped the new league forge its identity.

Walsh, a White Plains, N.Y. native, began his coaching career while an undergraduate at Bowling Green, from which he graduated in 1978. Perhaps because he never played a game of varsity hockey, he gravitated to coaching at a young age. As a senior at BGSU, Walsh both coached the school's JV team and worked with the varsity under then head coach Ron Mason. When Mason moved on to Michigan State, then in the doldrums, Walsh went with him, helping turn that program around.

If the high points of the Walsh era were the two national championships, the low point came in 1993-94 when the school was forced to forfeit games for using an ineligible player. In 1995 Walsh was suspended from coaching for one full year after an NCAA investigation into the Maine athletic department revealed numerous violations. In addition, the school was barred from the NCAA tournament for two years, and scholarships were taken away as well. It looked like it would set the program back ten years, but it didn't, as a little over two years later, Maine won its second NCAA championship.

Walsh leaves his wife, Lynne, and three sons: Tyler, 10; Travis, 8; and Sean, 2.

9/20/01

"Let's Leave the Tears Behind"

At a little before 10 a.m. yesterday, a stranger passing through Boston's Roslindale neighborhood on Cummins Highway (really just a city street, despite its name) might have done a double-take at the huge numbers of cars, policemen directing traffic, TV cameramen, and people -- many hundreds of them -- making their way up the hill toward Sacred Heart Parish.

Inside the massive yellow-brick parish, as well as a smaller chapel downstairs opened to accommodate the overflow crowd, were people who were in the same building when Mark Bavis was baptized there 31 years ago. There were others on hand who met him just recently. Most, of course, met him somewhere in the years between, whether at Catholic Memorial, Cushing Academy, BU, or elsewhere. Yesterday, they were all there, shoulder to shoulder, to bid the local boy-made-good an emotional goodbye.

By far the most poignant moments came when Mark's twin brother, Mike, eulogized his brother.

Pausing frequently to gather his composure, before pressing on bravely, Mike ranged over many of the shared moments perhaps only twins can truly comprehend. Several times, though, he brought up the need to move forward. It's what, he said, his brother would have wanted.

"When we leave here today," Mike said, "let's leave the tears behind. When we meet at BU (the site of the post-service gathering) we'll relive the memories."

For Mike, many of those memories revolved around growing up playing sports. "The great thing about being a twin," he said, "was the fact that you never had to go far for a game.

"Of course," he added, "that game might end with a laugh, a swear, or a fight."

In those days, Mike said, "My friends were Markie's and his friends were mine."

Mike stressed how much fun his twin brother had at the various stops he made. Speaking of BU days, Mike said: "It was almost unfair how much fun we had in those four years." Later, returning to the same topic, he said, "We had so much... there are so many people in the world who don't get anywhere near as much as we did."

Mike went on to tell the crowd how much his brother loved his various stops on the hockey trail, from playing pro in Charleston, South Carolina, to working as an assistant with the Chicago Freeze. Mike, choking up considerably, recalled a trip he made to Chicago for ex-BU teammate Dave Sacco's wedding, and how they all went out to Wrigley Field to see a Cubs game.

Despite how much fun his brother had during his two years in Chicago, Mike said, he felt that "something was calling him home." That something, Mike added, was his family. "His heart was back here in Boston."

But after he began scouting for the Kings a year ago, Mark began to love Los Angeles, too. "I was worried about that," Mike said, as laughter filled the church.

Mike also spoke of how his brother had begun to practice his religious faith much more in recent years, and, as well, had begun to lay the groundwork for applying to law school.

Recently, Mike became a father. "Nothing," he said, "was like the day I saw my brother holding my son, Jack."

"We had an unspoken love. We spent so much time together. I knew how he felt and he knew how I felt."

As for the tragic events of last Tuesday, Mike spoke of Ace Bailey, saying, "It makes me feel good that my brother was with Ace." He added that, "We need courage to face what happened, as a family and as a country. We need to return to life as it was on September 10th."

"I'm going to be out there again. And I'm going to be flying by plane... trying to figure out a way to beat BC.

"In no way am I going to let the people involved in this think they got me twice."

And that was it. Applause rolled though the church, out the doors, and into the Roslindale neighborhood the boys grew up in. After singing "God Bless America" and "Amazing Grace," the crowd excited onto the sun-splashed streets, and proceeded to BU's George Sherman Union, right down the street from Walter Brown Arena, where Mark Bavis experienced some, but by no means all, of his greatest triumphs..

9/19/01

Murphy Reintroduces Self

6'1", 170 lb. LW Patrick Murphy, listed as deferred for a year, will not be going to Michigan Tech after all.

Murphy, who committed to Tech last spring and subsequently signed a National Letter of Intent with the school, learned in August that he had failed to make it through the NCAA Clearinghouse and thus wouldn't be able to play this season. Murphy decided to return to his Tier II team, the Newmarket Hurricanes (OPJHL), where he had 32 points in 40 games last season.

Here's the wrinkle. Recently, Murphy sent a "letter of reintroduction" to numerous NCAA Div. I schools stating that he is available to be recruited again. Michigan Tech, however, did not receive such a letter.

Murphy is the son of former L.A. Kings forward and Toronto Maple Leafs coach Mike Murphy.

Notes: 6'1" Sioux Falls Stampede (USHL) forward Thomas Vanek, who drew raves for his play at this past weekend's Buc Bowl, visited the University of Wisconsin the weekend of Sept. 8-9. As of now, Vanek has his choices narrowed down to Wisconsin and Minnesota. He has connections at both. Bernd Bruckler, a fellow native of Graz, Austria is a freshman goaltender for the Badgers, while his coach at Sioux Falls last year was Gopher assistant Bob Motzko.... U.S. National Team Development Program forward Stephen Gionta is on a one-month program of total rest to allow his cracked vertebrae to heal. Gionta will use the time to make college visits. Boston College, Clarkson, and Miami are all on the list.

9/18/01

The Jensen Plan

Yale recruit Christian Jensen will be delaying his entrance into Yale for one year in order to play in Stockholm, Sweden for the AIK Under-20 Team.

Right now, the former Taft star, who's also a top lacrosse player mulling over taking a shot at being a two-sport guy in college, is home in New Canaan, Connecticut, keeping in shape while waiting for his visa to arrive. It's expected any day.

The move to Sweden began to take shape when Jensen, a 5'10", 178 lb. left shot wing, was over there last month training with AIK and the team's coach Jan-Åke Tiennsu, impressed with his play, asked him if he'd like to stay.

"At first," said Jensen, "I didn't think it was feasible."

But the more Jensen thought about it, the more he wanted to do it. Hockey-wise, he was intrigued by some of the training methods over there, and how they could further improve his game. He also felt that after Taft -- and before Yale -- it would be "a great cultural experience and a nice break."

Jensen's idea of a break, though, is a little different than others. Among other things, he's going to learn Swedish. "I'm going to take a crash course to get fluent," he said. "It'll take two to three months."

Jensen was asked what Tim Taylor and his staff thought about the decision. "Initially," he said, "they were a little reluctant to be happy about it."

However, the Yale staff, realizing they might get back an even better player, soon came about. As Yale assistant C.J. Marottolo, who's worked with Jensen in New England select camps for years, said, "He'll get bigger, better, and stronger. I think it's great."

Worth noting is that Yale has changed its financial aid policy to make it less specifically geared to U.S. kids. Now, financial aid can be distributed equally among all applicants. "Starting now," Jensen said, "it's just as easy giving financial aid to a Swede as it is to a North American."

Jensen said he will have his eyes and ears open for a skilled Swede to bring back with him to Yale. Now, if you see Taylor, Marottolo, or Bruce Wolanin in downtown Stockholm, you'll know why.

9/18/01

Minnesota All-Stars Set for Cedar Rapids

We'll certainly never be the same after the events of last week. Given that, the good hockey men who lost their lives would want us to get back to... hockey. It's what we do. So let's get to it. Next up on the docket is the The Wells Fargo Super 16 Tournament, which starts Thursday morning in Cedar Rapids, Iowa. The tournament will feature all 13 USHL teams plus the Danville Wings (NAHL), Billings Bulls (AWHL), and the Minnesota All-Stars. The latter squad, in case you were wondering, was selected out of Minnesota's Project Prep fall league. The roster is below. With the exception of the five players marked by an asterisk, each of whom is a junior, all of the following players are seniors.

Goaltenders (2): Michael Zacharias* (Armstong); John Curry (Breck)

Defensemen (9): Dave Moline (Duluth Marshall); Brian Kilburg (Cretin Derham Hall); Zach Tarkir (Eastview); John Paulson (Benilde-St. Margaret's); Tony Gliniany (Osseo); Rob Dubel (Maple Grove); Will Wetterlin (Edina); Johan Kroll (Wayzata); Aaron Underwood (Red Wing).

Forwards (14): Josh Hanson (Austin); Brent Borgen* (Mahtomedi); Ryan Carter (White Bear Lake); Tom Biondich (International Falls); Joe Eichstadt* (Bemidji); Cullum Buetow-Staples (Cretin Derham Hall); Mike MacMillan (Buffalo); Mike Franks* (Burnsville); Andrew Panchenko (Eastview); Joe Bauer (Apple Valley); Tim Madsen* (Elk River); Brent Palmer (Hermantown); Adam Becker (Edina); Matt Hall (Park Center).

Update: Scratch forwards Michael Franks (shoulder separation) and Tim Madsen (concussion). Replacements are expected to be Darrin Olver (Eastview) and Joey McElroy (Armstrong). Olver is a junior.

9/17/01

Patrick's Brother a World Trade Center Victim

James Matthew Patrick, the brother of Union College assistant coach Kevin Patrick, was among the victims of the World Trade Center attack last Tuesday.

Patrick worked for Cantor Fitzgerald, a London-based firm that lost 700 of its 1,000 employees in Tuesday's attack. The firm had offices on the 101st, 103rd, and 105th floors of the World Trade Center's North Tower.

James Patrick's wife, Terilyn, is about to give birth to their first child.

The strength of family and friendships, Kevin said, will help the whole Patrick family get through this tough time.

Update 9/18/01: An education fund has been set up for the Patrick's unborn child. The address is:

The James M. Patrick Memorial Fund

c/o Charter One Bank

882 New Loudon Road

Latham, NY 12110

9/16/01

Sad News Continues

Jacob Jackson, a PG forward at Phillips Exeter Academy in 1999-2000 and at Holy Cross (MAAC) last season, died last Monday night, having hanged himself in his dorm room at the Worcester, Mass. college.

Jackson, 20, had recently been diagnosed as clinically depressed and was undergoing treatment.

Jackson, despite being at Exeter just one year, was extremely popular with this teammates. Ed Caron, Vince Macri, Conrad Barnes, Colin FitzRandolph, and many others were among the large crowd of mourners at Thursday morning's funeral, held at St. Joseph's Church in Newport, R.I., where the Jackson family had recently moved.

Jackson, originally from Fort Washington, Maryland, attended Gonzaga, a respected Washington, D.C. parochial school, and played in the Little Caps organization before heading north for his PG year. At Exeter, Jackson, 5'7" and 150 lbs., showed excellent hands and puck skills and was one of the team's top scorers, with approximately 45 points.

While at Exeter, Jackson recommended his younger brother, Nate, to the Exeter staff. Nate, one of the team's top scorers last season, is Jacob's only sibling. He will be a co-captain at Exeter this season.

Our thoughts go out to the Jackson family.

9/15/01

Links to Bavis, Bailey Features

For those of you from outside the Boston area who'd like to know more about the lives of Mark Bavis and Ace Bailey, here are the links to a pair of excellent features from today's Boston Globe.

Mark Bavis Feature Story; Boston Globe; Sun. Sept. 16

Ace Bailey Feature Story; Boston Globe; Sun. Sept. 16

On Friday, we gave you the information on where one can send donations in the name of Mark Bavis. As for the Baileys, they have asked that donations be made to the Cam Neely Foundation, which provides comfort and support to cancer patients and their families. The address is:

Cam Neely Foundation

30 Winter St. -- 2nd Floor

Boston, MA 02108

9/15/01

Former St. Lawrence Players Among Missing in WTC Attack

Mike Pelletier and Rich Stewart, teammates on St. Lawrence University's 1988 NCAA Finalist team, are among the missing and presumed dead in the wake of Tuesday's terrorist attack on the World Trade Center.

Both Pelletier, a regular who had a 5-11-16 line in 34 games that season, his senior year; and Stewart, a junior who played in three games, worked for Cantor Fitzgerald, a London-based firm that lost 700 of its 1,000 employees in Tuesday's attack. The firm had offices on the 101st, 103rd, and 105th floors of the World Trade Center's North Tower.

In March 1988, St. Lawrence knocked off Wisconsin in the NCAA quarters; Minnesota in the semis; but lost in the final to Lake Superior State, 4-3 in OT. Other players on that St. Lawrence squad included Andy Pritchard, Pete Lappin, Joe day, Jamie Baker, Doug Murray, Martyn Ball, Paul Cohen, Brian McColgan, and Chris Wells.

9/14/01

Mark Bavis Memorial Services Set

The memorial services for Los Angeles Kings scout Mark Bavis, who died on highjacked Flight 175 Tuesday morning, will be spread over two days next week and will include gatherings at the two schools where he had his greatest triumphs as a player.

On Tues. September 18th, a Gathering of Family and Friends will be held from 4:00-9:00 pm at Catholic Memorial High School, which is at 235 Baker Street in West Roxbury, Mass. The school's phone number is (617) 469-8000. Catholic Memorial also has a web site -- www.aboutcm.org -- which has a good map to the school. Please click on the "Directions" link.

The following day, Wed. September 19th, a Memorial Mass will take place at 10:00 am at the Sacred Heart Parish, which is at 169 Cummins Highway in Roslindale, Mass. The phone number of the church is (617) 325-3322.

There will be a gathering immediately following the Mass at Boston University's George Sherman Union, which is at 775 Commonwealth Ave. in Boston. The phone number at the Union is (617) 353-2921.

The above events are open to all.

In lieu of flowers, the family has requested that donations be made to:

The Mark Bavis Scholarship Fund

c/o Catholic Memorial High School

235 Baker St.

West Roxbury, MA 02132

Tel. (617) 469-8000

9/13/01

USHL Reverses Field

The Buc Bowl got underway this morning with a full slate of eight games.

However, even as today's games were underway, a chorus of criticism could be heard from college coaches and others who felt that the USHL made a mistake in allowing the games to be played in the first place.

Most didn't want their names used, and for understandable reasons: they don't want to get on the wrong side of the USHL and its coaches, thus risking the possibility of seeing kids steered away from their programs.

Off the record, though, they were more than glad to speak, some even contacting USHR to air their views.

As one put it, "There's a level of insensitivity to anyone playing this weekend. I would have postponed it. This is a time for reflection, not games."

Another said, "This is a time for people to be with their families. The games can wait."

Another was more blunt, "I'm sick to my stomach. This is not a time for games. The president declared tomorrow a national day of prayer, and they're going to play meaningless games that don't even count in the standings?"

Well, they were going to play, but, after meeting with the league's coaches this afternoon, reversed field and decided not to. At a little after 5:00 pm CST, the league sent out a fax announcing that the tournament would shut down for tomorrow, and then resume on Saturday morning.

"In light of today's declaration by the President, it's fitting that we suspend play on Friday to honor those who were lost," league commissioner Gino Gasparini announced.

Because of the travel shutdown across the country, nowhere near as many scouts and recruiters are on hand this year. Logan Airport, which this typist was scheduled to fly out of at 8:30 am today, is still closed. It goes without saying that there will be no Buc Bowl report on these pages this year.

Note: This is tangentially related, but we thought we'd pass along something we picked up from ESPN. St. Louis Cardinals first baseman Mark McGwire, after working out at an empty Busch Stadium today -- but before major league baseball decided to go ahead and cancel all weekend games -- had some interesting things to say.

"It doesn't take a rocket scientist to figure out sporting events are absolutely meaningless compared with what happened in New York and Washington," he said. "And why people are taking so long to make a decision (to cancel the games), I have no idea."

"For people to think it's OK to play sports this weekend is absolutely asinine," McGwire said. "This attack is the worst thing that can ever happen to the country and people are worried about making decisions on playing sporting events?

"I have no idea where their minds are, but I guarantee you if they knew somebody or had a family member in Washington or New York, they wouldn't even think about it.

"I feel ashamed we're even talking about it," McGwire said. "For athletes to presidents of universities, general managers, owners of teams, to even think about taking a field, they should be ashamed. It's absolutely asinine."

Amen.

9/13/01

An Eerie Coincidence

Mark Krys, a defenseman for Boston University from 1987-91, was on the 44th floor of the World Trade Center's south tower when it was hit by highjacked United Airlines Flight 175, the same plane that carried Mark Bavis, a former Terrier teammate, to his death.

Krys, a 32-year-old native of Timmins, Ontario, spoke to the Canadian Press shortly afterward, saying that when the tower was hit, he had gone downstairs from his 60th floor office, where he worked as a trader, to get a cup of coffee on the 44th floor.

"It was a coincidence," he said. "I was that much closer to the ground."

"When the plane hit," said Krys, "it was really scary. I was just thinking, 'Let's get out of the building.'

Krys bolted for the elevator.

"I don't know if it was a smart thing," he said, "but I took it."

When Krys, a 1988 8th round draft pick of the Boston Bruins who played ten years of minor league and European pro hockey, reached street level, he ran, his thoughts turning to his wife and three-year-old child. Eventually, he reached the ferry that would take him to New Jersey, where he lived.

From the Canadian Press story, it is clear that Krys was totally unaware that Bavis, his former teammate, was on the plane that crashed into the building in which he worked.

It's terrifying and mind-boggling how the lives of people come together in moments like these.

To further illustrate the point, former Boston College goaltender Andy McLaughlin, who played 14 games for the Eagles between 1995-99, was coming up the escalator into the North Tower when it was hit. He turned around, headed right back outside, and was watching the building in disbelief, seeing horrific things, like 15 people jump to their death, when the second building was hit. That's when he, and thousands of others, took off in a dead run.

9/13/01

Bavis Arrangements on Hold

A number of people have written to us here at the U.S. Hockey Report to share their feelings about Mark Bavis, as well as make inquiries as to funeral plans, and where and how they can make donations in the name of the former player, coach, and scout.

Right now, we have nothing concrete to offer, though we expect to learn something within the next 48 hours. At that time, we will pass along what we know.

As of this this afternoon, Mark's twin brother Mike was on his way back from Calgary, driving because of the airport shutdowns across North America. He should be back with his family in Boston tonight. Our thoughts go out to him and the whole Bavis family.

9/13/01

More Sad News

Amy Jarret of North Smithfield, RI, a flight attendant who perished on United Airlines Flight 175, the same plane that carried Mark Bavis and Ace Bailey, is the sister of ex-Mount St. Charles, Rhode Island Sharks (EJHL), and UConn ('00) defenseman Matt Jarret.

9/13/01

NAHL Postpones All Weekend Games

The North American Hockey League, after consultation with member teams, and in light of the U.S. government's declaration of a national day of prayer tomorrow, has announced that all league games scheduled for September 14-15-16 have been postponed.

The games will be rescheduled for the weekend of April 5-6-7. The Robertson Cup championship series will then be a best-of-three series instead of a best-of-five.

9/12/01

The Day After: Buc Bowl On...

The Buc Bowl, hosted by the Des Moines Buccaneers and featuring 12 USHL teams, will start, as scheduled, tomorrow.

All teams will, as normal in the USHL, be busing in.

Traditionally, the tournament brings in boatloads of recruiters from Div. I programs, as well as numerous NHL scouts, but how many are able to make it due to yesterday's tragedy and its effect on air travel will be seen.

The decision to go ahead with the tournament was made by the Buccaneers front office with the approval of USHL Commissioner Gino Gasparini.

9/12/01

...but Compuware Midget Tournament Up in the Air

The Compuware Midget Tournament is on hold. A decision as to whether to proceed with the tournament will be made by tomorrow at the latest.

Even if the 12-team tournament goes on, it will be a much smaller one. Already the Boston Junior Bruins, Eastern Mass Senators, and L.A. Junior Kings -- who would have had to fly out of either Boston or LA -- have bowed out.

Other teams scheduled to appear are the Marquette Electricians, Team Illinois, Cleveland Barons, Chicago Chill, Compuware, Team Wisconsin, Buffalo, Little Caesar's, and Texas. All except Texas would likely be able to bus in.

Update: Texas has joined the Boston Jr. Bruins, the Eastern Mass Senators, and the LA Jr. Kings in bowing out. However, the tournament, though diminished, is scheduled to go on, with the first game set for a 7 pm Friday faceoff. All eight of the remaining teams will bus in.

9/11/01

Attacks Strike Home

Today's horrifying terrorist attacks in the U.S. have not spared our hockey community, and it's with great sorrow that we report that former Boston University LW Mark Bavis, now a scout for the Los Angeles Kings, was among the 56 passengers and nine crew members on United Airlines Flight 175 out of Boston's Logan Airport, bound for Los Angeles. This plane, a Boeing 767, was the "second" plane, the one that hit the south tower of New York's World Trade Center.

Bavis, 31, played for Catholic Memorial HS and Cushing Academy before going on to Boston University in the fall of '89. At BU, Bavis, along with his twin brother, Mike Bavis, played in the NCAA Final Four three times in four seasons. In 1989, Bavis was drafted by the NY Rangers in the 9th round and went on to play several seasons of minor pro hockey. From 1997-99 Bavis, who also coached in USA Hockey's Mass Satellite Program, was an assistant at Harvard. In 1999-2000, Bavis was an assistant with the Chicago Freeze (NAHL). Last year, he joined the L.A. Kings scouting staff.

Bavis, who lived in West Newton, Mass., is survived by his mother, Mary, and his siblings, Mike, Patrick, and Kathy.

Update: While this is a tough time for everyone, no one is feeling it more than Mark's twin brother, Mike. In a cruel twist of fate, Mike is far from his family, recruiting for B.U. in Western Canada, and trying to get back to Boston out of Calgary. As you probably know, all flights into the U.S. are grounded. It is hoped that he can get back sometime Wednesday.

After learning early this afternoon about Bavis being on Flight 11, we learned that Garnet "Ace" Bailey, another member of the Boston hockey community, was on the same flight. Both Bavis and Bailey, who was director of pro scouting for the L.A. Kings, were headed to L.A. for tomorrow's opening of the Kings' training camp. Bailey, 53, a native of Lloydminster, Saskatchewan who has lived in Lynnfield, Mass. for years, was a 1966 draft pick of the Bruins. A hard-nosed winger on the Bobby Orr-led Bruins Stanley Cup teams of 1970 and '72. Bailey also played for Detroit, St. Louis, Washington and the Edmonton Oilers (WHA). The latter, of course, had a teenaged Wayne Gretzky.

Bailey leaves his wife, Kathy, and son, Todd, who played prep hockey at Cardigan Mountain ('94) and Salisbury ('97).

We will have more on this tragedy tomorrow.

9/08/01

McAuliffe's Idea

The first Saturday in October is more likely to be balmy than cold, so why Michigan State is dubbing its Oct. 6 outdoor opener against Michigan "The Cold War" -- yes, we know what the term means -- instead of something equally clichéd like, say, "Hockey Under the Stars" is a bit of a mystery.

Not that it makes any difference: the game is already a huge financial success, with all 67,000-plus tickets available to the general public having sold out already, television rights bought up, and other schools -- e.g., Minnesota vs. Wisconsin in Camp Randall Stadium -- thinking about doing the same thing in the near future.

One thing is for sure: It's great for tailgate party junkies. However, when fans get inside the stadium, most will find themselves a long way from the action. But the whole thing is so novel, it's unlikely many will care. It's an Event, after all.

Rain, in the form of two-day deluge (Sunday night is the rain date), could screw things up, so generous offerings to the Rain Gods -- no human sacrifices, please -- are in order.

No one is hoping Oct. 6 is a pleasant day more than Michigan State assistant hockey coach Dave McAuliffe, who's entering his 10th season on Ron Mason's staff.

This game is his idea.

McAuliffe, who played for the Spartans in the late '80s, grew up in East Lansing, where both his parents worked at Michigan State -- dad ran the bookstore, and mom was a secretary in the physical plant.

McAuliffe remembers being a kid and going to watch football games at Spartan Stadium. He remembers the goose bumps he'd get when, at the start of the game, the players would burst out of the dark tunnel onto the sunlit field. "The fans would just go crazy, he said. "It was very exciting."

McAuliffe came up with the idea for an outdoor game about five years ago, and idly mentioned it to Mason. The head coach, perhaps seeing a million obstacles, said, "Sure, Dave, when you're head coach, you can do it and I'll come and watch."

Over the ensuing years, McAuliffe held onto his idea. "Originally, I was thinking of a big Michigan-Michigan State weekend -- football on Saturday, hockey on Sunday. I later found that, because of the time it took to make the ice, there was no way that would happen."

This past February, McAuliffe was at a party the athletic department was hosting at Munn Arena for the school's booster club. All eyes were on the big-screen TVs, which were showing the Michigan-Illinois basketball game.

"Ron, myself, and Mark Hollis, who's the associate AD, were standing around talking, and I suggested the idea," McAuliffe. "I just kind of threw it out there."

Hollis said, "Yeah, that's a good idea." But the subject was quickly dropped.

Then McAuliffe got a big surprise.

"One and a half months later," he says, "Mark appeared in the hockey office with detailed drawings, potential costs, related ideas."

McAuliffe was impressed. "I didn't think he'd take the idea where he took it," he says.

Suddenly, the outdoor game had a life of its own. One way or the other, it was going to happen. Of course, there were many, many details to be worked through, most revolving around the building of the rink. The biggest problem? The football field has a crown to facilitate draining, hence there was no true level area to place the rink. That meant staging had to be built. The initial estimate to put on the game was huge, roughly $300,000 more than the final estimate.

The ice surface, being built by a Van Nuys, California company, is frozen using a series of aluminum plates and chilled with a 281-ton refrigeration unit. The same system was used in the movie "Mystery, Alaska."

If you can't see the game live, you can pick it up on Fox Sports Net, which can be seen in many regions. Direct broadcast satellite owners can also get it. In Canada, CTV will carry it, but on tape delay.

Notes: This is not the first time that a college game has been played outdoors in the post-artificial ice era. Fourteen years ago, this typist, while researching college hockey in Southern California for a Sports Illustrated article, found that an outdoor college hockey game had been played in 1939 -- in Los Angeles, no less.

Click below for the full article, which appeared in the November 9, 1987 issue.

Hockey Goes Hollywood: text only

9/06/01

Guyer a Gopher

Greenway HS center Gino Guyer, the leading scorer in Minnesota high school hockey this past season and one of the top recruits in the country, has made his college pick, selecting the University of Minnesota over the University of North Dakota.

Guyer picked the U because, he says, "It's where I was most comfortable -- and it's where my heart was at."

Guyer will enter the U with his linemate/classmate Andy Sertich, who committed to the Gophers in early July. Sertich, Guyer says, played a "big role" in his decision. "We're best friends," he added. "We hang out together a lot. Maybe we'll get to be roommates."

Guyer, who's around 5'10", and 175 lbs., is a clever, cerebral type who can make a great pass or finish, and is very tough to defend against. A 10/14/83 birthdate, Guyer posted a 38-49-87 line in 27 games to help lead Greenway to a third-place finish in the Minnesota State High School Tournament at the Xcel Center in March. The Raiders, coached by Guyer's father, Pat Guyer, went to overtime of all three championship round games they played, but fell a little short.

"Winning it all is a goal of this year's team," Gino says. "It's on everyone's mind. I think we'll have more skill and be a little deeper, but we'll also miss the grinder types."

After the state tournament, Guyer joined the Lincoln Stars and played with them throughout the USHL playoffs (Lincoln lost to Omaha in the Clark Cup finals), posting a 5-7-12 line in 15 games. Guyer says he is planning on returning to the Stars when the high school season ends.

Guyer is playing football this fall, where he is a running back and outside linebacker. Last Friday, in Greenway's first game of the season, he rushed for three touchdowns and 193 yards in a 55-37 win over Hibbing.

9/06/01

Black Bear Morphed into Husky

Maine recruit Peter Szabo will be playing this season for... the St. Cloud State University Huskies.

Yesterday, the Slovakian center, one of the top junior players in the U.S. last season while playing for the Danville Wings (NAHL), was a Black Bear, albeit one in limbo.

Today, he starts classes at St. Cloud State.

What went wrong?

Simply put, Maine was tripped up by TOEFL (Test of English as a Foreign Language) minimum requirements, as Szabo's score was too low for admittance to Maine. Coach Shawn Walsh reports that the university had changed its minimum requirements for the test. "But," he added, "no one told us until after the summer."

Coaches at other Div. I schools had their antennae raised this past weekend when Szabo suited up for Danville in a two-game exhibition series vs. the Chicago Freeze, dominating both games. A 3/22/81 birthdate, Szabo was eligible to play this season with Danville.

Even this week, Maine still held out hope of keeping Szabo. "We were going to get him a tutor and have him join us after Christmas," Walsh said. "But after last weekend, he felt he was too good to be playing in the NAHL. He wanted to play in college right away."

As word began to get out, Danville assistant coach Andy Vicari, a St. Cloud grad, called the Huskies staff in order to find out what his alma mater's TOEFL requirements were. Once it was learned they were lower than Maine's, the St. Cloud staff moved forward on all the details involved in trying to get someone into school on such short notice.

Yesterday afternoon, the Maine coaching staff made a last-minute attempt to get Szabo admitted. But when the deadline passed, and Szabo couldn't get admitted, Maine released him, nullifying his National Letter of Intent, and turning Szabo into college hockey's version of an unrestricted free agent.

Szabo, a 5'9", 172 lb. LC from Nitra, Slovakia, originally committed to Maine last March 1. At the time, other schools in the hunt for Szabo were Denver, Miami, Nebraska-Omaha, and, yes, St. Cloud State.

In 38 games with Danville, Szabo posted a 13-55-68 line. His 1.79 points per game average led the NAHL. Szabo missed 18 games due to an early-season injury and a few weeks absence to play for the Slovakian National Junior Team, where he was named team MVP at last winter's World Junior Championship in Moscow.

Szabo's strength is his speed and playmaking ability. He's fun to watch, as his style of play forces teammates to play a more uptempo game. He's also very good on draws, and goes hard every shift.

Szabo originally came stateside when Danville GM Josh Mervis, at the time an assistant under Dave Peters, saw Szabo -- then a linemate of Minnesota Wild 6'1" LW Marian Gaborik -- at a Four Nations Tournament in Previzda, Czechoslovakia three years ago, and brought him stateside. The rest, as they say, is history, albeit with a strange twist this week.

This is the second time in as many years that Maine has lost a recruit on the eve of the season. Last Oct. 12, it was freshman forward Colin Shields, a 6th round pick of the Philadelphia Flyers (June 2000) who had played for the Cleveland Barons, also of the NAHL, the year before. Shields was declared ineligible after Maine's compliance officers discovered the freshman, who had taken a full load of courses at a Cleveland-area community college the year before, would be deep-sixed by a pair of byzantine NCAA rules, one relating to foreign students, and the other to transfer students.

Shields, however, stayed at Maine for the year, practicing with the squad. A sophomore, he will be eligible to play this season.

As for Szabo, who would have been a big addition up front for Maine, he's flat-out gone.

Notes: Last week, St. Cloud received a commitment for next year from Tri-City Storm (USHL) winger Bille Luger, a White Bear Lake, Minn. native who posted a 14-20-34 line in 54 regular season games.... Mark Osiecki has signed a new three-year contract to remain on as the Green Bay Gamblers (USHL) head coach/GM. In his four seasons at Green Bay, Osiecki led the Gamblers to a pair of first-place finishes in their division, as well as a Clark Cup Championship. The Gamblers will be moving into a spiffy new rink this season... Todd Jones has signed on as an assistant on Guy Gadowski's staff at the University of Alaska-Fairbanks. In recent years, Jones has been an assistant for the Sioux City Musketeers (USHL), and then head coach for the Thunder Bay Flyers (USHL) and Fernie Ghostriders (AWHL). Barry Wolff, and assistant with the Langley Hornets (BCHL), was named Jones' successor at Fernie....The Chicago Steel (USHL) has hired Stu Gould to be their goaltending coach. For the last seven years, Gould was goaltending coach at New Trier High School, one of the top Illinois high school programs.

9/05/01

Top D to Vermont

5'11", 195 lb. Jaime Sifers, a right-shot defenseman from the Taft School, has committed to UVM.

Sifers, who hits hard, is strong on his skates, and handles the puck well, is a major recruit for the Catamounts. Last spring, we ranked Sifers #1 among New England defensemen.

Sifers, a 1/18/83 birthdate, is from Stratford, Conn., where the Housatonic River meets Long Island Sound. Before going to Taft, Sifers played at Fairfield Prep.

Sifers made his final choice from between UVM and Providence. The defenseman was also interested in BU -- and vice versa -- but the Terriers weren't yet ready to commit to him, and Sifers wanted to get the process over with.

Note that Vermont will have four Taft graduates -- forwards Tim Plant, John Longo, and Chris Hills; and defenseman Mike Erensen -- on its roster during the upcoming season. In addition, Taft coach Mike Maher is a UVM grad.

9/05/01

Welch Ineligible

5'11" RW Dan Welch, who hasn't suited up for the University of Minnesota since the end of his freshman season 18 months ago, has not been readmitted to school, thus won't be able to start the season with the team.

Welch, who played for the Omaha Lancers last year, failed to fulfill his contract with the university's College of Liberal Arts, which in layman's terms means he simply failed to get his grades up while attending community college in Omaha.

For Welch, this means another stint at a JuCo, this time Normandale Community College in Bloomington. He will work out with the Hastings HS team, coached by his father Russ Welch. If he meets the academic requirements in his contract with the CLA (i.e., 3.0 gpa), tougher than NCAA requirements, he can reapply for admittance for the spring semester.

Welch could begin practicing with the team right after Christmas. The first series for which he could suit up would be the Jan. 25-26 home series vs. Denver.

The Portland Winter Hawks (WHL) acquired Welch's rights in a Monday trade, but Welch, according to Gophers head coach Don Lucia, "has no interest" in going that route. Welch has enrolled at Normandale CC and is currently attending classes.

As a freshman, Welch played 36 games with Gophers and posted a 6-8-14 scoring line. Last year in Omaha, Welch, in 52 regular season games, had a 30-27-57 line, tying him for 11th in the league. In the playoffs he upped those numbers, posting a 9-13-22 line with 20 pims. The Lancers, of course, won both the league and national Jr. A championship.

9/04/01

Foley Update

Thayer coach Jack Foley, suffering from cracked ribs and numerous bumps, bruises, scratches, and stitches, is likely to be moved out of intensive care today, but will remain in the hospital for the immediate future.

This afternoon, Karen Bach, a spokesperson for the Charlton Memorial Hospital in Fall River, Mass., reported Foley's condition as "stable."

While Foley reportedly looks exactly how you might expect someone who's been in a quadruple-rollover car accident to look, his long-term prognosis is reported to be good. He's been speaking fairly coherently to visitors, has no major broken bones, or major dental problems.

As for coaching this season, Thayer headmaster Eric Swain, who has visited with the coach, said that Foley is on sabbatical this semester, and, since hockey is over two months away, "I haven't talked to him about coaching. I'm guessing he'll be back by then. I think it would be real good for him."

Today's Quincy Patriot Ledger has reported that Foley and Patricia Porter were returning from an Irish Festival in Newport, R.I. when the accident occurred on Saturday night shortly after 10 pm.

Mass. State Police Sgt. Ronald Seiberg said that alcohol and speed did not appear to have caused the accident.

9/03/01

Thayer Coach Seriously Injured, Passenger Dead in Car Accident

Thayer Academy head hockey coach Jack Foley is in serious condition after a Saturday night car accident that killed Patricia Porter, the mother of former Thayer defenseman Jared Porter.

Foley, 56, and Porter, 48, were found by police on the northbound side of Rte. 24 in Freetown, Mass., about 50 miles south of Boston. The 1998 Mercedes ML320 sport utility vehicle Foley was driving was found upside down, with the two occupants ejected. Neither Foley nor Porter appeared to have been wearing seat belts. It is unknown where they were headed at the time of the 10:10 pm accident.

Porter, a Duxbury native, was pronounced dead on the scene. Foley, a 56-year-old from Scituate, Mass., suffered head trauma and was taken to Charlton Memorial Hospital in nearby Fall River, Mass.

Porter leaves her husband, David, and four children: Jared, going into his junior year at Bowdoin; a daughter who's a sophomore at Colby; and two other girls, both of whom currently attend Thayer.

Former Foley players who have played Div. I hockey in recent years include Dave Gove (Western Mich.), Brooks Orpik (BC, 3 yrs.), Scott Selig (Northeastern), Lou Eyster (Merrimack), Steve Greeley (BU), Mike Ayers (UNH), Brad Parsons (Princeton), and Jack Baker (BU). Two more ex-Thayer players who will be playing Div. I this season are Ryan Whitney (BU) and Brian McConnell (BU).

9/02/01

New Coach for NMH

Jeff Matthews will be taking over the head coaching duties at the Northfield-Mt.Hermon School, replacing Tom Cranfield, who two weeks ago was named head coach at SUNY-Cortland, his alma mater.

Matthews, who took a PG year at Deerfield before going on to play at RPI, has, for the past few years, been an assistant at American International College (Springfield, Mass.) under long-time head coach Gary Wright.

NMH is turning out to be quite the incubator for hockey coaches. In addition to Cranfield, Jim Ward (Princeton asst.), Phil Grady (Hamilton), and Chris Serino (Merrimack) all have moved to the college ranks from NMH.

Speaking of Serino, most readers of this site are by now aware of Friday's announcement confirming that the Merrimack head coach is suffering from throat cancer. Right now, the decision as to whether chemotherapy or radiation treatments are needed is yet to be determined. Serino is 52, and the father of five sons. Our thoughts go out to him and his family.

9/02/01

Under-18s in a Cakewalk

The U.S. Under-18 Team had an easy tuneup to the season with a pair of Labor Day weekend drubbings of Slovakia Nitra, 18-0 and 11-0.

Leading the attack in Game #1 was Taylor Hustead (3g,4a); Tim Wallace (2g,4a), Jim McKenzie (2g,3a), Stephen Werner (1g,4a), and Mark Schwamberger (1g,4a).

In goal, Gerald Coleman (4 shots) and Tim Roth (8 shots) combined for the shutout.

In Game #2, the attack was led by Brett Sterling (2g,1a); Hustead (1g,2a); Ray Ortiz (2g), Werner (1g,1a); McKenzie (1g,1a), Schwamberger (1g,1a); and Nate Raduns (2a).

In goal, Coleman (2 shots) and Roth (7 shots) combined for the shutout.

The Slovak team, which by the way were also drubbed, 15-1, by HoneyBaked's midget team, was essentially a club team. They had five '84s, a bunch of '85s, and a few '86s. Though the scores don't necessarily indicate it, Coach Mike Eaves had to call off the dogs, e.g. telling his players not to shoot until they had completed four or five passes first.

Down in Philadelphia, the U.S. Under-17 squad tuned up with a pair of games vs. the Philadelphia Jr. Flyers, winning by 6-1 on Saturday and 12-3 on Sunday.

On Saturday, the Under-17s were paced by Adam Pineault, who scored two goals. Other goal scorers were Stephen Gionta, Josh Sciba, Mike Bartlett, and T.J. Hensick. Alvaro Montoya kicked out 21 of 22 shots for the win.

Today, the Under-17s won by a 12-3 score. We don't yet have the box score.

Both the Under-18 and Under-17 squad will be in action at the NAHL showcase this weekend in Lansing, Michigan.
***
Copyright © 2001 U.S. Hockey Report
All rights reserved.
Duplication or redistribution in any form is illegal.

Around the Rinks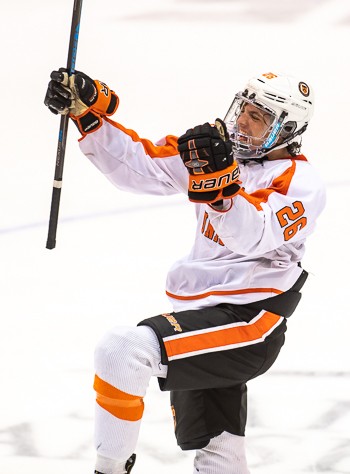 Paul Dore, who scored the game-winner with 52 seconds left to lead KUA to a 4-3 win over Salisbury in the Elite 8 Championship, is a senior the Wildcats will be counting on heavily as they go for a record 4-peat.
(Photo: Dave Arnold Photography)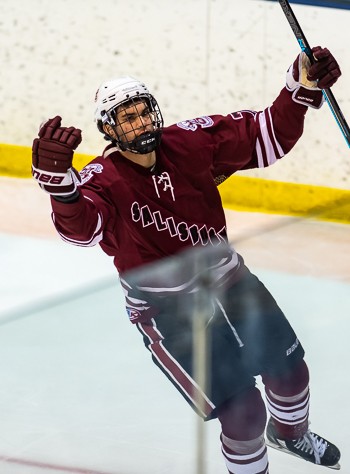 With Justin Hryckowian and Nick Capone taking their senior seasons in the USHL, classmate and UVM recruit Lucas Mercuri is Salisbury's leading returning scorer.
(Photo: Dave Arnold Photography)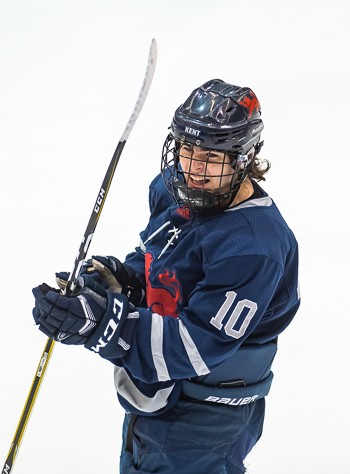 Kent's Aidan Cobb, now a senior, committed to Cornell after helping lead Kent to the Large School Championship last March.
(Photo: Dave Arnold Photography)
New England Prep Hockey News