Established 1996 -- Celebrating Our 25th Year

Sat. 3/23/13

Mass High School Seniors All-Star Game
The Massachusetts State Hockey Coaches Association High School Seniors All-Star Game will be held on Sat. March 30 (4:00 pm) at the DCU Center in Worcester, Mass., just prior to the Sharks – St. John's IceCaps game.

A ticket to the high school games (there will also be a girls' seniors all-star game at 1:45 pm) includes admission to the Sharks game.

The event is sponsored by the Shriners.

College coaches, junior coaches, and prep coaches are all welcomed, courtesy of the Sharks and the MSHCA. Please email Jason Jones at jjones@sharksahl.com to let him know you are coming and use door 5 at the DCU center.

Here is a link to the rosters:
Mass High School Seniors Rosters

Wed. 3/27/13 -- updated 3/28

Yankee Conference Review
The U.S. Hockey Report spent this past weekend at USA Hockey's annual Yankee Conference Showcase, held this year in Warwick and Pawtucket, RI. This is always a good take because, at least at the older levels, the top players in the region – Maine, NH, Vermont, Connecticut, and RI – are shooting for an opportunity win a slot at USA Hockey's Select Festivals (which, by the way, are moving this summer from Rochester, NY to Buffalo, NY).
The Yankee Conference Showcase encompasses a broad range of birth years -- from '96s down to '01s. We should point out that, while USA Hockey had groups of evaluators on hand focusing exclusively on each age group, we had to range freely, skipping the '01s and '00s – way too young! – but logging hours watching the '97s, '98s, and '99s. There was a flock of players on hand in each age group, and we may have missed some good ones, but here's how we saw it.

Please note that our opinions do not necessarily reflect those of the coaches evaluating for USA Hockey. Also, biographical info on players was extremely limited.

-- '97s
'97 Forwards:
1. Chase Harwell -- The Quinnipiac recruit was very good here. He's gritty, makes plays and was the most noticeable forward in camp, constantly making things happen. Plays for Selects Hockey Academy during the winter.
2. Avery Steele -- The Colchester (Vt.) High School star forward has taken a step forward in his development and is a legitimate D-I prospect. Is on the small side, but is quick, aggressive, has a good stick, and some finish to his game. Did not catch our eye last year; appears stronger and faster this year. Headed to Selects Hockey Academy.
3. John McDermott -- Played for the Connecticut Oilers U16 team this past winter and looks to be headed to prep school – most likely a Founders' League team -- in the fall. McDermott is a big, strong, power forward with some skill.
4. Connor Sundquist -- Gangly, skilled forward has a nice upside. Could be a bit of a sleeper in the sense that he has not even begun to fill out. Has a good stick and can make a play. Would like to see him spend a little more time in the tough ice. Plays for Selects Hockey Academy.
5. Devin Moore -- Small, crafty forward is fun to watch. He is only about 5'6", but he can turn on a dime; is difficult to contain in tight spaces. Played for Pinkerton Academy in New Hampshire this season. Will be headed to Exeter in the fall.
6. Taggart Corriveau -- North/South winger who plays for Westminster. Will likely have an increased role next season as the Martlets are losing their top five scorers. Keeps things simple and is reliable.
7. Daniel Winslow -- Knows how to score goals. Plays in traffic and is usually in the right place at the right time. Has that goal scorer's sense that you simply cannot teach. Wore #15 White and was incorrectly listed on his team's roster as Tyler Augustinsen. Winslow, who is from Fairfield, Conn., played for Apple Core U16 this past winter, and will be at boarding school this fall.
8. Jack Hall -- Has good feet and a quick stick. Is a dog on loose pucks and is not afraid to get his nose dirty. Plays for Champlain Valley High School (Vermont).
9. Sam Nestor -- Tiny, but really clever, with good vision. Played a limited role this season at Taft but, as the diminutive forward matures, he will play a larger role for the Rhinos.
10. Matthew Creamer -- Big, strong, power forward is still raw, but there is something here. Worth following. Plays for Bishop Hendricken HS (Rhode Island).
Note:

*Ryan Dmowski -- Gunnery forward was not at the Showcase as he was at the NTDP evaluation camp. He will get a spot at the Select 16 Festival.


'97 Defensemen:
1. McKay Flanagan -- There wasn't any one defenseman who really separated himself from the pack here, but Flanagan looked to be the most polished. Is effective when he keeps things simple. Will play in the EJHL next season for the Connecticut Oilers.
2. Ben Finkelstein -- Was not overly impressed with the skilled blueliner this weekend. He wasn't really on his game; his timing appeared a little off. That said, we are judging him more on his entire body of work and feel he has the tools to be an impact player at higher levels. Sees the ice well, and is a fluid skater. He excels on the PP, but didn't get a chance to show that, as power plays were not utilized here – all play was 5x5. Will likely suit up for KUA or Lawrence Academy in the fall.
3. Peter Christie -- Phillips Exeter defenseman is raw, but there is a lot of good about his game. He works extremely hard and is difficult to beat in 1x1 situations. The New Hampshire native is tall and explosive. He could really turn it on over the next couple of years.
4. Trevor Cosgrove -- Just wrapped up his freshman season at Phillips Exeter. Has skill and makes good decisions. Is very slight right now, but we think he will be a nice prep school defender for the next three years.
5. Matt Cousino -- Tall defenseman from Rice Memorial HS (Vt.) was probably the best pure skater in camp. While his skating really catches your eye right away, it also seems like he has the potential to do more offensively that he does.
6. Connor Dahlman -- Moves pucks and is a solid defender. Plays in the Connecticut Oilers organization.
7. Matthew Robinson -- On the small side, but he has a nice set of mitts and moves pucks well. Headed to Governor's in the fall.

Note:
*Spencer Young -- Arguably the top defenseman in the New England district. New Hampshire native who plays for Exeter was participating at the NTDP evaluation camp and will ultimately be awarded a spot at the festival.


'97 Goaltenders:
1. Payton Porter -- The only '97-born goalie to really catch our eye this weekend. Is headed to KUA in the fall. Played for Houlton (Maine) High School this winter. Is a bit of a throwback. Unorthodox. Not your typical butterfly goalie with huge equipment, but he stops pucks and is athletic.
-- '98s
'98 Forwards:
1. Patrick Harper -- Only stands about 5'3" or 5'4", but is really quick and crafty with the puck. Uses his size to advantage as he darts through traffic with ease. Will always fight the size battle, but our guess is that he will be a productive player up through the D-I ranks. Is a prized recruit among the prep schools. Has reportedly narrowed his choices to Governor's, KUA, and Gunnery.
2. Liam Murphy -- Big, strong, and has a nose for the net. Plays hard and will be an immediate contributor at the prep school level. We had heard earlier that Murphy was headed to Salisbury, but this weekend we were told that may have changed – and that now Avon is his likely destination.
3. Brendan Cordeiro – Top-end skill. When he turns it on he looks fantastic, but it doesn't happen often enough. That said, if the Rhode Island native, who is pretty skinny right now, can improve his compete level, he could become something. His skill is hard to come by.
4. Jack Hoey -- Had a strong camp. Always gives maximum effort and is an all-around player who competes in all three zones. Will play for Fairfield Prep in Connecticut next season.
5. Eric Esposito -- Similar to his brother, Alex Esposito, the leading scorer at Loomis. In terms of describing players, it's probably an overused expression, but the younger Esposito is good at everything in that he does not have one trait that really jumps out at you. Will likely be at Loomis in the fall, but we are told the Gunnery is making a hard push for his services too.
6. William Steele -- The younger brother of top '97 forward Avery Steele. If he develops at the same rate as his brother look for him to continue to get better. A freshman at Colchester High this past season, Steele has a good stick, makes plays, and has a high hockey IQ.
7. David Goolgasian – A Scituate, RI native who played this year for the Hillside School, a Massachusetts junior boarding school. A small forward, Goolgasian has a good stick, is always around the puck, and loves playing offense.
8. Jack Badini – Strong, and a powerful skater. Competes hard. Played for the Connecticut Oiler U16 team this season.
9. Brandon Mitchell -- Very tall, about 6'2", has a nice set of hands, and can make a play. Problem is, he plays with little to no pace. Once he gets some strength in his legs and a little more pop in his skating we think he could become a player of note.

'98 Defensemen:
1. Chad Krys -- We have written about the young phenom, the son of former BU defenseman Mark Krys, for quite some time in these pages. Here, Krys was in a league of his own here, and is, by far, the top '98-born player in the New England district. An effortless skater, Krys carried the puck end to end with ease all weekend. Having said that, we would not put him in the same boat as '97 defender Noah Hanifin (St. Sebastian's) or '98 d-man Sean Day (Compuware U16), both of whom look to be guaranteed pros. Krys is about 6'0" and may have topped out. We would also like to see him use a longer stick and defend with more of an edge. He's an excellent player so we can afford to nit-pick a bit here. Is set to play for the Connecticut Oilers (EJHL) next season.
2. Derrick Spencer -- Played a limited role this season at Phillips Exeter, but will see increased ice time next season as he continues to progress. Spencer is about 6'0" and is really solid in all areas of the game. Makes hard, crisp, tape-to-tape passes. Is positionally sound. A D-I prospect who will be watched by the NTDP next season.
3. Dennis Cesana – Providence, RI native played at Hillside School (Mass.) this season and will be moving on to KUA in the fall. Skilled blueliner is confident with the puck on his stick and makes a good first pass. Has decent size and is a strong skater. Should make a smooth transition to prep hockey.
4. Lucas Niezelski -- Big defender keeps things simple, defends well, and moves pucks up ice. Projects as a meat-and-potatoes type at higher levels.
5. Jack McGowen -- On the small side, but the Connecticut Wolfpack defender has really good feet and enjoys creating offense by jumping into the play. Attends Fairfield Prep.
6. Jack Gresh -- Strong and confident defender. Is offensively involved, but at times makes some questionable decisions. Is at Avon Old Farms; will likely play on the varsity in the fall.
7. Jamie Swiggett -- Carries the puck with confidence. Has light feet and can make a good pass.
8. Alex Ring – From Salem High School in New Hampshire. Has some ability. Is worth following.
'98 Goaltenders:
1. Dominic Sorgio -- Is, along with Tommy Mohs from Team Wisconsin, perhaps the top '98 US-born goalie we have seen thus far. He's certainly the best goalie the New England district has to offer -- by a substantial margin, too. Is everything you look for in a goalie prospect: he has size, athleticism, is technically sound, and competes. We are told that he is headed to Salisbury in the fall, where he will back up top '97-born netminder Callum Booth. Sorgio, from the Connecticut Wolfpack, is a fantastic recruit for Andrew Will. He is also a nice heir apparent should Booth bolt for major junior (à la Justin Nichols last year).

-- '99s
'99 Forwards:
1. Matthew Allen -- We can safely predict that over the course of the next 12 months family advisors and prep schools will become quite familiar with this Rhode Island native. This was the first group of '99s that we have closely watched but, out of everyone we saw here, Allen was on a different level. He is tall for his age, can skate, has excellent stick skills, and loves to score goals. Allen is a player we will be writing about for years to come.
2. Christian Lesueur -- Lanky forward is an explosive skater with a nice set of hands. Very crafty. Our guess is that his game will come along nicely as he continues to grow and fill out. Was very noticeable. Plays for Mid-Fairfield.
3. Alex Mella -- Big, strong, power forward with a nice touch around the net. Was the only '99-born player to skate with the Connecticut Wolf Pack U14 squad this year. Could be an early developer, but time will tell.
4. William Christensen – Mid-Fairfield product has great stick skills and is dangerous in the offensive zone. Does not have the size of the players mentioned above, but his skill level is just as high.


'99 Defensemen:
1. Reilly Walsh -- The son of Proctor Academy head coach Mike Walsh. Plays for the Cardigan Mountain School. Is a smart defender who makes good decisions with the puck. Enjoys getting involved in the offense and is very active on the offensive blueline.
2. Phil Kemp – Mid-Fairfield defender is much taller than his peers and seems like someone who will continue to grow. For a kid of his size he is a pretty smooth skater. Has a good stick, but tries to do too much with the puck. Among his age group, he is good enough to get away with it.
3. Cameron Boudreau -- Small, heady defender is going to be a nice college prospect. He is really light on his feet and confident with the puck. Reminds us of Brandon Fortunato (NTDP) at the same age.
4. Jake Harwell -- Brother of the aforementioned Chase Harwell. A smooth skater, he has a good stick, and plays with an edge.
'99 Goaltenders:
1. Calder Stewart -- Evaluating goalies of any age can be challenging at best, but the good ones do seem to stand out. Stewart is aggressive in challenging shooters and very quick getting from side to side. Has sound technique. Easily the top '99-born goalie here.

-- '96s

*We did not have time to see each team in the '96 division, but we did like some of the players we saw. A lot of the players in this division have, over the past year or so, been extensively written about in USHR, so we will use this opportunity to focus on players either new to us, or those who, over the weekend, either caught our eye for the first time, or elevated their status.
Joseph O'Conner, D -- Arguably the most sought-after prep school recruit in Connecticut this winter, O'Connor has decided on Westminster, where we feel he will make an immediate contribution. Very raw, O'Connor did not show us much this weekend in the way of sound positional play or good decisions with the puck. That said, his natural ability is through the roof. About 6'3", O'Connor is a very natural and fluid skater who we feel will be intriguing to pro scouts. Likes to get up in the play and is active on the offensive blue line. Might actually make for a better forward.
Zach Giuttari, D -- Plays for Loomis and is underrated defenseman. For a big kid he skates well, is rarely out of position, and makes a good first pass. Will log a lot of minutes for the Pelicans next season. Our guess is that, more often than not, he will be matched up against the opposition's top line.
Ryan Blais, D -- The 5'9" defender would probably be committed to a D-I school if he were two inches taller. Has good feet and is pretty dynamic on the back end. Plays in the Junior Bruins organization.
Dominic Franco, F -- Led Pomfret in scoring this past season. Is about 6'2" and is just starting to get his coordination back. Two years ago Franco was playing on the Griffins' JV team. We think he is only going to get better.
Brandon Borges, F -- We recently wrote about Borges after his performance at the Beantown Spring Classic. The Williston forward makes a ton of plays and has a nose for the net. Will pile up the points next season — he just needs some forwards to play with.
William Brophy, D -- We feel Brophy is a D-I/pro prospect. For a kid who is 6'3" he skates and defends well. The Westminster sophomore is similar to Yale's Robby O'Gara at the same age. Is only going to get better.
Cam Beecy, D -- Playing behind seniors Alex Carle, Doyle Somerby, Brendan White, and Conner Evangelista, Beecy was overshadowed at KUA this winter. That will not be the case next season as Beecy will move into a top four spot and likely be situated on the PP as well. The smallish defender can really zip the puck around.
Jack Fitzgerald, F -- Westminster forward played in a third line role this past season, but we think he is primed for a breakout year. A complete player who plays hard and can shoot it.

Fri. 3/22/13

Tirone Chooses Wildcats
USHR Prep Player of the Year – and Prep Goaltender of the Year -- Danny Tirone has committed to UNH for the fall of '15.

The 5'11", 180 lb. senior at Loomis Chaffee was his team's backbone this winter, playing in all but 87 minutes of the Pelicans' games and finishing the season with a .933 save percentage. Loomis would finish the season with a 13-11-1 record and was one of the final teams eliminated from consideration for the Large School Tournament, a big leap forward from the previous season, in which injuries limited Tirone to eight games, and Loomis had finished with a dismal 2-23-0 record.

Tirone, a 6/3/94 birthdate, made his final choice from among three schools; the University of Vermont, who wanted him to come in this fall; Harvard, who wanted him for fall '14; and UNH.

When Tirone, who will likely be drafted by a USHL team this spring and spend the next two seasons out west, arrives at UNH he will compete with 6'5", 210 lb. Salmon Arm (BCHL) goaltender Adam Clark for playing time. Clark, a '93, will be arriving at UNH in the fall of '14.

A native of Trumbull, Conn., Tirone spent a year at Shattuck-St. Mary's playing with their U16 Team before coming back to his home state and going to Loomis.




Wed. 3/20/13

Beantown Classic Notes
The Annual Beantown Spring Classic was held late last week at the New England Sports Center in Marlborough, Mass. and, as we prefer to do here in the late season, we were focusing on – and looking for -- players who 1) will be in the news as potential NHL draftees come June and/or 2) guys we missed during the regular season, or perhaps underrated, or just guys who, through their play, forced us to reevaluate our opinion – either up or down. This is not intended to be a comprehensive list. It's a selective list. Enjoy.

NHL Draft Prospects:
Zach Sanford, F, '94 (Middlesex Islanders-EJHL) 6-3/190 — Much like Mark Jankowski, Calgary's first round pick last June, there has been a real buzz surrounding Sanford as his stock has risen rapidly in the second half of his draft year. The Boston College recruit, a former standout at Pinkerton (NH) Academy, is about 6'4" now, has raised his battle level, and plays at a much faster pace than he did a year ago, as head coach Sean Tremblay has done an excellent job developing the young star. We watched the entirety of game two of the EJHL finals, along with scouts from nearly every NHL team, and Sanford was the best player in the game. Because of his size and the fact that he keeps improving it would not shock us if someone took him late in the first round. The second round, however, seems more likely. Either way, we feel Sanford will be the highest-selected New England player at this year's NHL draft.
Ryan Fitzgerald, F, '94 (Valley Junior Warriors-EJHL) 5-9/170 — Sanford may have a higher ceiling, but right "Fitzy" is the best pure player available in New England. The former Malden Catholic star is special – just a lot of fun to watch. He is on the small side but, much like Sidney Crosby and top NHL prospect Jonathan Drouin (Halifax-QMJHL), he welcomes contact in order to create separation. He will lean on defenders, create some friction, and quickly dart away as his first couple of steps are too quick to defend against. If Hobey Baker favorite Johnny Gaudreau stays at Boston College our hunch is that he will be paired with Fitzgerald on a line. And if that is the case, Fitzgerald is the favorite to win Hockey East Rookie of the Year next season. We think the son of former NHL veteran Tom Fitzgerald will hear his name called in the late second or early third round.
Andrew Gaus, F, '95 (Taft School) 6-0/173 — It's fair to say that Gaus put himself on the radar of a lot of NHL teams with his play at the Beantown. This typist had not seen the Yale recruit for a while, and the amount that he has improved under head coach Dan Murphy at Taft is pretty remarkable. The former Pittsburgh Hornet, who has filled out, was the most productive player on the Red Team. On every single shift he made plays and was near the puck. A very good skater, Gaus has good vision and is someone who wants the puck at all times. Will be playing with Dubuque (USHL) over spring break before returning to Taft to finish out the school year.

Brian Pinho, F, '95 (St. John's Prep) 6-0/175 — Given that he had played a Super 8 playoff game the night before, we were a bit surprised to see the Providence recruit at the Beantown. Considering his minimal rest, Pinho looked pretty good. It was certainly nice the see the Catholic Conference's star player playing against better competition. One thing is for sure: his feet have gotten a lot better. Above and beyond that, we see him as one of those players who doesn't knock your socks off in any single area, but does everything well. We feel Pinho could go as high as the fifth or sixth round.
Thomas Aldworth, F, '95 (Cushing Academy) 6-1/185 — There was a mix of opinion on Aldworth at the Beantown. NHL scouts from outside the area -- fresher eyes -- appeared enamored by his skill set, while some of the local area scouts seemed totally frustrated with his season. There is no doubt that someone with Aldworth's kind of skill should have more than 27 points in 31 games at the prep school level. That said, he is awfully intriguing and we think an NHL team will draft him. The swift-skating Providence recruit has developed a reputation as being a bit of an individual, so this type of showcase played in his favor.
Anthony Florentino, D, '95 (Selects Hockey Academy) 6-1/210 — We have always been a fan of Florentino, but his draft stock took a hit at the Beantown. The Providence recruit did not look like he'd taken a step forward this season, and his development appears to have stagnated. He was offered a spot with the NTDP prior to the start of the season and many in the hockey community questioned the defender's decision to continue playing at the U18 level. It appears they may have been right in assuming it was time for him to move on. With all that said, Florentino, possibly nervous with so many eyes here focusing on him, is still a solid draft prospect. Our guess is that he will be taken somewhere between rounds 4-6.
Ryan Segalla, D, '95 (Salisbury) 6-1/190 — The Salisbury captain finished the season playing his best hockey and that carried over to the Beantown. The UConn recruit looks strong, confident, and assertive. Playing on a team with D-I prospects Florentino, Wiley Sherman (Hotchkiss), Aaron Titcomb (Salisbury), and Conner Wynne (Milton) he rose to the top of the group and was the Yellow team's go-to guy on the blue line. It would not surprise us one bit if an NHL team took him in the later rounds of June's draft.
Wiley Sherman, D, '95 (Hotchkiss) 6-6/190 — He may not ever be a defenseman who dominates games, even if he returns to play prep hockey next season. But the tall defender, who can make a good first pass, has upside simply because, by the time he graduates from prep school, plays a year of juniors, and becomes an upperclassman at Harvard, he could be 6'6" 230 pounds. That's an awfully imposing defenseman, and one NHL teams will find hard to resist come June.
Aaron Titcomb, D, '93 (Salisbury) 6-4/200 — The fact that he is a '93 and has been passed over in the last two NHL drafts will hurt his stock, but don't be at all surprised if a team steps up and takes a chance on the Charlestown, Mass native. When we saw Titcomb last season we had our doubts, as he ran around, tried to do too much, and made suspect decisions. Salisbury head coach Andrew Will has done a great job with the PG and turned him into a very useful defender. The Merrimack recruit has excellent size, defends well, keeps things simple, and plays with more of an edge than before. Will be a tough player to play against for years to come in Hockey East. On top of everything else, Titcomb draws raves from his coaches for his work ethic and character. Has faced adversity and overcome a lot – a broken neck that wiped out a whole season a couple of years back being just one thing -- to get to where is today.
Tyler Wood, D, '94 (Noble and Greenough) 6-3/210 — Has improved an awful lot in the last few years and has turned himself into one of the top defensemen in prep hockey. Did not play on a very good team this season, but from a development perspective it was a good situation for him as the Brown recruit played in all situations, including running the Bulldogs PP. The son of former NHLer Randy Wood could be a late-round selection.
Conner Light, D, '95 (Phillips Andover) 6-5/205 — We think he is a longshot to be drafted, but the Sudbury, Mass. native did pique the interest of some NHL scouts. He is very raw, but there is certainly a lot to work with here. Could be a good project to have.

-- Though we do not consider the following players "NHL draft prospects," at least not now, they all played well and upped their stock.
Derek Pratt, D, '94 (NH Jr. Monarchs-EJHL) 6-2/185 — Will help a D-I program. The rugged defender plays sound defense and does not get beat in 1x1 situations. He does not have a lot of offensive sizzle, but he makes a good outlet pass and is challenging to play against.
Johnny Jackson, F, '93 (Valley Warriors-EJHL) 5-10/185 — Makes plays. Was on a line with Ryan Fitzgerald throughout the showcase, which certainly helps, but Jackson is good in his own right. Plays hard and competes for pucks. Put up 43 points in 48 games played this season.
Eric Robinson, F, '95 (Team Comcast U18) 6-1/165 — We were not too familiar with the Princeton recruit, but he really impressed us. The Gloucester Catholic star forward is light on his feet and routinely beats defenders with speed. Is going to be a nice player for the Tigers when he fills out and adds strength.
Daniel LaFontaine, F, '95 (Avon Old Farms) 5-10/160 — Missed most of the second half of the season, including all of the playoffs. Has appeared on Central Scouting's list this year, but we would be very surprised if the son of NHL Hall of Fame forward Pat LaFontaine is drafted. The former Long Island Royal is a skill guy, but we just aren't sure he has a high-enough skill level to be a top six forward at the D-I level. If he can add some jam to his game, that could change.
Ryan Cloonan, F, '95 (Jr. Bruins-EJHL) 5-9/145 — The Boston Advantage product has gotten better this season. His skill set is high end, and he is beginning to pass a lot of top players in his age group. Maine recruit will be a solid addition when he arrives in Orono.
Jake McLaughlin, F, '94 (St. Sebastian's) 5-10/180 — An underrated player. Missed pretty much all of his sophomore and junior years due to injury. As a senior he produced at a point-a-game pace, not bad for someone who had played fewer than ten games in two full years. A smart player with a strong shot, McLaughlin, with a season of juniors, could move up recruiters' lists.
Vincent Gisonti, F, '93 (Westminster) 5-9/175 — The Quebec native was good for Westminster all season long and carried that momentum into the Beantown. We are told that Trinity (NESCAC) is pushing hard to get him in the lineup next season, a wise move on their part. It is unlikely that Gisonti will ever play in the NHL, so Trinity could be a good option, but if he chooses to play a year of juniors we think he could end up at a D-I school.
Chris Miller, F, '95 (Junior Bruins-EJHL) 5-7/145 — Small, but very quick and gritty. Does not have much of an upside, but we think he could be a nice energy player and kill penalties at higher levels.
Nicolas Beaudin, F, '95 (Stanstead College) 5-11/170 — Crafty and skilled. Right now he appears to be very thin. Could shoot up NCAA recruiters lists when he fills out.
Pre-Draft Standouts:
James Winkler, F, '96 (Berwick Academy) 6-3/190 — Just keeps getting bigger and bigger. Is listed at 6'3", but we think 6'4" is probably more accurate. Is figuring out how to use his long reach to his advantage. For a big kid he has good hands and his skating continues to improve. A prospect for the 2014 NHL Draft.
Christian Meike, D, '96 (DC Capitals U18) 5-10/155 — We have been onto Meike for a while, but his confidence has gone through the roof in the last 12 months. The Michigan recruit is small, but his older brother is 6'3" and if he comes close to that he will be an NHL prospect. Has a very good stick and is savvy with the puck. Will run the Wolverines' PP in the future.
Evan & Mitchell Smith, F, '96 (Salisbury) 6-0/180 — We have gone on record stating that we prefer Evan a little more than his twin brother, but the two play really, really well together. Coming off of leading Salisbury to a prep championship, their value is high right now. We would be surprised if these two do not have D-I offers on the table already.
Ryan Dmowski, F, '97 (Gunnery) 6-0/185 — We stated, after his performance down the stretch for Gunnery, that we could see Dmowski being selected for the NTDP evaluation camp and that is exactly what happened. Dmowksi has a quick release and great vision. He is no longer a secret, as DI schools are onto him.
Frankie Sullivan, D, '96 (Westminster) 6-0/183 — Has a lot of talent and does not lack for confidence. Attempts to take the puck coast-to-coast every time he touches it. Needs to be reeled in a little bit and refine his game defensively, but there is no doubt that he has D-I tools.
Alex Esposito, F, '96 (Loomis-Chaffee) 5-10/168 — Maybe we are wrong, but Esposito looks to have grown and is hovering around 6'0". Is an all-around player who is as competitive as he is skilled. Will be watched closely next season as he has become a marquee player in the Founders' League.
Patrick Flynn, F, '96 (Boston Advantage U16) 5-10/155 — When Dartmouth originally received a commitment from Flynn we were a bit taken aback, but after spending some time watching him we feel the Big Green got themselves a forward who can help them. Like many Boston Advantage players before him, Flynn has a great set of mitts and makes a lot of plays. In time we think he will be a good player at the D-I level.
Sebastian Foster, F, '96 (Brunswick) 5-11/175 — Skating does not come easily to him, but he is a smart player who sees the ice well. Makes his linemates better and competes in all three zones.
Austin Rook, D, '97 (Rivers) 6-2/195 — Was hurt for much of the season, but we felt he looked good here. The big defender has good offensive instincts and if he can improve his feet, which he is doing, we think he will become a player of interest to D-I schools.
Brandon Borges, F, '96 (Williston Northampton) 5-8/160 — Williston finished the season 4-22, but Borges was a bright spot, leading the team in scoring as a sophomore. The Providence, RI native is crafty, has a good stick, and is always around the puck.
Ted Hart, F, '96 (Greely HS) 5-11/160 — The younger brother of Kevin Hart (Providence College) and Brian Hart (Harvard) will be following in his older brothers' footsteps as he moves up from Maine high school hockey to Phillips Exeter next season. Continues to get better bit by bit. We see him paired with Dartmouth recruit Kevin Neiley (Comcast U18) on Exeter's top line next season.
Ace Cowans, F, '96 (Groton) 5-7/145 — When he was in the lineup, Cowans, a nifty little forward from the Groton School, averaged a point a game. Makes plays.
Michael Merulla, F, '96 (Team Comcast U16) 5-11/175 — Good offensive instincts. Can shoot it and is dangerous in scoring areas.
Nick Quillin, D, '96 (Gunnery) 5-11/185 — He's a wide-base skater and that side of his game needs to improve. That said, his stick is really good and he is effective on the offensive blueline. Moves pucks.
Anthony Wyse, D, '96 (Boston Advantage U16) 6-2/194 — Has tools and sees the ice well. Looks to us like he could trim down a bit. If he adds a step and gets a little faster we think he will get some interest.
McKay Flanagan, D, '97 (Connecticut Oilers U16) 6-1/190 -- Has been regarded as one of the top '97 defensemen in New England for quite some time, but he really struggled last summer at the Select Festival and it wiped some of the shine off of his name. However, we felt he played well here. He did not try to do too much. He just defended well and moved pucks. Will be suiting up in the EJHL next season for the Connecticut Oilers.

Sun. 3/17/13

Jack Parker and the Wayback Machine

When Jack Parker arrived on Commonwealth Ave in the fall of '64, freshmen still weren't allowed to play varsity sports, the college hockey season started on Thanksgiving weekend, and the Terriers played their home games at the Boston Arena (today's Matthews Arena). So it wasn't until the fall of '65 that the center from Catholic Memorial finally suited up for the varsity. The Beatles' 'Yesterday' had just spent six consecutive weeks on the Billboard Top 10, and everyone was still talking about the Great Northeast Blackout, which on November 9th had plunged the region into a night of darkness and introduced millions to the term 'power grid.'

As for Parker, the next three years would be fruitful ones. Skating for the Jack Kelley-coached Terriers, the Somerville, Mass. native would win a Beanpot title every year, twice go to the NCAA Final Four (no one called it the Frozen Four then), and captain the team as a senior. You could say the template was in place. But who would have thought that, 45 years after Parker played his final game with the Terriers, he'd be in the same place today, with nearly 900 wins as a head coach – all at one school -- under his belt?
It's certainly something most of us are unlikely to ever see again, and far too enormous a story to squeeze into one article. So we're going to commemorate the moment by grabbing a seat on the wayback machine and dialing up 1973-74, Parker's first season behind the BU bench. Not only was this a terrific season for the Terriers, but it was also part of that early '70s era in which not only BU, but other programs – Cornell, Minnesota, Wisconsin, Harvard, Denver, Michigan Tech, to name a handful -- iced some remarkable teams.

It was also a strange time for college hockey, so much so that it is difficult to discuss coaches from that era without putting them in the context of the changes and controversies that were swirling around so many of them. Like today, there was the issue of players leaving early for the pros or heading to juniors, but an even greater issue – and one that led directly to Parker's in-season hiring – was the whole question of college hockey eligibility and Canadian junior hockey players, which had hovered uneasily over the game since at least the late '50s.

Most NCAA hockey programs, particularly those outside of hockey hotbeds like Boston and the Upper Midwest, needed to recruit in Canada to be competitive. That was an inescapable fact. However, before major junior was slowly ushered in between 1970 and the formal incorporation of the CHL in 1975, the rules concerning eligibility were so blurred that every Canadian was a potential eligibility problem -- if the player was good enough, and/or someone chose to make an issue of it.

Ivy schools tended to steer clear of Canadians in the early days and, as a result, were seldom seen at the NCAA Tournament from the mid-'50s to late '60s. Consider the case of Gene Kinasewich, an Edmonton native and one of 13 children of Ukranian immigrants whose parents both died when he was 10. Through a fortuitous series of events, Kinasewich came east to Deerfield Academy where, in 1959-60, he posted a 48-43-91 scoring line in 16 games played (!), and also applied to Harvard without any assurance that he would be allowed to play hockey there. Kinasewich knew full well that even if he didn't suit up for the Crimson the education alone would give him a life opportunity his parents could not have imagined for him. As it turned out, Kinasewich did get to play at Harvard, and was the MVP of the '62 Beanpot and the '63 ECAC Tournament, a legendary performance in which he scored a hat trick, including the game winner in OT, to beat BC 4-3. However, between the Ivy League and the ECAC and a never-ending parade of hearings and appeals, Kinasewich seldom knew whether or not his next game would be his last. That's the way it was for the Canadian kids. It was a constant issue. As for Kinasewich – Tim Taylor was his linemate, by the way -- he graduated magna cum laude in 1964. But the time and effort Harvard put into appealing cases on his behalf was enough to scare off other schools from going near a Canadian and, by and large, many of the eastern schools – especially the Ivies -- didn't. Not surprisingly, a team with a lot of Canadians was viewed disparagingly. They were seen as cheaters, to put it bluntly.
Cornell's hockey program was late arriving. After World War II they abandoned their program totally, before slowly resurrecting it in the '50s. The Big Red played outdoors until Lynah was built in 1957. When the administration decided to get serious about the sport, in 1963, they hired RPI coach Ned Harkness who, by mining Ontario for talent, had shocked Michigan and Minnesota en route to bringing the Engineers an NCAA title in 1954. Harkness, who also coached lacrosse at Cornell, had a mission: get good and get good fast. Ensconced at Cornell, he again headed to Ontario for players, essentially thumbing his nose at the NCAA and the hockey establishment every step of the way. And Cornell did get good fast. In the eyes of some, too good too fast. BU and Harvard fans certainly didn't love what they were seeing, and neither did the NCAA.

In 1969, Denver beat Cornell, 4-3, in the NCAA Championship Game in Colorado Springs. Each team had only two Americans on the roster – all the rest were from Canada – and it drove the NCAA batty. Within months of that year's tournament NCAA administrators came up with a totally hare-brained scheme, recommending that Canadian players be curtailed by means of a four-step program that, by 1973, would allow a maximum of eight Canadians on any given NCAA hockey squad. Obviously, that wasn't going to stand up in court -- or anywhere else – and was totally ignored.

Nonetheless, the NCAA's involvement not only highlighted just how bothered some people were by the problem, but also illustrated the fact that there was not going to be any leadership on the issue, from any quarter. Schools were essentially operating in a vacuum. It was very much the Wild West, with leagues, ADs, and coaches all very much on edge much of the time.
The '72-73 season, which would turn out to be Parker's last full year as an assistant, was also the Terriers' first season under Leon Abbott, an Edmonton native and graduate of McGill who had been the RPI head coach for three years before being hired by BU. Early in Abbott's first season, the Terriers traveled to Ithaca, NY for a December 13th game against Cornell and, with the help of three goals from sophomore forward Dick Decloe, had blown out Cornell, 9-0. At some point, the father of Peter Titanic, a Cornell freshman from Ontario who had been declared ineligible by the ECAC prior to the season, had directed a question to Cornell AD John Anderson and/or Big Red head coach Dick Bertrand (a former Mountie who had matriculated at Cornell as a 25-year-old freshman and, four years later, while tri-captain of the undefeated 1970 NCAA Champion Big Red squad, was himself declared ineligible by the NCAA). Why, Mr. Titanic wondered, was Decloe, who had his provincial school tax – reportedly $189.33 -- paid for by his Jr. A team eligible to play while his son wasn't?

The Cornell AD went to the ECAC for an answer, and the ECAC responded in January – not by restoring Titanic's eligibility but, rather, by declaring Decloe ineligible and, for good measure, wiping out the 11 wins BU had earned with Decloe in the lineup. The Terriers record went from 11-4 to 0-15 overnight – and Decloe left school. The Boston University AD at the time, Warren Schmakel, responded angrily, stating publicly that Cornell was selfishly using Decloe as a lever to get their own player reinstated. Whatever bad blood had previously existed between Cornell and BU at the time – and there was more than enough to go around --- was ratcheted up. As for the BU players, they closed ranks, reeling off a 12-game unbeaten streak and making it to the ECAC playoffs. Perhaps the players were overly fixated on a possible rematch with Cornell at the Garden over the first weekend in March but, in the quarterfinals at Walter Brown Arena, they were upset by Penn, 7-3. (Penn, ironically, was coached by Bob Crocker, a BU grad -- and long-time dean of New England's NHL scouts. Crocker had coached some powerhouse BU freshmen teams, including an undefeated squad in '69-70, but had been bypassed in favor of Abbott for the Terriers' head position.)
But so much for background.

Let's skip ahead now to Abbott's second season. On December 21, 1973, with the Terriers off to a 4-2-0 start and Parker out on a recruiting trip, Abbott was fired for, as Schmakel put it, "activities directed toward the evasion of NCAA and ECAC eligibility rules relative to foreign hockey players."

Specifically, Abbott was accused by his boss, Schmakel, of withholding "certain information about (the) recruitment" of BU sophomore forwards Bill Buckton and Peter Marzo, both Ontario natives.

None of this came out of the blue. It was all very much out there, and in the news at the time. Months earlier, over the summer of 1973, Buckton and Marzo had been declared ineligible by the ECAC for receiving small amounts of money while playing Jr. A hockey back home, Buckton for the Oshawa Generals (OHA) and Marzo for the Kitchener Rangers (OHA). With Abbott's support, the two players fired a shot across the bow of college hockey by challenging the ECAC in court – and winning, with Massachusetts Federal District Court Judge Joseph Tauro issuing a preliminary injunction that allowed both Buckton and Marzo to play. The basis of Tauro's ruling was that the underlying regulations that the ECAC had cited in declaring Buckton and Marzo ineligible were of "dubious constitutionality."

Judge Tauro, in his final Nov. 27 decision allowing the players to play the upcoming season, noted that, "These regulations constitute and impose disparate eligibility standards, one for student-athletes who have played hockey in the United States, and another for those who have played in Canada. Because the regulations classify plaintiffs (Buckton and Marzo), who are resident aliens, differently than their American counterparts, they are inherently suspect."

But the ECAC, unwisely on their part, didn't let it rest, and reconvened with a series of follow-up hearings on the whole Buckton-Marzo issue. On Dec. 11, Abbott spoke too frankly, sealing his fate by stating that he had not pressed either player very hard when it came to divulging every single source of compensation they had received while playing junior hockey in Canada. Abbott said he hadn't told either player to lie or withhold facts but had more or less followed the practice of the time when it came to 'foreign athletes.' To wit, he didn't press hard for info that he didn't really want to find out.

Ten days later, Boston University and Schmakel, in a pre-emptive strike – the same kind of self-reporting/self-penalizing that continues to this day – fired Abbott in the hope of eliminating or reducing possible ECAC or NCAA sanctions against the Terriers, even though any such sanctions would likely have been shot down in court.

Abbott responded furiously.

"I have been aware for some time that the school was likely to use me as a scapegoat in this situation," Abbott told reporters. "I know (BU) fears the powers of the NCAA and ECAC and that pressures have been placed upon the school."

"I regret," Abbott continued, "that hypocrisy has so gripped both the school and these two associations that the university would take the action it has today."
After Abbott was let go at BU, a fellow ECAC coach, requesting anonymity, told a New York Times reporter that, basically, it was insanity to expect college coaches to subject prospective Canadian recruits to the level of cross-examination that Abbott was accused of failing to perform.

"We aren't equipped or inclined to play Perry Mason in these situations," the coach said. "The boys, their parents and coaches sign the affidavits and that should be enough. Abbott is being made the scapegoat and he did nothing differently than the rest of us."
Regardless, Abbott, who would go on to coach St. Lawrence from 1976-80, was out. And 28-year-old Jackie Parker was taking over in an era in which potential landmines were everywhere a college coach turned, particularly if he were to venture north of the 49th parallel. With the benefit of hindsight, it is fair to say that Parker might not have survived but for a combination of savviness, mental toughness, and a batch of highly-skilled players who wanted to play for him. One thing is for certain: Nobody in his or her right mind could have imagined the stretch of longevity the lay ahead of the new head coach.
As for the action on the ice, Parker's debut came at the Rensselaer Holiday Tournament on Thurs. December 27, 1973, a 3-1 win over a Grant Standbrook-coached Dartmouth squad. The following night, Parker picked up win #2 as the Terriers edged Ohio State, 6-5. On the third and final night of the tournament, however, host RPI, coached by Jim Salfi, shellacked BU, 8-2, handing Parker his first career loss. The following weekend – Jan. 4th and 5th, 1974 – the Terriers headed up to the North Country. On Friday, Parker's squad faced Clarkson, coached by 28-year-old Jerry York, then in his second year behind the Golden Knights' bench, and came away with a 9-3 win. On Saturday, St. Lawrence beat BU, 6-4. The following Wednesday, the Terriers went to New Haven and lost to Yale, 3-2 in OT. Young Jack Parker's NCAA head coaching record stood at 3-3.

According to reports of the time, Parker made one major change upon taking over, and that was to spread offensive balance across four lines.
After that January 9th loss at Yale, BU would go 16-3 over the rest of the season. Their only regular-season losses came to Harvard, 5-4, in the Beanpot final, and a February 20th 7-5 decision to BC at the Heights (sweet revenge for the Eagles, as the Terriers had thumped them, 11-2, four weeks earlier at Walter Brown Arena).

On Tues. March 5, BU hosted Dartmouth in the ECAC quarterfinals at Walter Brown Arena and won in a blowout, 8-0. In the semis at Boston Garden that Friday, the Terriers thumped Cornell again, this time by a 7-3 score. In the finals, BU topped a supposedly rebuilding – and almost entirely American -- Harvard team 4-2 to earn the #1 East seed for the upcoming NCAA tournament.

The NCAAs were at the Boston Garden that year, and followed a two-teams-from-the-east (BU, Harvard) vs. two-from-the-west (Michigan Tech, Minnesota) format. In the semis, on Thurs. March 14th, the Terriers faced off against Minnesota, which had started the season 0-4-1 under second-year head coach Herb Brooks before turning things around with his sons of the Gopher State. "We are not anti-Canadian," Brooks said. "We are pro-American and especially pro-Minnesota. Right now there is more talent in the Minnesota high schools than college hockey scholarships available. And I don't mean the type of hockey players a team can just get by on, but the type of young men any team can win with."

Brooks' Gophers, who had finished up the regular season by dropping a pair of road games in at WCHA champion Michigan Tech, were the second seed in the west, and Brooks, quotable from the get-go, had them buying into whatever he was saying.

In the semifinal, early in the third period, the Gophers held a 4-2 lead but BU, with goals by Bill Robbins, a deflected shot, and one off a nice Rick Meagher rush, tied the game at 4-4 with under ten minutes remaining. BU had a golden opportunity to win the whole thing when they went on a powerplay with 44 seconds left in regulation. However, as BU moved the puck up-ice Gophers center Mike Polich read the play well, took a gamble and picked off a BU pass. Polich broke into the Terriers' end and, with 13 seconds on the clock, fired a 45-foot slap shot that beat senior goalie Ed Walsh to give the Gophers the 5-4 lead, which they didn't relinquish – a heartbreaker for the Terriers, and not dissimilar to the heartbreak Miami would go through 35 years later when they were victimized by BU's miraculous finish in the 2009 NCAA championship game.

As for the '73-74 Gophers, they would go on to the title game where they beat Tech, 4-2. Brooks, in a true Brooksism, and perhaps a hint of things to come, referred to his squad as a 'team of destiny.' Reporters scratched their heads, and wrote it off as a curious comment to make.

BU would defeat Harvard in the NCAA consolation game to finish the season 23-8-0. Since Parker had taken over, the squad had gone 19-6-0. He had gotten the balanced offense he was looking for, too. At season's end, eight Terriers had 40 or more points: All-American forward Bill Burlington, All America defenseman Vic Stanfield, Pete Marzo, Terry Meagher, Bill Robbins, Pete Brown, and freshmen Rick Meagher and Mike Eruzione. Even more crucially, all were underclassmen, and all would return the following season.

A year later, in March 1975, BU was again in the semis, but fell to Tech, 9-5.

In 1976, it was deja vu time. The Terriers again reached the semis, bowing once again to Minnesota, this time by a 4-2 score. (This was the infamous game with the bench-clearing brawl just 1:10 into the first period, a melee so out of control that the game was delayed for 30 minutes while the NCAA Tournament Committee sorted things out. The committee eventually narrowed their options to kicking out everyone, and scratching the game, or ejecting the game's first two penalized players, BU's Terry Meagher and the Gophers' Russ Anderson, and allowing the game to continue. They chose the latter. This game was also the beginning of a war of words between Parker and Brooks, which would fade with time).

In 1977, BU, for the fourth straight year under Parker, again lost in the NCAA semis, this time to Michigan, 6-4.

Finally, in 1978, the Terriers broke through and won it all, topping Wisconsin in the semis, then winning it all two nights later with a 5-3 decision over Boston College at the Providence Civic Center. Parker had his first NCAA title as a head coach.
That night capped a remarkable run, as the Terriers had made five straight appearances in the NCAA Final Four over the first five years of Parker's career as an NCAA head coach, with a title in year #5.

1978-79 was pretty remarkable, too, as Parker's squad finished the ECAC regular season in first place, but came up short in the playoffs, bowing to Dartmouth and Cornell at the Garden. After his first six years behind the Boston University bench Parker's record stood at 143-36-4. Not too shabby.

In '79-80, goaltender Jim Craig, defenseman Jack O'Callahan and forward Dave Silk were all gone, off to the Olympic team, where they joined 1977 BU grad Mike Eruzione. And with the eyes of the nation glued to what was happening in Lake Placid, Boston University hockey, at least to most observers had, to use the current parlance, gone viral. Was there a day greater for BU hockey and USA hockey than Friday Feb. 22, 1980, when Eruzione and Company came back from a 3-2 third period deficit to shock Russia, 4-2? However, in Boston the following night, on the eve of the gold medal game vs. Finland, the Terriers had a home game at Walter Brown Arena against Colgate. They would lose it, 4-2, the first game of a season-ending five-game losing streak. It was only the second time in his then six-year career that Parker had endured a five-game losing streak. With reporters descending on Walter Brown Arena to ask Parker how great he must be feeling about the events in Lake Placid, you just know that five-game losing streak was gnawing at him.

Things were changing, and the 1980 Miracle on Ice symbolized that. The college hockey landscape was continuing to evolve, with more programs popping up and a widening player pool to recruit from. There would be more success for Boston University – the resurgence in the early '90s, 18 additional Beanpot titles, two more NCAA titles. But nothing could match that 15-year run from 1964, when Parker arrived on campus as a freshman, through 1979. Every March, like clockwork, the Terriers were in position to contend for an NCAA title. Not just some years, either, but every year. It has been impossible for any team since then to match that.

Thurs. 3/14/13

USHR 2012-13 Awards
USHR Prep Player of the Year:
Danny Tirone, Senior, Loomis Chaffee, 5'11", 180 lbs.

During the 2011-12 season, head coach JR Zavisza's first behind the bench, Loomis finished a dismal 2-23-0, with its only wins coming against Kingswood-Oxford and Trinity-Pawling. The fact that Tirone, due to injury, was limited to only eight games didn't help matters. For his senior year, however, Tirone, a Trumbull, Conn. native, was back at 100 percent – and the Pelicans made a statement right from the get-go, winning their first three games. After a dip during the second week in December, Tirone & Company headed to the Avon Christmas Tournament, where they faced a tough draw, opening up against Kent and Gunnery. They responded to the call, though, tying Kent, 3-3, and losing a close 3-2 decision to Gunnery. Realizing they could skate with the best, the young Loomis squad proceeded to reel off four straight wins.

During that run (the last two games at the Xmas Tournament, and the first two games of January), Tirone was squarely in the zone, allowing only one goal per game in wins over St. Paul's, T-P, Kent, and Deerfield. In that span, he stopped 122 of 126 shots, posting a .968 save percentage and a 1.00 GAA.
In early January, Loomis' record stood at 7-3-1. In addition, the Pelicans made their first-ever appearance in the USHR Prep Poll.
Things leveled out a bit after that as Loomis' young, skilled players found it a little harder to sneak up on teams. Tirone, however, was a constant, playing in all but 87 minutes of the Pelicans' games and finishing the season with a .933 save percentage. Loomis would finish the season with a 13-11-1 record and were one of the final teams eliminated from consideration for the Large School Tournament. With the jump from two to 13 wins, and more good young players heading toward Loomis, the future of the program suddenly looks very bright. With all that in mind, we feel secure in saying that no single player in prep school hockey meant more to his team in 2012-13 than Danny Tirone.


USHR Prep Goaltender of the Year:

Danny Tirone, Senior, Loomis-Chaffee
Runner Up:
Tim Ernst, Senior, Berkshire


USHR Prep Defenseman of the Year:
Noah Hanifin, Sophomore, St. Sebastian's, 6'3", 195 lbs.

The '97-born defender is the most talented player in prep hockey and has all the earmarks of a high 1st round NHL pick, though that day won't arrive until 2015. It is not very often that you can say a natural sophomore has outgrown prep school hockey, but that might be the case for the Boston College recruit. Hanifin, who led the Arrows in scoring from the back end, posting a 10-24-34 scoring line in 28 games played, is that good. The Norwood, Mass. native has been offered a spot with the NTDP.
Runner Up:
Doyle Somerby, Senior, Kimball Union
USHR Prep Forward of the Year:
Nick Roberto, Senior, Kimball Union, 5'9", 170 lbs.

The Wakefield, Mass. native was a force all season long -- the straw that stirred the drink when it came to the Wildcats' powerhouse offense. The University of Maine recruit racked up a 23-25-48 scoring line in just 28 games played this season. KUA was ranked #1 for the majority of the season and the Flood-Marr MVP was their most noticeable player night-in and night-out.
Runner Up:
George Hunkele, Senior, Lawrence Academy
USHR Prep Rookie of the Year:
*This award is given to a player participating in their first season of prep school hockey, regardless of age or class in school.
Ethan Holdaway, F, PG, Westminster, 5'10", 172 lbs.

The former Glastonbury (Conn.) High School star and Trinity recruit was easily the top player in prep hockey over the final month of the season. The Martlets, with their backs to the wall, basically had to win out in February just to get into the playoffs – and they did exactly that, peeling off seven straight wins, a monumental achievement for head coach Tim Joncas' squad. And then, to add a punctuation mark to the whole thing, Westminster made it eight in a row in the quarterfinals, punching their ticket to Salem, where they were finally defeated, bowing 4-3 to eventual champ Salisbury in the semifinals.

Holdaway was the difference maker in some key games in that remarkable stretch. Particularly memorable were:

-- An OT game winner vs. Loomis on Wed. Feb. 13th.

-- The game-winning goal at Berkshire on Sat. Feb. 16th that put an end to Berkshire's 20-game win streak.
-- A four goal, one assist performance in a 7-4 win at Gunnery on Wed. Feb. 20th. Holdaway scored a natural hat trick in the second period.

-- A key unassisted short-handed goal that knotted up a Fri. Feb. 22nd game at Deerfield at 2-2. Westminster would go on to add three more goals and take a 5-2 decision.

-- The OT game winner in the prep quarterfinals, a 3-2 win at Belmont Hill on Wed. Feb. 27th. Holdaway also scored Westminster's first goal and assisted on the second.

For the season, Holdaway posted a 16-11-27 scoring line – the fourth-best on the team -- in 27 games played.

Note: Hockey is the ultimate team game, and we'd be remiss in leaving out the huge contributions of Holdaway's linemates, seniors Vincent Gisonti and Ryan Mowery, or the team's leading scorer, first team NEPSIHA West All-Star David Hallisey, who was terrific all season long, or Sean Orlando, or the d-corps, or goalie Zac Hamilton, and many others. We could easily give some kind of team award for 'clutch performance', but it's not every year that a team pulls off what Westminster did, so we'll avoid that temptation, and let this mention suffice.
Runner Up:
Callum Booth, G, Sophomore, Salisbury

Wed. 3/13/13

Mass. Super 8 Review
The U.S. Hockey Report has logged some hours at Lowell's Tsongas Arena and the infinitely smaller Stoneham Arena over the last week or so taking in the Mass. Super 8 playoffs. The atmosphere at these games, especially in jam-packed, standing-room-only Stoneham, has been terrific, though if we were in the line outside waiting to get in – or insisted on valet parking -- we might wish for a larger venue. Whatever the case, it's great to see Massachusetts high school hockey continuing its resurgence of recent years which, by the way, seems to have coincided with the downturn in the economy. It's true what they say: every dark cloud has a silver lining, and if that's what it has taken to reinvigorate high school hockey -- and yes, we're giving the Public/Catholic debate a wide berth – then so be it. With no further digression, here are the players we liked:
Elijah Harris, G, Soph. (Austin Prep) — For our money the athletic netminder has been the best player in the Super 8 playoffs thus far. He does not pass the look test in that he is very small -- 5'8" or so -- and wears an old Dominik Hasek-type helmet. That's not going to win you any style points, but Harris just makes save after save, which is all that matters in the end. His technique is near perfect and his reflexes are as quick as they come. Word in the rinks is that there is a good chance he will be the starting goalie for Nobles next season.
Ara Nazarian, F, Soph. (Malden Catholic) — Malden Catholic's leading scorer was dominant against Springfield Cathedral. Has taken a serious step forward in his progression. Not only has he added a step to his skating, but his confidence is sky high. We like the fact that he wants the puck at all times and is always thinking about scoring goals. Even last season when Ryan Fitzgerald and Brendan Collier were the stars of the team you could tell he had a slight chip on his shoulder, feeling perhaps that he should and could be the go-to guy. That's how the great goal scorers approach the game. And we think he will be a goal scorer in Hockey East.
Casey Fitzgerald, D, Soph. (Malden Catholic) — Is an absolute game changer at this level. We would be absolutely shocked if the NTDP does not take him this year. Is head and shoulders the top defenseman in the Catholic Conference. We have said it before and we will say it again: the only thing that separates Fitzgerald from Noah Hanifin is about 4" in height. Could effectively run a college power play well before he sets foot on a college campus.
Brian Pinho, F, Sr. (St. John's Prep) — We took in games #1 and #3 of the SJP-Central Catholic series and in the first game, a 4-1 Central Catholic win, Pinho was completely invisible. In game #3, though, he came to life and was a factor pretty much every shift. The Providence recruit is both quicker and has a better shot than we originally gave him credit for. Will likely follow in the footsteps of Colin Blackwell and Sam Kurker and be the third SJP player in the last three seasons to be selected in the NHL Draft. Pinho, a homebody, will likely play a season in the EJHL before matriculating at PC in the fall of '14.
Ryan Shea, D, Fr. (BC High) — The son of former Boston College star Danny Shea (190 career points at BC) is, in our opinion, similar to Brian Yandle (two time All-American at UNH) at the same age. He's neither the smoothest skater nor the most rugged defender, but when he has the puck on his stick good things happen. Has a lot of moxie on the PP for a young kid.
Andrew Cross, D, Jr. (Austin Prep) — Played for Malden Catholic last season, which is of interest because the table could be set for a potential Malden Catholic-Austin Prep final. We did not rank the Saugus, Mass. native on our recent list of top juniors, which now looks like a mistake. Cross is an underrated D-I prospect. He can skate, makes a good first pass, and is a good defender.
Tom Besinger, F, Jr. (BC High) — Skilled and crafty. Must have drawn three or four penalties in the deciding game against CM. Really seems to enjoy playing hockey. Makes plays. Might not have the physical tools to be a D-I player, but he certainly has the mindset.
Tyler Bird, F, Jr. (St. John's Prep) — The Brown recruit is still a project, but he is a project with a lot of upside. The rangy winger stands about 6'3" and has a smooth set of hands; when he fills out he could be a lot to handle. Does not have that quick twitch that you like to see, but that may come in time. Will be of interest to NHL scouts next year.
Liam Coughlin, F, Sr. (Catholic Memorial) — The big center was the top goal scorer in the Catholic Conference this season, finding the back of the net 25 times, thus doubling the output of Brian Pinho. Scored two goals in CM's 3-2 win over BC High Sunday night, one with only 24 seconds remaining in the game. Has tools, but we aren't sure he plays at a quick enough pace to succeed at higher levels. We also think if he has a chance to play D-I hockey it will be as a grinder, and right now that is not the role he is playing in.
Tim Weinstein, D, Fr. (Catholic Memorial) — Sharp and intelligent. Is very tiny right now – just 5'7" -- and struggles to defend against bigger forwards, but that will likely change when he adds strength over the years. Is exceptional with the puck on his stick and rarely makes a bad decision. Plays every other shift right now and is a major part of Catholic Memorial's power play. CM Head Coach Bill Hanson has gone on record as stating that the freshman blueliner will be a D-I defenseman when all is said and done.
Matt Foley, D, Sr. (Springfield Cathedral) — Polished defender is going to do a PG year next season at either Exeter or Choate. In either case, he will step in and be an immediate contributor. Does everything well.
Bob Carpenter, F, Soph. (Austin Prep) — Works hard and can really fire the puck. Does not have high-end skill, but he makes a difference every shift and is a coach's player in that he pays attention to the details.
Evan Morelli, G, Sr. (Reading) — The big netminder is the reason why the Rockets made it to the Super 8. He may not be the next coming of Jeff Wyer (currently a sophomore at UNH), but he's a darn good high school goalie and would hold his own in junior hockey. Competes hard and fills the net nicely.
Tyler Sifferlen, F, Jr. (Malden Catholic) — The UMass-Lowell recruit is a hard worker who plays in the trenches, a guy you really want on your team. Is underrated in terms of his importance to MC's team as he really makes the top line go. Does he have enough skill to be a factor in Hockey East play? Time will tell.
Peter Crinella, F, Soph. (Springfield Cathedral) — Knows what to do with the puck in a scoring area and has good size. Right now he is heavy footed and needs to improve his speed. Holy Cross is betting on the fact that the sophomore will be able to do that in a couple years time.
Kevin Hock, F, Fr. (Catholic Memorial) — Quick winger can make plays. Was CM's second-leading scorer as a freshman. Is considering making the move to prep hockey next season and KUA is a probable destination.
Cam Russo, F, Soph. (Austin Prep) — Hardworking forward with an above-average skill set. Is able to create offense at this level, but likely projects as a checking line forward who is able to chip in offensively at higher levels. Plays a complete game.
Beau Starrett, F, Jr. (Catholic Memorial) — Tall and lanky forward who is still in the gangly stage. Has a good set of mitts and can beat defenders 1x1. Still needs to round out his game. His brother, goaltender Shane Starrett (Catholic Memorial/Selects Academy), is a recent Boston University commit.
JJ Layton, F, Fr. (Austin Prep) — Young defender has a lot of tools, but is still quite raw. At times he shows flashes of being a D-I prospect; at other times he makes some questionable reads. In that sense, he is like 95% of defenseman his age.
Sam Topham, D, Jr. (BC High) — Skilled, puck-moving defender is a strong skater who defends well with his feet. Has some physical limitations in that he is only about 5'10", but there is no question that he will be an attractive NESCAC recruit over the next 12 months.
Frank Cosolito, D, Fr. (Catholic Memorial) — Big, strong, meat-and-potatoes defenseman. Keeps things simple and defends well. His feet still have a way to go.
Jack McCarthy, F, Jr. (St. John's Prep) — Has a lot of potential, but only plays to that potential in short spurts. Is a good-sized kid, a powerful skater, and has a hard and accurate shot. A productive player, but we think he could be yet more productive. There is a strong chance that he ends up at Kimball Union in the fall.
George Sennott, F, Soph. (Austin Prep) — A fun player to watch. Is very small, but the '97 just makes plays. Has a good compete level and does not shy away from getting his nose dirty. Is being recruited by a number of prep schools.
Johnny Leonard, F, Fr. (Springfield Cathedral) — Freshman forward potted 15 goals in the regular season. Is someone to expect big things from in the future.
Nolan Vesey, F, Sr. (Austin Prep) — Austin Prep's leading scorer. Has some appeal to his game, but isn't a factor every shift — and he easily could be. Seems to be a bit heavy and does not play with a ton of pace. Could end up being a late bloomer.
Brendan Collett, G, Fr. (Catholic Memorial) — '98-born netminder has been impressive in the playoffs and has shown the ability to rise under pressure. Is not very big, but plays aggressively and confidently
Peter Cronin, G, Sr. (BC High) — The backbone of the Eagles. The senior is tall, lanky, and has some untapped potential. Will likely be playing with the South Shore Kings (EJHL) next season.
Patrick Kramer, F, Soph. (BC High) — First line winger and second-leading scorer as a sophomore. Has a good stick and is a very smart hockey player. If he can get a little quicker we think D-I schools will start sniffing around him.
Mike Iovanna, F, Sr. (Malden Catholic) — UMass-Amherst recruit has skill and can make a play. That said, being a D-I recruit and playing on a line with two other D-I players (Sifferlen and Nazarian) you would think he would pot more than nine goals a season.
Austin Goldstein, F, Soph. (Malden Catholic) — Quick forward who plays a gritty game. Is good in transition and especially effective on the PK. Does not get top-line minutes, but makes the most of his opportunities.
Andrew Brandano, F, Sr. (St. John's Prep) — Energy forward with a quick stick. Really gets after it and is able to create a lot of turnovers.

Rob Devaney, F, Sr. (Reading) — A workhorse and a fast skater. Will likely end up doing a PG year at a New England prep school.
Jake McKenelley, F, Fr. (Austin Prep) —Skilled youngster is solid in all facets of the game. Has scored 12 goals in his freshman season.
Eric MacAdams, F, Fr. (Austin Prep) — Smart and reliable. Good player in all three zones. Producing nearly a point a game.
Sean Heelan, D, Sr. (Catholic Memorial) — Not an elite skater, but the senior defender is great with the puck on his stick. Sees the ice really well.

Tues. 3/12/13

Former Prep Stars Shine in BCHL
The BCHL's regular season is over, the league has handed out the hardware – and former New England prep players did very well.

The League gives out two MVP Awards and two Rookie of the Year awards (one for the Interior Conference and one for the Coastal Conference).

The MVP for the Coastal Conference is Chilliwack Chiefs goaltender Mitch Gillam who, in his second year in the BCHL, posted a 2.53 gaa and a .929 save percentage. Gillam, a late '92 from Peterborough, Ont., graduated from the Berkshire School in 2011, and will be matriculating at Cornell in the fall.

The Rookie of the Year in the Coastal Conference is Gillam's teammate Luke Esposito, a Greenwich, Conn. native and 2012 Brunswick School grad. Esposito, a late '93, finished fourth in league scoring with a17-54-71 line in 46 games played. Esposito will be at Harvard in the fall, along with his linemate at Chilliwack, Philip Zielonka, who has been lighting it up all season, came over to the Chiefs (from Coquitlam) in a January trade. A '93, Zielonka, who graduated from Salisbury last June, has a 36-26-62 line in 45 games played.

Former Gunnery and Providence College defenseman Craig Wyszomirski, who played for the Surrey Eagles this season (54 gp; 8-28-36) was named a Coastal Conference First Team All-Star.

The BCHL Goaltending Award – it's a non-voting award that goes to the goalie with the lowest gaa (minimum of 1,000 minutes played) goes to Surrey goaltender Michael Santaguida (2.28 gaa; .933 save percentage). Santaguida, a Mississauga, Ont. native who played at Avon Old Farms ('12), will be playing for Vermont this fall.

Note:

He's not a prep player, so perhaps we're veering slightly off topic, but he's American, so it would be wrong to let it pass without remark. So let it be noted that the Brett Hull Trophy, awarded to the league's top scorer, goes to University of Vermont recruit Mario Puskarich, a native of Cape Coral, Florida who played for the Chicago Young Americans U18s, then went on to the USHL and NAHL before blossoming in the BCHL. The '92 birthdate, who plays for Langley, finished the season with a 41-48-89 line in 58 games played. That's a full 16 points ahead of his closest pursuer, Chilliwack's Austin Plevy, who'll be at Merrimack in the fall.



Tues. 3/12/13

NTDP Evaluation Camp Roster
Here's the roster -- and schedule -- for USA Hockey's 2013 NTDP Evaluation Camp, which will run from Sat. March 23 through Mon. March 25 at the Ice Cube in Ann Arbor, Michigan.

The players, who represent 23 different states (Michigan leads with eight, followed by New York with six), will be divided into three teams (9 F, 6 D, 2 G).

2013 NTDP Evaluation Camp Invitees:
Forwards:
Nolan Aibel
Brookville, N.Y.
NJ Rockets Jr. A (AJHL)
Tarek Baker
Verona, Wis.
Omaha Lancers Midget Minor
Jeremy Bracco
Freeport, N.Y.
NJ Rockets Jr. A (AJHL)
Kevin Conley
Wausau, Wis.
Wausau West High School
Ryan Dmowski
East Lyme, Conn.
Gunnery School (Conn.)
Christian Fischer
Wayne, Ill.
Chicago Mission Midget Minor
Brent Gates
Grand Rapids, Mich.
Compuware Midget Minor (Mich.)
Carson Gicewicz
Orchard Park, N.Y.
Nichols School (N.Y.)
Gordie Green
Ann Arbor, Mich.
Compuware Midget Minor (Mich.)
Jordan Greenway
Potsdam, N.Y.
Shattuck-St. Mary's (Minn.)
Jacob Henderson
St. Louis, Mo.
St. Louis Blues Midget Minor
Robert Jackson
Alameda, Calif.
LA Jr. Kings Midget Minor
Charlie Kelleher
Longmeadow, Mass.
Boston Jr. Bruins Midget Major
Luke Kirwan
Dewitt, N.Y.
Middlesex Islanders (EJHL)
Luke Kunin
Chesterfield, Mo.
St. Louis Blues Midget Minor
Auston Matthews
Scottsdale, Ariz.
Arizona Bobcats Midget Minor
Tom Novak
River Falls, Wis.
St. Thomas Academy (Minn.)
Aaron O'Neill
Franklin, Tenn.
TPH Thunder Midget Minor
Donovan Ott
Lebanon, Pa.
Selects Academy (Conn.)
Chase Pearson
Alpharetta, Ga.
Atlanta Fire Midget Minor
Ethan Price
Lincoln, Neb.
Omaha Lancers Midget Minor
Jack Roslovic
Columbus, Ohio
Ohio Blue Jackets Midget Minor
Brody Stevens
Ann Arbor, Mich.
Compuware Midget Minor (Mich.)
Matthew Tkachuk
St. Louis, Mo.
St. Louis Blues Midget Minor
Tanner Tweten
East Grand Forks, Minn.
East Grand Forks (Minn.) High School
Colin White
Hanover, Mass.
Noble & Greenough (Mass.)
Brendan Warren
Carleton, Mich.
Compuware Midget Minor (Mich.)
Dennis Yan
Troy, Mich.
Belle Tire Midget Major (Mich.)


Defensemen:

Tye Ausmus
East Grand Forks, Minn.
East Grand Forks (Minn.) High School
Nicholas Boka
Plymouth, Mich.
Compuware Midget Minor (Mich.)
Michael Davies
St. Louis, Mo.
St. Louis Blues Midget Minor
Christian Evers
Waukee, Iowa
Omaha Lancers Midget Minor
Logan Fauber
Niwot, Colo.
Colorado Thunderbirds Midget Minor
Casey Fitzgerald
North Reading, Mass.
Malden Catholic High School (Mass.)
Grant Gabriele
Brighton, Mich.
Compuware Midget Minor (Mich.)
Colin Gallagher
Mendota Heights, Minn.
Henry Sibley High School (Minn.)
Noah Hanifin
Norwood, Mass.
St. Sebastian's School (Mass.)
Nick Heid
Fridley, Minn.
Spring Lake Park (Minn.)
Troy Henley
Paulsboro, N.J.
Oakville Rangers Midget Minor
Caleb Jones
Frisco, Texas
Dallas Stars Midget Minor
Vasili Kolias
Schaumburg, Ill.
Chicago Mission Midget Minor
Joseph Masonius
Spring Lake, N.J.
NJ Hitmen Midget Minor
Ben Newhouse
Edina, Minn.
Benilde-St. Margaret's School (Minn.)
Steven Ruggiero
Kings Park, N.Y.
Metro Moose Jr. B (MJHL)
Zach Werenski
Grosse Pointe, Mich.
Little Caesar's Midget Major (Mich.)
Spencer Young
Brentwood, N.H.
Phillips Exeter Academy (N.H.)

Goaltenders:


Kris Carlson
Centreville, Va.
Washington Little Caps Midget Minor
Matt Jurusik
La Grange, Ill.
Chicago Fury Midget Minor
Michael Lackey
Washington, D.C.
Phillips Exeter Academy (N.H.)
Conor O'Brien
Pinellas Park, Fla.
Northfield-Mount Hermon (Mass.)
Luke Opilka
St. Louis, Mo.
St. Louis Blues Midget Minor
Bailey Seagraves
Hilliard, Ohio
Ohio Blue Jackets Midget Minor

2013 NTDP Evaluation Camp Game Schedule
| | | |
| --- | --- | --- |
| Sat., March 23 | Red vs. White* | 10:45 a.m. |
| | Red vs. Blue* | 12:00 p.m. |
| | White vs. Blue* | 1:15 p.m. |
| | Blue vs. White | 7:00 p.m. |
| Sun., March 24 | White vs. Red | 10:15 a.m. |
| | Red vs. Blue | 5:45 p.m. |
| Mon., March 25 | Blue vs. White* | 4:30 p.m. |
| | White vs. Red* | 5:45 p.m. |
| | Red vs. Blue* | 7:00 p.m. |
* 30-minute sessions.

Fri. 3/8/13

An Update on Fitzy

We got a text this morning from Tom Fitzgerald, reporting on his brother, Boston Bruins scout Scott "Fitzy" Fitzgerald, who, in the wake of Sunday night's horrific car crash, has been undergoing extensive operations all week at Mass General Hospital.

"Scott's heel/ankle surgery was long yesterday," Fitzgerald writes. "My sister in law texted me this morning."

Here's what Fitzgerald's wife, Stephanie, reported:

"Spoke to the nurse this morning! Scott responded well to the decrease of sedation and oxygen. He is awake, responding to neuros, pain level minimal but comfortable! Good neuro signs. Doctors rounding this morning and nurse said they will make decision to take/leave tube in! She said everything looks good. She (i.e., the nurse) told him that it snowed and his family will be in this afternoon. He understood that. I will call her around noon to see where (Scott) is at."

Tom Fitzgerald added that his brother "still has a long road ahead for himself. The foot doctor told Steph that he will need multiple surgeries in his heel/ankle moving forward. LONG ROAD!"




Fri. 3/8/13

How Moribund?
We mentioned yesterday that Kent was a 'moribund' program before Matt Herr took over in the fall of '05. How moribund? Well, how about over 20 consecutive losing seasons? And many of those losing seasons were extreme. In the two years before Herr arrived in the fall of '05 Kent went 0-19-1 and 3-23-1. The school -- like others before it and others yet to come -- clearly needed the right person. And got it with Herr.

We missed talking to Herr Wednesday night because was putting his kids to bed. Since we had to get the story out, we went with what we had. But we caught up with Herr yesterday. Herr said he took the Kent job after talking to Jeff Kosak, who won two NEPSIHSA Div. I New England prep titles in the early '90s as the head coach at Hotchkiss – including one with Herr on his squad.

"He was a huge influence on me, along with Blair Torrey and Damon White," says Herr. "And he described Kent as a sleeper of a program."

So Herr took the job.

In his first year at Kent, '05-06, the Lions improved to 11-13-1. The following year, Herr had his first recruits on hand, headed up by Drew and Justin Daniels – and the Lions made another jump, to 14-10-0. The year after that, '07-08, Kent went 18-7-0 and opened eyes by winning the Avon Old Farms Xmas Tournament, beating host Avon -- a NEPSIHA championship-winning squad featuring Cam Atkinson, Pat Mullane, and Parker Milner – 6-2 in the championship game. The following year, Kent fell back to 11-11-3, but since then have peeled off four impressive seasons in a row, going 21-5-0 in '09-10 (but getting stymied by NMH goaltender Branden Komm in the quarters), going 21-6-0 in '10-11 (but bowing to Milton in the NEPSIHA championship game in Salem). In the final two seasons Kent has gone 15-8-4 and 18-6-3 with, of course, another appearance in the prep title game.

"I felt we were a nice competitive bunch," says Herr. "And I really just want to thank the guys for their competiveness and passion, right straight through from that first group I recruited with Justin and Drew Daniels to the current players. And I have had great assistant coaches, too. Garrison Smith is still here, of course. Others, like Matt Greason, who's now the head coach at Trinity College, were great too."

Whoever takes over at Kent now will face the challenge of keeping it going, much as Andrew Will has done at Salisbury. That, of course, brings its own kind of pressure. Herr says Kent hopes to have a new coach in place within the next 3-4 weeks and that while AD Todd Marble will have the final say, Herr will play a role in the process as well.

Herr said he would leave it to USA Hockey to announce details of his new position when they are ready to announce it, but it's believed he will be taking over the NTDP U-17 Team (the '97s) in Ann Arbor in the fall.

Herr said his summer experiences with USA Hockey, both coaching at the Select Festivals and coaching teams in the Ivan Hlinka (U-18) and Five Nations (U-17) Tournaments, led to the new position. In 2010, Herr was an assistant to Sean Tremblay on the U-17 Team for the Five Nations Tournament. In 2011, he was an assistant on the Seth Appert-coached team that went to the Ivan Hlinka Tournament. And in 2012 was the head coach for the Ivan Hlinka Tournament squad.

"I wanted to be involved because of all those great coaches and just try to learn," Herr says. "How I coach has a lot to do with all the guys I coached with and also played under."

Herr addressed leaving preps for USA Hockey, saying simply that, "It's an opportunity to continue developing as a coach. I've played at all levels under many different coaches and I think the key as a coach is the same as that of a player – to keep developing. The thing I loved at the Festivals was hanging out with guys like Jerry York and Bill Beaney and guys like that. That's the fun part of coaching: listening to other coaches."
Herr said the thing he loved most about coaching at prep school was getting to know the kids. "You are part of every facet of their lives. You are their teacher, their coach, and you live in the dorms. You get to know them so well. If I move on to become a Div. I coach I will work to get to know every kid, because every kid is different. They all have a different button."

And as for Kent, says Herr, "It will still be a great program next year."




Fri. 3/8/13

All-New England Teams
"We didn't get the email" sounds like "the dog ate my homework" but it's totally true: we never did get the email. Lost in the shuffle last week was the All-New England Teams, as voted by the New England Prep Coaches. Here it is:

East All-Stars:
F – Trevor Fidler, Dexter, Senior
F – Niko Rufo, Kimball Union, Senior
F – George Hunkele, Lawrence, Senior
D – Doyle Somerby, Kimball Union, Senior
D – Noah Hanifin, St. Sebastian's, Sophomore
G – Brendan McMenimen, Governor's, Senior
G – Merrick Madsen, Proctor, Senior

West All-Stars:
F – Marc Cibelli, Gunnery, Senior
F – Andrew Gaus, Taft, Junior
F – David Hallisey, Westminster, Senior
D – Dan Fritz, Canterbury, Senior
D – Mike Graham, Kent, Senior
G – Danny Tirone, Loomis Chaffee, Senior

Wed. 3/6/13

Herr Leaving Kent

Kent School Head Coach Matt Herr, who led the Lions on a late-season push that got them home ice in the quarterfinals – and which they parlayed into an appearance in the NEPSIHA Championship Game on Sunday -- is leaving Kent for a position with USA Hockey.

Here's the text of the letter Herr, who has been at Kent for eight years, sent to players and parents tonight.

Dear Players and Parents,
I write this letter with a very heavy heart and with a full understanding of what a special group I was privileged to work with this year. With much deliberation I regret to inform you that I will not be coming back to Kent next year and taking a position with USA Hockey. This is not easy to write because I understand this decision will also affect all of you in some manner. It is my hope with the core team returning that everyone sticks together, learning from this year and making another run at the title next season. Kent and especially Kent Hockey is a special group of people that goes well beyond me or any other coach. It is made up of players and people like you guys, as well as a large group of Alumni, some of them you met during our final game.
Over the next two weeks I will be working with the administration in order to help find a suitable replacement to lead this team next season. Everyone at Kent wants to make sure needs of current and future players are met. I will always be available to help if you have further questions and again would like to thank all of you for making this a wonderful experience for me and my family.
Warmest Regards,
Coach Herr
A New Jersey native, Herr, a center, played his prep school hockey under Jeff Kosak at Hotchkiss, notching 102 goals over four seasons. In 1992, his sophomore season, Hotchkiss won their second prep title. In June of his senior year, Herr was drafted in baseball by the Atlanta Braves (9th round; he was a pitcher) and in hockey by the Washington Capitals (4th round). Herr would go on to play a full four seasons for Red Berenson at the University of Michigan , winning an NCAA championship in 1996, his sophomore season, and being named captain in 1997-98. While at Michigan, Herr also played baseball, winning a total of eight varsity letters. Herr was the last Wolverine hockey player to play two sports for the school.

After Michigan, Herr went on to play parts of four seasons in the NHL with the Washington Capitals, Florida Panthers, and Boston Bruins. After one final year as a player, in Germany, Herr, then 29, arrived at Kent in the fall of '05 and immediately began turning the formerly moribund program around.

Herr, who also taught AP Psychology and U.S. History at Kent and was assistant baseball coach, was one of the finalists for the assistants position at Michigan that opened up when Mel Pearson took the head position at Michigan Tech. However, the Wolverines' assistant's position instead went to Brian Wiseman, who was a center at Michigan shortly before Herr arrived in Ann Arbor.



Wed. 3/6/13

Bruins Scout Fitzgerald Critical But Stable
Scott Fitzgerald, Boston Bruins Assistant Director of Amateur Scouting, is in critical – though stable -- condition with serious injuries following a car crash Sunday evening at around 8:30 pm.

The accident occurred when a 47-year-old Andover man driving a 2013 Toyota Corolla went out of control on Route 125 in Wilmington, Mass., where Fitzgerald lives with his wife and children, and crossed the median strip into incoming traffic. The car missed one vehicle, then crashed head-on with Fitzgerald's Chevy SUV. The driver of the Corolla, identified as Robert Leon of Andover, Mass., was pronounced dead at the scene.

Fitzgerald, better known to all as simply "Fitzy," and his 12-year-old son, Nolan, were rushed to Lawrence General Hospital. Nolan has a 15-stitch cut on his nose, and a broken thumb, but his father, who was transferred to Mass General Hospital, suffered extensive injuries including a broken tibia, broken femur, broken heel, broken pelvis, broken leg, and torn prostate. He has been undergoing extensive surgeries, which won't be over until the end of the week.

Now for the good news. Tom Fitzgerald, Fitzy's brother and currently assistant to the Pittsburgh Penguins general manager, told USHR that there was "no internal damage and no head trauma."

Still, Fitzgerald is reluctant to say definitively that his brother, who is heavily sedated, was out of the woods. For that, he's waiting until all the surgeries are completed, though he does report that the doctors have said that each of the surgeries performed so far has been successful. Fitzgerald, who said he'd have an update at the end of the week, also reports that his brother will probably be at Mass General for several weeks and then be transferred to a rehab for a long stretch afterward. We will have more for you in a couple of days, including an address at which to send cards. For now, the family appreciates the fact that so many in the hockey community and beyond are holding Fitzgerald in their thoughts and prayers.




Mon. 3/4/13

Some Eye-Openers in Salem
Over the course of three straight days in Salem, NH watching the prep school playoffs, we were impressed by a number of players.
That said, in putting together the list below, we have tried to avoid writing about players who we have written about extensively in the past. There is no good reason for us to state, for the umpteenth time, that Avon's Nick Hutchison has upside, or that Westminster's David Hallisey is skilled, works ultra-hard, and is a key to his team's success. Everyone who watches prep hockey knows that by now.

Instead, what we are doing here is highlighting players who a) We already liked, but now like even more, i.e guys who significantly raised their stock or b) Players we hadn't really noticed that much before but who, through their post-season performance, forced their way into our consciousness.

Here's what we have:
Terrance Amorosa, D, Jr. (Holderness/uncommitted) 6-2/190 — The junior defender from Kirkland, Quebec has been flying under the radar this season, but that is no longer the case. Senior defenseman Phil Johansson is generally regarded as the team's top prospect, but we like Amorosa more. The tall, slender defenseman is a fluid skater for a big kid and has a good stick. His game has come a long way in the last 12 months and we feel there is a good chance an NHL team will draft him with a late-round pick. D-I schools are very interested and we are told he has offers on the table.
Evan Smith, F, Jr. (Salisbury/uncommitted) 6-0/180 — The Stouffville, Ont. native was very noticeable over the weekend. We have always been high on Smith, but we feel this weekend really put an exclamation mark on his season and vaulted him to a higher level. The former Toronto Young National is a well-rounded player who plays hard in all three zones, makes great decisions with the puck, and has an excellent release on his shot. His twin brother, Mitchell, was also really good up in Salem. The line of Smith, Smith, and Derek Barach was the top line for Salisbury in Sunday's championship game.
Ethan Holdaway, F, PG (Westminster/Trinity) 5-10/172 — An absolute steal for Trinity. With a year of juniors we feel the former Glastonbury High School star would be playing D-I hockey. He is an explosive skater who drives to the net without fear. Is excellent in transition and creates a ton of scoring opportunities. Has been the top player in prep hockey over the course of the last month.
Jon Barry, D, Jr. (Thayer/uncommitted) 6-1/185 — Is the top defenseman on a good, young Thayer squad. Every now and then he makes questionable decisions with the puck, but he has a lot of skill and physical ability. Is able to beat forecheckers with his feet and is very active on the offensive blue line. A D-I defenseman.
Lewis Zerter-Gossage, F, Jr. (Kent/uncommitted) 6-2/178 — The Montreal native turned it on down the stretch and really upped his stock in the last couple weeks of the season. 6'2" forwards with hands and vision are hard to come by -- and Zerter-Gossage is just that. Kent head coach, Matt Herr, a former NHL forward, certainly can offer insight into how to play as a big man. Boo Nieves, who has an 8-18-26 line in 34 games at Michigan (tied for leading scoring on the Wolverines – as a freshman), hasn't done too badly.
Ryan Dmowski, F, Soph. (Gunnery/uncommitted) 6-0/175 — Gunnery's top goal scorer as a sophomore. The puck always seems to be on his stick. Has a knack of finding seams and being in the right place at the right time. In Friday night's game against Kent the East Lyme, Conn. native was easily Gunnery's most noticeable player. It wouldn't shock us to see the savvy winger sneak into the NTDP final 40-man camp.
Jack Fitzgerald, F, Soph. (Westminster/uncommitted) 6-0/171 — The Guilford, Conn. native is not someone who jumps off the page at you, but he consistently makes good plays. Plays hard, gets his nose dirty, and has some good offensive instincts.
Steve Cochrane, D, Jr. (Thayer/uncommitted) 6-4/200 — Back in November we would have told you there was no chance that Cochrane would be of interest to D-I and pro scouts — not anymore. The massive defender has come a longs way — and still has a way to go — but there is a lot more good to his game than bad. If the '96-born rear guard continues to improve at this rate he stands a good chance to be drafted next year.
Vincent Gisonti, F, Sr. (Westminster/uncommitted) 5-9/178 — Is undecided as to his plans for next season, but we feel he is a top junior recruit. At the end of the day we think the Montreal native will be a D-I energy forward capable of chipping in some offense. Is in a very similar situation to that of Westminster grad Chris Izmirlian, a top D-III recruit who opted for a year in the EJHL and recently committed to Yale.
Ty Amonte, F, Fresh. (Thayer/uncommitted) 5-5/140 — Scored six goals this season and three of them came in the final two games. Looked like a confident player this weekend and was a threat with the puck his stick. Has a good sense of the game, quick hands, and excellent vision. Is just waiting on some size and strength.
Brendan Soucie, F, Jr. (Kent/uncommitted) 5-10/175 — The Oak Hill, Virginia native is your classic "does nothing great, but everything good" type forward. Ended up as the leading scorer (26 GP, 16-13-29) on the second best team in prep hockey. Will be a top NESCAC recruit headed into next season.
Patrick Lackey, F, PG (Exeter/Tufts) 5-8/172 — The Tufts recruit works, works, and then works some more. The small forward is relentless on the forecheck and creates a ton of turnovers. Is a nice addition for the Jumbos.

Mass. Super 8 Results & Schedule
Seeding:
1. St. John's Prep
2. Springfield Cathedral
3. BC High
4. Austin Prep
5. Reading HS
6. Catholic Memorial
7. Malden Catholic
8. Central Catholic
Quarterfinals: First Round – Sun. March 3 @ Tsongas Arena
Central Catholic 4, St. John's Prep 1
BC High 3, Catholic Memorial 1
Malden Catholic 3, Springfield Cathedral 2
Austin Prep 2, Reading 1

Quarterfinals: Second Round –
Wed. March 6 @ Stoneham Arena
#3 BC High vs. #6 Catholic Memorial, 5:30 pm
#4 Austin Prep vs. #5 Reading, 7:45 pm
Thurs. March 7 @ Stoneham Arena
#2 Springfield Cathedral vs. #7 Malden Catholic, 5:30 pm
#1 St. John's Prep vs. #8 Central Catholic, 7:45 pm

Quarterfinals: Third Round – Sat. March 9 or Sun. March 10 @ TBD
#1 St. John's Prep vs. #8 Central Catholic
#2 Springfield Cathedral vs. #7 Malden Catholic
#3 BC High vs. #6 Catholic Memorial
#4 Austin Prep vs. #5 Reading

Semifinals – Wed. March 13 @ Tsongas Arena
Four first round winners. Single elimination.
State Championship – Sun. March 17 @ TD Garden
Semifinal Winners. Single elimination.




Mon. 3/4/13

EJHL Semifinals Schedule
The EJHL quarterfinals, held over the weekend, were all two-game sweeps, i.e. no mini-games were necessary. Bay State tied the Junior Bruins 3-3 and beat them 1-0; The Valley Jr. Warriors defeated South Shore 4-3 and 3-2; the Islanders topped Rochester 8-3 and 6-0; and the Jersey Hitmen crushed the NH Jr. Monarchs, 9-1 and 8-0.

The semifinals are up next. Here's the schedule:

Sat. 3/9
Valley Warriors @ Middlesex Islanders, 3:50 pm
Bay State @ Jersey Hitmen, 7:45 pm

Sun. 3/10
Valley Warriors @ Middlesex Islanders, 11:00 am
Bay State @ Jersey Hitmen, 1:00 pm
The finals will be played during the Beantown Classic in Marlborough, Mass. Wed. through Fri. March 13-15. A traditional best-of-three format will be utilized.

The times for those games are:
Game 1: Wed. 3/13, 7:20 pm
Game 2: Thurs. 3/14, 5:10 pm
Game 3: Fri. 3/15, 2:20 pm

Thurs. 2/28/13

Prep Championship Weekend Schedule
All games at the IceCenter; Salem, NH. Please note that, after the quarterfinals, all teams were reseeded.

Fri. March 1:

Stuart/Corkery Tournament (Open Div.)
Semifinals
#1 Kent vs. #4 Gunnery, 5:30 pm
#2 Salisbury vs. #3 Westminster. 8:00 pm

Sat. March 2:

Piatelli/Simmons Tournament (Small School Div.)
Semifinals
#1 Kents Hill vs. #4 Holderness, 10:00 am
#2 Brooks vs. #3 Tilton, 12:30 pm

Martin/Earl Tournament (Large School Div.)
Semifinals
#1 Cushing vs. #4 Exeter, 3:00 pm
#2 Thayer vs. #3 Avon, 5:30 pm

Sun. March 3:
Piatelli/Simmons Tournament (Small School Div.)
Finals, 10:30 am
Martin/Earl Tournament (Large School Div.)
Finals, 1:00 pm
Stuart/Corkery Tournament (Open Div.)
Finals, 3:30 pm

Printable Brackets/Schedule for Prep Postseason


Prior Results:

Quarterfinals
Wed. & Thurs. Feb. 27-28, 2013

Stuart/Corkery Tournament (Open):
#8 Gunnery 4, #1 KUA 1 -- final
#7 Westminster 3 @ #2 Belmont Hill 2 (OT) -- final
#6 Salisbury 3 @ #3 Berkshire 2 (OT) -- final
#4 Kent 7, #5 Dexter 1 -- final

Martin/Earl Tournament (Large School):
@ #1 Cushing 4, #8 Governor's 2 -- final
@ #2 Thayer 4, #7 St. Sebastian's 3 (OT) -- final
@ #3 Avon 8, #6 Choate 0 -- final
#5 Exeter 6 @ #4 Milton 3 -- final

Piatelli/Simmons Tournament (Small School):
#1 Kents Hill 4, #8 Millbrook 1 -- final
#7 Holderness 4, @ #2 Rivers 3 (OT) -- final
@ #3 Brooks 4, #6 Middlesex 0 -- final
#5 Tilton 3 @ #4 Winchendon 1 -- final





Thurs. 2/28/13

EJHL Quarterfinals This Weekend
Here's the EJHL Quarterfinals Schedule for this coming weekend. The format will follow the old NCAA hockey quarterfinals tournament format, i.e. if you don't advance via the traditonal two wins, you can advance by being the first team to earn three points -- a minimum of a win and a tie. However, if after two games (60 min. plus five minute OT, if necessary) both teams have one win and one loss then, after an ice cut, a 20-minute mini-game will follow. This is officially considered a totally new game, to the point that a player who didn't dress for the first two games, can suddenly appear in the lineup. If nothing is decided after the 20-minute mini game, the two teams just keep playing 20-minute periods until a goal is scored -- it's sudden death.

The Schedule: EJHL Quarterfinals.

Sat. 3/2/2013, Game 1:
Junior Bruins vs. Bay State Breakers, 2:40pm (@ Marlborough, Mass.)
Middlesex Islanders vs. Rochester Stars, 3:50 pm (@ Tyngsboro, Mass.)
Jersey Hitmen vs. NH Jr. Monarchs 5:00 pm (@ Wayne, NJ)
Valley Warriors vs. South Shore Kings, 7:30 pm (@ Haverhill, Mass.)

Sun. 3/3/13, Game 2:
Jersey Hitmen vs. NH Jr. Monarchs, 11:00 am (@ Wayne, NJ)
Middlesex Islanders vs. Rochester Stars, 11:30 am (@ Tyngsboro, Mass.)
Valley Warriors vs. South Shore Kings, 1:15 pm (@ Haverhill, Mass.)
Junior Bruins vs. Bay State Breakers, 3:00 pm (@ Marlborough, Mass.)

The following weekend, Sat.-Sun. March 9-10, the EJHL teams will play their semifinals under the same setup.

However, for the finals, which will be played during the Beantown Classic in Marlborough, Mass. Wed. through Fri. March 13-15, a traditional best-of-three format will be utilized.

The times for those games are:
Game 1: Wed. 3/13, 7:20 pm
Game 2: Thurs. 3/14, 5:10 pm
Game 3: Fri. 3/15, 2:20 pm



Thurs. 2/28/13

Sanford Makes His Choice
6'3", 190 lb. late '94 LW Zach Sanford of the Middlesex Islanders (EJHL) has committed to Boston College for the fall of '14.

A year ago, Sanford, who made his final choice from between BC and UNH (after also visiting Cornell, UMass, Northeastern, PC, Harvard, and Brown), was a relative unknown playing for Pinkerton Academy in New Hampshire.

Middlesex Islanders Head Coach Sean Tremblay, who was familiar with Sanford from seeing him at Pinkerton, as well as at New England district camps, is not surprised by the progress he's seen in his forward this season.

"Zach has an NHL stick with an NHL shot," Tremblay says. "He protects the puck really well -- when he gets his big body between the puck and the defender no one is getting it away from him. He also sees the ice tremendously well."

Tremblay says Sanford is a quick study. "I don't think he had a point for the first 20 or so games, but he has just blossomed over the last couple months."

"He is still growing too. He has to be 6'4" now. He will gain strength throughout the summer and next season. He's going to be so powerful when he steps in at BC in '14. He'll be playing in the top six there."

Sanford, who visited the Heights this morning (Thurs.) and gave the Eagles' staff the thumbs up, will return to the Islanders for his second season in the fall.

A true senior in high school, Sanford says he tries to model his game after Pittsburgh Penguins forward Evgeni Malkin. The Auburn, NH native also says that his first year in the EJ began with a period of adjustment. "It was a huge leap from high school hockey to the EJ this fall," he says "It took me awhile to get to that compete level and get adjusted to the speed. At least a month or so."

Sanford says he sees his strengths as "protecting the puck, passing, a quick release, and size." He also says he tries not to get caught up in the steadily-increasing amount of interest in his game from NHL scouts and teams. "I really just have to go out and try to improve and play my game," he says.

In mid-January, Sanford was ranked #83 among North American skaters in NHL Central Scouting's Mid-Season Rankings.

With the Islanders, Sanford, a left-shot left wing, is skating on a line with Yale recruits Chris Izmirlian (ex of Westminster) and Michael Doherty (ex of Groton). In 37 games, Sanford has a 12-24-36 line with 22 penalty minutes. He projects to be among the league leaders in points next season.

Note:
Here, from the USHR Archives, is what we wrote about Sanford nearly a year ago, from the Middlesex Islanders tryout camp.
Zach Sanford, F -- Late '94 is a sleeper who will garner the attention of NHL scouts and agents over the course of the next year. This past season the 11th grader played for Pinkerton Academy where he was named the New Hampshire Player of the Year en route to leading the Astros (yep, that's what they are called) to a state title. Stands at 6'3" and is a fluid skater with a slick set of hands. His compete level will have to be raised, but he has all the earmarks of one who could develop into a high-end prospect.
Around the Rinks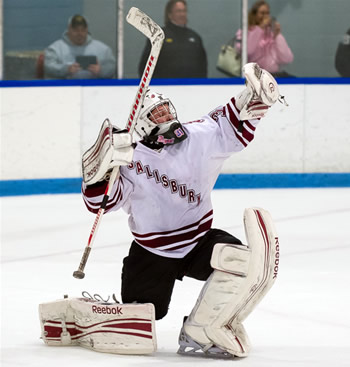 At the final buzzer of Sunday's prep title game, Salisbury sophomore G Callum Booth, who is about to get mobbed.
(Photo: Dave Arnold Photography)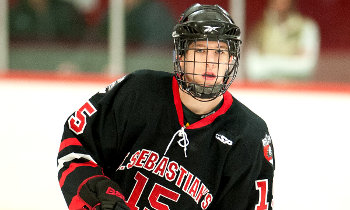 Noah Hanafin, St. Sebastian's '97-born d-man and BC recruit, is USHR's #1-ranked sophomore of the 2012-13 season.
(Photo: Dave Arnold Photography)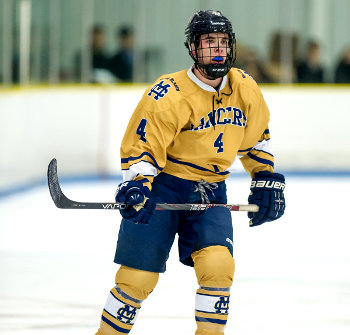 Casey Fitzgerald, Malden Catholic '97-born d-man and BC recruit, is USHR's #3-ranked sophomore of the 2012-13 season.
(Photo: Dave Arnold Photography)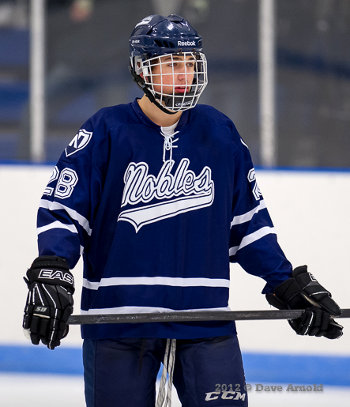 Miles Wood, Nobles forward and Brown recruit -- out for the season with a broken foot -- is USHR's #9-ranked sophomore.
(Photo: Dave Arnold Photography)