Established 1996 -- Celebrating Our 25th Year

Fri. 5/10/13

USHL Draft Notebook
The Clark Cup finals get underway tonight, with the Dubuque Fighting Saints taking on the Fargo Force. Fargo's duo of David Gust (Ohio State) and Alex Iafallo (Minnesota-Duluth) have combined for 28 points thus far in the playoffs, while defenseman Taylor Fleming has also been impressive for the Force, producing a 1-7-8 scoring line in eight games played. Fleming, a 5'10" '93 birthdate, recently decommitted from Air Force, and is a hot commodity. Here is what we had to say about Fleming back in September, "A player who we had planned to rank in our list of top 25 uncommitted USHL players - but then he committed to Air Force (at the Fall Classic). The Waconia, Minn. native will QB Fargo's PP. He's smart, he's intelligent, and he has a good stick."
Dubuque meanwhile is getting consistent production from their top three lines, with Yale recruit Frankie DiChiara leading the way with a 3-7-10 scoring line in eight games. The real story for the Saints has been netminder Arthur Brey, USHR's top uncommitted prospect. The rookie out of Yorba Linda, California has been solid between the pipes, posting a 6-1 record along with a .929 save percentage and a 1.81 GAA. Should Dubuque win the title it will be head coach Jim Montgomery's second championship in his three years there.
Speaking of the USHL, both the Futures Draft and the regular draft took place this week. We will not even begin to attempt to explain how the USHL drafts work (a full explanation can be found on the league's website), but, in a nutshell, the former Futures Draft, which the league is now referring to as the "Phase 1" draft, is limited to '97-born players, while everyone else is eligible for the the league's regular draft, now dubbed the "Phase 2" draft. Makes it sound like the players are all in clinical trials, doesn't it?
As for the Phase 1 draft – i.e., the '97s -- Cushing's Cam Askew, who was tendered by the Indiana Ice back in the fall, went into the books as the #1 overall selection. The Boston University recruit and South Boston native is being tugged in every direction as Cushing head coach Rob Gagnon is trying to convince him to return for his sophomore year; the Indiana Ice are clearly committed to having him in the USHL next year; and the QMJHL draft, in which he is a potential #1 overall pick, is on the horizon.
Other New England players selected in the Futures Draft were:
Donovan Ott, F, Selects Hockey Academy (1st round, Sioux Falls)
Charlie Kelleher, F, Boston Jr. Bruins U18 (3rd round, Cedar Rapids)
Spencer Young, D, Phillips Exeter (3rd round, Dubuque)
Austin Rook, D, Rivers (4th round, Des Moines)
Cal Burke, F, Nobles (4th round, Cedar Rapids)
Cam Lee, D, Northwood (4th round, Muskegon)
Ryan Smith, F, Northwood (4th round, Green Bay)
Chase Harwell, F, Selects Hockey Academy (4th round, Dubuque)
Callum Booth, G, Salisbury (5th round, Muskegon)
McKay Flanagan, D, CT Oilers U16 (5th round, Cedar Rapids)
Lincoln Griffin, F, Thayer (5th round, Dubuque)
Erik Foley, F, Tabor (6th round, Cedar Rapids)
Liam Darcy, D, Berwick (6th round, Green Bay)
JC MacLean, F, Delbarton (7th round, Omaha)
Elijah Harris, G, Austin Prep (7th round, Dubuque)
It is also worth noting that the Russian imports that turned the Wilkes-Barre/Scranton Knights, a team that USHR has covered extensively, into an overnight powerhouse were also selected in Tuesday's draft. Defenseman Ivan Provorov (1st round, Cedar Rapids) and forwards Dennis Smirnov (2nd round, Indiana) and Nikita Pavlychev (3rd round, Des Moines) will all make an impact next season as 16-year-olds. The question is whether or not they will stay in the USHL for the following season -- 2014-2015 -- or whether they bolt for the CHL as soon as they are eligible for the CHL Import Draft. Pavlychev is a 6'5" skilled center who has 1st round NHL draft potential while Smirnov is small -- 5'8" or so -- but could lead the league in scoring if he stays and plays two years, much like Waterloo scoring machine Taylor Cammarata, who jumped from 69 points his first year to a league-leading 93 this season.
In the actual draft – i.e Phase 2 -- the Indiana Ice held the #1 overall pick and used it to select 6'3", 180 lb. '95-born forward Aidan Muir from the Victory Honda U18s. The Saline, Mich. native finished tied for 22nd in the Tier-1 Elite League scoring race with a 17-23-40 scoring line in 37 games played, but lifted his game in the playoffs, posting a 4-3-7 scoring line in just four games. The Western Michigan recruit was not ranked by NHL Central Scouting at the mid-term, but was rated as the #108 North American skater in the final rankings.
Below is a list of the New England players selected, many of whom will be playing for the club that selected them next season.
6. Brian Pinho (Indiana), '95, F, St. John's Prep
8. Haralds Egle (Muskegon), '96, F, Portland Jr. Pirates-EJHL
15. Ryan Segalla (Dubuque), '94, D, Salisbury
18. Merrick Madsen (Des Moines), '95, G, Proctor
22. Connor Light (Omaha), '95, D, Phillips Andover
28. Zach Sanford (Waterloo), '94, F, Middlesex Islanders-EJHL
30. Liam Coughlin (Dubuque), '94, F, Catholic Memorial
34. Danny Tirone (Cedar Rapids), '94, G, Loomis
37. James Winkler (Muskegon), '96, F, Berwick
53. Jake McCarthy (Muskegon), '96, D, St. Sebastian's
56. Garrett Hehir (Lincoln), '93, F, Cushing
59. Shane Starrett (Sioux Falls), '94, G, Selects Hockey Academy
66. AJ Greer (Des Moines), '96, F, Kimball Union
74. Daniel Fritz (Sioux Falls), '95, D, Canterbury
82. Karl El-Mir (Indiana), '96, F, Selects Hockey Academy
90. Josh Melnick (Youngstown), '95, F, Delbarton
93. Kevin Duane (Des Moines), '94, F, Boston Jr. Bruins-EJHL
94. Terence Amarossa (Sioux City), '94, D, Holderness
96. Mike Lee (Tri-City), '96, D, Gunnery
100. Aaron Titcomb (Cedar Rapids), '93, D, Salisbury
105. Shane Kavanaugh (Dubuque), '95, F, Cushing
111. Connor Brassard (Chicago), '95, D, Cushing
120. Mark Hamilton (Dubuque), '94, D, Salisbury
121. Michael Ederer (Indiana), '96, F, Nichols
140. Mark Dufour (Cedar Rapids), '95, F, Kents Hill
165. David Belluche (Dubuque), '95, D, Phillips Andover
170. Carlos Fornaris (Cedar Rapids), '95, F, NMH
177. Carl Hesler (Waterloo), '94, F, Belmont Hill
180. Rob Marsanico (Dubuque), '96, F, Don Bosco-NJ
182. Trevor Yates (Tri-City), '95, F, Deerfield
191. Miles Gendron (Lincoln), '96, F, Rivers
207. George Mika (Waterloo), '96, F, Boston Jr. Bruins U16
210. Evan Smith (Dubuque), '96, F, Salisbury
212. Max Prawdzik (Tri-City), '97, G, Brooks
213. Brendan Shane (Des Moines), '96, F, Gunnery
222. Niko Rufo (Green Bay), '94, F, Kimball Union
225. Mitchell Smith (Dubuque), '96, F, Salisbury
226. Michael Turner (Indiana), '95, F, Cushing
230. Tyler Sifferlen (Cedar Rapids), '95, F, Malden Catholic
237. Mason Krueger (Waterloo), '94, F, Avon
246. Vincent Ditmore (Chicago), '97, D, Choate
256. Tyler Augustinsen (Indiana), '97, F, Selects Hockey Academy
257. Tyler Bird (Tri-City), '96, F, St. John's Prep
265. Ryan Rosenthal (Green Bay), '93, F, University of Vermont-HE
266. Nick Rutiglianoe (Lincoln), '96, D, Boston Advantage U16
272. Andrew Cross (Tri-City), '96, D, Austin Prep
274. Tyler Drevitch (Sioux City), '95, F, Boston Bandits-EJHL
275. Dakota Ford (Cedar Rapids), '95, D, Middlesex Islanders-EJHL
279. Colin MacGillivray (Youngstown), '95, D, NH Jr. Monarchs-EJHL
280. Chad Krys (Green Bay), '98, D, Connecticut Oilers U16
285. Will D'Orsi (Dubuque), '96, F, St. Sebastian's
290. Lane Valimont (Cedar Rapids), '94, D, Avon
300. Nolan Vesey (Dubuque), '95, F, Austin Prep
303. Adam Fox (Des Moines), '98, D, Long Island Gulls U14
307. Joel Daccord (Omaha), '96, G, Cushing
309. Sam Tucker (Youngstown), '96, G, Choate
310. Charles Corcoran (Green Bay), '95, F, Berkshire
345. Cole Maier (Dubuque), '95, F, Taft
348. Joe Lissak (Des Moines), '96, G, Taft
366. John Adams (Chicago), '97, F, Malden Catholic
367. Luke Stevens (Omaha), '97, F, Duxbury HS
374. Mike Menter (Sioux Falls), '95, D, Middlesex
378. Connor Moynihan (Des Moines), '97, F, Middlesex Islanders U18
382. JJ Layton (Omaha), '97, D, Austin Prep
384. Charley Borek (Youngstown), '96, F, Choate
***
In other news, the Bangor Daily News has reported that both Jim Tortorella (UNH associate head coach) and Red Gendron (Yale associate head coach) have interviewed for the head coaching position at Maine University.

Thurs. 5/30/13

Cavanaugh Building Huskies' Staff
Newly-appointed UConn bench boss Mike Cavanaugh has tabbed current Brown University assistant coach Mike Souza for the Huskies' staff.
A Wakefield, Mass. native, Souza is still fairly new to the coaching scene, having only been at Brown for two years. He played pro hockey for 11 seasons prior to being hired to Brendan Whittet's staff in the summer of 2011. The Chicago Blackhawks 3rd round draft pick in 1997 was a four-year standout at the University of New Hampshire, compiling 156 points in his career. His best year was '98-99 when he torched Hockey East for 65 points en route to the NCAA finals, falling short to Maine in OT. Souza will be responsible for much of the recruiting at UConn and will also work with the forwards and special teams. Other names we heard were in the mix for this position were Albie O'Connell, who was reportedly pursued by Boston University as well, but has decided to stay put in Cambridge; UVM's Kyle Wallack, and Josh Ciocco (Milton Academy/USHR).
Cavanaugh still has one other position available on his staff. We are told that as soon as he won the job Cavanaugh approached former Bowling Green head coach Scott Paluch about the opportunity of coming to Storrs to be his right hand man in building the Huskies into a contender. The two are longtime friends and worked together at Boston College for seven seasons. Apparently, Paluch is in no hurry to jump back into the rat race as he has a stable situation as an ADM District Manager with USA Hockey. Who, then, is next in line? Our hunch is that Mike Mottau is the guy. The former Hobey Baker award winner and Boston College alum has been playing pro hockey for the last 13 years and would have to be pulled away from the game. The 35-year-old was a finalist for the Boston College job, which would have been a comfortable transition as Mottau has a house in Duxbury, Mass. One other name that keeps popping up in relation to UConn is Dave Peters. The Dartmouth associate head coach has been with the Big Green for 13 years and is regarded as one of the top recruiters in the business. While Dartmouth has not been stockpiling trophies over the years, their list of NHL alums is staggering. Peters has always had the ability to identify and recruit talent that the big name scholarship schools often overlook.
***
Mike Souza is not the only UNH alum to land a Hockey East job this week as Mike Ayers has accepted a position on the staff of Boston College. He will take the place of Cavanaugh and Jim Logue, who has retired.
The Hingham, Mass native has spent the past two seasons with the NTDP as the goalie coach. Prior to his work with USA Hockey the former All-American netminder worked as a volunteer coach with St. Cloud State. The Chicago Blackhawks draftee was a three year starter for UNH and had his best season in '02-03, posting a 27-8-6 record with a .926 save percentage, won the Hockey East championship, and lost to the University of Minnesota in the national title game. Ayers then went on to play four seasons of pro hockey with stops in the ECHL, AHL, Denmark, and Sweden before embarking on a career in coaching.
Reportedly, BC head coach Jerry York wanted a goalie guy, and with Ayers he got one of the best. Other finalists who interviewed for the job were former Eagles Mike Mottau, Ben Eaves, Jeff Giuliano, Brendan Buckley, former UNH goaltender Ty Conklin, and Souza.

Thurs. 5/30/13

A New Era at Lawrence Academy
Robbie Barker has taken over head coaching duties at Lawrence Academy, replacing Kevin Potter, who is remaining at the school as athletic director. Barker, previously the head coach at Cardigan Mountain, was brought in prior to the start of this past season with the expectation that he would eventually take over for Potter.

Potter, formerly at North Yarmouth Academy, took over the Lawrence program in the fall of 2004 and was behind the Spartans bench for nine seasons, In 2012, a senior-laden team led by forwards Devin Tringale, Tyler Whitney, and Matthew Baldino, defenseman Jacob Schechter, and goaltender Nathaniel Heilbron posted a 25-3-3 record en route to the school's first-ever New England prep school championship. Last season was one of transition for Potter, who has been juggling his roles as AD, head hockey coach, and father.

Barker, a Concord, NH native, is a Lawrence alum. In his senior year, '99-00, he was a three-sport captain, lettering in football, hockey, and lacrosse. After graduating, the bruising defenseman went on to play a season in the USHL for Sioux Falls before enrolling at the University of New Hampshire, where Barker played in four NCAA tournaments, won two Hockey East regular season titles, two Hockey East tournament titles, played in two Frozen Fours, and was part of one of the most successful classes in UNH history, winning 104 games over his four years.

Fri. 5/24/13-Update: Yale associate head coach Red Gendron will be named the new head coach at the University of Maine.
The Rumor Mill
There are a number of high profile jobs in Hockey East to be had right now and there is certainly no shortage of talk and speculation in the hockey community. Who will be the next head coach at Maine? Who will take Mike Cavanaugh's position at Boston College? Who will fill the opening at Boston University, vacated when Mike Bavis resigned last week?
What follows is our take on the situation, based on informed speculation we've heard around the rinks.
University of Maine Athletic Director Steve Abbott reported this week that the Black Bears will have a new head coach next week. What this means is that someone could be offered at any minute. The Bangor Daily News reported a short list of candidates consisting of UNH associate head coach Jim Tortorella, Yale associate head coach Red Gendron, former Ohio State head coach Mark Osiecki, and Maine associate head coach Bob Corkum. But there could be another candidate in former Denver coach George Gwozdecky, who was most recently a candidate for the UConn job that went to Cavanaugh. His name has been bandied about late this week.
The wild card in the discussion – and it's probably nothing but that -- appears to New York Islanders head coach Jack Capuano. Capuano lives in Bangor in the offseason and has two children who both attend the University of Maine. While we are certain that the administration would love to steal a coach away from the NHL, it does not appear to be realistic, at least at this point. Tim Whitehead, who was the bench boss for 11 seasons, earned $190,000 annually. While NHL coaching salaries are not necessarily shared with the public, the general consensus is that they earn somewhere in the range of $1,000,000 a year. Capuano's contract is said to be up this year and one would think that the former Black Bear defenseman has quite a bit of leverage to negotiate a handsome contract on the Island. The Islanders made the playoffs for the first time in six years and had an impressive showing against the Eastern Conference's top team, the Pittsburgh Penguins. It would seem that from a career perspective that now Capuano would be unlikely to make the move to the NCAA right now.
One final name that we have heard mentioned in connection to the Maine job is Toronto Maple Leafs assistant coach Greg Cronin. The Arlington, Mass. native spent four seasons as an assistant up in Orono on Shawn Walsh's staff and is very familiar with the college game, having served as Northeastern's head coach from 2005 to 2011. Cronin is more of a "city guy" and has a pro hockey mentality. With that in mind it is highly unlikely that he shifts his career back into college. One thing we will say is that the search committee has worked hard to keep the candidates' names under wraps. Black Bear nation will not have to wait much longer though. We expect that Maine will have an announcement right after the Memorial Day weekend.
Jerry York has not had an opening on his staff since 2004 when he hired Greg Brown, who at the time had no coaching experience and was coming in fresh out of pro hockey. Will the Eagles take the same approach this time around? If they do, three names have been discussed. First is 35-year-old Mike Mottau. The Hobey Baker award winner in 2000 is a former BC captain who is at the tail end of his playing career. The Quincy, Mass. native has 313 NHL games under his belt and is rumored to be looking for a coaching gig, having spent this past season in the minors. Next is Jeff Giuliano who played for the Eagles from '98-'02 and was named team captain as a senior. The 33-year-old native of Nashua, NH has 101 NHL games to his credit and has spent the last four seasons playing in the top league in Germany. Finally, one of BC's favorite sons, Ben Eaves, could be someone that York is pursuing. The 31-year-old is a two-time captain for the Eagles who graduated back in 2004. Eaves was one of the smartest college hockey players this typist has ever seen, but his career has been hampered by injuries every step of the way. The son of University of Wisconsin head coach Mike Eaves has spent the past three seasons playing in the top league in Finland.
We have not confirmed that any of these three BC alums are interested in the position, but we are confident that if the Eagles do pull someone out of pro hockey it will be one of them. Jobs on Chestnut Hill do not present themselves very often, and, much like Brown did back in '04, we would expect someone to give up their final playing days for the opportunity to learn from college hockey's most successful coach.
One final name that we have also heard consistently for the BC assistant's post is that of NTDP goalie coach Mike Ayers. The 33-year-old has spent the last two seasons mentoring the nation's top young goalies with the NTDP. The Hingham, Mass. native was an All-American at UNH and does assist the NTDP with scouting duties—meaning he has a better handle on the talent pool than the alums that are still playing hockey for a career. BC fans will likely be up in arms at the thought of hiring an outsider, but there is a reason here folks. Longtime goalie coach Jim Logue is said to be considering retirement and Ayers presents an opportunity to kill two birds with one stone.
Talk on the other side of the tracks have been very quiet. Newly appointed Terrier head coach David Quinn has a job to fill, but it is anyone's guess as to what direction he is leaning. With Buddy Powers still on board, Quinn already has someone with a firm grasp on what is going on in the recruiting world and is likely in no rush to fill the position. It was widely assumed that current Harvard assistant coach and BU alum Albie O'Connell would be changing offices, but there has been no evidence as of yet to support this. Two names that have been discussed are former NHL veterans and BU alums Mike Grier and Scott Young. Grier resides in the Boston area and is said to be interested in coaching—whether that is in college hockey or pro hockey is yet to be determined. The former St. Sebastian's power forward is a veteran of 1,060 NHL games and was on the ice at BU daily during the lockout putting local NHL players through on-ice workouts. He is just two years removed from the game. Young is currently the head coach at St. Marks and we personally think it is unlikely he will make the move. That said, the Clinton, Mass. native is a former teammate of Quinn's and the two are said to be good friends. Young certainly has a wealth of knowledge, having played 1,181 NHL games. He has been coaching for the last two years in the prep ranks.

Wed. 5/22/13

Atlantic District Looking Strong Again
USHR spent the past weekend at the Atlantic District Festival tryouts at the Ice Line in West Chester, PA. We did the same thing last year and, as you may recall, noted how far and fast the district has progressed in terms of routinely developing significant numbers of top college and pro prospects. One reflection of this is the number of highly qualified coaches serving as evaluators, with Curtis Carr (Merrimack), Matt Lindsay (Penn State), John Rose (Dartmouth), Scott McDougall (Sacred Heart), Andrew Will (Salisbury), Dale Reinhardt (Kent), Bruce Wolanin (Pomfret), Matt Greason (Trinity) and others all on hand over the weekend. A big plus for USHR was being afforded an inside look at the evaluation process and the group effort that goes into picking these teams.
While it is commonplace for players to get cut and blame "politics," what we witnessed in West Chester is a district doing everything possible to flush out political influence and simply send the best players on to Buffalo to represent the district. We saw no personal agendas inside the "war room." What we did witness was a lot of interesting, healthy, and necessary discussions. Mistakes are inevitable. There is no science to picking these teams. Players develop physically at different rates. Some are playing their best hockey now while others are just scratching the surface of their potential. It is always easy to point out the misses, but what is rarely considered is what went into the decision-making process and how were the so-called "mistakes" made.
Was Johnny Gaudreau unfairly cut by the Atlantic District as a 14, 15, and 16-year-old? When he finally made it to the festival at 17 he led the camp in scoring and has since gone on to be a dominant player at Boston College and a Calgary Flames (NHL) draft pick. But as a 16-year-old he was literally 5'2", 100 lbs. His limbs were too short, and he could not keep up. He was not strong enough to protect the puck, and was rendered ineffective by bigger, stronger, and faster defenders. Instead of blaming politics, "Johnny Hockey" stuck with it and when he was big enough, strong enough, and fast enough he made the team and has since gone on to what is obviously great success, like winning gold at the World Junior Championship in January. Gaudreau did not write off USA Hockey. He worked at his game, stayed positive, and returned to tryouts each year. There are kids who will get cut from the festival in the coming months. Instead of picking up the phone and blaming others, we would encourage them to stick with it. In time, it will pay off.
USA Hockey does not supply evaluators with a handbook on how to pick the teams. The Atlantic District is run by John Riley, a scout for the Philadelphia Flyers, a former Div. I assistant, and a teacher and coach at Fairfield Country Day School. Riley's method is simply to put an unbiased staff together, encourage everyone to speak up and express their opinions, and trust that, in the end, the right decisions will be made. This weekend we witnessed two interesting situations. Both involved performance vs. potential. Player "A" had a better camp, but player "B" will probably be the better player in the long run. Who do you send through? USA Hockey's money is better invested in developing player "B," but player "A" had a better showing at camp and earned the spot. What do you do?
We saw it go both ways. In one instance, the group decided to go with the kid who had the better camp. In the other instance, the group unanimously decided to send the kid with more potential. There is no right or wrong answer. We took in the discussion of performance vs. potential this weekend, and it's a fairly sure thing that every other district will likely encounter the same discussion this year – every year, really. At the end of the day, it's USA Hockey's show. The reason money is invested into each district is because USA Hockey wants to not only help develop the overall player pool but also bring together the best players in the country in order to evaluate, rank, and track them, with the final goal of identifying which players will best represent the US at international events. We would like to thank the Atlantic District not only for giving us an inside look at the process, but for allowing us to write about it. The district's transparency is refreshing.
As for what we saw on-ice, the player evaluations that follow are ours alone and do not necessarily represent the views of the Atlantic District and/or USA Hockey. While the age group we focused on most intently was the '99s, we did our best to catch as much of the '98s as time allowed.

The '98s will be heavily scouted in the next 12 months and we would imagine that quite a few will be committed to top colleges before long. The '99s are still a year away from all that. In the meantime there is a lot of talent that would be of particular interest to prep schools, family advisors, et al.

These are the players we feel really separated themselves from the pack.

'98s:
Shaun Bily, F (Honeybaked U14) — Pronounced 'By-Lee' and, in our opinion, was the top forward in his age group. Bily has won a national title at the pee-wee level with the New Jersey Colonials and again this year with Honeybaked. His team this year was absolutely loaded and had numerous high-end kids and, while he still stood, his impact was a bit overshadowed by the likes of Nick Pastujov and Patrick Khodorenko. Bily is tall, incredibly skilled, sees the ice, and has a nice upside. Is someone we expect the NTDP will take a long look at. Also, do not count out the OHL, as they are certain to take a run at him.
Cameron Dineen, D (Comcast U14) — We have written about Dineen on a few occasions and have always liked his game, but we were told this weekend that he is easily the most improved player in the district, and that his game has really started to blossom. While he does not have the size that would make you think "pro" when you see him, his stick, poise, and vision are top notch -- you can just tell that he is going to be a nice D-I player. Will likely be in the upper echelon of defenders at the 15 Festival, and we would project that he is also someone the NTDP will watch closely.
Griffin Luce, D (Elgin Middlesex) — An absolute man-child. A dual citizen who currently lives in Ontario, Luce is using the Atlantic District as a means of routing himself to the Select 15 Festival. The son of Scott Luce, Director of Scouting for the Florida Panthers (NHL), will be headed to Salisbury in the fall where we would expect him to have an immediate impact. Luce is big at 6'3", strong, and skates well for someone his size. Is able to carry the puck end-to-end while playing with his peers, but we think he will develop into a mean, shut-down defender who can log a lot of minutes and make life difficult for the opposition. Has 1st round OHL draft potential, but thus far has done everything to give the impression that he will be going to college. After all, it is incredibly rare for an Ontario native to leave home during his midget minor year. The NTDP will have a lot of interest in bringing him aboard as well.
Dante Palecco, F (North Jersey Avalanche U16) — Highly skilled forward will be making the move over to the Long Island Gulls this year. Palecco is streaky, but when he is on he is pretty darn good. Has a quick shot release and is an absolute marksman. Scored a highlight reel goal as he was able to corral a puck without stick handling it, get a shot off under pressure, and put the puck short side right under the bar — a very skilled play.
Kyle Wellar, F (Team Comcast U14) — Tall, lanky, and a very fluid skater. Was just OK here over the weekend and did not make a consistent impact. That said, he has all the tools to be a D-I player and we would guess that he is only going to get better as he fills out and gets stronger. We will be interested in seeing how he performs against the country's best.
Simon Butala, D (Junior Flyers U14) — A nice defenseman who brings a little bit of everything to the table. He is a pretty big kid at 6'1" and he can skate and handle the puck with confidence. Not sure that he is someone who will be a PP specialist as he moves up the ranks, but he could develop into a strong defender who makes a nice first pass.
Ryan Bogan, D (NJ Devils U14) — We had overlooked Bogan in the past, but he was good here. Has size at 6'0" and is a solid skater and does not get beat in 1x1 situations. Is someone you want on your team. A reliable defender who flies under the radar, Bogan offers up a very consistent level of play. Also plays for Christian Brothers Academy.

'99s:
Derek Contessa, F (NJ Devils U14) — It is amazing how much better a player at this age looks when he plays up all season and then drops down to his own age group. At the bantam major level this year Contessa appeared to have an upside, but looked a step slower than the top tier players and was not able to be a dominant player at all. With his own age group he is dominant and was the top forward by a good deal. He is already about 6'1" and looks like a young James van Riemsdyk. Has all the potential in the world and is only going to get better. A name you will be hearing in the future.
Tyler Inamoto, D (NJ Colonials) — Is going to be a very good defenseman. Is already about 6'0" and it does not appear that he is done growing. A good skater who defends well and brings some offense to the table, Inamoto already has a contingent of family advisors seeking to represent him. Will be making the move out to the #1-ranked Chicago Mission next year. A ton of upside here.
Josh Maniscalco, D (Team Comcast) — Comcast finished as the #4-ranked team in the country with a 60-6 record, and, in our opinion, Maniscalco was their top defenseman. He has good size and is a smooth skater. When he wants to, he can dominate. Took the puck coast-to-coast with ease on a number of occasions here.
Marc DelGaizo, D (New Jersey Rockets) — Is pretty small and may lack the upside of the players mentioned above, but this kid is going to be a very good defenseman. Has fantastic vision and is able to make a lot of plays from the backend. Projects as someone who will thrive on the PP and could play a quarterback role as he progresses. Is young, but has the tools to be a D-I player.
Carson Briere, F (Team Comcast) — The son of Daniel Briere (Philadelphia Flyers-NHL). Is on the small side and really lacks speed. Looks like he is carrying around some baby fat. That said, once he loses that baby fat, which he will, we think his game is going to take off. With the possible exception of DelGaizo, there was not a player here with better puck skills. Much like his father, he understands hockey and has a great feel for the game. He's a true playmaker. Will shoot up this list once he 'leans out.'
Mike Lagana, D (NJ Devils) — Tall and smooth. A good combination for any 14-year-old. Does not play with the same amount of confidence as the three defenders mentioned above, but his upside is just as high. A good skater who is only going to get better. Keeps things pretty simple and defends well.
Steven Agriogianis, F (NJ Colonials) — Has a short and awkward stride and at first glance is very rough around the edges. That said, he may have been the most productive player here. The more you watch him, the more you love his game. He really gets after it, and works incredibly hard. Is a goal scorer now and we think he will continue on that track. Has that knack that you can't teach. Already uses defenders as a screen when putting pucks on net.
Evan Barratt, F (Team Comcast) — Good-sized kid who is strong, drives the net hard, and can really move once he gets going. Is likely a top scorer right now, but we think his future will be that of someone who is difficult to play against and can provide some offense.
Jonathan Bendorf, F (Mercer Chiefs) — Big kid with a lot of hockey sense. His feet are not that great and he may be another young forward who is playing with some added weight, but his hands, vision, and ability to make plays are very good. As he matures, gets stronger, and trims down we think he will be very good.
Kyle MacLean, F (NJ Colonials) — Is small and slight right now, but is also slippery, skilled, and has a quick stick. Is the younger brother of Delbarton forward JC MacLean and the son of former NJ Devils head coach John MacLean. Both his brother and his father are over 6'0", and when Kyle begins to shoot up in height we think his stock will follow.
Conner McMenamin, F (Jr. Flyers) — Regarded as one of the top players in the district, McMenamin is heading out to Shattuck-St. Mary's in the fall. We felt that he was just OK here. His stick is very good and it was evident that he knows what to do with the puck in the scoring area. That said, we think his skating is very average and that his feet may hold him back as he moves to higher levels.
Albert Washco, F (Jr. Flyers) — Small, but skilled and crafty. A smart hockey player who got better and better as the weekend went along.
Travis Yawger, F (NJ Devils) — A tall kid who works hard and is productive. Creates a lot of turnovers and is persistent on loose pucks.
Robert Filaska, F — Not sure what team he plays for, but he is very tall, gangly, and has some potential. Looks like a baby deer out there -- no leg strength. He has good offensive instincts, though, and will be a different player when he matures physically.
Colin Felix, D (Team Comcast) — A smart defenseman who makes sound decisions each time the puck is on his stick. Does not jump out at you, just quietly plays mistake-free hockey.

Fri. 5/17/13

Bavis Resigns at BU
Associate Head Coach Mike Bavis, after 15 years on Jack Parker's staff at Boston University, has reportedly resigned from new head coach David Quinn's staff after less than two months on the job.

All spring, sources have indicated to USHR that Quinn and Bavis weren't see eye-to-eye on numerous aspects central to the direction of Boston University hockey.

Quinn and Bavis had overlapped for five years on the BU staff – from '04 through the championship spring of '09 – so there was a considerable degree of awkwardness to the current situation that, if not rooted in, was certainly compounded by the fact that the two men were both candidates for the head coaching job that opened up when Parker announced his resignation on March 11. However, 15 days later, the job went to Quinn. Bavis, who was heavily invested – both emotionally and in service time – to BU hockey, was reportedly deeply upset that he didn't get the head job.

USHR put in phone calls to both Quinn and Bavis seeking comment, but didn't hear back. We expect there will be an announcement next week.

Bavis, 43, a Terrier winger from '89-'93, is so identified with Boston and BU hockey that it is hard to imagine him elsewhere. However, four USHL head coaching jobs are open and it's highly possible that Bavis is in the running for one of those positions. In addition, the University of Maine position is open. And, of course, more openings will be created as those jobs get filled.

Fri. 5/17/13

Strelow Camp Review
Last weekend, in Ann Arbor, Mich., USA Hockey sponsored its annual Warren Strelow National Team Goaltending Camp, now in its sixth year.

The four-day elite camp featured 25 top goaltenders in the age groups eligible for international play – '95s, '96s, '97s, and '98s. The camp is run by Mike Ayers, the U.S. National Team goaltending coach, and included a large group of coaches highly regarded for their work with goalies. No one knows goalies like goalies, so we consulted with a number of them to get their learned opinions, which, of course, are subjective, meaning they do not necessarily represent the views of the coaches as a whole. They also do not mean any netminder mentioned necessarily has an upper hand when it comes to National Teams. Much of this camp centered around instruction and development.

Warren Strelow, in whose honor the camp is named, worked as the goaltending coach for the University of Minnesota, the 1980 and 2002 U.S. Olympic teams, and several NHL teams. He died in 2007 at the age of 73.

As we mentioned, there were 25 goalies on hand. By birth year, there were two '95s, five '96s, twelve '97s, and six '98s.

Here are ten who shined.


'98s:

Ryan Edquist, '98 (Shattuck-St. Mary's) -- Was hands-down the top performer amongst the youngsters. Only about 5'10" or so, Edquist is highly athletic and a fantastic skater. What sets him apart from his peers is his puck focus. He rarely loses sight of the rubber and, because of this, is always in excellent position. Has big-time D-I potential. Is an early favorite for the NTDP in '14-15.
Liam Moore, '98 (Governor's) -- A pleasant surprise. Really held his own against other top goalies with stronger pedigrees. Moore is absolutely massive in the net and uses his size to advantage. What stood out most about him was his steady improvement as the camp went along. Made huge adjustments, and was very coachable. Needs to learn to read the play better and continue to work on his quickness. His game could really take off.


'97s:
Luke Opilka, '97 (NTDP) -- Was the top goalie amongst the '97s, which was no surprise. You can tell that he watches a lot of NHL goalies and emulates them as he has that pro style. His edge work is outstanding, already better than some D-I goalies. Is very explosive. Has a ton of potential.
Bailey Seagraves, '97 (Ohio Junior Blue Jackets) -- Not a whole lot separates Seagraves and Opilka. The biggest difference is size, as Seagraves is about three or four inches shorter. An elite skater who exhibits great edge work, Seagraves' sets himself apart with his poise in the net. He can really wait out shooters and is not easily fooled. A top D-I prospect.
Vaughan Ahrens, '97 (Wayzata HS) -- Big, strong, and fundamentally sound. Outstanding presence in tight. A controlled goalie, he makes difficult saves look easy. Needs to improve his hand speed as elite shooters were able to find some holes up high.
Tyler Parson, '97 (Little Caesar's) -- Very tall goalie with great fundamentals. A hard worker who competes like a dog. Has a thirst for knowledge. Very coachable.


'96s:
Alex Nedeljkovic, '96 (Plymouth Whalers-OHL) -- Parma, Ohio native is a superstar in the making and was arguably the top goalie here. His compete level is unmatched. He is always in complete control of his body, and has superb puck-tracking abilities. Had a 19-2-2 record this year in the OHL as a 16-year-old. Very well could be USA Hockey's goalie of the future at international events.
Ed Minney, '96 (NTDP) -- At 6'4" he covers a lot of net and is an imposing figure for shooters. Has great net presence and has gotten better under Ayers. Still seems to be in the process of trying different types of styles. Once he figures out which positional framework suits him best, his game could take a quantum leap.


'95s:
Evan Cowley, '95 (Wichita Falls-NAHL) -- We recently ranked the 6'5" netminder as the second-best uncommitted goalie available (behind only Dubuque's Arthur Brey). Cowley had a really impressive showing here and was in contention for top goalie honors. Has the potential to be a very good starting goalie at the D-I level. Will be drafted into the NHL and would be a steal if he makes it to the 5th round.
Thatcher Demko, '95 (NTDP) – Has excellent size, and exhibited great net presence, and maturity. Has the ability to be the starting goaltender for Boston College right off the bat next year. The one knock on Demko is that he can still learn a lot when it comes to using his size effectively. He should also work to avoid winding up on his stomach as much as he does – it's great on the highlight tape, but doesn't help with his consistency.

Tues. 5/14/13

Young Guns Showcase Review
USHR spent some time this past weekend at the Young Guns '98 Showcase at the University of Vermont. UVM assistant coach Kyle Wallack and Connecticut Wolf Pack coach Pete Alden organized the event, which was well run and featured a bounty of talent. The players who stood out for us are listed below. Many names will be recognizable to USHR readers, as we have previously covered a lot of the top players in this age group. But there are new players, too, so please read on.

The showcase was comprised of all 98's, with the exception of one '97.
Patrick Harper, F, '98 (Connecticut Oilers) 5-6/138 — Yes, he is very small, but man can he make plays. The crafty forward has exceptional stick skills and is able to make plays at top speed -- and under pressure. He is not going to need to get much taller to make an impact at the D-I level; he just needs to fill out. After being heavily recruited by prep schools he has decided to stick with the Connecticut Oilers for another year and play U16 hockey again.
Sam Sternschein, F, '98 (Long Island Gulls) 6-1/165 — Was placed on the same team as Harper and the two were dominant at times. Sternschein is tall, skilled, and projects well. Still needs to add a little more "get up and go" to his skating, but there is no doubt he is a prospect worth keeping tabs on.
Liam Murphy, F, '98 (Avon Old Farms) 6-0/195 — When we watched Murphy a year ago we felt that his skating could be an issue moving forward. That has been addressed. His skating looked powerful and explosive here. Gets his nose dirty and plays hard. We don't know if he will ever be a high scorer at the D-I level, but he has the potential to be an impact player. Is kind of like the Milan Lucic of the '98s. Is Avon's top recruit for next season.
Chris Grando, F, '98 (Long Island Gulls) 5-8/140 — We watched the Gulls play quite a few times over the course the season and never really noticed Grando. Perhaps we were so fixated on like the likes of Adam Fox and Sternschein that we overlooked him. That said, Grando is a heck of a player. He has quick feet, a quick stick, and makes things happen. A D-I prospect.
Greg Hendrickson, F, '98 (Team Comcast) 5-9/162 — Is not someone who is going to jump out at you, but the more you watch him the more you like him. A very intelligent player who makes the right plays all the time. Is slippery in traffic and can find the open man. The Comcast '98 team, by the way, is one of the best groups in the country.
William Steele, F, '98 (Colchester High School) 5-7/160 — The younger brother of '97-born Avery Steele, who has emerged as a D-I prospect and will be enrolling at Selects Hockey Academy in the fall. The younger Steele appears to be on the same development curve. The smallish forward is stocky, quick, and has a good mind for the game.
Cameron Obcena, F, '98 (Yale Hockey Academy) 5-8/142 — From Vancouver, British Columbia. An explosive skater who really gets after it. Made a lot of things happen in the game we watched him play. A complete player who competes hard.
Dante Palecco, F, '98 (Long Island Gulls) 5-10/165 — Played for the North Jersey Avalanche U16s last year and has since made the move to the Gulls, who look to be a really good team next season. Palecco has a lot of skill and a quick shot release. Has been regarded as one of the top '98s for quite some time.
Keelan Ulnick, D, '98 (Anaheim Jr. Ducks) 5-10/140 — Was very good out at Nationals and we liked him here, too. An all-around solid defender who makes hard tape-to-tape passes.
Brendan Less, D, '98 (Delbarton) 5-9/140 — We have written about Less quite a bit over the last 12 months. He's a smooth skater, and very good in transition. Needs to get stronger and up his compete level.
Michael Gurska, D, '98 (Rivers School) 5-9/140 — We have seen a lot of him in the last couple of months and we like his game. Very smart with the puck; has a really good stick. Skating needs to improve.
Sam Field, F, '98 (Choate) 6-0/160 — From the New Jersey Devils organization; is headed to Choate in the fall. Excellent puck possession player. Can really protect it and is very strong in the corners and along the walls.
Frank Boie, D, '98 (Rivers School) 6-0/165 — A good skater for a big kid. Keeps things simple and does not make many mistakes.
Phelan Shaw, D, '97 (NWCAA Midget Minor Stamps) 5-11/165 — We would like to see him play with his own age group, but amongst '98s he stood out. The Calgary, Alberta native is a smooth skater with good stick skills.
Eric Linell, F, '98 (Long Island Gulls) 5-3/110 — Really small, but feisty and skilled. Makes a lot of plays and is tough to contain in tight spaces. Uses his small size to advantage.
Mateusz Gosiewski, F, '98 (Millbrook School) 6-2/200 — A good get for Millbrook. Big forward is a smooth skater and has potential, just needs to be consistent and intense every shift. Played for the Westchester Express U14s this past season.
Brendan Murphy, D, '98 (Northwood School) 6-1/166 — Tall and lanky defender is above average in all areas. Keeps it simple and defends well. Could be one to keep an eye as he fills out. Played for the Long Island Gulls this past season.
Aaron Maguyon, F, '98 (Team Comcast) 5-6/176 — A bit of an early developer, but the short, stocky, and strong forward has some skill. Will make for an excellent prep player should he choose that route.

Mon. 5/13/13

New Head Coach Named at Kent
Canterbury School assistant coach Dale Reinhardt has been named the new head coach at the Kent School.

Reinhardt replaces Matt Herr, who took a position with USA Hockey in March.

A 2008 graduate of Holy Cross, Reinhardt, 27, has been an assistant at Canterbury for the past three seasons.

A native of Livingston, NJ, Reinhardt played his prep hockey for Bruce Shatel at Delbarton. A high-scoring forward, Reinhardt made up for his lack of size with smarts and competitiveness. After graduating from Delbarton, Reinhardt went directly to Holy Cross, where he would score 118 points over his four years. An assistant captain, Reinhardt was on the Crusaders team that KO'd the University of Minnesota in the opening round of the NCAA West Regionals in March of 2006.
After graduation, Reinhardt played in the Coast League for a season. As an assistant at Canterbury, he has helped recruit some of the school's better young players, and is very knowledgeable on the mid-Atlantic district. Canterbury head coach, Padraic McCarthy, speaks really highly of Reinhardt's work, says the players really respond to him, and that, "He was more than an assistant. We split the work 50-50, and if he hadn't gotten the Kent job I was going to make him an associate head coach. He'll be really great for Kent."

Kent assistants Garrison Smith and Brian Cibelli will be staying on board.

Notes:

Matt Mulhern, the head coach at the Hill School for the last nine years, has moved on to Canterbury, where he was recently appointed Director of Admissions. Mulhern, who played varsity hockey at Boston College before graduating in 1999, is a 1995 Canterbury graduate, where he was a teammate of coach McCarthy.

His presence in admissions will certainly help the hockey program, and he will help on the ice, too, but he won't have enough hours in the day to be a full-time assistant. That means McCarthy will be looking for a new assistant for the program.

We missed reporting this last month, but Mulhern's assistant at the Hill for the last six seasons, Chris Bala, has taken over the head coaching position from his former boss. Bala is a '97 Hill grad who went on to play his college hockey at Harvard. After graduating in 2001, Bala, a forward, played six years of pro hockey, including a short stint with the Ottawa Senators, who had selected him in the second round of the 1998 draft. Bala returned to the Hill in 2007.


Mon. 5/13/13

Six More Named to NTDP
Six more players, all '97 birthdates, have been added to the National Team Development Program for the upcoming season.

They are: goaltender Michael Lackey (Phillips Exeter); defensemen Christian Evers (Omaha Lancers Midget Minor), Casey Fitzgerald (Malden Catholic HS), Noah Hanifin (St. Sebastian's), Joseph Masonius (NJ Hitmen-EJHL); and forward Dennis Yan (Belle Tire Midget Major)
With the addition of the above, the roster is currently at 21 (11 forwards, eight defensemen, and two goaltenders).
The 15 players previously announced are:

Forwards:
Jeremy Bracco (NJ Rockets Jr. A – AJHL), Christian Fischer (Chicago Mission Midget Minor), Jordan Greenway (Shattuck-St. Mary's), Luke Kirwan (Middlesex Islanders-EJHL), Luke Kunin (St. Louis Blues Midget Minor), Auston Matthews (Arizona Bobcats Midget Minor), Jack Roslovic (Ohio Blue Jackets Midget Minor), Matt Tkachuk (St. Louis Blues Midget Minor), Colin White (Noble & Greenough), and Brendan Warren (Compuware Midget Minor).

Defensemen:
Nicholas Boka (Compuware Midget Minor), Caleb Jones (Dallas Stars Midget Minor), Charles McAvoy (NJ Rockets Jr. A – AJHL), and Zach Werenski (Little Caesar's Midget Major).

Goaltender:
Luke Opilka (St. Louis Blues Midget Minor).

Fri. 5/10/13

EJHL Spring Showcase Rosters
The Eastern Junior Hockey League Spring Showcase gets underway today at the New England Sports Center in Marlborough, Mass.
The tournament, which will run through Sunday May 12th, features 60 teams -- split among two divisions -- from across the US and Canada.

Admission is $10 per day, or $20 for a weekend pass. All scouts are admitted free. Just sign in at the door.

The showcase schedule can be found on the Eastern Junior Hockey League website at www.easternjunior.com.

For rosters, please use the links below. (Both are Excel files.)

Fri. 5/10/13

Warde Takes Over at Bridgton
Army assistant coach Mike Warde has been named Director of Hockey and head coach of the junior team at Bridgton Academy.

Warde, a Rockport, Mass. native, was a forward and co-captain at Iona College, before working his way up to the Div. I coaching ladder.
The Bridgton position opened up when Jonathan Lounsbury took over the Walpole Express program.

Bridgton, a postgrad-only program located in North Bridgton, Maine, northwest of Portland, plays a junior schedule, with numerous showcase matchups against EJHL and AJHL teams, and a batch of games against prep schools as well. They were 18-5-3 this past season.

No word yet on who Brian Riley will hire to take Warde's position at West Point.




Thurs. 5/9/13

Strelow Camp Roster
The sixth annual Warren Strelow National Team Goaltending Camp opens today in Ann Arbor, Michigan.

The four-day elite camp, which features 25 top goaltenders in the age groups eligible for international play – '95s, '96s, '97s, and '98s – will run through Sunday.

The camp is run by Mike Ayers, the U.S. National Team goaltending coach, and includes a group of coaches highly regarded for their work with goalies.

The Camp Roster:

'95s:
Evan Cowley, Wichita Falls (NAHL)
Thatcher Demko, US U-18 Team

'96s:
Chris Birdsall, Cedar Rapids (USHL)
Edwin Minney, US U-17 Team
Alex Nedeljkovic, Plymouth (OHL)
Drew Vogler, Cleveland Barons Midget Major
Blake Weyrick, US U-17 Team

'97s:
Vaughan Ahrens, Wayzata (Minn.) HS
Kris Carlson, Washington Little Caps Midget Minor
Zach Driscoll, Eastview (Minn.) HS
Matt Jurusik, Chicago Fury Midget Minor
Ryan Larkin, Honeybaked Midget Minor
Cooper Marshall, Team Illinois Midget Minor
Conor O'Brien, Northfield-Mt. Hermon
Luke Opilka, St. Louis Blues Midget Minor
Tyler Parson, Little Caesar's Midget Minor
Evan Sarthou, LA Selects Midget Minor
Bailey Seagraves, Ohio Blue Jackets Midget Minor
Evan Smith, Pikes Peak U16
'98s:
Ryan Edquist, Shattuck-St. Mary's
Michael Latorella, Honeybaked Midget Minor
Tommy Mohs, Team Wisconsin
Liam Moore, The Governor's Academy
Drew Scites, Compuware Midget Minor
Nic Sorgio, Hartford Wolf Pack U16





Thurs. 5/9/13



Young Guns '98 Tournament Rosters
The East Coast Young Guns '98 Camp runs from Fri.-Sun. May 10-12 at the University of Vermont's Gutterson Field House.
A good number of the top '98-born players from across the country, many of whom we have written of in these pages, will be on hand, so this should be of special interest to prep and college coaches.

Here is a PDF link to the rosters*

Young Guns '98 Tournament Book
* If above link does not display in your web browser, please right-click the link and choose "save as", then open the downloaded PDF file.

Tues. 5/7/13

Cavanaugh to Lead UConn into New Era
Look for Boston College assistant Mike Cavanaugh to be named head coach at the University of Connecticut.

The Huskies will be entering their inaugural season in Hockey East this fall, and, in Cavanaugh, will be handing the reins to a man who has had an enormous amount of success in the league. Over the last 15 years, the Eagles have qualified for the NCAA Tournament 13 times, have reached the Frozen Four 10 times, have played in seven NCAA championship games, and have won the National Title four times, in 2001, 2008, 2010, and 2012.

Cavanaugh, who was already an assistant to Jerry York for two years at Bowling Green before coming to the Heights in the fall of '95, has been York's left-hand man for 20 years.

Prior to that, Cavanaugh was an assistant at Dartmouth for a year. He started his coaching career as an assistant at Belmont Hill in the early '90s.

Cavanaugh, who played high school hockey for BC assistant Jim Logue at North Andover High School, was the captain of the 1989-90 Bowdoin College team.

We had a feeling Cavanaugh was going to the get the UConn job all along, particularly after noticing that, late in the season, York was taking a larger role in the recruiting, thus sparing Cavanaugh the awkward position of potentially recruiting against himself.

However, over this past weekend, at the American Hockey Coaches Association convention in Naples, Florida, the buzz surrounding the University of Connecticut job had shifted to George Gwozdecky, who, along with UConn interim head coach David Berard, and Cavanaughwere the three finalists.

All three interviewed last week, with Gwozdecky getting the final interview, which we were told took place over two days last Wednesday and Thursday. There was even some speculation in Florida that Gwozdecky had already been offered the position.

***
As for Gwozdecky, he told a reporter from the Hartford Courant last week that he had other coaching opportunities that had come his way "over the last few weeks."

He added, however, that he had decided to put them aside so as "to not muddy the waters" while pursuing the UConn job.
It will be interesting to see where Gwozdecky, 59, ends up now.

His coaching resume certainly speaks for itself. Over the course of 26 seasons as a head coach with Wisconsin-River Falls (1982-84), Miami-Ohio (1990-94), and the University of Denver (1995-2013), Gwozdecky has compiled a 577-377-80 record, good for 11th on the all-time wins list. He has won NCAA championships as a player at Wisconsin in 1977, an assistant coach at Michigan State in 1986, and as a head coach at Denver (back to back in '04 and '05). However, he was let go by the Pioneers this spring following a 20-14-5 campaign in which Denver was bounced in the first round of the NCAAs by UNH. It is not entirely clear why Peg Bradley-Doppes, Denver's Athletic Director, fired Gwozdecky. We are told that the two had irreconcilable differences that likely stemmed from Ohio State courting Gwozdecky back in 2010 and a difference of opinion concerning the fact that Denver's head basketball coach earned more than he did, even though hockey is the school's top winter sport.

Whatever the case, "Gwoz" is now the top free agent in the coaching ranks.
***
Other talk in Naples revolved around the vacant position at the University of Maine. The three names mentioned most prominently are UNH assistant Jim Tortorella, Yale assistant Red Gendron, and Maine interim head coach Bob Corkum. All three have ties to Maine.
Tortorella, a Concord, Mass. native and Black Bears goaltender from 1978-81, began his coaching career in the Maine high school ranks – first at Brunswick High, and then at Cony High School in Augusta. After a brief stint as an assistant under Dick Umile at UNH in the early '90s, Tortorella was named the head coach at Colby College in 1995, a position he would hold for 16 years. During his time at Colby, Tortorella (230-138-33) became the program's all-time wins leader, and was twice named NESCAC Coach of the Year. Tortorella made the move back into the D-I ranks in August of 2011 when he was named an associate head coach at UNH, taking the place of David Lassonde, who had left for Denver. Tortorella's involvement with USA Hockey is also worth noting, as he has been the Director of Player Development in the New England district for the last six years and has twice served as an assistant coach for Team USA at the World Juniors. Tortorella is a well-respected teacher and many of college hockey's top young coaches – Babson head coach Jamie Rice, Brown head coach Brendan Whittet, and Harvard assistant Albie O'Connell, to name a few -- started their coaching careers up in Waterville, Maine.
Dennis "Red" Gendron, a native of Berlin, NH – the one-time hockey hotbed of Northern New England – and a three-time hockey captain at New England College (class of '79), possesses a deep knowledge of the game and a keen eye for players. He first made a name for himself at the University of Maine where he served as an assistant coach to Shawn Walsh from 1990-93, powerhouse years that culminated with the Black Bears team of 1992-93, perhaps the greatest college team ever, a bunch that was close to unbeatable, going 42-1-2 en route to an NCAA title. A young Red Gendron can be seen in this clip from the film Out of the Woods, documenting Maine's magical season.

From Maine, Gendron moved into the pro game and worked his way through the New Jersey Devils system as an NHL assistant, and AHL assistant and head coach. The Devils won the Stanley Cup in 1995 and on most occasions today Gendron can be seen sporting the ring on his finger. Later, Gendron returned to the college ranks, taking a position on Toot Cahoon's staff at UMass-Amherst for six years before getting hired by Keith Allain as an associate head coach at Yale prior to the 2011-12 season. He also served – in '93, '01, and '02 - as an assistant coach on the US World Junior teams. He's been around, and been a part of some very good teams.
Bob Corkum may have the shortest coaching résumé of the group, but his playing career was stellar. The Salisbury, Mass native posted 142 points in just 159 games played for the University of Maine from 1985-89. A power forward, Corkum was named team captain his senior year, and helped guide Maine to the Frozen Four in both 1988 and 1989. Following his college career, the Buffalo Sabres' third-round pick embarked on a 12-year pro career, appearing in 720 NHL games for seven different teams. He began his coaching career in 2006, joining Sean Tremblay's staff as an assistant coach for the New Hampshire Jr. Monarchs. When Guy Perron, then an assistant at Maine, left in 2008, Corkum moved in with the title of associate head coach, and served on Tim Whitehead's staff for the last five years. Just last week USA Hockey announced that Corkum would serve as head coach for Team USA at the U-18 Ivan Hlinka tournament. He is known in the hockey community as someone who wears his heart on his sleeve and gets the most out of his players.
University of Maine Athletic Director Steve Abbott says he hopes to have the position filled by the end of May. With that in mind, look for the official list of finalists to be announced any day now.
***
A pair of USHL head positions remain open -- Dubuque and Omaha. Jim Montgomery stunned University of Maine fans when he took the Denver job, thus creating the vacancy in Dubuque. Omaha, meanwhile, had relieved head coach Mike Aikens of his duties with two games remaining in the season. While things have been quiet on the Dubuque front, we have heard that Sebastien LaPlante appears to be the favorite to lead the Lancers into the 2013-2014 season. The Cap-Rouge, Quebec native is a former star forward at Northeastern University (1989-93) who returned to his alma mater as an assistant in 2008, joining Greg Cronin's staff. LePlante -- and the aforementioned Albie O'Connell -- were part of the Huskies' 25-win season in 2008-2009, and also got commitments from guys like Johnny Gaudreau, Jon Gillies, Jamie Oleksiak, and Garrett Haar even though all but Oleksiak moved on to other schools. LePlante has spent the last two years in the AHL, serving as an assistant for the Houston Aeros.

Fri. 5/3/13

Top 10 Uncommitted Prospects

When do college coaches hate agents? Oh, about this time of year, when they suddenly discover their second line sophomore winger – the guy on the cusp of reaching his full potential – has been scooped up by an NHL team with holes to fill on its AHL roster. What's a college coach to do? He has a big hole on his top line and the top recruiting targets are all off the board. Who does he look to next? Back in February we posted a list of our "Top 20 Uncommitted Prospects." Since that time, 11 of those 20 players picked their school. Now we will look at who is left, the players who could step in next fall, if need be, and help a D-I team:
1. Arthur Brey, G, '94 (Dubuque-USHL) 6-0/150 — The top goalie in the USHL this season. Posted a 24-6-4 record with a .904 save percentage. Has been even better in the playoffs with a 5-1 record and a .919 save percentage. With Jim Montgomery, Brey's coach at Dubuque, off to Denver, our guess is that the Yorba Linda, California native will look to take his talents to college in the fall. UMass-Amherst just gave sophomore goalie Kevin Boyle his walking papers, which would open up a slot there.
2. Brady Shaw, F, '92 (Surrey-BCHL) 6-2/200 — Established goal scorers are hard to come by this time of year and that is exactly what Shaw is. Potted 33 goals in 2011-12 and another 38 this year. Is currently 2nd in the BCHL playoff scoring with an 8-11-19 scoring line in just 17 games played. Committed to Bentley earlier in the year and has since reneged on his scholarship opportunity. That said, he did sign a National Letter of Intent and is at the whim of the Falcons now. Vermont and Clarkson are two schools we have heard mentioned as possibilities.
3. Dominic Trento, F, '93 (NJ Hitmen-EJHL) 5-11/170 — Versatile player had a great year for the Hitmen, compiling an 18-49-67 scoring line in 44 games plus another 11 points in just eight playoffs games en route to an EJHL championship. Plays hard, competes, and has a nice skill set. Could help a lot of teams.
4. Evan Cowley, G, '95 (Wichita Falls-NAHL) 6-3/165 — Was the buzz of the NAHL Showcase at the start of the year. Is still quite raw, but he has a high upside. Played in 50 games this season and posted a 2.90 GAA and a .900 save percentage. Is currently the #12 ranked North American goaltender in the final NHL Central Scouting list.
5. Gage Ausmus, D, '95 (USNTDP) 6-1/185 — When George Gwozdecky was fired as head coach of the Pioneers, Ausmus changed his mind about heading to the Mile High City this fall. The big, mobile defender has international and NCAA experience under his belt. Ranked #148 on NHL Central Scouting's final rankings.
6. Joseph Manno, F, '92 (Dubuque-USHL) 6-0/190 — Began the season as a sophomore at Northeastern and left halfway through the year to join the Fighting Saints. Made a seamless transition to the USHL and posted a respectable 10-12-22 scoring line in 35 games played. Could he be a reasonable solution for a team who loses a player sooner than expected? We think so.
7. Tyler Hill, F, '95 (Chicago-USHL) 6-6/225 — Left Hotchkiss in early January in favor of joining the Chicago Steel and did not exactly light it up in the USHL, posting a 6-6-12 scoring line 30 games played. Saw his NHL stock fall dramatically, dropping from #85 on NHL Central Scouting's Mid-Term Rankings all the way to #187 in the Final Rankings. We think this is the perfect opportunity for a college to step up and grab Hill while the asking price is below what it might have been – or might become. There is simply too much upside to ignore.
8. Kyle Hayton, G, '94 (Sioux City-USHL) 5-11/140 — Has a rock-solid resume that shows consistency year after year. The former Shattuck-St. Mary's netminder posted a 2.65 GAA and a .911 save percentage in his rookie season in the USHL. Sioux City finished the year with a 23-30-11 record, but when Hayton was between the pipes they went 13-8-4.
9. John Furgele, D, '93 (NJ Hitmen-EJHL) 5-9/170 — Crafty defender just needs an opportunity. Was excellent this season posting a 14-38-52 scoring line in 44 games played. Finished as the EJHL's top scoring defenseman. Could help a D-I power play.
10T. Ben Blasko, F, '92 (Brockville-CCHL) 5-8/170 — 100 points is 100 points! Anytime a player puts up those types of numbers in a respectable league it's worth taking note of. Finished 2nd in the league scoring race.
10T. Trevor Owens, D, '93 (NJ Hitmen-EJHL) 6-0/205 — Really turned it on in the playoffs, posting a 4-5-9 scoring line in eight games played. Gets around the sheet very well for a big kid.
10T. Marly Quince, F, '94 (Cornwall-CCHL) 6-0/180 — Posted 62 points in just 45 games played. Represented Team Canada East at the World Junior "A" Challenge.
10T. Marc Biega, D, '94 (Coquitlam-BCHL) 5-11/180 — After a slow start and some injuries, Biega began to find his groove in the BCHL and, finishing with 24 points in 39 games played. Still needs to improve his skating, but his hands and head are certainly at the D-I level.

Wed. 5/1/13

Prep Newcomers
There are some talented players coming into the prep ranks this fall, and what follows is a list of some of the notable ones. This is by no means a definitive list. As always, some coaches are willing to talk about their incoming players; others prefer not to. We just keep our ears to the ground -- and watch. Feel free to email us with significant additions. Once we get enough names we will put out another edition of prep commits.
-- Ross Colton, a '96 forward from the New Jersey Rockets U16 team and Princeton Day School has decided on Taft. Colton is a crafty, skilled, intelligent player who will make an immediate impact next season. Was heavily recruited and is a big get for the Rhinos. A D-I prospect.
-- Michael O'Leary, one of the top '98-born prospects in Atlantic Canada, will be at Salisbury in the fall. The 6'1", 165 lb. forward played for the Halifax Hawks bantam major team this year and posted a 17-29-46 scoring line in just 29 games played. A top NCAA prospect.
-- Griffin Luce, the son of Florida Panthers (NHL) director of scouting Scott Luce, has decided on Salisbury. The St. Thomas, Ontario native, a top '98 defenseman who could be selected in the 1st round of the OHL draft next year, played for the Elgin-Middlesex Chiefs this past season. Will be joined at Salisbury by his brother, Harrison Luce, who will be a PG.
-- Kevin Neiley, a Dartmouth commit, will be suiting up for Phillips Exeter in the fall. The younger brother of Exeter grad and current Dartmouth forward Eric Neiley played for Comcast's U18 team this year and was one of the top scorers in the Tier 1 Elite League. The '95-born PG will get loads of ice time and should pile up the points.
-- Dexter will be receiving a serious injection of talent from Hingham High. Junior forwards Matt Brazel, a '96, and Sam D'Antuono, a '95, along with '96-born junior defenseman John Carlson are sticking close to home and will be Dan Donato'stop recruits. Some talented players have moved on from last year's 21-2-5 team, but the Hingham trio will keep Dexter in the mix.
-- The St. John's Prep duo of Tyler Bird and Jack McCarthy will both be headed to KUA. The Brown University commits are both '96-born forwards who should play in Mike Levine's top six from Day 1.
-- Vimal Sukumaran, a '96 forward from the Lac St. Louis Lions organization has decided to play for Salisbury. The Montreal native led the Lions in scoring this season with a 27-27-54 scoring line in 39 games played, good for 8th overall in league scoring. A D-I prospect.
-- Joseph O'Connor, a '96 defenseman from Hamden (Conn.) High School, will be playing for Westminster in the fall. NHL scouts will be spending some time at the Simsbury, Conn. boarding school as O'Conner, Will Brophy, and Frankie Sullivan —all junior defensemen — will be watched closely by NHL scouts. O'Connor is a 6'3" defender who is a smooth skater and possesses a lot of natural ability.

-- Connecticut Wolf Pack forward Liam Murphy, one of the top '98s in the New England District, was pursued heavily by most teams in the Founders' League, but wound up choosing Avon Old Farms. Murphy is big, strong, and physically ready to contribute at the prep school level.
-- Eric Jeremiah, a freshman who played for Xaverian this year, will be transferring to St. Sebastian's. The '98 defender is small, about 5'8", but is stocky, skilled, and plays hard. Reminds us of former University of Maine defenseman Brett Tyler.
-- Cardigan Mountain's prized recruit Ben Finkelstein is going to KUA. Look for the '97 defenseman to be running one of the Wildcats two PP units. Has DI skill, just needs to get bigger and stronger.
-- Matt Foley, the captain of this year's Springfield Cathedral team, will be doing a PG year at Phillips Exeter. The '95 born defender will log a lot of minutes and will be a top four defenseman.
-- Laval-Montreal (QMAAA) forward James Phelan will be suiting up for Westminster. The Laval, Quebec native has a lot of skill, but could need a year to acclimate himself before he really starts to contribute.
-- Connecticut Wolf Pack U14 netminder Nick Sorgio will challenge Callum Booth for playing time next season at Salisbury. One of the top '98 born goalies in the country.
-- NJ Rockets U16 goaltender Nick DeSimone is the heir apparent to USHR Player of the Year Danny Tirone. The '96 has some big shoes to fill at Loomis, but he has the resume to do so. Posted a .948 save percentage last year.
-- North York Rangers midget minor captain Oliver Chau is going to Governor's. He is really small, about 5'4", 120 lbs., but his skill level is top-notch and he really competes for someone his size. Will be a top NESCAC recruit in a couple years.
-- San Diego, California native Sean Ross will be at Loomis in the fall. The '96-born defender was good at the Select 16 Festival last summer and should fit in nicely with the Pelicans. Grew up playing for the LA Selects.
-- William Carrabino has decided on Nobles. The '97 defenseman is big, strong, and plays with an edge. Should be an immediate contributor on a young Bulldogs squad. He's the younger brother of Clarkson defenseman JD Carrabino.
-- Eric Benschadle, the Buffalo Junior Sabres U16 team's top scorer, will be suiting up for Loomis in the fall of 2013. Should give the offense some spark and will likely be slotted into the top six right away.
-- Dominic Franco will be transferring from Pomfret to KUA. The 6'2" forward was excellent at the recent Yankee Conference Showcase and is a late bloomer. An interesting prospect who will garner the attention of D-I and NHL scouts in the fall. The '96 led the Griffins in scoring last year.
-- Sam Fields, a top '98 from the Atlantic District, will be enrolling at Choate. Played for the New Jersey Devils U14 team this past season. A big kid with DI potential.
-- 6'1", 200 lb. New Hampton defender Malcolm Hayes will be transferring to Cushing. Was the Huskies' top scoring defenseman as a junior.
-- Cushing coach Rob Gagnon is excited about '96-born forward Jake Simons. The Coral Springs, Florida native played for the Palm Beach Hawks last year and was one of the top scorers in the EJHL South.
-- Pinkerton Academy star forward Devin Moore will be going to Exeter. The repeat sophomore will be fun to watch. He is small, quick, competitive, and skilled.
-- Austin Prep's pint-sized sophomore George Sennott was heavily recruited by both Cushing and KUA and has decided on the Wildcats. Another small forward going to KUA is 5'7" Nick Hamre from the Eastern Ontario Wild. Hamre was drafted by the Sudbury Wolves (OHL). Junior Bruins U18 forward Bobby Hall will make Meriden, NH home too. The '95 birthdate will add skill and speed. KUA's recruiting class is rounded out by Chris Shero, a '95-born senior-to-be who played for the Pittsburgh Penguins U18 team this year and is the son of Penguins GM Ray Shero.
Around the Rinks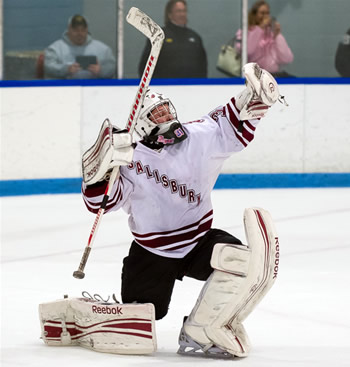 At the final buzzer of Sunday's prep title game, Salisbury sophomore G Callum Booth, who is about to get mobbed.
(Photo: Dave Arnold Photography)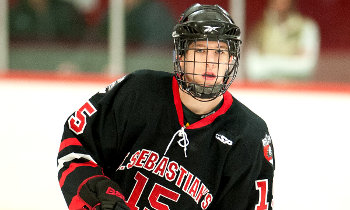 Noah Hanafin, St. Sebastian's '97-born d-man and BC recruit, is USHR's #1-ranked sophomore of the 2012-13 season.
(Photo: Dave Arnold Photography)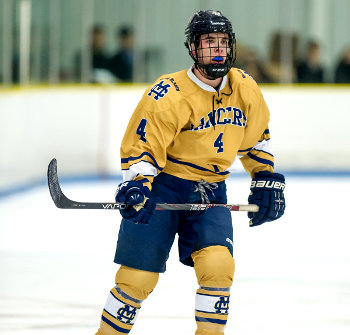 Casey Fitzgerald, Malden Catholic '97-born d-man and BC recruit, is USHR's #3-ranked sophomore of the 2012-13 season.
(Photo: Dave Arnold Photography)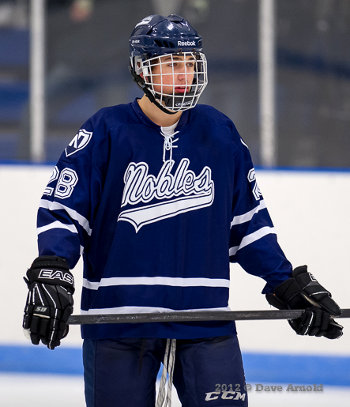 Miles Wood, Nobles forward and Brown recruit -- out for the season with a broken foot -- is USHR's #9-ranked sophomore.
(Photo: Dave Arnold Photography)