Established 1996 -- Celebrating Our 25th Year

Fri. 8/2/13--updated

Top '99s and '00s at UNH Camp
USHR made its annual trip up to the University of New Hampshire Hockey Team Camp which, for four years now, has attracted some of the top young players around. The alumni list is impressive, and includes sure-fire NHL firstround picks Connor McDavid (Erie-OHL), Josh Ho-Sang (Windsor-OHL), Aaron Ekblad (Barrie-OHL), Roland McKeown (Kingston-OHL), and Noah Hanifin (NTDP/Boston College). The list doesn't end there, either, as top-flight prospects Sonny Milano (NTDP/Notre Dame), Brandon Fortunato (NTDP/Harvard), Ryan Hitchcock (NTDP/Yale), Luke Kirwan (NTDP), Matt Tkachuk (NTDP/Notre Dame), Casey Fitzgerald (NTDP/Boston College), Jeremy Bracco (NTDP/Harvard), Cam Askew (Drummondville-QMJHL), Sam Bennett (Kingston-OHL), JJ Piccinich (Youngstown/Boston University), Chris Birdsall (Cedar Rapids/Boston College), Bobby Nardella (Sioux City/Notre Dame), Jake Linhart (Green Bay/Wisconsin), Adam Fox (LI Gulls/Harvard), and Chad Krys (Connecticut Oilers) have also made their way up to "Lake Whittemore" in recent summers.
The camp is unique in that entire teams make the trip up to Durham to gain exposure to top college and prep coaches. This summer, camp director Scott Borek (UNH Associate Head Coach) brought in Greg Brown (Boston College), Steve Greeley (Boston University), Mike Souza (UConn), Mark White (Brown), Albie O'Connell (Harvard), Dave Peters (Dartmouth), Glenn Stewart (Merrimack), Josh Ciocco (Alaska-Anchorage), and Blaise MacDonald (Colby) as well as coaches from Salisbury, Cushing, Berkshire, Milton, Loomis, Proctor, New Hampton, Choate, Brooks, Governor's, and Cardigan Mountain. It's good for the players, but also for the coaches who, from being on the ice with the kids, gain insight that they might not get from simply watching in the stands. How skilled is he? How hard does he work? Do the other guys on the team gravitate toward -- or away -- from him? Is he a leader? In sum, it's a great opportunity for the players to make a strong impression.

This year's camp featured four '99 teams as well as four '00 teams. We are quite confident that, in the not-too-distant future, a number of the names below will be added to the alumni list above.

Here are the players – fifteen '99s and ten '00s -- who stood out for us.
Top '99s:
Keith Petruzelli, G (Camp All-Stars) — If there were a camp MVP award given out there is no question that it would have gone to the 6'3" netminder. The New England Jr. Falcons goalie has an incredibly high ceiling and is one of the best 14-year-old goalies we have seen in quite some time. Petruzelli played parts of four games and did not give up a single goal during the entire camp. He is tall, lanky, athletic, and very calm between the pipes. In our opinion, Petruzelli was the top prospect here. Player agents will be all over this kid in the next couple of years. He could start at many prep schools right now.
Marc McLaughlin, F (Camp All-Stars) — Plays for the Providence Capitals in-season and is going to be one heck of a player. A really powerful skater who can go from 1st gear to 5th in a matter of seconds, McLaughlin also has a very advanced shot for his age, shooting it harder than some D-I players – right now. The big, strong, power forward will be heavily recruited by NCAA and prep school programs.
Christian LeSueur, F (Mid-Fairfield) — We really liked LeSueur when we first saw him this spring at the Yankee Conference Showcase -- and we like him even more now. Not only does he have good size, hands, and vision, but he works his tail off and is difficult to play against. LeSueur is not someone who waits around for pucks: he gets them himself and is able to make a play once it's on his stick.
Riley Prattson, F (Camp All-Stars) —The New England Jr. Falcons forward isn't the biggest kid on the ice and does not immediately catch your eye, but the more you watch him the more you realize how good he is. A pure hockey player, he's one of those kids you want on your team. The puck is always on his stick, he pays attention to the details, and is a complete player. Played with McLaughlin most shifts and the two were the top duo in camp.
Ethan DeStefani, F (Seacoast Spartans) — A very intriguing player who is only going to get better. With the exception of Petruzelli, DeStefani was probably the tallest kid here. Is somewhat weak and gangly. He's growing into his body and is in that awkward phase. That said, DeStefani can skate pretty well and his hands and playmaking abilities are very good. The 6'2" forward could really take off and become a top prospect if he works hard and is developed properly over the next couple years. We are told that he is a top student and we'd be shocked if Phillips Exeter head coach Dana Barbin (Phillips Exeter) lets the New Hampshire native out of the Live Free or Die state.
Jack Rathbone, D (Camp All-Stars) — Highly-skilled defender plays for the South Shore Kings and Dexter, where he will be going into his 8th grade year. While Rathbone, the son of former BC forward Jason Rathbone, is young for the varsity, head coach Dan Donato has also lost three of his top four defensemen from last year. It could be tempting to bring up Rathbone, who has D-I skill and could contribute right away.
Logan Scarlotta, D (Camp All-Stars) — The New England Jr. Falcons defender is more physically mature than his peers and will likely not grow much (he's about 5'9" now), but he plays a no-nonsense type game that will translate well to higher levels. He is not flashy, just a competitive defender who is strong on his skates, defends well, and moves pucks.
Reilly Walsh, D (Camp All-Stars) — The son of Proctor head coach Mike Walsh is a good one. Attends Cardigan Mountain now, but will be a huge difference-maker for his father when he gets to Proctor. The offensive defender has a really nice stick and is very confident with the puck. Has good instincts and the potential to grow into a PP quarterback type.
Phil Kemp, D (Mid-Fairfield) — The tall defender has a lot of potential and schools in the Founders' League will compete hard for his services. Brings a bit of offense, but will likely develop into a big, smooth-skating defenseman who can play against a team's top lines. Also makes a nice first pass.
Danny Petrick, D (Camp All-Stars)—Played for Springfield Cathedral as an 8th grader last year and will be a key defenseman for them this coming year. The freshman-to-be has a good stick, defends with an edge, and can really fire the puck. Will need to improve his feet as they are a little heavy right now. A character guy with a lot of leadership ability.
Brian Scoville, D (Camp All-Stars) — Providence Capitals defender is big, strong, and does not get beat 1x1. Keeps things simple. Is a player any coach would feel comfortable putting on the ice.
Jason Dobay, D (Camp All-Stars) — Average-sized defenseman is just an OK skater, but his stick and vision are both exceptional. Dobay is the type of player forwards like being on the ice with because of his ability to find the open man and deliver the puck to them in stride. Great vision. Plays for the South Shore Kings.
Jay O'Brien, F (Camp All-Stars) — Highly-skilled forward with quick hands makes a ton of plays. Right now he is weak and gets knocked off the puck easily, but when/if he gets bigger and stronger those will no longer be issues.
Ben Mirageas, D (Seacoast Spartans) — The younger brother of Governor's defenseman Zach Mirageas is a solid, puck-moving defenseman who is going to be very good at the prep school level.
Jack Nisbet, F (Seacoast Spartans) — Quick forward with a pretty good stick. Will need to get bigger and play with more of an edge to continue to be an elite player.
Top '00s:
James Davenport, F (BC Jr. Eagles) — Might not have been the best player in camp, but at the end of the day we think he could be that guy. The athletic forward is really light on his feet, shifty in traffic, and makes a ton of plays. Competes hard in all three zones and is more often than not the first forward back in the defensive zone. Is only going to get better.
Jake Wise, F (Camp All-Stars) — The Minuteman Flames star forward has a lot of hype surrounding his name and it is pretty easy to see why. We wrote a lengthy article back in April on the North Andover, Mass native in which we detailed his dominance of the Quebec Pee-Wee Tournament, where he led the tournament in scoring en route to leading his team to a championship. There is no doubt that Wise is high-end. He is big, fast, and can really fire the puck. That said, he is more physically mature than his peers and at times did not seem interested. He also tries a lot of things on the ice that will not work at higher levels. Will be playing with older players this season for the Middlesex Islanders, which will be good for his development. As we said, he is very good, but is not on the same level as guys like McDavid and Ho-Sang were at the same age.
Drew Elser, F (Westchester Express) — The younger brother of Shattuck alums Brian and Danny Elser (Des Moines-USHL) as well as Jimmy Elser, a '97 forward. We have seen all of the brothers and can confidently say that Drew is the best at age 14. The Westchester star player is light on his feet, has a lot of skill, and can really fire the puck. When he gets it in the slot his release is very good and he can pick his corners. The negative on him is that he is physically ahead of his peers -- an advantage that will diminish in the coming years -- and that he does not play very hard in the defensive zone.
Tommy Lyons, F (BC Jr. Eagles) — Smart and crafty. Has a really good head on his shoulders and will develop into a top prospect. We will be very surprised if Lyons is not a top prep school player who goes on to play D-I hockey.
Chris Konin, F (Camp All-Stars) — Tall forward with skill. Has a good stick, competes hard, and has good vision. Plays for the Connecticut Wolf Pack.
Billy Dobensky, D (Camp All-Stars) — Has exceptional feet. Is small and weak right now, but with the way he skates you just know that he is going to be a heck of player. Plays for the Connecticut Wolf Pack.
Luke Krys, D (Westchester Express) — The younger brother of Chad Krys is certainly not the type of player his brother was at this age, but is nonetheless very good. The son of BU alum Mark Krys skates well, plays with an edge, and always has his head up.
Michael Kesselring, D (BC Jr. Eagles) — The son of New Hampton head coach Casey Kesselring is very good with the puck on his stick and has great offensive instincts. That said, he needs to improve his skating and develop some explosiveness.
Jordan Harris, D (Camp All-Stars) — Big, strong, meat-and-potatoes defender. Very effective; is not someone forwards enjoy playing against.
Josh Barton, F (BC Jr. Eagles) — Is on the smaller side, but his stick and hockey sense are very good. Played on a line with Lyons and the two worked well together, creating some nice plays.

Thurs. 8/29/13

Mass Tier I Labor Day Rosters
The 16th Annual Mass Tier I Labor Day Tournament is taking place starting Friday, primarily at the New England Sports Center's six sheets in Marlborough, but also at a batch of other rinks in Eastern Massachusetts.

There will be 76 Midget Major teams (AAA/AA) in six divisions, 64 Midget Minor teams (AAA/AA) in six divisions, and 26 Bantam Major teams (AAA) in two divisions. Each team will play a minimum of five games and a maximum of seven games over the long weekend. There is also a 20-team youth division ('00s, '01s, and '02s) with 20 teams competing.

Here is a link to a PDF in which you will find a list of all the organizations sending teams as well as a concise overview of the entire tournament:

Tier I Tournament Coach's Letter

Here is a link to an Excel spreadsheet with all the rosters. Click on the tabs on the bottom to find the divisions you are looking for.

Tier I Tournament Rosters

For the schedule we recommend going to the tournament's website, where scores and standings will be updated through the weekend. Here's the link:

Mass Labor Day Tier I Invitational





Wed. 8/28/13

Rats and Whalers Get After It Early
It's August, but this game, the centerpiece of the Neponset Valley River Rats Tournament in Foxboro, Mass. yesterday, was a keeper, with the Cape Cod Whalers U18s, behind a pair of goals from Lincoln Griffin, topping the defending national champion Neponset Valley River Rats U18s 3-1. Intensity was high throughout, with both teams playing well, though the River Rats, after blanking the Jersey Wildcats 15-0 in their preceding game, started off slowly before coming to life. Here are 12 players – six from each team -- who we felt made a difference in the game.

NEPONSET VALLEY RIVER RATS U18
Forwards:

Cody Todesco, '96, Jr., Nobles -- High energy, and great on the forecheck.
Dylan McCrory, '95, Sr., Kent -- Great speed, a solid puck hunter. Creates offense with his tenacity.
Trevor Yates, '95, Sr., Deerfield – A well-rounded hockey player. Good sense of the game, and a D-1 shot.
Defensemen:

Connor Moore, '97, Soph., Brooks – A ton of potential. High level hockey IQ. Makes very good passes. Jumps into the play at the right times -- and defends equally well. A hot commodity. Visited Northeastern after the Beantown. Harvard, Yale, Q-pac all showing interest in the Georgia native.
Louis-Phillip Page, '95, Jr., Deerfield – The more you watch, the more you like. A solid defenseman. Strong on the puck. Reads the play well.
Goaltender:

Max Prawdzik, '97, Jr., Brooks -- Played fairly well in a losing effort. None of the goals were entirely his fault, though he seemed slightly intimidated in high-traffic situations. Not his best game, but not a dud either.
CAPE COD WHALERS U18
Forwards:

Ryan Donato, '96, Jr., Dexter -- Another typical performance from Donato. Best forward on the ice. Scored another great goal with great stick handling.
Lincoln Griffin, '97, Jr., Thayer – Northeastern recruit was flying. Beat both defensemen easily through the neutral zone to score a breakaway goal. Had an interesting tussle with Miles Gendron in the third period. Both received matching minors.
Sam D'Antuono, late '95, Jr., Dexter -- Uses his size well, and forechecks hard. Finds a way to get to loose pucks -- and is hard to knock off the puck. Looked much better than he did at the Beantown.
Defensemen:

Billy Sweezey, '96, Jr., Nobles -- Hardworking defenseman. Wins battles in the corners, and is good on puck retrievals. Looks thicker than the 175 that he is listed at.
JC Brassard, late '95, Sr., Nobles -- High IQ player with a great shot. Look for him to make some noise this season at Nobles.
Goaltender:

Robert McGovern, '95, Sr., Thayer – Was excellent in the Beantown and kept it up here. Stays square at all times and as a result ends up with a ton of pucks in his chest. The one goal he gave up came late in the third period on a nice feed from the corner on the PP.

Sun. 8/25/13

A New Assistant for the Crimson
Look for Harvard to name Youngstown Phantoms (USHL) assistant coach Rob Rassey, a former Northeastern forward, as their new assistant this week.

Rassey, a 28-year-old from Shelby Township, Michigan, will take the slot vacated by Jerry Forton, a 17-year college hockey coaching veteran. Forton will be returning to his native Buffalo, NY, where he will join the staff of Buffalo Sabres head coach Ron Rolston (who also put in his time at Bright Arena, working as a Harvard assistant from '99-'02). Forton will be the Sabres third assistant, serving as an eye-in-the-sky. Teppo Numminen and former Colorado Avalanche head coach Joe Sacco are the other two assistants on Rolston's staff.
Current Harvard assistant Albie O'Connell is the connecting thread in all of this. He and Forton worked together from '04-06 at Niagara University and then joined forces again at Harvard starting in the summer of '11. O'Connell also coached Rassey in his senior year ('08-09) at Northeastern, and worked with him when Rassey was a volunteer assistant with the Huskies from '09-11.

Rassey, who in his four years at Northeastern scored 30 points in 123 games, has been an assistant at Youngstown for the last two years. Rassey also played two years of junior hockey for Youngstown, back when the team was an NAHL franchise.

College coaching vets Dave Berard and Len Quesnelle reportedly also interviewed for the vacant Harvard position.




Tues. 8/20/13

Beantown Summer Classic Review
Following is our ranking of players from last week's 12th Annual Beantown Summer Classic at the New England Sports Center in Marlborough, Mass.

The 2014 NHL Draft is scheduled for Philadelphia June 27-28 and – at least here in the early going – it is not shaping up to be a particularly strong one from an American point of view, either on the National level (there is no Seth Jones out there) or a regional one. As a result of this the Pro Division last week lacked the sizzle of some other years. There were no top-round locks on hand in Marlborough, though it's a long road between now and next June. What we did see at the Beantown was about 15 or so players who, if they have a good season, could be drafted. A select few could even sneak into the top three rounds, though overall the draft looks to be a mid-to-late-round kind of affair for the first-time eligibles from the Northeast. We have tried to highlight some of those players for you, and will continue to do so in the months to come.

The Beantown was extremely well-selected this year. The competition level was high and there were no players who seemed clearly out of their element. A lion's share of the credit for the quality of the player pool must go to NHL scouts Bob Crocker (LA Kings), Bob Luccini (Carolina Hurricanes), and Paul Merritt (Buffalo Sabres). All evaluated at the tryouts – and there are a lot of years of experience between those men.

***
The tournament was split into four divisions, starting with the Prospects Division ('99, '00, '01, '02). We didn't devote a ton of time to this division. Indeed, we totally bypassed the '01s and '02s – way too young for us. We did, however, watch some of the '99s and '00s – at least enough to pick an all-star team and also add in a few more players we liked.

The six-team Futures Division ('96, '97, '98) garnered a lot of our attention. For us, this group offered a choice opportunity to see how the top '97s and '98s fared going head-to-head with the '96s.

The '96 birthdates are interesting in as much as they are an overlap year that spans both the Futures and Pro Divisions. The latter division, made up of '93s, '94s, '95s, and '96s features the '96s as they youngest group while the former has the '96s as the oldest group. It presents a challenge, and, while most of the stronger '96s were in the Pro Division, it was not 100% ironclad. We felt some of the '96s in the Futures Division were every bit as good – in some cases better – than the '96s in the Pro Division. The idea of having an entire division of first-time draft-eligible players might be worth exploring in the sense that it would amplify what the USA Select camps do.
We should also, as a matter of bookkeeping, point out that in our rankings for the Pro Division we excluded '93s and '94s. Too old, to put in bluntly -- just as '01s and '02s are too young.

***
In ranking players at tournaments such as this we go with a hybrid system that balances how a player actually performs at the tournament – i.e. what he did to help his team have success – with future potential. It's a sometimes difficult bridge to cross, but there are many different people reading this, so we try to keep this in mind. We could write one report from an NHL point of view, and drastically different ones from a Div. I, Div. III, or prep/junior point of view. As fas as putting numbers next to the names, that just helps us keep things clear in our heads, and forces us to think things through a little more clearly. I hope that we succeed in this, at least some of the time.

***
We noticed a couple of things. If you look at the Futures Division rankings – and we're talking about the Top 35 ranked players here – you will see that there are 14 d-men, 13 forwards, and eight goalies. That, of course, is all out of proportion. But that's also the way we saw things. In the Pro Division, the natural order was reverted to – a regression to the mean, as they say in the lab – and, of the top 35 players, 21 were forwards, 13 were defensemen, and only one was a goaltender.

Anyway, enough of that. Enjoy!


Futures Division:

1. Sam Rossini, '98 LD, Burnsville (Minn.) HS (#21 Buzzards) – 6'1". Very young -- and with a world of upside. Does everything really well. Excellent skater – light on his feet. Excellent stick.
2. Connor Moore, '97 RD, Brooks School (#3 Titans) – 6'0". Terrific tools. Excellent skater, highly mobile, and very patient with the puck in both ends. Makes great passes. Does not panic. Has offensive gifts, but is also a very good defender. Can join the rush and skate well enough to get back and cover. Good reach. Tough to beat 1x1. Terrific D-I prospect. Northeastern is having him in. Harvard is interested. A good week for the Cumming, Georgia native.

3. Ryan Shea, '97 LD, BC High (#6 Braves) – 5'11". Terrific prospect. Excellent skater with the puck, and not at all shy about leading the rush. Good vision. Good shot. Passes are dead accurate. Will be much in high demand from top D-I schools. A converted forward, Shea is learning how to play defense. Will be a sophomore this season.

4. David Cotton, '97 F, Cushing (#12 Seals) – 6'2". Uses his size well, keeping his stick on the ice and driving to the net. Soft hands, too. From Colorado Thunderbirds U16. A Texas native, Cotton will be getting a lot of Div. I attention.

5. Kieffer Bellows, '98 F, Edina Bantams (#15 Buzzards) – 6'0". A big strong young centerman, and a power forward in the making. Has a bomb of a shot. Son of Brian Bellows, the #2 overall pick in the 1982 NHL Draft, a 'near Bruin', and a long-time Minnesota North Star.

6. Luke McInnis, '98 LD, Hingham HS (#7 Buzzards) – 5'10". Fast. His speed jumps out at you. Good hockey IQ, too. Son of former Boston College HEM line winger Marty McInnis.
7. Max Prawdzik, '97 G, Brooks School (#30 Seals) – 6'3". Will be the full-time #1 at Brooks this year, and should draw a ton of attention. An Andover native, Prawdzik will be a junior at Brooks. An excellent D-I prospect.

8. John Marino, '97 RD, South Shore Kings U18 (#7 Titans) – 6'0". A horse out there. Consistently noticeable. Played hard, and physically. Asserts himself. Judicious about picking his spots. Good hockey sense. Has a hard, quick shot.
9. Brian Matthews, '98 RD, Belmont Hill (#5 Seals) – 6'0". A '98 who already has a year of varsity under his belt. Excellent two-way d-man.
10. Zach Mirageas, '97 RD, Governor's Academy (#3 Hombres) – 5'9". Mobile defenseman from Newbury, Mass. makes good first pass. Good skater with vision. Hard shot with quick release. Will be a junior this year.
11. Tucker Weppner, '96 G, Avon Old Farms (#1 Nationals) – 6'2". Fills net. Moved well. Poised. Looks ready for a big year.

12. Bailey Conger, '97 F, Cushing (#11 Seals) – 6'0" From Utah Regulators U18. Has size, vision, and scoring ability. We liked him more as the week went along.

13. Billy Carrabino, '97 LD, Nobles (#3 Nationals) – Has size at 6'2" -- very solid D-man with a good stick. New Canaan, Conn. native is younger brother of 6'6" defenseman J.D. Carrabino, who is transferring from Clarkson to BU.

14. Shane Mason, '97 G, Williston-Northampton (#30 Titans) – 5'8". Had a terrific tournament. A true difference-maker, he competed hard and kept his team in every game.
15. Jack Bliss, '98 F, Cardigan Mountain (#17 Hombres) – 6'0" playmaking forward with size. Sees the ice, has size and is growing, and has soft hands.

16. John Leonard, '98 F, Springfield Cathedral (#17 Nationals) –5'10". A young forward who played a strong two-way game. Patient, aware, and has a good shot. Amherst, Mass. native will be a sophomore at Cathedral.
17. Joey Daccord, '96 G, Cushing (#30 Buzzards) – 6'2". Technically sound. Challenges. Good skater. Smothers or deflects rebounds extremely well. Will be carrying the freight in Ashburnham this winter.

18. Mike Taormina, late '96 F, Bridgewater Bandits (#19 Seals) – 5'10". Very involved every shift. Makes things happen. Always around the puck. Gritty. Good anticipation.

19. Stephen Marsico, '96 F, Cushing (#9 Buzzards) – 5'7". East Haven, Conn. native was at Loomis last winter, but is transferring to Cushing. Good speed. Excellent first few steps -- always keeps his feet moving. A pesky, skilled, hustler. Quickly in on the forecheck.

20. Austin Ricci, '96 F, St. Paul's (#11 Braves) – 6'1". He's big and strong, so we would have preferred seeing him in the Pro Division. Worked hard both ways. Kept feet moving. Finished checks. Scored goals – he can really fire it. Skating has improved. He may be able to contribute in a bottom six role at many Div. I schools.
21. Erik Wurman, '96 G, Phillips Andover (#1 Hombres) – 5'11". Will be the heir apparent at Andover this season, his junior year.

22. Ben Finkelstein, late '97 RD, KUA (#3 Buzzards) – 5'8". Young, puck-moving PP-type defenseman is heading to KUA. Was at Cardigan Mountain last year.

23. George Sennott, '97 F, KUA (#14 Nationals) – Listed at 5'5", 130, so size is an issue. Clever and skilled, but will need to fill out and become more dynamic. Transferring from Austin Prep to Kimball Union.
24. Joseph Slevin, '96 F, NY Bobcats (#18 Braves) – 5'7". Good speed, quick stick, and worked hard. Consistently noticeable.

25. Elijah Harris, '97 G, Austin Prep (#30 Nationals) – 5'9". Good quickness and not afraid to challenge shooters. Competes hard; very athletic. Will be a junior at Austin Prep.

26. Kyle Lemelin, '96 F, Lewiston HS (#17 Braves) – 6'0". We felt Lemelin, who we've never seen before, was intriguing -- a Maine high school player with a nice skating stride, size, and good hands. A project, but a smooth, agile one. He didn't look at all out of place. Some junior team will want him next year.
27. Derrick Spencer, '98 LD, Exeter (#4 Hombres) – 6'0". Won puck battles; makes good hard tape-to-tape passes.
28. Brendan Cytulik, '96 G, Nobles (#30 Braves) – 5'11". He was expected to be playing for the Junior Bruins U18 Team this coming season but instead will be at Nobles this fall. When we were watching him nothing got by him.

29. Dylan Stephanik, late '96 F, NJ Hitmen U18 (#11 Nationals) – 6'0" with good speed and hands.

30. Jack McCool, '98 RD, St. Sebastian's (#6 Titans) – He's very young and, at 6'2" is growing into his body. Gained confidence as week went along. Has the frame, but is young and also very hard to project right now. Needs time. We will follow him closely. Could blossom under former Harvard d-man and Hobey Baker finalist Sean McCann.

31. Trevin Kozlowski, '97 G, Gunnery (#1 Seals) – 6'3". Moved well for his size and age. Was very strong in last Wednesday's game, so we saw his upside. He also had a few rough spots. Need to see him more. Played for the California Titans U16 Team last season.

32. Harrison Markell, '97 RD, Middlesex School (#4 Seals) – 6'0. Andover, Mass. native skates well. Very steady. Sure-handed. The kind of player you don't notice much, mainly because he's doing his job.
33. Jonathan Venter, '96 LD, Canterbury School (#6 Seals) -- 5'8". Small puck-moving d-man can skate, has vision, and really zips his passes. Was outstanding here.
34. Matthew Koopman, '98 F, Greater Boston Vipers (#15 Braves) – 5'9". Had some jump to his game. Good skater. Quick through center ice. Marblehead, Mass. native.

35. Vincenzo Renda, '96 RD, St. Paul's (#3 Braves) – 6'0". Quick feet, hands. Dependable. Has an offensive kick.



The Best of the Rest -- Futures Division:

Nick Jermain, '96 F, Brunswick School (#10 Titans) – 5'11". Nice release. Racked up some points here.
Ace Cowans, late '96, F, Groton (#9 Hombres) – 5'7" finesse player. Beverly, Mass. native has a nice quick release shot. Small, so size is an issue.
JJ Layton, '97 RD, Austin Prep (#2 Hombres) – 6'0". Good size and accurate passes. Will be a sophomore at AP.

Joe Feeney, late '97 F, Dexter (#13 Seals) – 6'0". Good hands. Needs to assert himself more physically. Will be a sophomore.

David Almond, '97 F, Notre Dame Hounds (#16 Buzzards) – 5'11". Came all the way from Texas via the plains of Saskatchewan. Made the best of the trip, too, working hard and competing. A playmaker…a pass-first kind of guy.
Nolan Redler, '96 F, Winchester HS (#19 Nationals) – 5'7". Undersize forward was consistently active in the offensive zone. Looks to make plays. Heads-up player. Good D-III prospect. Will be a senior at Winchester.

Tim Allen, '96 F, Hotchkiss (#8 Buzzards) – 6'2". Good size. Worked hard along the wall. Good going through players to the net, but doesn't see the ice particularly well. With seasoning, he has potential as a fourth line guy at the D-I level. His younger brother, Matt, is a '99 forward who created a lot of buzz in the Prospects Division here. From Smithfield, RI.

Taylor Slade, '97 RD, Junior Bruins U16 (#4 Titans) – 5'11". Had a good tournament. Nothing flashy. Good defender with offensive upside.

Christian Simeone, '97 F, Thayer (#15 Nationals) – 5'10". Skates.
Tyler Scroggins, '96 F, Williston (#12 Hombres) – 5'8" Williston forward was the Hombres' top scorer.
Sam Michaud, '96 F, Middlesex Islanders (#21Titans) – 5'11". Powerful N-S skater. Good puck skills.
Justin Fein, '97 F, BC High (#15 Titans) – 5'7". Small forward who makes things happen. Good D-III prospect.

Patrick O'Leary, '97 LD, Boston Advantage (#7 Braves) – 6'1". Good sense, size, and skill. Moved well on the offensive blue line.

David Giunta, '97 RD, Belmont Hill (#5 Nationals) – 5'11". Just OK as a skater, but fundamentally sound.

Charley Michalowski, '96 F, Belmont Hill (#17 Buzzards) – 6'0". Looked good here. Improved since we last saw him at Belmont Hill.
Matty Horton, late '96 F, Avon Old Farms (#9 Titans) – 5'7". Nice shot. Pesky, quick. From Guilford (Conn.) HS.
Joseph Cippolone, '97 F, Selects Hockey Academy U16 (#12 Buzzards) – 5'9". Another small quick forward with quick hands.
? -- Connor Moynihan, '97 F, Halifax Mooseheads (QMJHL) (#14 Braves) – Was there for the first half of the tournament, then left for Halifax. From Windham, NH. Played last year for Middlesex Islanders (EJEPL).
Pro Division (Note: '93s and '94s excluded):

1. Ryan Donato, '96 F, Dexter School (#10 Warriors) – 6'1". The most highly-skilled forward here. Scored one goal in which he skated through the entire opposition a la Pavel Datsyuk before beating the goalie high. Will be a junior at Dexter. It's also his draft year.

2. AJ Greer, late '96 F, KUA (#11 Bombers) – 6'4". The youngest player in the pro division, the Penn State recruit is not even draft-eligible until 2015. A power forward in the making.
3. James Winkler, '96 F, Portland Pirates (#17 Warriors) – 6'3". Power forward with a big booming shot off the wing. Good hands. Leading scorer at Berwick as a junior last season. Will be going to the Pirates for his senior year. Pro scouts will be watching Northeastern recruit closely.
4. Miles Gendron, '96 LD, Rivers (#3 Apaches) – 6'2". Averaged over a point a game as a forward at Rivers last season, but is making the switch to D for this, his senior year. With his size, his exceptional skating ability, and his ability to skate with the puck, he could shoot up the rankings of NHL scouts making their draft lists for next summer. Moving back to the blue line looks like a very good move for Gendron. The only problem is that he has to learn how to play the position. Exactly how well he does in that endeavor is the million dollar question. He only started playing defense last month, so it's going to be a process.

5. Teddy Hart, '96 F, Phillips Exeter (#13 Royals) –5'11". Will be following his older brothers Kevin Hart (Providence) and Brian Hart (Harvard) to Phillips Exeter this fall. He will be a junior. Played for Maine Class B state champs Greely High School last winter. He's not at all like Brian as a player. He's much faster and quicker. He's a playmaker, much more likely to move the puck than too tee it up.

6. Jason Cotton, '95 F, Tri-City Storm (#10 Conquistadors) – 6'3". Cotton has size to spare, but he can also skate, sees the ice, is unselfish, and has good hands. Was passed over in June's NHL draft, but he could well hear his name called on his second go-around. A Texas native, he played in the Colorado Thunderbirds organization before heading out to Tri-City last year. A Northeastern recruit for fall '14.

7. Michael Lee, '96 LD, Gunnery (#6 Outlaws) – 6'0" former Hamden (Conn.) High d-man took his game to Gunnery last winter, and will be returning there for his junior year. Recently committed to Vermont. Lee is mobile, plays a solid physical game, and has good hands and puck skills.

8. Robert McGovern, '95 G, Thayer (#30 Bombers) – He's all of 6'4 and 230. In his street clothes he looks like a football player. But in the net, he moves well, economically, and the puck just hits him. McGovern kind of flew under the radar last year, but he was a huge part of Thayer's success.

9. Robert Carpenter, '96 F, Austin Prep (#9 Outlaws) – 5'10". Has average size, and is just an OK skater, but rates highly in all other categories. For one, he competes hard. Plus his passes are hard and on the money -- and his shot is hard, too. A very efficient player, with abundant hockey sense. Has ridiculously good bloodlines, too, with an uber-talented sister, Alex, 19, who you'll see in this winter's Olympic games in Sochi, and a dad who played 18 years in the NHL. BU recruit. And, by the way, we can't bring ourselves to calling him Bobo -- unless he insists on it.

10. Ryan Cloonan, '95 F, Waterloo (USHL) (#8 Warriors) – Former Maine commit played for the Junior Bruins (EJHL) last winter and will be headed to the USHL shortly. Skilled, quick, shifty playmaker.

11. Anthony Wyse, '96 LD, Boston Advantage (#7 Warriors) – 6'3". Has size, can skate, has hands, can play physically, and has a good reach. Newton, Mass. native put himself on the map here.
12. Evan Smith, '96 F, Salisbury (#16 Apaches) – 6'0". The Smith Twins were linemates here, just as they are in the winter. As such, it's hard to write about them individually. They are the ultimate package deal. They are also smart players, and often you don't notice them much until they create a scoring opportunity out of thin air. They didn't really wow us here, but we know what they can do. Both are Yale recruits.

13. Mitchell Smith, '96 F, Salisbury (#17 Apaches) – See above.

14. Connor Collier, '95 D, Canterbury (#4 Bombers) – 5'11". Really moves the puck nicely. Excellent PP guy.

15. Lewis Zerter-Gossage, '95 F, Kent School (#17 Conquistadors) – 6'2". Even if last season last year wasn't quite what we were hoping for, we still think Zerter-Gossage can bust through with a big year. The Montreal native will be a senior.

16. Dakota Ford, '95 LD, Middlesex Islanders (#3 Outlaws) – 6'2". He could blossom into a really good prospect on Sean Tremblay's Islanders squad this season. There's nothing fancy about his game.

17. Kevin Hock, late '96 F, Dexter School (#13 Warriors) – 6'0". The second-youngest player (after A.J. Greer) in the Pro Division. Hock, who played at Catholic Memorial last season, will be going to Dexter. Smart, creative around the net, good shot. His skating will come along as he works to gain strength.

18. Will Brophy, '96 RD, Westminster (#3 Conquistadors) – 6'4". We've always liked him but we really don't know what he is yet. Brophy could play pro or he could just be a strong D-III player – or anything in between. If we have to choose, we think he will be a very good D-I blueliner.
19. Tucker White, '96 RD, Junior Bruins U18 (#7 Bombers) – 6'5", and 210 lbs. A big kid who also has some talent. A true sleeper. From Wachusetts (Mass.) HS. In June, was drafted by Moncton in the 7th round of the Q draft.

20. Joe O'Connor, '96 LD, Westminster (#5 Conquistadors) – 6'2".Another big defenseman for Westy. From Hamden (Conn.) HS. Need to see him in the regular season.
21. Joe Sacco, '96 F, Rivers (#14 Apaches) – 5'10". Going into his junior year. He could really bust out.

22. Mark Dufour, '95 F, Middlesex Islanders (#11 Outlaws) – 6'2". Protects puck well. Good size. Played at Kents Hill last winter, where he scored 43 points in 35 games. From Winthrop, Maine. A Union recruit. Was a little quiet here.

23. Derek Barach, '95 F, Salisbury (#8 Conquistadors) – 5'8". Works hard, makes plays, scores goals. Was very effective here.
24. Will Golonka, '95 F, Belmont Hill (#11 Saints) – 5'10". A skilled player. Expected more from him here. UConn recruit.
25. JC Brassard, late '95 LD, Nobles (#4 Royals) – 5'11". He can skate and shoot it – really snaps it off. Good uncommitted prospect. Offensive upside. Leading scorer among returning defensemen at Nobles.

26. Cullen Geary, '95 RD, Deerfield (#3 Chiefs) – 6'2". Big solid defenseman. Plays physically. Thinks the game well. Moves the puck efficiently, too.
27. Matt Foley, '95 RD, Phillips Exeter (#2 Royals) – 6'2". Former Springfield Cathedral tri-captain will be a PG at Phillips Exeter this season.
28. James Gobetz, '96 RD, Salisbury (#4 Apaches) – 6'2". Big Salisbury defenseman is a bit of a project, as he gets a little jumpy with the puck on his stick at times. But with former Union d-man Andrew Will as his coach we expect his game can only improve.
29. Michael Marnell, '95 F, Des Moines Buccaneers (#9 Conquistadors) – 5'10". Quick, good sense, and excellent anticipation. A Long Island native going into his second season in the USHL. St. Lawrence recruit.

30. Tim Doherty, '95 F, St. George's (#10 Outlaws) – 5'10." Clever playmaker who averaged over two points a game at St. George's last winter. You don't notice him that much until he puts the puck on a linemate's stick. From Portsmouth, RI.
31. Joe Slovak, '95 F, Tabor (#17 Bombers) – 5'7". Small and fast. A waterbug always involved in the play.

32. Gianni Paolo, '96 RD, Portland Pirates (#2 Warriors) – 5'9". RI native played for Scranton/Wilkes-Barre last season. Going to the Portland Pirates this year. Makes plays. Moves the puck well. A PP guy.
33. Matthew Muzyka, '96 F, Salisbury (#15 Conquistadors) – 6'1". Worked hard.

34. Joey Fallon, late '95 F, The Gunnery (#12 Chiefs) – 5'7". Former LI Royal, going into his second year at the Gunnery, forechecks hard. Has recently committed to Princeton for the fall of '16.

35. Michael Lata, '95 F, Phillips Andover (#15 Outlaws) – 6'2. A late bloomer? Skating is a little heavy-footed. Andover's leading goal scorer – he had 14 -- last year will be a senior. From Toronto.

Pro Division – the Best of the Rest:
Ben Freeman, '96 F, NMH (#11 Royals) – 6'4". A big, raw NMH kid. A project but, given that he has soft hands, there could be real upside when he grows into his body. Was at Falmouth (Maine) HS before heading off to boarding school.

Malcolm Hayes, '95 RD, Cushing (#5 Apaches) – Former New Hampton Prep defenseman from Atlanta, GA is moving over to Cushing for a PG year. At 6'2" and 215 lbs., Hayes is big and strong. He's also very athletic, with good skating ability and a big hard shot. He doesn't hold back, either. He has to learn to be calm when the puck is on his stick and when the game speeds up. His game is in need of serious refining. Hayes is a project for Cushing, but one that could pay off. Check back in March.

Tyler Bird, '96 F, KUA (#8 Bombers) – 6'2". We know he's a good player, but he was subpar here. We had to look for him. And occasionally we found him, on the perimeter. Played for St. John's Prep last winter. A Brown recruit.

Connor Maher, '95 G, South Shore Kings (#1 Royals) – 6'0". Former Nobles goalie is going to the South Shore Kings (EJHL) this season.
Eddie Ellis, '95 F, Middlesex Islanders (#12 Outlaws) – His skating is better than it used to be, but he is limited as a playmaker. Graduated from Phillips Andover in the spring. Harvard recruit for fall '14.
Dominic Franco, '96 F, KUA (#10 Bombers) – 6'3". Nice size; nice release to his shot. Needs to continue working on his skating. Scituate, RI native transferring from Pomfret to Kimball Union.

William Feeney, late '95 LD, Dexter (#5 Bombers) – 6'2". Solid. Nothing flashy. Good first pass. A player to follow.

Colin MacGillivray, '95 LD, South Shore Kings (#5 Saints) – 6'2". Played at Malden Catholic two years ago, then with the NH Jr. Monarchs last season.
Billy Sweezey, '96 RD, Nobles (#6 Chiefs) – 6'0" A good dependable defensive defenseman who can also skate with the puck. Competes hard.

Kyle Fargesen, late '95 F, Lincoln Stars (#12 Conquistadors) – 5'9". Good speed. Made a couple of nice passes. Played for NJ Rockets last year (AJHL).

Sam D'Antuono, late '95 F, Dexter (#9 Bombers) – 6'2". Former Hingham High forward will be going to Dexter. Didn't really get a good feel for what he could do here, but saw enough to pique our curiosity.

Joey Caffrey, '95 F, Choate (#12 Bombers) – 5'11". Made plays, good hands. Played very well here.
Zach Malatesta, '96 LD, Junior Bruins (#4 Chiefs) – 5'10". Played physically; kept the game simple.
Andrew Cross, '96 LD, Austin Prep (#4 Saints) – 5'10". Good positionally. Smart. Poised with the puck. Bit of a tweener.

Tyler Drevitch, '95 F, Bridgewater Bandits (#11 Warriors) – 5'11"

Patrick Flynn, '96 F, Boston Advantage (#12 Warriors) – 5'11" Dartmouth recruit

Matthew Schneider, '95 G, Gunnery (#30 Warriors) – 6'0". Gunnery has two new goalies coming in, both were here, and both showed a little something. Need to see more over the course of the season.
Brendan Robbins, '95 F, Middlesex Islanders (#14 Saints) – 6'1"

Roberts Smits, '95 F, Selects Hockey Academy (#15 Royals) – 6'1", 205 lbs. From Riga, Latvia. In second year at Selects Academy.

Chris Vicario, late '95 F, Junior Bruins (#16 Royals) – 5'10". Energy, speed, shiftiness, makes plays.

Craig Pantano, '95 G, Boston Advantage U18 (#30 Royals) – 6'0". Very sound technically. Came out and challenged shooters.
Sean McCarthy, '96 F, Junior Bruins (#12 Apaches) – 6'1". Has a little grit to his game.
Mark Bowen, '95 F, Canterbury (#9 Chiefs) – 5'7" New Jersey native was one of the top scorers at Canterbury last winter. Highly noticeable here.

Brett Supinski, '95 F, Millbrook School (#16 Chiefs) – 6'0". Came up with a few good plays.

? -- Danny Moynihan, late '95 F, Halifax Mooseheads QMJHL (#13 Saints) – 6'1". Played the first couple of days before bolting for Halifax. A creative playermaker who plays both ways, is a strong skater, has a good sense of the game, and good hands. Had interest from colleges – BU, for one – but opted for the Q.
Prospects Division ('99-'00 only):

Forward Matt Allen was the top prospect here, but he is also quite a bit larger than some of the kids he was playing against – one was 4'10" and 90 lbs. Just want to provide a little context, that's all.

USHR All-Star Team:

Forwards:
Matt Allen, '99 F, Selects Hockey Academy U14 (#10 Harbor Wolves)
Matthew Fawcett, '99 F, U14 Providence Capitals (#20 Harbor Wolves)
Anthony Sciucco, late '99 F, U14 South Shore Kings Elite (#16 Shamrocks)

Defensemen:
Dan Griffin, '99 LD, Belmont Hill (#3 Shamrocks)
Michael Bermingham, '99 RD, Minuteman Flames U14 (#2 Harbor Wolves)
Goaltender:
Ryan Hoff, '99 G, Boston Advantage (#30 Shamrocks)

Also keep in mind the following:
Joseph Lyons, late '00 RD, Middlesex Hockey Club (#4 Harbor Wolves)
Brian Scoville, '99 LD, Providence Capitals U14 Elite (#8 Harbor Wolves)
Tristan Amonte, '00 F, South Shore Kings (#11 Harbor Wolves)
Troy Kobryn, '99 G, Delbarton (#30 Harbor Wolves)
John Henry Vokey, '99 F, U14 Flames (#19 Shamrocks)

Thurs. 8/15/13

Schmaltz Dazzles at Hlinka Memorial
The U.S. Under-18 Select Team ('96 birthdates) was blanked by Canada, 4-0, at the 2013 Ivan Hlinka Memorial Tournament Championship game Saturday in Piestany, Slovakia.

The USHR budget is just a little too small to allow travel to Europe, but a veteran NHL scout in attendance has provided us with a report on the U.S. kids. All except for six U.S. players are graded and commented on below, and it is fair to say that the comments are weighted more toward pro potential than college (and that's leaving aside the fact that a half-dozen kids on the team are playing major junior). Those without comments were, according to our scout, players "I just didn't notice that much."

However, he added, at this time, and given the high level of competition on some of the teams the U.S. played, "I don't want to grade them or comment in a way that might come off negatively." That's fine with us. It's a long way to next June's NHL draft, and a lot can change.

As for next summer's draft, all U.S. players written about below -- with the exception of four - are eligible. Those who are late '96s and thus not eligible until 2015 draft are noted in the comments below.

The Rankings:

A+ : Nick Schmaltz, C, 6-0/170 – The best forward on the team, if not the entire tournament. Great hands – very soft -- and excellent hockey sense. The Green Bay Gambler is also a good balanced skater. A North Dakota fall '14 recruit, his five goals led the tournament. Added three assists for a 5-3-8 line in five games played, which put him second overall in scoring, behind only Canada's Spencer Watson (4-6-10).

A : Jack Dougherty, RD, 6-1/190 – Also possesses great hockey sense. Add in good passing skills and good skating ability. Tough to get around. Was the top-scoring U.S. d-man with a 1-2-3 line. Decommitted from Ohio State after Mark Osiecki was let go in the spring. Going to NTDP U-18 Team this fall. Played at St. Thomas Academy last winter.

A : Keegan Iverson, RW, 6-0/222 – A strong skater with a wide power stride. Very good on boards and front of the net. Plays whole ice, and reads the play well. Formerly at Breck, but went major junior with Portland Winterhawks (WHL) last season.
A : Austin Poganski, RW, 6-1/204 – A smart player with good hockey sense, hands, and skating ability. Sees the ice well, and will go and fight for the puck in the corners. Good overall talent. St. Cloud native is committed to North Dakota for fall '14.
A : Dominic Turgeon, C, 6-2/211 – A big strong skater, and good playmaker. Will win most of the battles in the corners or in front of the net. Plays in all situations. Scored only goal in his team's lone pre-tournament exhibition game, a 1-0 win over the Czech Republic. Son of former NHLer Pierre Turgeon. His uncle, Sylvain, also played in the NHL.
A : Ryan Wagner, C, 5-8/171 – Team captain, and a very hard worker. Small, with quick feet. Very good puckhandler in both small areas and at top speed. Plays in all situations. Scored game-winning goal – a third-period breakaway -- in semi-final win over Czech Republic. Played for Chicago Mission last year. Will be with NTDP U18 team this season. A Wisconsin recruit.
A- : Paul Bittner, LW, 6-4/207 -- Very good offensive skills. Has a powerful shot with a quick release. Not afraid to go through traffic. A hard-working kid. A late '96. One of three Portland Winterhawks on the US squad.
B : Brandon Carlo, RD, 6-5/184 – Has good size, but needs to get quicker and more mobile. Possesses good hands and a strong defensive hockey sense. Former Colorado Thunderbird went major junior with Tri-City (WHL) late last season. A late '96.
B : Kyle Connor, LW, 6-1/168 – Confident, with soft hands and good playmaking ability. However, he needs to get stronger. Michigan recruit for fall '15 is also a late '96. Plays for Youngstown (USHL).
B : Jake Wahlin, RW, 5-9/167 -- Small, but a good skater with shifty hands. Great forechecker. Yet another late '96, he was a sophomore at White Bear Lake HS last season. A UMass recruit.
B : Blake Weyrick, G, 6-2/205 – NTDP goaltender only played one game. Looked confident, is a good skater, has good reactions, but needs to work on rebound control. 2.00 gaa/.882 gaa.
B- : Alex Nedeljkovic, G, 6-0/193 – Plymouth Whalers goaltender has good mobility and quickness to go along with good concentration. Needs to add more consistency to his play. 2.99 gaa/.897 in four games played.

C : Ryan Mantha, RD, 6-5/225 -- Big strong D, with average mobility and decision-making. Inconsistent in his play. A North Dakota recruit, he plays for Sioux City (USHL). A nephew of former NHLer and NTDP coach Moe Mantha.
C : Dylan Malmquist, LW, 5-10/171 – Smallish, but a nice skater with good quickness. Good hands. Needs to apply a more consistent work ethic. Plays for Edina HS.
C- : Bob Nardella, LD, 5-8/165 -- Small, with good feet and quickness. Offensive-minded, but needs to work on his defensive zone play as he tends to hold on to the puck too long, thus getting himself into trouble. Lacks strength. Played for Chicago Mission last season. A Notre Dame recruit.
C- : Nick Wolff, LD, 6-4/197 -- Struggled with decision-making. Has average hands and skating ability. Played at Eagan HS last season.
Not graded: RD Aaron Haydon, LD Jerad Rosburg, RW Joey Dudek, C Cody Milan, LW Chase Phelps, C Joseph Snively.
-- The U.S. team's head coach was Bob Corkum. Assistants were John Gruden, Matt Herr, and Derek Plante. Video coach was Alex Todd.


***
Canada, of course, won the whole tournament and writing up their players, most of whom are major junior prospects anyway, would require a whole separate article. So we're passing on that -- not that they will lack for attention.
We do want to mention a few of the players from other teams the U.S. played.

SLOVAKIA:

This was a very weak team, finishing the tournament with only four goals scored. A couple players worth mentioning are:

Adrian Holesinsky, a 6'0", 175 lb. forward with good hockey sense, and decent skating ability. However, his game was inconsistent.
Juraj Mily, a late '96 forward. Tiny – he's only 5'9", 139 lbs. – but showed a determination to play well every shift. Has no strength and was easily pushed off the puck.
RUSSIA:

Nikita Lyamkin, a left shot D with good size potential at 6'3", 165 lbs. Showed good defensive as well as offensive skills. Is going to play this season in the QMJHL with Chicoutimi.
Yevgeni Svechnikov, a late '96 forward. A very good skater, with good balance. Is shifty, with quick hands. A little selfish, but a great overall talent. Stands 6-0/170.
Ivan Nikolishin – The Russian captain is small at 5'8", 170 lbs. but is a great skater and puck handler. He's always dangerous in the offensive zone, but can be a little undisciplined. He's coming to North America where he will be playing for the Everett Silvertips (WHL). His father, Andrei, played for ten years in the NHL.
FINLAND:
Kaapo Kahkonen, a 6'1", 187 lb. goaltender, has a lot of talent. With the exception of one game, he was outstanding. Was always in good position to the shooter, and showed good skating ability – very mobile. His rebound control was strong.

Jarkko Parikka, a 5'10", 163 lb. right-shot D, is only a '97 – and a September '97 at that. He will be playing with the Sioux Falls Stampede (USHL). He's a good skater who is smart with the puck.
Finland's big guns up front were 6'1", 193 lb. LW Juho Lammikko, who finished with a 3-2-5 line, and 6'1", 179 lb. late '96 RW Mikko Rantanen, who tied Schmaltz for second in tournament points with a 4-4-8 line.
Around the Rinks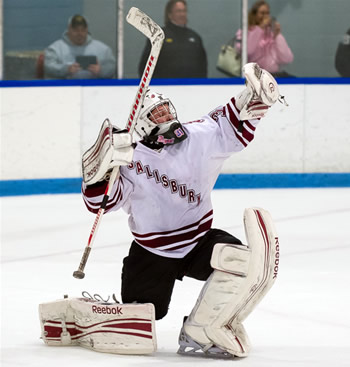 At the final buzzer of Sunday's prep title game, Salisbury sophomore G Callum Booth, who is about to get mobbed.
(Photo: Dave Arnold Photography)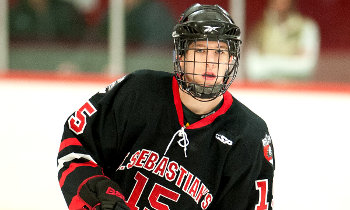 Noah Hanafin, St. Sebastian's '97-born d-man and BC recruit, is USHR's #1-ranked sophomore of the 2012-13 season.
(Photo: Dave Arnold Photography)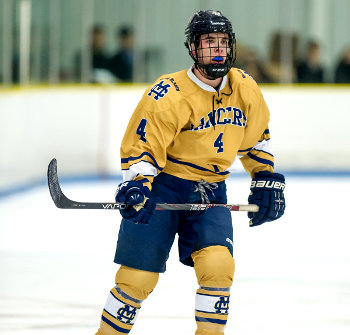 Casey Fitzgerald, Malden Catholic '97-born d-man and BC recruit, is USHR's #3-ranked sophomore of the 2012-13 season.
(Photo: Dave Arnold Photography)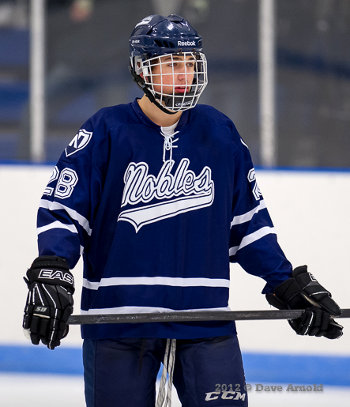 Miles Wood, Nobles forward and Brown recruit -- out for the season with a broken foot -- is USHR's #9-ranked sophomore.
(Photo: Dave Arnold Photography)