Established 1996 -- Celebrating Our 25th Year
Sat. 12/28/13

Lawrenceville Christmas Tournament Rankings
The annual Lawrenceville Tournament is unique in that all teams stay on campus. Not in the dorms, though. Teams bring along their sleeping bags and camp out in the adjoining athletic complex, with two 'lucky' teams getting to share the basketball gymnasium together for the weekend. It's a special experience and something players look back on fondly many years after they have hung up their skates.

This year's Lawrenceville Tournament, the 66th edition, was won last Sunday by Choate. It took Pat Dennehy's team two overtimes – a total of 83:05 of hockey – before the Wild Boars were able to put away a very tough Nichols squad, 4-3, on a Jeremy Germain goal. In the third-place game, Northfield-Mount Hermon, which was impressive all weekend, beat Taft 3-2. Canterbury was able to string together two wins in the second half of the tournament and outlasted Belmont Hill 2-0 in the fifth-place game. Host Lawrenceville only managed to score one goal all weekend and suffered a 4-0 loss to Upper Canada College in the seventh-place game.
We ranked 25 players from the weekend -- fifteen forwards, six defensemen, and four goalies.These ranking are based on the players' performances throughout the tournament. (Due to a couple of tournament games at Princeton's Baker Rink running simultaneously with games at Lawrenceville, we were unable to see all teams two times. For instance, we were only able to see Belmont Hill and Upper Canada College once – in a 0-0 tie. Not the greatest of viewings, but those are the breaks.)


Forwards
1. Ross Colton (#20, Taft, 5-10/169, Jr., '96) – No one else came close to the performance that Ross Colton had at Lawrenceville over the weekend. His scoring line of 8-5-13 over four games made him our clear-cut top player of the tournament. The forward from Robbinsville, NJ was particularly unkind to host Lawrenceville, notching five goals in an 11-0 win. Colton has great offensive instincts, especially around the net. He moves well laterally with the puck and is deceptively shifty. The former Princeton Day School standout has had a great start to his season: in just nine games he has a 14-6-20 line.
2. Joey Caffrey (#22, Choate, 5-11/178, Sr., '95) – Caffrey, a good skater who can make plays off the rush, is a scoring threat every time he is on the ice. Has special playmaking ability that will make him a valuable asset for Ted Donato when he arrives at Harvard next fall.
3. Carson Gicewicz (#17, Nichols, 6-3/203, Jr., '97) – A big forward who has an NHL-size frame as a prep school junior. The younger Gicewicz is a power forward in the making as he is fast and gets in on opposing D in a hurry. Has a lightning-quick release that doesn't allow goalies much of a chance to set up. Plays in all situations for Nichols and competes extremely hard every time he is on the ice. Committed to play at St. Lawrence starting in the fall of '16. His brother RJ (Green Bay -- USHL) will suit up for the Saints next season.
4. Owen Powers (#14, Choate, 6-3/198, Sr., '95) – The senior co-captain was a presence all weekend for the eventual tournament champs. The Cheshire, Conn. native is a good skater and extremely agile for a player of his size. A good playmaker who is able to put passes tape-to-tape in hard areas, Powers is also able to open up space with his physicality. A player who has flown under the radar, Powers is now making a strong case for consideration as a legitimate Div. I player.
5. Peter Straub (#17, Taft, 6-2/199, Jr., '96) – The former Chicago Young American forward opened a lot of eyes this weekend. Straub was noticeable every game with his ability to generate offense using his big frame. Showed a good skill set with the puck in tight areas and even pulled out a couple of nice toe drags. Needs to improve his skating and become a step faster. If Straub is able to do this, he will become a serious Div. I prospect.
6. Will Golonka (#15, Belmont Hill, 5-11/183, Sr., '95) – A very good skater who has strong edges and a low base that makes him very hard to knock around, Golonka uses his skating ability to generate offense by making it hard for defensemen to separate him from the puck. The Carlisle, Mass. native plays the game with an edge and never passes up the chance to finish a hit. Committed to play at UConn next season.

7. Cole Maier (#44, Taft, 6-1/182, Sr., '95) – Recently committed to play at Union College, Maier, a New Jersey native and Taft's captain, is a versatile player. Plays the point on the PP-PK and works well with Ross Colton, complementing the former's skill with grit and hard work.

8. Ben Freeman (#24, NMH, 6-4/190, Jr., '96) – If there is one thing the big Falmouth, Maine native did in New Jersey this weekend it was shoot the puck. There was not a player in the entire tournament who took more shots than Freeman. However, the UConn recruit was only able to generate one goal and one assist over the weekend.

9. Jeremy Germain (#10, Choate, 6-0/180, Jr., '96) – The Hamden, Conn. native was noticeable all weekend. Plays well on a line with Owen Powers and Joey Caffrey. Scored the game-winner in double OT against Nichols in the championship game on Sunday. Makes simple plays that continue plays.

10. Jake Smith (#13, Nichols, 5-11/172, Sr., late '96) – Anticipates plays well and always has his head up looking to make a play. Has a nice set of hands and is very creative with the puck on his stick. Plays an up-tempo game.
11. Bradley Allen (#16, NMH, 5-9/170, PG, '95) – Had an impressive weekend including a big game against UCC in which he had a hat trick and added an assist to contribute to all four of his team's goals. We saw the PG from Toronto earlier this season and liked his game. Allen has good speed and always finds a way to be involved in the play.
12. Matt Baker (#10, UCC, 5-8/145, Soph., '97) -- The sophomore from the Barrie Colts Midget Minor squad thinks the game well beyond his years. He always seems to get himself to an area from which he can make a play. Has sleek hands and controls the puck effortlessly. A very shifty skater who has a nice release.
13. Mark Bowen (#21, Canterbury, 5-8/160, Sr., '95) – Bowen, from West Caldwell, NJ, is the straw that stirs the drink for Canterbury's offense. A 2016 Mercyhurst recruit, Bowen relies on his quick feet and quick hands to create opportunities.
14. Harrison Oates (#7, Nichols, 5-8/145, Jr., '97) – A complementary player who is on the top line with Carson Gicewicz. Hailing from Clarence, NY, Oates is not flashy but plays a smart game. Makes players around him better and does a nice job distributing the puck. He's also responsible in his own end.
15. Jordan Kaplan (#13, Lawrenceville, 5-9/150, Jr., '97) – The lone bright spot on a Lawrenceville team that is in a rebuilding phase. Has good offensive skills and often has to carry the puck end to end in order to get Lawrenceville in the offensive zone. Has a tendency to get too fancy at times. Stays on the perimeter too much and needs to learn to play in the dirty areas to be effective.


Defensemen
1. TJ Schultz (#14, Taft, 6-4/182, Jr., '96) – A Division I prospect, Schultz has good foot speed and is fearless in rushing the puck through traffic in the neutral zone. The junior plays a lot of minutes for Dan Murphy's squad and is a force every time he is on the ice. The Evanston, Illinois native is a draft pick of the Chicago Steel (USHL).
2. Vincent Ditmore (#3, Choate, 5-8/173, Jr., '97) – An agile defenseman we often confused with a fourth forward because he was always up in the play. With his offensive skills, Ditmore, from Alpharetta, Georgia, is really fun to watch. Has good speed, which allows him to recover after he jumps up in the offense.

3. Troy Dobbs (#2, Nichols, 6-1/197, Sr., late '96) – Caught our eyes with a couple of nice rushes in which he uses a powerful stride to blow by opposing forwards. Does a nice job keeping pucks inside the zone. A smart player who never loses his coverage in his end.
4. Matt Liebers (#68, Taft, 6-0/180, Sr., '95) -- Heady d-man who is responsible in his own end. Liebers uses his stick well and is always in a good position defensively. New Jersey native is strong on his skates and very physical in his own end, especially below the goal line.
5. Max Daigle (#4, Choate, 5-9/192, Sr., '95) – The Wild Boars' co-captain wasn't as involved in the offense as his teammate Vincent Ditmore, but Daigle, from St. Lambert, Quebec, skates well and makes smart decisions with the puck on his stick. A stocky d-man, Daigle is strong on his skates and able to handle himself against bigger forwards in his own end.
6. Corey Moriarty (#8, NMH, 5-10/180, Sr., '95) – The undersized defenseman from Estero, Florida has been the anchor for the Hoggers' defense corps since his sophomore year. Has very good skating ability and excellent poise with the puck along the blue line.


Goaltenders
1. Andrew Tucci (#35, Choate, 5-7-156, Jr., '96) – If there was any doubt as to which team has the best goaltending duo in prep school hockey, Tucci's performance in Lawrenceville showed that honor belongs to Choate. A Toronto native, Tucci started three out of four games this weekend. While classmate and Yale recruit Sam Tucker saw action in just one game (a 4-3 loss to Belmont Hill), Tucci was stellar in every game the Wild Boars played in Lawrenceville. Made 39 saves on 42 shots in the double OT final against Nichols on Sunday.
2. Conor O'Brien (#31, NMH, 6-2/170, Jr., '97) – This weekend might have been O'Brien's best weekend in an NMH jersey. A Warren Strelow National Goaltending Camp attendee last summer, O'Brien has always been highly thought of within the USA Hockey community but has never consistently shown that skill set in the winter. In L'ville, the tall, lanky goaltender was controlled in his movements and made big saves at critical times that enabled his team to finish the tournament in third place. O'Brien, who hails from Florida, is still young – he's a '97 -- and has plenty of time in front of him.
3. Joe Lissak (#30, Taft, 6-1/201, Jr., '96) – The junior has stepped into the starting role for the Rhinos this year and has provided stability between the pipes. Listed as a "C" goaltender on NHL Central Scouting's fall list, Lissak showed poise and confidence in all three of his starts over the weekend.
4. Ryan McConnell (#33, Belmont Hill, 5-10/170, Sr., '95) -- The senior is heavily relied upon to keep his team, which is having trouble scoring so far this season, in games. The Medford, Mass. native had an impressive shutout against Upper Canada College and kept Belmont Hill in a tight 2-1 loss to NMH. In both outings McConnell made 30 saves.
5. Anthony Tirabassi (#30, Nichols, 5-9/167, Sr., '96) – Niagara Falls, NY native stopped 61 of 65 shots in a double-overtime loss to Choate in Sunday's championship game.At only 5'9", Tirabassi lacks the size a lot of coaches look for in a goalie. On the other side of the coin, he challenges shooters and is very smooth in the crease.



Fri. 12/27/13

Lawrence-Groton Tournament Rankings
The Lawrence-Groton Tournament was won this year by Culver Academy, which topped Proctor 4-2 in the title game. Cushing blanked Groton, 7-0 in the third place game. Dexter topped Holderness in the fifth place game. And
Pomfret
and Lawrence Academy played to a 0-0 tie in the seventh place game. The top teams were Culver, Cushing, and Dexter.
Here are the 50 players we thought stood out:


Forwards:
1. Ryan Donato (#16, Dexter, 6-0/175, Jr., '96) – The premier forward in prep school hockey was followed like a hawk by NHL scouts all weekend. What they saw was a player who has good size and uses his body well, particularly when it comes to initiating contact in order to gain time and space. The son of Harvard coach and former NHLer Ted Donato also has terrific hands and, to complement that, the vision to read plays – and also create plays out of nothing. In addition, Donato has poise with the puck, allowing plays to develop before making his move. He's savvy and disciplined in all three zones, has an elite shot -- both the snap shot and a wrister -- and is a strong skater who is difficult to knock off the puck. Donato, who we can't see lasting beyond the second round of June's NHL draft, could improve his skating some, particularly his explosiveness. Against Lawrence Academy, he scored on a remarkable wrist shot from the top of the faceoff circle to the top corner of the net to put Dexter up 7-6 with 43 seconds remaining. Lawrence responded with a quick goal to tie it at 7-7 and send it to OT, where Donato scored again on another eye-popping snipe, this one a wrister from the high slot to the top corner just a fraction of an inch under the bar. Two clutch highlight goals in less than a minute exhibited Donato's dominance in this league. In nine games, he has a 14-13-27 line – an average of three PPG. That's another sign of his dominance.
2. David Cotton (#11, Cushing, 6-3/185, Soph., '97) – A topic of conversation around the rink on Thursday was whether the Parker, Texas native projects to be a better prospect then Cam Askew, who was at Cushing last season but left over the summer for the Q. Cotton has great size and strength for his age, and surprisingly soft hands too. He possesses good shooting ability and moves very well for his size. While he is still growing into his body and can be a little awkward at times, his upside is extremely high. He leads Cushing in points with a 6-14-20 line in ten games, nearly twice as many points as the next guy. He has great passing ability because he creates separation with his size, hands, and vision. If opponents give him room he will take it -- and he has a good shot. Cotton, who is strong for his age and moves well for his size, is an elite college prospect and should go high in the 2015 NHL Draft.
3. Karch Bachman (#8, Culver, 5-11/170, Soph., '97) -- Bachman was the best player on the best team this weekend. Drafted by the Barrie Colts in the OHL, he decided to pursue the NCAA route and committed to Miami-Ohio, where we feel he could have a great career. Bachman, an Indiana native, is a sophomore and the youngest player on his team, which knocked off Dexter and Cushing in a 24-hour span. Smart and elusive, Bachman's speed and explosiveness was the best we saw in the tournament -- by quite a margin, too. He also changes speed effectively, coming through the neutral zone while the D gap up thinking he is going full speed, but then he is suddenly five feet behind them. Just an exceptional burst. He also has smooth hands and a quick release to his shot, but what's even more impressive is how well he handles the puck at top speed. The Culver team he plays on is very disciplined and selfless and he buys right into it. He is not a prima donna at all, working hard in all three zones, blocking shots, finishing checks, winning a high percentage of faceoffs, and competing throughout every shift.

Note: The above three forwards were clearly in a class of their own. There was a dropoff after them.

4. Bailey Conger (#13, Cushing, 6-0/170, Soph. '97) – An impressive blend of size and skill, Conger, who played last year for the Utah Regulators U18s, has soft hands and a great head for the game that allows him to create plays that most players his age do not see. He is still a work in progress as he grows into his body, but he has a good frame and all the tools to be a high-end prospect. Conger, from Boise, Idaho, helped put himself on the map with a good showing at the Select 16s over the summer, scoring three goals in five games.
5. Michael Turner (#23, Cushing, 6-3/205, Sr., late '95) -- Turner, listed as a C prospect on NHL Central Scouting's November Players to Watch List, hails from Chicago, Illinois where he played for the Mission U16s and then the CYA U18s before coming to Cushing last season. As an uncommitted senior, he was a focus of both college recruiters and NHL scouts over the weekend. Turner has an interesting combination of size and speed, but is also a raw talent who has not yet come close to tapping his full potential. He has strong hands and uses both his body and long reach to protect the puck. He has a long powerful stride and is strong on his skates, allowing him to be a physical and hard-hitting presence. He lacks an identity to his game, however, and sometimes skates around and plays a physical style and other times he tries to get cute and stickhandle through the neutral zone. Turner started the weekend against Lawrence Academy and showed flashes, but played a much better game against Dexter, scoring the game-winner early in the third period. Right now, he projects as a bottom six forward at the DI level.
6. Matt Brazel (#4, Dexter, 6-0/170, Jr., '96) -- While Donato gets all the press at Dexter and is in a league of his own, Brazel is their next best forward and is being followed closely by Hockey East schools. He's a heads-up player with soft hands. He always keeps his feet moving, and he forechecks hard. Brazel has both the skill and athleticism to create goal-scoring opportunities from turnovers. He is an excellent passer and playmaker, which is particularly noticeable on the powerplay, where he anticipates well. He has already racked up 14 assists in nine games. A repeat junior, he comes to Dexter from Hingham High.

7. Kevin Hock (#14, Dexter, 6-0/165, Soph., late '96) -- Hock comes to Dexter from Catholic Memorial where he was their second-leading scorer as a freshman. The Braintree native has speed and knows when to use it. He is tall, surprisingly quick, and has a good release. Playing on a line with Ryan Donato does not hurt his stock, but he is good in his own right. A solid DI prospect.
8. Sam D'Antuono (#20, Dexter, 6-2/200, Jr., late '95) -- D'Antuono was one of the tournament's most intriguing prospects. A repeat junior out of Hingham High, D'Antuono moves well for his size and has solid playmaking ability. At times over the weekend he was fighting the puck a bit but he plays a physical brand of hockey, can skate with the puck, and makes the simple play. He is very raw at this point in his career but he's in a great place to develop and polish his skills. Has college recruiters and NHL scouts intrigued.

9. Matthew Hoover (#19, Cushing, 5-10/180, Sr., '96) -- The captain and top-scoring returner on a very deep Cushing team, Hoover is a very good skater who plays the game with a lot of energy. A versatile prospect, Hoover could be a powerplay, skill and finesse player at the next level or he could be an aggressive energy player who forechecks hard and plays physically. Hoover has good hands and rarely loses the puck, and has a hard shot that he gets off quick. He is relentless along the boards and in 1x1 battles. Has the attention of several DI schools, but is currently uncommitted.

10. Ryan Coulter (#27, Culver, 5-11/195, Sr., '95) -- Coulter has committed to Bowling Green and was playing through an injury over the weekend. The Dundas, Ontario native has speed and plays hard in all three zones, blocks shots, finishes checks, and wins battles all over the ice.

11. Zach Main (#18, Culver, 5-11/170, Jr., '96) – A 10th round pick of the Barrie Colts in the 2012 OHL Draft, Main stood out from Day 1 here, when he scored two goals and had an assist against Dexter in a 3-3 tie. Main followed that effort up with a two assist performance against Cushing in a 4-1 win. While playing with linemate Karch Bachman certainly helps his productivity, Main has good size, flashes of elite speed, and is strong on his stick which makes him effective around the net. He is still growing but has a good frame and has DI potential. Is also a DI prospect in lacrosse.

12. Tucker DeYoung (#19, Culver, 6-0/185, Sr., '96) -- Had two goals and an assist in the 4-2 championship win over Proctor. Plays with BGSU recruit Coulter. Has good size and speed. Handles the puck well and has a nice snap shot. Plays the point on the PP.

13. Jake Simons (#10, Cushing, 5-7/160, Jr., '96) -- Simons, who comes to Cushing from the Palm Beach Hawks of the EJHL South, showed speed and agility every shift. He also has smooth hands and feet. Playing on Cushing's top line with Cotton and Conger, he is averaging a point a game. Simons is primarily a perimeter playmaker, but he has more versatility then people give him credit for. While he is small and hasn't filled out yet, he has quick enough hands to get through traffic and get off quality shots off. In addition, his skating makes him difficult to catch at this level. Don't overlook him because of his size.
14. Jake Pappalardo (#8, Proctor, Soph., '97) -- We wrote about Pappalardo, a Salem, NH native, at both the Lawrence and Proctor Jamborees earlier this season and he continues to develop under coach Mike Walsh. An explosive player who is light on his skates, Pappalardo moves almost effortlessly with the puck on his stick. He has a hard snap shot and quick hands to get around defenders who outsize him. He is a little undersized and slight so it is hard to project where he will end up but his speed and athleticism have already attracted some DI coaches.

15. Colin Raver (#17, Culver, 6-3/180, Sr., '96) -- Moves well for being 6'3". Also made a lot of nice passes in the offensive zone to create scoring opportunities for his linemates.

16. Ace Cowans (#14, Groton, 5-7/150, Jr., late '96) -- Cowens doesn't project as well as the players listed above him but is worth mentioning because at the prep level he is extremely dangerous, averaging 2.5 points a game after eight games (7g 13a). Cowens, who came to Groton by way of the Cardigan Mountain School, is listed at 5'7", 150 lbs., but we think that is generous. Nevertheless, you rarely see him get hit and it's not because he's shy, rather he is slippery and elusive with the puck and goes to open ice regardless of whether its north, south, east or west. Cowans has elite hands and passing ability, both of which are on full display on the powerplay, where you don't want to overcommit to him. A quick and agile skater, Cowans can turn on a dime and has a quick release to his snap shot. Given his skill set it is entirely possible that Cowans could play somewhere at the DI level. If not, he would be a terrific NESCAC player.
17. Hunter Luhman (#11, Proctor, Jr., '97) -- Luhman, from White River Junction, Vermont, was Proctor's leading scorer last season as a sophomore and continues to shine every time we see him play. He is a smooth and gifted skater who has good mitts and a scoring touch. He scored a beautiful backhand goal against Holderness where he worked the goalie side to side and roofed it top shelf. Has DI potential, but needs to become more dynamic.
18. Tommy DeFelice (#9, Cushing, 5-9/180, Sr., late '95) -- Coach Rob Gagnon calls DeFelice the heart and soul of the Cushing offense. The Tolland, Conn. native works hard all over the ice, an active player who is strong and tough. DeFelice has quick, soft hands that make him more than just an energy guy.

19. Michael Brown (#8, Groton, 6-2/183, Soph., '97) -- Had a hat trick against Holderness and showed throughout the weekend that he can score goals. Has a big body and a great frame. Has serious upside but needs to improve on his skating to get to the next level.

20. Dakota Mulcay (#16, Cushing, 6-1/175, Fr., '98) -- Good size and pretty good feet for a '98.
21. Ryan Steele (#11, Holderness, 5-10/170, Soph., late '97) -- A late 97' from Prince Edward Island, Steele has good size and puck possession skills, and skates with poise and confidence. He is still growing into his body, but with his stick skills and shot he could get some DI looks.

22. Michael Snow (#27, Lawrence, 5-8/150, Soph., '97) -- Great hands, and crafty with the puck on his stick. Has good speed and moves well laterally. Snow, a Medford, Mass. native and the team's leading scorer as a sophomore, lit the lamp twice against a strong Dexter team.
23. Kevin Merle (#5, Dexter, 5-11/175, Sr., '95) -- A smooth skater, Merle plays on Dexter's second line. He is a finisher with a good strong stick.
24. Stephen Marsico (#8, Cushing, 5-7/165, Jr., '96) -- Small and stalky high-motor player who has a lot of grit and energy. Has a soft set of hands and is elusive with the puck.
25. Matthew Winter (#10, Groton, 5-8/155, Soph., late '96) -- Winter is a quick, agile and smooth perimeter player who scored a great breakaway goal against Holderness. He cradles the puck effortlessly and makes quick decisions with the puck.
26. Adam Augusta (#17, Cushing, 5-9/165, Sr., '95) -- Small and shifty, with a burst of speed. Actually, Augusta does everything at full speed. A tough, gritty player, he is a pest for opposing D. Good stickhandling and shooting ability.
27. Matt Donnelly (#25, Culver, 5-11/160, Jr., '96) -- A raw player, Donnelly is on a line with Bachman and Main, and although he isn't as skilled as those two he makes up for it with his hockey IQ, speed and aggressiveness.

28. Derek Tillotson (#19, Proctor, Soph., '97) -- Tilloston had a great jamboree at Proctor but was not as involved at Lawrence-Groton this weekend. He can skate, though, and is worth keeping an eye on.
29. Danny Eruzione (#21, Cushing, 5-9/165, Jr., '96) -- Skilled forward has a long stride for one who is 5'9". Has a 1-8-9 line through 11 games, which isn't surprising because he is a perimeter player who likes to make plays from behind the net to set up his teammates. Aggressive and physical.
30. Ward Betts (#20, Groton, 5-5/135, Soph., '97) -- A small crafty forward with explosiveness. Needs to get stronger but has a bright future at Groton.
31. Alex Spina (#21, Holderness, 5-7/160, Sr., '95) -- Small, quick, hustles and is relentless on the forecheck. A good DIII prospect.
32. Andrew Slotnik (#9, Pomfret, 5-7/157, Sr., '95) -- Top scorer for a Pomfret team that only scored twice in four games over the weekend. Slotnik skates well and has decent mitts. Will find a home on a DIII roster.
Defensemen:
1. Richie Boyd (#7, Cushing, 6-3/195, Sr., '95) A UNH recruit, and the third Boyd brother to come through Cushing -- RJ Boyd is a junior at Michigan State and middle brother Sam is at UMass- Boston) -- Richie has come a long way since his freshman season at Cushing four years ago. We look for him to be the best of the three, a shutdown defender in his own end who battles tenaciously in front of the net and hits hard along the boards. Boyd is dangerous jumping up into the play as he demonstrates elite skating ability -- especially for his size -- and an ability to handle the puck not only in open ice but through traffic. His offensive abilities are particularly on display during the powerplay when he breaks the puck out of the zone and either skates it end to end or delivers quick, crisp passes to his forwards. Sometimes we see players with his ability try to force the play too much or rush it everytime they have an opening because their talent is so advanced but Richie is a smart player who knows how to pick his spots. Was passed over in last summer's NHL draft, but we feel he could someday play in the NHL.
2. Sean Keohan (#6, Dexter, 5-10/160, Fr., '99) -- There are very few '99s playing prep school hockey, much less getting a regular shift and special teams time on one of the best teams in the league. Keohan, from Milton, Mass., has a good frame and despite being 3-5 years younger then most of his opponents plays with a confidence and poise that is beyond his years. He is dynamic with the puck on his stick, but doesn't make flashy plays. He has a fairly simple style but can jump up into the attack if called upon. A smooth skater with good lateral movement making him a tough opponent to get around, Keohan's game has the foundation that will enable him to be a highly successful player and a surefire DI prospect.
3. Reilly Walsh (#2, Proctor, Fr., '99) A smooth-skating, puck-moving defenseman with poise beyond his years. A '99 – and the son of Proctor coach Mike Walsh – he can slow the game down and use his hands and skating ability to buy time for the passing and skating lanes to open up. He is still a bit raw and undersized but it is scary to think what he will be able to accomplish three years from now. A surefire DI prospect.
4. Liam Feeney (#7, Dexter 6-2,/205, Sr., late '95) -- A big, strong physical left shot defenseman who is very tough to get around. In a time of coaches flocking to offensive defensemen, Feeney is an old school stay-at-home defender who had some huge hits and plays with a chip on his shoulder. A positionally sound defender he does not overextend himself but waits for the play to come to him. A good skater, Feeney makes a good first pass and has the ability to skate with the puck if called upon. We believe that, in time, Feeney will play DI hockey
5. Malcolm Hayes (#24, Cushing, 6-3/215, PG, '95) -- A New Hampton grad, Hayes has made the most of his opportunity as a Cushing PG. He's raw, but he's a big, physical, athletic type who will find his place as a 5-6 guy at a DI program before long. Hayes logs time on 5x5, powerplay, and man-down situations. He moves well for his size, handles the puck pretty well, and skates with his head up, constantly looking to make a stretch pass.
6. Cam Knight (Lawrence, 6-1/185, '95) -- Knight has sure hands and is able to make passes or move around his opponents with ease. He is confident skating with the puck and will jump up into the play when it's called for, or he can stretch the ice with long home run passes to a hanger at the far blue line. Knight quarterbacks the powerplay and breaks the puck out which are both the perfect roles for his style of play. Committed to Alabama-Huntsville.

7. Patrick Horrocks (#2, Cushing, 5-11/175, Jr., '96) -- A smooth-skating offensive defenseman with good hands, Horrocks projects well because he can skate with anyone, has the hands to make good breakout passes, and can contribute on special teams. Horrocks, who flew under the radar at Braintree High last season, is poised with the puck and lets the play develop, makes crisp passes tape-to-tape or indirect passes in space for his speedy forwards to skate onto. He had a great weekend and has eight points (3g 5a) in 11 games thus far.
8. Ian Murdoch (#11, Culver, 6-5/190, Sr., late '95) – Murdoch, who was playing high school hockey in Illinois last season, is another intriguing prospect due to his big body and surprisingly offensive abilities. A left shot, he has decent hands and a good hard slap shot. He logs a lot of time for a very good Culver team, playing PP, PK and even strength. He's a project who needs to fill out, get stronger, and gain additional seasoning, but there could be a payoff here for someone. Needs to add a little more physicality to his game and fill out.
9. John Zimmerman (#21, Culver, 5-9/175, Sr., '96) -- Zimmerman, from Arlington, Texas, is a skilled puck-moving right-shot D with smooth hands. He handles the puck with complete control at full speed and always has his eyes down ice looking for the open guy. His hockey IQ is high and, even though he is small, he holds his own in the dirty areas and is difficult to get around. He will struggle in the size department at the next level, but his poise and patience with the puck and skating ability are DI.
10. Steven Windt (#4, Cushing, 6-0/180, Sr., '95) -- A borderline DI/DIII defenseman with good size and some offensive ability. He's not quite dynamic enough to be a DI offensive defenseman and not tough and physical enough to be a DI defensive defenseman so he is a hybrid type right now. He skates pretty well but could improve his quickness and lateral movement. Makes a good first pass and is skilled at breaking the puck out of his own end. Has seven points (1g,6a) in 11 games for the Penguins.
11. Brendan Flanagan (#12, Lawrence, 6-5/195, Sr., late '94) -- Flanagan has come a long way since last season in regards to his skating ability and stickhandling. Acton, Mass. native now has fairly soft hands for a big guy and moves pretty well in space. The areas of the game he struggles with is in small spaces where the smaller and quicker guys give him problems. If he continues to develop he could be a DI player but that would take some time in juniors.
12. Michael Damien (#3, Proctor, Sr., '95) From Long Beach, California, Damien is a borderline DI/DIII guy. NESCACs have shown interest as of late, and that seems the right level to us. He is a skilled offensive defense who has a great shot and a physical presence on the blue line. He would need to improve his quickness and agility to be a DI player but overall his skating is pretty good. Strong, balanced, and tough.
13. Nick Gibson (#5, Holderness, 6-1/185, Sr., '96) -- A senior, but still only a '96 as he didn't repeat at Holderness. Great frame, smooth skater, and tough to get around. Has good hands and makes plays with the puck but also tries to force the play at times. A very bright kid, he could be a steal for a NESCAC.
14. PJ Johnson (#16, Groton, 6-2/208, Sr., '95) – Good-sized defender who has a nice long powerful stride. He is tough in front of the net and along the boards and makes a good crisp first pass. A good NESCAC candidate.
15. Ryan Jackson (#7, Pomfret, 6-1/175, Sr., '95) -- South Burlington, Vermont native is Pomfret's best player, an offensive defenseman who has great feet and a willingness to jump up and join the rush. His passing and shooting ability allow him to be a solid powerplay defenseman. Has interest from NESCACs.
16. Stephen Wilk (#18, Holderness, 6-0/195, Sr., '95) A big strong mobile defense who makes a good breakout pass and plays physically. A NESCAC prospect.

Goalies:
1. Joey Daccord (#35, Cushing, 6-3/190, Jr., '96) – Stands out due to his size and economical movement. Plays his angles well, moves well side to side and seems to have a great head for the game, not getting rattled in key situations. Kicked out 27 of 29 shots against Dexter in a 5-2 win, with at least a handful of shots being quality opportunities from Dexter sharpshooter Ryan Donato. Daccord also shut out Lawrence Academy on 21 shots the night before. Ha a .941 save percentage on the season. From North Andover, Mass., he is the son of goaltending guru Brian Daccord.
Tues. 12/24/13

Avon Christmas Classic Review
The prep school holiday tournament season kicked off with its traditional Thursday start at the Avon Old Farms Christmas Classic. The usual suspects were there: Avon, Berkshire, Gunnery, Kent, Loomis-Chaffee, St. Paul's, Tabor, and Trinity-Pawling. After each team played three games over the first two days, it was on to Saturday and the playoff round. This year's champ was Kent, which beat St. Paul's 6-2 with Kent senior goalie Stephen Morrissey being named tournament MVP. In four starts over the weekend, Morrissey allowed just four goals, with a .957 save percentage and two shutouts. Loomis-Chaffee beat host Avon 3-2 in the third place game. A very good Gunnery squad outlasted Tabor 6-3 in the fifth place game. Defending champions Berkshire found themselves in the seventh place game, but ended on a high note with a 5-1 win over Trinity-Pawling.
Below is a list of players who stood out for us over the weekend. In sum, we wrote up 35 players including 25 forwards, seven defensemen, and three goalies.

Note: This is not a true ranking, as players are listed alphabetically within their position.

Forwards
Mitchell Allen, F (#14, Kent, Sr., 6-2/185, '95) – The Clifton Park, NY native has good size and is a strong skater. Uses his long reach and stickhandling ability to beat defenders on 1-on-1s. Allen changes directions with the puck nicely coming over the blue line. His lack of production from a year ago has continued into his senior season, as he has only been able to find of the back of net once going into the Christmas break.
Tyler Carangelo, F (#11, Avon, Soph., 5-10/170, '97) - Carangelo is making the jump from Hamden (Conn.) HS and still needs time to fully adjust to the speed and higher level of competition. Was invisible at times during the tournament, but when he had the puck he displayed some special stick skills. Can be very elusive, and difficult to hit. Sometimes had tunnel vision and didn't make the play that was there. With time, Carangelo will be a key player for Avon.
Robert Cerepak, F (#12, Gunnery, Sr., 5-10/166, '95) – The senior from Saddle River, NJ showed off his blazing speed over the weekend. Cerepak can really get going and separate himself from defenders with the puck on his stick. May be a little too one- dimensional but has speed that will draw attention.
Charlie Corcoran, F (#27, Berkshire, Sr., 5-10/168, '95) - Has been a point producer at Berkshire since his sophomore year. Now, as a senior, Corcoran's game has rounded out nicely. The New Canaan, Conn. native is responsible in his own end and is a tremendous playmaker. Committed to Brown for next season.
Kevin Darrar, F (#18, Gunnery, Sr., 6-0/178, '96) – The Holy Cross recruit produced points by putting himself in the right place. Thinks the game well. Producing at a 1.13 ppg average thus far in the season.
Ryan Dmowski, F (#15, Gunnery, Jr., 6-1/190, '97) – A junior from East Lyme, Conn., Dmowski is being recruited by Div. I schools and should find a home in the near future. Has a nice set of hands and can rip the puck. Uses his size to protect the puck and create space for himself. Finishes his hits and plays a pretty complete game. Dmowski has a 5-2-7 line in eight games this season.
Alex Esposito, F (#12, Loomis, Jr., 6-0/180, '96) – Loomis-Chaffee's returning leading scorer sets the standard for Pelican forwards. A West Haven, Conn. native, Alex plays an up-tempo game and battles hard all over the ice. Plays in all situations and on the penalty kill he blocks shots and makes it a nightmare for opposing teams to set up. A good Division I prospect.
Eric Esposito, F (#18, Loomis, Fr., 5-11/165, late '98) - The younger Esposito played a lot of minutes for Loomis this past weekend and thrived in the bigger role. Has a high compete level and is not afraid to go into the dirty areas of the ice. Scored a goal against St. Paul's by burying his shoulder and driving hard to net. It's hard to tell how high his skill level is, but he is definitely a player schools might want to keep a close eye on over the years to come.
Joey Fallon, F (#21, Gunnery, Sr., 5-9/170, late '95) - The Princeton recruit doesn't have high-end skill but creates offense through tenacity and hard work. Has a low skating base that makes him very hard to knock of his feet. Plus he has a shot that he can get off in a hurry. Will bring a lot of energy to the Hobey Baker Rink when he arrives on campus. Is listed at 5'9", which is a stretch.
Erik Foley, F (#12, Tabor, Soph., 6-0/185, '97) – There was no one at the Avon Tournament more important to his team than Foley is to Tabor. As the future Providence Friar goes, so go the Seawolves. Foley has elite speed and tremendous skills with the puck on his stick. Plays a physical game and is a nightmare for opposing defensemen on the forecheck. In 10 games, has a 7-3-10 line.
Tipper Higgins, F (#19, Berkshire, Sr., 6-1/188, '95) – The Army recruit's goal production has fallen off this year from the 20 goals he put up a season ago. He has four thus far, to go with two assists. When Higgins is able to find his old scoring ability it will allow Berkshire to again be a serious threat for the New England prep crown.
Matt Horton, F (#3, Avon, Soph., 5-7/160, late '96) – Waterbug type player out of Guilford (Conn.) HS really buzzes around the ice. Has sandpaper in his game and isn't afraid to mix it up with players much bigger than he. Wins battles by using his quickness and leverage against the boards. Is very good on his edges. Only a sophomore, time will tell if Horton is dynamic enough to be a Div. I player.
Freddie Kaub, F (#8, Tabor, Sr., 5-8/160, '95) – Played on a line with Erik Foley and was able to not only keep up but played off Foley very well. Has speed and a nice pair of hands. Set up his linemates well but was able to create some scoring chances on his own. A senior from Boca Raton, Florida, Kaub is averaging a point a game with a 5-5-10 line.
Phil Klitirinos, F (#13, Kent, Sr., 5-10/180, late '95) – Started the tournament with a goal on his first shift. Linemate Lewis Zerter-Gossage sprung Klitirinos on a breakaway and Kilitirinos made no mistake in burying it. Has a release that can really freeze opposing goalies. A dangerous setup man, Klitirinos has impressive vision and playmaking ability. The Montreal, Que. native and former Lac St-Louis Lion is off to an impressive start this season with a 6-8-14 line in nine games. We believe Klitirinos will end up on a D-I squad.
John Laurito, F (#10, St. Paul's, Jr., '96) – Plays the game hard and never quit throughout all of the shifts we saw him play. Has good speed and plays the game fast. The Johnston, RI native is not afraid to go to the dirty areas on the ice to make a play.
Dylan McCrory, F (#21, Kent, Sr., 5-9/165, 95) – Undersized forward from Montreal can really move around the ice and is a technically strong skater. Creates offense using his speed and uses his body to protect the puck in open ice.
Liam Murphy, F (#14, Avon, Soph., 6-0/210, '98) – Murphy was a much different player this weekend than when we saw him in the first week of the season against Taft. The sophomore is much more comfortable with the puck now and is able to create offense on his own. The future UConn Husky has good speed with the puck and uses his teammates well in the offensive zone. In 11 games this year, Murphy has a 4-5-9 line.
Craig Puffer, F (#3, Berkshire, Sr., 5-9/170, '95) – The future Vermont Catamount is the catalyst on arguably the top line in prep school hockey. Over the weekend, Puffer created turnovers using his speed. Showed sleek hands. Is dynamic in one-on-one situations. Makes good decisions with the puck and could be an immediate impact player when he arrives in Burlington in the fall of '15.
Austin Ricci, F (#15, St. Paul's, Jr., '96) – Ricci continues to make a case that he be considered a legitimate Div. I recruit. A Windham, NH native, Ricci has a high hockey IQ, finding open areas of the ice that allow him to be a scoring threat. And when Ricci gets the puck he rips it. Makes quick decisions and his play with the puck is at a high level. Has made strides in his skating ability, but needs to continue improving on it in order to make the jump to the next level.
Joe Slovak, F (#18, Tabor, Sr., 5-8/175, '95) – Small forward from South Yarmouth, Maine is very agile and does everything at a high pace. Really buzzes around the ice and is tenacious on puck pursuits. Will be an excellent addition to a NESCAC program.
David Storto, F (#28, St. Paul's, Sr., late '95) – The senior from Mascouche, Quebec is making the most out of his final year at St. Paul's and at the Christmas break leads the 6-3-0 St. Paul's team in scoring with a 6-8-14 line. A true speedster, Storto puts defensemen on their heels when he comes flying down on them. Having said that, we feel his game is a little one-dimensional right now.
Nathan Sucese, F (#8, Gunnery, Sr., 5-9/162, '96) – The Fairport, NY native continues to impress this season. Really came alive in the second half of Gunnery's first game against Trinity-Pawling. Shines on the PP where he collected two of three assists against T-P. Has good patience with the puck and, if someone is open on the power-play, Sucese will find their stick. Has quick feet. He has picked the right time of year to shine and is attracting Division I attention.
Jackson Tucker, F (#8, Avon, Sr., 6-0/175, '95) – The senior from Mathews, NC, now in his third year at Avon, is much improved from last year and is a big piece of John Gardner's team. Tucker has a good first step and battles hard along the boards. Has a 5-5-10 scoring line in ten games played.
Kyle Zacharewicz, F (#10, Trinity-Pawling, Sr., 6-1/180, '95) – The senior from Ludlow, Mass. always seemed to have the puck find him wherever he was on the ice. Uses his size to create time and space. A very physical player. Needs to work on his skating.
Lewis Zerter-Gossage, F (#17, Kent, Sr., 6-2/185, '95) – It's hard to believe anybody had a better first day at Avon than Zerter-Gossage. The senior from Montreal, who has taken a big step from last season, started the day by leading his team to an impressive 5-2 win over Avon Old Farms in which he had four assists. Shortly after the game Zerter-Gossage committed to Harvard for the fall of 2015. Has an NHL size frame and a high skill level to go with it. Played a complete game when he didn't have the puck on his stick, including blocking a number of shots in his own end over the weekend. The difference between expectations and results last year hinged, at least to a degree, on his lack of strength. That appears to be something he is addressing.
Defensemen
Ryan Ashe, D (#2, Avon, Fr., 6-0/175, late '98) - Plays a limited role this year as a freshman but when he is on the ice he is very capable. Makes simple plays with the puck. Separates guys from the puck in his own end and is responsible defensively. A Longmeadow, Mass. native, Ashe played last year in the Boston Jr. Bruins organization.
Johnny Coughlin, D (#2, Trinity-Pawling, Sr., 6-3/195, '95) - The Trinity-Pawling co-captain moves around the ice well for his size, and has a long reach that makes him difficult to get around. Jumped up into the play at times and was very involved all over the ice. In eight games played, Coughlin has a 4-4-8 line. Made some questionable decisions with the puck. That's an area that will need to be corrected going forward.
Zach Giuttari, D (#8, Loomis, Jr., 5-11/165, '96) – Plays a very safe game. Giuttari is a capable skater that made good pinches in the o-zone and reads the play in front of him well. Gets the break out going north with his ability to make an accurate first pass. A Warwick, RI native, Giuttari has committed to Brown for the fall of '15.
Keanu Hilaire, D (#5, Kent, Jr., 6-2/205, late '95) - Big defenseman from Montreal plays a simple game. Is very physical, especially below the goal line in his own end. Has a powerful lower-body that allows him to win battles along the walls. He is also a shot- blocking machine. Headmans the puck and gets the breakout going north with accurate passes.
Mike Lee, LD (#3, Gunnery, Jr., 6-0/175, '96) – The future Vermont Catamount's abilities were on display in Avon over the weekend. Lee has high-end skill with the puck and has the ability to control an offense from the back end. Is a very smooth skater who is fearless when it comes to jumping up into the play. That was never more evident than when he led a rush against Trinity-Pawling while his team was shorthanded by two men. The junior from Hamden, Conn. has a 1-5-6 line in six games played.
Sam Loizeaux, D (#24, Avon, Sr., 6-2/205, '95) – A mobile d-man who can move the puck north by using his feet or his stick. The senior is relied upon heavily to anchor the Winged Beavers backend. Gets shots on net from the point. Scored a nice goal against Kent by getting a shot through a mass of bodies in front of the net.
Matt O'Donnell, D (#9, Loomis, Sr., 5-10/190, '95) – UVM recruit is the leader of the Pelicans. Loomis-Chaffee has not scored an abundance of goals this year but O'Donnell, a Fountain Valley, California native (it's in Orange County, south of Anaheim) is a big part of the offense they do create. While a lot has been said about O'Donnell's offensive skills, the senior is also very impressive on the defensive side of the puck. His gap control is good and he can really close in on guys in his own end.
Goalies
George Blinick, G (#31, Berkshire, Sr., 6-1/195, '95) – Suffered two loses this weekend against Kent, and a shootout loss to Tabor. The senior from Lawrenceville, NJ was still very good and gave his team a chance to win including a good performance against Avon in which he stopped 23 of 24 shots. The best part of Blinick's game is his reaction time. It allows him to make saves he has no business making.
Nathan Colannino, G (#1, St.Paul's, Jr., '96) – The junior from Old Town, Maine (that's where they make the canoes) has stepped into the starting role this year for St. Paul's. Colannino is positionally sound and does a good job controlling rebounds. He stays quiet in his crease and doesn't make a lot of movement, just relies on his angles.
Stephen Morrissey, G (#1, Kent, Sr., 6-0/185, '95) – The tournament MVP backstopped Kent to the tournament championship. Had an impressive stat line: 4-0-0 with four goals against, a .957 save percentage, and two shutouts. The Arlington, Virginia native has stepped into the full-time starting role as a senior and has really flourished. Was right up on top of his crease all weekend. Had some trouble controlling rebounds but he scrambles and competes extremely hard.
Mon. 12/23/13

Salisbury Tops USHR Prep Poll

For the second consecutive week, Salisbury (9-0-1) holds the top spot in the USHR Prep Poll. Although nine of the ten teams in last week's poll have returned this week -- a rarity this early in the season -- there is movement among the ranks.

The only team from last week's poll to be kicked unceremoniously to the curb is Deerfield, their only win over the last five games coming in the 7th place game at the Flood-Marr.

USHR Prep Poll; Week of Dec. 23, 2013



Sat. 12/21/13

Mass HS Holiday Tournament Schedules

Here are the schedules for all the Massachusetts High School holiday hockey tournaments scheduled over the next couple of weeks or so.

Mass. High School Holiday Tournaments




Mon. 12/16/13

Salisbury Tops Season's First USHR Prep Poll

Salisbury (4-0-1) tops the first USHR Prep Poll of the season. The next one will be a week from tonight. By then, of course, the statistical sample will be significantly larger, and changes could be major.

USHR Prep Poll, Week of Dec. 16, 2013



Thurs. 12/12/13

Notes on Kimball Union
KUA lost a lot to graduation, but the cupboard is far from bare, as the 2013-14 team showed Wednesday in an 8-2 blowout of a young but skilled Proctor team. New head coach Tim Whitehead's top line -- as good a first line as you will find in prep hockey – consists of 6'3" junior AJ Greer (Penn State), 5'11" senior JD Dudek (BC), and 6'2" senior Tyler Bird (Brown). Not surprisingly, that line was on the ice for six of KUA's eight goals. Dudek didn't find the back of the net but had three assists and was impressive with his skating, hands, and playmaking ability. More importantly, Dudek showed that his game has really come up a notch, as he is playing harder, more physically, and competing in all three zones. Greer, a late '96, is a big-framed kid who can skate and score goals – he notched a hat trick, and added two assists for a five-point performance. Bird, a '96 senior from St. John's Prep, does not possess the same level of ability as his linemates but he is tough, smart and has enough size and skill to be an effective playmaker and finisher at the next level. He had two goals and an assist. The next two lines are pretty even and add depth, speed, and physicality. Junior Jack McCarthy, a '96 from St. John's Prep, was sick but still managed to play a regular shift, at least early in the game, and looked good – he has explosive feet and patient hands. 6'3" junior Dominic Franco, a '96 transfer from Pomfret, stood out for his size and physical play -- in the second period he knocked the wind out of Proctor's Connor Fries, putting a temporary halt to the game. Franco is raw but has a high ceiling. Our unsung hero tonight was Bobby Hall, a fast and hard-working PG from the Boston Advantage. Hall plays the game with a lot of heart and competitiveness, and, with the puck on his stick, displayed poise, vision, and passing ability.

The KUA blue line is young and inexperienced; there is not a single senior among them. Two newcomers that jumped out at us were sophomores Ben Finklestein from Cardigan Mountain, and Dennis Cesana of North Providence, RI and the Hillside School. Finklestein's forte is the powerplay. He has a lot of offensive upside but needs work on his play in the D zone and needs to get tougher in the dirty areas. Returnee Cam Beecy, a 5'7" junior, looked solid throughout but is not dynamic – or big -- enough for DI play, though he would make a fine DIII contributor. 5'8" junior Eric Megnia, in from the Bay State Breakers Empire team, provides an offensive component to the pairing. Megnia has great hands and makes strong plays coming out of his zone, though sometimes he tries to do a little too much. We can't tell you much about the KUA goaltenders because junior Gavin Nieto saw but 10 shots, and senior Paul Leger just four. Shot totals were 40-14.
Coach Whitehead, who reports that he is enjoying his time in prep school both on and off the ice, thought his guys played well and made the most of their opportunities, but also felt that they were not six goals better than Proctor. He likes his offense and knows that guys like Dudek and Greer will be difficult for opponents to stop. His defense, he feels, has a good core, but is a young group with a way to go.
Proctor head coach Mike Walsh said that a team as young as his has to play an almost perfect game to win. He pointed out that the Hornets had chances early and at points the in the second period but shot the puck over the net and misshandled rebounds, etc. Walsh went into the game well aware of the Wildcats powerful offense, but hoped to see his guys take advantage of KUA's young D and new goalies. The game, he reported, was a good learning experience.
Thurs. 12/12/13

Diffley's Stock Rising
BB&N has a one-man breakout in 6'2", 180 lb. senior LD Brien Diffley, who we got to see in action in the Knights 4-2 loss to St. Sebastian's Wednesday. We've seen Diffley before, and went into the season considering him as a high DIII/low DI borderline kid, but his stock is rising. There are not a lot of senior d-men out there who can rush the puck like Diffley. BB&N head coach Terrence Butt knows what he has and gives the 7/8/95 birthdate the green light. And Diffley, who keeps his head up and has the hands needed to work his way through guys on rink-length rushes, is not shy in the least, playing with a ton of confidence. His hockey IQ is good and he has an excellent shot. He seems to have grown more into his body over the last year, and become quicker and more confident. He's certainly the best prospect we've seen at BB&N since goaltender Joe Cannata played there – and he's a lot of fun to watch, too. With a bit of refinement to his game, Diffley, who played on that strong Burlington (Mass.) High School team before coming to BB&N last year, could provide a nice payoff to the right DI school. It'll be interesting to see where his game is at – and what his college choices are – as the season moves along.

Diffley is paired with 6'2", 200 lb Connor Hegarty, a fellow '95 senior, and the two present a formidable obstacle for opposing forwards. Hegarty has offensive upside, too (both he and Diffley figured in both BB&N goals Wednesday), but more from the blueline in. Hegarty projects to be a top DIII defenseman – and there were a slew of NESCAC coaches on hand watching Wednesday. Up front, 5'11, 185 lb. senior center Bobby Mullins, a late '94 and BB&N's leading scorer last year as a junior – he had 47 points – is a key to the Knights success. He'll make for a solid DIII player too.

St. Sebastian's is an interesting team this year, but they are young. There are not many seniors on the team, so how the younger players develop will be the key to St. Seb's season.

On the blueline, freshman Eric Jeremiah, who was at Xaverian last season, is a '98 who recalls former Junior Bruins and University of Maine D Bret Tyler. He's small, height-wise, but he's strong. He hits hard. His passes are hard. He shoots it hard (he had one of St. Seb's goals Wednesday on a shot from the point). He has good feet, and he competes. A fun player to watch.

The Arrows rely heavily on their top line of junior Will D'Orsi, senior Nick Flanagan, and senior Corey Ronan. The latter, of course, is the motor that drives the line, and is a handful for opposing D. It's not surprising that group was on the ice for all of the Arrows goals.

Of the new young forwards, freshman RJ Murphy, whose father, John, played on Harvard's 1989 NCAA championship team, shows the most upside. A left wing, the younger Murphy – he's a late '98 -- is a power forward with size.



Tues. 12/10/13

Exeter Invitational Review

Over the weekend, Phillips Exeter hosted the Exeter Invitational. Competing schools were Exeter, Gunnery, Tabor, Kent, Choate, and Berwick. All six schools played a game on Saturday, and another on Sunday.

Gunnery and Choate both went 2-0. Exeter and Kent went 1-1. Tabor and Berwick went 0-2.

Our top forward was Exeter PG Henry Hart. Our top d-man was Exeter sophomore Spenser Young. Our top goalie was Gunnery senior Matthew Schneider.
We picked out 35 players that caught our eye – 22 forwards, 10 defensemen, and three goaltenders.

Here they are, in alphabetical order.

Top Forwards:
Mitchell Allen (Kent, Sr., 6-2/185, '95) – Allen was highly touted in the beginning of last season when scouts noticed his size and skating ability but after posting only 19 points last season he was not as attractive. He enters this season playing even faster and more aggressively. At times he'll try to make fancy plays, but those plays often die. He's just not a high-skill player. However, with his speed and size, the Clifton Park, NY native could be an excellent bottom six guy on a DI roster.
Noah Bauld (Gunnery, Jr., 5-10/165, '97) – Halifax, Nova Scotia native played on Northwood's Midget team last year but transferred to Gunnery. He's a heady player who does all the little things right. A right shot center, he wins draws, makes plays and finishes, is elusive and has nice hands. A very complete player who'll grow on you the more you watch.

Joey Caffrey (Choate, Sr., 5-10/178, '95) -- Caffrey, who has received love from the Ivies, was out of Saturday's game due to a pulled groin and was only 60% in Sunday's game against Tabor. He still managed to score two goals and create a ton of scoring opportunities. New Jersey native has soft hands and great awareness. (Note: Caffrey committed to Harvard on Monday night.)
Kevin Darrar (Gunnery, Sr., 5-11/178, '96) – Holy Cross commit has size and speed, sees the ice well and is effective in all situations (PK, PP, ES). New Jersey native will play juniors after Gunnery before heading to Worcester, but he is likely an immediate impact player given his speed and versatility.

Ryan Dmowski (Gunnery, Jr., 6-1/190 '97) – A strong, skilled player with the puck, Dmowski excels at protecting the puck along the boards and creating time and space by using his body. He has to improve on his speed but for a '97 he has strength, shooting ability, and a physical dimension (ask several of the Berwick players who faced him Sunday). Dmowksi, who is from East Lyme, Conn., is being recruited by a number of Hockey East schools.
Sam Field (Choate, Soph., 6-0/179, '98) – A big strong '98 from Tenafly, NJ, Field has tremendous upside. A raw prospect with decent feet and hands, he uses his body well and competes every shift. A definite DI prospect.
Erik Foley (Tabor, Soph., 6-0/185, '97) – Providence recruit from Mansfield, Mass. is a highly skilled, highly athletic player with elite speed. Has a great frame, high potential, and a raw skill to go with a high hockey IQ.

Henry Hart (Exeter, PG, 5-8/158, '94) – A smart, slippery player with quick, soft hands that are among the very best in prep school hockey. Hart, a Stillwater, Minn. native who played last season for Minnesota Class A champs Saint Thomas Academy, also has great vision, which allows him to create offense out of nothing. His poise and patience with the puck allows him to simply let the play develop in front of him. Also makes the players around him better. His small, but his quickness makes him hard to hit.

Teddy Hart (Exeter, Jr., 6-0/178, '96) – Smooth, with quick hands and a great shot. Scored a great goal against Gunnery on Saturday but was not very involved against Kent on Sunday. Hart needs to add some strength and work harder, but he has the raw ability that DI coaches are looking for. Hart, the younger brother of Brian (Harvard) and Kevin (Providence) has been pursued by several Hockey East programs.

Max Kaufman (Kent, Jr., 5-7/155, '96) – Coach Dale Reinhardt referred to Kaufman as the best player on the ice after the forward's four-point effort (1 goal, 3 assists) in Saturday's 6-2 win over Tabor. Rochester, NY native's lack of size is the biggest knock against him, but he has great speed and a low center of gravity that makes it hard to knock him off the puck.
Dylan McCrory (Kent, Sr., 5-9/165, '95) – Montreal native is as goal scorer. Good speed and a quick release. Small but stocky. Nice hands, too. He opened eyes by toe-dragging two or three Exeter players in Sunday's 4-3 loss.

Alec Mehr (Gunnery, Jr., 5-11/187, '97) – Irvine, California native from the LA Jr. Kings U16 team is a new junior at Gunnery, and brings some high-end speed to prep hockey. He's more than just a speedster, though. He's physically strong, finishes his checks, and has a hard shot.

Lucas Michaud (Berwick, Jr., 5-11, 185, '97) -- Michaud was held scoreless this weekend but so was the entire Berwick team (they had a tough draw – Choate and Gunnery). Michaud is young, skates well, has a great frame and is not afraid to get physical in the corners. However, the Maine commit – and South Portland native -- didn't have many scoring opportunities and looked frustrated and off his game at times.

Devin Moore (Exeter, Soph., 5-6/140, '97) – A young player who is small, crafty, and highly skilled. He also has exceptional vision. Will skate with the puck in open ice, and in the corners will use his quickness to break free. He was moved from the second line to the top line for the Kent game. From Hampstead, NH.
Anthony Rinaldi (Kent, Sr., 6-0/180, '95) – Kent's fastest player has good size and a hard shot. Montreal native is one of Kent's leading returning scorers and could have a big year.

Nick Sanchez (Choate, Jr., 6-0/188, '96) – Sanchez had a great weekend showing off his size and skating ability. His feet are always moving. Connecticut native has all the tools to be an elite prospect but has to put it all together and make better decisions with the puck. A DI prospect who has had some interest, he should be one of the offensive catalysts for Choate this season.
Brendan Soucie (Kent, Sr., 5-10/170, '95) – An Army recruit, Soucie was Kent's leading point producer last year and will likely claim that title again this season. Scored two goals against Tabor on Saturday and was constantly involved every shift. He is a natural goal scorer who attacks the net and is a constant scoring threat in the offensive zone. He has good enough hands to get around the defense and a good change of speed that makes him a tough player to defend against. From Oak Hill, Virginia.
Nathan Sucese (Gunnery, Sr., 5-8/162 '96) – A small but fast and shifty forward, Sucese can wheel with the puck in space but is also elusive through traffic. Has a sturdy stick and quick release. Had two nice goals against a strong Exeter team. A Rochester, NY native who averaged over a point a game playing for the Buffalo Jr. Sabres U18 team last year, Sucese is a DI prospect who has received attention from a few D1 schools already but likely will need a year of juniors.
Ben Taylor (Tabor, Soph., 6-2/190, '97) – A big '97 sophomore who skates on the first line with Foley and senior Fred Kaub, Taylor moves well for his size/age. Falmouth, Mass. native showed poise and never rushed things, smartly allowing the play to develop. Could become an elite power forward in prep hockey.
Cam Toohey (Berwick, Sr., 6-0/175, late '95) – Toohey, a Plaistow, NH native, would be quite noticeable in the context of a stronger team. Berwick lost both their games here, and were outscored 14-0. Toohey, though, needs stronger linemates to play with. Might need to play a year or two of junior hockey after graduation to show what he can do.

David White (Exeter, PG, 5-9/172, '94) -- White plays on the top line at Exeter along with Henry Hart and Devin Moore. He has great speed which makes him a pesky forechecker, and he plays tough in the dirty areas, but he has a good set of hands and when the puck is on his stick he can finish. A two-way player who has 17 pts (10 goals, 7 assists) in eight games so far this season. A Fairfield Prep grad.
Lewis Zerter-Gossage (Kent, Sr., 6-2/185, '95) – A rare combination of size and skill, he passes the eyeball test with flying colors: he has the look of the prototypical pro centerman with his smooth hands fluid movement. But he often disappeared when games started last year, playing a soft game. Colleges are following him and if his work ethic equals his skill level, they'll pounce. The Montreal native was held to just one assist in two games here.

*Choate junior F Charley Borek, who suffered a concussion in Nationals back in April, did not play this weekend. He is, however, expected to be ready to play soon.

Top Defensemen:
Peter Christie, D (Exeter, Soph., 5-11/173, late '97) – Christie is partnered with Spenser Young and the sophomores are out there in all key situations. Christie, who is seven months younger than Young, may lack Young's high-end skill set, but the Durham, NH native is going to blossom this year. An excellent DI prospect.

Andy Chugg, RD (Kent, Sr., 6-3/195, '95) -- A forward who has transitioned to defense this season, Chugg has impressed his coaches and college scouts. He is a big, physical presence who moves well and can handle the puck. At times, he's hesistant to skate the puck but when he gets a full head of steam going he is very difficult to stop. He uses his size well, finishing his checks and wearing down opposing forwards. From Mesa, Arizona. Played for the Phoenix Jr. Coyotes organization before coming to Kent last year.

Max Daigle, RD (Choate, Sr., 5-9/192, '95) -- Small in stature but strong in build, Daigle has an explosive first three steps that allows him to skate with anyone. He skates with his head up and finds the open man. A native of St. Lambert, Quebec, Daigle has attention from ECAC schools and he certainly has the feet and the head for that level of play. However, with his size he needs to become more of a presence.
Liam Darcy, LD (Berwick, Jr., 5-11/170, '97) – Darcy, who committed to UNH as a freshman, is not a great skater at this point in his career. However, once he gets the puck on his stick you can appreciate his ability. He has a good head for the game, is patient and poised with the puck and has soft mitts. He does not force the play. He just moves his feet and lets the play come to him. He is especially impressive on the powerplay when he has some time and space to find open teammates. Has an excellent release. Still has a long way to go, but South Berwick, Maine native has time on his side.
Greg Krisberg, LD (Kent, Soph. 5-10/170, '97) -- Krisberg has a great shot and scored from the point this weekend with a low hard slapper. He also has a powerful stride, makes a crisp pass, and has a good sense of the game. He is selective in rushing the puck and rarely overcommits to a player in the D zone. A Westchester County native, Krisberg plays his angles very well and although he doesn't deliver the crushing blow, he gets a body on the man and is hard to get around.
Mike Lee, LD (Gunnery, Sr., 6-0/175, '96) – An offensive defenseman and a UVM commit, Lee has a powerful shot and is creative with the puck on his stick. Hamden, Conn. native can try to do too much at times which leads to turnovers, but overall he is very effective. He has improved his defensive zone play and was active picking up sticks in front of the net and was also tough along the boards.
Bennett Morrison, RD (Kent, Sr., 6-2/205, '96) – Bolton, Ontario native is a big, meat-and-potatoes defensive defenseman who is very effective. Could have a breakthrough year.

Nick Quillin, LD (Gunnery, Jr., 6-0/190, '96) – Quillan, a Dartmouth, Nova Scotia native, is a strong kid with a versatile skill set. He can hang back and be a defensive defensemen, using his strength and skating ability to shut down oncoming forwards, or he can jump up into the attack. Our one knock on him is that he tends to over-handle the puck at times. He has received some interest from ECAC schools.
Bobby Stickles (Tabor, Soph., 5-11/175, '97) -- Young prospect from Marion, Mass. grew up playing with talented D partner Brett Dineen, the son of Tabor head coach Gerry Dineen. Stickles is a gifted skater, smooth and powerful, and makes a fine first pass. We only saw him shoot the puck once but it was a bullet from the blue line. A lot of upside here.
Spenser Young, RD (Exeter, Soph., 5-10/167, '97) – A very special player, perhaps the best prospect in the entire tournament – certainly the top D. Young has great hands, vision, and can put the puck wherever he wants. He has the maturity to make the simple play when that's called for, but can also stretch the ice if its open. Effortless saucer passes were on display on the power play. He's a smooth skater and is equally good both north-south and laterally. He will never get beat with speed, though at this point in his career he can get outmuscled, but he's such a good, balanced skater that he's hard to bring down. He is the total package when it comes to offensive defensemen. Providence College recruit.


Top Goalies:

Stephen Morrissey (Kent, Sr., 6-0/185, '95) -- Arlington, Virginia native played over a third of the minutes at Kent last year, but will be the #1 guy this year. Was solid this weekend, stopping 52 of 58 as Kent split their two games.

Matthew Schneider (Gunnery, Sr., 6-0/160, '95) – Manlius, NY native has played three years for the Syracuse Jr. Stars (Empire) and put up nice numbers. He was pretty unbeatable this weekend, stopping 28 of 29 in his team's 6-1 win over Exeter, and then coming back and kicking aside all 23 shots he faced in a 4-0 win over Berwick the next day. That's a .981 save percentage.

Sam Tucker (Choate, Jr., 6-2/177, '96) – It seems that Tucker committed to Yale a long time ago (it was after his freshman year). But he's just a junior. We haven't seen a prep goalie this year who is better than the Wilton, Conn. native, nor do we expect to. Choate head coach Pat Dennehy has the luxury of having perhaps the best goaltending tandem in prep hockey as junior Andrew Tucci is also very good but gets discounted because he's only 5'7". Tucci kicked out all 24 shots he faced in shutting out Berwick on Saturday.



Mon. 12/9/13

2013 Prep Jamborees Reviewed
Forgive the tardiness, as this typist has been slow picking and sorting through notes from the post-Thanksgiving prep jamboree games, a slow process, especially given the flood of games and the late arrival of Thanksgiving. The 28th? Geez, we've always been partial to the Gregorian calendar. Four hundred plus years will do that. But we've also heard that in the Middle Ages people felt having a Julian calendar hanging in their home office was cooler than an electric toaster in the kitchen. Might be time to revert.

Anyway, here are some impressions.

Mike Walsh's Proctor Academy squad is much improved. We got to see them on consecutive days, at both the Belmont Hill Jamboree on Saturday Nov. 30 and then at their own jamboree the following day. The Hornets' best prospect is '99 RD Reilly Walsh, who also happens to be the coach's son. He is confident, poised, has a really good stick and feet, and has a bit of the edge his dad played with. An elite player, Walsh obviously needs to fill out but right now, as a freshman, he'll be playing major minutes. We were also impressed by new soph RC Jake Pappalardo, a '97 from Salem, NH who has speed, agility, hands, and some sandpaper in his game. Walsh and Pappalaro will both be watched by Div. I schools. Another new soph – also a '97 – is LC Derek Tillotson, from down the road in Bow, NH. Tillotson has nice hands, and like Pappalardo and Walsh has time to develop. '97 F Hunter Luhmann, the team's leading scorer as a soph last year, is back, and could bust through this year. The skill is there; he just needs to become dynamic. In net, '96 junior Beau Collins looked very good. Collins has bided his time playing behind Merrick Madsen, but the job is all his now. Madsen, a Harvard recruit and Philadelphia Flyers 6th round draft pick, is playing now for the Minot Minotauros (NAHL). Not a lot of team names are drawn directly from Greek mythology, so whoever came up with the Minotauros gets a tip of the hat from us.

Holderness , which has lost two Div. I committed d-men off last year's team – Terrance Amorosa (PC) and Phil Johansson (Brown) – has holes to fill. Their top prospect is '97 forward Ryan Steele, a new soph with good size and skill, and the ability to skate with the puck. Steele doesn't shy away from contact, and he has Div. I potential. 5'7" Senior forward and co-captain Alex Spina is the top returning scorer and showed flashes of his speed and hands. He could be a little more eager in front, but is a good DIII prospect. 6'1" senior D Nick Gibson, a '96, will be the top guy on the blue line. Backup goalie Logan Bateman, an Oct. '98 birthdate, showed quickness and agility and was the winning goalie in a 2-1 win over Hebron, his first prep action.

Lawrence Academy is down this year. Their top prospect is 6'1" Cam Knight, an offensively skilled d-man who recently committed to the University of Alabama-Huntsville Chargers. His D partner is 6'5", 195 lb. Brendan Flanagan, a '94 senior who has soft hands to go with his frame. Junior Frankie Newman, a '96, showed speed and skill and was probably the top forward for Lawrence over the weekend. Junior Evan Dahl was out with a broken wrist, and '98 freshman Cam St. Amand was out with a pulled groin. Interesting newcomers include sophs Josh Oring and freshman Esbjorn Vold. Oring showed poise and protects the puck well, while Vold, a '98, is a big, raw prospect with some upside.
Stanstead College was among the top teams at the Proctor Tournament, with balance and skill. We wrote about them extensively at the MPHL Showcase in Burlington in Mid-November, but didn't mention senior Jack Patterson. He jumped on our radar here, however. The 6'1", 185 lb. late '95 may have been their most effective forward. He was all over the ice, playing fast and physically, and creating for his teammates. Grade 11 goaltender Frederic Foulem, a top student who has been getting Ivy attention, has been excellent all fall and was recently rewarded for it by being named to Team Atlantic at the World Under-17 Challenge in Cape Breton, NS Dec. 29-Jan. 4. (By the way, Hockey Canada, which has traditionally sent five regional teams to the tournament, will be sending three regional teams starting next year.)

St Paul's junior Austin Ricci has improved his skating quite a bit from last season. He has a bomb for a shot and scored on a beautiful one-timer vs. Tabor. Ricci, who plays aggressively, is also still quite raw. He's not a DI prospect in our books – not yet, anyway – as he needs to improve his quickness and his play away from the puck. Senior David Storto has all the tools – hands, vision, shot, speed, and patience with the puck. He needs to add grit to his game. Senior Cam McCusker is highly involved, blocking shots, playing all situations, and will make for a good DIII prospect. Ditto for John Laurito and Connor Sodergren. At any rate, SPS has a solid two lines of potential NESCAC players, which can take you far in prep hockey. Look for them to win their share of games this season. On D, keep an eye on '97 soph Giacomo Messina. The Laval, Quebec native is big, strong and physical. He's very effective in his own end, especially along the boards and in front of the net. A stay-at-home D, he makes simple plays with the pack and a nice first pass. His skating needs to improve – he's not great laterally -- but he has time on his side.

Loomis has a really good top line, and a solid second line, though the level drops off quite a bit from there. So it appears depth will be a problem, certainly in the early going. 5'10" senior D Matt O'Donnell, a UVM recruit, is the team's leader, an offensive d-man who jumps up into the play and creates a lot of odd man rushes. The Californian is a gifted skater, has good hands, and can score. His partner on the blue line, 6'1" junior Colin Merrill, had a nice showing, making good simple tape-to-tape passes. A likely DIII prospect, Merrill anchors the blue line well when O'Donnell rushes the puck. Up front, the Pelicans are led by 6'0" junior Alex Esposito who has a great burst of speed, quick hands, and is really good in transition. Not only did Esposito lead Loomis in scoring as a soph last season, but he plays hard in all three zones, kills penalties, blocks shots and does not back down along the boards. He has a complete game and is a solid DI prospect. Esposito's returning linemate from last year, 5'9" Cory Swift, had a beautiful deke goal vs. SPS – Loomis' only goal of the day. Swift will make for a fine NESCAC player. Esposito's younger brother, Eric, a late '98, is still growing into his body and did not get a lot of ice time. He has ability and will be a player to watch. One thing we liked about Loomis' team was its PP, an umbrella QB'd by O'Donnell. Though unable to capitalize vs. SPS, they moved the puck really well.

Tabor is led by '97-born sophomore Erik Foley, who for our money was the top player – by a significant margin -- we saw on Sunday jamborees. The Providence College recruit is explosive with the puck on his stick, and has great vision to find the open player. And if he doesn't find anyone open, it's not a problem -- he has the speed and skill to take it himself. The 6'0" Mansfield, Mass. native had a great goal off a deke that showed off exactly how quick his hands are. Foley was a full step above everyone else on the ice. Our one reservation was that we felt that, once his team had a 2-0 lead, he backed off a bit and was less aggressive. 5'8" senior Joseph Slovak, Foley's linemate, is small but fast and super quick. He's a pest for opposing D and creates time and space for Foley to work his magic. 6'2" soph Ben Taylor, a big '97 from Falmouth, rounds out the Seawolves' top line. Taylor has a way to go, but has the size/speed/skill to be a DI player someday. We felt Tabor was deep on D but the best college prospects on the blue line were the two '97 sophomores, 5'10" Brett Dineen and 5'11" Bobby Stickles. The latter, who plays with poise beyond his years, had a particularly good game vs. SPS, showing off his skating and passing abilities.

***
We saw Governor's at the Belmont Hill Jamboree but it was not an auspicious start for the young Govs, who had only had a single day of practice and failed to find the back of the net in a 2-0 loss to Proctor and a 7-0 loss to St. Andrew's College. The latter had 11 games under their belt, and absolutely steamrolled the Govs. Proctor had played a few games too, but were not exactly in mid-season form. However, the Governors d-men – every last one of them -- spent the day turning the puck over to their opponents. It was not pretty at all, and head coach Leon Hayward will have to get them focused. How were their forwards? Hard to tell, as they didn't have the puck much. However, Gov's lost a ton of offense to graduation – Lucas Bombardier, Nathan Ferriero, Cam Laughlin, and Ryan Scarfo are all gone. Top scoring d-man Geoff Sullivan graduated too. Ditto for goaltender Brendan McMenimen, who was terrific at times last year. It's a young team and they will take their lumps. The 4-5 seniors on the team will have to play better, too. We know 6'3" D Nick Nonis, a UNH recruit, can do better – and will have to if he expects to dress for games in Durham.

We have covered St. Andrew's College -- "Canada's Largest All-Boys Boarding School" -- extensively, and they were terrific. UNH Warren Foegele was unstoppable and, although he's not slated to come to UNH until '15, he could play there next year. He's ahead of many New England kids we've seen step directly from prep to Div. I. His speed, shot, and off-the-charts work ethic virtually guarantee he will be drafted in June. How high he gets drafted is the question, but pro scouts like kids who play equally hard and equally smart in all three zones. Watching Foegele on the backcheck, using his speed to catch up to opposing forwards and take away the odd-man rush is pretty exciting stuff.

Belmont Hill was still very much in tryout mode, but remember that all that kept them from a trip to Salem last spring was an Ethan Holdaway OT goal in the prep quarters. They have their goalie, 5'10" Ryan McConnell, back – and he's a battle-tested senior now. All those young, skilled d-men are back. Up front? Of their five leading scorers last year, they lost two to graduation -- Carl Hesler and Mike Najjar. But Bel Hill always seems to be able to fill in from below, and their depth guarantees that they can play with – and beat – anyone. The seniors who will be counted on to lead the attack are 5'11 senior – and UConn recruit -- Will Golonka (he missed the jamboree with mono), 6'1" Matt Melanson, and 5'10" Joe Welch. Melanson, a late '94 who is 6'1", 185 is, with his size and skating ability, a legit DI ability. He should have a big year. Welch is 5'10", a crafty player who will likely, at the very least, be an excellent NESCAC player. Other returning forwards who looked good are 6'0" senior Dan Seibel, who we barely noticed last year, and 6'0" junior Charlie Michalowski, who we did. A new forward you will want to keep on eye on are 6'1", 181 lb. '97 sophomore Ricky Cronin. His skating ability – he has a nice stride and covers a lot of territory quickly – and his size alone make him a prospect worth tracking closely. Junior F Cameron Chiarelli, a late '96, will have to keep working on his skating, but he's a heady player. Good bloodlines, too: grandfather Frank starred at RPI, and dad Peter, the Bruins GM, captained Harvard.

Winchendon's most noticeable player in the game we saw was 5'9", 170 lb. senior center Jarrod Fitzpatrick, who played at St. Mary's (Lynn) before coming to Winchendon as a junior last year. Others may step to the fore, but it was hard to miss Fitzpatrick. A '95, he's a gritty, hard-working agitator type who is a pain to play against. He had a goal and an assist in a 3-2 loss to Belmont Hill.

***
We stopped in at the Rivers Jamboree even though we should have known better -- they were playing mini-games, not a format this typist is fond of. By the time we identified the players on the ice, the game was over. The rhythms and momentum changes that define hockey are totally non-existent in mini-games. They should be dropped like a hot rock.

***
Berkshire School's one-day jamboree last Monday was a nice feast, with full games going on at two adjacent sheets.

First off, aside from losing former head coach Matt Herr to USA Hockey and defenseman Mike Graham to SLU, Kent is very similar to the team you saw last year. They are huge, with a dozen players 6'0" or more, in many cases much more. At this time last year, a lot of us (this typist included) jumped on the Lewis Zerter-Gossage bandwagon. Not without reason, either. The senior center from Montreal is 6'2", 183 lbs. and certainly passes the eyeball test. He looks like the prototypical pro center. However, as time passed last year his stock dropped, mainly because he was too perimeter and unwilling to go to the dirty areas. He finished with six goals. On Monday, Zerter-Gossage, who played the point on the PP, had two goals and showed more of a willingness to engage – on one of the goals he took it to the net through traffic. We'll see in a month or two how things play out. A good DI prospect up front is 6'0" senior Anthony Rinaldi, a speedy senior LW from Montreal. Rinaldi has the potential to have a breakout year. He can make a play and finish and, as mentioned, has the speed and size. We felt Kent's top d-man for the day was 6'2", 205 lb. senior RD Bennett Morrison. His partner, Keanu Hilaire, a junior who is identical in size, is another one to watch for. Kent will miss Graham on the PP.

Gunnery had a rough day, failing to score a single goal over the course of two games. They seemed flat and never really got going. Very un-Gunnery like. Two new players who are sure-fire DI prospects are 5'10" RC Noah Bauld, a slippery Nova Scotian with skating and playmaking ability who does a lot of little things right – like consistently win draws. A junior, Bauld has a bright future. We also like fellow new junior Alec Mehr, a 5'11" RW who can really fly. Those two, like everyone on Gunnery, were blanked on Monday, but they'll put up points. The whole team will, but they weren't sharp at the Jamboree.

Northwood junior RD Vincent Desharnais, a 6'6", 200 lb. Laval, Quebec native – and draft-eligible '96 – was getting a close look from the NHL guys in attendance. We can see why. He's got the size and decent hockey sense, and pro guys can wait until he fills out that frame. It'll take time, though. For college guys, they'll hang back as Desharnais does everything really slowly. There are no fast-twitch or even medium twitch muscles in his body, but he sure does fill those passing lanes. His partner, junior Cam Lee, another Nova Scotian, is a 5'10, 165 lb. '97 who was recently named to Team Atlantic and will be representing Team Atlantic at the World Under-17 Challenge in Cape Breton. 6'0" junior forward Ryan Smith, a '97 from Atlanta, has skill and is another DI prospect. Lee was at Northwood last season; the other two are newcomers.

Berkshire is a bit like Kent. If you saw the team last year, you've seen the team this year. The Craig Puffer (UVM) – Charlie Corcoran (Brown) – Tipper Higgins (Army) line is back for an encore and there is no reason to think that prep's highest scoring line might not again top 50 goals. A newcomer we liked was Barclay Gammill a 5'9" sophomore forward and '97 birthdate from New Canaan, Conn. Another one we checked off to keep watching was PG Mike O'Brien, a 6'2", 188 lb. '95 blueliner from the Boston Advantage. He's a borderline DI guy. The blue line is anchored by returnee Bryan Gerstenfeld, an Army recruit (fall '15). Gerstenfeld, a senior, had a good day, and Berkshire won both their games. They should very be very much in the hunt again this season, especially if they get the goaltending they got last year from Tim Ernst. 6'1" senior George Blinick, Ernst's understudy last year, will be the Bears' #1 guy between the pipes this time around.

Brunswick is going to surprise a lot of opponents this year. Their top line of Stephen Seeger, Sebbi Foster, and Nick Jermain was consistently dangerous. Jermain, a 5'11", 160 lb. left shot RW is the best DI prospect of the three because of his skating ability – overall, it's not a fast line – and his ability to both make a play and finish. All three are '96 seniors. 6'6", 245 lb. LD Max Masiulis, a '96 junior who wound up at Brunswick via Lithuania, is intriguing because of his size. For our money, the best overall prospect on the team – by a good margin – is 6'2", 170 lb. freshman RD Philip Kemp, a '99 birthdate. Kemp is smooth, poised, and has a lot of time to grow his game. His ceiling is high.

Nichols is a young team this year, with ten '97s and one '98. One player that caught our eye were 6'3", 203 lb. junior power forward Carson Gicewicz, the younger brother of defenseman R.J., his teammate last year at Nichols (he left to take his senior year with the Green Bay Gamblers before matriculating at St. Lawrence.) Carson is also a SLU recruit. 5'9" senior LC Eric Lipa was consistently noticeable. Scored a goal on a nice wrister and was consistenly involved. Wherever the puck was, so was he. New soph Griffin Lunn, a 5'9" RW who showed a good head for the game to go with his hands and competitiveness, will help Nichols. By the way, we like Nichols' old style unis, with the number prominently on the chest, below the school's name, and nameplates on the back. Canterbury also has uniforms with the numbers on both front and back. It's great for scouts. All schools should do it.

Canterbury's top uncommitted forward, 6'1" junior Shane Sellar, a '97, was out with an injury, though he's expected back in short order. Mercyhurst recruit Mark Bowen, a '95 senior, was as good as expected, scoring a goal and making a nice pass on the GWG in a 3-2 win over Kent. 6'0", 200 lb. senior RD Connor Collier, a '95, is the best uncommitted d-man on the team. He provides offense from the blue line with his puck-moving skills. He can find the back of the net, too. Sophomore F JD Pogue, a '97 from Montreal we noticed over the summer, can play, but didn't jump out at us on Monday. 6'3" senior goalie Chris Short, a returnee, was really good in the win over Kent. A Vaughan, Ont. native, he's a late '95.

Pomfret didn't win either of their games at Berkshire and look to have a long season in front of them. 6'1" senior D Ryan Jackson, a '95 from Vermont, and 5'7" senior F Andrew Slotnick are their best players, and will get looks from DIII schools.




Around the Rinks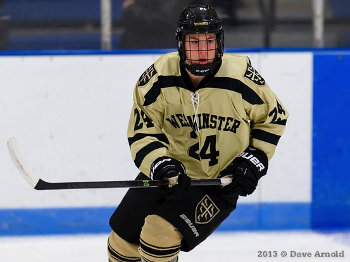 Westminster sophomore F Taggart Corriveau is opening eyes in the early going
(Photo: Dave Arnold Photography)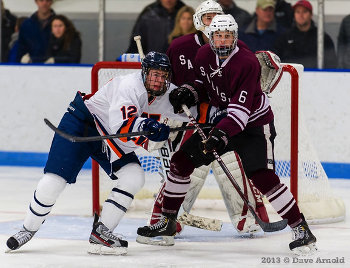 6'3" sophomore D Griffin Luce, a Michigan recruit, making life difficult for Milton's Clay Berger
(Photo: Dave Arnold Photography)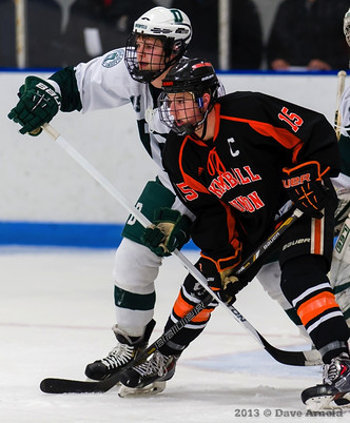 KUA's Joey Dudek battles Deerfield's Trevor Yates in front
(Photo: Dave Arnold Photography)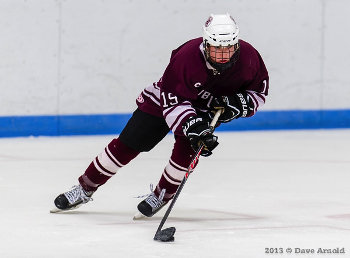 Salisbury senior F Derek Barach was named MVP of the Flood-Marr Tournament
(Photo: Dave Arnold Photography)