Established 1996 -- Celebrating Our 25th Year
Wed. 3/12/14

Beantown Starts Today
The Beantown Spring Classic gets underway today at the New England Sports Center in Marlborough, Mass.

Here is a link to the schedule:

Beantown Spring Schedule 2014

Please note that there have been a few minor changes to the schedule. Most importantly, today's Game #1 of the USPHL best-of-three championship series between the Junior Bruins and the Jersey Hitmen, has been moved up to a 4:10 pm start.

***

Rosters

Here is a link to the roster book:

Beantown Spring Rosters 2014

Some players invited to the tournament will not be able to play due to the fact that they are in school this week. Dexter forwards Ryan Donato and Kevin Hock, BB&N defenseman Brien Diffley, and Belmont Hill forward Will Golonka will not be appearing.

In addition, Choate F Joey Caffrey, who is sick, and Christian Brothers Academy F Brenden van Riemsdyk, who has an ankle injury, will not be appearing.



Fri. 3/28/14

Beantown: Draft Division
The Draft Division at this year's Beantown, while perhaps lower in star power than other seasons, featured teams that were well-balanced, games that were surprisingly close and low-scoring, and very little in the way of extra-curricular nonsense.

As usual, our rankings are hybrid rankings – a balance of performance at the tournament and future potential. These are also players that, for the most part, we have seen quite a bit of, so it's not like they landed at the New England Sports Center from outer space. There's a level of familiarity. Nonetheless, it's useful to see players, especially from weaker teams, go up against the region's best. Some rose to the occasion; others didn't.

One thing to keep in mind about the comments is that anything critical we say about a player's game must be understood in the context of the fact that these are all very good players. There's a reason the Beantown is invitation-only. For us, we're always hoping a player or two we really didn't get to see much of during the regular season, steps up. For example, Connecticut Oilers (EHL) forward Joe Widmar came in and made a statement here.

Between covering the Draft and Pre-Draft divisions at the Beantown -- and also watching the Super 8 up at Tsongas Arena in Lowell -- we weren't able to concentrate on goaltenders as much as we would have liked. From what we saw, though, if we had to pick one goalie from the tournament, it would be Cushing's Joey Daccord. The junior, a '96, was excellent here – a good skater with excellent reflexes and fundamentals. He has a chance of getting drafted in June. We thought Kent senior Stephen Morrissey, a '95, was good – especially so in Wednesday's opening game. Thayer's Robert McGovern, also a '95 senior, didn't face as many shots as Daccord or Morrissey, but stopped the ones he had to.

Forgive our tardiness. After the Beantown this typist's fingers needed a vacation. But here is our top 50 -- 36 forwards and 14 defensemen. Enjoy.


Forwards:

1. JD Dudek, RC, Kimball Union, 6-0/180, '96 – Boston College recruit excelled in open ice, displaying high-end passing ability and vision. Dudek, an Auburn, NH native who played at Pinkerton before coming to KUA two years ago, has a high hockey IQ and excellent anticipation. KUA's offense flowed through Dudek and, when he was injured and missed several weeks in January and February, the Wildcats became a much easier team to defend against -- there are just not that many players who can distribute like Dudek. Some scouts question his work ethic and toughness but, in Dudek's defense, he had a couple big wingers in AJ Greer and Tyler Bird to take care of that department, freeing him up to do what he does best, i.e. slow the game down and make plays. Dudek needs to improve his shot and become stronger – he's a bit slight. We feel Dudek upped his draft stock at the Beantown.

2. Evan Smith, LC, Salisbury, 6-1/190, '96 – Yale recruit capped the '13-14 prep season by scoring the GWG in OT to lead Salisbury to its second straight prep title. As far as the NHL Draft is concerned, Evan may have raised his stock more than any other player at the Beantown. A smart player who competes hard in all three zones, Smith has always been a question mark among NHL scouts due to his slightly awkward skating stride. However, he is deceptively fast, as he showed at the Beantown. His low center of gravity makes him hard to knock off the puck, which he protects well. His shot is hard and accurate, and he makes excellent passes. Smith made strong plays off the transition – and he doesn't slow a lick when the puck is on his stick. Had 52 points in 29 games for Salisbury this season; also improved his defensive zone play. A very complete player. Stouffville, Ontario native will be in the BCHL or with Dubuque next season.

3. Tyler Bird, RW, Kimball Union, 6-2/205, '96 – Brown recruit improved a great deal over the course of the season, his first at KUA after coming over from St. John's Prep. Bird ended the season with a 32-27-60 line in 37 games. He's taken his skating up a notch, exhibiting longer, more powerful strides. Bird handled the puck well, both in open ice and along the boards, and made a number of nice plays. He has moved from being a one-dimensional, shoot-first power forward to a player who controls the puck more, skates with his head up, and reads the play. He uses his big frame well and can be a handful in front, fighting for position, redirecting shots, slamming home rebounds and screening the goalie. His performance at the Beantown upped his stock for June's draft. Needs to improve his first few steps and overall quickness.

4. Max Willman, LW, Williston, 6-0/180, '95 – Brown recruit is a powerful skater, which was on full display throughout the tournament. Willman had a few end-to-end rushes in which he picked the puck up deep in his own end, motored out of the zone, made some nice moves in the neutral zone, and attacked the net. Players with his speed often rely overly much on their skating to beat defenders, but Willman is a creative forward with a good stick, an aggressive style, and a high compete level. In 25 games at Williston this season, Willman, a PG, had a 21-23-44 line. A year earlier he was playing for Barnstable (Mass.) HS. A '95, he was passed over in last summer's NHL Draft. We don't think he'll be passed over again.

5. AJ Greer, LW, Kimball Union, 6-3/205, late '96 – The BU recruit, a late '96 who will not be draft eligible until 2015, was the youngest player in the Draft Division. The Quebec native was a little up and down. He has high-end shooting ability and moves well considering his size and strength, but at times he allowed himself to get caught up too much in the physical play. At other times he failed to keep his feet moving and relied too much on his shot or stickhandling. But when Greer takes it wide and uses his body to drive the net it is impressive.

6. Joe Widmar, RC, Connecticut Oilers (EHL), 6-2/205, '95 – The Northbrook, Illinois native is a Maine recruit who gets better every time we see him. This past season, with the Connecticut Oilers (EHL), he posted a 16-33-49 line in 40 games. He's big and strong, and uses that to his advantage. We were impressed with his improved skating ability, as he has added more power and explosiveness to his first few steps. Widmar is powerful along the wall and keeps his feet moving in the dirty areas. He had several scoring opportunities out of the corner in which he used his body to gain separation. He sees the ice well and makes crisp, accurate passes even under duress. We didn't see him shoot the puck as much as we would have liked -- he has a quick release on his wrister and snap shot and puts muscle behind it. This is Widmar's second time through the draft. After having a strong '11-12 season in the EJ with the Cap District Selects, Widmar went to the USHL for '12-13 before coming back East. A '95, he was passed over in last year's draft, but he put himself on the map here.

7. James Winkler, LW, Portland Pirates, 6-3/190, '96 – The Northeastern recruit, who was at Berwick before leaving to spend his senior season with the Portland Jr. Pirates, has not developed as much as anticipated this season and was ineffective for long stretches here. That said, his size and long stride are hard to ignore and he also scored a highlight reel goal. He releases the puck in stride, which is rare at this level, and shoots with his head up. His shots are hard and accurate. He needs to improve his agility and play with more fire and physicality. Look for him in the USHL next season – Youngstown holds his rights.

8. Ted Hart, RC, Exeter, 5-11/170, '96 – The youngest of the three Hart brothers (older brother Kevin plays at Providence and middle brother Brian plays at Harvard), Hart, a junior at Exeter, has committed to Providence for the fall of '15. Hart had a good showing at the Beantown. He does all the little things well, has great acceleration, and controls the puck with ease. Players with his speed and quickness often try high-risk, high-reward plays in these kinds of events but Hart is a puck possession guy who doesn't expose the puck or play outside of himself. Has a good frame and should continue to grow.

9. Mitchell Smith, LW, Salisbury, 6-0/180, '96 – Is there a big gap between the two Smith Twins? Not usually. At the Beantown, however, Evan really elevated his game while Mitchell, also a Yale recruit, was much the same as always – meaning he is still a very good hockey player who is strong on his skates, has great instincts, a quick and powerful shot, and quick hands. When he plays with Evan he is exciting to watch, a hound on the puck who makes brilliant decisions. However, when he was playing with other players he was significantly less effective, which is not actually surprising -- or even a knock. After all, he's played with his twin his whole life. At any rate, Mitchell needs to continue working on his skating. Look for he and his brother in either the USHL (Dubuque) or in the BCHL next season.

10. Beau Starrett, LC, South Shore, 6-4/185, '95 – A Cornell recruit, Starrett is long, tall, and skilled. He entered the Beantown as New England's second-highest ranked player – behind Ryan Donato -- on Central Scouting's Midterm Rankings after an 11-36-47 campaign in 48 games with the South Shore Kings (USPHL). A Joe Thornton type of player, Starrett's hockey sense is underrated and, while he doesn't play a cerebral style, he finds passing lanes and makes everyone around him better. However, he was largely ineffective at the Beantown, lacking a high compete level and failing to get involved physically. His upside is significant and it appears likely that once he fills out and improves his stride he will make for an excellent college player. He still has a way to go, though. The Bellingham, Mass. native, the youngest of the four Starrett hockey-playing brothers, played at Catholic Memorial before going to South Shore this season.

11. Alex Esposito, RW, Loomis-Chaffee, 6-0/180, '96 -- The recent UVM commit, a junior who led Loomis to the Large School New England Prep School championship, has soft hands, good speed, and is shifty. He plays the game with an edge and although he needs to improve his strength, he loves to mix it up and get physically involved in the game. Had a 14-14-29 line in 28 games at Loomis.

12. Mark Dufour, RW/RC, Islanders Hockey Club, 6-2/192, '95 – The Union (fall '15) recruit has made great strides with Sean Tremblay's Islanders team, particularly with his skating. He has lengthened his stride, added balance and strength, and is quicker out of the gate. The adjustment to the junior level took a while for Dufour, but he ended the season with a respectable 10-6-16 line in 34 games. He has a great shot and soft hands that allow him to get through traffic as well as protect the puck along the boards. Doesn't always take full advantage of his size and strength. Needs to become more of a physical presence, especially in the defensive zone.

13. James Anderson, LW, PAL Jr. Islanders, 5-10/175, late '96 – Anderson, who played at Taft but left after his junior year to return home to Long Island, is a Mercyhurst recruit (one of four at the Beantown). An October '96 birthdate, Anderson was one of the youngest players on the PAL Islanders but finished the season with a 10-23-33 line in 47 games. An excellent skater, Anderson has great acceleration, uses a change of speed in 1-on-1 situations, can turn on a dime, and has a smooth stride. His hands are soft, but he needs to show more imagination and creativity with the puck.

14. Ace Cowans, RW, Groton, 5-7/145, '96 – One of the biggest surprises of the tournament, Cowans, at 5'7", 145 lbs., is not going to grab the attention of NHL scouts. But here, amongst a group that boasted nearly 50 D-I commitments, he showed that his stats at Groton – 25-31-56 in 27 games – were no fluke. At the Beantown, Cowans played with Dudek, Bird, Winkler and several other high-end players. He fit right in, continually finding his name on the stat sheet. Cowans is a smart player with excellent hockey sense, soft hands, and great passing ability. Most of his time in the offensive zone was spent on the perimeter and behind the net where, with his quickness and hands, he was able to wait for passing lanes to open up. As for his shot, Cowans has a quick release, but not much velocity. Before the weekend, it was questionable as to whether he could play at the D-I level with his size. The skill is certainly there, so if Cowans can continue to get stronger, fill out, and become more dynamic, he can play D-I.

15. Max Kaufman, LW, Kent, 5-8/165, '96 – Another recent UVM commit, Kaufman had a great season at Kent, with a 15-19-34 line in 25 games. Rochester, NY resident is quick, shifty, fast – and tough to defend. His feet are always moving, and his hands are smooth and quick. He can stop on a dime, and his acceleration is excellent. While his size is an obvious concern, his skill set and his elusiveness make him a good D-I prospect.

16. Chris Makowski, LC, PAL Jr. Islanders, 6-3/193, late '95 – A big center who can handle the puck, Makowski, who has a good overall skill set for his size, does not shy away from physical play. Needs to improve his acceleration and lateral movement before moving on to the next level.

17. Tommy Besinger, RW, South Shore Kings, 5-8/163, '94 – Besinger played really well at the Beantown, like he had something to prove. As a '94, we expected him to have a good showing against '95s and '96s, but he went beyond that. The former BC High ('13) standout is small but explosive, can handle the puck well at top speed, and has creative instincts. He had a 14-25-39 line in 46 games in the Premier League this season and remains one of the league's better uncommitted prospects.

18. Derek Barach, RW, Salisbury, 5-8/165, '95 – Mercyhurst recruit had as good a season as one could have. He was named MVP of the Flood-Marr after scoring the GWG in OT to beat Nobles. He scored the game-winning goal against Cushing in double OT in the prep quarterfinals and, lastly, assisted on Evan Smith's GWG in overtime of the New England Prep Championship game. Playing alongside the Smith twins, Barach led his team in points with a 23-33-56 line in 29 games. At the Beantown, Barach was great in spurts but his lack of size kept him from doing what he was accustomed to at the prep level. Barach has great speed and agility, plays the game with pace and athleticism, and finds ways to score. He has that knack.

19. Ben Freeman, RW, NMH, 6-4/186, '96 – His skating hasn't shown that much improvement over the last year – he is still a little stiff. However, he's 6'4" and can really shoot the puck. A junior who has committed to UConn, he led NMH in goals (20), assists (26) and points (46). He can score from anywhere, and has great size and reach. His body positioning allows him to protect the puck well, especially along the boards. If he improves his skating, he could blossom into a potential pro.

20. Lewis Zerter-Gossage, RC, Kent, 6-2/185, '95 – The Harvard recruit was on and off at the Beantown. While he has moments in which he looks like a legit NHL prospect, there are other times during which he is ineffective and just floating around. He had a few rushes and neutral zone breakups where he showed transitional speed, an ability to make quick decisions with the puck, and the long stride we are accustomed to. He is light on his feet and agile for his size but he often avoids the dirty areas and does not crash the net, as evidenced by his nine goals in 25 games. He did have 31 assists, however, which is impressive, and let's not forget that he led his team in total points, but a guy of his size should be putting more pucks in the net, especially considering that he has a good shot. He has a high ceiling and – particularly if continues to work on his strength -- could develop into an excellent college player. Quebec-born players like Zerter-Gossage generally take a little longer to adapt to the more physical play in the U.S. A reasonable comp is Antoine Laganière, of whom the same questions were posited when he played at Deerfield, but who went on to win an NCAA title at Yale and is now a first-year player in the AHL. We feel that Zerter-Gossage has the potential to do the same.

21. Nolan Vesey, LW, South Shore Kings, 6-0/175, '95 – The Maine recruit from North Reading, Mass., whose father starred at Merrimack and whose older brother is at Harvard, had a quiet weekend. However, Vesey, a former Austin Prep standout, is a smart, opportunistic player with soft hands who led the Kings with an impressive 26-40-66 line in 48 games (23 points more than the team's second-highest point getter).

22. Patrick Flynn, RW, Boston Advantage, 5-11/160, '96 – Flynn, one of four Boston Advantage players going to Dartmouth, showcased his speed and playmaking ability at the Beantown. Flynn is light on his feet and uses head and shoulder fakes to get around defensemen, none of whom seemed able to hit him squarely. Flynn has smooth hands and poise with the puck. A Framingham, Mass. native, he should be a good set-up man for the Big Green.

23. Adam Gaudette, RC, 6-0/172, '96 – It's hard to believe Gaudette, a junior at Thayer, has not received more attention than he has after an impressive season during which he led Thayer to the Elite 8 and finished second in the league in scoring with a 29-38-67 line in 27 games played. Gaudette, from Braintree, Mass., is a fluid skater with excellent hockey instincts. He is clever and has good lateral movement but lacks high-end speed. He is also slight and, at the Beantown, was not a factor in the dirty areas, despite his efforts. Gaudette was injured for practically all of his junior season, so this past season, in which he was one of the elite forwards in prep hockey, was a bit of a coming-out party for him.

24. Quin Foreman, RC, Boston Advantage, 6-2/177, '96 – Foreman's skating is not the best, but he has soft hands and knows how to score. He was very effective in tight and in the corners seemed to be constantly involved. As the tournament moved along, he became increasingly effective and was noticeable nearly every shift. He will need to concentrate on improving his skating, but if he is able to do that then the future is bright for the 6'2" center. He and Flynn, his Advantage linemate, made for a great 1-2 punch throughout the tournament.

25. Neil Robinson, LW, Salisbury, 5-11/187, '95 – Robinson has always had the talent to play at the D-I level but has lacked consistency. This season, he led Salsibury's second group (Robinson-Sukumaran-Kane) and recorded a 19-15-34 line in 29 games. Robinson, who has great acceleration and a wicked shot, is being courted by several schools, but will be refining his game in juniors next season. The former Lac St-Louis Lion may be undersized, but he's strong. He made some nice plays during the tournament, exhibited awareness, and had his scoring opportunities.

26. Chad Otterman, LC. Delbarton, 6-3/197, '95 – Otterman, Delbarton's leading scorer, is a big, strong power forward who is still growing into his body. He has a wide stance that makes it hard to knock him off the puck but at the same time slows him down. His hands are decent and, while he possesses a powerful shot, he is also slow on the release. Otterman turned down several lacrosse scholarship offers from big-time programs to pursue hockey. Like many multi-sport athletes, he could really blossom once he starts concentrating solely on hockey. That will come next season, as he will play a year of juniors before heading to Cornell in the fall of '15.

27. Jack McCarthy, RW, Kimball Union, 6-1/195, '96 – McCarthy is often overlooked due to the fact that he played this season on KUA's second unit behind the big-name Bird-Dudek-Greer line. The former St. John's Prep standout, a junior at Kimball Union, had a solid rookie season with an 11-9-20 line in 36 games played and, along with Brendan Riley, will be the top returnees up front for the Wildcats. McCarthy is a steady three-zone player who skates well, pushes the pace, and moves the puck up ice. He isn't quite a north-south player and is still searching for an identity, but he is headsy on the breakout and in the neutral zone, finding ways to move the puck up ice. A Brown commit for fall '15.

28. Joe Lappin, RW, South Shore Kings, 6-1/175, '94 -- Given that he's a '94, we expected a little more out of the Geneva, Illinois native. Still, he was consistent throughout the week. He led the Kings in scoring with 27 goals in 45 games this past season but remains uncommitted. Has quick hands and shoots it with authority. Lappin, a smart player who makes those around him better, will need to improve his speed and agility – and become more dynamic – to play at the D-I level.

29. Nick Jermain, LW, Brunswick, 5-11/160, '96 – The Brunswick standout led the Bruins in scoring with a 17-30-47 line in 27 games. A smooth skater, Jermain has patience both with and without the puck and never forces the play. He made some nice passes in the neutral zone, and rushes the net with speed and confidence.

30. Austin McIlmurray, RW, Selects Academy, 5-11/168, '96 – The Selects Academy prospect, a Florida native, has produced a 12-11-23 line in 27 games for Selects Academy's U18 team this season. He was highly noticeable at the Beantown, creating scoring opportunities and showing his speed and athleticism. He needs to fill into his frame and be more assertive with the puck on his stick.

31. Jake Simons, LW, Cushing, 5-8/168, '96 – Simons, a junior, along with sophs David Cotton and Bailey Conger, played on one of the premier lines in prep hockey at Cushing. A Coral Springs, Florida native, Simons was the Penguins' second-leading scorer and, while we liked what we saw from Simons during the regular season, his lack of size hurt him in this tournament. Though he made some great passes and skated well, he was largely uninvolved and outmuscled.

32. Eric Shaw, LC, Middlesex School, 6-3/210, '96 – Shaw, a junior at Middlesex, had a good showing in his first game but somewhat disappeared after that. Concord, Mass. native is a big, powerful presence on the ice and plays a north-south power forward style. His hands are deceptively agile, and he's strong on his stick. His speed will need to improve before he enrolls at Brown in 2015, but his size is impressive and he's imposing in front of the net.

33. Dominic Franco, RW, Kimball Union, 6-1/175, '95 – A junior from Scituate, RI, Franco played his best hockey of the year at this tournament. While he lacks high-end skill, he skated well and showed a combination of hustle and speed in open ice. In addition, he protected the puck well. Franco has a decent shot and his hands are not soft, but not rock-hard either.

34. Sam Lafferty, RW, Deerfield, 6-1/175, '95 -- Lafferty, a Brown commit, had a great season for the Big Green, where he played alongside Cornell recruit Trevor Yates and, in 25 games, posted a 21-34-55 line. At the Beantown, he did not do anything poorly, but was rather unnoticeable and did not seem himself. He just wasn't making plays the way we were accustomed to. He will play next season at Salmon Arm (BCHL) befor heading to Brown in the fall of '15.

35. Mark Bowen, LW, Canterbury, 5-7/160, '95 – Small, skilled Mercyhurst recruit from NJ plays with a low center of gravity and is hard to knock off the puck. A cerebral and poised player, Bowen lacks high-end speed but his quickness and hockey sense make up for it. He was consistent throughout the tournament, but not a major factor in any of the games we saw.

36. Michael Turner, LW, Cushing, 6-3/210, late '95 – Turner is a big-framed, gifted skater, strong and fluid. But he is not a producer. He does not see the play or anticipate well and at times he is completely out of position and unprepared to receive a pass or take a shot. His size and skating ability keep him in the picture, but he had only six goals in 29 games this season (he had twice that, 12 goals, the previous season) and, after a lackluster performance here, we have doubts he will reach his potential.


Defensemen:

1. Miles Gendron, LD, Rivers, 6-2/175, '96 – The UConn recruit, who has been at Rivers for the last four seasons and will be playing for the Penticton Vees (BCHL) next season is an elite skater with a good frame, which pretty much made him the most closely-scrutinized draft prospect at the Beantown. The focus is on his feet, but he also made a lot of nice passes, regularly jumped into the rush, stickhandled through defenders, and created several scoring opportunities. Shrewsbury, Mass. native has the speed to get back and his smooth stride allows him to change speed and direction, and move laterally with ease. He reacts to the play, and lets his instincts take over, with little discipline, particularly in his own end. He's skinny, and will need to add strength in order to be more effective along the boards and in front of the net. His shot is quick, and he gets it through traffic and on net, but he doesn't really have much behind it.

2. Richie Boyd, LD, Cushing, 6-3/195, '95 – Boyd was passed over in last summer's draft, but could get picked up this time around. Lake Worth, Florida native is a big, strong, offensive defenseman who has greatly improved his skating ability. Agile for his size, Boyd carries the puck with ease through the neutral zone and has a powerful snap shot from the point. He makes a nice first pass on the breakout and is physical along the boards and in open ice. Boyd had a 10-30-40 line in 32 games for Cushing. He's headed to UNH in 2015.

3. Mike Lee, LD, Gunnery, 6-0/180, '96 – Lee, a junior at Gunnery, is a UVM fall '15 recruit – and a gifted offensive defenseman. The knock on him is his d-zone play but, unlike some other offensive-minded blueliners, Lee is willing and perfectly capable in his end. He just tends to get a little overanxious, which can lead to poor decisions regarding pinching, stepping up on opposing forwards, and over-extending. When he lets the play come to him, he is effective defensively. Of course, with the puck on his stick, it's a different story. Lee is one of the premiere passers in prep hockey, skates with balance and speed, and is able to juke opponents in the neutral zone. Yes, he can be careless at times with the puck, but it's a risk/reward situation and he was outstanding for Gunnery in the prep playoffs. He kept that momentum going at the Beantown.

4. Frankie Sullivan, RD, Westminster, 6-0/188, 96 – Sullivan, a junior at Westminster, had a strong tournament, making a lot of plays in the offensive zone and carrying the puck end-to-end on numerous occasions. A gifted skater who is tough to get around, Sullivan plays his position well, getting his body in between the player and the net. With his skating, he is tough to beat to the outside. With the puck on his stick, the former Notre Dame-Fairfield defenseman can rush it end-to-end or make crisp passes through the neutral zone. Sullivan has become much better in his decision-making and responds quickly when he sees an open teammate. One negative we noticed was his play along the wall. He just didn't win a lot of battles there, and needs to assert himself more physically, as opposed to just trying to dig pucks out of scrums.

5. Will Brophy, RD, Westminster, 6-4/195, '96 – Brophy, a junior, is one of prep hockey's underrated prospects. He has a giant frame and a fluid, powerful stride. His lateral movement and acceleration need to improve, but he plays his angles well, engages physically, and makes sound decisions with the puck. He makes firm passes on the move, and gaps up well in the neutral zone, so speedsters are seldom able to beat him in transition. Brophy, who came to Westminster from Fairfield Prep, has an active stick and plays a physical game, although he could be a little grittier, and a little meaner.

6. Anthony Wyse, LD, Boston Advantage, 6-3/210, '96 – A Dartmouth recruit, Wyse is a big, tough, mobile defenseman who controls the puck, makes passes in stride on the breakout and, in general, letting the play develop before distributing it. Wyse is a good skater, especially for his size, which allows him to get tight coverage when he gaps up on oncoming forwards. This season with the Advantage, Wyse, who has a low, hard slapshot, led all defensemen in scoring with a 7-20-27 line in 31 games. He had a good tournament, and upped his draft stock. Wyse, from Newton, Mass. and a senior at Newton North HS is also a very good lacrosse player.

7. Jon Barry, LD, Thayer, 6-2/190, '95 – During the tournament, Barry, originally committed to Providence College for lacrosse, committed to Northeastern -- for hockey. A highly athletic offensive defenseman, Barry can skate with anyone. Now that he has committed to hockey, his game could reach another level, which is saying a lot, as he was extremely good for Thayer this season. Barry needs to continue working on defensive zone positioning as his decision-making is instinctual and, while he makes great passes in a split second, he can also get tunnel vision and will force plays at times. Overall, he has great upside and could become an elite powerplay defenseman at the next level. Was bypassed, for obvious reasons, in last June's draft, but things could be different this year.

8. Ben DiMaio, LD, Boston Advantage, 6-2/175, '96 – A tall, lanky mobile defenseman who has a great jump in transition and ability to carry the puck end-to-end. He tries to force the play at times, but we like his skill. He is light on his feet, challenges forwards by blocking shots and angling them to the outside, and steps up to take the body in mid-ice. DiMaio, a Dartmouth recruit – one of four on the Advantage – did a lot to improve his stock for June's NHL draft.

9. Billy Sweezey, RD, Nobles, 6-2/195, '96 – Sweezey is a big, rugged, physical presence on the ice and packs a punch. He plays a physical, north-south style, but is also capable on the offensive side, averaging a point per game with an 8-20-28 line in 28 games for Nobles. He has a very good shot, though he doesn't get it off quickly. He has decent speed and agility but could improve in both areas. He tends to overextend and get out of position at times. Currently a junior at Nobles, the Hanson, Mass. native recently committed to Yale.

10. JC Brassard, LD, Nobles, 5-11/190, late '95 – Undersized Union recruit led all prep defensemen in points with an 11-32-43 line in 27 games. He has a great shot, he can fire it from anywhere, and he runs the powerplay. Brassard, from Scituate, Mass., has poise, keeps his feet moving to create passing lanes, and has the vision to make any play. He might not have the ideal height but he's sturdy and willing to throw his body around. His defense is not in-your-face or aggressive, though he is crafty and opportunistic. He will play a year of juniors before heading to Union in the fall of '15.

11. James Gobetz, RD, Salisbury, 6-2/190, '96 – Gobetz is a big, tough defenseman with smooth hands. The junior from Long Island – a former LI Royal – tries to do too much at times. He is at his best when he slows things down and keeps it simple. He has a nice touch to his passes and can skate the puck out of the zone when his forwards are pressed. His lateral movement could improve, though he is rarely exploited because he plays to his strengths, using his angles and reach to advantage. Right now, he's a bit of a hybrid defenseman. He can sit back and play a physical, defensive style or jump into the rush. Gobetz was pretty raw when he arrived at Salisbury as a sophomore two years ago. He's continually gotten better.

12. Malcolm Hayes, RD, Cushing, 6-2/215, '95 – Hayes is a throwback, a hard-nosed, physical player who is a nightmare for forecheckers because, instead of going easily into the boards after finishing their check, he will hit you back. In front of the net he picks up sticks, cross-checks guys, slashes, and does whatever it takes to make you think twice about getting comfortable. He plays in the corners and along the boards with a high compete level and hates to lose 1-on-1 battles. His hands are just OK, so he plays within himself, making simple 5-10 foot passes. He has a hard shot but will need to release it quicker at the next level. Hayes, who grew up in Atlanta and whose family now lives in Texas, took a PG year at Cushing after graduating from New Hampton. He is a Maine recruit.

13. Matt Foley, RD, Exeter, 6-1/195, '95 – Foley, a former standout for his father at Springfield Cathedral, was injured during the first half of his PG season at Exeter, returning in early January from a broken collarbone. That's a tough situation for a PG, as many college decisions are made around tournament time in December. Foley, however, returned, played well, and continued his strong play at the Beantown. He's physical, skates well, and picks his spots. He is a modern, shut-down defenseman who can play a tough brand of hockey when needed but also can stretch the ice and skate with the puck. He doesn't force the play and has a high hockey IQ. A top student who is already accepted at Amherst, Foley is going to play juniors next year, most likely in the USHL or the BCHL. D-I schools are interested, but still learning what he could bring to their programs.

14. Connor Wynne, RD, Milton Academy, 5-11/170, late '95 – A Brown recruit, Wynne is a skilled skater who handles the puck well and makes a great first pass. He is especially potent on the powerplay, as he can either shoot it or make the long backdoor pass. His size held him back a little at the Beantown as had to exert more energy in the defensive zone and, while he is a good skater, he was unable to beat people with just his feet so he tended to make quick outlet passes and didn't assert himself as much as usual in the offensive zone. That said, he has great poise and confidence with the puck, as well as great escapability because of his skating ability.



Tues. 3/4/14

Fifteen From the Super 8
Boston, Mass. -- All the favorites at Sunday's Super 8 at the TD Garden were able to walk away with wins, including #1-seed BC High avoiding an upset at the hands of #8 Xaverian, 2-1. The Eagles were without team-leading scorer and Merrimack recruit Patrick Kramer, who is injured. #2 Malden Catholic was also able to avoid an upset, thanks to UMass-Lowell recruit Tyler Sifferlen's goal late in the third to give MC the 4-3 win. In the other games, #3 Springfield Cathedral beat #6 Duxbury, 4-1, and #4 Austin Prep edged #5 Central Catholic, 2-1. Our list below highlights 15 players who caught our eye on Sunday.

For game #2 of the best-of-three series, the venue shifts to Tsongas Arena in Lowell. On Wednesday, it's BC High-Xaverian at 6:00 pm, followed by MC-CM at 8:00 pm. On Thursday, Cathedral-Duxbury faces off at 6:00 pm followed by AP-Central Catholic at 8:00.


1. Ara Nazarian, F (#22, Malden Catholic, Jr.) – For our money, Nazarian was the best forward of the day. The UNH recruit has high-end skill and seems to make something happen every time he is on the ice. Has great ability with the puck on his stick and can generate offense from a standstill.
2. Robert Carpenter, F (#16, Austin Prep, Jr.) -- The future BU Terrier has more upside than any other player in the Super 8, exhibiting a complete game that is impressive for a player his age. He has the skill and offensive instincts to dominate games. Bobo scored the first goal of the game against Central Catholic. The son of Bobby Carpenter – and brother of Alex – he was the top- ranked (#146) Massachusetts high school player on Central Scouting's Mid-Term Rankings.
3. Elijah Harris, G (#33, Austin Prep, Jr.) -- There was not a player at the TD Garden more important to his team then junior goalie Elijah Harris was to AP. Stopping 25 of 26 shots on Sunday, Harris gave his team the opportunity to take the series lead against Central Catholic. Extremely quick, especially side-to-side, Harris's athleticism and competitiveness offset his small stature.
4. Tim Larocque, F(#25, BC High, Jr.) – Larocque was the hero for the Eagles, notching two goals to help his team avoid upset at the hands of #8 Xaverian. A fluid skater with good offensive instincts, Larocque came up with a big game when his team needed one.
5. Matthew Filipe, F (#12, Malden Catholic, Soph.) -- Filipe was explosive the entire game against Catholic Memorial. The Northeastern recruit scored the highlight-reel goal of the day by using his speed to split a pair of defensemen and then showing patience with the puck as he waited for the CM goalie to open his legs before sliding the puck five-hole. If Filipe can follow up his performance from Sunday, Malden Catholic will have two strong lines – a lot for opposing teams to contain.
6. Keith Petruzzelli, G (#31, Cathedral, Fr.) -- The younger Petruzzelli was not overly tested against Duxbury on Sunday. The Quinnipiac recruit allowed just one goal on 20 shots but most of the shots he faced came from outside the scoring area. Petruzzelli has become the workhorse for coach Brian Foley's squad in the second half of the season, playing over team captain and senior John Liqouri. With Petruzzelli's size and ability in the net, we believe he will be a strong candidate for the NTDP in two years.
7. Tyler Sifferlen, F (#11, Malden Catholic, Sr.) – Scored the eventual game winner with his second goal of the game with just over two minutes left in the third period against CM. The future Lowell River Hawk is more of a cerebral player than his linemate, Nazarian. Sifferlen finds the quiet areas on the ice to make things happen.
8. Paul Hardiman, F (#9, Catholic Memorial, Soph.) – The sophomore did everything he could to try and help the #7-seeded Knights upset #2 Malden Catholic. Hardiman scored two of his team's three goals on Sunday. The sophomore scored his first goal by ramming MC goalie Alex Reissis into his own net. His second goal was very similar -- Hardiman jarred the puck loose from Reissis in the crease and slammed the puck into the empty net.
9. Ryan Shea, D (#5, BC High, Soph.) – The young defenseman was not spectacular in his team's opening game, but displayed the offensive ability that has brought him so much attention. Has very good skill with the puck from the back end, and adds a dimension to his team's offense not normally seen in high school hockey.
10. Riley Prattson, F (#5, Cathedral, Fr.) – The young freshman plays on Cathedral's top line with D-I recruits John Leonard (UMass) and DJ Petruzzelli (Quinnipiac). Prattson has a good skill set and plays with an impressive edge for a player his age. A good D-I prospect.
11. Jake McKenelley, F (#19, Austin Prep, Soph.) -- Scored the eventual game winner against Central Catholic in Austin Prep's 2-1 victory. The sophomore always found a way to be around the puck. Worked well with Bobo Carpenter.
12. Matt Murphy, F (#20, Duxbury, Sr.) – Duxbury's leading scorer, Murphy reads and anticipates plays at a high level. Has a sleek pair of hands to go along with a quick release. Generates most of his scoring chances on his own.
13. Peter Crinella, F (#3, Cathedral, Jr.) – The Panthers' leading scorer had a goal and an assist in his team's 4-1 win on Sunday. Scored his goal on a breakaway by sneaking behind Duxbury defenders and holding them off using his size and reach. Only a junior, Crinella is already the second-oldest skater on a very young Cathedral team.
14. Aidan Murphy, G (#31, Xaverian, Fr.) – The freshman goaltender gave his team the opportunity for the upset. Murphy was confident and poised between the pipes and made the saves he needed to make. If Xaverian is going to have a chance for an upset, they will need Murphy to come up big again in game #2.
15. Mike Doyle, F (#10, Duxbury, Sr.) -- An undersized forward with a limited skill set, Doyle was consistently noticeable against Springfield Cathedral. Makes things happen through his tenacious physical play; wears down opposing defenders in the offensive zone.



Sun. 3/2/14

Championship Sunday
We hope you all found the between-period updates from Yale's Ingalls Rink via Twitter earlier tonight to be helpful. This typist just got back in the office, but it is after 2:00 am, so not much constructive is going to happen! Please check USHR Prep News tomorrow for much more. Thank you for your patience.

Elite 8 Championship:
#1 Salisbury 3, #7 Gunnery 2 (OT)

Large School Championship:
#6 Loomis 3, #1 St. Paul's 2

Small School Championship:
#2 KUA 5, #1 Dexter 1



Sat. 3/1/14

Saturday's Results/Sunday's Schedule
We had a bit of technical difficulty today (we're still getting used to this whole Internet thing) and were unable to Tweet or post any updates from Berkshire though, to be honest, the games were short on drama.

Today's nailbiters were to be found in the Large School and Small School tournaments.

Here are today's results and tomorrow's schedule for the championship games at Yale University.

Sat. March 1, 2014 results:

Elite 8:
Gunnery 5, Berkshire 2
Salisbury 6, Exeter 0

Large School:
Loomis 2, Andover 1
St. Paul's 2, Choate 0

Small School:
Dexter 2, Groton 1
KUA 4, Brooks 3

Schedule for Sunday at Yale University's Ingalls Rink:

Dexter vs. KUA, 2:15 pm
Loomis vs. St. Paul's, 4:45 pm
Gunnery vs. Salisbury, 7:15 pm



Sat. 3/1/14

Small School Preview

#1 Dexter vs. #5 Groton, 2:00 pm (@ Dexter)
Groton and Dexter have not met this season despite both playing in the Lawrence-Groton Tournament. Dexter comes into this game with a 13-1-1 record in its past 15 games. Junior Ryan Donato, who leads prep scorers with a 35-41-76 line in 28 games, is playing at a level that brings NHL scouts to every game. Groton also has one of prep's top 10 scorers in Ace Cowans, who has a 25-31-56 line in 26 games. Groton looks to keep its Cinderella story alive after knocking off a talent-rich Westminster team on the road.
Dexter
Strengths: Ryan Donato. He alone could be good enough to beat this young and undersized Groton team. Along with Donato, Dexter has nine players with over 20 points on the season, including defenseman Liam Feeney. They can score goals and their starting goalie has a .926 save percentage. Team size and speed will also be a major impact in this matchup.
Weaknesses: Dexter has some high-end talent on their roster but they are not very deep, and you will likely see Donato on the ice every other shift. Against Holderness, Dexter was unable to score early and were absolutely worn out late in the game. They are also young and inexperienced on the blue line.
Groton
Strengths: Groton has a combination of young guys who play the game with a lot of pace and nothing to lose. While they give up some odd-man rushes, they have an experienced and highly underrated goalie in Matt Pompa who sports a .933 save percentage. The Cowans – Brown-Winter line combined for 60 goals on the season, well over 50% of the team's total scoring.
Weaknesses: They are small, young -- the majority of the team are '96s and younger -- and play a light schedule. Dexter's size will present a tough hurdle for them to overcome.
The Edge: The edge goes to Dexter. Groton does not have anyone on their roster to matchup with Ryan Donato. Groton's lack of size and youth will not be able to keep up with Dexter's top two units -- and we can see this game getting away from Groton.
#2 KUA vs. #6 Brooks, 4:00 pm (@ KUA)
This year KUA, with four highly-touted D-I prospects on offense were unable to overcome a lack of experience on the blue line – their two best d-men are sophomores – and hence fell short of their Elite 8 expectations. Brooks, on the other hand, returns to the Final Four after winning the Small School title last year in an upset over Kents Hill. KUA enters today with a nine-game unbeaten streak while Brooks is 5-3-1 in that same period. The two teams have not played against one another this season so we are not sure what to expect but there is a talent discrepancy in favor of KUA.
KUA
Strengths: Offensive firepower. AJ Greer, JD Dudek and Tyler Bird are three of the premier players in prep school hockey and their second line of Jack McCarthy-Brendan Riley–Bobby Hall would be many teams top unit. They also have two goalies that can play and sport a .924 and .922 save percentage. They are coming into the game hot and playing at home.
Weaknesses: The third and fourth lines for KUA contribute very little offensively and the defense is small and weak. They do not play a physical brand of hockey and lose a lot of battles in the gritty areas.
Brooks
Strengths: Brooks is a balanced team that does not have any real superstars other than the young defenseman Connor Moore, but they play hard for three periods and play like a team. They also have experience winning this tournament last year as an underdog while KUA has a history of losing games they should win.
Weakness: Brooks is young and struggles to score goals with only two players on the roster with double-digit scoring totals. Playing a team with the firepower of KUA they are going to need to score in order to stay in it.
The Edge: KUA has superior talent at every position except defense and the margin isn't big enough to make up for the others. Bird-Dudek–Greer will look for a statement win to prove that they are the best line in prep hockey.
Fri. 2/28/14

Large School Preview

#1 St. Pauls vs. #4 Choate, 3:00 pm ( @ Groton)
On paper, Choate is the underdog as the #4 seed, but do not expect them to feel that way as they looked destined for the Elite 8 after an eight-game winning streak, but then lost their last last two regular season games, including an overtime loss to Kent that kicked them out of contention. Choate has two of prep schools' elite goalies and is built from the goal out. They lost two key forwards in Nicolas Sanchez and Charley Borek, so the offensive production is pretty low, with only 3 players in double digit scoring. However, they do not give up many goals and run the Middlebury 2-3 system with rotating wingers that gives its opponents fits. St. Paul's, on the other hand, has great depth upfront with two fast, skilled lines that generate a lot of scoring opportunities. They have six players with double digit scoring figures and five players averaging over a point a game. They play an open, north-south game that relies on speed and quickness. The two contrasting styles will make for a great matchup.

St. Paul's
Strengths: This team can skate with anyone and has plenty of goal scorers. They also have experience as nine of their top ten scorers are juniors or seniors. Going into the year the defense was the question mark but in the second half of the season the D has improved. They have an excellent powerplay which is coming off a three-goal performance against #8 Proctor on Wednesday.
Weakness: Nathan Colonnino has a save percentage of .894 and he is actually a pretty good goalie, which means that the team defense is weak. The numbers say they have given up three or more goals in their last four games and 16 times on the season overall.
Choate
Strengths: Team defense and goaltending. They are focused on a team-first mentality, and play responsibly in their own end. Senior leaders Owen Powers and Joey Caffrey are red-hot entering the playoffs and have that extra gear that Choate will need. Most importantly, Sam Tucker or Andrew Tucci can steal games, as they have all season long.
Weakness: Scoring and depth. This team could have been a legit Elite 8 contender with Borek and Sanchez in the lineup, but with them out they were a hair short. The back end is solid but small and not overly physical. They have five defensemen under 5'10".
The Edge: In a toss-up game featuring opposing styles of play we are going to play it safe and ride Choate's goalie to a victory. Caffrey and Powers should be able to produce just enough offense and Tucker/Tucci will do the rest.

***
#2 Andover vs. # 6 Loomis, 2:20 pm (@ Andover)
Andover, the home team, has one loss in their last 14 games by a pretty close scoring margin of 56-36. Andover knows how to win close games and are one of the hottest teams in prep hockey. In February alone, they have wins over Dexter, Cushing, Brooks, NMH, Taft and a tie against rival Exeter. These two teams, unlike in the other semifinal game, have played each other earlier this season to a 2-2 tie despite Andover outshooting Loomis 35-25. Loomis has flown under the radar this season but has some high quality wins against Kent, Choate (2x), NMH and Gunnery. This month has been a rollercoaster ride as they knocked off Kent -- and then lost three straight, tied Deerfield in the middle of the month and then proceeded to their current three-game winning streak.
Andover
Strengths: Led by Michael Lata and Michael Kim, Andover has a deep team that can roll three lines all game. Their top 12 scorers are all juniors and seniors and they enter the game on a seven-game unbeaten streak. The big blue may not be flashy but they compete in all three zones and rarely give up odd-man opportunities.
Weakness: Andover is not going to overpower anyone with scoring -- they have won their last four games while scoring threee goals in each. It may take more than that to take out Loomis, especially considering how Andover has not been able to score a single power play goal in the past 4 games.
Loomis
Strengths: Loomis has wins against some of the top teams in the league. They have good team speed and a lethal power play led by UVM recruit Matt O'Donnell. Goaltender Nick Desimone has a .933 save percentage and the ability to take a game over.
Weakness: The team lacks depth on both the offense and defensive end. They are inconsistent and young, as seven of their 10 leading scorers are '96s or younger. They also do not have a true goal scorer as their top shooter, Alex Esposito, has 11 goals in 26 games.
The Edge: Going with Andover here, as they have age, depth, experience, and momentum on their side. Playing in their home barn will only help.
Fri. 2/28/14

Final Four Preview

#6 Berkshire vs. #7 Gunnery (at the Berkshire School, 2:00 pm)
What an interesting turn of events! The top two remaining seeds have to play at a neutral site against one another, while the #6 and #7 seeds face off at #6's home rink. What adds to the intrigue is the fact that #7 Gunnery defeated #6 Berkshire 2-1 last Saturday at Gunnery in the final game of the regular season. And here they are again. We are not debating fairness -- the system is what it is -- and it's great for prep hockey that we are getting these two games in one building in a great setting. We understand the practicality of brackets, and are accustomed to them, but #6 hosting #7 still seems a little odd.
Berkshire and Gunnery – they have faced each other twice this season, with both teams winning in their home barn – is a growing rivalry. Gunnery has confidence. They KO'd #2 Kent in a gutsy road performance that improved their late-season surge to 15-1-1, with the one loss coming on the road to #1 Salisbury, a 3-2 OT loss. No shame there! While Gunnery is known for its team speed and high-octane swarming offense, they have also given up only 16 goals over their past 11 games. That's impressive. On the other hand, Berkshire is known for its defense-first brand of hockey that can give other teams fits. Berkshire has allowed an average of less than two goals per game against on the season. The Bears also have one of the league's most dominant goalies in senior George Blinick (.933 save percentage). He was on his game Wednesday, and we expect the same Saturday.


BERKSHIRE:
STRENGTHS: Berkshire plays great team defense and generates offense off the transition. Seniors Craig Puffer and Charlie Corcoran are one of the premier duos in the league and work magic together. Blinick is an elite goaltender who has stopped 78 of the last 82 shots on him (.950). Berkshire also has experience on its side with no freshman and just three sophomores, The rest of the team consists of juniors and seniors, many of whom were on the team that brought Salisbury to overtime in the quarterfinals last season. As a result, this is one of the most disciplined teams we have seen. They absolutely do not deviate from their game plan (just ask Thayer). And they are also playing at home.
WEAKNESSES: Berkshire lacks the firepower that Gunnery has up front. Yes, Puffer and Corcoran are elite, but there is quite a drop-off with only four players with 20 or more points, as opposed to Gunnery, which has eight. According to the stats here on USHR, Berkshire has scored only one power play goal over the last six games (!) -- and that was more than two weeks ago against Pomfret. Berkshire also gets little in the way of offense from its d-men, who, while efficient, competitive, and trustworthy, lack both size and physicality – along with offensive punch.
GUNNERY:
STRENGTHS: Gunnery has an identity, they know who they are and what they want to do -- and they do not stop from the drop of the puck to the end of the game. They are on a hot streak, and they play fast, physically, and with grit. Gunnery is also deeper upfront than any of the other three teams. In addition, they have gotten strong play on the backend, giving up, as we mentioned above, only 16 goals over the last 11 games. Gunnery is versatile and can beat opponents with speed, grit, timely scoring and strong special teams play.
WEAKNESSES: Although they have many juniors and seniors, Gunnery is young, comprised mostly of '96s and '97s. While Matthew Schneider has been brilliant in net for them, it is important to note that he has seen significantly fewer shots (433) than any other goalie in this tournament. Schneider should expect to see his fair share of shots, as he did against Kent, when the team heads to Berkshire. Gunnery is also at a disadvantage playing on the road on a large ice surface. Remember that, although it was early in the season, Gunnery visited Berkshire and came out on the short end of a 6-3 decision.
THE EDGE:
Both teams make you work for your goals, so we foresee a low-scoring game, similar to the 2-1 game of last weekend. Experience, home ice, and disciplined hockey would point to Berkshire as the winner, but the Cinderella ending for Gunnery is hard to ignore. We give Gunnery the slight edge.


***
#1 Salisbury vs. #4 Exeter (@ Berkshire School, 4:00 pm)
Salisbury and Exeter did not meet during the regular season but comparing results against common opponents may – or may not – be revealing. Salisbury tied Kent at home, but lost to the Lions 6-2 on the road while Exeter handed Kent a 4-3 loss at Exeter in early December. Perhaps more revealing is the fact that Exeter lost to Cushing twice, and Salisbury beat Cushing twice. Of course, in the end, those games don't shed much light on this one. It's the playoffs, after all, and it's one game. Salisbury, led by the Smith Twins and Derek Barach, are playing a balanced, disciplined style that has them riding a 13-game winning streak. Before the dramatic overtime win vs. Cushing in Wednesday's quarterfinal, Salisbury was outscoring its opponents by a margin of 81-22. If our math is correct, that means that, over the last 13 games, Salisbury is averaging over six goals per game while giving up less than two. Of course, a 14-0 win over Kingswood-Oxford skews the math a bit. Of greater import is the fact that the teams Salisbury has beaten during that stretch include playoff teams such as Berkshire, Gunnery, Loomis, Cushing (2x), Taft, and Canterbury.


SALISBURY:
STRENGTHS: Salisbury's top two lines are averaging over three goals per game and have D-I caliber players from one through six. They have a great deal of size on the back end with 6-3, 200 lb. soph Griffin Luce, 6-3, 205 lb. senior Adam Baughman, 6-2, 200 lb. senior Will Toffey, 6-2, 210 lb. junior Brett Stirling, and 6-2/190 lb. junior James Gobetz. These physically imposing defensemen, combined with an array of goal scorers on the top two units make Salisbury extremely tough. In addition, Salisbury wins close games: they have played seven overtime games this season – and haven't lost one of them. They have also won ten games by only one goal, so late in a tight game Salisbury knows what to do.
WEAKNESSES: While Salisbury is considered a deep team, they have gotten very little scoring from the third and fourth lines, which makes them a little top-heavy. They have also lost or tied games in which they have outshot their opponents. This is not a knock on senior goalie Mitchell Datz, who sports a .923 save percentage on the season, but Datz can go long stretches without seeing a single shot, which is difficult on any goaltender. Also, while Salisbury's defensemen are big and play smart, they struggle handling smaller, quicker forwards in transition. (This mismatch was experienced by Kent, which also had big physical defenseman, but struggled on Wednesday with Gunnery team speed.) For Salisbury, this is a neutral site home game. And they do just fine at neutral sites. After all, they swept the field in winning the Flood-Marr. We expect the back rink at Berkshire will be packed with more Salisbury fans than Exeter fans.

EXETER:
STRENGTHS: Exeter is similar to Salisbury in the sense that they have a great deal of talent on their top two lines. Three players – David White, Kevin Neiley, and Henry Hart – are tied with 58 points and counting. Couple that with one of the top offensive defensemen in prep school hockey in sophomore Spenser Young and you have a team that can score. While we mentioned Salisbury's 13-game winning streak above, we should also point out that Exeter has gone 9-2-2 in that same period, averaging four goals per game.
WEAKNESSES: Exeter lacks size. Their top three scorers are all 6'0" and their top two are under 5'9". This could be tough to overcome given the size of the Salisbury d-men. This game will also be played on the NHL sheet at Berkshire: not the big sheet that Salisbury plays on at home. While Exeter has been consistent, and has quality wins against Kent, Dexter, Nobles and Andover, they also have the weakest schedule of the three teams remaining in the tournament. On top of that, Exeter has only played seven (!) of its 30 games on the road and will be traveling all the way to Berkshire School to face a Salisbury team that is -- at best -- a 15-minute jaunt down the road. One team will have bus legs.
THE EDGE:
It's the playoffs and all four teams are capable of winning the Corkery/Stuart Championship but the edge in this tilt goes to Salisbury. They are the 'home team' – and, as defending champions, they know what they have to do to move on to the championship game.
Around the Rinks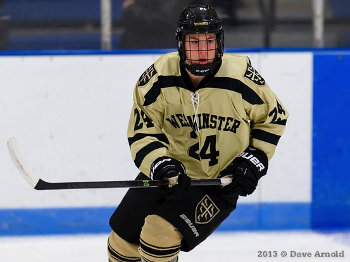 Westminster sophomore F Taggart Corriveau is opening eyes in the early going
(Photo: Dave Arnold Photography)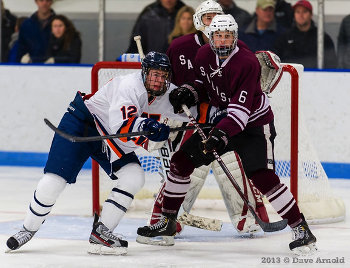 6'3" sophomore D Griffin Luce, a Michigan recruit, making life difficult for Milton's Clay Berger
(Photo: Dave Arnold Photography)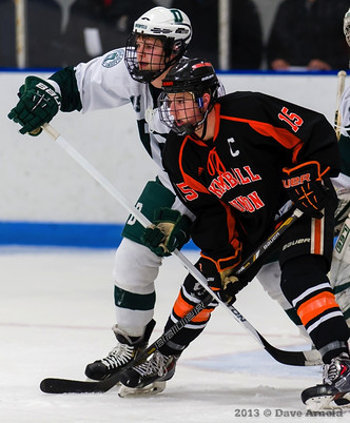 KUA's Joey Dudek battles Deerfield's Trevor Yates in front
(Photo: Dave Arnold Photography)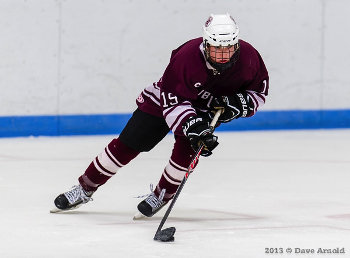 Salisbury senior F Derek Barach was named MVP of the Flood-Marr Tournament
(Photo: Dave Arnold Photography)