Established 1996 -- Celebrating Our 25th Year
Mon. 2/24/14

Super 8 Set
In tonight's MIAA Super 8 play-in games at the Stoneham Arena, Xaverian edged Archbishop Williams, 6-5 (OT), and Catholic Memorial got two goals in the third period to get past Braintree, 2-1.

Xaverian, which outshot Archie Bills by a good margin, got a hat trick from junior Jack Cook in regulation. In OT, the winning goal was scored by senior D Ricky Smith, with an assist going to senior LW Nick Colantuoni.

Xaverian will be seeded eighth and draw #1 BC High in Super 8 action Sunday at the TD Garden. The two teams met twice in the regular season. On Jan. 4th at the Foxboro Sports Center, the teams tied, 2-2; but on Jan. 22nd host BC High topped Xaverian 5-1.

In the second game, Braintree senior F Gino LaRossa, a catcher who will be playing baseball at UMass, tipped home a shot by senior D Kevin Howard to give the Wamps a 1-0 lead they would hold until the third period, when Catholic Memorial struck for two goals 2:28 apart. Junior F Aaron Clancy scored the first Knights' goal at 8:25, and sophomore F Gunnar McKenzie scored the game-winner at the 10:53 mark.

CM entered the game having failed to procure a win in their last six efforts, going back to Jan. 29th. At Friday at Walter Brown Arena, just three days ago, CM was blanked by tonight's opponent, 3-0, in the regular-season finale. Tonight, though, they found a way to win.

CM will be seeded seventh and face #2 Malden Catholic at the Super 8 Sunday at the Garden. The two teams met each other twice in the regular season. In the first meeting, at Walter Brown Arena on Jan. 25th, CM edged MC, 3-2. The second meeting, at the Valley Forum II on Valentine's Day, Malden Catholic crushed the Knights, 11-0.


Here are the new seedings:

1. BC High 14-2-4
2. Malden Catholic 16-4-0
3. Springfield Cathedral, 15-2-5
4. Austin Prep 13-4-4
5. Central Catholic 16-3-3
6. Duxbury 16-2-3
7. Catholic Memorial 9-7-4
8. Xaverian 11-3-6

Play-in games (Mon. Feb. 24 at Stoneham Arena)
Xaverian 6, Archbishop Williams 5 (OT), 5:00 p.m.
Catholic Memorial 2, Braintree 1, 7:45 p.m.
Quarterfinals: (best-of-three series)
Game 1: Sun. March 2 at TD Garden.
#4 Austin Prep vs. #5 Central Catholic, noon
#3 Springfield Cathedral vs. #6 Duxbury, 2:00 pm
#2 Malden Catholic vs. #7 Catholic Memorial, 4:30 pm
#1 BC High vs. #8 Xaverian, 6:30 pm

Game 2: Wed-Thurs. March 5-6 at Tsongas Center, Lowell, Mass.
Game 3: Sun. March 9 (if necessary), site TBA
Semifinals:
Wed. March 12 at Tsongas Center, Lowell, Mass.

Championship:
Sun. March 16 at TD Garden
Thurs. 2/27/14-updated/corrected

Saturday's Semifinal Schedule
The prep playoffs continue on Saturday with the 'Elite 8' (now four), the Large School, and the Small School tournaments.

Gunnery @ Berkshire, 2:00 pm
Salisbury vs. Exeter, 4:00 pm (@ Berkshire)

Loomis @ Andover, 2:20 pm
St. Paul's vs. Choate, 3:00 pm (@ Groton)

Groton @ Dexter, 2:00 pm
Brooks @ KUA, 4:00 pm



Wed. 2/26/14

Prep Quarterfinals Scoreboard & Schedule
We might be gathering details for the next couple of days, but for now, here are the scores and the semifinal matchups:

ELITE 8 (Stuart/Corkery Tournament):

#1 Salisbury 3, #8 Cushing 2 (Double OT)
#4 Exeter 5, #5 Nobles 3

Salisbury will host Exeter in Saturday's semifinal, but it will be at a neutral site due to NEPSAC's 2:45 minute travel rule.

#6 Berkshire 3, #3 Thayer 1
#7 Gunnery 7, #2 Kent 3

Berkshire will host Gunnery on Saturday.


LARGE SCHOOLS (Martin/Earl Tournament):

#1 St. Paul's 8, #8 Proctor 3
#4 Choate 4, #5 Belmont Hill 3 (OT)

St. Paul's will host Choate in a semifinal on Saturday. Not sure if this will be a neutral site game or not. In weekday rush hour, 2:45 might be cutting it close; on a Saturday, it should be a piece of cake.

#6 Loomis 3, #3 NMH 2
#2 Andover 3, #7 Taft 2

Andover will host Loomis in a semifinal on Saturday.


SMALL SCHOOLS (Piatelli/Simmons Tournament):

#1 Dexter 3, #8 Canterbury 2
#5 Groton 3, #4 Westminster 2

Dexter will host Groton in Saturday's semifinal.

#6 Brooks 3, #3 Rivers 0
#2 Kimball Union 5, #7 Millbrook 4 (OT)

KUA will host Brooks in Saturday's semifinal (4:00 pm).


***

SUNDAY, MARCH 2 @ Yale University's Ingalls Rink

2:15 pm – Dexter/Groton winner vs. Brooks/KUA winner
4:45 pm – St. Paul's/Choate winner vs. Loomis/Andover winner
7:15 pm – Salisbury/Exeter winner vs. Berkshire/Gunnery winner

All three championship games will be streamed live on Sunday. If you can't make it to New Haven, go to NEPSAC.org and connect from there.

Wed. 2/26/14

USPHL Playoff Schedule
The Premier League playoffs are getting underway, with best-of-three quarterfinals at the higher seeds this coming weekend.

In other words:

Islanders Hockey Club @ Philadelphia Flyers
Bay State Breakers @ Jersey Hitmen
Portland Jr. Pirates @ Junior Bruins
P.A.L. Jr. Islanders @ South Shore Kings

The following weekend, March 7-9, the semifinals – also best two-of-three -- will take place at the higher seed's home rink.

The finals, also best of three, will take place at the Beantown Classic on Wed. March 12th (6:10 pm), Thurs. March 13th (5:10 pm), and, if necessary, Fri. March 14 (2:20 pm).

In addition, the USPHL's Elite Division will be holding its championship series at the New England Sports Center (Marlborough, Mass.) during the Beantown Classic.

Note: We'll get a detailed Beantown Classic schedule when available, and post it. This year, there will be four teams in the Draft Division ('94s, '95s, '96s), four teams in the College Division ('93s, '94s, '95s, '96s) and four teams at the Pre-Draft Level ('97s,'98s).

***

The U-18 and U-16 Divisions of the USPHL will be holding their respective playoffs this weekend at Merrimack College.

Here is the schedule:

Sat. March 1
U-18 semifinal: Junior Bruins vs. Jersey Hitmen, 1:30 pm
U-18 semifinal: Selects Academy vs. Portland Jr. Pirates, 3:50 pm
U-16 semifinal: Junior Bruins vs. Jersey Hitmen, 6:10 pm
U-16 semifinal: Selects Academy vs. Islanders Hockey Club, 8:30 pm

Sun. March 2
U-18 Final – 1:00 pm
U-16 Final – 3:30 pm


Mon. 2/24/14

NEPSIHA Playoff Brackets
Here are the brackets for the playoffs, which start Wednesday.

2014 NEPSIHA Playoff Brackets



Mon. 2/24/14

Gordon Conference All-Stars
In the Gordon Conference title game Saturday night at the Codey Arena in West Orange, NJ., Don Bosco Prep, ranked #2 in the Newark Star-Ledger rankings, edged #1 Delbarton, 3-2 in OT.

It was Don Bosco's first Gordon Cup in the 56-year-old league championship.

Junior Griffin Welch scored the overtime goal, an unassisted tally, at the 2:09 mark.

Earlier, junior D Connor Healey and senior D – and Gordon Conference MVP – Cody Calcagno scored for Don Bosco, while sophomore forwards Anthony DelGaizo and Tyler Kobryn scored Delbarton's goals. Senior F Chad Otterman, a Cornell recruit, assisted on both of Delbarton's goals.

Don Bosco outshot Delbarton, 26-20. Freshman Alexei Masanko had 18 saves for Don Bosco; freshman Troy Kobryn had 23 for Delbarton.

Both teams, which split in regular-season play, go on to the New Jersey State High School Championship. Delbarton will be going for its seventh straight title.


***

League MVP:
Cody Calcagno, Sr. D, Don Bosco

First Team:
Goalie – Sam Fitzgerald, St. Augustine
Defense – Cody Calcagno, Don Bosco
Defense – Ryan Bogan, CBA
Forward – Chad Otterman, Delbarton
Forward – Hunter Garlasco, Don Bosco
Forward – Donny Flynn, Pope John
Second Team:
Goalie – Jarred Liscio, Don Bosco
Defense – Charlie Spetz, Pope John
Defense – Sean Petrie, Delbarton
Forward – Ryan Conlin, St. Augustine
Forward – Dylan Healey, Don Bosco
Forward – Bobby Hampton, CBA

Honorable Mention:
Bergen Catholic: Gennaro Anzevino, Tyler Antonucci, Evan Wisocky, Kyle Marano
Don Bosco: Jonny Stimola, Griffin Welch, Greg Jandoli
CBA: Michael Cerero, Tim Clifton, Brendan van Riemsdyk
Delbarton: Will McCarthy, Andrew Petrillo, Peter Welch
Gloucester Catholic: Andrew Sharkus, Andrew Doan, Dylan McArthur, Riley Horvah
Bishop Eustace: Matt Pinto
Pope John: Justin Natiello, Bill Fafferty, Connor Silverstein
St. Augustine: Austin Burkett, Dean diSimone
Seton Hall: Jacques St. Germaine, Matt Farrell, Mike Russo
St. Peters: Jon Labella, Rocky Coviello, Augie Burkhardt, Sean Crowley
Mon. 2/24/14

Prep All-New England Teams

Here is the 2013-14 Prep All-New England Teams, as voted by the league coaches.

EAST:
F -- Ryan Donato, Dexter, Jr.
F -- Adam Gaudette, Thayer, Jr.
F -- Miles Wood, Nobles, Jr.
D -- Jon Barry, Thayer, Sr.
D -- Richey Boyd, Cushing, Sr.
D -- Liam Feeney, Dexter, Sr.
G -- Conor O'Brien, NMH, Jr.

WEST:
F -- Max Willman, Williston-Northampton, PG
F -- Evan Smith, Salisbury, Sr.
F -- Joey Caffrey, Choate, Sr.
F -- Sam Lafferty, Deerfield, Sr.
D -- Will Toffey, Salisbury, Sr.
D -- Wiley Sherman, Hotchkiss, Sr.
D -- Johnny Coughlin, Trinity-Pawling, Sr.
G -- Christian Short, Canterbury, Sr.



Sun. 2/16/14

Final Prep Poll of the Season

The final week of the regular prep hockey season is upon us, and here's how we see things going into what shapes up to be an interesting finish.

A week from tonight, instead of a poll, we will have seedings for the postseason, which start with quarterfinals and semifinals at campus sites on Wed. 2/26 and Sat. 3/1. The championship games will be held on Sun. 3/2 at Yale University.

USHR Prep Poll, Week of Feb. 17, 2014



Fri. 2/14/14



The Latest RPI
Here is the NEPSIHA RPI, as of noon today, Fri. Feb. 14th.

RPI through games of Feb. 13

Wed. 2/12/14

Farrier's Big Day

Just a handful of words here on Tuesday's pair of prep games, one a makeup of a snowed-out game, the other a makeup of a game suspended due to a power failure.

On the first of those, Taft traveled up to Salisbury and almost stole one, despite coming out on the short side of a 53-19 shot differential and some dubious officiating.

Taft's freshman goaltender Andrew Farrier, a late '97 from Montreal, was terrific.

After the game, won by Salisbury 3-2 on an OT powerplay goal as Mitchell Smith banged home the rebound of a shot from the right point by twin brother Evan, Salisbury head coach Andrew Will said of Taft's young goaltender, "I thought he was terrific. He was tremendously composed. I thought he did a great job on rebound control. He was the difference in the game. And he was almost the whole difference."

Taft head coach Dan Murphy said, "I thought Andrew played fantastic. He's an excellent athlete. He also just loves to play. I think you can see that."

We saw it in a lot of different ways. When ends changed ends for OT, Farrier made a beeline for the goal he was meant to vacate, then had to sprint down to the other end. He's a battler and totally into the game. If he has nerves, he doesn't show it.

Scouts will like him for a lot of reasons. In addition to being young and athletic, Farrier has good size. He also has a quick glove and equally quick pads, plus he deadened rebounds or directed them to the sides very effeectively.

The two goals he gave up in regulation were both high tips – very high, actually – and would have been extremely difficult for any goalie to handle. The game-winner was a rebound, but not a fat one. Mitchell Smith showed good anticipation and hands jumping on the puck about a foot in front and burying it.

In other comments about the game, Taft's Murphy said, "We executed our game, played good team-oriented hockey, and gave ourselves a chance to win. It's too bad we had to kill a penalty in OT."

The first period of the game was a sleepy affair, but the game picked up greatly in the second period. Salisbury's Will said, "We moved our feet in the second period and were able to generate penalties. By trying to take them wide, they were forced to take penalties because of our speed."

That is indeed true, but it is also true that the officiating in this game was pretty shaky, to put it mildly, possibly the worst we have seen in a prep game this season. Taft was called for nine penalties; Salisbury three. The second period was particularly tough on Taft as it seemed they spent half the period on the PK – and they did a terrific job, too, facing a 5x3 to go along with several 5x4s. There were several missed calls, including a blatant interference that everyone in the building saw – except the officials. Murphy, who keeps his composure even when visibly upset, was indeed visibly upset in the second period, and not without reason.

His team, a young, well-coached group, hung in there nicely, kept their wits about them and just played their game. It was an impressive showing. With so many key players returning, if they can just plug newcomers into a few key spots – a puck-carrying, PP d-man, for example – they could be tough next season.

Notes:
-- Salisbury was short on the blue line as Griffin Luce (called for a hit-from-behind Sunday at Cushing) and Adam Baughman (concussion) were both out.
-- Several times this season, we have mentioned the low-scoring games Salisbury has been in. In games decided by two or fewer goals, the Knights are 10-0-4. They simply do not get ruffled. That starts with coaching and works down through the players.

-- The Smith line doesn't put up gaudy numbers. In blowout games they don't pile up points, and in addition there is significant depth on the Knights. But when games are tight, clutch affairs they seem to find a way to be difference-makers. As they did today.

-- We have never seen Salisbury's high-scoring senior d-man Will Toffey play baseball, but he must be terrific. A shortstop, he's headed to Vanderbilt. Toffey turned down numerous offers from Div. I hockey schools in order to play baseball. In short, he's a terrific athlete. Great feet, great skater, good hands, and as good a one-timer as you'll see at the prep level – plus he has size. He makes mistakes occasionally because he pushes the envelope, but the rewards are worth it: he had a direct hand in all three goals yesterday. If Farrier was player of the game for Taft. Toffey was the guy for Salisbury.


***
Lafferty's 100-Mile Hat Trick
Yesterday, Deerfield's Sam Lafferty scored in OT as the Big Green edged host Hotchkiss 5-4 in OT.

Lafferty also scored the goal that made it 4-4 and sent it to OT. And he scored his first goal of the game in the first period, back on Jan. 25, nearly a hundred miles to the Northeast, when the regularly scheduled game at Deerfield was suspended due to a power outage after one period. Hotchkiss was up 2-1 at the time.

We have never heard of a prep game being started at one rink and concluded at another. And we have never heard of a player notching a hat trick in one game at two rinks – and some three weeks apart, no less.

But that's what Lafferty, a Brown recruit, did yesterday. It's certainly something he can tell his grandkids about someday. We expect they will look at him skeptically.



Mon. 2/10/14

Prep JSPR Rankings

The link below will take you to the New England Prep School Ice Hockey Association JSPR Rankings through games of Sunday Feb. 9th.

For those new to this, JSPR is a tool used by NEPSIHA to determine playoff seedings. For a detailed look at how the process works, please see USHR News of Jan. 30, 2013.

The explanation of JSPR you will find there is from last season, and uses last year's top teams for purposes of illustration, but the explanation is just as handy to this season.

JSPR, Through Sunday Feb. 9, 2014



Mon. 2/10/14

A Tightening at the Top

With less than two weeks left in the regular season, the margin is extremely tight at the top of this week's prep poll. Actually, they're pretty tight all over the place. Enjoy.

USHR Prep Poll, Week of Feb. 10, 2014



Mon. 2/10/14

Prep RPI
The NEPSIHA RPI numbers through games of Sunday, Feb. 9:

RPI, Through Sun. Feb. 9



Sun. 2/2/14

Kent Tops USHR Poll for Third Straight Week
For the third consecutive week, Kent holds on to the top spot in the USHR Weekly Prep Poll.

USHR Prep Poll, Week of Feb. 3, 2014



Around the Rinks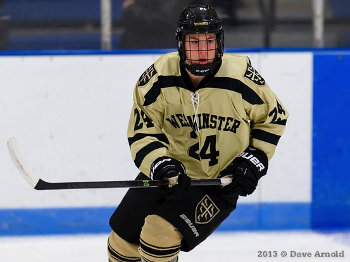 Westminster sophomore F Taggart Corriveau is opening eyes in the early going
(Photo: Dave Arnold Photography)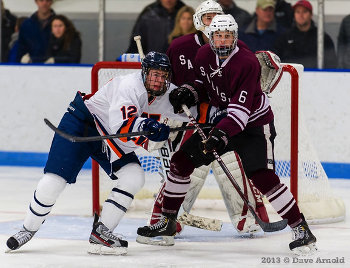 6'3" sophomore D Griffin Luce, a Michigan recruit, making life difficult for Milton's Clay Berger
(Photo: Dave Arnold Photography)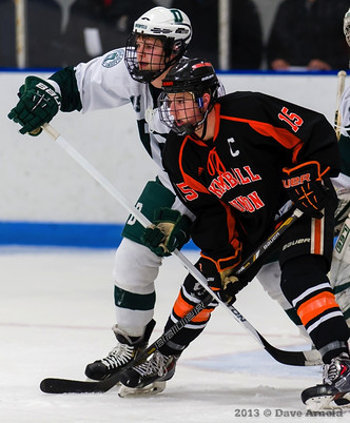 KUA's Joey Dudek battles Deerfield's Trevor Yates in front
(Photo: Dave Arnold Photography)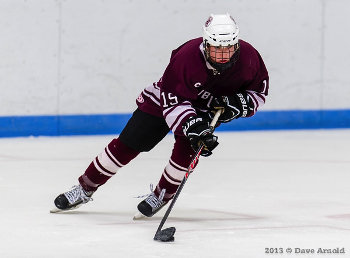 Salisbury senior F Derek Barach was named MVP of the Flood-Marr Tournament
(Photo: Dave Arnold Photography)
New England Prep Hockey News