Established 1996 -- Celebrating Our 25th Year
Thurs. 6/26/14

New England 15's Player Development Camp
USHR headed up to the University of New Hampshire yesterday to get an early viewing of the top 15 year olds in New England prior to national camp. Not a bad way to spend a summer day – viewing practices as well as watching each of the four teams in game action allowed us to get good in-depth analyses of the players. What follows is a short list of those who really stood out for us.


Forwards:
Christian LeSeur (#20 White) -- The most explosive skater in the camp, LeSeur, a rising sophomore at the Brunswick School, has the speed to beat defenders wide off the rush, the vision to make plays, and the shot to score goals – a nice combination of skills.
Riley Prattson (#18 Gold) -- A two-way center from Western Mass powerhouse Springfield Cathedral, Prattson has a high hockey IQ and a pretty complete two hundred foot game. He's not flashy with the puck but has the ability to create his own offense. He's more of a threat away from the puck, which is rare for his stage of his development. He always supports the play on the breakout and through the neutral zone.
Zachary Pellegrino (#22 White) -- Quick and feisty are the first two words that come to mind when watching Pellegrino, who'll be going to the Gunnery this fall. His puck handling in tight areas and in open space is equally strong. He not only gets the puck into the high quality areas, but can finish around the net. Possesses a high hockey IQ and competes hard in his own zone.
John Peloso (#17 Gold) -- A crafty forward with a very good set of hands and an understanding of how to use them in all zones. Dangerous off the rush, Peloso has the ability to pass or shoot -- whatever the situation dictates.
Tao Ishizuka (#18 White) -- A fluid skater who can get up and down the ice in a hurry. Despite being a little undersized he battles hard for loose pucks in his own end. Doesn't create as many scoring chances as you would expect from a player of his talent level. That could change.
William Christiansen (#9 Gold) -- A high-energy forward who keeps his feet moving. Wreaks havoc on opposing defenders off of the forecheck, and uses good stick positioning to create turnovers.
Ethan DeStefani (#11 Red) -- A good-sized forward who uses his frame to protect the puck. Can really fly and has the ability to finish. Scored a nice breakaway goal against the Gold team.


Defensemen:
Reilly Walsh (#7 Gold) --The kind of defenseman every coach wants on his team. His hockey IQ is through the roof and he is poised in all situations. Has a good shot from the point and understands when to use it. Has the hands to snap the puck all over the rink and the creativity to get it to his forwards in stride.
Tom Craft (#7 Teal) --A big-bodied defenseman who skates well for his size and makes a very good outlet pass on the breakout. Remains calm under pressure on puck retrievals and is creative when eluding oncoming forecheckers. Has a heavy snap shot.
Kyle Miller (#6 Red) -- A strong-skating, shutdown defenseman, Miller has a good stick and an even better compete level. He might not catch your eye right away, but he does all of the little things well – and in all three zones.
Nolan Lavalee (#19 Teal) --Another big-bodied defenseman who skates well for his size, Lavalee makes good passes in the neutral zone off of a regroup. That said, it would be nice to see him get his feet moving up-ice to become more of an offensive threat. Has a quiet stick in two-on-ones, thus forcing opposing forwards outside the dots.
Sun. 6/29/14

Road to College: Our Top 20
With the weather excessively sunny and pleasant on Saturday, we took that as a sign and headed into the back country of Wellesley, Mass. to take in the Road to College Showcase at Babson College.

The tournament is an interesting mix of older players – i.e. seniors and PGs -- mixed in with younger players.

For our purposes, we focused in on the young players – our top 20 excludes '95s. Basically, we wanted to see what the younger players could do against older players. (For the record, our list below consists of seven '96s, eight '97s, and five '98s. Fourteen are forwards, five are defensemen, and one is a goaltender.)

We don't want to totally dismiss '95s however, as there were some very good ones, including the best goalie we saw yesterday -- Curtis Frye. We had almost forgotten about Frye. As you may recall, he was Phillips Andover's #3 goalie as a sophomore in '10-11, but made the NTDP and, with the US Under-17 squad in '11-12, struggled mightily. The following year was worse: Frye suffered a knee injury and missed the entire season. Last year, he came back east and played in the USPHL, but did not have a stellar year. This year, he'll be playing for Suffolk PAL (USPHL Premier) and hopefully gets on a roll, something he's probably never experienced. Frye is 6'4", he'll be 19 in July, and he played very well here, making some great saves – including a terrific glove save and a couple of great pad saves. It certainly appeared that he showed up looking to make a statement.

Anyway, without further ado, here are the twenty '96s, '97s, and '98s who jumped out at us yesterday:


RJ Murphy (#11, White) – 6'1", 175 lb. wing from Needham, Mass. and St. Sebastian's has size, a long powerful stride, and a good head for the game. Showed a lot of poise here. A 10/2/98 birthdate, he may have been the youngest player in camp. Will be a sophomore this season.

Jeremy Descheneaux (#8, White) – 6'1", 175 lb. left-shot center has size, a long stride, and plays a power forward's game. Sure-fire DI guy, though not sure how much he will score at the next level. Will be a junior at Stanstead College this fall. Drafted this spring in the Q (Rimouski) and USHL (Waterloo). A 4/30/98 birthdate from Autiel, Quebec.

Vimal Sukumaran (#16, White) – Right-shot center is the top returning scorer for New England prep champs Salisbury. Sukumaran, who will be a senior, competes hard, keeps his feet moving, and is physically involved. Protects the puck well and is a handful in the dirty areas. Very tough to play against. A 4/9/96 birthdate from Pierrefonds, Quebec, the 5'10", 190 lb. Sukumaran played for Lac St-Louis before coming to the states.
Max Prawdzik (#1, Purple) – 6'3" Brooks School senior-to-be only allowed one goal in Saturday's 3-1 win over the Red Team, a rebound goal to Roberto Cellini. Prawdzik didn't face a ton of shots, but he was steady, poised, and filled the net. 2/2/97 birthdate.
Cooper Sande (#4, Yellow) – Left-shot D from Holy Angels has a good mix of attributes. He has good size at 6'0", 165 lbs. He also has very good feet and overall athleticism. He's a three-sport athlete – he plays lacrosse and soccer, as well -- so could really blossom if he focuses in on hockey. Had a 3-2-15 line from the Holy Angels back end last winter. Sande, a 7/29/97 birthdate, is a native of Minneapolis.

Ace Cowans (#14, Red) – Was one of prep hockey's top scorers as a junior at Groton, putting up a 25-31-56 line in 27 games. Very skilled, very dangerous. If he fills out and gets strong enough he'll play D-I hockey. If not, he'll be a terrific NESCAC player. He's listed as 5'7", 150 lbs. now. A 9/18/96 birthdate.
Cade Gleekel (#14, White) – Tall, rangy, right-shot wing from the Blake School played on a line with Jeremy Descheneaux and the two were consistently noticeable. A 9/27/97 birthdate from Minneapolis, Gleekel will be a junior at Blake. As a sophomore, he averaged better than two points a game with a 25-26-51 line in 25 games.

Kevin O'Leary (#3 Purple) – 6'2", 172 lb. right-shot D will be a rising junior at Westminster. Nothing flashy, just a good solid big-framed defensive defenseman.

Matt Dillon (#4, Purple) – A sophomore who was converted from defense to forward last year, Dillon wound up leading Shrewsbury High School to the Mass Div. 3 state championship at the Garden, scoring a goal and five assists in a 7-1 win over Hanover High. Well, here at the Road to College Dillon was back on the blue line, though he's still very much an offensive defenseman. An 11/20/97 birthdate, Dillon, who's listed at 6'0", 145 lbs. will be a junior at Cushing in the fall. He also played last season with the Middlesex Islanders U18 team.

Alex Hopkins (#9, Red) – Hopkins, a 5'10", 160 lb. right-shot center, tied (with Maine recruit Lucas Michaud) as leading scorer at Berwick last season. Will be taking a PG year the Gunnery. He fits their mold, too. He can skate. He's quick. He's slippery. A 5/19/96 birthdate.

Frank Boie (#3, White) – 6'0", 160 lb. right-shot D from Needham, Mass. had a strong sophomore season at the Rivers School. A tough, rugged defender who has some offensive upside. A 5/15/98 birthdate.

Barclay Gammill (#13, White) – 5'9", 158 lb. forward from the Berkshire School scored 18 points in 29 games as a sophomore and with Higgins-Puffer-Corcoran all having graduated, he's the Bears leading returning scorer. Gammill is not always noticeable, but suddenly the puck's in the back of the net. He has a knack. A 3/15/97 birthdate.

Eric Theander (#12, Grey) – Small at 5'7", 130 lbs., but clever, quick, and constantly around the puck. A 3/22/97 birthdate from Okotoks, Alberta, he played last season at the Hill Academy in Toronto, where he put up 40 pts. in 67 games for the U16 Team.

Michael Mahan (#12, Purple) – A 5'9", 161 lb. left-shot center from Scottsdale, Arizona, Mahan played 14 games for Corpus Christi (NAHL) last season. Here at the Road to College much of the Purple Team's offense flowed through Mahan. He has good hands, was good on the draw, and kept his feet moving. Will be a junior at Cushing in the fall. A 2/10/97 birthdate.

Nick Jermain (#15 White) – Was one of the leading scorers in prep hockey last winter, with 47 points in 27 games for Brunswick. However, Jermain, who's 5'11", 160 lbs., has graduated and will be with the Connecticut Oilers (EHL) this season. A 6/7/96 birthdate, Jermain has excellent offensive instincts, finding the seams and spotting open teammates. However, he could assert himself more.

Will Brophy (#7, Purple) – 6'4", 197 lb. Westminster right-shot D, a senior-to-be, is an 8/9/96 birthdate. He played his customary steady game. We see him playing DI. The question is when.

Connor Sodergren (#18 Red) – A 6'1", 180 lb. left-shot forward, Sodergren posted a 17-28-45 scoring line in his junior year at St. Paul's and had a lot to do with their getting to the large-school championship game. He could have a big senior year. A 9/11/96 birthdate.

Cody Todesco (#16, Red) – 5'9", 165 lb. right-shot center was consistently noticeable here, just as he is in the wintertime at Nobles. Todesco is an excellent hockey player, but is he dynamic enough for D-I at his size and weight? If not, he'll be an excellent NESCAC player. A 4/1/96 birthdate, he's going into his senior season.
Luke Israel (#15, White) – '98 birthdate from Waterloo, Ont. played last season at Culver Academy. Is transferring to Salisbury for his final two years. Was also drafted by Sudbury (OHL) and Sioux City (USHL) this spring. We like his skating but want to see a little more of the rest of his game. 5'11", 170 lbs.

Peyton Reeves (#18, White) – An 8/22/98 birthdate from Toronto. Has size at 6'0", 174 lbs. and was solid here. He is young, but he played with a presence, and scored a nice goal in the game we saw. Played for Mississauga Reps last season, and will be with the Toronto Jr. Canadiens this season.



Thurs. 6/26/14

Road to College Getting Underway
The 8th Annual Road to College Showcase gets underway at Babson College (Wellesley, Mass.) with practices starting tonight, to be followed by games Friday through Sunday.

See below for rosters.

As always, the showcase is run by Chuckie Hughes, a goaltender on Harvard's 1989 NCAA championship squad who later became a senior admissions officer at the university, and Dexter baseball and hockey coach Danny Donato, a two-sport athlete at Boston University who went on to play in the New York Yankees organization before starting his coaching career at Salisbury.

The coaches -- there are six teams -- will be Darren Reaume (Amherst College), Sean McCann (St. Sebastian's), Dan Driscoll (Berkshire School), Todd Stirling (Boston Bandits), and Rob Gagnon (Cushing Academy).

All players at the tournament -- seniors/PGs, juniors, and a select number of sophomores -- are uncommitted, and are recommended for the tournament by their regular season coaches. The tournament is always well-attended by college recruiters, as the players who attend are a varied lot.

There are numerous workshops, SAT prep classes, admissions workshops, and recruiting discussions over the weekend. The weekend, says Hughes, is geared toward those "who need to get scores up to qualify and Ivy students who need to develop their hockey to get noticed and everything in between. The commonality behind it is that these players/parents understand that improving the SAT/ACT scores is an important part of the process until the player has committed to college."

Game times:
Friday June 27: 2:00 pm, 3:40 pm, 5:20 pm.
Sat. June 28: 2:00 pm, 3:40 pm, 5:20 pm.
Sun. June 29: 11:00 am, 12:40 pm, 2:20 pm.

2014 Road to College Rosters



Wed. 6/25/14

New England Futures Showcase Review: the '99s

The East Coast Futures Tournament took command of several rinks in Connecticut over the past weekend, and USHR was there to take a peek, concentrating mainly on the '99s.

While the huge majority of the '99s were showcased in a '99-only division at the Simsbury rink, there were also a number scattered among numerous teams in the U16 division at the Cromwell rink. And, of course, it was a gorgeous summer day. Puffy Simpsons clouds. Temperatures in the mid-70s. In short, a perfect summer day in which to enjoy the Nutmeg State – from inside.

The players playing going up against kids their own age -- at the '99 Division in Simsbury -- were easiest to rank, so we'll cover them first. Most were also new to us.


Forwards:
Max Rand, 5-10/135 (# 97, East Coast Kings Red) -- Cardigan Mountain product excelled in all three zones. He runs excellent patterns on the breakout, and always supports the puck. Has a rocket of a shot which he displayed in the championship game, beating the goalie high glove from the top of the circle. Is heading to Brooks in the fall and should have an outstanding rookie season in the ISL.
Chris Brown, 5-11/150 (#25, East Coast Kings Red) --Brown helped balance out the lines on a strong Kings team this weekend. His solid defensive play and his ability to create scoring chances off of the half wall are both skills that should carry him on to the next level. Played at Groton last year as an 8th grader; should have a real impact this winter.
Zac Lanoue, 5-8/155 (#14, Northeast Ducks) --A hardworking two-way forward who competes every shift. Does all the little things well which make him a solid complementary player on a top line. Will be playing with the Seacoast Spartans again this year.
Ryan King, 6-0/165 (#15, East Coast Kings Grey) --The strongest player on the Kings grey squad hails from Bishop Hendricken (RI) High School. Uses his size to protect the puck well and has the hands to create separation from defenders.
Ethan Kimball, 6-0/165 (#27, Boston Whalers) -- A force with the puck on his stick and a heavy shot to boot, Kimball creates plenty of scoring opportunities. He tends to be one-dimensional at times, and seems lost in the defensive zone. He does battle hard along the boards in the offensive zone. Will be playing at St. Marks again this coming season.
Tim Kent, 5-7/148 (#19, East Coast Kings Red) -- The Florida native has a knack for creating scoring chances. Not the biggest or flashiest player on the ice, but he always finds a way to get the puck on net. Will be heading to Lawrence Academy in the fall.

Jonathan Courchesne, 5-9/170 (#9, NH Knights) – Speedy forward from Springfield, Vt. has the ability to split through defenders in the neutral zone to create odd-man rushes. His IQ with the puck is lacking which causes him to miss otherwise quality scoring chances. But once he gets comfortable off the rush he will put up a lot of points.
Nick Hoey, 6-0/175 (#24, Boston Whalers) -- The forward from Belleville, Ontario impressed throughout the weekend. Creates turnovers and is strong on the forecheck. Will be skating for the Quinte Red Devils next year.
Trent DeNuccio, 6-0/165 (#37, East Coast Kings Red) -- The Washington Little Caps forward is a true two-way winger who plays excellent defense and has the ability to drive hard to the net off the rush. Strong on the forecheck, he uses his powerful stride to take away time and space from defenders.
Brady Gaudette, 5-8/150 (#4, Boston Whalers) -- Undersized forward from Braintree is a true playmaker. He is quick and shifty, which allows him to create space to move the puck to his teammates. Will be playing for the Boston Advantage next season.

Defensemen:
Nicholas Hale, 5-8/138(#28, East Coast Kings Red) -- Perhaps the best player in the division, Hale is a dynamic defenseman who shows poise on puck retrievals and has the ability to join the rush to create offense. His excellent skating ability and hockey sense allows him to disrupt plays in the neutral zone and ultimately thwart opponents' opportunities before they have time to develop. He will be skating for the U16 Carolina Hurricanes next season.
Cam Babiak, 5-11/180 (#19, Boston Whalers) --A solid overall defenseman from Saline, Michigan, Babiak stood out here. Has a nice set of hands, which can sometimes lead to him over-handling the puck. Has a strong shot that he only uses in the proper situations. Will be skating for Honeybaked next season.
Perry Winfree, 6-1/170 (#55, East Coast Kings Red) -- The late 99' from Carolina has all of the tools to develop into a top-notch college player. He possesses a high hockey IQ and pairs it with a nice stride. Moves well in all areas, especially along the offensive blue line. His patience with the puck allows him to make the right play. Will be skating with Hale (see above) for the U16 Carolina Hurricanes.
Evan Bouchard, 6-1/180 (#84, Boston Whalers) --A fluid skater who has the ability to rush the puck and the poise to elude oncoming forecheckers. Moves well on the offensive blue line, and has the ability to get pucks to the net. Will be playing for the Oakville Rangers.
Nolan Lavalee, 6-3/170 (#6, New England Thrashers) --He catches your eye with his size, but keeps you watching with his playmaking ability. Protects the puck well and makes a good first pass. Needs to continue to develop his stride, which will naturally come when he stops growing. Will be skating with the Northern Cyclones.
Kelton Hatcher, 5-11/150 (#24, Northeast Ducks) -- The son of former NHLer Darian Hatcher is a solid two-way defender. Has a good stick in one-on-ones and uses his body to keep opponents away from the middle of the ice. Will be playing again for Team Comcast in the coming season.
Quentin Silverio, 5-9/155 (#13, Next Level Skills) --A physical defenseman who has the hands to make a solid first pass and the nastiness to punish opponents in the corners. Will be skating with the Connecticut Chiefs again next season.


Goaltenders:
Mitch Gibson, 6-0/165 (#35, Northeast Ducks) – Gibson, from the Valley Forge Minutemen, was the strongest goalie in a division that featured strong goaltending from top to bottom. Always remains square to the shooter and reads the play well in all situations. Will be playing for Team Comcast next season.
Nicolas Rousseau, 6-1/170 (#47, Boston Whalers) --Coming from the Eastern Ontario Wild, Rousseau impressed this typist throughout every viewing. Has very quiet movements and always appears to be square to the shooter. The lone goal he allowed in the championship game was off of a rebound and scrum in front of the net.
Cal Stewart, 5-6/145 (#30, East Coast Kings Red) --The backstop for the Wolfpack had an excellent weekend for the eventual champions. Though undersized, Stewart often plays just outside the crease to take up as much net as possible, and uses his quick lateral movement to recover. Remains poised under heavy traffic, and understands when to play the puck and when to freeze it. Will be heading to Choate this fall.

Thomas McLarnon, 5-10/140 (#60 NH Knights) – A good-sized goalie who tracks the puck well. Does a good job making the initial save, but could become a little more aggressive coming out of his net to cut down angles. Will be playing at New Hampton this season.

***

'99s at U16 Division (Cromwell, Conn.)
-- The '99s in the U16 Division were more familiar. A number we had seen at the Liberty Bell Games a couple of weekends ago – e.g. Steven Agriogianis, Tyler Washco, et al. So we won't go over them again. Too soon.

Here are some of the '99s in the U16 Division who jumped out at us. We didn't see all the teams but of the ones we did, we have picked out our top six – well, make that seven, as there were two '99 netminders we liked.


Goaltenders:

The Springfield Pics U16 team, coached by former UMass-Amherst forward Rob Bonneau, got a very good performance out of 6'3", 175 lb. goaltender Mike Adorno. From Tariffville, Conn. (sounds like a good place to keep your wallet in your pocket), Adorno was a last-minute addition to the roster. He's a complete unknown, but he played very well in the one game we saw him in, keeping his team in the game right up to the final whistle against a more highly-skilled opponent.

5'10" netminder Troy Kobryn, who we saw as the starting goalie as a freshman at Delbarton last winter (but who was not at the Liberty Bell Games), was on hand in Cromwell and played at his customary high level of play.


Defensemen:

6'2", 165 lb. RD Phil Kemp, also from the Wolfpack and the Brunswick School, looked like he's filled out some, and was consistently noticeable every time he set foot on the ice. He has the right frame, and is a handful for opposing forwards. Made visits to D-I schools last winter; high upside.

6'0", 165 lb. RD Troy Daniels, who'll be playing for the New Jersey Avalanche U16s this coming season, was outstanding. He has size, can skate with the puck, and has a good deal of agility for his size and age. And the poise to go with it, as he showed a lot of command of the ice. From our brief look, we'd be loathe to pigeonhole Daniels as either an offensive or defensive defenseman. He's got a little bit of both. We expect to see him playing DI in the future.

Forwards:

5'10", 150 lb. Christian LeSuer, a '99 left wing from the Wolfpack and the Brunswick School, where he had a strong freshman season, really stood out for us, reinforcing what we saw during the prep season – just against younger players. LeSuer is a good, smart hockey player who manages to be around the puck a lot. And he has the hand skills to finish off plays.

5'10", 160 lb. Chris Garbe, a left-shot forward who will be playing for the LI Gulls U16 National-bound team, showed good hands, skating ability, and a sense of where the net is. Wanted to see a little bit more of him, but what we did see caught our attention.

5'7", 140 lb. Scott Osani, who will be playing for the NJ Avalanche U16 squad, is a quick strong skater with strong puck skills. He's smallish, but he has time to grow. Another we will definitely be keeping our eye on in the upcoming season.

***
… and an '00

Lastly, we would be remiss not to mention '00 LD Brandon Tabakin, who will be playing up with the NJ Avalanche U16s this season. Tabakin, who's listed on the roster at 5'5", 123 lbs., may be small, but he's plenty young enough to grow considerably. Plus he has compensating skills – really quick feet and an equally quick stick. It'll be fun to see how his career plays out over the next year or two. To these eyes, it looks like he will fill out, gain experience, and turn into a nifty powerplay defenseman.
Thurs. 6/19/14

East Coast Futures Rosters & Schedules
The East Coast Futures Tournament gets underway tomorrow (Fri. June 20th) at three locations in Connecticut.

-- The U18s (18 teams) will be at the Newington Arena in Newington.

-- The U16s (14 teams) will be at the Champions Skating Center in Cromwell.

-- The '99s (8 teams) and the '00s (10 teams) will be at the International Skating Center in Simsbury.

Below you will find a link to a scanned PDF copy of the program – it's 35 pages -- with schedules and rosters. Programs will also be available on site.

In addition, you will find below to a tournament schedule in Excel form. These contain divisional breakdowns and breakdowns by arena. A small number of games will be played at other arenas tha those listed above. Please click on the various tabs on the bottom.

2014 East Coast Futures program book

2014 East Coast Futures schedules




Thurs. 6/12/14

Liberty Bell Games Review
Last weekend, the U.S. Hockey Report journeyed down to the Flyers Skate Zone in Voorhees, NJ to take in the Liberty Bell Games, now in its sixth season.

Ottawa Senators scout Lew Mongelluzzo, a Philadelphia native and the tournament's President/CEO, does an excellent job bringing in the area's top high-school-age talent for the five-team showcase. There is something for everyone here, from future D-I, major junior, and pro prospects to a good number of kids who would do well by the prep/NESCAC route.

The tournament's Coordinator of Scouting is Kitchener Rangers (OHL) scout Bill Underwood, a Yardley, PA native with a strong line on the region's young talent. It showed, too, as the games were crisp, and the teams well balanced. The makeup of the teams was roughly 40 percent '97s, 40 percent '98s, and 20 percent '99s.

A major attraction to the tournament is its strong regional identity, which enables scouts to get a good feel for the local player pool. Each team plays four games over the course of the weekend, and they are all in the same rink so you don't have to go running all over the place. In addition, Mongelluzzo and his staff put together a hefty profile book with a page for each player. Needless to say, it's a very scout-friendly tournament. It's player-friendly, too. Among other things, the players' jerseys are really well designed -- a huge step above standard-issue tournament jerseys.

In our rankings of the top players below, we have arranged it by birth years and, as usual, ranked the kids using a hybrid system that aims to take in both performance at the tournament and long-term potential. In some cases, the scale tips a little bit one way; in others the other way. In that regard, please let the comments be your guide.

Next year, the tournament will expand to six teams and bring in some of the better players from the Washington, DC/Virginia area, as well as Long Island.

We have listed the teams for each player below. The coaches over the weekend were:

Team Independence: Chris Bala (The Hill School)
Team Ben Franklin: James Laux (Philadelphia Revolution – EHL)
Team William Penn: Peter Whitney (The Gunnery School)
Team Walt Whitman: Keith Dupee (The Lawrenceville School)
Team Constitution: Jared Beach (Philadelphia Flyers -- USPHL)
'99s:

1. Evan Barrett, F, '99 (Team Comcast U16) 5-11/170 – Team Constitution -- Left-shot center was consistently noticeable. He's always around the puck, is good along the wall and on the forecheck, has a good stick and makes plays, plays physically, plays the full length of the ice, works hard and uses his head. A very complete player with a lot of upside. First team All-Prep at the Hun School as a freshman.

2. Matt Cassidy, F, '99 (Team Comcast Bantam Major) 6-0/174 – Team Independence -- Left shot RW has size, skating ability, and a willingness to go through guys or use his speed to beat them wide. A power forward in the making. Doesn't try to beat guys with moves. Rather, he uses his soft hands to take a pass in stride and drive to the net. Has a quick release to his shot, and looks to be a natural goal scorer. He got in quickly on the forecheck. Also stood out as a freshman at St. Augustine Prep.

3. Cayden Primeau, G, '99 (Team Comcast U16) 6-2/170 – Team Independence – Son of former NHL center Keith Primeau is already 6'2" (his dad was 6'5"). Committed to Northeastern in late March. Fills up the net. Had a 1.51 gaa and .946 save % playing up a year for Comcast's U16 team coached by his dad. One of the top '99 goalies we've seen. Had good and bad moments here. Faded at the end, and had a tough final game on Sunday. Also played for St. Augustine Prep.

4. Steven Agriogianis, F, '99 (NJ Rockets) 5-9/150 – Team Walt Whitman -- Right-shot center was terrific. Opened eyes on tournament's opening night. As for pure skills, may have been the top player in the tournament. Made something happen virtually every time he was on the ice. Excellent playmaker uses his quickness to find open ice, and makes terrific and timely passes. Very dangerous. Will be a sophomore at Delbarton, and should put up big numbers over the next few seasons. Excellent student. We can easily see him playing at an Ivy someday.

5. Mitchell Gibson, G, '99 (Valley Forge Minutemen Bantam Major) 6-0/160 – Team William Penn – Along with Primeau and Troy Kobryn (Delbarton; wasn't here), Gibson is considered one of the area's top '99 goaltenders. Good on first shots, and quiet in net. Not a lot of unnecessary movement. Had a tough time in his team's final game on Sunday, but there's quite a lot to work with here. Good student is open to all options.

6. Tyler Gratton, F, '99 (Junior Flyers Bantam Major) 5-11/150 – Team William Penn -- Good skater who is strong on the puck, excellent on the forecheck, has good hands, can make a play, can finish, and is around the puck a lot. Nothing flashy, but a very well-rounded player for his age. Good student. From Pottstown, PA. Younger brother of '98 D Chris Gratton. Reportedly playing for Wilkes-Barre Scranton Knights program this coming season.

7. Benjamin Shelley, F, late '99 (Mercer Chiefs '99 AAA), 6-3/195 – Team Independence --14-year-old wing has the body of a big man, so it's an understatement to say he's growing into his body. Still, he's a smoother skater than you might expect at first glance. At times here he was invisible, but he also showed flashes. Shelley is raw, but the potential is obvious. Intriguing prospect. Listed Hill School and Lawrenceville as schools he's interested in playing for.

8. Kelton Hatcher, D, '99 (Team Comcast U16) 6-0/150 – Team Ben Franklin -- Lanky left-shot defenseman is a steady, old-school defensive defenseman. Showed a willingness to engage. Played for Team Comcast last winter, which was coached by his father, Derian Hatcher. Kelton has stylistic similarities to his father, but lacks the snarl.

9. Albert Washco, F, '99 (Valley Forge Minutemen Midget National) 5-6/145 – Team William Penn – Small right-shot centerman is a nifty little player who can scoot. A lot of fun to watch. He can be electric in open ice. Had a terrific weekend. Excellent student and three-sport athlete also plays for Wally Muehlbronner at LaSalle (PA) HS. Is interested in New England preps and top academic colleges. Size is an issue, but if D-I becomes out of reach for Wasco, he will make a nice NESCAC player.

10. Sam Timonen, F, '99 (Team Comcast) 5-11/160 – Team Independence – Left shot center needs to become more dynamic to reach his true potential. Has skill though – scored a beauty of a goal on a penalty shot, going top shelf. Makes plays. Is interested in going to prep school, and that seems like a good idea for him. Could be a D-I player, or a very good D-III guy. Son of Flyers D Kimmo Timonen.


Remaining '99s at the tournament:

-- Tyler Pohlig, D, '99 (Team Comcast U16) 5-9/148 – Team Constitution -- Right-shot D has good puck skills, and sees the play in front of him. Had a good solid weekend. Quietly efficient. Connected on a couple of nice stretch passes. Also played last winter for LaSalle HS.

-- Jonathan Bendorf, F, '99 (Mercer Chiefs) 5-11/170 – Team Ben Franklin -- Left-shot center averaged nearly two points a game for the Chiefs last season. Here, he was just OK. Good size. Good hand skills. Went to the right areas on the ice, but was a little reluctant to engage. Definitely worth following, though.

-- Travis Yawger, F, '99 (NJ Rockets U19) 5-10/157 – Team Ben Franklin – Faded a bit as weekend went along, but overall played well. A solid prospect. Nothing flashy. Engages well. Also played for CBA last winter.

-- Peter White, F '99 (Team Comcast U16) 6-0/168 – Team Constitution -- Left-shot center was a little quiet here. Has decent hands, but needs to work on his skating. Pace was a bit much for him here, and didn't allow him to show what he could do. Son of former Michigan State and NHL forward Peter White. Grandson of Flyers legend and current senior VP Bobby Clarke.

-- Derek Contessa, F, '99 (Devils Bantam Major) 6-2/185 – Team Walt Whitman -- Intriguing winger with size showed flashes of what he may become, e.g. by scoring on a nice top-shelf shot in Saturday night's game. However, he didn't have a great weekend, and at times struggled with the pace. Needs to work on his skating to reach his full potential. Also plays at Christian Brothers Academy, NJ's co-champions.
-- Hunter Canestra, F, '99 (Junior Flyers '99) 6-2/165 – Team Ben Franklin -- Right-shot center was invisible. Though he had a tough weekend, scouts who have seen him on other occasions say he's better than he showed. At 6'2", he has potential.

-- Colin Felix, D, '99 (St. George's School) 5-11/160 -- Team Walt Whitman -- Three-sport athlete played as a freshman at St. George's last winter. A long shot for D-I, but could make a nice NESCAC player.


'98s:

1. Cal LeClair, F, '98 (Junior Flyers U16) 5-8/160 – Team William Penn – Left shot center was consistently noticeable. Excellent skills. Good hands, great passing ability, sees the ice, and can finish. Very clever in all areas of the ice, and particularly dangerous down low. Good student, will be attending Westminster this fall. Son of former BFA, UVM and NHL star John LeClair. He's small now, but if he has a growth spurt, he could really be something special. Everything else is in place.

2. Joey Kubachka, F, '98 (Philly Junior Flyers Midget National) 6-2/190 – Team Independence – Of the '98s here, we'd say Kubachka, a big left-shot center who is committed to Cornell, has the best chance of playing in the NHL someday. Kubachka, who played up this past season, has size and uses it well, protecting the puck, and winning battles along the wall. Strong on his skates, he is still learning to play the power game, and should in time learn to use his size and bang more -- and drive through guys to get to the net. Scored game-winning shootout goal in Saturday morning game. Was eighth round pick of Madison Capitols in USHL Futures Draft last month.

3. Simon Butala, D, '98 (LI Gulls Midget Minor) 6-2/185 – Team Constitution -- Left-shot D-man showed patience and poise. Nice short high percentage passes. Good shot. Good skating skills backward and forward. Jumped up into play, not always successfully as he was caught up ice at times. Butala ultimately projects as a defensive defenseman, and to that end we would have liked to have seen him use his size and makes some hits. First round pick of Madison Capitols in last month's USHL Futures Draft. Has committed to the University of Maine.

4. Sam Field, F, '98 (Choate) 6-1/175, Team Constitution -- Has size and can skate. Does most things very well. Good in his own end. Good on the forecheck. Plays the full length of the ice. However, he doesn't appear to be a natural scorer. Also plays for Connecticut Wolf Pack split season. Was the Lincoln Stars fifth round pick in USHL Futures Draft, and Kingston picked him in the OHL draft.

5. Aaron Maguyon, F, '98 (Team Comcast U16) 5-7/148 – Team Constitution -- Shifty right-shot center stands out for his work ethic. Plays hard every shift, doesn't quit on plays, and makes himself a force to be reckoned with. Heads-up player. Has better than average skills, but gets everything he can from them. A great competitor who overachieves.

6. Harrison Feeney, G, '98 (Valley Forge Minutemen U16 National) 6-1/195 – Team Walt Whitman – Has size and is a battler. Covers net well. Good rebound control. Good prospect. Also plays for LaSalle (PA) High School.

7. Chris Gratton, D, '98 (Valley Forge Minutemen U16) 6-1/185 – Team William Penn – Solidly built, fundamentally sound left shot d-man. Keeps the game simple. Involved and aggressive. Feet could use improvement. Good student.

8. Eric Manoukian, D, late '98 (Team Comcast U16 National) 5-9/170 – Team Independence – Good stick, made some excellent passes, nimble on his feet, and consistently noticeable. Strong student.

9. Connor Matsinger, D, '98 (Philadelphia Revolution Midget AAA) 5-11/163 – Team Constitution -- Defensive defenseman showed good skating ability – backwards, forwards, laterally. Good agility. Made good decisions. If he grows he'll become a more valuable pure defender. Plays numerous sports. 4.0 student in high school gives him options. Said to be playing at Wilkes-Barre/Scranton this season.
10. Gregory Hendrickson, F, '98 (Team Comcast U16) 5-10/170 – Team Ben Franklin – Decent skater, with good hands. Good head for the game. Notched a couple goals in the first half of Saturday morning's game.


'97s:

1. Michael Ufberg, D, late '97 (Team Comcast U18) 5-10/175 – Team Independence – Small, shifty, mobile, cerebral, puck-moving left-shot D with great agility. Fun player to watch. Picks his spots well, and doesn't make a lot of mistakes defensively. Could be a D-I power play guy. Strong student; could play at the Ivies. Green Bay pick in 2013 Futures Draft.

2. Sean Lloyd, F, '97 (Team Comcast U16) 6-2/200 – Team Walt Whitman -- LW made the most of his weekend. Scored nice unassisted backhand goal on Saturday and then seized the moment on Sunday in what was essentially the championship game, scoring a hat trick, with his final goal, a shot from the high slot, tying the game at 6-6 and sending it into OT. You could say that he made a statement. Good size. Bulls way to net. Can score. Rather raw, but there's something there. Good student. Also plays lacrosse.

3. Todd Goehring, Jr., F, '97 (NJ Jr. Titans U16 National) 5-11/160 – Team Walt Whitman -- Played RW on line with Steven Agriogianis and the two worked well together. Showed quickness and finishing ability. Hard to say how Goehring would have fared on another line with a less-skilled pivot, but when Agriogianis found Goehring, the latter made the most of it. Scored sudden death OT goal on Primeau on Sunday. Had a good weekend, was consistently noticeable, and worked hard.

4. Austin Dittenhafer, D, '97 (Hartford Jr. Wolfpack – EHL) 6-2/190 – Team Walt Whitman -- Defensive defenseman with size. Smooth on his skates. Moves puck well. Very solid. Needs to play with more of an edge. Although he's from Pennsylvania, he attends the Sport and Medical Sciences Academy, a magnet school in Hartford, Conn., and plays for the Wolf Pack.

5. Chayse Primeau, F, '97 (Team Comcast U16) 6-3/165 – Team Independence – Has a lot of upside, but will need time to gain strength and, with it, greater effectiveness. Right now, he's very skinny for height. Has good hands, and made some nice short area passes. Effective down low, where his reach was effective against smaller D. Also plays for Bishop Eustace Prep.

6. James Callahan, D, '97 (New Jersey Hitmen U18) 6-2/165 – Team Ben Franklin -- Right shot D. Had a good weekend. Has size, can skate. Moves the puck well. Also played for Morristown-Beard during the winter.

7. Andrew Cordssen-David, D, '97 (Shattuck-St. Mary's Midget AAA) 6-5/215 – Team Ben Franklin -- Big defensive d-man, born in Quebec but has lived in Philadelphia area for most of his life. Played on Murray Eaves' Midget AAA squad at Shattuck. Feet are OK for size and his hands are OK. Needs to become more agile, and play physically. Will need time. Muskegon pick in last month's USHL draft. Good GPA.

8. Jordin Holmes, D, late '97 (Team Comcast U16) 5-11/200 lbs. – Team Independence –Burly, raw right-shot D with good skills. Good student.

9. Brendan Donohue, F, '97 (NJ Junior Titans) 6-3/210 – Team Constitution –Not a great skater – definitely needs to work on that. Has size and a good shot. Showed some good hands and awareness as the middle-guy on a nice tic-tac-toe goal. A sleeper.
10T. Connor Lloyd, F, '97 (Philadelphia Jr. Flyers U16 National) 5-11/170 – Team William Penn – Quiet early on, but picked it up on Saturday. Has offensive skills. Left-shot center also plays for LaSalle HS, where he's a 4.0 student. Three-sport athlete looking to moved on to New England preps. Interested in NESCACs and Ivies.

10T. Brad Becker, D, '97 (NJ Jr. Titans) 5-11/165 – Team Constitution – Skates well, carries the puck well, and has a nice one-timer from the point. Solid two-way defender with an offensive touch.



Fri. 6/6/14

Liberty Bell Games Rosters & Schedule

The Liberty Bell Games, run by Ottawa Senators scout Lew Mongelluzzo, get underway at 6:00 pm tonight in Voorhees, NJ.

The tournament, which highlights top prospects from the Atlantic District, is now in its sixth year. Once again, USHR will be on hand, and will have a full report after the tournament.

As for now, we have a link to full rosters for all teams, with birthdates, heights, and weights. Also included is a game schedule, and names of coaches. It's an Excel file.

2014 Liberty Bell Games Rosters and Schedule


Late roster update: On Team William Penn (Red), add '97 D Jared Conway. He replaces Marcus Joseph, and will be wearing #85.


Sun. 6/1/14

QMJHL Drafts Record Number of Americans
On Saturday, 45 U.S.-born players were selected in the Quebec Major Junior Hockey League's annual draft, up from 41 last year, and 37 the year before.

Third Round:
Moncton -- Liam Murphy, '98 F, Avon Old Farms
Halifax – John Marino, '97 D, South Shore Kings (USPHL)

Fourth Round:
Moncton – Luke McInnis, '98 D, Hingham HS
Charlottetown – Frankie Sullivan, '96 D, Westminster

Sixth Round:
Moncton – RJ Murphy, late '98 F, St. Sebastian's
Acadie-Bathurst -- Jamie Armstrong, '98 F, Bishop Hendricken

Seventh Round:
Saint John -- Monte Graham, '98 F, Thayer
Moncton – Chad Krys, '98 D, NJ Rockets 19U
Gatineau – Matt Dillon, late '97 D, Shrewsbury HS

Eighth Round:
Moncton -- Matt Koopman, '98 F, Marblehead HS

Ninth Round:
Quebec -- Colin White, '97 F, NTDP U17
Sherbrooke – Casey Fitzgerald, '97 D, NTDP U-17
Halifax – Kevin Resop, '97 G, Junior Bruins (USPHL)

Tenth Round:
Acadie-Bathurst – Ryan Dmowski, '97 F, Gunnery
Charlottetown – Hunter Luhmann, '97 F, Proctor
Moncton – Derek Britner, '97 F, Proctor
Acadie-Bathurst – Erik Foley, '97 F, Tabor

Eleventh Round:
Shawinigan – Matt Filipe, late '97 F, Malden Catholic
Val d'Or – J.J. Layton, '97 D, Austin Prep
Rimouski – Luke Stevens, '97 F, Nobles

Twelfth Round:
Sherbrooke – Cal Burke, '97 F, Nobles
Shawinigan – Alex Rowella, '97 F, W-B/Scranton Knights
Moncton – Robbie Roche, late '97 D, Wachusett HS/Walpole (EHL)
Val d'Or – Matt Cousino, late '97 D, Rice Memorial
Rimouski – Brent Hill, late '97 F, Cushing

Thirteenth Round:
Moncton – Jonathan Alsfeld, '97 F, Cranston Reds Jr. B (MJHL)
Chicoutimi – Will Brophy, '96 D, Westminster
Victoriaville – Peter Christie, late '97 D, Exeter
Rouyn-Noranda – Taggart Corriveau, '97 F, Westminster
Cape Breton – Billy Sweezey, '96 D, Nobles
Drummondville – Will D'Orsi, '97 F, St. Sebastian's
Blaineville-Boisbriand – Patrick Deblois, '96 D, Portland (USPHL Elite)
Baie-Comeau – Harrison Markell, '97 D, Middlesex School

Fourteenth Round:
Saint John – Lincoln Griffin, late '97 F, Thayer
Charlottetown – Ace Cowans, late '96 F, Groton
Acadie-Bathurst – Jeremy Germain, '96 F, Choate
Chicoutimi – Pat O'Leary, '97 D, Boston Advantage
Victoriaville – McKay Flanagan, '97 D, Conn. Oilers (EHL)
Rouyn-Noranda – Ben Finkelstein, late '97 D, Kimball Union
Cape Breton – Mike Lee, '96 D, Gunnery
Gatineau – Jake McKenelley, '97 F, Austin Prep
Quebec – Spencer Young, '97 D, Exeter
Drummondville – Eric MacAdams, '97 F, Austin Prep
Blaineville-Boisbriand – Connor Sodergren, '96 F, St. Paul's
Baie-Comeau –Connor Sundquist, '97 F, Selects Academy U16



Around the Rinks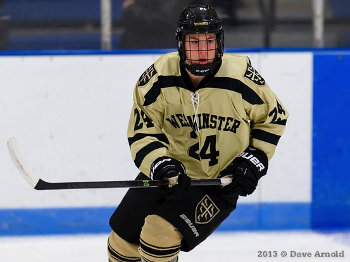 Westminster sophomore F Taggart Corriveau is opening eyes in the early going
(Photo: Dave Arnold Photography)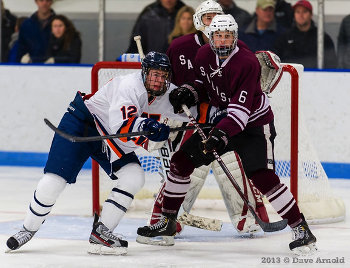 6'3" sophomore D Griffin Luce, a Michigan recruit, making life difficult for Milton's Clay Berger
(Photo: Dave Arnold Photography)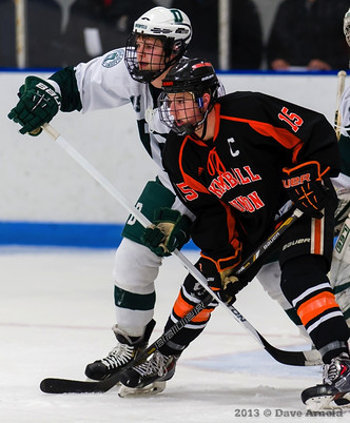 KUA's Joey Dudek battles Deerfield's Trevor Yates in front
(Photo: Dave Arnold Photography)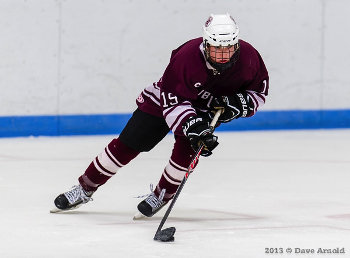 Salisbury senior F Derek Barach was named MVP of the Flood-Marr Tournament
(Photo: Dave Arnold Photography)