Established 1996 -- Celebrating Our 25th Year
Thurs. 8/28/14

New England Tier I Labor Day Rosters & Schedule
The New England Tier I Labor Day Tournament gets underway tomorrow (Friday) afternoon and runs through Monday at the New England Sports Center in Marlborough as well as a number of other rinks in the area.

Below, we have links to the official rosters and schedule. Both are PDF files, and, since there are a lot of teams in the tournament, they are quite long. We would suggest that, should you wish to print them out, that you have a high-speed printer loaded up with a lot of paper. We'd rather just buy one at the rink.

This link is to rosters only:

New England Tier I Labor Day Rosters

This link is to the tournament schedule -- as well as rosters that were submitted late.

New England Tier I Labor Day Schedule and Late Rosters

Here is a link to the official tournament website, which has directions to all the rinks and a lot of other useful information.

www.tier1faceoff.com

See you at the beach – NOT!



Thurs. 8/28/14

Neponset Valley River Rats Jamboree Review
USHR traveled to Foxboro, Mass. to take in the Neponset Valley River Rats Jamboree on Monday and Tuesday.

The most-talented teams – at both the U16 and U18 levels -- were the Cape Cod Whalers, the Mid-Fairfield Blues, and the host Neponset Valley River Rats.
The game of the tournament? Well, there were two.

The U16 tilt between the Whalers and Mid-Fairfield was excellent from start to finish – an evenly-matched battle between two strong teams that featured tic-tac-toe passing, blocked shots, and a two-goal rally late in the game. The goal of the game – one for the highlight reels – was scored by new Berkshire centerman Matt Koopman, who, after beating the first defender wide, toe-dragged the second, pulled the puck to his backhand, and beat the goalie over his glove hand. The game went down to the wire as Thayer's Monte Graham notched the tying goal for the Whalers with just under 2:30 remaining. The excitement, however, didn't end there as Rivers' Brendan Hamblet rang one off the post in the waning seconds. The teams settled for a 4-4 tie.

The highlight game for the U18s featured the same two organizations -- the Whalers and Mid-Fairfield. Both teams brought their lunch pails to Rink 1 on Monday afternoon, neither one turning down an opportunity to finish their checks or get an extra whack in on a goalie. This war had a winner, though, as the Whalers came out on top 2-1. The matchup featured some of the top talent from both the Mass and Connecticut prep school circuits. USHR's first star of the game was BC High 6'0", 168 lb. junior d-man Ryan Shea, who was gritty in the corners, patient on breakouts and regroups, and rushed the puck out of trouble when needed. He really elevated his game here. (Due to fortuitous scheduling, the Whalers and Mid-Fairfield have a rematch scheduled for this Saturday morning at the Tier I Labor Day Tournament. You'll have to get up early, though, as faceoff is at 8:10 am in the North Star Rink (Westborough, Mass.)

There were a lot of standouts at the tournament, and somebody else might have a different list, but we're going to pick out one forward and one d-man for special mention. Both are from the U18 Division. Up front, we were very impressed by 5'6", 142 lb. incoming Avon Old Farms sophomore Patrick Harper, who we felt was the most electrifying forward here, even as a '98 playing up with Foxboro's U18s. A true playmaker who can also score, Harper's hockey IQ is second to none and his puck skills are excellent. He understands how to separate opponents from the puck without laying body checks, a necessary skill at his size. Harper, who played last year for the NJ Rockets U19 Team, set up the nicest goal we saw in a long time when he took the puck behind the opponents' net, waited for both defensemen to bite and threw a saucer pass over the net to an open teammate in the slot for a goal. The New Canaan, Conn. native's showing here was the best we've seen from him.

Our standout on the blue line was 5'9", 175 lb. Jacob Bryson, an incoming Loomis-Chaffee junior from the London (Ontario) Junior Knights. Bryson, who is playing for the River Rats, eludes forechecking pressure easily and makes a great first pass. He never seems to get caught on the wrong side of the puck, and competes hard along the walls. Throw in the ability to be the powerplay QB at the next level and you have one solid prospect. Bryson, who Loomis head coach JR Zavisza has been working on getting to New England for a couple of years now, is already gaining a lot of attention from a number of Hockey East schools.


U16 Division:

The U16 games, like the aforementioned Whalers-Mid-Fairfield game, were played at a high tempo and with great purpose. However, we felt that the River Rats, coached by Steve Needham, were the best all-around team in the jamboree. They imposed their will on opponents with a relentless attack, vividly evident in a 4-0 statement victory over Mid-Fairfield on Tuesday night. St. Mark's junior Ryan Ferland picked up the shutout in that one. On the other end, the Blues' tandem of incoming Choate freshman Cal Stewart and Westminster incoming freshman Hunter Chaisson, were solid, and did a great job holding the River Rats – more on them will follow -- to four goals.
CAPE COD WHALERS U16: Coach Tony Amonte's squad is backed by a strong defensive corps led by some familiar faces, like 5'9" Dexter soph RD Sean Keohan, and 5'7" LD Jack Rathbone, who'll be enteringDexter as a freshman. (For more on Rathbone, see our notes from the Beantown Classic earlier this month). 5'10" Thayer junior Monte Graham led the charge offensively, showing strength on the puck and an ability to create offense by driving to the net. There are a few new Whalers we found intriguing. First, 5'10" Jay O'Brien, who, like Rathbone, will be a freshman at Dexter,was terrific with the puck on his stick. He is quick, elusive, and has the ability to create time and space for himself in tight areas. Two more players to keep an eye out for this fall are Rivers' sophomore Brendan Hamblet, a 5'9", 165 lb. forward with good hands, and 5'9" Tabor sophomore Max Sauve, a playmaker who utilized his teammates well to create quality scoring chances.
MID-FAIRFIELD U16: Coach Brett Farson's team is led by 5'10", 170 lb. Berkshire repeat sophomore Matt Koopman, a centerman who starred at Marblehead HS last winter. Indeed, if we were to choose an MVP for the U16 Division we'd have to give it to Koopman.His top-end speed, quick hands, and hockey IQ allow him to create scoring chances for his teammates -- and himself (the highlight-reel goal mentioned above wasn't his only one here). Koopman has good linemates too. Westminster sophomore Jack Flanagan wasall over the puck on the forecheck and worked hard in front of the net to bang home some dirty goals. The third member of Koopman's line was 6'1" Evan Gray, a new sophomore at Kent. Gray,from Huntington Beach, Calif., has soft hands and positions himself well in the offensive zone.
NEPONSET VALLEY RIVER RATS U16: As we mentioned above, this is a very strong team, boasting a balanced attack with a dominant top line of 5'8" Nobles junior – and Brown recruit -- Michael Fahie, 6'1" St. Sebastian's sophomore RJ Murphy, and 5'9" Belmont Hill soph Sam Hesler. The Rats are deep, though, and can come back at you with a talented, gritty, line of '99s in 5'11" incoming Cushing freshman Marc McLaughlin, 5'7" Lawrence Academy freshman Craig Needham, and 5'8" Winchendon freshman Ben Thomas. Steve Needham's team is equally strong on the back end with 6'1", 202 lb. Cushing sophomore Brian Scoville, 6'4", 215 lb. Winchendon sophomore Jack Moran, and 5'6", 170 lb. St. Sebastian's soph Eric Jeremiah. (The River Rats also have Belmont Hill sophomore blueliner Brian Matthews, who was not here for this jamboree but will be joining the team for the Labor Day Tournament.)


U18 Division:

The U18 division would have been more of an event if the Boch Blazers showed up with a reasonable number of skaters for their games. In the first game they had nine skaters and the second only eight. Not sure exactly what the issue was there.
CAPE COD WHALERS U18: Coach Andrew Orpik's team is built from the net out, featuring an outstanding goalie in 5'8" Thayer junior Michael Royer and a pair of highly-talented defensemen 5'8" incoming Dexter sophomore Luke McInnis and, as mentioned above, Ryan Shea. Up front, 5'10" Thayer senior – and Northeastern recruit -- Lincoln Griffin was the standout. His quickness and tenacity make him a handful for defenders. 6'4", 185 lb. Nobles junior Luke Stevens, who we felt was totally listless at both Select 17s and the Summer Beantown Classic, was much better here. He was moving his feet and was much more engaged in the defensive zone. The potential hasn't gone away. 5'8" Nobles junior Cody Todesco, an honest, hard-working, energy guy with scoring ability, played at his customary high level. We like the way he frequently out-battles larger opponents – and never quits on the play.
MID-FAIRFIELD U18: Coach Ike Corriveau has an excellent first line supported by three hard-working lines and a solid defensive corps. The top trio of 6'1" Westminster junior Taggert Corriveau (St. Lawrence) and his 6'1", classmate Johnny McDermott (BU) along with 5'11" Gunnery senior Noah Bauld was a constant force every time they took the ice. A newcomer to the prep circuit to keep an eye on this season is 5'11, 170 lb. Westy junior Connor Lloyd. From the Philadelphia Jr. Flyers U16s, Lloyd competes hard every shift and has good hands. In net, 6'4" Gunnery junior Trevin Kozlowski was solid in the aforementioned 2-1 loss to the Whalers. The Blues also boast a pair of rugged right shot d-men in 6'1", 200 lb. McKay Flanagan, a Gunnery junior who played for the Connecticut Oilers (EHL) last year, and 6'1", 171 lb. Westminster junior Kevin O'Leary. Both played a good physical, honest game.
NEPONSET VALLEY RIVER RATS U18: Coach Ross Pasquianto's squad was the toughest for us to get a read on. Two of their three games were against less-talented teams, and the third was against the vastly undermanned Boch Blazers. Despite not getting to see them against quality opposition, we feel safe in saying this is a team to keep an eye on. For one, they boast the most dynamic defensive pairings. Brooks School 5'10", 165 lb. junior RD Connor Moore – a BC commit – is no secret. 6'3", 190 lb. St. Mark's junior Peter Housakos is a big, imposing blueliner who has a good stick. The Rats also have the most-talked-about newcomer to the prep circuit, defenseman Jacob Bryson, whom we talked about in the intro here. The forwards are led by a pair of 98's in Northeastern commit Jamie Armstrong, a 6'0", 178 lb. incoming Avon Old Farms sophomore out of Bishop Hendricken HS, and the above-mentioned Patrick Harper. On paper, Avon looks to be a far better squad this season, a good thing, as we don't want to see John Gardner skinning Winged Beavers and tossing their pelts into the Farmington River this winter. The River Rats, by the way, have a good test coming Friday night when they take on the Connecticut Wolf Pack at the New England Sports Center. Faceoff is 7:50 pm.

Notes:

Andy Lathrop, who has been the head coach at Berwick Academy for the last 15 years, is moving on to a new position. He will now be the athletic director at Bishop Brady High School in Concord, NH. We wish him well in his new post.

It is uncertain whether Berwick will be hiring someone to take over the team on an interim basis, or conducting a full-blown search right now. In either case, it's a good opportunity for someone.
Tues. 8/26/14

Wolf Pack U16, Avalanche U18 Win Early Bird
In the title games at the Early Bird Classic at Merrimack College this afternoon, the Connecticut Wolf Pack National (split season) U16 and the North Jersey Avalanche U18 Teams won their respective divisions.


U16 Final --
Conn. Wolf Pack National U16s 4, East Haven Wolf Pack (full season) U16s 1

Millbrook sophomore Matt Gosiewski, who scored two goals -- one a deadly accurate slapper from the left point, and the other a snipe from the right faceoff circle – was the standout in this one. Gosiewski, a 6'3", 200 lb. forward who can also man the point, is a strong skater with soft hands and, as he showed today, an excellent shot. Gosiewski will be followed closely by Div. I schools this season at Millbrook.

Cameron Donaldson, who played for the Dallas Stars U16 Team last year and will be a new student at The Gunnery, scored the Wolf Pack's first goal, on an assist from UNH recruit Eric Esposito.

Defenseman Craig Uyeno, who played for the Don Mills Flyers Midget Minors last year and will be a new student at Choate, scored the final Wolf Pack goal.

Late in the second half, East Haven's Christopher Connelly knocked home the rebound of a Jack Tarca point shot.

Other than that, Wolf Pack goaltender Peter Negron, who is going to Kent, was flawless. Negron, who was one of the top goalies at this summer's Select 16s in Buffalo, played for Bergen Catholic last season.

Forwards Eugene Lim and Jordan Seyfert stood out for East Haven. On defense, 6'1" Brendan Casey, a Connecticut native who played for the Junior Bruins last season, was consistently noticeable. He has size – and he hits extremely hard and consistently.


U18 Final --
North Jersey Avalanche U18s 2, East Haven Wolf Pack U18s 0

Union recruit Wade Novak, following a Wolf Pack turnover, scored on a snap shot from the right faceoff circle, and Evan Wisocky added an empty-netter with 13 seconds left for the 2-0 win.

With Novak, Wisocky, Chris Grando, and Jack Badini et al leading the way up front, the Avalanche controlled the play in this one.

East Haven's 6'3", 177 lb. goaltender Jared Dempsey, who played the last couple of seasons for Little Caesar's U16s and was one of the top goaltenders at the Select 17 Festival this summer, was excellent in a losing cause. The one shot that beat him was a tough chance. Dempsey, an October '97 birthdate, isn't draft eligible until 2016.

An intriguing East Haven player was 6'2", 175 lb. forward Colin Powell (yes, that's his name, just like the four-star general). A December '96 birthdate out of St. Joe's (Conn.) High School, Powell is a big, strong power forward with a surprising burst of speed. Powell, the team captain, is raw, but was consistently involved, around the puck, and making things happen. At worst, Powell, a diamond in the rough, will make an excellent DIII prospect. At best? Well, we'll know more as the season goes along. He's definitely worth keeping an eye on.


Notes:

-- It was nice to see Toot Cahoon coaching the Wolf Pack U16 National-bound team. Cahoon looks ten years younger than he did during his last season coaching at UMass. We're not exaggerating.

-- The Middlesex Islanders Premier team held their physical testing at Merrimack this afternoon and head coach Sean Tremblay, who lost the sight in one of his eyes while playing pick-up hockey this summer, is back on the job. We didn't get a chance to see him, but we sure do wish him well.

-- Also at Merrimack today was Bill Gilligan, hired to fill the vacancy created when Glenn Stewart took the job at UNH, his alma mater. Gilligan, who is 60 but looks like he could still lace 'em up, has been absent from New England for a number of years as he has been coaching in Austria, for Graz and the Austrian National Team. He was last a college assistant in 2004, and during his last four years he and Merrimack head coach Mark Dennehy worked together for Toot Cahoon at UMass. Quite unfairly, Gilligan, one of the sharper minds in the game and one of the top teaching coaches, was not interviewd for the UMass opening a few years back. Gilligan's connections in Austria – he also played pro there -- made possible his successful recruitment of high-scoring defensemen Thomas Pock, the leading scorer on one of the top UMass teams in recent history.

Old timers will remember Gilligan (the younger brother of former UVM head coach Mike Gilligan) for his playing career at Beverly High, the Taft School, and Brown. At Brown, Gilligan scored 180 points – in 80 games – over three seasons (freshman were ineligible for varsity play back then). That's 2.25 points a game.



Mon. 8/25/14

Neponset Valley River Rats Jamboree Schedule
The 2014 Neponset Valley River Rats Jamboree starts today (Mon. 8/25) and continues through tomorrow (Tues. 8/26).

All games will be held at the Foxboro Sports Center. The first game of each day is at noon.

For those attending the Early Bird Tournament at Merrimack, but who also wish to take in the Neponset Tournament, the two rinks are a little less than an hour apart (in normal driving conditions, that is).

Here is a link to the schedule:

2014 Neponset Schedule




Sun. 8/24/14

Early Bird Schedule & Rosters
The 2014 U18 and U16 Early Bird Tournament will be held once again at Merrimack College in North Andover, Mass, this year on Mon. Aug. 25th and Tues. Aug. 26th.
Tues. 8/19/14

2014 Beantown Summer Classic
Here are our rankings from the Beantown Summer Classic, held at the New England Sports Center in Marlborough, Mass. August 10-13.

There were a lot of teams to cover – eight in the Pro Division, which is getting bloated – and six in the Futures Division.

In covering the Pro Division, we didn't bother with the '94s – too old for us. Even the '95s, except in a handful of cases, failed to grab us. Perhaps, going forward, the tournament might consider a separate division for the greybeards.

Tournament director Peter Masters indicated he will be considering ideas to reconfigure divisions for next summer. The goal? To raise the level of play across the board.
The heights and weights used for the Pro Division players below are those taken by NHL Central Scouting on the first day of the tournament.

The heights and weights for the Futures Division are those supplied by the players.

We chose All-Star Teams for each division. Those players – six in each division -- are denoted by an A+ preceding their name below.

The players listed below the all-stars are arranged in a very rough order reflecting how we felt about their play and/or potential, i.e. different players grabbed our attention for different reasons.

Here is a link to the program book, with full rosters: 2014 Beantown Summer Classic

Enjoy.


FUTURES DIVISION ('97, '98, and '99s)

Goaltenders:

A+ -- Derek Goguen (#1 Braves) 5-9/165, Middlesex School, 5/20/97 – New Brunswick native will be a junior at Middlesex. Last year, as a sophomore, split duties in net with fellow soph Tristan Collins. Goguen was a wall here, only allowing one goal.

Logan Kramsky (#1 Seals) 5-9/160, NJ Rockets U19, 11/25/98 – Helped lead Princeton Day to a state title in NJ – as a freshman. As good or better than any other high school goalie in the state.

Mikhail Denisov (#1 Nationals) 6-0/184, Junior Bruins U16, 3/24/98 – Marlborough, Mass. was consistently good.

Defensemen:

A+ -- Reilly Walsh (#7 White) 5-9/160, R, Proctor Academy, 4/21/99 – High-end prospect is really fun to watch, especially in the offensive zone. PP work is excellent. Plays with flair. Will have to pick his spots a little more carefully as he did get caught up ice on occasion, leading to odd-man rushes the other way. That said, we like to see young players push the envelope – at least to a point. Had 27 points from Proctor's blue line last season – as a freshman.

A+ -- Jack Rathbone (#5 Hombres) 5-8/145, L, Dexter School, 5/20/99 – If hockey went back to a seven-man game, he'd be the perfect rover. Converted forward scored 14 seconds into one game -- just flew into the zone before opponents could even react. Excellent skater – has magic feet. High-skill player. Loves to have the puck on his stick. Holds onto it too long and gets himself in trouble at times. While he makes mistakes, he also has skills you can't teach. Son of former BC forward Jason Rathbone.

Joshua Gagne (#4 Nationals) 6-0/180, R, The Gunnery, 4/19/97 – New player at Gunnery was impressive. Has size, and plays a solid game defensively. Stood up a kid at the blue line -- a clean check – but knocked him into next week. The Gunnery forwards can zip around knowing he's behind them. He has an offensive dimension as well. A Caledon, Ontario native, he played on the Hill Academy U16 team last year.

Jack Moran (#4 Hombres) 6-4/210, L, Winchendon School, 5/21/98 – A converted forward, he was moved to defense last year. He's made steady progress. He's very big and very strong – and his skating is fine for size/age. If he continues improving, he could become a strong candidate for the 2016 draft. From North Reading, Mass.

Frank Boie (#3 Titans) 6-1/180, R, Rivers School, 5/15/98 – Has very good size, poise, doesn't run around. Knows where to go in defensive zone. Keeps things very simple. Excellent prospect. A Needham native, Boie had 14 points as a sophomore at Rivers.

Ben Mirageas (#5 Braves) 5-10/160, L, Avon Old Farms, 5/8/99 – Terrific skater – effortless. Makes good passes and sound defensively. Was at Newburyport High last season; will be a terrific addition for Avon.

Brian Matthews (#5 Seals) 6-0/177, R, Belmont Hill, 4/21/98 – Has played at Belmont Hill since the 9th grade, which is rare at that school, which boasts a strong freshman team. So the '98 will be a third year player. Tends to get overlooked a bit, perhaps because he's not flashy. But he has poise, skates well, positions himself well in the d-zone, and moves puck up-ice efficiently. Plays within himself.

Trevor Cosgrove (#2 Buzzards) 6-1/182, L, Phillips Exeter, 6/4/97 – Was paired with Spencer Young at Exeter; sometimes we'd get mesmerized by the latter, and tend to perhaps overlook Cosgrove. He is not flashy, but he's steady, has size, and a good stick. Will be a junior. Has offensive upside as well, though that is not exactly his game. Well-rounded.
Brian Scoville (#5 Buzzards) 6-2.5/190, L, Cushing Academy, 3/28/99 – Big, and played with poise and presence in the d-zone. Doesn't hold onto puck long. Just makes the simple pass to get it out of the zone. Played for Agawam (Mass.) high school last season. Was at Select 15s.

Ryan Ashe (#2 Braves) 6-0/188, L, Avon Old Farms, 10/22/98 – Longmeadow, Mass. native isn't flashy and doesn't skate with it much. He just gets it and moves it smartly.
Patrick Dawson (#2 Seals) 5-11/180, R, Westminster School, 1/14/99 – Another excellent defense prospect arriving at Westy. Played with confidence. The more we watched him the more we liked him. Believe he will be a 9th grader.

Colin McCabe (#2 Hombres) 5-10/175, R, Thayer Academy, 1/27/98 – Had a good tournament; was consistently noticeable. Played sound defensively. Very good on 1-on-1's. Made plays, including a top-shelf goal off a rush. Never really grew much physically over the past year or two, which has held him back. Pembroke, Mass. native will be a junior at Thayer.

Adam Karashik (#4 Braves) 5-10/160, L, Connecticut Oilers U18, 1/15/98 – Excellent skater. Good stick on 1-on-1's. Good gaps. Takes away passing lanes. Ridgefield, Conn. native.

Forwards:

A+ -- Andrew Hadley (#9 Buzzards) 6-2/220, L, Deerfield Academy, 4/7/97 – Had a terrific week. Has size, and a nice long stride. He either took puck to areas where he could off a good hard, clear shot off – or just drove to the net. Played physically and finished his checks. New Hampshire native had a 4-4-8 line in 25 games as a sophomore last year, but with Lafferty and Yates gone, he'll have a chance to play a much bigger role. If he plays all season like he did here he could hear his name called at the NHL draft next summer.

A+ -- Jack Bliss (#10 Nationals) 6-0/165, L, Milton Academy, 8/20/98 – Very good centerman from Cardigan Mountain showed hockey sense, strength on his skates, and the ability to win draws. Makes a lot of plays without being flashy. Made a great backhand saucer pass to a streaking winger that opened eyes.

A+ -- Logan Drevitch (#11 Seals) 5-9/152, R, Boston Bandits, 4/14/98 – Fast. Can blow by guys, and has a good shot. Younger brother of Merrimack recruit Tyler Drevitch. Has played two year for the Boston Bandits U16 Team.

Matt Koopman (#11 Buzzards) 5-10/170, L, Berkshire School, 5/1/98 – Centerman plays aggressively and with skill. Has speed, wins draws, and can make plays. Only scored one goal here, but it came on a nice wraparound. Played at Marblehead HS last year. He and his twin brother Kyle, a defensemen, will be going to Berkshire as repeat sophomores. Will all the kids lost to graduation there, he will have a chance to contribute right away.

Christian LeSueur (#15 Seals) 5-10/160, R, Brunswick School,1/7/99 – Showed his usual speed, but was more physical than we expected. Supported puck well. Very engaged.

Matt Danner (#12 Nationals) 5-11/195, L, The Gunnery, 2/17/98 – Sturdy, strong on skates, power forward type. Very good shot. From Oakville, Ontario and the Mississauga Midget Minors.

Cal LeClair (#14 Hombres) 5-9/160, L, Westminster, 2/28/98 – Really good stick and quickness. Clever and smart with puck. Son of former NHLer John LeClair, but a very different sort of player.

Trevor Mallett (#15 Hombres) 5-9/155, R, New Hampton School, 3/21/97 – Showed good speed off the wing. Had 28 points in 33 gp as a sophomore at New Hampton. York, Maine native.

Joshua Sanchez (#17 Braves) 5-7/147, L, Albany Academy, 6/5/99 -- Potsdam, NY native played last year for the St. Lawrence Thunder. Opened some eyes at Select 15s with his speed and playmaking. Will be playing for Brett Riley at Albany Academy.

Matt Allen (#8 Hombres) 6-0/165, L, Selects Academy, 3/14/99 – Has a lot of individual skill. Can skate. Has a great shot. However, he needs to learn to use his teammates. Has been hyped a lot, but right now he is less than the sum of his parts. However, he's a '99 and skilled, so we'll give him the benefit of the doubt. College: Providence College '17

Eric Esposito (#12 Hombres) 5-10/175, R, Loomis-Chaffee, 8/24/98 – Can shoot it. Has speed and was good, but inconsistently so. College: UNH '17 or '18

Vito Bavaro (#8 Nationals) 6-3/180, R, Brooks School, 10/1/97 – Big kid who played hard. Consistently engaged. Not sure about his skill level, but opponents had to work hard to defend him. Bradenton, Florida native going into his third year at Brooks, where he will be a junior.

Ty Turgeon (#17 Nationals) 5-8/165, R, New Hampton School, 4/29/98 – A center who lit it up in New Hampshire high school ranks last season at St. Thomas Aquinas. Quick waterbug type – shifty and an excellent stickhandler.

Alex Mella (#16 Seals) 6-0/171, L, Shattuck-St. Mary's, 2/21/99 – Was on Shattuck's Bantam team that went 61-7-0 and won Nationals. Stamford, Conn. native played for Connecticut Wolf Pack U14 Team before going to Shattuck last fall. Won a lot of puck battles. Good below the dots.

Ethan DeStefani (#10 Titans) 6-2/180, R, NH Jr. Monarchs, 2/16/99 – Big power forward is growing into his body, but was good with the puck around his feet. Don't really have a sense yet of his ability to see the ice, but he's the kind of player you want to keep tabs on just in case. Was at Select 15s.
Sam Hesler (#13 Seals) 5-9/160, L, Belmont Hill, 6/6/98 – Very engaged. Quick. Made plays. Younger brother of Dartmouth recruit Carl Hesler.

Brendan White (#18 Buzzards) 6-2/185, L, Malden Catholic, 8/2/98 – Big power forward with good stride played hard, drove to the net hard. Not sure about his hands, but he's someone we'll be following.


PRO DIVISION ('94, '95, '96, and '97s)

Goaltenders:

A+ -- Sean Cleary (#1 Saints) 6-2.25/186, Victoria (BCHL), 10/28/95 – Caped Cod native has played for the last three seasons at Lake Forest Academy in Illinois, where he was coached by former Lake State and NHL goalie Darrin Madeley. Was passed over in June's draft.

Rob McGovern (#1 Chiefs) 6-4/248, Bay State Breakers (Premier), 3/24/95 – Huge goaltender was excellent for Thayer, though he faded a bit late in the season. Will be closely watched with the Bay State Breakers this season.

Brendan McMenimen (#30 Warriors) 6-0/200, Islanders Hockey Club (Premier), 4/5/95 - Governor's grad ('13) played last year for Islanders Premier club. Has a history of being lights out at times, but slumping at others. He didn't slump here: he was very good.

Defensemen:

A+ -- Ryan Shea (#7 Chiefs) 6-0/168, L, BC High, 2/11/97 – Everyone knows he's a terrific skater and athlete, a converted forward who brings a lot of offense from the blue line. Varied from terrific (offensively) to terrible (defensively) at Select 17s last month, but here he played it more down the middle -- more cautiously -- as if to foremost show scouts what he can do in his own end while picking his spots better offensively, i.e. finding the right balance. It was probably a conscious decision on his part – and a mature one. Was second-leading scorer overall at BC High last season (5-16-21 in 19 gp). Will be a junior this season.

A+ -- Tadeas Hejda (#4 Warriors) 6-3/183, L, HC Slavia Praha U18, 1/14/97 – Intriguing NHL draft prospect. Would like to see him a bit more, but not sure if that will happen. Wants to go to a US college but doesn't speak English well enough – at least not yet. Not a bad skater. Will fill out to over 200 lbs. Older brother, Jan, plays for Colorado Avalanche.

Simon Loiselle (#4 Apaches) 6-1.25/195, R, St. Paul's School, 11/24/97 – Underager from Quebec Midget AAA is a new student at St. Paul's. Big and steady.

John Marino (#5 Chiefs) 6-0.5/171, R, South Shore Kings (USPHL), 5/21/97 – Not as good here as he was at Select 17s. Tried to do a little much, and occasionally wound up on the wrong side of the puck in the neutral zone. Good local prospect for June's NHL draft. College: Yale '16

Joe O'Connor (#6 Royals) 6-2/206, L, Westminster, 3/16/96 – Big, steady defenseman from Hamden, Conn. also has some offensive upside. Westminster, by the way, is going to be very deep on the blue line this season. College: Vermont '16

JJ Layton (#4 Chiefs) 6-0.25/194, R, Kimball Union, 1/23/97 – Showed a lot of poise, and moved puck quickly and efficiently, both out of his own end and on the offensive blue line. Austin Prep d-man will be moving on to KUA this fall.

Michael Kim (#4 Conquistadors) 5-10.5/203, L, 6/28/95 – Phillips Andover grad and Toronto native turned down one of the top academic schools in the country – Wesleyan – in order to play a year of juniors and find out if he could get some DI interest. He played well here, and is indeed beginning to get some DI interest. Is well-built with a low center of gravity and handles himself well in his own end while he is a proven playmaker from the blue line, having run Andover's PP last year, where he was 7-17-24 in 27 games. Doesn't fly around the ice much. Tends to move it up ice with good passes.

Kevin O'Leary (#6 Saints) 6-1/171, R, Westminster, 3/24/97 – Interesting draft prospect from New Canaan, Conn. positions himself well. Rarely gets caught up ice. Skates well, keeps it simple, and has some grit.

Ben Finkelstein (#3 Royals) 5-8/182, R, Kimball Union Academy, 10/1/97 – 5'8" underager is not yet quick or fast enough for the role (PP guy) he would need to fill at a higher level. Has time on his side through.
Patrick O'Leary (#6 Chiefs) 6-0.75/189, L, Junior Bruins (USPHL), 1/31/97 – Very, very steady. Opened our eyes a bit. A defensive d-man, he played at CM a couple years back.

Andy Chugg (#3 Saints) 6-3.5/194, R, Salmon Arm (BCHL), 7/19/95 – For his size he skates well, at least straight line. Big defensive d-man graduated from Mesa, AZ and the Kent School and will be taking his game to the USHL.

Nick Azar (#2 Bombers) 6-3/201, L, Honeybaked U18, 1/13/97 – Got turned a couple times early, but got better as week went along. Pretty raw, but with his size he could be a late bloomer.

Forwards:

A+ -- Bryan Lemos (#12 Saints) 5-9.75/174, R, Youngstown (USHL), 7/15/96 – If not the best forward in the Pro Division, then certainly one of the top two or three. Excellent offensive skills; more a playmaker than a scorer. Works hard in all three zones. Pushes the pace. Very consistent here. Played last year from Junior Bruins Premier League team and was second-leading scorer behind Brian Bowen, his teammate here. College: Providence '15

A+ -- Adam Gaudette (#9 Chiefs) 6-0.75/171, R, Cedar Rapids (USHL), 10/3/96 – Hands-down best player on first day. Couldn't quite keep up that pace, but was still excellent throughout. He has come a long way for a kid who missed nearly an entire season the year before last. Had 67 points for Tony's Tigers last season. Good draft prospect for coming June.

A+ -- Patrick Shea (#15 Chiefs) 5-10/182, R, Kimball Union Academy, 3/25/97 – Turned a lot of heads here. Centerman had been playing under the radar a bit at Marshfield High, where he put up 55 points in 24 games last winter. Good skater who is smart and active around the puck. A lot of presence. Son of Neil Shea and brother of Brandon, will be at KUA this fall. College: Maine '15

Brian Bowen (#8 Saints) 6-0.75/207, R, Green Bay (USHL), 11/21/95 – Better last two days than first couple of days. Big, wide-bodied power forward from Littleton, Mass. uses his size very effectively. First step could be a little better. Passed over in June's draft, but a candidate for his second time through. Played for Junior Bruins Premier League team and had 50 points in 47 games. College: Vermont '15.

Bob Carpenter (#8 Outlaws) 5-10/183, R, Sioux City (USHL), 8/16/96 – Competes hard. Contributes in a lot of different ways. Honest, well-rounded player. It's easy to see why David Quinn made him his first recruit at BU: at worst he'll be that hard-working fourth liner, but at best he could be a lot more. Was leading scorer at Austin Prep last season. College: BU '15.

Vimal Sukumaran (#17 Bombers) 5-9.25/187, R, Salisbury School, 4/9/96 – Hard-working character player with a balance of strength and skill. Really strong on the puck. The kind of player every team needs. Pierrefonds, Que. native had 33 points as a junior.

Matt Muzyka (#14 Bombers) 6-0.5/203, L, Salisbury School, 4/13/96 – Scored five goals here. Really homed in. Along with Kale Kane and Sukumaran, he should be a go-to guy for Salisbury this season. College: Quinnipiac '15

Jeremy Germain (#10 Conquistadors) 6-0/173, L, Choate, 8/15/96 – Solid week. Hamden, Conn. native raised his stock with college recruiters. Will be a senior – and the Wild Boars' leading returning scorer.

Jake Pappalardo (#14 Warriors) 5-9.75/180, R, Proctor Academy, 7/11/97 – Good skater. Nice shot, with all-around skills. Pushes the play. With Hunter Luhmann leaving early for USHL, Pappalardo, who was Proctor's leading scorer as a soph last season, will have to carry the load for the Hornets up front. Salem, NH native.

Taggart Corriveau (#9 Royals) 6-1/176, R, Westminter, 3/11/97 – Newington, Conn. native has a good sense of the game and knows how to get in scoring position. Skating needs to improve. Leading scorer at Westy as a soph: 18-12-30 in 26 games played. College: St. Lawrence '16

Ben Freeman (#14 Royals) 6-4/199, R, Northfield-Mt. Hermon, 1/10/96 – It can be a slow process when you're 6'4" but his skating is improving. He proved last winter that he can score (20g, 26a) at NMH, so we think he could pay off in time. Will be a senior this season. College: UConn '15

Michael Brown (#9 Outlaws) 6-1.5/175, R, Groton School, 2/24/97 – Worcester native has size, a strong shot, and can make plays. Had 49 points in 27 games as a sophomore.

Ryan Cloonan (#10 Outlaws) 5-10/160, L, Junior Bruins (USPHL), 7/20/95 – East Longmeadow, Mass. native has high-end speed – really flies—but needs to stop on the puck more and get a little grittier. Former Maine commit is uncommitted.

Charley Michalowski (#13 Conquistadors) 5-11.5/182, R, Belmont Hill, 6/13/96 – Has good speed, worked hard, and played with a lot of energy. Looked like he was on a mission. Leading returning scorer at Belmont Hill.

Devin Moore (#13 Bombers) 5-6.5/125, R, Phillips Exeter, 1/14/97 – Very skilled. Excellent hands. Centerman sees the ice – plus vision – but really fights the size battle. Hampstead, NH native had 16 points as a sophomore.

Ben Sharf (#15 Bombers) 5-10.75/179, R, Loomis-Chaffee, 2/14/96 – Consistently noticeable. A pure playmaker who also goes to the net hard, and is constantly around the puck. A little bit of a tweener, but deserves a look by Div. I programs. Was leading scorer at Loomis last season. Williamsville, NY native will be a senior.

Cody Todesco (#16 Saints) 5-8/166, R, Noble & Greenough, 4/1/96 – An extremely consistent player – winter, summer…it makes no difference. Had 39 points in 29 games last season. Small. Good NESCAC prospect.

Alex Esposito (#9 Conquistadors) 5-11/173, R, Loomis-Chaffee, 6/3/96 – Understands game. Played with a little edge. Got under guys' skin a bit here. College: Vermont '16

Lucas Michaud (#12 Bombers) 5-10.5/200, R, Portland Jr. Pirates, 6/12/97 – Didn't do much to stand out here, but was solid in little things such as supporting the puck, using his strength on his skates to win battles. College: Maine '15

Sam D'Antuono (#10 Saints) 6-1.25/188, R, Dexter School, 10/1/95 – Big power forward from Hingham, Mass. Feet are a bit heavy.
Eric MacAdams (#13 Saints) 5-10.5/165, R, Valley Jr. Warriors, 4/29/97 – Showed patience and poise with the puck. Slowed it down in tight areas and made nice passes. As a soph at Austin Prep last year was team's second leading scorer).

Jack Fitzgerald (#12 Royals) 6-1/177, R, Westminster, 4/13/96 – Not a high-end kid, but just a very solid, honest player. Should get a lot of attention from DIII programs.

Roberto Cellini (#9 Saints) 5-6.5/150, L, Hotchkiss, 5/11/96 – Leading scorer at Hotchkiss last season has excellent skills, but is tiny and not particularly dynamic. Ile Bizard, Que. native will be a senior. A top NESCAC prospect.

Jack Surowiec (#15 Conquistadors) 6-0.5/186, L, Culver Academy, 7/26/96 – Good enough skater, has a good stick, size, could be a good Div. I bottom six type. Louisville, Kentucky native will be a senior at Culver. Older brother plays at Norwich.

Jake McKenelly (#14 Saints) 5-7.5/166, L, Austin Prep, 7/24/97 – A little small, but doesn't back down in the dirty areas. Has a strong net-front presence, where he's willing to take a beating. Good skater. Will be a junior at AP.



Thurs. 8/7/14



Mini Chowder Cup Review ('00 Division)
USHR made the trip to the Mini (that's right) Chowder Cup this past weekend to get a preliminary look at some of the top 2000-born players in North America.
We saw all the teams that reached the playoffs – won by the Junior Whalers Black, who were head and shoulders above all other teams here – with the exception of the New Hampshire Knights. We can not tell a lie: we missed seeing them because their game Saturday started at 7:00 am.
As it turned out, the Knights outscored their opponents 24-4 in round-robin play and reached the championship game, where they fell to Junior Whalers Black, 3-0. But we can't tell you anything about them. Again, our apologies.
It is worth noting that Cade Murnan-Mechor and Cullen Young were named Co-Defensive Players of the tournament; while Nick Seitz, Oliver Wahlstrom, and Shea Courtmanche were the Offensive MVP's. Murnan, Seitz and Courtmanche all played for the Knights. T.J. Walsh was named tournament MVP, while his teammate, Elliott Ang, was named top goaltender.

Top Forwards (Listed by Team)
TJ Walsh, 5-9/140 (Boston Junior Whalers Black) -- Crafty forward creates offense every shift. Put up 18 points in the three round robin games. Has great hand-eye coordination. Also starred on the '99 Junior Chowder Cup winning team last weekend. Massachusetts native is heading to Shattuck-St. Mary's this fall.
Riley Damiani, 5-10/155 (Boston Junior Whalers Black) – Smart player supports the puck all over the ice, helping out his linemates. Has high-end speed and a high hockey IQ. Playing for the Mississauga Rebels this winter.
Akil Thomas, 5-10/145 (Boston Junior Whalers Black) -- Thick forward with a wide base and good hands. Prefers to shoot the puck, but can pass as well. Playing for the Toronto Marlies this season.
Nick Castro, 5-9/160 (Boston Junior Whalers Black) -- Dynamic offensive threat from the West Coast. Wins battles along the boards and drives to the net hard. Plays for the LA Jr. Kings.
Oliver Wahlstrom, 5-11/175 (Boston Junior Whalers Black) -- Possibly the most dynamic and talented player in the tournament. Tends to over-handle the puck and makes it harder on himself to create scoring chances. Possesses a high hockey IQ and elite skating ability. Heading to Shattuck with Walsh this fall.
Kyle Lightfoot, 5-7/130 (Crusaders Elite) -- Has the skills that translate to higher levels. Attacks the seams off the wall and can shoot it. Has the vision to make brilliant passes as well. Will draw a lot of attention from the Q in his draft year. Will be playing for the Lac St-Louis Arsenal.
Sam Stevens, 5-11/152 (Crusaders Elite) -- High hockey IQ, great passer, and very creative. Plays for the Chicago Mission.
Tyler Davis, 5-11/190 (East Coast Militia White) -- Power forward is strong on the puck and has a nice shot to boot. Playing for the Markham Waxers.
Bryan Laureigh, 5-10/175 (Hockey Essentials Black) -- Highly-skilled, big, and strong. But he doesn't just get by on his size: he has good hands and a good shot. Will be playing for the Red Bank Generals.
Fredric Abraham, 5-7/130 (North American Gladiators) -- A playmaking center with terrific vision that allows him to get the puck to his big powerful wingers. A good skater with good hands. Will be playing at Bishop's College (Lennoxville, Que.)
Matt Myrowich, 6-2/175 (North American Gladiators) -- Big power forward with a heavy shot. Intimidates opposing defenders with his forechecking. Will be playing for the Winnipeg Sharks this winter.


Top Defensemen (Listed by Team):
Brandon Tabakin, 5-6/125 (Boston Junior Whalers Black) -- Very sound defensively. Has good feet and a good stick. Is always in the right position. Playing for the North Jersey Avalanche this winter.
Cullen Young, 5-8/165 (Boston Junior Whalers Black) -- The offensive leader among defensemen here. Moves the puck quickly and accurately and uses his plus skating ability to get out of trouble. Playing for the Junior Bruins U16 this winter.
Jacob Semik, 6-1/160 (Boston Jr. Whalers Black) -- Does everything a coach would want from a defenseman. Has a high IQ, makes a great first pass, and has great footwork on the offensive blue line which allows him to maximize his booming shot. Will be playing for Honeybaked.
Bode Wilde, 6-2/176 (Crusaders Elite) -- Another big-time defenseman from Honeybaked. Good frame, footwork, and passing ability. Creates offense by getting the puck to his forwards through the neutral zone with speed.
Charlie Mackie, 6-2/165 (East Coast Militia White) -- A plus skater who makes creative passes. Remains poised under hard forecheck pressure and odd-man rushes. Will be playing for the Don Mills Flyers.
Joseph Rupoli, 6-1/173 (East Coast Militia White) -- Offensive-minded defenseman is creative with the puck on his stick. Enjoys making plays off the rush, and rarely gets caught up ice. Will be playing for the Mississauga Senators.
Connor Hutchinson, *height/weight not listed (NY Rangers) -- Solid two-way defenseman is poised with the puck and joins the rush when necessary.
Trevor Spence, * height/weight not listed (Seadogs) -- Strong skater is heading to Nobles this fall. Makes great passes, but can also blow by defenders off the rush.


Top Goaltenders:

We'll take a pass. There was simply too much disparity between some teams in the round-robin phase, which was what we watched. In one of the games, a Junior Whalers Black win, the final score was 19-0. 'Nuff said.
Tues. 8/5/14

US Select 15 Rankings

USHR was at USA Hockey's Select 15 Player Development Camp July 14-20 at the Northtown Center in Amherst, NY.

First off, sorry for the delay in getting this one out. This typist needed a little summer break after three straight weeks of watching the '97s, the '98s, and finally, the '99s.

We were very impressed with the '99s. While there were fewer super high-end players than some past years, we thought the depth was excellent, as was the pace and competitiveness of the games. Each year the bottom comes up a bit and it is the rare player at these festivals nowadays who is in over his head. Trust me, this was not the case 20 years ago.

One thing that was hard to miss at this year's Select 15s was the dominance of the Shattuck-St. Mary's players. Among the 12 teams in Buffalo, we counted 15 players – 10 forwards, 4 d-men, and one goalie -- who are either currently at Shattuck or, in one case, heading there this fall. And the vast majority can be found in our rankings below. We'll go a step further and say that, with their skill, if you took all the Shattuck kids and put them on one team, they would have won every game here – handily.
Other organizations were well-represented -- the Chicago Mission had 13 kids – and the LA Junior Kings, Honeybaked, et al were heavily represented too. Outside of Minnesota high schoolers and the New England prep kids, the increasing concentration of talent on a relatively small number of youth organizations continues unabated. Not sure if this is a good thing, a bad thing, or an item of no particular consequence. Maybe USHR readers have some thoughts on the subject!

Moving more to the business at hand, the heights and weights below are official, having been taken by the USA Hockey staff on the first day of camp.

USHR All-Tournament Team:
Forward Scott Reedy (Shattuck) was our MVP of the tournament, and Grant Mismash (Shattuck), Brannon McManus (Shattuck), Ryan Sandelin (Hermantown HS), Riley Prattson (Springfield Cathedral), Charlie Dovorony (Shattuck), and Sasha Chmelevski (Belle Tire) would have followed Reedy. Michael Pastujov (Honeybaked U16) would have also been in that group if he hadn't missed most of the week's second half. Our top two D – pick 'em -- were Max Gildon (Dallas Stars) and David Farrance (Syracuse Stars). Our next pairing would have been Josh Maniscalco (Shattuck) and Matt Anderson (Holy Family). Our top two goaltenders – also a toss up -- were Cayden Primeau (Team Comcast) and Dylan St. Cyr (Honeybaked U16). And that's our Baker's Dozen All-star Team. As always, strong arguments could be -- and were -- made for a number of other players.

Below, we have ranked forwards into "A" groups and "B" groups. We have done the same for defensemen and goalies. Within each group players are alphabetically ranked. We used a hybrid system that balances potential with performance, sometimes favoring one, sometimes the other. Generally, however, we go with performance.

Bear in mind that there were generally two games going on simultaneously so some great performances – as well as some stinkers -- may have been missed. Consider it a wash.

Enjoy!
"A" Forwards (listed alphabetically):

Joseph Cassetti (#9 White) 6.00.75/170, L, San Jose Junior Sharks – Big power forward was around the puck a lot. Kept his feet moving, splitting the D and driving to the net. Very strong on his feet. Can both make a pass and finish. Scored nice top-shelf goal on Saturday. WHL: Spokane 6th round (4-2-6)

Sasha Chmelevski (#9 Black) 5.09.5/163, RC, Belle Tire Bantams – Drives hard to the net. Follows up on plays. Plus shot. Competes. US/Ukraine dual citizen. (5-4-9)

Sean Dhooghe (#15 Orange) 5.02.25/126, RC, Chicago Mission – He's small. He's fast. Creative. Explosive. Shifty. Has quick feet and quick hands. Wins draws. Pinpoint shot. Can pick corners. Defenders have to be constantly aware. (2-3-5) College: Ohio State

Charlie Dovorany (#14 Black) 5.09/156, LC, Shattuck-St. Mary's – Wisconsin native started the week strongly -- and kept getting better. He's a strong skater who plays with power and finesse. He's physical, he competes hard, he's all over rebounds, and he plays with an edge. (4-8-12)

Cooper Haar (#14 Columbia Blue) 6.02/188, L, LA Junior Kings – Great size and uses it well. Goes to net hard, and can shoot it. Needs to be more aware defensively. Drafted in 4th round of WHL bantam draft by Kelowna. Brother of '93 D Garrett Haar, formerly at Western Michigan but now playing in WHL with Portland. (5-1-6)

Logan Hutsko (#14 White) 5.06.25/135, R, Shattuck-St. Mary's – Small, clever, and showed remarkable playmaking ability. High IQ. Quick, soft hands. Always has head up and looking to make a pass. Always kept his feet moving, making him hard to contain. Drew penalties. North Caldwell, NJ native. (2-8-10)
Isaac Johnson (#18 Red) 5.10.75/159, R, Anoka Bantams – Big strong power forward was hard to knock off the puck. Good, but not great hands. He's the kind of a player who needs someone to get him the puck. Really dangerous off the rush. Snipes it. Will be at to Anoka HS this year. Will be interesting to see how he progresses as others catch up to him in size. (5-2-7)

Vanya Lodnia (#11 Gold) 5.08.5/157, R, Belle Tire – Excellent puckhandler and sniper keeps feet moving and hits hard and with a purpose. Has vision and makes plays. Scored a nice shootout goal Saturday. (4-6-10)

Drew Magyar (#15 Gold) 5.10.75/185, L, Lake Catholic HS – Solid all-around prospect. Power forward, strong on his skates. Has size and a good sense of the game. Blocked shots. Killed penalties. Figured in a SHG. Just did a lot of little things well. More than the sum of his parts. Will be playing for the Barons this season. Brother of '96 F Nick Magyar of the Kitchener Rangers. (0-6-6)

Brannon McManus (#8 Red) 5.08.5/164, R, Shattuck-St. Mary's – Strong, well-built kid. Makes plays. Passes are on the money. Consistently around the puck. Very good shot. Poised. Physical. Scored a clutch goal on Friday to bring his team back from a 5-1 deficit to tie the game at 5-5. Averaged nearly 2 ppg last season with SSM's U16 team. WHL Portland (4th) (4-6-10) College: Minnesota
Grant Mismash (#9 Purple) 5.11/170, LC, Shattuck-St. Mary's – Outstanding, and consistently so. A very complete player for his age. Has size, is a powerful skater, drove hard to the net, competed in all zones. Plays with an edge and sometimes goes over – e.g. took an unnecessary slashing penalty in the offensive zone. Excellent passes. Creative. Red Deer 5th round pick. (2-2-4)

Michael Pastujov -- Limited viewing (#11 Black) 5.11.5/193, L, Honeybaked U16 – He's fast, and he has a great shot. Extremely noticeable, but he only played a few games before getting sidelined with injury. Committed to Michigan shortly after the camp. (3-1-4 in 3 gp) College: Michigan

Austin Pratt (#14 Navy Blue) 6.01.5/223, L, Shattuck-St. Mary's – Big, powerful strong kid – man-sized already. He lacks foot speed, but he's also a 223 lb. 15-year-old so that could change. Good puck control; made some very nice passes. His presence on the ice is profound. Drafted by Red Deer in Bantam draft and head coach Brent Sutter was on hand in Buffalo to watch both Pratt and Shattuck teammate Grant Mismash, who were taken in the 4th and 5th rounds, respectively. (0-3-3)

Riley Prattson (#12 White) 5.06.25/151, R, Springfield Cathedral – Had a terrific week, leading tournament in goals with nine. Impressive in Friday's game, scoring four goals, (including three in two shifts) all on nifty passes from Logan Hutsko. Those two were quite the potent duo here. It looks from the stats line that Prattson is more a finisher that a playmaker, but that is not entirely accurate. Prattson has high hockey IQ, plays a two-way game, and is also a good playmaker, just not at Hutsko's level. Committed to Providence College after camp. (9-3-12) College: Providence

Scott Reedy (#10 Gold) 5.11.75/188, R, Shattuck-St. Mary's – Tournament's leading scorer was excellent from the get-go. Has size, speed, is strong on the puck, tough along the wall, patient, good hands, high IQ, strong laterally. Creates scoring chances by attacking seams off the wall. Made a real statement here. (6-8-14) College: Minnesota

Ryan Sandelin (#15 Black) 5.10.25/173, R, Hermantown HS – Good, honest, aware player. Good shot. Makes plays. Plays physically. Competes. Skates hard. More than the sum of his parts. Son of Minnesota-Duluth head coach Scott Sandelin. (5-6-11)

Graham Slaggert (#15 Grey) 5.10/179, LC, Chicago Mission – Didn't jump out at us initially, but the more we watched the more we noticed, shift after shift. His head is always up – he's a smart player with myriad – and often subtle -- skills. Can't remember him losing a single draw while we were watching. Quick hands, smooth skater. Son of Notre Dame associate head coach Andy Slaggert. (2-2-4)

Baron Thompson (#12 Orange) 6.03/210, R, Omaha U16 AAA – Huge! Heavy shot. Outmuscled smaller defenders. Just plowed through them. But how will he be when those defenders are big enough to physically challenge him? It's a legit question, but we can tell you that he walked right around 6'2" Max Gildon for one of his goals. And he competes. Lived up to his first name. A 3rd round pick of Victoria in spring WHL bantam draft. (4-1-5)
Tyce Thompson (#11 Forest Green) 5.05.75/121, RC, NY Junior Islanders – Quick, aware centerman has good hands and a nice shot, won draws with regularity, played hard and with intensity. An excellent playmaker, he is the son of Brent Thompson (Bridgeport AHL head coach) and the younger brother of NTDP forward Tage Thompson. The latter had a massive growth spurt at this age, so there's a good chance Tyce will as well. Excellent student. Will be skating for the Wolfpack U16 this season. (1-3-4)


"B" Forwards (listed alphabetically):

Steven Agriogianis (#8 White) 5.06.5/148, R, Delbarton – Finds open ice, finds the open man – an excellent playmaker who is a consistent threat with the puck on his stick. (3-4-7)

Andrew Andary (#15 Kelly Green) 5.07.5/162, L, Oakland Junior Grizzlies – Skates well, and makes plays. Scored a nice goal skating it out of the corner in one game. (2-4-6)

Evan Barratt (#10 Red) 5.10.5/170, L, Team Comcast '99 – Not flashy, but very well-rounded. Reads situations well. Competes in dirty areas. Physical. Controls the puck well. Looks to make plays first. Can shoot it – scored nice top-shelf breakaway goal Saturday after Gold team turned it over in center ice. Was very close to being an "A" player here. (3-3-6)

Logan Cockerill (#14 Grey) 5.07.75/142, L, Oakland Jr. Grizzlies – Fast and shifty. Nice hands, makes plays, and can finish. Dangerous offensively. (1-3-4)

Ben Copeland (#17 Forest Green) 5.08.5/144, R, Edina Bantams – Showed real speed off the wing, quick hands and release, and good vision. Consistently noticeable. Will be at Edina HS this year. (3-1-4)

Cole Coskey (#16 Purple) 5.11.25/176, RW, Chicago Mission – Good hands, and can snipe it. Good anticipation. Has size and gets feisty. (1-4-5)

Julian Detmer (#16 Navy Blue) 5.10/152, RC, Shattuck-St. Mary's – Strong-skating power forward type backchecks hard. Consistently dangerous with puck on his stick. Had a hat trick on Friday. Came close to being on our "A" list but was a little inconsistent. (4-0-4)
Christopher Garbe (#9 Columbia Blue) 5.07.75/154, L, PAL Jr. Islanders – Smart player with subtle skills. Good straight line speed. Grew on us as week went along. Scored a nice 3-on-5 SHG. Will be with Long Island Gulls this season. (2-3-5)

Trevor Gilliland (#9 Kelly Green) 5.09/157, R, Pittsburgh Penguins Elite – Didn't really knock our socks off, but when the puck found the back of the net, as often as not he had a hand in it. (3-4-7)

Tyler Gratton (#12 Forest Green) 5.10.5/156, L, Philadelphia Junior Flyers -- Good skater, physical. Racked up 15 penalty minutes here. Will be playing for Wilkes-Barre/Scranton Junior Knights this season. (2-1-3)

Cole Guttman (#11 Columbia Blue) 5.06.5/141, R, LA Junior Kings – Good skater with hands and the creativity to go with it. A distributor. Looks to be a natural center. WHL Portland 8th. (2-5-7)

Cameron Hausinger (#11 Kelly Green) 5.08.75/176, RC, LA Junior Kings – Started slow, but caught fire late in the week. Notched a hat trick on Saturday. From Anchorage, Alaska. Saskatoon WHL rights 7th. (6-1-7)

Mark Kastelic (#8 Purple) 6.00.5/172, RC, Phoenix Jr. Coyotes Bantams – Power forward has size, strength, and plays with a mean streak. Highest-drafted US kid in this past spring's WHL Bantam draft, going in the second round to the Calgary Hitmen. And that's where he'll be playing when ready. Son of 6'3" former NHL forward Ed Kastelic. (1-2-3)

Christian LeSueur (#17 Royal) 5.08/150, R, Brunswick School – Good speed. Around puck a lot. Consistently noticeable even though he was stuck on a weak offensive team. Nice shot on goal Saturday – low and hard. (2-2-4)

Kyle MacLean (#11 Purple) 5.08/136, LC, Carolina Junior Hurricanes – Tenacious sparkplug player with a good hockey IQ generates offense. Both assists came off nice plays. Scored winning goal in SO over Team Orange on Sunday. Son of former NHLer John MacLean, a first rounder back in 1983. (2-2-4)

Joshua Norris (#16 White) 5.10.5/162, LC, Oakland Jr. Grizzlies – Got better as week went along. Son of former Michigan State forward Dwayne Norris. (2-4-6)

Ryan Poehling (#17 Kelly Green) 5.11.75/174, LC, Lakeville North HS – Good-sized centerman showed good speed. When he has the opportunity he can finish – scored nice breakaway goal Saturday. (3-0-3)

Cade Robinson (#11 Royal) 5.09.5/156, R, Belle Tire AAA – Late birthdate is smooth. Has high offensive IQ. Good stick, good skater, and has a nice release to his shot. Stats are deceiving as his team had a difficult time scoring. To Victory Honda U16 this season. (1-0-1) DOB: 10/22/99

Hayden Rowan (#14 Red) 5.07.5/167, L, Belle Tire – Good skater. Stays with play. Nice quick release. Provided consistent offense. Got annihilated on a hit from #12 Kelly, but got back up quickly (and angrily). Will be with Honeybaked U16 this season. (5-3-8)

Joshua Sanchez (#16 Columbia Blue) 5.05.5/147, R, St. Lawrence Thunder – Excellent skater who is dangerous down low. Deked goaltender for a nice tally on Friday. Plays hard every shift, and buzzes around the puck. From Potsdam, NY. Uncertain how high his ceiling is, but he made a strong impression here. (2-5-7)

Jordan Seyfert (#8 Orange) 5.05.5/142, R, Phila Junior Flyers – Small and crafty, with a quick stick and quick feet. Worked hard every shift. Very good on the PP. Pennsylvania native will be playing with the Connecticut Wolfpack full season U16 team. (0-4-4)

Brady Tkachuk (#10 Purple) 5.09.5/146, L, St. Louis Junior Blues Bantams – Really good all-around player. Has good straight line speed and tends to look for breakaways. Does a lot of little subtle things well. May not have had any assists but can make plays -- nice puck touches, short passes. Character player. Son of former BU/Olympic/NHL forward Keith Tkachuk. Was close to being an "A" player here; we think he probably will be at this time next year. (3-0-3) DOB: 9/16/99

Sammy Walker (#18 Grey) 5.05.5/113, RC, Edina Bantams – Clever, but very small – just 113 lbs. When he gets a little bigger, he could be a real force. Put up 120 pts. last season with Edina Bantams, which also featured Ben Copeland. Medicine Hat (WHL) drafted him in the 7th round. (2-4-6)

Robert Welsher (#17 Orange) 5.06.5/163, L, Oakland Jr. Grizzlies – Nice hands. Competes hard. Good awareness and creativity. Shifty. Will be moving to Belle Tire this season. (1-2-3)

Kyler Yeo (#16 Kelly Green) 6.00.5/168, R, Hill-Murray HS – Big, strong, solid centerman. WHL rights belong to Kamloops. Son of Minnesota Wild head coach Mike Yeo. (2-1-3)



"A" Defensemen (listed alphabetically):


Matt Anderson (#6 Black) 5.09.75/171, L, Holy Family Catholic HS – Defensive d-man has size, smarts, physicality, and steadiness. Made good hard tape-to-tape passes. Not spectacular, but consistently good every day. WHL: Everett 10th round (1-0-1) College: Minnesota-Duluth

David Farrance (#2 White) 5.09.75/184, L, Syracuse Stars – Terrific talent. Game is predicated on his high-end skating ability – he can simply take off and leave everyone flat-footed. High-end shot. Excellent stick-handling ability. At times toyed with opposing defenders, drawing them in before dishing off a hard pass or stepping around them into open ice. BU has been watching him a lot -- and for quite a while. He's in the OHL's back yard and will get a ton of attention from there as well. (1-4-5)
Max Gildon (#5 Forest Green) 6.02/174, L, Dallas Stars Elite – Extremely good skater for his size and age. It all starts with that. It's very easy to look at him and imagine what he could be a few years down the line. Does tend to get all boogered up when the puck is too close to his feet – nothing unusual there. Has a bit of a mean streak. Vancover has his WHL rights, picking him in 3rd round this spring. (0-3-3)

Nicholas Hale (#4 Purple) 5.07/142, L, Carolina Junior Hurricanes – Highly mobile puck-moving defender who made the transition from forward to defense only a year ago has sneaky speed and knows when to join the rush. Quick feet and stick. Very aware. Uses his head. Showed good anticipation defensively – e.g. blocking passes. (0-1-1)

Sean Keohan (#3 Gold) 5.09.25/157, R, Dexter School – Strong skater, with quick feet and a lot of poise. Effective along wall and in corners. Makes great passes, and skates it out of zone well. Picks his spots to jump up into rush. Good stick but sometimes holds on to the puck a bit too long. Milton, Mass. native (0-0-0)

Carson Kosobud (#6 Gold) 5.09.25/173, L, Moorhead Bantams – Good skater, good size, and physical. On Friday, he stood up a fast-moving opposing forward on the defensive blue line and leveled him, knocking his helmet off. Kosobud stayed on his feet. Didn't dress the next day, however he came back on Sunday and notched a goal. Will be with Moorhead HS Spuds this year. (1-2-3)

Graham Lillibridge (#2 Red) 5.06.5/128, L, Chicago Mission – Small D has unparalleled confidence with the puck. Quick stick, quick feet, moves puck quickly and accurately. Quick twitch personified. (2-5-7)

Josh Maniscalco (#3 Grey) 6.00/185, R, Shattuck-St. Mary's – Has size, skating ability, and strength. Strong defensively and showed offensive skill, making passes, jumping up into play. Pennsylvania native was consistently involved all week. (0-3-3)

Connor Mayer (#7 Orange) 5.08.75/157, L, Benilde-St. Margaret's – Smooth on this skates and with the puck. Reads the play well – excellent anticipation. Hard, accurate shot. Plays with an edge -- can get nasty. (2-2-4)

Ben Mirageas (#4 Orange) 5.10.5/155, L, Valley Jr. Warriors '99 Elite – Excellent skater showed poise and confidence with puck on his stick. Smart player. Good size. Very quick off the mark. A lot of speed. Newburyport, Mass. native heading to Avon Old Farms. (0-1-1)

Reilly Walsh (#7 Navy Blue) 5.08.5/152, R, Proctor Academy – Strong skater who plays with a high level of poise. Good hard shot. Good stick – jumped up and was the middle guy on a nice tic-tac-toe play. Strong in all areas of the game, and keeps getting better. Already has a year of prep experience under his belt. (0-2-2)


"B" Defensemen (listed alphabetically):

Colby Bukes (#3 Navy Blue) 5.09/169, R, Colorado Thunderbirds – Strong, well put together. Solid defensive defenseman with a little bit of an offensive touch. WHL: Kelowna 6th round. (0-1-1)

Anthony DeMeo (#5 Purple) 5.10.75/181, L, NY Junior Islanders – Good size, and a bull in all three zones. Was very involved, and consistently active. Nothing quiet about his game. Offers a little bit of everything. Will be playing for the NJ Rockets U19s (1-2-3)

Jason Dobay (#6 White) 5.09/153, L, South Shore Kings U14 – Good skater, smooth puckhandler, sees the ice well. Will be a freshman at BC High. (1-5-6)

Devon Fields (#4 Red) 5.10.75/194, R, Little Caesar's U14 – Excellent size and he can skate. Quite young and has a way to go, but there is a good foundation to build on. Will be with Little Caesar's U16 this season. (0-1-1) DOB: 10/25/99

Jeremy Gabriele (#2 Black) 5.07.75/155, R, Phoenix Junior Coyotes – Small, clever – and young defenseman who makes plays. (1-6-7) DOB: 10/12/99

Jack Harris (#6 Red) 6.01.75/162, L, Prior Lake Bantam AA – Big, solid, strong defensive defenseman. Going to Prior Lake HS. WHL: Medicine Hat. (0-4-4)

Drew Hunter (#2 Columbia Blue) 6.01.5/159, L, Livonia Stevenson HS Varsity – Big lanky defenseman – good skater for his size. Has poise with puck on his stick -- gets good looks. Will be with Oakland Jr. Grizzlies this season. (0-5-5)

Nate Knoepke (#7 White) 6.01.5/184, L, Lakeville South HS – Big, strong-skating solidly-built defensive d-man. Everett (WHL) 9th round pick. (0-1-1)

Ben Pirko (#3 Red) 5.11.25/138, L, Washington Little Capitals – Good frame that is very far from being filled out. Good all-around defenseman. (0-2-2)

Bobby Trivigno (#5 Grey) 5.07/127, L, NY Junior Islanders – Excellent skating defenseman with a good stick and legitimate offensive skills. Makes plays. Going to Shattuck-St. Mary's this fall. (1-1-2)

Chris Trouba (#6 Forest Green) 6.01.75/196, R, Compuware – Lacks the smoothness his brother, Jacob (Winnipeg-NHL) had at same age. A little gawky – all arms and legs. Likes the physical game. Sometimes took himself out of the play in order to make a big hit. (0-1-1)


"A " Goaltenders (listed alphabetically):

Cayden Primeau (#1 Red) 6.01/180, Team Comcast – Stays square to shooter. Moves well laterally. No wasted movement. Will be playing for the Philadelphia Revolution this season. (.932 Played a lot of minutes as other goalie got hurt) College: Northeastern

Dylan St. Cyr (#30 Purple) 5.06.75/155, Honeybaked U16 – St. Cyr was excellent. Has a great glove hand, and gave up virtually nothing in the way of rebounds. Didn't fade as week went along. If anything, he got better, with a 15-save shutout Friday, a 14-save shutout Sunday, and a 16-save shutout on the camp's final day. Son of Manon Rhéaume, legendary Canadian Women's Olympic goaltender so his bloodlines are as good as can be. (.963)


"B" Goaltenders (listed alphabetically):

Jake Begley (#30 Grey) 5.09.75/141, Hill-Murray High School – Not spectacular but very efficient. Consistently excellent all week. Wasn't too far behind St. Cyr and Primeau. (.955)

Ryan Bischel (#1 Forest Green) 5.09.5/153, Benilde-St. Margaret's – Bischel and his fellow Forest Green team goaltender, Joe Dragonjac, were both terrific, keeping a team that had a hard time scoring in the game. (.949)

Nikolas Donofrio (#1 White) 6.01/175, Compuware – Very young, very big – and a ton of promise. (.899) DOB: 11/19/99

Joe Dragonjac (#30 Forest Green) 5.11/147, Pittsburgh Penguins Elite – Got run over by Mark Kastelic and had to be pulled. Wasn't quite as sharp the next day, allowing one bunny but this kid was very good all week. 4.0 student (.911) DOB:10/5/99

Tyler Haywood (#1 Purple) 5.08/174, Mid-Fairfield – Came up with a great clutch buzzer save in Friday's game. Faded a bit in his final game, but had a great week here. Will be going to Selects Academy (.923)


Honorable Mention Goaltenders (listed alphabetically):

William Girard IV (#30 Navy Blue) 5.09.5/149, FJP Bantam AA/FL Alliance – Faced an absolute onslaught in Friday's game and stopped every shot, some were second chances due to rebounds, but he was quick recovering and scrambled madly. To Florida Alliance U16AAA. Boca Raton native. (.875)

Kyle Keyser (#30 White) 6.00/168, Belle Tire AAA – Big goalie got better as week went along. Will be playing for Victory Honda U16 AAA (.909)

Ryan McInchak (#30 Gold) 5.10.5/150, Oakland Jr. Grizzlies – Very quick and athletic. Came up with the highlight reel save of the tournament. Tracks puck very well. Will be playing for Belle Tire U16 (.894)

Ethan Middendorf (#1 Orange) 6.03.75/162, Arizona Bobcats – Had a rather tough time but is still intriguing. Fills up a lot of net. Was the 6th round pick of Portland in WHL Bantam Draft. Readers over 40 may recall his dad, 6'4" forward Max Middendorf, who lit it up for the NJ Rockets in the early 1980s, played on the US National Junior Team in 1986, and went on to play 13 NHL – and a lot of minor league -- games. (.840)

Adam Scheel (#30 Orange) 6.01.5/176, Cleveland Barons – Got better as week went along, finishing with two straight shutouts. Came up with a memorable toe save on Grant Mismash in a shootout. Had some excellent moments but was a little inconsistent. (.871)
David Tomeo (#30 Black) 5.10.5/166, Shattuck-St. Mary's – Rebound control was excellent. Played a lot of minutes as his team's other goalie got hurt which probably had a lot to due with his fading at the end of the week, with one drastic 8 goals against performance. So his stats took a hit – but with that one exception he was very good. (.869)
Around the Rinks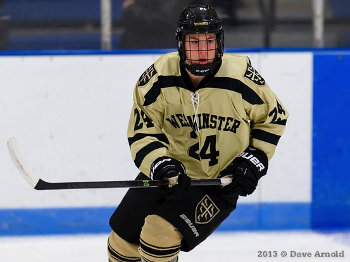 Westminster sophomore F Taggart Corriveau is opening eyes in the early going
(Photo: Dave Arnold Photography)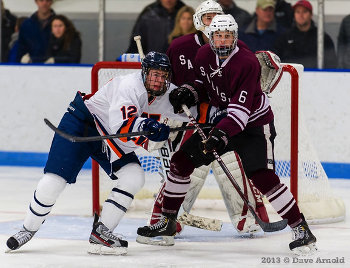 6'3" sophomore D Griffin Luce, a Michigan recruit, making life difficult for Milton's Clay Berger
(Photo: Dave Arnold Photography)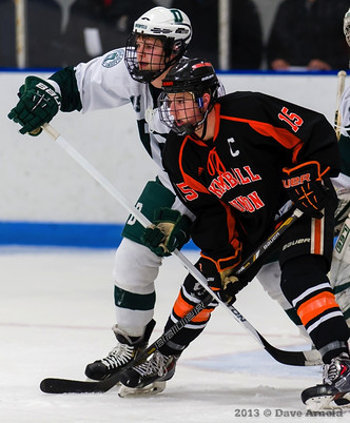 KUA's Joey Dudek battles Deerfield's Trevor Yates in front
(Photo: Dave Arnold Photography)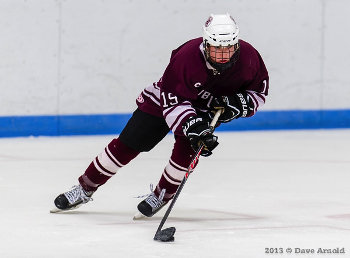 Salisbury senior F Derek Barach was named MVP of the Flood-Marr Tournament
(Photo: Dave Arnold Photography)