Established 1996 -- Celebrating Our 25th Year

Tues. 2/19/13

Running for a Cause
Josh Ciocco, former UNH captain and current Milton Academy assistant coach and valued USHR staffer, will be running the Boston Marathon on April 15th in support of the Joe Andruzzi Foundation.

Ciocco, 29, is entering the Marathon through its charity fundraising arm.

"There are a select number of spots that go to charities," Ciocco says, " and I was fortunate to get a number. It's really the first time I've been put in a situation where I have had to raise a significant amount of money on my own and it's also the first time I've ever run a marathon! The farthest I've ever run is a 10K race at Milton last year."

"It's a huge challenge. My body is built for short spurts -- you know, typical hockey player. When I arrived at UNH I was not a good runner at all, but during my time there I worked my way into running shape. And since my playing career ended, running has given me the kind of workout I've needed."

We're betting that Ciocco, who is currently following a marathon training program and raising the intensity level as April gets closer, does just fine. And we want to see him reach his goal of raising $5,000 – and then some -- mainly because it helps people who are in a tough spot, not just fighting the emotional toll of cancer, but the financial burden as well.

Ciocco chose the Joe Andruzzi Foundation, founded by the former New England Patriots offensive lineman to provide financial assistance for patients and their families as well as funding pediatric brain cancer research, because cancer is a cause he relates to. When he was younger, two of his favorite aunts died of cancer. For the last two years, he has tried to get a number to run in Boston, and this year was able to get one.

For USHR, Ciocco, in his second year, has traveled extensively and written up hundreds of players he has seen promising things from. In addition to working with players at Milton, Ciocco has found players in his travels that have been excellent fits at other top prep programs. Now, if you're the mother or father of one of those players -- and a good opportunity has sprung from his positive words -- we encourage you to 'pay it forward' by contributing what you can afford.

We are hoping that former players, prep fans, USHR fans, and fans of the UNH Wildcats all chip in and join with team Ciocco and the Andruzzi Foundation. In addition to everything else, it's fully tax-deductible.

And yes, you should expect Ciocco to match up with Kenya's Robert Kiproni Cherviyot – at least for the first hundred yards or so.

Here is the link to Ciocco's page:
http://www.crowdrise.com/joshciocco.
Just copy the link into your tool bar, click the donate button, enter your information, and you are finished. It will take all of two minutes.

"To those of you who donate," Ciocco says. "I cannot thank you enough."

Wed. 2/27/13

2013 Elite 8 Preview
The NEPSIHA quarterfinals get underway this afternoon with, in the Stuart/Corkery Tournament, #8 Gunnery facing #1 KUA (@ Deerfield, 3:30 pm); #7 Westminster @ #2 Belmont Hill, 3:30 pm; #6 Salisbury @ #3 Berkshire, 3:00 pm; and #5 Dexter facing #4 Kent (@ Loomis, 3:30 pm).

Here's a capsule look at each team.

1. Kimball Union
NEPSIHA Record: 23-2-0
Leading Scorer: Niko Rufo (29 GP 17-34-51)
DI Committed Players: Niko Rufo (Providence), Nick Roberto (Maine), JD Dudek (Boston College), Jonathan Charbonneau (Mercyhurst), Casey Miller (UMass-Amherst), AJ Greer (Penn State), Gregg Burmaster (St. Lawrence), Doyle Somerby (Boston University), Brendan White (Bentley), Alex Carle (Merrimack).
Who's Hot: The Wildcats' top forwards are firing on all cylinders. Over the last five games Nick Roberto (4g,4a), Niko Rufo (2g,7a), JD Dudek (1g,7a), Jonathan Charbonneau (5g,2a), and Casey Miller (2g,5a) have been consistent scoring threats.
Scouting Report: Entering the season Mike Levine's squad was ranked #1 in prep hockey and they have not disappointed. With 10 players committed to DI schools and a slew of top DIII recruits the Wildcats come at you with wave after wave of attack. There is no chink in their armor as three lines are capable of scoring, their top four defenders are among the best in prep hockey, and they have two senior netminders who boast a .943 and a .944 save percentage respectively. The Elite- 8 tournament is their's to lose.
2. Belmont Hill
NEPSIHA Record: 23-3-1
Leading Scorer: Mike Najjar (26 GP 19-25-44)
DI Committed Player(s): Carl Hesler (Dartmouth)
Who's Hot: The Hillies enter the tournament riding a four-game unbeaten streak. During that span the top line of Carl Hesler (1g,8a), Will Golonka (6g,2a), and Mike Najjar (4g,2a) have been red hot, accounting for 79% of the team's goals.
Scouting Report: Jeremiah McCarthy has done a fantastic job of having his group buy into the team concept. There are no individuals that NHL scouts are flocking to see, rather there is one team that plays a sound system and has exhibits a persistent work ethic. The big question entering the season was whether or not senior goaltender Ryan McConnell could replace ISL MVP David Cunningham — and he has come through admirably, logging 1326 minutes of ice time and posting a .921 save percentage. As always, Belmont Hill's Olympic sheet will play to the home team's favor.
3. Berkshire
NEPSIHA Record: 22-3-3
Leading Scorer: Charlie Corcoran (28 GP, 16-31-47)
DI Committed Players: Charlie Corcoran (Brown), Quin Pompi (Princeton)
Who's Hot: Charlie Corcoran (47 points) and Craig Puffer (46 points) have been consistent scoring threats all season long and make for arguably the best one-two punch in prep hockey. That said, the emergence of secondary scorers Tipper Higgins, Nick O'Connor, and Adam Tracey has been huge, accounting for half of the teams 16 goals in the last five games.
Scouting Report: The top story line entering Wednesday's home tilt vs. Salisbury is that of senior goaltender Tim Ernst. The Berkshire MVP spent the last two seasons just a few miles away as the backup goaltender at Salisbury and will be playing with something to prove. Ernst has been the key to the Bears' success this season, playing in 80% of the games and posting a .931 save percentage. The defense is led by junior Brian Gerstenfeld and senior Quin Pompi. Up front, head coach Dan Driscoll has a balanced attack with five forwards in double-digit goals.
4. Kent
NEPSIHA Record: 16-6-3
Leading Scorer: Brendan Soucie (24 GP, 15-13-28)
DI Committed Players: Mike Graham (St. Lawrence)
Who's Hot: At the start of the year we had praise for Montreal native Lewis Zerter-Gossage, ranking him #4 on our list of top juniors. After posting just 10 points in his first 22 games played we begin to question whether we gave him too lofty a ranking. Regardless, the junior forward has caught fire at the right time, posting six points (1g,5a) in Kent's last three games --- all Founders' League wins.
Scouting Report: Head coach Matt Herr has built a team with little starpower up front, but they do have nine forwards with between 16 and 28 points. The Lions have three lines that are capable of scoring and, with size up front and back on the blueline, often wear down smaller opponents by the time the third period rolls around. The defense is a veteran group led by seniors TJ Roche, Mike Graham, and Chris Capizzanno. In goal, senior Charlie Fennell has won the starting job, having posted a .918 save percentage this season.
5. Dexter
NEPSIHA Record: 21-1-5
Leading Scorer: Ryan Donato (27 GP, 29-31-60)
DI Committed Players: Trevor Fidler (Harvard), Tim Harrison (Colgate)
Who's Hot: Dexter enters the tournament riding a 17-game unbeaten streak and has not lost a game since December 19th when they were defeated by Exeter. Top scorer Ryan Donato enters the playoffs on a nine-game scoring streak, having produced 19 points during that span. Junior goaltender Pat Fraser has also been scorching hot, having let in just two goals over his last four games played.
Scouting Report: Dan Donato's squad will only go as far as their stars will carry them – and the trio of sophomore Ryan Donato and seniors Trevor Fidler and Tim Harrison, who were playing as a line most of the season but have been spread out over the top two lines recently, are excellent, accounting for 68 goals this season (2.5 goals a game). The defense is led by top uncommitted senior Charlie Donners who is producing over a point a game. Seniors Mitch Barrington, Andrew Neary, and junior Liam Feeney round out the top four. In goal, junior Pat Fraser has gotten the job done, posting a .905 save percentage while playing in all but 122 minutes this season.

6. Salisbury
NEPSIHA Record: 18-5-3
Leading Scorer: defenseman Will Toffey (26 GP, 5-27-32)
DI Committed Player(s): Jason Kalinowski (UNH), Ryan Segalla (UConn), Aaron Titcomb (Merrimack), Mark Hamilton (UMass-Amherst)
Who's Hot: Sophomore sensation Callum Booth has not let in more than two goals in any of his last six starts. During those six games the Montreal native has let in only six goals on 153 shots faced, for a .961 save percentage. The team in front of him helps as well, showing a defensive commitment in all three zones.
Scouting Report: Only one forward on the Crimson Knights has more than 30 points, but it is not because of lack of talent, rather too much talent. Seniors Jason Kalinowski is a UNH recruit, but Matt Pugh, Liam McDermott, and Jacob Hand could also all end up being DI players at the end of the day. Factor in a strong junior class that includes Evan and Mitchell Smith, Derek Barach, and Neil Robinson and you see real depth. Their third and fourth lines are very good, and gives them the deepest group of forwards in prep hockey -- and that includes KUA. The defense is led by the team's leading scorer, junior Will Toffey. Rounding out the top four are future Hockey East defenders Ryan Segalla, Mark Hamilton, and Aaron Titcomb. '97 born netminder Callum Booth might be the youngest starting goalie in the Elite 8 tournament, but he is also the most talented.
7. Westminster
NEPSIHA Record: 17-6-2
Leading Scorer: David Hallisey (25 GP, 15-20-35)
DI Committed Player(s): David Hallisey (Princeton)
Who's Hot: Not only is Trinity recruit Ethan Holdaway the hottest player on Westminster, but for our money he's been the top player in prep hockey over the last couple of weeks. At the end of January the Martlets were 10-6-2 and certainly on the outside of the Elite 8 tournament looking in. Suddenly, Westy got hot – and hasn't let up. They enter the quarterfinals on an impressive seven-game winning streak and Holdaway is a big reason why. Against Loomis the PG forward scored the game-winning goal in OT, against Berkshire he scored a third period game-winner, against Gunnery he posted 4g, 1a in a 7-4 win, and in the season finale he potted another 1g, 1a in a 5-2 win over Deerfield.
Scouting Report: With the exception of Kimball Union, we think Tim Joncas has the best group of senior forwards in David Hallisey, Ryan Mowery, Vincent Gisonti, Sean Orlando, and the aforementioned Ethan Holdaway. The backend is anchored by talented sophomores Frankie Sullivan and Will Brophy, with seniors Danny Snyder and Xavier Morin providing depth. After waiting patiently behind Yale recruit Pat Spano, junior Zac Hamilton has seized the opportunity and more than proven that he has what it takes to be a #1 starter, posting a .916 save percentage while playing in all but two games this season.

8. Gunnery
NEPSIHA Record: 20-4-4
Leading Scorer: Marc Cibelli (29 GP, 15-28-43)
DI Committed Player(s): Brendan Shane (UConn)
Who's Hot: The team isn't, entering the quarterfinals having lost their last two games (4-1 to Westminster, 7-4 to Berkshire). As for individual players, junior forward Joey Fallon has produced a 2-5-7 scoring line over his last four games. The former Long Island Royal is well-suited for playoff hockey and Chris Baudo will look for him to be a primary scoring threat.

Scouting Report: The all-senior line of Marc Cibelli (43 points), Robert Darrar (35 points), and Anthony Bird (33 points) has paced Gunnery all season long. With UConn recruit Brendan Shane out with a concussion, more will be expected from Fallon, top scoring sophomore Ryan Dmowski (18 goals) and junior power forward Chris Cobham. Senior defensive stalwarts Kai Frankville, Matt Williams, Max Freeman, and Marty Rubin are looking for a title before graduation. In net, Wesleyan recruit Dawson Sprigings has been the man all season long, posting a .915 save percentage.

Tues. 2/26/13- updated Thurs. 2/28.
MIAA Playoff Schedule
In last night's play-in games at the Stoneham Arena, #8 Central Catholic, down 3-0 late in the second period, fought back from a 3-0 deficit and beat #9 Hingham HS, 4-3 on a Corey Webber OT goal. In the nightcap, #10 Malden Catholic scored five times in the first period en route to a 9-1 romp over #7 Archbishop Williams, 9-1.

The field, with Malden Catholic now seeded #7 and Central Catholic #8, is now down to eight. The format has changed this year, with the quarterfinals now a best-of-three format. Here's the remaining schedule. We will update with game times and locations as we get them.


Quarterfinals: First Round – Sun. March 3 @ Tsongas Arena
#1 St. John's Prep vs. #8 Central Catholic, 12:00 pm
#3 BC High vs. #6 Catholic Memorial, 2:15 pm
#2 Springfield Cathedral vs. #7 Malden Catholic, 4:30 pm
#4 Austin Prep vs. #5 Reading, 6:45 pm

Quarterfinals: Second Round –
Wed. March 6 @ Stoneham Arena
#3 BC High vs. #6 Catholic Memorial, 5:30 pm
#4 Austin Prep vs. #5 Reading, 7:45 pm
Thurs. March 7 @ Stoneham Arena
#2 Springfield Cathedral vs. #7 Malden Catholic, 5:30 pm
#1 St. John's Prep vs. #8 Central Catholic, 7:45 pm

Quarterfinals: Third Round – Sat. March 9 or Sun. March 10 @ TBD
#1 St. John's Prep vs. #8 Central Catholic
#2 Springfield Cathedral vs. #7 Malden Catholic
#3 BC High vs. #6 Catholic Memorial
#4 Austin Prep vs. #5 Reading

Semifinals – Wed. March 13 @ Tsongas Arena
Four first round winners. Single elimination.
State Championship – Sun. March 17 @ TD Garden
Semifinal Winners. Single elimination.




Sun. 2/24/13-- Update: For quarterfinal schedule please go to USHR Prep Pages.

Prep Tournament Seedings
Here the seedings for the New England Prep Tournament. These are now official.

Quarterfinals are on Wednesday.

Elite 8:
1. KUA
2. Belmont Hill
3. Berkshire
4. Kent
5. Dexter
6. Salisbury
7 Westminster
8. Gunnery
Large School Tournament:
1. Cushing
2. Thayer
3. Avon
4. Milton
5. Exeter
6. Choate
7. St. Sebastian's
8. Governor's

Small School Tournament:
1. Kents Hill
2. Rivers
3. Brooks
4. Winchendon
5. Tilton
6. Middlesex
7. Holderness
8. Millbrook




Wed. 2/20/13-- Errata: We listed two of the players below -- Liam Murphy and Eric Esposito -- as going to specific prep schools for next year. They may be planning to go to those schools, but they have to get accepted first. Admission letters do not go out until March 10.

Some '98s to Watch
Over Presidents' Day weekend some of the top '98 teams on the east coast (Team Comcast, Connecticut Wolf Pack, Little Flyers, Westchester Express, New Jersey Devils, and the Hamburg Hawks) descended on the Berkshire School to take part in a six-team showcase. Team Comcast (#3 in the country) was certainly the cream of the crop, but the NJ Devils (#10) and the Connecticut Wolf Pack (#13) were not far behind. We saw a number of players who have Div. I and NTDP potential and even more with the potential to be valued prep school players.
Here, then, are players who caught our eyes.
Cameron Dineen, D, '98 (Team Comcast) 5-6/125 — Has grown past his listed height and is likely hovering around 5'9" at this point. The Kennett Square, PA native is an intelligent puck mover with a top-notch skill set. Is confident with the puck and really shines on the PP. His game will translate well to higher levels and though we have not seen all of the U.S.-born '98s, our guess is that Dineen is among the top defenders in his age group.
Nick Sorgio, G, '98 (Connecticut Wolf Pack) 6-0/160 — Sorgio first caught our eye last year at the Yankee Festival camp, and since then he has improved a great deal – and grown. Has great net presence and, when you watch him move, you see a big-time prospect. Thus far, Sorgio is the top '98 goalie we have seen. Would challenge for playing time at most prep schools next season and will be watched closely by the NTDP over the next 12 months.
AJ Drobot, F, '98 (Team Comcast) 5-7/135 — Does not scream 'pro' when you look at him, but we can confidently predict that the Churchville, PA native will score a lot of goals at the D-I level. The skilled forward has a quick stick and is a threat to score every time he touches the puck below the tops of the circles. Will find a way to score goals as he progresses up through the ranks.
Kyle Weller, F, '98 (Team Comcast) 5-11/150 — Tall, lanky, center with soft hands and a good command of the middle of the ice. With the style of game he plays the Langhorne, PA native could not be playing for a better coach as former NHL power forward Keith Primeau is at the helm of the Comcast U14 squad. Projects as a top player in the '98 group.
Liam Murphy, F, '98 (Connecticut Wolf Pack) 6-0/190 — Big, strong, power forward who plays the game hard. Thrives in the tough ice. Is physically mature for his age, but at the same time is not someone who has hit his full potential. Will be playing for Salisbury next season. Could be an immediate contributor.
Billy Overby, D, '98 (Connecticut Wolf Pack) 5-7/135 — Smart, heady defender with excellent poise. Is not very big, but thinks the game at a high level and is effective on the PP. As he matures we think he will develop into a top defenseman.
David Melaragni, D, '98 (Team Comcast) 6-0/175 — Right now he could be Comcast's most effective player. Is much stronger than his peers and has good offensive instincts. That said, he may have peaked physically, so it's difficult to predict how much upside he has.
Brendan Less, D, '98 (NJ Devils) 5-7/130 — Plays for Delbarton. We recently ranked the Kinnelon, NJ native among our top freshmen defensemen. Less is an effortless skater who has the ability to take the puck end-to-end with ease. Will need to get stronger and develop a harder shot in order to project as a PP defender at higher levels.
Sam Field, F, '98 (NJ Devils) 6-0/155 — Has a lot of tools. The lanky forward has a quick shot release, protects the puck well, and has a good sense of the game. If he can improve his first step he will be a highly sought-after forward.
Andrew Petrillo, D, '98 (NJ Devils) 5-9/150 — Is not very big nor a great skater, but the Delbarton freshman has excellent puck skills. Plays with Less on the PP and the two are very good together.
Augie Burkhardt, F, '98 (NJ Devils) 5-10/150 — Gritty forward works his tail off and is always around the puck. Wills offense. Makes an impact almost every shift.
Eric Esposito, F, '98 (Connecticut Wolf Pack) 5-9/148 — Skilled forward will join his older brother at Loomis next season. The West Haven, Conn. native is very good with the puck on his stick; makes a lot of plays. Certainly has to get bigger, stronger, and faster in order to make an impact next season, but the skill level is certainly there.
Justin Grillo, F, '98 (Westchester Express) 5-5/120 — Intelligent center; makes plays. That said, he does not play for a strong team so oftentimes he moves the puck and does not get it back. When he gets bigger and stronger he will attract the interest of NCAA coaches.
Erik Lauk, F, '98 (Little Flyers) — Lanky forward who can both distribute the puck and score goals. Will be more of a force when he fills out.
Zachary Berzolla, D, '98 (NJ Devils) 6-0/170 — Big, strong, and solid defensively. Has a good stride, but his first step needs to improve. Makes a good first pass.
Alex Peterson, F, '98 (Little Flyers) — Crafty and quick. Plays with a lot of energy and can make plays in tight spaces.
Jack Hoey, F, '98 (Connecticut Wolf Pack) 5-8/150 — Heart-and-soul type of player. Plays with a lot of grit and is excellent on the PK. Someone you want on the ice in the last minute of a game while defending a one-goal lead.
Lucas Niezelski, D, '98 (Connecticut Wolf Pack) 5-11/160 — Good-sized kid with a smooth set of hands. Good on the PP. Needs to add a step to his skating.
Greg Hendrickson, F, '98 (Team Comcast) 5-9/162 — Is not the prettiest player to watch, but is always around the puck and knows how to finish. Has good hockey sense and is a 'right place, right time' kind of guy.
John Wojciechowski, F, '98 (Westchester Express) 6-2/210 — Had not played all season because of a knee injury suffered because of growth plate issues. Right now his game looks very out of sync, but he has a nice set of hands and loves to play a power forward game. When he gets his coordination back he could be a heck of a prospect. A man amongst boys.
Mateusz Gosiewski, F, '98 (Westchester Express) 6-0/185 — Good-sized kid with a nice skill set. Needs to add some sandpaper to his game and play with a little more pace; certainly has the tools.

Sun. 2/17/13

KUA Back on Top of USHR Prep Poll
The final USHR Prep Poll of 2012-13 has just been posted and Kimball Union finishes up just where they started the season -- at the top of the pack. But Gunnery, Berkshire, and Belmont Hill are all right there, nipping at their heels.
The week ahead promises to be an intriguing one, with a ton of potential for wild changes of fortune.

USHR Prep Poll, Week of 2/18/13




Fri. 2/15/13

NTDP Camp: Our Predictions

Late every March, the National Team Development Program staff invites the top American 15 and 16 year olds ('97s, this year) to Ann Arbor, Michigan for the NTDP Evaluation Camp.
While referred to colloquially as the 'NTDP Final 40 Camp' this three-day event has, over recent years, become a misnomer as the number of invitations has gone up and now exceeds 50 (it will be 51 this season). Some key players, of course, are invited to join the program well in advance of the camp, which runs from Sat. March 23 through Mon. March 25. A pre-emptive strike, this process contractually locks players into the program before major junior and USHL teams can begin recruiting them, and also holds them monetarily accountable should they decide to leave the NTDP early. These early invitations are kept quiet, but word does get out. We have heard seven names most prominently: F Brendan Warren (Compuware U16), F Brent Gates (Compuware U16), F Dennis Yan (Belle Tire U18), F Luke Kirwan (Middlesex/EJHL), F Jordan Greenway (Shattuck U16), D Noah Hanifin (St. Sebastian's/Mass HS), and D Zach Werenski (Little Caesars U18). Yan, a dual citizen (Russia/USA) is being represented by Igor Larionov, who also represents the likes of Nail Yakupov (Edmonton-NHL) and Alex Galchenyuk (Montreal-NHL), both former OHL stars. Hockey Canada has deemed Yan, a Belle Tire sniper, an import, which wouldn't make him eligible to play in the O until he passes through the 2014 CHL Import Draft, thus Yan has signed on with the NTDP, though whether he stays for two years or not is a whole different question. Another major recruiting battle said to be won by the NTDP is that for Werenski. The Little Caesars' defenseman has been heavily courted by the OHL, and would likely be the league's 1st overall pick in the spring draft if he chose the major junior route. Warren, Kirwan, and Greenway – the other top players said to already be in the fold -- were our #1, #2, and #3 ranked forwards at last summer's Select 15 Festival. The Chicago Mission's top forward, Christian Fischer, has also been offered a spot. If they indeed have all these guys already locked up, the nucleus of the 2013-14 U.S. Under-17 Team looks very good. And it should – this is the cream of the crop we're talking about here.
We feel that we have a pretty good grasp on the '97 birth year and since the camp is not too far off – and it's a quiet Friday -- we will, purely in the spirit of fun and intellectual curiosity, make our predictions as to who will be invited. Please bear in mind that we have had zero input from the NTDP staff on this. They are working on this 12 months out of the year and will almost certainly come up with some wild cards out of nowhere. This is entirely our list, but if past is prologue, the majority of the kids we have on our list below will be in Ann Arbor at the end of March.
So here it is -- USHR's Top 49 American '97s. And yes, we could have gotten to 51 by throwing the names of two more goalies on the list (we have four on our list now, though there will be six at the camp). However, we don't want to just 'throw' names at the list. We'd rather say we got stuck at four goalies and leave it at that. It's a hard enough position to project as it is.
Forwards (27):
Nolan Aibel (NJ Rockets/MET), Cam Askew (Cushing Academy/Mass HS), Tarek Baker (Omaha U16), Koby Bender (Cloquet/Minnesota HS), Jeremy Bracco (NJ Rockets/AJHL), Christian Cakebread (Arizona Bobcats U16), Christian Fischer (Chicago Misson U16), Brent Gates (Compuware U16), Zach Goberis (Colorado Thunderbirds U16), Gordie Green (Compuware U16), Jordan Greenway (Shattuck U16), Lincoln Griffin (Thayer/Mass HS), Jacob Henderson (St. Louis U16), Robert Jackson, LA Jr. Kings U16, Charlie Kelleher (Jr. Bruins U16), Luke Kirwan (Middlesex/EJHL), Luke Kunin (St. Louis U16), Austin Matthews (Arizona Bobcats U16), Ryan Moore (Belle Tire U16), Chase Pearson (Atlanta U16), Ethan Price (Omaha U16), Jack Roslovic (Ohio Blue Jackets U16), Matt Tkachuk (St. Louis U16), Tanner Tweten (East Grand Forks/Minnesota HS), Brendan Warren (Compuware U16), Colin White (Noble & Greenough/Mass HS), Dennis Yan (Belle Tire U18).
Defensemen (18):
Ben Baker (LA Jr. Kings U16), Nick Boka (Compuware U16), Liam Darcy (Berwick Academy/Maine HS), Michael Davies (St. Louis U16), Tory Dello (Chicago Mission U16), Christian Evers (Omaha U16), Casey Fitzgerald (Malden Catholic/Mass HS), Grant Gabrielle (Compuware U16), Noah Hanafin (St. Sebastian's/Mass HS), Nick Heid (Spring Lake Park/Minnesota HS), Troy Henley (Oakville Rangers Midget Minor), Caleb Jones (Dallas Stars U16), Jordan Klehr (Shattuck U16), Vas Kolias (Chicago Mission U16), Joe Masonius (Jersey Hitmen U16), Zach Osburn (Honeybaked U16), Zach Werenski (Little Caesars U18), Spencer Young (Phillips Exeter/New Hampshire HS)
Goalies (4):
Vaughan Ahrens (Wayzata/Minnesota HS), Michael Lackey (Phillips Exeter/New Hampshire HS), Luke Opilka (St. Louis U16), Bailey Seagraves (Ohio Blue Jackets U16).

Notes:
Several players on our list have been tendered by USHL teams (Cam Askew, Tory Dello, and Christian Cakebread). The NTDP, however, does not honor these tenders and will still recruit these players should they desire them in the program. Our sources tell us that Dello is fully committed to playing for Tri-City (USHL), but since he is a top defenseman we are including him on 'our' camp list. Also, we are 100% certain that a number of players on this list are being pursued by major junior teams -- and will end up north of the border. Needless to say, the NTDP Evaluation Camp, especially given its close proximity to OHL teams, is a must-see event for major junior scouts and GMs.

Mon. 2/11/13

A New #1 in USHR Prep Poll
There's a new #1 in USHR's weekly prep poll, as Kimball Union Academy, #1 in every poll of the New Year, has been toppled from the top spot. Of the seven polls we've done this season, KUA has been #1 in six of them, and Belmont Hill #1 in one.

And neither of them are #1 this week.

USHR Prep Poll, Week of 2/11/13




Sat. 2/9/13

USHR's Top Freshmen
When taking a look at New England's top freshmen there are a couple of things to keep in mind. First, there are simply not a lot of freshmen playing in the prep ranks – it's a small pool. The reason for this is that many of the better young players do not matriculate to prep schools until their sophomore and juniors years, electing to play bantam and U16 hockey in the interim. Secondly, many of the top young players have yet to emerge. We usually get a really good handle on each age group when we can see all the best players together, playing against each other at -- to give the most obvious example -- the Select 15 Festival. In the case of most freshmen (i.e. '98-born players) we have not yet had that opportunity. That said, we have identified a small group of 9th graders we will surely be hearing a lot about over the course of the next few years.
1T. Colin White, F, '97 (Nobles/Boston College) — An elite talent with first round NHL draft potential. An athletic specimen with one of the best first steps we have seen in a young player. Last season, as an 8th grader, the BC recruit put up 44 points while playing on the Bulldogs' top line with fellow BC recruits and NHL draft picks Adam Gilmour and Chris Calnan. This year, with his linemates gone, White's production has dropped off slightly, but is still very impressive for a freshman (he's posted an 14-9-23 scoring line in 17 games played to date). Our guess is that the Hanover, Mass. native is a shoe-in to make the NTDP, if that is the route he wishes for himself.
1T. Cam Askew, F, '97 (Cushing/Boston University) — While the South Boston native is a much different player than White, there is little that separates the two in terms of potential. They are both good players and deserving of the #1 spot. The BU recruit's skating leaves something to be desired, but his shot release, toughness, size, and hockey sense make him a potential top round NHL draft pick. Has produced an 11-17-28 scoring line in 24 games played on a talented Cushing team. Has been tendered by the Indiana Ice (USHL) for next season, and that is where we expect to see him play.
3. Spencer Young, D, '97 (Exeter/uncommitted) — Exeter head coach Dana Barbin has been coaching in the prep ranks for a long time and has guided a lot of excellent players, so when he says that Young has the potential to be the best of them all it is high praise indeed. The Brentwood, NH native, a 5'10", 160 lb. defender, has excellent feet and thinks the game at a high level. Currently has D-I offers on the table. Will likely be included in the NTDP's Final 40 camp.
4. Colin McCabe, D, '98 (Thayer/uncommitted) — Smallish defender is offensively gifted and could be exactly the type of player head coach Tony Amonte needs to get Thayer competing for a Keller Division title within the next couple of years. A natural freshman playing in one of the top leagues in prep hockey, McCabe, a savvy defender, has displayed poise and confidence beyond his years. Has posted a 4-5-9 scoring line in 18 games played.
5. Cam Lee, D, '97 (Northwood/Providence) — Played last season for Cardigan Mountain and was probably #3-4 on their depth chart. Has really come into his own in recent months. Put himself on the map early in a few prep school showcases and was a hot commodity amongst D-I recruiters.
6. Luke McInnis, D, '98 (Hingham HS/uncommitted) — The son of ex-BC and NHL winger Marty McInnis. Is still just a kid and has yet to mature physically, but when he does…look out. Already displays a strong understanding of the game and makes excellent decisions with the puck. Left-handed shot defender uses a nice long stick and is already playing on the top PP unit on a very good Hingham High squad.
7. Brian Matthews, D, '98 (Belmont Hill/uncommitted) — Marshfield, Mass native has bypassed the Bel Hill freshman team and is holding his own on a powerful varsity squad. Being on a deep team, the 5'11", 165 lb. defender does not see a ton of ice, but when he is out there he does not look out of place one bit. Is a D-I prospect who is going to shine when given a larger role.
8. Ben Finkelstein, D, '97 (Cardigan Mountain/uncommitted) — What he lacks in size, the Cardigan defender makes up for in skill and smarts. Will be an impact player when he arrives in prep hockey next season. Is being heavily pursued by a number of prep schools, but our money is on him playing for Lawrence Academy next year. Robbie Barker, the coach who recruited him to Cardigan, is currently an assistant at LA and is coaching the team's defensemen.

9. Ty Amonte, F, '98 (Thayer/uncommitted) — The son of Thayer head coach and former NHLer Tony Amonte is still just a boy, but you can tell that when he gets bigger and stronger and adds some explosiveness to his skating -- and is able to physically protect the puck -- that he will shoot up this list. Has a good stick and is able to make skilled plays when the play is in front of him. He competes hard. It is only a matter of time before his game takes off.
10. Erik Foley, F, '97 (Tabor/uncommitted) — He's big, strong, and skilled, and those are three highly positive attributes when projecting a young player. Has made an immediate impact for the Seawolves and is currently third in team scoring with a 6-14-20 scoring line in 21 games played. Really nice first step; breakaway speed.

11. Connor Moore, D, '97 (Brooks/uncommitted) — A great pickup for head coach Dave Ries. The dynamic defender is from Cumming, Georgia and played for the Atlanta Fire last season. Is on the smaller side and likely won't get too much bigger, but he can really skate and is assertive in the offensive zone—demands the puck on the PP. A D-I prospect, Moore has posted an 8-4-12 scoring line in 20 games played.

12. Josh Vertentes, F, '98 (Portsmouth Abbey/uncommitted) — The Ravens (5-15-0) are not the strongest team, nor do they play the most difficult schedule, but numbers do not lie – or they lie just to a certain point. At any rate, the skilled '98 is leading his team in scoring with an 18-8-26 scoring line in just 15 games played. That's twice as many points as the next-highest scoring kid on the team who, as you may have suspected, is a senior. We feel Vertentes is worth going off the beaten path to take a look at.
13. Brendan Less, D, '98 (Delbarton/uncommitted) — 5'8", 135 lb. defender from Clifton, NJ has great feet. An effortless skater who makes a good first pass.

14. Ryan Shea, D, '97 (BC High/uncommitted) -- The son of former BC forward Dan Shea, who posted 190 points for the Eagles in the mid-'80s. A former forward, Ryan was recently converted to the backend and is running BC High's PP as a freshman. The Milton, Mass native has a great stick, and excellent offensive instincts. He has a lot to learn about the defensive side of the game, but it's still all very new to him.
15. Taggart Corriveau, F, '97 (Westminster/uncommitted) — 6'1", 166 lb. forward from Newington, Connecticut. Has a high skill level for a big kid who is still growing into his body. Will benefit from his experience this season playing on one of the best teams in prep hockey.
16. Michael Snow, F, '97 (Lawrence/uncommitted) — At times he has found himself playing on the Spartans' top line with seniors Thomas Newton and George Hunkele. A solid contributor, Snow has a 5-5-10 scoring line in 20 games played.

17. Danny Petrick, D, '99 (Springfield Cathedral/uncommitted) -- 8th grader is playing a limited role for the #1-ranked Panthers. Head Coach Brian Foley has the young puck mover playing as a winger on his third line. The Wilbraham, Mass. native makes a good first pass and will eventually be quarterbacking the PP.

18. Derek Osik, F, '98 (St. Mark's/uncommitted) — A well-rounded player who will come along nicely under head coach Scott Young. Is a bit of a sleeper right now, but we feel he has some upside. Freshman center has posted a 2-11-13 scoring line in 23 games played.
19. Jake Rainer, F, '97 (Lawrence/uncommitted) — Played for the LA Selects last season. Has a good stick and a nose for the net. 6-6-12 in 21 games played.
20. Pat Murray, D, '97 (Nobles/uncommitted) — 5'9" defenseman has matured early and likely won't grow much more, but he has a nice set of mitts and plays with an edge. Has not gotten many minutes this season, but will make an impact when given an expanded role next year.
21. Anthony Vincent, F, '97 (Salisbury/uncommitted) — Tiny 5'6" forward has a quick stick and makes plays. Plays on the fourth line and just needs time to mature. From the Mid-Fairfield organization.
22. Liam Moore, G, '98 (Governor's/uncommitted) — Is certainly not prepared to be a starting goalie right now, but we feel that the Syracuse, NY native is a good project to have. If the 6'3" 14 year old gets with the right goalie coach he could be molded into a gamer. Has the tools.

Fri. 2/8/13

BC High vs. Cathedral

Last night, USHR was in attendance as #1-ranked Springfield Cathedral faced #3-ranked BC High at UMass-Boston. The atmosphere was fantastic, with Cathedral bringing a couple of buses of fans to help counteract what appeared to be entire BC High student body. The level of energy that ensued was rare, difficult to manufacture, and just a lot of fun.
The game itself ended in a 2-2 tie and featured some of the state's top players. Both of these teams -- they met previously on Jan. 12, with Cathedral taking a 3-2 decision at the Olympia in W. Springfield -- are capable of winning the Super 8. That said, there is no juggernaut in Mass high school hockey this season. Instead, there are a number of teams that could make a push for the title.
We feel that this year there is a gap between the top prep teams and the top Mass high school teams. While there has always been a gap in terms of depth, over the last couple of years we felt that teams like Malden Catholic and St. John's Prep could have also been among the better prep teams. But that is not the case this season. Both Cathedral and BC High are good, solid high school teams but a notch below the Super 8 finalists of last season. And, in case you were wondering, there is simply no chance they could keep pace with the likes of KUA, Salisbury, Berkshire, Gunnery, Cushing, et al. There is just not enough depth. Of course, the better players on each squad would be just fine at that level.
Here, then, are the players who stood out for us last night.
Patrick Kramer, F, sophomore (BC High) — We recently ranked the Bridgewater, Mass native #39 on our list of top sophomores, but at the time we did not have a real good sense of what he could do. After paying closer attention to the 6'0", 170 lb. forward we realize that we ranked him too low. For a good-sized kid he has a good sense of the game and makes a lot of smart decisions with the puck. Needs to add a step to his skating, but we think he will end up playing DI hockey.
Matt Foley, D, senior (Springfield Cathedral) — Right now, we feel that the son of head coach Brian Foley is without a doubt the Panthers' MVP. The '95-born blueliner logs a ton of ice and plays in all situations. He has posted an 8-16-24 scoring line in 17 games played this season. The 6'1" 185 lb. team captain would make for an impact PG at virtually any prep school next season. His older brother, Mickey Foley, is currently co-captain at Choate.
Tommy Besinger, F, junior (BC High) — The smartest and arguably the most skilled player in the Catholic Conference. Is only 5'8" and is not exactly a burner, but the Milton, Mass native has excellent 1x1 skills and thinks the game at a high level. Our guess is that next season the Eagles' leading scorer will be one of the most sought-after players amongst NESCAC schools. He and Kramer play on a line together and the two are a threat to score on most shifts.
Peter Crinella, F, sophomore (Springfield Cathedral) — This was our first real look at the Holy Cross recruit. There is definitely something interesting about the 6'3", 180 lb. power forward. The East Longmeadow, Mass. native can really fire the puck and has a goal scorer's knack around the net. Uses defenders as a screen nicely. Will need to improve his skating in order to have success at higher levels.
Peter Cronin, G, senior (BC High) — The 6'2" 170 lb. senior netminder is the backbone of the Eagles and has played every minute this season, posting an impressive .946 save percentage. If the season ended today there is a good chance that the Norwell, Mass. native would take home MVP honors in the Catholic Conference. Cronin has the ability to steal games all by himself, but at the same time we have seen him let in the odd softie. Gets a little criticism for not moving on to juniors or prep hockey, but at the same time it is hard to argue with his decision-making. When his name is announced as the starting goalie the BC High student section goes bonkers and begins chanting, "We've got Cronin!" You can't put a price on that. Surely, he is enjoying his high school experience.
Sam Topham, D, junior (BC High) — Skilled, puck-moving defender sits #1 on the Eagles' depth chart on the backend. Is not very big, but he has a good stick, keeps his head up, and makes a lot of plays. Logs a lot of ice time and plays in all situations.
Ryan Shea, D, freshman (BC High) — Young blueliner opened the scoring for the Eagles last night. Has a lot of confidence for a freshman, especially on the offensive blue line. When BC High needs a goal, Shea is on the ice. Already is running the PP. Should have a nice high school career. Needs to improve his skating and get better defending in transition.
Danny Petrick, D, 8th Grade (Springfield Cathedral) — Played forward last night, but Petrick is someone to keep on your radar. Has an elite stick and we think the '98-born defenseman will be a DI hockey player at the end of the day.
Correction: Petrick is actually a '99, not a '98 as stated above.




Wed. 2/6/13- updated 2/7: Mork has committed to Williams College. Updated: 2/8 Wahlin has committed to UMass.

USHR's Top Uncommitted Players
Each and every year DI schools work into the spring and summer months looking for that one extra piece to round out their incoming recruiting class. NCAA players routinely leave schools unexpectedly to sign lucrative NHL deals, forgoing their final years of eligibility. With that in mind, we here at USHR ask the question, "Who are the top players that are still uncommitted and could potentially step in and play DI hockey next season." Here are our top 20 'free agents'.
1. Troy Stecher, D, '94 (Penticton-BCHL) 5-11/180 — Decommitted this season from Nebraska-Omaha. Was recruited to the Mavericks by then-assistant coach Mike Hastings. Subsequently, the Richmond, BC native felt a disconnect to the program when Hastings left to be the head coach at Minnesota State. Stecher is college-ready and should make an immediate impact. Has produced a 7-30-37 scoring line in 41 games played this season. Won a national title last season with the Vees.
2. Frederik Tiffels, F, '95 (Muskegon-USHL) 6-0/186 — Scouts have cooled on the skilled German as he has failed to produce as expected on North American soil. Has only scored one goal – and 16 assists -- in 32 contests this season. That said, Tiffels is only 17 years old and making the jump to the USHL from U18 hockey in Germany is a big step up. We think it is only a matter of time before he finds his way. Has the potential to be a top six forward at the NCAA level.
3. Arthur Brey, G, '94 (Dubuque-USHL) 6-0/150 — When USNTDP netminder Thatcher Demko committed to Boston College it pushed Brey up to #1 on the goalie recruiting charts. The rookie tender from Yorba Linda, California has made a seamless transition to the USHL and is the starting goalie on the best team in the league. Has posted a 16-3-1 record with a 2.11 gaa and .907 save percentage this season.
4. Tyler Hill, F, '95 (Chicago-USHL) 6-6/225 — It is fair to say that the Hagersville, Ontario native has not lived up to the hype this season, but his potential is too great to ignore. 6'6" forwards with soft hands simply do not grow on trees. Hill is a rare commodity who could blossom under the right coach — think Dustin Penner (University of Maine/LA Kings).
5. Zach Sanford, F, '94 (Middlesex-EJHL) 6-3/190 — Played New Hampshire high school hockey last season and really struggled out of the gates this season in the EJ, failing to produce a single point in his first seven games. Since then he has found his groove and has been producing at just over a point-a-game pace. Was recently ranked #83 on NHL Central Scouting's mid-term report. An Auburn, NH native, Sanford has upside.
6. Frankie Mork, D, '94 (Holy Angels-Minnesota HS) 5-7/162 — Is physically limited and it is very easy to look at the smallish defender and discuss what he can't do, but the bottom line is he does nothing but make plays. So far this season the fiery competitor has produced 50 points in only 21 games played.
7. Cam Darcy, F, '94 (Muskegon-USHL) 6-0/185 -- Has been through a lot in the last few years playing for Dexter, the NTDP, Northeastern, and now Muskegon. Has also been productive since leaving Northeastern, posting a 6-14-20 scoring line in 29 games played in the USHL. Might not have "All-America" potential at the NCAA level, but there is no doubt that he can make an impact.
8. Ben Ostlie, D, '93 (Omaha-USHL) 6-1/187 — Reliable defender who could give virtually any NCAA team good minutes on a nightly basis. Will never be someone who brings a lot of offense, but the Edina, Minnesota native will a role as a #4-6 defender. Ready to play college hockey next season. Has a 1-6-7 line in 40 games.
9. Christian Wolanin, D, '95 (Green Bay-USHL) 6-0/172 — Has not quite found his way in the USHL yet as the Rochester, Michigan native has only posted a 0-5-5 scoring line in 32 games played. While it would be premature for him to play college hockey next season, there is a chance he could really explode and make a huge impact in the latter years of his college career.
10. Dominic Trento, F, '93 (NJ Hitmen-EJHL) 5-11/190 — Has posted an eye-popping 17-45-62 scoring line in just 38 games played for the 1st place Hitmen. The Brockport, New York native has proved that he is prepared to take his game to the next level. Is a versatile forward who could play a bottom six role next season, but also has a good enough stick to be inserted into a skill position.
11. Myles Fitzgerald, F, '93 (Victoria-BCHL) 5-7/165 — The fourth-leading scoring in the BCHL with a 22-33-55 scoring line in 42 games played. In our opinion Myles is the best of the Fitzgerald triplets (his brothers Gerry and Leo are also top scorers for Victoria). The skilled energy forward does nothing but makes plays. NCAA schools may feel that they need to take all three of the Fitzgerald brothers and thus shy off of recruiting them as individuals.
12. Marc Biega, D, '94 (Coquitlam-BCHL) 6-0/194 — The Point Claire, Quebec native, a Salisbury grad, has had an off year as he has had to adjust to a new league while battling through an injury-plagued season. However, his offensive flair has started to shine through as of late. Has had three brothers play at Harvard, but it does not look like the puck-moving defender is an Ivy League student. Has the potential to run a DI power play.
13. Zach Glienke, F, '95 (Eagan-Minnesota HS) 6-3/200 — The Eagan captain is incredibly raw, but he has the tools to be a pro. Can really skate for a big man. Has posted a 23-26-49 scoring line in only 21 games played this season. Was recently ranked #115 on NHL Central Scouting's mid-season Rankings.
14. Barrett Kaib, D, '93 (Green Bay-USHL) 5-9/190 — Played last season for Providence College (Hockey East) and left because he felt it was not the right fit. The former NTDP blue-liner has made an easy transition back to the USHL and has since posted a 6-19-25 scoring line in 38 games played while manning the point on the Gamblers' PP. Given the right social fit, the Upper St. Claire, Pennsylvania native could be an impact defender at the NCAA level.
15. Gus Correale, F, '93 (Grand Prairie-AJHL) 5-10/175 — Character forward with good feet and capable of playing in all situations. Is one of the top scorers in the Alberta junior loop with a 22-24-46 scoring line in 48 games played. Has an older brother who is currently a freshman at UNH.

16. Dakota Mason, F, '92, (Brooks Bandits-AJHL) 6-1/161 -– Edmonton native, who will be 21 in a few weeks, has been producing points: 23-37-60 in 48 games.
17. Chris Izmirlian, F, '92 (Middlesex-EJHL) 5-10/180 — Former Westminster leading scorer has moved on to the EJHL and currently sits 11th in the league's scoring race with a 19-26-45 scoring line in 36 games played. Does he have the skill level to be a top six forward at the DI level or does he play with enough grit to be a 3rd or 4th liner? These are the questions that college coaches ask when referencing the Boca Raton, Florida native.
18. John Furgele, D, '93 (NJ Hitmen-EJHL) 5-9/177 — Top scoring defenseman in the EJHL with a 12-31-43 scoring line in 38 games played. Skilled defender has a good enough stick to play a support role on a DI PP.
19. Brandon Wahlin, F, '92 (Austin-NAHL) 5-9/175 — The top scorer in the NAHL with a 17-37-54 scoring line in 41 games played. Older, mature forwards with a proven scoring pedigree have done well at the NCAA level. Gabe Levin, the NAHL's top scorer a year ago, was a late add for the University of Denver and has turned himself into a regular contributor for the Pioneers. Also, Wahlin's younger brother, Jake, is one of the top '96s in the country.
20. Tyler Gjurich, F, '92 (Buffalo-OJHL) 5-10/181 — The Hatfield, PA native is not pretty to watch, but at the end of the game his name is always on the score sheet. Currently leading the OJHL in scoring with a 37-30-67 scoring line in 40 games played. Last year we stated that Wellington (OJHL) forward Darcy Murphy would contribute at the NCAA level because he was scoring at a goal-a-game pace — impressive in any league. Colgate took a flyer on Murphy and thus far the freshman forward has produced 13 points in 26 games played. Gjurich is the same type of player.
Honorable Mentions:
Mario Bianchi, F, '94 (Holy Angels), Charlie Donners, D, '94 (Dexter), Gerry Fitzgerald, F, '93 (Victoria-BCHL), Trevor Fitzgerald, F, '92 (Nanaimo-BCHL), Daniel Fritz, D, '95 (Canterbury), Ryan Renz, D, '93 (Vernon-BCHL), Anthony Sabitsky, F, '94 (Milton Academy), Alex Smith, D, '95 (Indiana-USHL), Regan Soquila, F, '93 (Merritt-BCHL), Joe Widmar, F, '95 (Indiana-USHL).

Tues. 2/5/13

USHR Top Sophomores Ranking
Here's USHR's annual ranking of the top sophomores in New England preps and high schools.

We feel there's quite a bit of talent here. That said, it's always a tough age – once you get past the obvious high-enders – to project. There are kids who, a year from now, will have dropped off significantly while others continue shooting up the charts. It's been that way forever, and will continue forever thus.

In arriving at a decision as to where to place a player on the list, we try to balance what he brings to the table right now with future potential. All of these guys have two more years ahead of them before even graduating from high school. A lot can, and will, happen.

In addition, there's a hefty spectrum of ages here, with most of the group -- '96s and '97s, primarily – spread out over 24 months or so.

Of course, there are players out there who get underrated, usually kids who are being brought along slowly and carefully by their current coaches and who, a year from now, are going to look pretty impressive when they are juniors and are playing more minutes and in key situations. And there will also be players we totally miss – we are 100 percent certain of that. There are always unknown players tucked away in some obscure location who will pop out of the woodwork and make an immediate impact as juniors. And that's a great thing. We're always looking for those late bloomers.
With all that in mind, consider this a finders' list, though we have worked hard to slot the players in as best we can. The proof will come a year – or two, three, or more years – down the line.
1. Noah Hanifin, D, '97 (St. Sebastian's/Boston College) — For us, picking Hanifin as the top sophomore in New England is a no-brainer. We can extend that out: he's also the top soph in the entire country. Hanifin, who looks like an NHL 1st round pick to us – he's eligible in 2015 -- is leading the Arrows in scoring with a 3-20-23 scoring line in just 15 games played. Will likely suit up for the NTDP next season.
2. Ryan Donato, F, '96 (Dexter/uncommitted) — Is currently the top scorer in prep hockey with a 22-25-47 scoring line in just 21 games played. The son of Ted Donato had a great summer and has continued his upward progression this season. Our guess is that he ends up playing for his dad at Harvard or just across town at Boston College.
3. Casey Fitzgerald, D, '97 (Malden Catholic/Boston College) — With older brother Ryan Fitzgerald and Boston University recruit Brendan Collier off to the EJHL the limelight at Malden Catholic has swung toward the 15-year-old defenseman. MC has struggled this season, but Fitzgerald is always a bright spot. There is a strong chance he ends up in Ann Arbor next season.
4. Callum Booth, G, '97 (Salisbury/uncommitted) — The Quebec native had his coming out party at the Flood-Marr tournament. Not a single '97 born goalie has committed to a DI school, but our guess is that Booth is the most sought-after in his age group.

5. AJ Greer, F, '96 (Kimball Union/Penn State) — The 6'3", 180 lb. winger will be a hot commodity in his draft year (2015). The Montreal native has made a seamless transition to prep hockey, posting a 16-15-31 scoring line in 24 games played. Is only going to get better.
6. Lincoln Griffin, F, '97 (Thayer/uncommitted) — Rugged winger is leading Thayer in scoring with a 7-18-25 scoring line in 17 games played. Has a quick shot release and thrives in the corners and in front of the net.
7. Sam Tucker, G, '96 (Choate/Yale) — The Yale recruit was shaky at times during fall hockey, but has since returned to form and is posting an impressive .938 save percentage while getting 2/3 of the starts.
8. Michael Lackey, G, '97 (Exeter/uncommitted) — Raw, but is explosive, athletic, and has a ton of upside. The 6'3", 185 lb. goalkeeper played JV hockey at Exeter last season, but his worked his way up to #1 starter this year, appearing in about 75% of the games.

9. Miles Wood, F, '95 (Nobles/Brown) — Repeat sophomore has caught the attention of NHL scouts, with his name recently appearing on NHL Central Scouting's Mid-Season Rankings. Has posted an 8-10-18 scoring line in 15 games played. Unfortunately, the Brown recruit is done for the year with a broken foot. Since Wood's injury, the Bulldogs have lost five of their last six.
10. Liam Darcy, D, '97 (Berwick/UNH) — After an MVP performance during his freshman year Darcy has been just above average in relation to expected standards. That said, the UNH recruit is as smart as they come and is cool as a cucumber with the puck on his tape.
11. Frankie Sullivan, D, '96 (Westminster/uncommitted) — Has made the transition from Notre Dame-Fairfield to prep play seamlessly. Is Westy's leading scoring among defensemen. Brings a little bit of everything to the table.

12. Charley Borek, F, '96 (Choate/uncommitted) — Borek is one of the surprises of prep hockey this year. After not making it to the USA Hockey Select Festival over the summer the hard-working winger – whose skating is vastly improved from a year ago – has produced an impressive 12-9-21 scoring line in only 13 games played at Choate.
13. Alex Esposito, F, '96 (Loomis-Chaffee/uncommitted) — With the exception of senior Danny Tirone, Esposito could be the biggest part of Loomis' turnaround this year. The former Notre Dame-West Haven sniper is leading the Pelicans in goal scoring. Has a younger brother who is currently playing for the Connecticut Wolfpack U14 team who will be joining him at Loomis next season -- and should also make an impact.
14. Ara Nazarian, F, '96 (Malden Catholic/uncommitted) — A pure finisher. Played a second line role last season, but is now one of the foundation pieces for a young Malden Catholic squad.
15. Will Brophy, D, '96 (Westminster/uncommitted) — If the 6'3", 186 lb. blueliner continues his development, NHL teams will be paying close attention next year. Was at Fairfield Prep last season. There's a lot of potential here.

16. Cal Burke, F, '97 (Nobles/uncommitted) — One of the most intelligent players in New England. Does not have a ton of "flash and dash" to his game, but the Boxborough, Mass. native consistently makes the right decisions with the puck. Leads the Bulldogs in scoring with a 9-20-29 stat line in 21 games played.

17. Drew Hotte, G, '96 (Milton/uncommitted) — Young netminder has been the backbone of the Mustangs, playing in all but one game. The Gwynedd, Pennsylvania native is sporting a .919 save percentage go to along with a 9-7-3 record.
18. Joey Daccord, G, '96 (Cushing/uncommitted) — The young netminder has been rock solid when given an opportunity this season, posting a .924 save percentage. Cushing has found themselves on the bubble of the Elite 8 tournament and our guess is that Daccord will start the majority of the Penguins' remaining seven games.
19. Will D'Orsi, F, '97 (St. Sebastian's/Yale) — It took the Yale recruit some time to adjust to his new surroundings after transferring from Belmont Hill. The skilled center is currently playing on the Arrows' second line and second PP unit. Will be a go-to guy for the next two seasons.
20. Joe Sacco, F, '96 (Rivers/uncommitted) — Smart and intelligent. Makes a lot of plays. Was excellent in the fall playing for Neponset U16 where he was paired with UConn recruit Brendan Shane. Is currently leading Rivers in scoring with 23 points in 22 games played.
21. Peter Crinella, F, '96 (Springfield Cathedral/Holy Cross) — The Crusaders feel they have landed a sleeper as the 6'3", 180 lb. forward. Is leading Cathedral, the #1-ranked team in Mass high school hockey, in scoring. Has a good upside and should continue to develop.

22. Ryan Dmowski, F, '96, (Gunnery/uncommitted) --- Has the knack. Being the leading goal-scorer – he has 16 -- on a strong team like Gunnery means something.
23. Harrison Markell, D, '97 (Middlesex/uncommitted) — Above average at everything. Nothing flashy about his game. Makes a good first pass and rarely gets beat in 1x1 situations.
24. Charlie Barrow, D, '96 (Belmont Hill/uncommitted) — Belmont Hill head coach Jeremiah McCarthy is easing his young defenseman into a starring role rather than rushing things. Bel Hill lost their top four D from a year ago, and Barrow is a big part of the reason they have not missed a beat -- and are one of the top teams in prep hockey.
25. John Rourke, F, '96 (St. Sebastian's/uncommitted) — Repeat sophomore from Wellesley HS. Right now he is small and physically immature, but his skill set is top notch. When he adds some size and strength to his game we think he will move up this list.
26. Elijah Harris, G, '97 (Austin Prep/uncommitted) — When evaluating small goaltenders a lot of scouts tend to focus on what the goalie lacks, sometimes missing what is there in the process. We know he is small, but he is also lightning-quick, has near perfect technique, and competes like a dog in the net.
27. Eric Shaw, F, '96 (Middlesex/Brown) — Future Brown Bear has 15 goals in only 18 games played this season. There are times the 6'2", 200 lb. power forward looks like a pro prospect and there are other times he is nearly invisible. Has potential, just has to consistently play a big-man's game.

28. Bob Carpenter, F, '96 (Austin Prep/uncommitted) — We think the son of ex-NHLer Bob Carpenter will find a role in DI hockey as an energy guy who can score the odd goal, though with his bloodlines we're hesitant to sell him short. Plays with grit, tenacity, and can shoot it.
29. Brendan Russ, D, '96 (Choate/uncommitted) — In his first year at Choate (via Eaglebrook). Is a puck-moving defender who is effective on the PP.
30. Joe Lissak, G, '96 (Taft/uncommitted) — Raw, but has potential. Was invited to the NTDP's Final 40 camp last year. Is likely the most talented netminder on the Rhinos' roster, but is paying his dues and playing behind two seniors this year. The job will be his to lose next year.
31. Ben Freeman, F, '96 (NMH/uncommitted) — 6'4", 180 lb. power forward from Falmouth, Maine. Is strong on the puck and has good hands. Interesting player. Raw right now, but has real potential if he keeps refining and working on his game. Has a 9-6-15 line in 22 games.

32. Andrew Tucci, G, '96 (Choate/uncommitted) — Played for the Don Mills Flyers (GTHL) last season. Has pushed Sam Tucker all season long for the starting job.
33. Conor O'Brien, G, '97 (NMH/uncommitted) — Young 6'1", 165 lb. goaltender from Florida has played a lot of minutes and has performed admirably.
34. Austin Rook, D, '97 (Rivers/uncommitted) — Big defender has good offensive instincts. Will need to improve his skating in order to become more appealing to DI recruiters.

35. Alex Hreib, D, '96 (St. Marks/uncommitted) — In his second season with Scott Young. Was recruited out of the Fenn School. Crafty and skilled. Confident with the puck.

36. Tucker Weppner, G, '96 (Avon/uncommitted) — 6'2", 170 lb. goaltender from Amherst, NY has tools. Will have to bide his time and make the most of his opportunities.
37. Tim Larocque, F, '96 (BC High/uncommitted) — Smooth-skating forward has a nice upside. Scored two goals in last week's barn burner vs. Catholic Memorial.
38. James Anderson, F, '96 (Taft/uncommitted) — Good stick. Has a nice head for the game and makes a lot of plays. Played for legendary Long Island coach Aleksey Nikiforov last season. Is third on the Rhinos in scoring with 15 points in 17 games played.

39. Patrick Kramer, F, (BC High/uncommitted) – The Eagles' leading goal scorer has a 10-6-16 line in 14 games. We expect we'll have a stronger feel for what he does after seeing him in the Super 8 next month.
40. Sean Brennan, F, '96 (Milton/uncommitted) — Excellent skill set. Game is coming along nicely.
41. Mike Lee, D, '96 (Gunnery/uncommitted) — Very good skater. His feet allow him to have strong gap control and be an aggressive defender. Played for Hamden (Conn.) High School last year.
42. JC MacLean, F, '97 (Delbarton/uncommitted) — Big forward with soft hands and a good sense of the game. Needs to improve his feet.
43. Matt Muzyka, F, '96 (Salisbury/uncommitted) — Plays on a very deep team and has not found his way onto the top two lines. When he played on the top line for the Connecticut Wolfpack U16 team he showed a lot of promise. Will have to wait for his opportunity.
44. Max Luuko, D, '95 (Gunnery/uncommitted) — 6'2", 170 lb. defender has a lot of positive attributes to his game. For a big kid he is a fluid skater with decent hands. If he can elevate the pace at which he plays he could go on to have a nice career. Still very much a project.
45. Kevin Hock, F, '96 (Catholic Memorial/uncommitted) — First line winger for CM. Good vision. Makes plays.
46. Austin Ricci, F, '96 (St. Paul's/uncommitted) — Natural goal scorer has had an off year. Has the potential to put up some serious numbers, though.
47. Luke Stevens, F, '97 (Duxbury/uncommitted) — The son of ex-NHL star Kevin Stevens is a tall, lanky forward with soft hands. Once he fills into his body he could shoot up this list quickly.
48. Shane Sellar, F, '97 (Canterbury/uncommitted) — Not a pretty skater, but one of those guys who always seems to find his way onto the score sheet. Is producing over a point a game. From the Hershey Bears organization.

Sun. 2/3/13

Kimball Union Rolling Along
Kimball Union, now 19-1-0 in NEPSIHA play, remains #1 in this week's USHR poll.

USHR Prep Poll: Week of Feb. 4, 2013




Sat. 2/2/13

USHL Fall Classic Update
We're still in the process of teasing the truth from the shadows of yesterday's USHL press release, which we felt to be overspun -- unnecessarily so.

Reliable sources have indicated to us that the primary reasons the Fall Classic is getting shut down is that the Sioux City Musketeers have lost money on the event every single year and no longer wish to host it and, perhaps just as importantly – if not more so -- teams that travel the greatest distance to get to Sioux City are unhappy with forking over bus and hotel costs for games that are meaningless – i.e., that don't count in the standings.

The obvious option, of course, would be simply to make the games count in the standings. Just do it. However, that doesn't address travel costs. Clearly, the league is looking to kill two birds with one stone, and is searching for a means by which they can hold the event – or multiple events -- in a place and time that works for all and maximizes profit, or at least reduces losses.

Right now, word is filtering out that there may be two regional camps this September – perhaps in places that are easier to get to for scouts, in addition to dealing with the whole hosting/travel cost issue. Cities we've heard mentioned most prominently include Chicago and Omaha. However, given that the league has now clearly cited a desire to reduce the number of weekday games, it seems inevitable that the two-site approach means that the league would likely choose to run them on the same weekend.

As far as the league's desire for fewer weekday games, the release cited a concern over "player safety and academics as well as on-ice development." That's all good and well --we're 100 percent on board. However, those issues may be more of a byproduct than the controlling reason, which is simply that teams make less money at the gate on school nights. Owners do not like those weeknight games. (Some NHL scouts and college recruiters, do like them, at least to varying degrees, as it enables them to be at college games -- or other sites/tournaments -- over the weekend.) Our take? The fewer weeknight games the better. School trumps all, whatever the motivation.

As far as losing the Fall Classic is concerned, from a purely scouting standpoint, we always liked the event – a lot. Everyone was there – all the teams, in one town, at the same time. We'll miss it this fall, and all the pro and college guys we've spoken to feel the same way. However, the USHL has an opportunity to take some time and come back with a new, improved version that works for everyone. Just as the Fall Classic was a step up from the Buc Bowl, perhaps the tournament's next chapter will be better as well. It's an opportunity, meaning there's risk as well. Things don't always change for the better.
Clearly, there are difficult and, at times, competing issues here. We're just trying to shed a little light on it all.

Fri. 2/1/13

USHL Axes Fall Classic; Eyes Changes
The USHL Fall Classic, which has been held in Sioux City, Iowa, for the last six years -- ever since the old 'Buc Bowl' closed up its tent in Des Moines – will not be held this fall.

In a press release sent out today, the league said that the Fall Classic will be "deferred for one season" – specifically, until the fall of 2014.

It also said that when the event returns, it will be open for bid to all "USHL Member Club sites, and interested third parties and sites as well."

In other words, it could reappear, well, just about anywhere.

The announcement also reports that the USHL 2013-14 regular season is now tentatively set to open on Fri. Sept. 20th, its earliest start in 11 years. "That change," according the announcement, "will reduce the need for regular season mid-week games and travel in 2013-14, and was decided upon by the USHL Board principally in the interest of player safety and academics as well as on-ice development. The revised schedule will reduce mid-week travel and missed school days by USHL players and cut down on the number of three-games-in-three nights series required by the current compacted schedule."

One solution to the above-mentioned problem side-stepped in the announcement would simply be reducing the regular season from its current 60 games. That, however, would cut into the bottom line of each team's owners. In addition, the league, despite its amateur status, fears deviating too far from major juniors' 68-game regular season.
The USHL announcement also said, though less than explicitly, that the earlier start date to the regular season "forced a scheduling conflict with the Tyson Events Center in Sioux City, Iowa." However, it didn't say exactly what that scheduling conflict is. It seems a little hard to believe, nine months out, that the event couldn't be shoehorned into another suitable site somewhere across North America – if they really wanted to make it happen, that is. In its current format, the USHL, and member teams, do not make any money from the Fall Classic. On the other hand, the host team and, by extension the local economy, could – but we're definitely not talking big bucks, certainly not in its present incarnation. From all outward signs, it appears that the league, which finalized this plan at its mid-winter meeting in Muskegon, Michigan last week, has a grander vision for the Fall Classic than that which we have come to know over the years.
The press release says the league, in an effort to provide game competition for teams and scouting opportunities for NHL and NCAA scouts and recruiters, has begun preparations to schedule "regional preseason events" for this coming fall. It noted that events are being considered "at locations both in and outside of the USHL's current footprint and could potentially be expanded to include tournaments at the high school, bantam, and midget levels of hockey in addition to scheduled USHL games."

The releases says that dates and locations of these events will be announced at a later time, adding that it intends to include placing "a regional event in Sioux City, time and facilities availability permitting." Looks to us a little like the home of Tyson Chicken, where the Lewis and Clark expedition passed through in 1804, is getting thrown a sop.

"By no means are we leaving the Fall Classic behind," says USHL President and Commissioner Skip Prince. "It has become an important part of the USHL culture, and evolved into the largest single gathering place for elite players, fans, National Hockey League and NCAA scouts in the world. The hiatus we're taking here is to make it even bigger and better."
Around the Rinks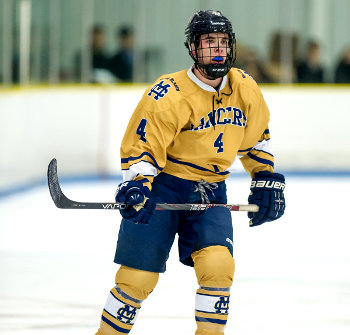 Casey Fitzgerald, Malden Catholic '97-born d-man and BC recruit, is USHR's #3-ranked sophomore of the 2012-13 season.
(Photo: Dave Arnold Photography)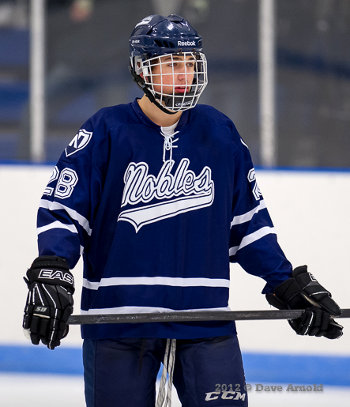 Miles Wood, Nobles forward and Brown recruit -- out for the season with a broken foot -- is USHR's #9-ranked sophomore.
(Photo: Dave Arnold Photography)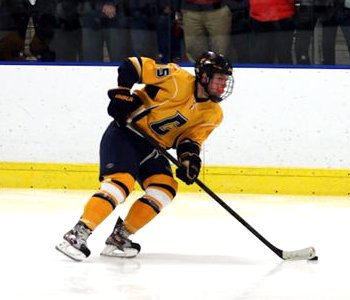 Charley Borek, Choate '96-born forward, is USHR's #12-ranked sophomore of the 2012-13 season.
New England Prep Hockey News