Established 1996 -- Celebrating Our 25th Year
Mon. 1/13/14

NHL Central Scouting Releases Mid-Term Rankings
NHL Central Scouting Services released its Mid-Term Rankings this morning and, if you follow the links below, you will be taken to the full PDF files, which are printable. There are three files: North American Skaters, North American Skaters (alphabetically sorted), and North American Goaltenders.

BC recruit Sonny Milano, a 5'11" U.S. U-18 Team left wing and Long Island native, was the top-ranked American, at #16.

The two top-ranked skaters currently playing prep hockey are Dexter C Ryan Donato at #54 and St. Andrew's College LW Warren Foegele at #62.

The top-ranked Minnesota high school player is Eden Prairie D Luc Snuggerud at #61.

The top-ranked Premier League player is South Shore Kings LW Beau Starrett at #83.

The top-ranked Mass high school player is Austin Prep center Bob Carpenter at #146.
Here's something unusual: the top five-ranked North American goaltenders are all U.S. born players. BC's Thatcher Demko is #1, followed by US Under-18 goalies Edwin Minney and Blake Weyrick. #4 is Chase Perry of Wenatchee (NAHL), who played at Andover (Minn.) HS last year. #5 is Alex Nedeljkovic, an Ohio native with the Plymouth Whalers (OHL).

The top-ranked prep school goalies are Lake Forest Academy's -- and Barnstable, Mass. native -- Sean Cleary, who is at #19 and Thayer Academy's Rob McGovern, at #25.


NHL CSS Mid-Term Rankings NA Skaters – Jan. 13, 2014

NHL CSS Mid-Term Rankings NA Skaters (alphabetical), Jan. 13, 2014

NHL CSS Mid-Term Rankings NA Goaltenders, Jan. 13, 2014



Sun. 1/26/14

Kent Rolls On, #1 in New USHR Prep Poll

To probably no one's suprise, Kent holds on to the #1 spot in the USHR Prep Poll for the second week in a row.

USHR Prep Poll, Week of Jan. 27, 2014



Sat. 1/25/14

USPHL All-Star Games – All Four of Them
On Monday afternoon, Martin Luther King's Birthday, USHR attended the USPHL All-Star games at Merrimack College. It was a good take, with all four games – Premier, Premier Prospects, U18, and U16 -- clicking along at a nice pace. The games were played in 25-minute halves, and penalties were rare, which was good for scouts, allowing them to see plenty of even-strength hockey. The games were also pretty wide open, as all-star games tend to be.

Actually, the first game was very wide-open, as Team Mass (White) trounced Team USA (Navy), 10-3.

Navy, which had nine Jersey Hitmen on the roster, got a pair of goals midway through the first half, then Team Mass (White) came to life with ten(!) unanswered goals, seven of which came in the second half – and at the expense of Union recruit Joe Young (Philadelphia Flyers). Good thing for Young that all-star stats don't count in his stat line, because he has a good one: a .926 save percentage, placing him #2 in the league, trailing only Quinnipiac recruit Sean Lawrence.

The hands-down star of the game was Junior Bruins forward and Providence College recruit Bryan Lemos (1g,3a), who also happened to be the youngest player in the game, and one of just a few first-time NHL draft-eligible players in the game (Brian Bowen, James Winkler, and Beau Starrett were the others). While the 5'10", 175 lb. Lemos, a '96, is undersized and probably not on many scouts' lists, he made a statement here, constantly in motion, creating plays, and pushing the opposing D back on their heels. Ever since Lemos was at LaSalle HS in Rhode Island, he has shown that he quickly adapts to succeeding levels. Brian Bowen, his 6'1, 210 lb. linemate on the Junior Bruins, also made a strong statement with three points (2g,1a) and worked well with Lemos. Bowen, the Junior Bruins' leading scorer and a UVM recruit, has a few inches on Lemos and while Lemos makes the plays, Bowen, a strong skater with a nose for the net, can finish. Bowen was with the Northern Cyclones last year, where he and current NTDP F Jeremy Bracco were the two youngest players to finish the season among the league's top ten scorers. Bowen has flown under the radar a bit but he looks like an astute pickup for the Vermont Catamounts. And he still has a year or two after this one in which to further refine his game.

6'0", 175 lb. '95 F Nolan Vesey (1g,1a) a Maine recruit with the South Shore Kings and his linemate, 6'5" Beau Starrett (1g), a late '95 and Cornell recruit, both played as well as expected. Brown fall '15 recruit Tim Doherty (1g,2a), a '95 who led all New England prep players in scoring as a junior at St. George's last year, had a strong game as well. Ditto for 6'3" Teddy McCarron, a '93 who recently committed to Merrimack.

We didn't get a strong feel for the Navy's D, in no small part because they gave up 10 goals, but for the winners, 6'3" RD Aaron Titcomb (1g,1a), a '93 formerly with Brewster and Salisbury, keeps getting better and looks like he could pay huge dividends for Merrimack. We liked uncommitted 6'1", 200 lbs. RD Logan Day, who led all New England prep defensemen – by a mile – with 61 points from the blue line last season at Kents Hill. He's doing the same thing in the Premier League, leading the loop's d-men in scoring. He has an uncanny ability to see a streaking forward and put the puck right on his stick. Made one long stretch pass that was impressive, sending a teammate in on a clean breakaway.

The Navy team played well early, taking that 2-0 lead we mentioned. UMass recruit Dominic Trento (1a), a '93 LC from the Hitmen who leads the league in scoring, was very good, using his speed, quickness, and hands to get his team going. His linemates -- John Jackson (2a), also a '93 – and Holy Cross recruit Michael Laffin, a '95, were also noticeable. Northeastern recruit James Winkler, a 6'3", 195 lb. '96 RW who is foregoing his senior year at Berwick to play with the Portland Jr. Pirates, took a number of shifts with Trento and Jackson, which paid off as Winkler (1g,1a) figured in two of his team's three goals. Winkler wasn't physically involved – not that we necessarily expect a high level of hitting in all-star games.

USHR Three Stars (voted on by scouts in attendance):
1. Lemos 2. Vesey 3. Starrett
Honorable mention: McCarran, Bowen, Doherty, Trento.


***

Premier Prospects All-Star Game:

In the Premier 'Prospects' game – a misnomer in that there were seven '93s playing – Team USA (Navy) defeated Team Mass (White), 4-2. The game, to be precise, was a 'second-team' all-star game. But yes, there were prospects in the game, too.

Junior Bruins 5'6" LC Ryan Cloonan, who decommitted from Maine last summer but hasn't committed anywhere since, was outstanding. Cloonan, formerly of the Boston Advantage, only had one assist in the game, but was constantly dangerous with the puck on his stick. His teammate on the Junior Bruins, late '96 Floridian George Mika (1g,1a) can scoot, score goals, and make plays. The youngest forward on his team, the 5'11", 178 lb. Mika is a player to watch closely. '93 RC Sotiri Athanasopoulos (1g,1a) , a former Lac St-Louis Lion and South Kent forward playing for the Bay State Breakers had a strong game. He's an uncommitted '93, but may have opened the eyes of a college coach or two with his play here.

On the blue line, we liked 6'0" right shot John Marino of the South Shore Kings -- an excellent prospect. He can play in his own end – and will get better as he fills out – and has offensive upside, too. As a '97 and the youngest player in the game, he was not out of place at all. Some D-I school will probably be picking him up before long.

Zach Malatesta, a 5'10" left-shot D who was the top-scoring blueliner as a freshman at Pingree a couple years ago, had a good game. He's a '96 – and keeps getting better. 6'1", 195 lb. Pat Condon, a '93 with the Bay State Breakers, also had a solid game. He could be useful to the right college.
We thought most of the goalies did a good job, though that may also have been the happy consequence of viewing a close 5-4 game after the 10-3 blowout in the day's first game. In net, Bruce Racine, a '94 committed to Colgate, stopped 14 of 16 shots for Team Mass (White) and, for Team USA (Red) both MacKenzie Sawyer of the Hitmen, who was terrific vs. the NTDP a couple of weeks ago, and 6'5", 180 lb. Shane Starrett (13/15) of the Portland Junior Pirates, a '94 committed to BU, did good jobs.

Up front for Team USA, 6'3", 207 lb. '94-born winger Danny Lopez (2a) of the Jersey Hitmen, a former Team Illinois player who just committed to Holy Cross, made some nice passes, and was consistently involved – a good get for the Crusaders. His teammates on the Hitmen, Matt Volonnino and James Martello, both '94s, were solid. And Alec Weinberg, a '94 with the Philadelphia Flyers, scored the game-winner with 23 seconds remaining.

USHR Three Stars: 1) Cloonan 2) Athanopoulos 3T) Weinberg and John Schiavo. Honorable mention: Lopez, Racine, Martello, Condon, Starrett, Malatesta.


***
U-18 All-Star Game:

In the U-18 game, Team South (Navy) topped Team North (White), 4-2. It could have been worse – South had a 41-22 edge in shots. South also had better players, what with the top two teams in the league -- Selects Academy and the Hitmen -- being in that division. If you include the Skipjacks, it comes out to three of the top four teams.

The only reason the game was close was the work of Junior Bruins '97-born goaltender Kevin Resop, who played the second half. Resop a 6'1", 170 lb. Floridian who has spent the past two years at Shattuck-St. Mary's, stopped 24 of 25 shots. It wasn't always pretty – you're going to be doing some flipping and flopping when shots are coming at you at a one-per-minute pace. But there's a good reason Resop is leading the league in two categories – goals against (1.69) and save percentage (.930) – and we are glad we got to see him give his team a chance to get back into the game.

Team South has offense on the blue line. 5'11", 185 lb. Chase Priskie of Selects Academy, a Quinnipiac recruit from Florida, and 6'0", 187 lb. Christian Hausinger, a right shot and a Dec. '96 birthdate from Anchorage, Alaska who plays for the Skipjacks, can put points on the board. Hausinger is averaging over 1.5 ppg from the blue line and is #3 overall in league scoring, but he was kept off the board here. 6'1" RD James Callahan, a '97 from the Hitmen, is a player D-I schools should be taking a look at. He sees the ice, and can get the play moving north as well. Up front, the Selects players – Anthony Siderio, Karl El-Mir, Austin McIlmurray, and Robert Smits – were all on their game. For Smits, a 6'1", 205 lb. left shot wing committed to Alabama-Huntsville, it may have been the best we have seen him play. We also put a check next to 6'2", 203 lb. RW Rylan Cratsenberg, a Dec. '96 birthdate playing for the Skipjacks. Cratsenberg's unassisted goal turned out to be the game-winner.

We also thought Jersey Hitmen '97 goaltender Ryan Glander was excellent. Playing the second half, the 6'2", 185 lb. backstop kicked out all 11 shots he faced, and if he was slightly upstaged by Resop's heroics at the other end, he couldn't have been more efficient.

For Team Mass., in addition to Resop's work in net, 5'8", 195 lb. UNH recruit Charlie Kelleher was terrific – the most skilled player on either team, a pure playmaker. But for all that, Kelleher was held to a single assist

***

U-16 All-Star Game:

The U18 game overlapped with the U16 game so we only saw the second half of the latter. However, we have covered the U16 Division pretty thoroughly, and there weren't many players in this game we haven't written about extensively.

We haven't seen the Syracuse Nats since the Beantown Fall Classic in late October, and we will say – again, and emphatically -- that LD David Farrance is one special prospect, certainly the best '99 defenseman we have seen. Farrance, who is 5'11" and 170 lbs., leads his team in scoring and is the top-scoring d-man in the entire league – as a 14-year-old. An extremely smooth skater, Farrance's passes are tape-to-tape, and his poise is something to behold. He made one home run pass that was perfect. He'll be eligible for the NHL draft in 2017.

The scoring leader in the game was '98 Adam Tretowicz, with two goals and an assist. He's a playmaker who can finish. We assume he's the son of either Dave or Mark Tretowicz, brothers from the Syracuse area who played at Clarkson in the late '80s. Linemate Noah Williams, also a '98 from the Syracuse Nats, had a couple of assists.

We got our first look at recent Quinnipiac recruit Ryan Finnegan, who is 5'4" and 120 lbs. The '97 is tiny indeed, but also showed flashes of what might be coming down the road. He has a good stick and a knack for knowing where to go on the ice. He can both get open, and find open guys.

Junior Bruins' '98 center Johnny DeRoche, who scored a goal, was excellent. The Quinnipiac recruit is a high-skill player.

The Selects Academy forwards were a little quiet today. There were seven of them in the game, and they only came up with one goal between them.

As for the blue line, we've already written about Farrance, but Selects Academy 5'11" RD Jake Ryczek, a '98 from the Springfield area, also stood out. His skating is excellent, and he's comfortable with the puck on his stick. We also liked his teammate, 6'2", 178 lb. RD Andrew Peeke, a '98 from Florida who moves well for his size and age.

On the White Team, the top forward was Alex Whelan, a '97 from the Jersey Hitmen who is leading the league in scoring, averaging close to three points per game. Whelan is 5'11" and, at 193 lbs., sturdy and difficult to knock off the puck. He's a D-I prospect who will have a lot of choices of schools.

Other forwards on the White Team who caught our eye included 5'11", 180 lb. '97 Danny Reidel of the Hitmen. He's a strong, power forward type. 5'10" Jason O'Neil of the Skipjacks, 5'7" Patrick Cozzi of the Connecticut Yankees, and 5'8" Ilya Putintsev of the Junior Bruins. All had good games.


Note:

Due to the onslaught of games throughout the holidays, we're behind on gathering together all of our notes, and editing pieces we already have in the hopper. For example, we covered the USPHL Showcase at the New England Sports Center a few weeks ago, and we'll pull that together shortly. In it, we cover players that are not mentioned above – and a number who were.



Sat. 1/25/14

EJEPL U-16 All-Star Game Review
USHR traveled to Bridgewater, Mass. on Monday, Martin Luther King's Birthday, to catch the morning games of the Eastern Junior Elite Prospects League (EJEPL) All-Star Jamboree.

Here are eight players who stood out at for us the morning U16 game, won by the White Team 6-3. (Though we moved on after the morning's action, the two teams would meet for a second time in the afternoon, and the results were flipped, with the Blue team cruising to an 8-2 win.)
Jamie Swiggett, '98 D, #6 White, 5-9/170 (Conn. Oilers) -- Possibly the strongest overall d-man in this game. Often paired with Jones (see below), the two controlled the play with relative ease. Very poised with the puck on his stick; looks to create offense through his teammates. Can shoot it too, when he chooses to.
Cooper Jones, '98 D, #2 White, 5-7/150 (Boston Bandits) -- A mobile d-man with good vision. Willing to join the rush; makes excellent passes in all three zones. An impact player on every shift, despite being one of the youngest players on the ice.
Logan Drevitch, '98, F, #4 White, 5-8/145 (Boston Bandits) -- A gifted player with the puck on his stick, Drevitch has the hands necessary to move through the ranks quickly in the coming years. Looked a bit disinterested on a number of shifts, though.
Chris Wright, '98, F, #77 White, 5-9/165 (RI Hitmen) -- A forward who doesn't grab your attention right away. However, when he gets the puck on his stick he finds a way to put it in the back of the net. Had a couple of nice goals in the morning game.
Brian Silard, '97, F, #11 White, 5-10/175 (Conn. Oilers) -- A smooth-skating forward who can shoot it off the rush. Can get lost in the shuffle at times, but is quite noticeable when controlling the puck.
Colton McAllister, '97, F, #21 White, 5-9/160 (NH Monarchs) -- A hard-nosed forward who gets to the dirty areas to put points on the board. Doesn't do anything flashy with the puck, but often makes smart decisions.
Austin Johnson, '97, D, #21 Blue, 6-0/190 (Apple Core) -- The most noticeable D-man on the blue team. Can skate the puck out of pressure and has the vision to make great passes through the neutral zone. Can really shoot it from the back end, too.
James Nicholas, F, #55 Blue, 5-11/165 (Apple Core) -- Was the most dynamic of the blue forwards in the morning game. Made good passes and weaved through defenders in the neutral zone.
Sun. 1/19/14

A New #1 in USHR Prep Poll
Kent (12-1-1), with their decisive 6-2 win over Salisbury on Saturday, has moved up from #2 to claim the top spot on USHR's weekly prep poll.

This is the first time all season that a team other than Salisbury has claimed the top spot.
Other items of note:

-- Nine teams have been in the top ten every week this season, with teams dropping into and out of the #10 spot.

-- This week, for the first time all season, the top 10 teams from last week are also in the top 10 this week.

This kind of consistency is rare. We haven't looked it up, but can't recall anything like this in the past.

USHR Prep Poll, Week of Jan. 20, 2014



Fri. 1/17/14

He Always Looked for the Good

Longtime New England scout Jack Gardiner, who worked for Central Scouting, the Toronto Maple Leafs, St. Louis Blues, and San Jose Sharks during a 35-year career, died last weekend after a prolonged illness. The cause of death was kidney failure as a result of cancer. Gardiner was 69.

Gardiner came from a hockey family and played high school hockey at Belmont High in the early '60s along with his brothers Ken, who also played at Clarkson, and Bobby, who died of cancer in 2011.

Gardiner lived in Belmont and taught at Watertown High School for decades. In addition, he was an assistant hockey coach there from the mid-'70s to mid-'80s when Dick Umile was head coach and the then-moribund program was brought back to life, winning two Middlesex League titles. He and Umile coached football together too.

"He came from a big hockey background, and he had a great mind for the game," Umile said. "Most importantly, everyone liked him. He was just such a good guy. So personable. He always had something to say to make you feel good. He was so well liked and so well respected. And he was great with the students, both in the classroom and outside."

In '80-81, Gardiner went to work for Central Scouting, covering New England with Gary Eggleston, and then moved on to the Toronto Maple Leafs, for whom he worked for over two decades. In recent years, Gardiner worked for St. Louis and San Jose.

"Jack was the ultimate professional in how he approached his work," Northeastern head coach Jim Madigan, a former Islanders scout, recalled. "He always looked for the good in players."

Madigan said that extended to people in general. "He always embraced the younger guys. When I started with the Islanders in '93 he introduced me to all the other scouts -- 'the band' – and he always made me feel right at home at lunches on the road, and in conversations. He always made you feel comfortable."

LA Kings scout Bob Crocker said, "He was the type of guy who, if you needed something, he'd go out of his way to help you. That was Jack."

It was repaid in kind. Gardiner, a warm person with a twinkle in his eye and a dry sense of humor, was one of the most popular scouts in New England.

Gardiner, despite his long illness, held out hopes of returning to work next year. Everyone we spoke to said San Jose Sharks Director of Amateur Scouting Tim Burke -- like Umile a former Melrose High School kid who went on to star at UNH -- came up big during Gardiner's recent tough times, always reminding him that his job was waiting for him whenever he felt ready to come back.

Gardiner was a family guy. Crocker recalled how he doted on his grandchildren. Every August, on the week of USA Hockey's National Junior Team Evaluation Camp, Gardiner would gather together his entire family – and that included every single grandchild – and they'd all stay together in a hotel on the lake – one of the nice ones, too. It was the family summer vacation and Jack did it first class. "Oh my, he loved those grandchildren of his," said Crocker.

Bill Berglund, a longtime college assistant and, until his recent retirement, a scout with the Montreal Canadiens, goes back a long time with Gardiner, and recalls the two of them – Berglund was from Stoneham -- playing in summer leagues together during high school.

"Jack was as responsible as anyone in New England in trying to promote the New England kid," Berglund says. "A lot of the attention the top New England players got started with Jack. Jeff Serowik. Jack Capuano. Joe Sacco. David Sacco. Those were all guys the Leafs drafted when Jack worked for them. I could go on and on. He always made sure the best got the attention they deserved."

"We had some great times. Myself, Bob Crocker, Paul Merritt, Eddie McColgan…if you saw one of us, you saw all of us. It was a great family we had there. My heart has had a big chunk taken out of it."

"We were supposed to go to the Christmas prep tournaments last month," Berglund added, "but he was in the hospital. He told me he'd catch me next time."

Note:

Funeral services will be private. In lieu of flowers, donations may be made to the Dana-Farber Cancer Institute in memory of Jack Gardiner. 10 Brookline Place West, 6th Floor, Brookline, MA 02445.

There is an on-line guest book here: Brown & Hickey Funeral Home


Tues. 1/14/14

An Even Dozen from the Prep West Showcase
The Prep West Conference held their second annual winter showcase on Sunday at the Berkshire School.

For the record, Millbrook topped Pomfret, 4-1; Gunnery beat Winchendon, 5-2; Canterbury bettered Albany Academy, 10-6; and Berkshire edged Williston-Northampton, 2-1.

What we have done below is simply pick out 12 players who, through their play, kept forcing us to take note of them. There is no ranking. They are listed by team.

Mike Lee, LD (#3, Gunnery, Jr., 6-0/175, '96) Lee, a highly-skilled offensive defenseman with a smooth stride and good hands, quarterbacks Gunnery's powerplay, has a hard shot from the point, and has imagination and creativity with the puck. The UVM commit from Hamden, Conn. has the offensive tools to be a top four guy in college. He needs, however, to be more committed in the defensive zone.
Alec Mehr, RC (#19, Gunnery, Jr., 5-11/180, '97) Mehr's adaptation to prep hockey – he comes from the LA Selects – has been inconsistent. At the Exeter Tournament in early December he showed off his speed and skill, but was then fairly quiet at the Watkins Tournament a couple of weeks ago. On Sunday, however, he stood out, scoring a great goal and adding an assist. Irvine, California native has the speed, skill, and hockey sense to be a D-I player.
Nathan Sucese, LW (#8, Gunnery, Sr., 5-8/162, '96) Sucese leads a prospect-rich Gunnery team in points with a 5-14-19 line in 15 games. Has speed and stickhandling ability, but it is his hockey sense that makes him the player he is – excellent vision and anticipation. A cerebral, perimeter player, he has poise and skill with the puck, which allows him to find passing lanes. Fairport, NY native is small, but his skill makes him a D-I prospect. We felt Sucese was the best player on the ice in Sunday's 5-2 win over Winchendon.
Ryan Dmowski, LC (#15, Gunnery, Jr., 6-1/190, '96) Dmowski is a versatile forward who can play both a power and skill game. He has good hands and an elite shot, but is not one-dimensional -- he showed a real commitment in the defensive zone, picking up sticks and playing the body. He does a good job using his strength and puck protection skills to create time and space to set up his shot. If the East Lyme, Conn. native improves his skating and agility, D-I schools should come knocking.
Nick Quillin, LD (#9, Gunnery, Jr., 6-0/190, '96) Dartmouth, Nova Scotia native is a strong, powerful skater with offensive capabilities. He has smooth hands, makes a great first pass and has an accurate, powerful shot. He appears to be more mature with the puck, making better decisions and not forcing plays. He is reliable and physical in his own end.
-We have high opinions of Gunnery forwards Noah Bauld, Robert Cerepak, Kevin Darrar and Joey Fallon but they did not stand out for us as much in Sunday's game as in previous viewings.
Jack Moran, D (#8, Winchendon, Fr., 6-2/190, '98) Moran has received a lot of attention since the St. Seb's Xmas Tournament, where the '98 showed impressive upside. He has great size, strength, and escapability with the puck. Moran, from North Reading, Mass., also has decent speed but needs to lengthen his stride and improve his quickness and lateral movement. He has an above-average slap shot and makes a crisp, accurate pass. His hockey sense is good and should mature with time. A sure fire D-I prospect who is getting a lot of looks.
Jake Marrello, F (#12, Albany Academy, Jr., 5-8/150, Jr, '97) Marrello is a small, dynamic forward with elite playmaking ability. He is quick and shifty, and able to beat defensemen with either his hands or feet. He is smaller than the roster indicates so size is a definite concern, but his hockey sense, stick skills and scoring touch really stood out. He had two goals against Canterbury.
Craig Puffer, LW (#3, Berkshire, Sr., 5-9/170, '95) Puffer was without linemate Charlie Corcoran (stomach bug), but that did not slow him down as he registered both assists in the Bears' 2-1 win over Williston. New Canaan, Conn. native is small but crafty, has tremendous awareness, and a high compete level. He made plays backchecking, on the PP, and in the transition game. Puffer, committed to UVM, leads his team in points with a 10-9-19 line in 14 games.
George Blinick, G (#31, Berkshire, Sr., 6-1/195, '95) Blinick stopped 33 of 34 shots against Williston-Northampton in a 2-1 win. He has good size, plays his angles well, and takes up a lot of net. Lawrenceville, NJ native isn't the quickest goalie, but he's smart and cagey. Sports a .923 save percentage on the season.
Shane Sellar, F (#19, Canterbury, Jr., 6-1/180, '97) Sellar, from Carlisle, PA, is a tall forward with speed and an explosive first step. Leads the team in scoring with a 7-9-16 line in 16 games. He notched a hat trick against Albany Academy and was a physical force throughout the game. Sellar has a nice combination of size and speed, which makes him a legit D-I prospect.
Max Willman, LW (#20, Williston-Northampton, PG, 6-0/170, '95) A PG out of Barnstable (Mass.) High School, Willman has a good frame, is a smooth skater, and handles the puck well in traffic. He sports a 13-8-21 line in 12 games. The Brown commit was #177 on Central Scouting's just-released mid-term ranking of North American skaters. A '95, he was passed over in last summer's NHL Draft.
Brett Supinski, F (#19, Millbrook, Sr., 6-0/175, '95) A smart player with hockey sense and a real feel for the game. Collegeville, PA native is elusive, has soft hands, and an accurate shot that he gets off quickly. Will need to fill out over the next two seasons before heading to Union College for 2016. He flies under the radar quite a bit, but is one of the top players in prep hockey. Has a 12-15-27 line in 18 games.

Mon. 1/13/14-updated Wed. 1/15/14 1:00 pm

USPHL All-Star Rosters
The U.S. Premier Hockey League will be holding its All-Star Games – four of them, to be precise – on Monday Jan. 20th (Martin Luther King Day).

All games will be held at Merrimack College, and all will consist of two 25-minute halves.

Update, Wed. 1/15: D Chad Lehigh (Flyers) has been added to the Premier roster, and D Matt Manzella (Junior Bruins) has been added to the Premier Prospects roster.

The Schedule:

12:00 pm – USPHL Premier All-Star Game (Lawlor Arena)
1:40 pm – USPHL Premier Prospects Game (Lawlor Arena)
3:30 pm – USPHL U18 Game (Lawlor Arena)
4:20 pm – USPHL U16 Game (Gallant Arena)

The Rosters:

USPHL Premier All-Star Game

USPHL Premier Prospects Game

USPHL U18 Game

USPHL U16 Game




Sun. 1/12/14

Salisbury Continues Atop USHR Prep Poll
Salisbury (9-0-2) had a scare thrown their way on Saturday when, playing at home, they had a 2-0 second period lead over Westminster, but allowed their opponents to score two of their own. The Knights had to settle for a 2-2 tie, but their undefeated season continues. On Saturday they go on the road to face #2 Kent. The two teams previously met on Dec. 13th at Salisbury, a 2-2 tie.

USHR Prep Poll, Week of Jan. 13, 2014

Note: A previous version of this story reported that Salisbury trailed 2-0 and then came back against Westminster. It was the other way around.



Fri. 1/10/14

Wahlstrom: Too Young
Perhaps we're too old, but all we have to say about the commitment of 2000-born North Yarmouth Academy forward Oliver Wahlstrom to the University of Maine is: he's too young.

It was a bit of an eye-opener when Springfield Cathedral freshman goalie Keith Petruzzelli, a Feb. '99 birthdate, committed to Quinnipiac recently, but Wahlstrom's commitment blows that one out of the water. Wahlstrom, from Yarmouth, Maine, is 13 and a half, a 6/13/00 birthdate, a 7th grader -- and the youngest player to ever commit to an NCAA Div. I program. He is due in Orono in the fall of '19.

We learned all of this when we woke up to find a press release from North Yarmouth Academy. That in itself is a first. We can't recall ever getting a press release (see link below) from a prep school announcing a verbal commitment.

Wahlstrom has received a ton of attention across the YouTube-iverse for scoring lacrosse-style goals during Mini 1-on-1 shootouts between periods of Bruins games at the TD Garden – he's done it twice, humiliating the poor kids between the pipes with the show-off move.

Wahlstrom's father, Joakim, played for a year at Maine in the late '80s before going on to play pro in Sweden, and has reportedly been a driving force behind his son's career.

In talking to people in the hockey world this morning -- college coaches, junior coaches, prep coaches, and agents -- there is an overwhelming feeling of discouragement over the Wahlstrom decision. College hockey is not college basketball or football. It's a distant third, and the last thing the game needs is to give the appearance that young children are being offered college scholarships. Perhaps, the NCAA might take a few minutes away from worrying about Johnny Manziel, and decide that hockey has gone rogue on them.

If so, could this be a turning point? Will we finally scrap verbal commitments and get back to Letters of Intent?

We also think it's bad for the kid. He's a known hard worker, and will likely continue to develop, but, as the saying goes, there's many a slip twixt cup and lip. Will the Maine staff still be together in the fall of '19? What if Wahlstrom's development slows? Will Maine lose interest? If Maine struggles, will Wahlstrom decommit and go to another school? Will the siren call of the Q be too much to resist? Will he fall out of love with hockey? We've seen all these scenarios come to pass, many times.

He's just too young.

Tues. 1/7/14

Youth Served at Watkins Tournament
Ashburnham, Mass. – By New Year's Day 2014, when the Watkins Tournament at Cushing Academy and the accompanying winter storm – the Weather Channel named this one 'Hercules' -- rolled around, the idea of ranking players we have already ranked at numerous other tournaments – sometimes multiple times – seemed repetitive to us and, no doubt, to USHR readers. So, in searching for a better way – a work-around – we decided simply to concentrate on younger players -- though, yes, we've written about most of them, too, just not as much.

Of course, defining a 'young player' in the context of prep school is difficult because, while some players repeat grades, others don't, hence there are 'old' sophomores and 'young' sophomores. On top of that, there really are not that many 9th and 10th graders playing prep hockey in the first place, let alone making solid contributions.

In the end, we decided to limit our ranking to freshmen, sophomores of any age – as well as juniors (late '96s and '97s only).

As for the tournament – as usual, it was extremely well-run – the games went off like clockwork. As all the teams were staying nearby the weather was really only a problem for those driving long distances. Day #2 was a little tough, but this is New England and it's what we do.
On the ice, the championship went to the Gunnery. After a dubious start, losing their first game to Canterbury, 2-0, Chris Baudo's team had to win all the rest of their games – and they did just that, picking up impressive wins against Culver and Dexter in order to play in the championship game against NMH, a fast-paced, hard-hitting contest that Gunnery, behind senior goaltender and tournament MVP Matthew Schneider, took by a 5-3 score, with the final goal coming on an empty-netter.

Here, then, are the young players who caught our attention.

Note:

Karch Bachman, F (#8, Culver, Soph., 5-11/170, '97) -- The Miami RedHawk recruit, who was a major force at the Lawrence-Groton Tournament, missed the Watkins Tournament with an injury. Culver's offense was noticeably affected by Bachman's absence. The Indiana native would certainly have challenged for the top spot on this list.
Top 20:
1. David Cotton, F (#11, Cushing, Soph., 6-3/185, '97) – The Parker, Texas native was head and shoulders above any other player of his age this weekend. Cotton notched five goals, including a hat trick against Governor's, and added three assists. Prior to moving east to Cushing, Cotton was a member of the Colorado Thunderbirds organization. The sophomore already has impressive size and when he fills out, he will be a force. Has a long reach and uses his frame to protect the puck. NHL scouts were watching #11 on Cushing very closely despite his not being eligible until the 2015 NHL Draft. Will be pursued by USHL and major junior teams at the end of the season. Has offers from Providence, UNH, and Northeastern – with more to come. Leads a deep Cushing squad in scoring with 11-19-30 points in 15 games.

2. Bailey Conger, F (#13, Cushing, Soph., 6-0/170, '97) -- Plays on a line with David Cotton and if the two stay at Cushing for the next couple years, the Penguins will win a lot of games. Conger is not as high end as Cotton but is a very strong Div. I prospect in his own right. Has a solid skill set, but the thing that separates him from other players his age is the way he thinks the game. Through 14 games, the Boise, Idaho native has a 6-12-18 line.

3. Sean Keohan, D (#6, Dexter, Fr., 5-10/160, '99) --- We really liked the freshman from Milton, Mass. a little over a week ago at the Lawrence-Groton tournament. And when you compare Keohan to players of his age it's even easier to see why Keohan will be heavily pursued by many Div. 1 schools. A very good skater already, Keohan will only get quicker and more mobile. Has patience with the puck on his stick and is very aware of his surroundings in his own end.
4. Kevin Hock, F (#14, Dexter, Soph., 6-0/165, late '96) -- The former Catholic Memorial star is an older sophomore so might not project as well as some of the younger players on this list but he has been impressive over the holiday season. Playing with Ryan Donato, Hock has taken on a complementary role. The late '96 from Braintree has good speed and really gets in hard on the forecheck, making it hard for opposing defensemen and forcing turnovers. Does not have great skill with the puck; relies more on a chip-and-chase approach. Has 17 points in just 13 games. Was named to the All-Tournament team.
5. Michael Snow, F (#27, Lawrence, Soph., 5-8/150, '97) -- Averaging just under a point a game on a team that is severely short on firepower. Good laterally with the puck, Snow's stick skills make him a scoring threat on his own. Coach Robbie Barker will be counting on the Medford, Mass native to be a pillar for him over the next couple of seasons.
6. Noah Bauld, F (#16, Gunnery, Jr., 5-10/165, '97) -- The junior from Halifax, NS lit the lamp twice in the championship game. There is nothing flashy about Bauld's game but he plays in the dirty areas of the ice and has a very aggressive style of play. Has a 4-5-9 line in 12 games.
7. Conor O'Brien, G (#31, NMH, Jr., 6-2/170, '97) -- Has really been in the zone as of late and shined again this past weekend in his two starts. (He shared the net with PG Kyle Redmond, who is back from an injury.) O'Brien put in a 47-save effort in a 5-4 win against Cushing and followed it up by allowing just one goal on 28 shots in a 5-1 victory against Lawrence Academy. If O'Brien continues to play the way he has of late the attention from Div. I schools will intensify for the Florida native.
8. Ryan Dmowski, F (#15, Gunnery, Jr., 6-1/190, '97) -- Dmowski's championship game didn't last very long as he was kicked out early in the first period after a hit from behind on NMH captain Isaac Lipton. Was only able to produce one assist this weekend. However, we liked Dmowski's game the week before at the Avon Old Farms tournament. He can shoot it and is willing to get involved physically.

9. Shane Sellar, F (#19, Canterbury, Jr., 6-1/180, '97) -- Canterbury's leading scorer has a long reach and a nice set of hands allowing to create time and space. He's a playmaker rather than a goal scorer. Is wobbly on his skates at times; needs to add strength.

10. Zachary Mirageas, D (#15, Governor's, Jr., 5-10/178, '97) -- A smooth-skating defenseman who has very good offensive instincts with the puck. He's on the small size for a defensemen but he may have just enough offensive upside for a school to take a chance on him. Is the leading scorer for Governor's with a 3-4-7 line in nine games. Selected to the All-Tournament Team.

11. Alec Mehr, F (#19, Gunnery, Jr., 5-11/187, '97) – Has excellent speed through the neutral zone. Plays a north/south game. Simple with the puck but has a good release that can beat goalies from well outside the perimeter.
12. Max Brainin, F (#14, Cushing, Soph., 5-11/170, '98) – A scorer who plays with a bit of an edge. Winger has a 6-4-10 line in 15 games played. Not bad for a kid playing U14 AA hockey for the Highland Park (Ill.) Falcons last season – he scored 107 goals for them. Will become more well-rounded -- and more of a playmaker – with time and experience.
13. Andrew Olevitz, D (#23, Dexter, Jr., 6-2/195, '97) – A big d-man who plays a simple game and moves the puck well from the back end. Olevitz generates offense by his ability to get shots through traffic on net. If he is able to improve his foot speed, his potential will rise immensely.
14. Brent Hill, F (#18, Cushing, Soph., 5-10/180, late '97) – The sophomore from Lunenburg, Mass. is very close to being a '98. On most other prep teams, Hill would be a top-line player. Has a nice set hands and makes little plays that continue plays.
15. Chad Varney, F (#24, Gunnery, Soph., 5-7/173, '97) – We find it surprising that the sophomore from Potsdam, NY only has one assist on the year. Varney, a center, is very good in the faceoff circle and is capable on the defensive side of the puck. Has a low base that makes it difficult to knock him off the puck. Is very active in the corners.
16. Jack Donato, F (#26, Dexter, Soph., 6-0/165, '97) – The Scituate, Mass. native was noticeable all weekend and found a way to be involved in the play every time his line was on the ice. Donato was very good this fall playing for the Cape Cod Whalers and against players his age showed his puck skills and ability to control the play. Has a 2-5-7 line thus far.

17. Dakota Mulcay, F (#16, Cushing, Fr., 6-1/175, '98) -- The only freshman on Cushing's roster is making the jump from New Hampshire high school hockey where he played for Goffstown last winter. Already over six feet, Mulcay has good size. Will open eyes in the years to come.
18. Garrett Coley, F (#13, Governor's, Soph., 5-9/196, late '97) – Raleigh ,NC native with a 12/27/97 birthdate was a bright spot for a Governor's team that had a short bench this weekend. Coley is strong on his edges but is a smaller player who lacks blazing speed. Is good on puck retrievals and plays the game with an edge.
19. Jamie Dorsey, D (#7, NMH, Soph., 6-1/195, late '96) – On the older side for his grade, Dorsey returned this weekend after missing the Lawrenceville Tournament with a shoulder injury. The Wilbraham, Mass. native will try to use his hard-nosed style to prove he is worthy of a roster spot on a Division I program.
20. Jake Rainer, F (#18, Lawrence, Soph., 5-8/150, '97) – Rainer hails from Encino, California and played for the LA Selects program growing up. He is very good in his own end and will be a big part of the rebuild at Lawrence Academy. Has a 2-5-7 line so far this season.

Limited Viewing:

Olof Djurberg, G (#35, Cushing, Soph., 6-1/175, '97) – 16-year-old from Sweden was solid in net for the Penguins in limited action. Stopped 23 of 24 shots in a complete game vs. Lawrence Academy. Was also perfect in one period of relief against Governor's in an 8-0 Cushing win. Looks to us like a very capable starter. He just happens to be playing behind Joey Daccord, one of prep school's top goaltenders. Djurberg has a .917 save percentage so far this season.
Mon. 1/6/14

Salisbury Tops First USHR Poll of 2014
Salisbury (9-0-1) hasn't played since the last poll – and won't be playing again until Saturday (vs. Westminster) – so they hold onto the top spot in this week's USHR poll.

USHR Prep Poll, Week of Jan. 6, 2014



Sun. 1/5/14

U.S. Olympic Women's Team Tops St. Seb's, 5-2

Brookline, Mass. -- This afternoon, the 2014 U.S. Women's Olympic Hockey Team topped St. Sebastian's, 5-2, in a game played at Dexter-Southfield's rink, which, by the way, was jam-packed. The game really should have been played in a college rink – Walter Brown Arena or Harvard would have been just right.

A Will D'Orsi goal 41 seconds into the game gave St. Seb's a 1-0 lead that held into the first intermission. In the second period, the Olympians took over and dominated, as Hilary Knight, Anne Schleper, Gigi Marvin, and Kendall Coyne scored four unanswered goals to give the U.S. women a 4-1 lead after two.

In the third, Kacey Bellamy scored for the U.S., and Corey Ronan for St. Sebastian's.

As far as we know, there was no game sheet kept – this was an exhibition – so we're hoping we have all the scoring right.

Brianne McLaughlin played the first 30 minutes for the U.S., and Jessie Vetter took over midway through the second. Tedy Loughborough played the full game in net for the Arrows.

This typist has seen every U.S. Women's Olympic Hockey Team – this is only the fifth edition, as the women's game was only added to the Olympics in 1998. And this quadrennial's team is an extremely good one. It's a little hard to compare Olympic Women's teams year to year because the women's game keeps improving at a rapid pace.
The puck movement was terrific, and it looked like the U.S. women have been playing together their whole lives and at least in the case of the Lamoureux twins – linemates Monique and Jocelyne – they have been.

Three of the five U.S. goals were scored from the point, where the Arrows had their hands full. In addition, in areas where a physical team like St. Sebastian's has success – the corners, for example – the U.S Women really had their way. In the absence of body checking some of the St. Sebastian's players looked a little lost. At times they seemed a little mesmerized in their own end. But, as we said, the U.S. women move the puck really well, and the powerplay was tough to defend against.

The Southfield-Dexter rink is a big sheet and this is what they'll be playing on in Sochi next month. St. Sebastian's coach Sean McCann took note of it afterward saying, "They have a team that executes extremely well, and on that big sheet they just did a great job."

McCann also acknowledged that it was a "a little bit different" for his team not to be able to hit.

The game, however, was really clean. As many of you know, the U.S. women have had a couple of brawls in pre-Olympic matches vs. Canada in recent months. In the fall in Burlington, Vt., and then, a couple weeks ago, in a 4-1 U.S. win over Canada in Grand Forks, ND. That one, on Dec. 21st, went viral, and in case you are one of the few who missed it, here it is: US-Canada brawl with eight seconds left.

No, there was nothing like that today.

Notes:

Here is the roster for the U.S. Women's Olympic Team. Many of the names will be familiar, from previous Olympic teams, as well as New England prep schools and colleges.

2014 U.S. Women's Olympic Ice Hockey Team

The team trains out of the Edge Sports Center in Bedford, Mass., and will be playing a few more games locally. We will try to give you advance warning of any more local games, as another one is on the works for this week.


Fri. 1/3/14

Flood-Marr Rankings
Yes, we know it's been nearly two weeks since the Flood-Marr but USHR's pet ocelot, who hates northern winters and everything associated with it, ripped up our notes from those games – just shredded them. However, we found a manuscript restoration expert in the village of Kinderhook, NY who was able to piece everything back together. While his work is top-shelf, he is also very old and enjoys drinking hot rum and creating hand-made puzzles of wood, so the job took longer than expected. We hope you understand, because we sure don't.

(Here's the real reason the list took so long: too many games and tournaments, too short a turn-around due to the compressed schedule this year, and various Christmas commitments we all have with our families.)

Note: The list below is a hybrid list – basically players we found to be of particular interest. Some players' rankings are heavily weighted by potential; others by the degree to which they contributed to their team's success at the tournament. Most are a mixture of the two. The age of the players range from '94s to '99s.


Forwards
1. JD Dudek (#15, KUA, Sr., 5-11/175, '96) -- A Boston College commit for fall '15, Dudek, a right-shot center, is smooth and has exceptional poise and finesse with the puck on his stick. An Auburn, NH native, he can stickhandle around anyone, has D-I speed and is one of the most skilled players in prep school hockey. Dudek, who is eligible for June's draft, has excellent vision and, with his soft hands and passing ability, projects to be a premier set-up man at the next level. He is a cerebral player who slows the game down and plays on the perimeter until a lane opens up, enabling him to make a crisp pass or fire off a shot. He has a quick release snapper he picks the corners with. This season, he has become more consistent in the defensive zone and has worked harder along the boards. However, he still has a long way to go in those areas, and needs to raise his compete level, particularly if he wishes to hear his name called at the NHL Draft in June. He'll be playing juniors next season for Sean Tremblay's Middlesex Islanders (USPHL), where he will have to work on that part of his game. Dudek is also rather slight, and will need work in the weight room in order to be an elite college player. He's the son of former NFL running back Joe Dudek, who had such a terrific senior year at Div. III Plymouth State in 1985 that Sports Illustrated surprised everyone by putting him on their cover and picking him as their Heisman choice. (He finished ninth in the voting; Auburn's Bo Jackson, the pre-season favorite, won it.)

2. Miles Wood (#28, Nobles, Jr., 6-2/195, '95) -- Wood was selected in the 4th round of the NHL draft last year by the New Jersey Devils (100th overall) and in the fall of '15 will make the jump from prep to college -- unless he plays his senior year in juniors. Wood had a great weekend, was constantly involved in the play, has great size and skating ability, handles the puck well, and attacks the net hard. He is the team's leading scorer with a 5-8-13 line in eight games. Wood, who's older brother, Tyler, is at Brown and whose father, Randy, played at Yale and in the NHL, should make an immediate impact in the college game. His compete level is high, his feet are constantly in motion, he hits hard, he's active in all three zones, he battles on the boards and he can really move in open ice.

3. Tyler Bird (#14, KUA, Sr., 6-2/200, '96) -- Bird had an excellent weekend, scoring in all four games, and picking up a lot of the slack when his linemate, AJ Greer, was knocked out of the tournament with an ankle injury. A big strong power forward with a scoring touch, as evidenced by his 11 goals in 11 games, Bird and Dudek are a great tandem as Dudek is a beautiful skater and playmaker and Bird, a right wing, is a strong, tough finisher with a good shot. His game is fairly simple in that he doesn't expose the puck and put himself in situations in which he might lose it. He protects it well and drives the net with a purpose. We felt he played better here than in any game we ever saw him play at St. John's Prep – a good sign. Another great pickup for Brown. Bird lifted his stock among NHL scouts through his play at the tournament, and might be a good late-round guy.
4. Taggart Corriveau (#24, Westminster, Soph., 6-2/170, '97) -- Corriveau generated a lot of buzz at the Flood-Marr. He is a gifted skater with a great frame, is especially dangerous in transition, and creates a lot of offense with his speed and size. He stick skills are strong, and he picks his spots when he shoots: he has seven goals in nine games, which is more than twice his total from last season. Of course, he's playing a much larger role on a team that lost their top five scorers to graduation. A major D-I prospect, Corriveau, a right wing, will have plenty of schools vying for his services.
5. Luke Stevens (#25, Nobles, Soph., 6-3/180, '97) – The son of former NHLer Kevin Stevens is a big sophomore still growing into his frame, hence he skates a little awkwardly, something that will change in time. His hands are soft and he made some terrific passes that showed his vision and playmaking ability. Stevens has the earmarks of a top D-I prospect -- and a pro prospect for that matter.
6. John McDermott (#11, Westminster, Soph., 6-2/178, '97) – McDermott, like his teammate Corriveau, is a '97 with considerable upside. A Greenwich, Conn. native, the rangy left-shot center has great size and skating ability, is poised and confident, and has quick hands and a long powerful stride. When he get a full head of steam going through the neutral zone he's tough to stop because he protects the puck well. He has D-I speed and uses his superior athleticism to create scoring chances. Is being courted by top D-I programs.
7. Cal Burke (#10, Nobles, Jr., 5-11/180, '97) – Nobles' leading scorer last year as a true sophomore, Burke, a Notre Dame recruit, has an impressive hockey IQ, is strong on his skates, plays with a lot of poise and patience, and has smooth hands. He is a not a flashy type. He's the kind of player who, the more you watch him, the more you like him. He does all the little things. He plays hard in all three zones, backchecks hard, finishes his checks, battles along the boards, and does not back down from contact.
8. Evan & Mitchell Smith (#17, #18, Salisbury, Sr., 6-0/180, '96) -- The twins, from Stouffville, Ontario, are Yale commits, and it is hard to mention one without the other because of how well they play together. They are hounds on the puck, relentless forecheckers, play with a lot of speed and aggressiveness and cause a lot of turnovers as a result. Salisbury's leading scorer from last year with 19 goals in 27 games, Evan, a notch above his brother and a possible draft pick in June, has a good stick around the net. The twins have a great chemistry, make each other better, and always find each other in the offensive zone. Evan plays in the middle; Mitchell on the wing.

9. Michael Fahie (#7, Nobles, Soph., 5-8/145, '98) -- A fast, athletic sophomore who plays RW on Nobles' top line with Burke and Wood, Fahie is a smooth-skating, puck-moving forward who makes quick plays with the puck and then passes off to this teammates. His moves are silky, he has an impressive hockey IQ, and he reads the ice very well for his age. A Pembroke, Mass. native, Fahie uses his speed and agility to escape bigger and stronger opponents, a good thing, given that he weighs only 145 pounds. Don't know how big he will grow, or how dynamic he will become. That's to be seen, but he certainly has an abundance of skill.

10. Trevor Yates (#15, Deerfield, Sr., 6-2/200, '95) – Another product of the Lac St.-Louis Lions, Yates is a big, strong power forward who skates well for his size and has a knack for scoring. He has posted 10 goals and 11 assists in seven games this season, tying him with Ryan Donato at the top of the prep scoring list with a 3.00 ppg average. Yates would be higher on the list with that kind of productivity and size but his game is still a work in progress. While Yates has good hands and is strong and hard to knock off the puck, he needs to improve his quickness and agility. He's tough to clear out of the crease. He committed to Cornell in September after an impressive junior season during which he scored 18 goals in 24 games.
11. Derek Barach (#19, Salisbury, Sr., 5-7/150, '95) -- Barach was named tournament MVP and scored the game-winner in the championship game against Nobles with less than a minute remaining in the game. A small, crafty winger who played at Albany Academy before coming to Salisbury, Barach has great acceleration and change of speed. He is a gritty, high-energy player with a good feel for the puck, an abundance of shiftiness, and a great wrister. The undersized speedster will play a year of juniors before heading to Mercyhurst in the fall of '15.
12. Cam Burke (#8, Nobles, Fr., 5-8/150. '99) – He's quite similar in style and upside to his older brother and teammate, Notre Dame recruit Cal Burke. He's just two years younger. As a '99, he doesn't look at all out of place, which is saying something.
13. Vimal Sukumaran (#11, Salisbury, Jr., 5-10/190, '96) – Sukumaran, a Montreal native and another former Lac St-Louis Lion, is very strong on the puck, has soft hands and plays with poise. His style is not super-aggressive like many of his teammates, though he takes the body effectively. Sukumaran is more of patient cerebral perimeter player with vision and anticipation. He has 10 assists in 10 games. He is getting D-I looks in his first season at Salisbury.
14. Kale Kane (#16, Salisbury, Jr., 5-10/165, '96) – Kane, a winger with great speed and explosiveness, has a low center of gravity, is very strong on his skates and delivered some crushing open-ice hits. He is smart and patient with the puck and plays an up-tempo aggressive style. A Mohawk from the Kahnawake Reserve, just across the St. Lawrence River from Montreal, Kane played Quebec Midget AAA with the Châteauguay Grenadiers before coming to Salisbury this season. Has D-I interest.
15. Sam Lafferty (#19, Deerfield, Sr., 6-1/178, '95) – Brown recruit has good size and speed. In addition, he's a true competitor who battles in all three zones. Has a great snap shot that he gets off quickly and accurately. Now in his third year at Deerfield, the Pennsylvania native has twenty points in seven games playing alongside Yates.

16. Michael Lata (#11, Andover, Sr., 6-2/200, '95) – Lata, committed to Colgate for next season, is rather unheralded. A Toronto native, the left wing exhibits poise with the puck, doesn't force it, is strong on his skates, competes hard, and is smart and creative both with and without the puck. Lata, who has a really nice shot, does not have the supporting cast that some of the players ranked above him do, and perhaps that's why he flies under the radar a bit. Has six goals in eight games.
17. Jack McCarthy (#7, KUA, Jr., 6-1/185, '96) – A good-sized forward, McCarthy, who has a good shot, plays with a lot of composure. If he were playing on the top line with Bird-Dudek-Greer he would obviously have more scoring opportunities, but he has still produced well on the second unit. And since we are on the subject of players playing in the shadow of the big line, KUA newcomers Brendan Riley (Jr.), Chris Shero (PG) and Bobby Hall (PG) are all secondary forwards who can impact games. McCarthy, who played at St. John's Prep last season, is a two-way player who contributes on the PP and PK and has great balance to fend off defenders in the corners. Would like to see him get more active in the offensive zone, but feel he will be a solid player at Brown.
18. Neil Robinson (#21, Salisbury, Sr., 5-10/180, '95) -- A Quebec native who played at Lac St-Louis before coming south to Salisbury last year, Robinson is a goal scorer with a quick release and accuracy. Robinson, who skates with Kane and Sukumaran on Salisbury's second line, has elevated his game this season – he's quicker and more physically engaged. A D-I prospect, he is currently uncommitted.
19. Drew Bennett (#24, Nobles, PG, 6-3/195, '96) -- Tall and lanky with OK feet, and a nice long stride. Opened eyes with two goals against top-ranked Salisbury in the Flood-Marr championship game. Needs to get stronger and more assertive but he stands a chance to be a D-I player if he chooses to put in time in juniors. He's a fine DIII prospect now.
20. Bobby Hall (#26, KUA, PG, 6-0/180, '95) -- A high-motor, aggressive type who is constantly in the play. A tenacious forechecker, Hall is physical and strong on his skates. He also has a good set of hands and shields the puck from opponents effectively. Has good speed and balance but needs to improve his awareness. He will play D-I hockey.
21. Mike O'Leary (#22, Salisbury, Soph., 6-1/170, '98) -- Salisbury is the deepest team in prep hockey and therefore the young sophomore from Halifax, Nova Scotia does not get as many minutes as he would elsewhere, which makes O'Leary one of the best-kept secrets in prep school hockey. However, there is nothing better for a young player of his ability than to be challenged in practice day in and day out and surrounded by other high-end players. O'Leary has size and skating ability, a physical component to his game, and solid fundamentals. It will be interesting to see how he develops over the next three years.

22. Jack Fitzgerald (#14, Westminster, Jr. 6-1/181, '96) -- A smooth skater with speed and an excellent first step, Fitzgerald's game is a little streaky. He needs to find consistency and an identity. He has the tools to be a D-I player.
23. Cody Todesco (#9, Nobles, Jr., 5-9/165, '96) -- A small, skilled forward with speed and creativity. Todesco's soft hands coupled with his vision makes him a dynamic playmaker who is dangerous off the cycle. Todesco is a borderline D-I/D-III player and -- given his work ethic and tenacity -- could be an energy guy for a D-I school or a powerplay top six guy for any D-III program.

24. Trevor Turnbull (#17, Milton, Soph., 5-10/175,'97) -- Smooth skater, with good speed and change of direction. Has been effective for Milton with a 3-4-7 line in eight games. Showed good chemistry working with Brennan. A fun player to watch.
25. Anthony Di Placido (#18, Westminster, Jr. 5-10/178, '96) -- A smooth-skating, athletic player with good hands and creativity to match, Di Placido has a good first step, makes quick decisions, and has a nice snap shot. Montreal native is a top six guy this year and should improve on his 17 points from last season. D-I is within reach.
26. Robert Devaney (#9, Andover, PG., 5-7/160, '95) -- A small, speedy playmaker who skates with his head up and is good at finding open ice. Quick hands in tight spaces, he spins, dips and jukes his way around opponents. Averaging 1.25 ppg and leading Andover in scoring. Would be a great D-III pickup.
27. Tim Allen (#17, Hotchkiss, Jr., 6-2/185, '96) -- Raw prospect moves well for his size. Smithfield, RI native could play a bottom six role at the D-I level.
28. Sean Brennan (#20, Milton, Jr., 5-10/160, '96) – Brennan, who has not filled out yet, is a smooth-skating, slippery forward. His hands and vision make him a threat every time he has the puck. He is predominately a perimeter player but once he adds strength he could be more than that. His stickhandling enables him to get out of jams and create opportunities for his linemates.
29. Mario Benicky (#8, Westminster, Sr., 6-3/190, '96) -- Benicky has come a long way since last season. The Slovakian prospect is a good north-south skater and projects to be a power forward at the next level. He plays tough, is responsible in the defensive zone, and has a good stick to get around opponents and take shots when the opportunity presents itself. Needs to improve his quickness and agility.

30. Roberto Cellini (#11, Hotchkiss, Jr., 5-6/145, '96) – Ile Bizard, Quebec native is tiny and fun to watch as he scoots and darts around the ice. Quick hands. Quick twitch. If he gets a little stronger and can play a more dynamic game, he could contribute a lot. Good D-III prospect.

Limited viewing:

AJ Greer (#10, KUA, Jr., 6-3/200, late '96) -- Greer, a late '96 and hence not eligible for the NHL draft until 2015, decommitted from Penn State shortly before the tournament. The Quebec native would be extremely high on our list if it were not for a high ankle sprain that held him out of action for virtually the entire tournament. A big strong power forward with a great shot and release, Greer is strong on his stick and moves well for his size. He is physical and likes to mix it up which adds extra appeal. Can be selfish at times. Will be playing for a Hockey East School. Right now, BU appears to be the leading contender.


Defensemen
1. Griffin Luce, LD (#6, Salisbury, Soph., 6-3/200, '98) – Luce is the best pro prospect in prep hockey – hands down, in our opinion. In today's game, when referring to defensemen, you hear labels a lot. A guy is an "offensive defensemen" or a "defensive defenseman." In the case of Luce, he can do both. He is a strong, physical and rugged defender in his own end, clearing bodies in front of the net like they are bowling pins and imposing his will on forwards in the corners. Luce has a massive frame and uses it well, and has a long powerful stride. He moves well for his size and while he's not the prettiest skater his mechanics are sound and he should become more polished as he grows into his body. Once he gets possession he is a confident and poised puck carrier who makes good decisions and distributes the puck very well. He has a hard shot from the point and finds seams in the offensive zone. Always has his head up when the puck is on his stick. He does not expose the puck and makes the simple smart pass. Has an elite hockey IQ, which in his case means he puts himself in positions to make plays, knows when to pursue and when to drop back, and rarely over-commits in his end. Overall, he is the best young player we have seen since Noah Hanifin. I guess you could say we're getting spoiled. Luce, who committed to Michigan over Thanksgiving break, is a dual citizen hence there's a good chance he'll be with the NTDP next season. The OHL is courting him as well. Luce is the son of Florida Panthers Director of Scouting Scott Luce, and the grandson of ex-NHLer and former Buffalo Sabres and Philadelphia Flyers Director of Player Development Don Luce.
2. Wiley Sherman, LD (#25, Hotchkiss, Sr., 6-6/210, '95) -- Last year, Sherman was a project, his skating needed a lot of work, he was only marginally physical despite his enormous size and he fought the puck. This year his game has come a long way and he is more polished. His skating still needs to improve but he has a longer and more coordinated stride, is strong on his edges, makes good decisions with the puck, and has a powerful shot. Sherman was physically engaged all weekend and made life miserable for opponents. A fifth round selection of the Boston Bruins, Sherman will be heading to Harvard in the fall. Has a ton of upside and could be an everyday NHL defenseman if he continues to develop.

3. Joe O'Connor, LD (#9, Westminster, Soph., 6-2/200, '96) -- O'Connor, who committed to UVM in November, is a repeat sophomore from Hamden (Conn.) High School. He has size, a long and smooth skating stride. He is also a strong, physical player who is composed and patient with the puck. Likes to jump up into the rush and is just beginning to tap into his offensive abilities. Has a good set of hands, a great shot from the point, and is a gifted passer At times he can get caught trying to do too much but we like seeing young players push the envelope a bit, and hopefully discover the outer limits of their ability. On top of everything else, O'Connor is competitive and tenacious. He is a team player who will block shots, kill penalties -- whatever it takes. He's eligible for June's NHL draft.
4. J.C. Brassard, LD (#2, Nobles, Sr., 5-11/180, '95) -- Brassard, who is listed on NHL Central Scouting's November list as a C prospect, was one of the top uncommitted players at the Flood- Marr. He is a smooth-skating, puck-moving, offensive defenseman who has great poise and presence. He plays with a lot of creativity and imagination, makes great outlet passes and finds seams on the power play to distribute to teammates. He has a good slap shot and an even better quick snapper from in tight. A natural athlete, Brassard relies on instinct and hockey sense and does not appear to have any pre-determined or predictable moves when he comes down on a defender 1-on-1. His defensive game is good for this level but his size and over-eagerness to join the rush can leave him in vulnerable positions at times. Will, in time, play D-I.
5. Frankie Sullivan, LD (#17, Westminster, Jr., 6-0/187, '96) -- Sullivan is a superb skater -- smooth, agile, and fast. He has offensive ability but doesn't overexert himself. A Fairfield, Conn. native, he's sound positionally and though he isn't the most physical player, he is tough to get around. Smart and savvy, he makes crisp passes coming out of his end and is a key contributor on special teams, both on the PK and PP. Is the leading scorer among Westy d-men. He will likely find himself on a Hockey East roster.
6. Will Toffey, LD (#9, Salisbury, Sr., 6-2/200, late '94) – A smooth-skating offensive defenseman with size and elite athleticism, Toffey handles the puck with ease. The third-highest scoring defenseman in prep hockey last year with 38 points, he was recruited by Hockey East schools. However, he's also a terrific baseball player and will be heading to Vanderbilt in the fall. With his talent, and knowing it's his last year to play, he will be one of the premier offensive defenseman in prep hockey. With a 3-7-10 line in 10 games, he's the fifth-leading scorer for Salisbury. Has the worst possible hockey birthdate: Dec. 31.
7. Will Brophy, RD (#23, Westminster, Jr., 6-4/197, '96) – Ranked as a C skater for June's NHL draft, Brophy plays a pro style, strong and physical in the D zone. He has great size and has plenty of room to get stronger, is a fine north-south skater and has decent lateral movement for such a big kid. He makes the smart and simple play, headmanning the puck and making nice outlet passes. He has a powerful shot but can be slow getting it off. Once Brophy puts it all together he is going to be very good. A good student, he has received a lot of attention from the Ivies.
8. Billy Sweezey, RD (#5, Nobles, Jr., 6-1/195, '96) -- Sweezey had a terrific weekend, was selected to the all-tournament team, and, if he doesn't start getting some serious D-I interest, we'll be very surprised. A hard-nosed, tough defenseman Sweezey, from Hanson, Mass., hits hard and often. Always seems to come out of the corner with the puck, initiates contact, is strong on his stick and competes. He is a good skater, has a low center for his size, decent speed and a nice hard shot. He scored a great goal against Hotchkiss gathering the puck at the wall, walking out to the center and blasting a low hard slapper that the beat the goalie five-hole. We don't think of him as an offensive d-man but he's averaging over a point a game for Nobles. A definite D-I prospect.
9. Conner Wynne, RD (#26, Milton, Sr., 5-11/170, '95) -- A Brown commit, Wynne will go straight to the Bears this fall and should be a nice addition to their defensive corps. Wynne is Milton's leading scorer overall with 11 points in 8 games. A smooth-skater with soft hands and razor-sharp vision, the Pennsylvania native makes great passes coming out of his end. He has a hard shot and quarterbacks the Mustangs' powerplay. While he usually makes good decisions with the puck, he can tend to force things at times. Not dynamic enough to get away with his size in the pro game but will be fine in the college ranks, particularly as he gains strength.
10. Billy Carrabino, LD (#4, Nobles, Jr., 6-0/205, '97) -- A relatively unknown prospect got some traction with scouts this summer at the Yankee Festival but this weekend was a coming-out party for Billy as he showed that he is a big, strong, mobile defenseman who has a good overall skill set and a bomb of a shot – his six goals in eight games played leads all prep school defensemen. He is a physical and opportunistic player who is currently uncommitted but will certainly find a home at the Div. I level. His older brother, who played at Avon, Millbrook, in the USHL, and at Clarkson briefly, is a rostered sophomore at BU, though he has yet to appear in a game. Carrabino is from New Canaan, Conn. and is the only non-Massachusetts player on the Nobles roster.

11. James Gobetz, RD (#27, Salisbury, Jr., 6-2/190, '96) -- Gobetz is another big defenseman on central scouting's radar. A raw talent with great size and a good, log stride, Gobetz plays with an edge and has a crafty stick. He plays the game at a high pace and is tough man to beat. He has a heavy shot and a commanding presence on the blueline. He needs to continue to improve his poise and vision, as he gets flummoxed at times and can turn it over. If he puts it all together he will be a key contributor at the next level. A good student, he is fielding interest from the Ivies. Played for Pat LaFontaine's LI Royals U16 Team before coming to Salisbury.
12. Brett Stirling, RD (#26 Salisbury, Jr., 6-2/210, late '96) -- A big, rugged defenseman from Aurora, Ontario who played last year at St. Andrew's College. Reminds us of Dennis Seidenberg of the Boston Bruins in that he plays a simple style, is physical, doesn't overcommit, uses his head and anticipates well. Has D-I interest and if he improves his footwork he could get looks for the 2015 NHL draft. Is a 12/26/96 birthdate.

13. Chad Malinowski, RD (#5, Milton, Sr., 6-2/195, '95) -- Amherst College recruit opened a lot of eyes this weekend. He is an offensive defenseman with size who has good hands and a hockey IQ that serves him well on the power play. Malinowski should be an immediate impact player at the NESCAC level with his size and skill set. He's also an outstanding lacrosse player. Is Milton's third-leading scorer overall with a 3-4-7 line in nine games.
14. Kevin O'Leary (#6, Westminster, Soph., 6-2/171, '97) -- O'Leary, a big, young, hard-working d-man, seemed to be fighting the puck a bit but has obvious upside. New Canaan, Conn. native has a large frame that he is growing into, decent feet, and raw ability. He's one to keep an eye on in the years to come.
15. Ben Finklestein, RD (#16, KUA, Soph., 5-9/170, late '97) -- Intriguing young prospect who we have seen quite a bit. He is an obvious offensive talent with great hands, a quick release, and good skating ability. Finkelstein looks poised to make an impact in prep hockey after a successful season at Cardigan Mountain last year. He's being thrown right into the fire. He's a top four defenseman for a top prep team and plays on the top PP unit. However, he is streaky, undersized, and has holes in his defensive game. But he's also a late '97. A South Burlington, Vermont native, he's a young D-I prospect who should develop nicely under Tim Whitehead.

16. David Belluche (#20, Andover, Sr., 6-1/205, '95) -- Middlebury College recruit has good size, is strong, is skilled with the puck and has registered four goals and three assists in eight games. Is also Andover's captain. Named to the All-Tournament Team.
17. Dennis Cesana, RD(#20, KUA, Soph., 5-9/165,'98) -- Undersized offensive defenseman from North Providence, Rhode Island played pre-prep at the Hillside School (Marlborough, Mass.) last year. He's a beautiful skater with excellent agility and reflexes. Makes good decisions with the puck and is improving on his play in the D zone. KUA is in a funny position in that their two top d-men are sophomores.
18. Adam Baughman, LD (#8, Salisbury, Sr., 6-3/205, '96) -- Baughman passes the eyeball test. He's big and has good hands but he needs to improve his skating and his competitiveness in order to reach his full potential. Was highly touted when he played for the Chicago Mission U16 squad – perhaps a little too highly touted. He is a raw D-I prospect who is in the right place to improve his game, and gain confidence.

19. Alex Hreib, RD (#15, Nobles, Jr., 5-11/190, '96) – A transfer from St. Mark's, Hreib is a versatile guy who can plays both forward and D, though we like him on the blue line. A strong, physical player with a high compete level, Hreib, from Carlisle, Mass., is reliable in his own end. Has a 1-6-7 line in ten games.
20. Michael Kim (#15, Andover, Sr., 5-11/200, '95) -- A Wesleyan recruit, Kim handled the puck well and was always involved in the play. An all-purpose defender who makes a good first pass, Kim has a decent shot, plays physically, blocks shots, and contributes on both the PP and PK. We feel the Toronto native will be a very good player for Chris Potter's Cardinals.


Goaltenders

1. Mitchell Datz (#30, Salisbury, Sr., 6-0/170, '95) – When Callum Booth left for the Quebec Remparts in August, Andrew Will & Co. were left with just one goalie, freshman Nick Sorgio. Needing experience, they went out and found Datz, who played his minor hockey in the Kitchener Jr. Rangers organization and last season played for the Hill Academy U18 Team. He's done very well, especially for a relative unknown. Had a .929 save percentage at the Flood-Marr, allowing one goal to Deerfield and Milton, two to KUA, and three to Nobles.
2. Zac Hamilton (#1, Westminster, Sr., 5-11/184, '95) – Ottawa native had some shaky games prior to the Flood-Marr but seems to be finding his groove, which will give a lift to a young but skilled team. Stopped 110 of 118 shots at Flood-Marr, a .932 save percentage.

3. Drew Hotte (#30, Milton, Jr., 6-0/159, late '96) – Had a good fall, helping lead the Boch Blazers to the Mass District U18 championship. Hotte stopped 20 of 22 shots in Milton's huge effort against Salisbury. Philly area native is still young, but a prep veteran.

4. Jake Kahler (#1, Deerfield, Jr., 5-10/165, '96) – Rome, NY native was Deerfield's lone rep on the all-tournament team and a deserving one at that. Came up with big performances against tough teams, stopping 25 of 28 as the Big Green tied KUA 3-3, and 34 of 36 in a 2-1 loss to Salisbury.

5. Philippe De Courcy (#33, Hotchkiss, Jr., 6-4/205, late '95) – A junior now and in his second year at Hotchkiss, the 6'4" Quebec City native and former Academie St.-Louis goalie could turn out to be the sleeper in this group.
Around the Rinks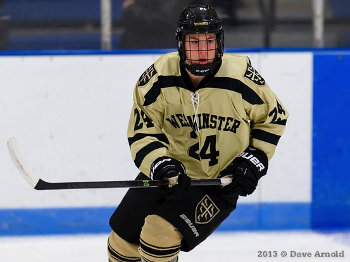 Westminster sophomore F Taggart Corriveau is opening eyes in the early going
(Photo: Dave Arnold Photography)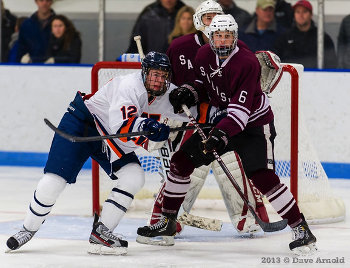 6'3" sophomore D Griffin Luce, a Michigan recruit, making life difficult for Milton's Clay Berger
(Photo: Dave Arnold Photography)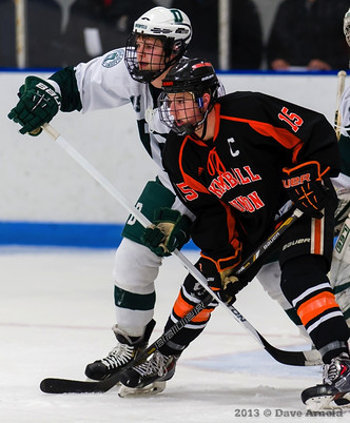 KUA's Joey Dudek battles Deerfield's Trevor Yates in front
(Photo: Dave Arnold Photography)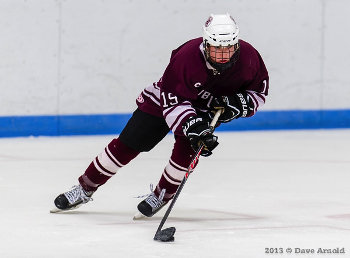 Salisbury senior F Derek Barach was named MVP of the Flood-Marr Tournament
(Photo: Dave Arnold Photography)