Established 1996 -- Celebrating Our 25th Year
Sun. 3/2/14-updated 3/4/14 -- All three games posted.

Championship Sunday:
Salisbury Repeats, Edging Gunnery in OT Thriller
New Haven, Conn. -- This was a hell of a game. One of the best – if not the best – New England prep championship games this typist has seen.

The game-winning goal, with just 2:41 remaining in the first overtime period, was a thing of beauty, a tic-tac-toe sequence in which senior Evan Smith dropped a pass to linemate Derek Barach, who gave it right back to Smith. The Yale recruit fired it into the open side of the net, giving Salisbury its second consecutive New England prep title, and its third in the six years Andrew Will has been behind the bench.

For pure hockey fans, the overtime period was an unexpected bonus, for, with just under six minutes remaining in regulation, Salisbury held what looked to be a safe 2-0 lead on the strength of two second-period power play goals off the stick of junior Kale Kane. The first, at 4:12, was a rebound of a Barach shot that bounced off Gunnery senior goaltender Matthew Schneider, landing tantalizingly just outside the goal line before getting nudged in. The second -- a little over four minutes later, at the 8:28 mark – came when junior Matt Muzyka put a strong cross-crease pass right onto the stick of Kane, who banged it home at the far post.

And that's how things stood for the next 22:03. Finally, with the clock ticking down and less than six minutes remaining on the prep hockey season, Gunnery got the break they needed when, on the power play, junior Noah Bauld kept the puck in the Salisbury end and directed it down to Alec Mehr, near the outside hash marks. Mehr moved toward the slot, and fired a hard wrister that soared over the glove hand of Salisbury senior goalie Mitchell Datz with 5:29 left on the clock. The large contingent of Gunnery supporters, every bit as loud and large as they had been the day before at Berkshire, erupted. Their team had life -- a lot of it – and kept pressing for that tying goal, with an equal measure of desperation and skill. Finally, senior Joey Fallon took a pass in the neutral zone, flew over the blue line down the right side and uncorked a bullet of a shot that tucked in the top corner. Datz had no chance on it. There was 2:02 left on the clock. Gunnery had all the momentum. And their fans were the seventh man.

Will called a time out and settled his troops. When play resumed, the Knights played with their customary composure, and got through the rest of regulation unscathed.

But, even though Salisbury held a 27-17 edge in shots after three periods, it was still anyone's game. It would also be Salisbury's eighth trip to OT on the season. One of those games was a Jan. 22nd home game vs. Gunnery, the only regular-season meeting between the two teams. That time, though, it was Salisbury that had to come up with the late goal to tie it at 2-2 and sent it to OT where, in the final minute, Evan Smith (of course) scored the game winner.

When overtime finally got underway, the tension was palpable. The game also turned penalty free, a far cry from regulation, during which ten penalties had been called – six on Gunnery and four on Salisbury. In OT, Salisbury carried the play and had two great opportunities to win it before they did. About six minutes in, junior Vimal Sukumaran had a great chance to tuck a puck inside the post but was a little short on both room and time. Then, with about six-and-a-half minutes left in OT, Evan Smith, barreling down the right side, took a pass from Barach and fired a bullet that Schneider gloved -- the save of the game.
However, the next time Evan Smith got a pass from Barach, the execution was even finer. There was more net to shoot at, and he wouldn't miss. And Salisbury had its second straight prep title, the first team to accomplish that feat since Avon Old Farms in 2007 and 2008.

There were 'games within the game' here. For one thing, physicality and chippiness were evident from the opening drop. There was also more trash talking than one might expect, and it looked as if Gunnery was trying to intimidate Salisbury and/or draw them into penalties.

It didn't work that way, however, as it was Gunnery that was called for three successive penalties in the first before Salisbury was called for a couple of their own. For Gunnery, Nathan Sucese had a great shorthanded opportunity when he broke in alone off a turnover and, at the other end, Schneider made a great save on a Barach shot. When the first period ended, it was a 0-0 game, and shots were even at 8-8.

In the second, Gunnery would come out and take two penalties, as Nick Quillan was called for boarding, and Mehr was called for charging. It would cost the Highlanders, too, for, as mentioned above, Salisbury's Kane converted on the two ensuing power plays. Salisbury outshot Gunnery 10-3 in the period.

In the third, the game settled in a bit, as Gunnery dialed it back a notch physically and began playing more to their strengths, using their team speed to hunt down pucks and create offense. The problem, though, was that Salisbury's team defense was matching them every step of the way – until Mehr nudged open the door a crack, and then Fallon came up with the goal that turned this into a prep game for the ages.

***
With Salisbury celebrating on the ice surface of Ingalls Rink after the hardware had been handed out, we headed downstairs. Gunnery coach Chris Baudo was in the hallway exchanging hugs with a sizeable group of his former players who had made the trip to New Haven for the game. It was a warm and somewhat unexpected scene. No hangdog expressions whatsoever.

We asked Baudo about the physical tenor of the game's first two periods. "We have to play with an edge," he said. "With our guys you can't pull the reins in. But in the second period we did get emotionally caught up in things which resulted in a lack of execution. And in the third period they did rein it in a bit – I give my captains (Dominic Rovero and Fallon) credit for their calming presence -- and we had good results from that."

"I thought that in the third period our guys played with more confidence and urgency and were able to generate energy through that."

"I think our guys will be proud of their effort," Baudo added. "From January 2nd on we lost two games (both to Salisbury). They've learned what it takes to win. When the dust settles, they are going to be proud. We're competitors, so it hurts now. They really put their hearts into it."

On the other side of the rink, Salisbury head coach Andrew Will was asked about Gunnery's late charge.

"We were playing for the clock to run out," Will said, "and we stopped taking the game to them. We were back on our heels. We were waiting for the game to finish instead of finishing it ourselves."

"But credit to Gunnery. They were coming on strong and those were great shots. But in that period we let them take the game to us."

In the break before overtime, Will said simply, "We just talked about how they had scored two and we had scored two and it was a 0-0 game."

We asked Will about his team's consistent success in overtime, having gone into the extra session for the eighth time without a loss.

"That speaks to the character and leadership we have in the locker room," he said. "It starts with the captains – Evan and Mitch (Smith) and Will (Toffey). But Derek Barach has always been a leader. Also Harrison Luce came back for this (he had a disc injury in his back). The last week of the season he got himself ready. Even though his minutes were limited, he was a calming presence on the bench and in the locker room."

As for winning back-to-back titles, Will credited his players. "We have a great group of kids. They had a target on their back all season because of winning last year. The expectations were high for this group. They handled that -- and the pressure that goes with it – by turning it into an opportunity to do something special."

The target will be even bigger next season, as Salisbury will shoot for a third straight prep title. No team in the tournament's 34-year history has ever accomplished that.


***

Esposito Leads Loomis to Large School Title

New Haven, Conn. – It may have been the Large School championship, a step shy of the Elite 8, but you wouldn't have known it from the loud and enthusiastic Loomis supporters who filled the stands at Yale's Ingalls Rink and turned this season's finale – win, lose, or draw -- into a home game for the Windsor, Conn. boarding school.

The faithful were rewarded, too, as junior Alex Esposito, a native of West Haven, Conn., just six miles up the road, came up with two goals and an assist to lead the Pelicans of Loomis-Chaffee to a 3-2 win over the, yes, Pelicans of St. Paul's School.

St. Paul's came into the game shorthanded as their leading scorer, senior David Storto, who had notched an assist in Saturday's 2-0 semifinal win over Choate, was not only out of commission, but out of North America, reportedly flying on Sunday to Thailand for spring break while his teammates headed to Connecticut. (We know of at least two Hockey East schools that had coaches on hand in Yale to watch Storto, and at least the same number of NHL scouts who wished to see the late '95 from Quebec in action one final time before June's NHL draft.)

St. Paul's coach Mark Bozek, whose team came in riding a 10-1-1 streak, was forced to reshuffle all his lines before facing an equally hot team, as Loomis, after losing three straight in early February, came in riding a five-game unbeaten streak (4-0-1).

St. Paul's came out with energy, playing physically, establishing a good forecheck, and pushing the tempo. It paid off too. as, with just 14 seconds remaining in the first period, junior John Laurito, from the slot, took a shot that rebounded out to classmate Austin Ricci, stationed at the far post. With Loomis goalie Nick Desimone coming out to challenge, Ricci was able to snap it home, near side. St. Paul's held a 6-4 advantage in shots after one period, and a 1-0 lead.

The second period, however, was all Loomis. Energized by their supporters, they were were dictating the tempo.

With the Pelicans vs. Pelicans skating 4x4, Loomis senior d-man Matt O'Donnell, a Vermont recruit, picked up the puck in center ice and burned down the left side. With a great individual effort, O'Donnell took it right to the net, tucking home a backhander short side, just inside the post to tie the game 1-1 at the 8:03 mark.

A shade less than five minutes later, Esposito gave Loomis the lead when he converted a strong pass from junior Ben Sharf to put Loomis up 2-1, which is how the second period ended. Shots on goal for the period favored Loomis, 12-3.

But St. Paul's wasn't ready to throw in the towel. In the third period, at the 2:08 mark, the Northern Pelicans were able to tie the game at 2-2 when Babcock got it out from behind the net to the front of the crease, where senior Cam McCusker was able to jam home the rebound of a shot by junior defenseman Giacomo Messina.
The game held there, until Esposito stripped a St. Paul's d-man of the puck inside the Loomis blue line – and was off to the races. Breaking in alone, Esposito went top shelf, glove side on St. Paul's junior goaltender Nathan Colannino for an unassisted goal at the 9:35 mark.

For Esposito, it was his second game-winning goal in as many days as, on Saturday, he broke a 1-1 tie, scoring with 13 seconds left in a 2-1 win at Andover.

St. Paul's had one last chance, when Loomis forward Henry Tobin was called for a trip at the 15:09 mark. Loomis, however, did a good job keeping the pressure on and St. Paul's couldn't get Colannino off for the extra skater until the clock had ticked down to 20 seconds and counting.

Loomis' 34-year-old third-year coach JR Zavisza, who has brought the school's program back to contention in a short period of time, was pleased with his team's work.

"In the first period," Zavisza said. "They wanted it more than us. After the first period, we went over some key points, and came out with a great second period."

"In the third period," he added, "we were a little flat, but we got a good bounce."

"Esposito had a good game. He does that. He often plays great in big games. His game-winner with 14 seconds left yesterday got us here today."

We asked Zavisza, who was holding a buoy (of the lobster pot variety) that the players give to the star player of the game, precisely what kind of team he had this season.

"We're a lunchpail team," he replied. "No matter what the score is. No matter who we're playing, we're a lunchpail team. We needed our second and third lines to play hard and that's what they did tonight. They just worked, worked, worked."

"I'd say," Zavisza added. "That the character of this team is dictated by an ability to win close games."

We asked Zavisza about the crowd support, which was loud.

Zavisza, who played for John Gardner at Avon Old Farms in the '90s, said, "I'm an Avon guy so I know the importance of crowd support. I have been pushing that since I got here. Kids like winners – and they like hockey, too. The student support has been great. We sent down two buses today. We had one at Andover yesterday. Whether it gave us the edge, I don't know, but it sure didn't hurt."


***
Second Line Leads KUA to Small School Championship
New Haven, Conn. – 'Rookie' prep coach Tim Whitehead and his Kimball Union Wildcats won the 2014 Small School Championship here today, getting goals from five different players en route to a workmanlike 5-1 win over Dexter.

KUA, which utilized its size and depth to great effect, pretty much neutralized Dexter star center Ryan Donato, who was held to one goal.

And while Dexter managed to hold the potent Tyler Bird-Joey Dudek-AJ Greer line to one goal, they had no answer for KUA's second line of Bobby Hall, Brendan Riley, and Chris Shero, who were key to the Wildcats building a lead, one which Dexter had no answer to.

After a scoreless first period – and most of the second period -- KUA finally broke through at 12:16 of the second period when junior center Riley, off the draw, made a quick ten-foot pass to his right, directly onto Shero's stick. Shero had plenty of room on the right side of the net to shoot at – and he didn't miss.

Less than three minutes later, KUA went up 2-0 when a soft shot from the left point by defenseman Jacob Paluch found its way through a screen, beating Dexter goalie Pat Fraser high glove side.

In the third period, Dexter worked to hang with the play, but had difficulty generating much in the way of Grade A scoring chances. The game was decided when KUA struck for two goals 13 seconds apart. On the first tally, with 7:37 left in regulation, Hall broke down the right side and fired one top corner; assists went to Shero and Riley. On the second goal, Brown recruit Bird, from closer in, beat Fraser low glove side.

And that was pretty much it.

Donato finally put Dexter on the board. Not surprisingly, it was also the game's prettiest goal. The junior circled the offensive zone, surveying all his options, before lifting one top shelf with 5:13 remaining in regulation.

Junior Dom Franco sealed the deal for KUA with an empty-netter with 54 seconds left.

Wildcats senior goalie Paul Leger stopped 22 of 23 for the win; Dexter's Pat Fraser stopped 22 of 26 and took the loss.

Whitehead was happy with his team's effort.

"We got great production from everyone, especially down the stretch," he said. "We were on a good unbeaten streak and winning close, hard-fought games so we felt confident coming in."

We asked about Whitehead about KUA's preventing Donato from getting on any kind of a roll. "Well, he still got on the scoresheet with a terrific goal and Leger made some great saves. Still, we knew they had some really strong players and we didn't have the last change. We couldn't match up with them so we played strong team defense. We just wanted to keep our legs moving."

Whitehead said he really enjoyed his first season as a prep coach after twenty plus years in Hockey East.

"I had 25 guys who love hockey and want to get better," Whitehead said. "So it was fun. I wish the season was longer so we could do more in practice. But I thoroughly enjoyed it. It was an up-and-down season. We battled when Dudek was out, but we finished strong when he came back. There were 16 new faces on this team, and a new coach, too. I was happy with their development over the year."

On the other side, Dexter coach Dan Donato said KUA did "a nice job clogging up the neutral zone in the first half. Things were even then. I thought a couple bounces here and there might have changed things. But then when they took the lead we had to play catch-up."

"They also did a good job neutralizing Donato in the first half of the game," he added.

Donato said his squad went in hoping to take advantage of KUA's young D, which is anchored by a pair of sophomores in Ben Finkelstein and Dennis Cesana.

"But we really didn't get to that point," he said. "They just didn't let us get to the net."

"We had a couple bad pinches on the two goals 13 seconds apart. You can't make mistakes versus high-end guys. Their first two groups move the puck like a college team."



Sun. 3/2/14

Championship Sunday
We hope you all found the between-period updates from Yale's Ingalls Rink via Twitter earlier tonight to be helpful. This typist just got back in the office, but it is after 2:00 am, so not much constructive is going to happen! Please check USHR tomorrow for much more. Thank you for your patience.

Elite 8 Championship:
#1 Salisbury 3, #7 Gunnery 2 (OT)

Large School Championship:
#6 Loomis 3, #1 St. Paul's 2

Small School Championship:
#2 KUA 5, #1 Dexter 1



Sat. 3/1/14

Saturday March 1, 2014 Prep Semifinals
Elite 8:

Gunnery 5, Berkshire 2

Senior linemates Nathan Sucese and Kevin Darrar, and junior Alec Mehr led Gunnery to a decisive 5-2 win over host Berkshire in the first of two semifinals this afternoon at the Berkshire School.

Just 2:50 into the first period, Darrar, a Holy Cross recruit, carried the puck behind the Berkshire net and backhanded a pass to Sucese in the slot. Sucese had plenty of net to shoot at, and didn't miss, roofing it to put the visitors up 1-0, much to the happiness of the large, loud, Vuvuzela horn-toting Gunnery cheering section.

That was it for the first period. In the second, Darrar and Sucese linked up again. This time, it was Sucese going behind the net and passing it out front to Darrar, who made it 2-0 at the 4:41 mark.

Berkshire got one back when senior Craig Puffer scored off his own rebound from a scrum in front with exactly 10 minutes left in the second, cutting Berkshire's lead to 2-1.

Darrar struck again with 4:15 left in the period, skating down the left wing into the zone and beating Berkshire senior goalie George Blinick short side, under his blocker, to make it 3-1.

Less than a minute later, junior Alec Mehr ripped one from the slot to make it 4-1.

Early in the third, Berkshire had a chance to get back into it, as Charlie Corcoran was awarded a penalty shot. Corcoran went to his backhand and tried to lift it over the pads of Gunnery senior goalie Matthew Schneider, but was denied.

Berkshire took a time out with 8:39 left, and a few minutes later were able to cut it to 4-2 when Corcoran tapped the rebound of a point shot by junior D Jimmy McKee out of the air and into the net.

Berkshire head coach Dan Driscoll pulled Blinick for the extra attacker with about five minutes left and Berkshire was able to finally get some sustained pressure. However, Sucese added an empty netter with 2:10 left to account for the final score of 5-2.

Berkshire got behind the eight-ball early in this one -- and Gunnery came out and established a fast pace early. Berkshire, which reached this game with a perfectly-executed quarterfinal win over Thayer, had difficulty establishing their game. Gunnery consistently got to the puck quicker and, once there, won the battles along the wall.

"Our guys played with confidence," Gunnery coach Chris Baudo said after the game. "We wanted to play our style of game and come out fast. The first time we played Berkshire (back in early December), Corcoran and Puffer scored on a bunch of odd-man rushes so preventing those was something we worked on."

"I was also happy with our goaltending," Baudo added. "And I thought the crowd really helped, too."

Berkshire coach Dan Driscoll said, "We didn't play our best game and were never able to get a lot going offensively. And when we were undisciplined in the defensive zone, Gunnery took advantage. I think we spent too much time watching the puck."

"We have 14 seniors and a lot of them have been here for several years, so I feel for them."


Salisbury 6, Exeter 0

Senior Derek Barach notched a hat trick – one of his goals was short-handed – and added an assist for a four-point night to lead Salisbury to a one-sided 6-0 win over Exeter.

Barach notched his first goal just 12 seconds into the game, and immediately Exeter was put on their heels. The Knights would go on to score twice in each period.

Salisbury outshot Exeter, 35-19. Senior F Evan Smith had three assists, and senior D Will Toffey had two. Mitchell Smith and Matt Muzyka each had single goals. Senior goaltender Mitchell Datz stopped all 19 shots he faced for the shutout.

"Salisbury is an outstanding club," Exeter head coach Dana Barbin said afterward. "They're just ______ good."

"On the PP, it was like their movements were choreographed. The puck movement was damn impressive. And their PK is better than any PK we faced this year."

"I thought we played nervous and tight," Barbin added. "When you are down 12 seconds in, and you know the other team is so good, it is very tough."

On the other side, Salisbury head coach Andrew Will said, "I was pleased with our effort. Scoring on the first shift helps. That set the tone for the way we wanted to play. We wanted to use our speed wide and get bodies and pucks to the net."

"I thought we did a very good job through the neutral zone, and we limited neutral zone turnovers because we were well aware of their ability to hurt us in transition."

"I thought our D did an excellent job with their gap control, and I credit Mitchell Datz, as there was a stretch there in the middle of the second when things opened up and he came up with some good saves."

As for Sunday's matchup with Gunnery for the 2014 prep championship, Will said, "It should be exciting. You have two teams that are playing some of their best hockey of the year now, two teams that have been able to score and also limit their opponents. (Gunnery) is one of the fastest teams we have faced. We have respect for that and the energy and discipline they play with. We're excited to face them tomorrow."

***

Large School Semifinals:

Loomis-Chaffee 2 @ Andover 1


Loomis got a pair of third period goals – from junior D Sean Ross and junior D Alex Esposito -- to overtake host Andover.

Senior Michael Lata scored Andover's lone goal, in the second.

Junior Nick Desimone (32/33) earned the win, while Andover junior Erik Wurman (33/35) was the hard-luck loser.


St. Paul's 2, Choate 0

In a neutral site game played at the Groton School, junior goaltender Nathan Colannino stopped all 34 shots he faced to earn the shutout. The win sends St. Paul's on to the Large School final at Yale on Sunday.

Juniors John Laurito and Connor Sodergren each scored a goal for SPS. Junior Andrew Tucci, who had an excellent season for Choate, stopped 30 of 32 in a losing cause.

***

Small School Semifinals:

@ Kimball Union Academy 4, Brooks 3

Host KUA went up 3-1 on goals by AJ Greer, Chris Shero, and Brendan Riley, but Brooks got right back in it, as Ian Speliotis and Cam Patch scored in the third to tie it at 3-3 before Tyler Bird scored the game-winner at 15:09 of the third.

KUA will face Groton at 2:15 Sunday in the Small School championship game at Yale.

@ Dexter 2, Groton 1

Sophomore Kevin Hock's shot-handed goal at 1:55 of the third sent Dexter on to Yale, where they will face KUA in Sunday's small school semifinal.

In the first period, Dexter junior Ryan Donato and Groton sophomore Michael Brown swapped goals.

Senior Pat Fraser (21/22) got the win in net for Dexter, while Groton senior Matt Pompa was strong, allowing just two goals on 40 shots faced.



Sat. 3/1/14

Saturday's Results/Sunday's Schedule
We had a bit of technical difficulty today (we're still getting used to this whole Internet thing) and were unable to Tweet or post any updates from Berkshire though, to be honest, the games were short on drama.

Today's nailbiters were to be found in the Large School and Small School tournaments.

Here are today's results and tomorrow's schedule for the championship games at Yale:

Sat. March 1, 2014 results:

Elite 8:
Gunnery 5, Berkshire 2
Salisbury 6, Exeter 0

Large School:
Loomis 2, Andover 1
St. Paul's 2, Choate 0

Small School:
Dexter 2, Groton 1
KUA 4, Brooks 3

Schedule for Sunday at Yale University's Ingalls Rink:

Dexter vs. KUA, 2:15 pm
Loomis vs. St. Paul's, 4:45 pm
Gunnery vs. Salisbury, 7:15 pm



Sat. 3/1/14

Saturday's Semifinal Schedule

Gunnery @ Berkshire, 2:00 pm
Salisbury vs. Exeter, 4:00 pm (@ Berkshire)

Loomis @ Andover, 2:20 pm
St. Paul's vs. Choate, 3:00 pm (@ Groton)

Groton @ Dexter, 2:00 pm
Brooks @ KUA, 4:00 pm



Fri. 2/28/14

A Look Back at the Elite 8 Quarterfinals

First off, the completion was terrific on Wednesday, with eight of the 12 games – across all three divisions – being decided by one goal. We're going to take a look at the Elite 8 first.

ELITE 8 (Stuart/Corkery Tournament)

#1 Salisbury 3, #8 Cushing 2 (Double OT)

As you may recall, Salisbury traveled to Cushing on Sun. Feb. 9 and took a 4-3 decision from the Penguins. This was in the middle of Cushing's four-game losing streak, when it was looking as if the Penguins would crash out and fail to make the Elite 8. But Cushing rallied at the end of the season against so-so competition, squeezed in as the #8 seed and went down to Salisbury. There, they played an epic game, one of those 'it's too bad somebody had to lose' games.

One longtime observer in attendance passed along some thoughts.

"It was a tremendous treat to be at this game," he said. "It was everything you could possibly expect from a prep school hockey game. Tremendous back-and-forth action. Outstanding team play both ways. It was as good a game as I have seen all season. Both teams played tremendously."

"Each team played three lines, three sets of D – and they were exhausted by the end. Datz was solid for Salisbury, but Salisbury threw everything they could at (Cushing goaltender) Joey Daccord, and he played a tremendous game. He was my MVP of the game."

Datz stopped 34/36 for the win; Daccord stopped 55/58 – and took the loss.

The winning goal came off the stick of Salisbury senior Derek Barach, who had also scored earlier, putting his team up 2-1 at 6:26 of the second. Barach had also hit a crossbar in OT. But, with a third OT period looming, the Mercyhurst recruit stepped in just left of center and took a shot from about 20 feet that beat Daccord, a junior, between his left arm and chest at the 14:02 mark. It wasn't a great shot, but games that go this far are seldom won on great shots.

Salisbury has now won 13 in a row, and this was their seventh overtime game of the season – all of which they have won. They don't get rattled and -- no matter what the score is -- they stick to their game plan. Will Toffey may take off on a rink-length rush when he sees an opening, because he has that ability, but generally Salisbury makes a half-dozen passes before a shot is taken. Very impressive discipline.

We caught up with a disappointed Rob Gagnon after the game. "I'm so proud of the way these guys competed and battled to the very end," Cushing's head coach said. "I think our younger guys learned a lot from this experience, and we will be back next year."

On the other side, Salisbury coach Andrew Will said, "It was a very exciting, hard-fought game by both teams and I couldn't be any more proud of our players. They showed a lot of grit, resiliency and, like we have all season, they found a way to win a close game."

As they move on to the semifinals, we asked Will to compare this year's team to last year's prep championship squad.

"Both teams are obviously different but what is similar is that they were both playing their best hockey at this time. This year's group has been ranked #1 or #2 all season long and have handled those expectations well. We keep the focus in our locker room and try not to pay much attention to what is being said outside of it."

We asked Will, given their depth, who he was looking at to possibly bring another championship to the school.

"The Smiths and Barach have really answered the call here at the end of games and in key situations and factored in on all three goals tonight. It's truly been a team effort and no single player is above the team, but those three have really been our leaders up front all season."


#4 Exeter 5, #5 Nobles 3

This was a tough loss for Nobles, as they were tied with Exeter at 3-3 when, with 4:53 left in the third, Nobles' junior defenseman Billy Sweezey hit Exeter junior forward Sterling Weatherbie with an elbow at center ice, knocking Weatherbie's helmet off and sending him spiraling to the ice. After the officials conferred, Sweezey, a recent Yale recruit, was assessed a five-minute major. It proved to be the turning point of the game because, despite Nobles' impressive PK and shot-blocking throughout, Exeter's vaunted powerplay was a bit too much to overcome. Sure enough, shortly into the powerplay, sophomore D Spenser Young, whose uncharacteristic turnover five minutes earlier had led to Cam Burke's game-tying goal, rifled a snap shot past Nobles' sophomore goalie Brendan Cytulik to put Exeter up 4-3. Shortly afterward, Nobles junior forward Miles Wood nearly tied the game with an aggressive drive to the net, but Exeter senior goaltender Jack Parsons stood tall. Henry Hart sealed it for Exeter with an empty-netter with 21 seconds remaining.

Now that Nobles' season is over, Miles Wood will make his choice between BU and BC. The junior, a multi-dimensional threat, has had a great season for Nobles. With his rare combination of skill, size, and speed, Wood did a great job on the PK against Exeter's vaunted PP. More than that, he was the best player on the ice, and a force every time he touched the puck. That said, Exeter PG d-man and co-captain Matt Foley, who missed the first half of the season with a broken collarbone, came up big and did a great job challenging Wood throughout the game. On multiple one-on-one scenarios, Foley came out on top against Nobles' explosive forward. On one of Wood's rushes, Foley used great gap control and planted Wood with a stiff check, knocking him hard to the ice. Wood was slow to get up, and was held to only one assist during the game. Foley's stock rose sharply Wednesday, and we imagine college recruiters will be watching him closely Saturday against Salisbury.

As for Nobles, we felt they did a really good job this season. They had their strengths and weaknesses, the latter most apparent in a few gruesome losses. Most of the time, though, their strengths prevailed. And they rode those strengths as far as they could. Sweezey's penalty wasn't why they lost. It just gave an opening for the better team to win.

Salisbury will host Exeter in Saturday's semifinal (at the Berkshire School, 4:00 pm).


#6 Berkshire 3, #3 Thayer 1

Over half an hour before opening faceoff, the Canton Sportsplex was packed with a huge contingent of Thayer fans.

But they didn't have much to cheer about, as they were taken out of the game just 40 seconds into the first period, as Berkshire senior Charlie Corcoran hit linemate Craig Puffer with a nice pass, finding him back door for a goal.

Christian Leahy's power play goal from the top of the crease tied it up for Thayer later in the period at 1-1. And that's how things stood at the first intermission.

Midway through the second, Corcoran again found Puffer. Another heady play, this time Corcoran passing left-to-right across the top of the crease. Thayer senior goalie Rob McGovern wasn't able to get across in time and Puffer didn't miss.

With 2:27 left in the period, Berkshire senior forward Nick O'Connor stretched it to 3-1 on the power play, curling out from behind the net and snapping off a shot – a great individual effort.

Thayer had a chance to make it a one-goal game with a powerplay that covered the last minute of the second and the beginning of the third. But the Tigers weren't able to generate much. For the day, Berkshire was whistled for five penalties, and Thayer only two. Thayer, however, was able to only convert once on the power play.

After failing to score in the opening minute of the third, Thayer kept pressing. Berkshire, as they had all game, was really effective taking away the neutral zone, forcing Thayer to skate the puck into traffic, try long-range passes, or just dump it in. Indeed, Berkshire had the better scoring opportunities in the third. Thayer had a difficult time all day keeping the puck in Berkshire's end for any kind of sustained offensive pressure, and when they did – shots favored Berkshire 38-32 – senior goaltender George Blinick, who was excellent throughout, was there to bar the door.

"I thought we played a great road game," Berkshire head coach Dan Driscoll said afterward. "We kept things simple, and we played our system. I'm really proud of our kids."

"I thought our special teams did well, too. We kept them to the outside well. I thought killing off that penalty to start the third was big in terms of momentum for us. And our goalie (Blinick) was our best PK guy. He made some big saves and in the last seven minutes he kept them from getting any momentum."


#7 Gunnery 7, #2 Kent 3

There was a great atmosphere for this rematch of last year's semifinal, as Gunnery – just 20 minutes down the road -- came to Kent with what appeared to be the entire school. And Kent filled the bleachers and on around the glass with their fans.

Kent jumped out to a quick start as Harvard recruit Lewis Zerter-Gossage scored a pair of goals eight seconds apart to put Kent up 2-0 before the game was even five minutes old. It really looked like Kent was going to run away with it, despite the fact that it was still early.

But Gunnery answered less than a minute later, when junior d-man Mike Lee threaded a pass to a streaking Alec Mehr, who used his speed to get behind the Kent defense – and was off on an uncontested breakaway. Kent senior goaltender Stephen Morrissey sprawled to make the save on Mehr, but Gunnery junior Ryan Dmowski was right in front for the rebound, cutting Kent's lead to 2-1.

Kent had chances to add to its lead but Gunnery kept them to the perimeter. The visitors were also relentless on the forecheck. With just over a minute left in the first, Lee carried the puck through the neutral zone and threw a low wrister on Morrissey. The Vermont recruit continued around the Kent defense, picked up his own rebound and roofed it – a tremendous individual-effort goal.

Heading into the second tied at 2-2, Kent was frustrated but still in the driver's seat. Their size and depth presented a challenge to a younger Gunnery team. But Gunnery struck again when Lee passed to Noah Bauld in the neutral zone. Bauld skated into the zone, cut towards the goal at the top of the circle, and placed a wrister under Morrissey's glove to give his team a 3-2 lead at the 5:04 mark.

Gunnery scored again – it's fourth straight goal and what would turn out to be the game-winner – on the powerplay with 7:38 remaining in the second, Mehr tapping home a beautiful cross-crease pass from Robert Cerepak.

Things were looking poorly for the home team as the period wound down, but senior James Ricciardi showed some resilience, scoring with just over a minute remaining on a snipe to the top right corner off an offensive zone faceoff to cut Gunnery's lead to 4-3 heading into the third.

Kent came out with a vengeance in the third, playing with intensity and heart. But they also appeared to be gripping their sticks a little tight at times and just couldn't convert on their chances. The first half of the third period was intense and the momentum was all Kent. However, with 8:11 remaining, d-man Keanu Hilaire tried to make a stretch pass to his center but it was picked off by Mehr, who rushed into the zone with Dmowksi, faked a pass, and beat Morrissey five-hole with a quick, low snap shot. 5-3, Gunnery. Just 26 seconds later, Gunnery's Dmowski drove hard to the net, drawing the center and D to him. Dmowski then had the poise and vision to execute a brilliant diagonal pass to Nathan Sucese, who fired a mid-level wrister past Morrissey, putting the game out of reach.

Sucese would add an empty-netter later in the period. The big offensive performances came from Dmowksi (1g,2a), Lee (1g,2a), Mehr (2g,1a), and Sucese (2g).

Afterwards, Gunnery head coach Chris Baudo was asked if his team felt like underdogs.

"We knew what we were up against and even though we have tremendous respect for Kent and their staff, we believed in ourselves and what we have been able to accomplish these past two months."

As for the game itself, Baudo said, "I thought it was a great back-and-forth game. Alec (Mehr) scoring mideway through the third to stretch the lead to two was the game-changer. But overall I was very proud of our team and how they competed tonight against a great Kent team."

We asked Baudo about the next round. "We are really excited. We're playing our best hockey at the right time of the year and will just go out and play our game and see what happens."

The shots in the game were 29-27 in favor of Kent so the game was not as lopsided as the score would indicate. At times it appeared that Gunnery was playing as if they had nothing to lose while Kent was playing more with a "not to lose" mentality. Normally, the Lions don't give up two-goal leads.

Berkshire will host Gunnery on Saturday at 2:00 pm.


LARGE SCHOOLS (Martin/Earl Tournament):

#1 St. Paul's 8, #8 Proctor 3
#4 Choate 4, #5 Belmont Hill 3 (OT)

St. Paul's will host Choate in a semifinal on Saturday (3:00 pm at Groton).

#6 Loomis 3, #3 NMH 2
#2 Andover 3, #7 Taft 2

Andover will host Loomis in a semifinal on Saturday (2:20 pm).


SMALL SCHOOLS (Piatelli/Simmons Tournament):

#1 Dexter 3, #8 Canterbury 2
#5 Groton 3, #4 Westminster 2

Dexter will host Groton in Saturday's semifinal (2:00 pm).

#6 Brooks 3, #3 Rivers 0
#2 Kimball Union 5, #7 Millbrook 4 (OT)

KUA will host Brooks in Saturday's semifinal (4:00 pm).


SUNDAY, MARCH 2 @ Yale University's Ingalls Rink

2:15 pm – Dexter/Groton winner vs. Brooks/KUA winner
4:45 pm – St. Paul's/Choate winner vs. Loomis/Andover winner
7:15 pm – Salisbury/Exeter winner vs. Berkshire/Gunnery winner

All three championship games will be streamed live on Sunday. If you can't make it to New Haven, go to NEPSAC.org and connect from there.
Around the Rinks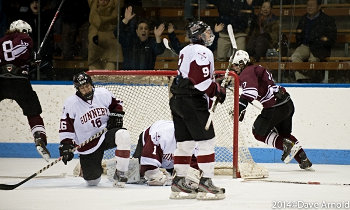 Salisbury's Evan Smith curls behind the net after scoring the game winner at 15:09 of OT off a nifty tic-tac-toe passing sequence with linemate Derek Barach. Twin brother Mitchell Smith jumps for joy
(Photo: Dave Arnold Photography)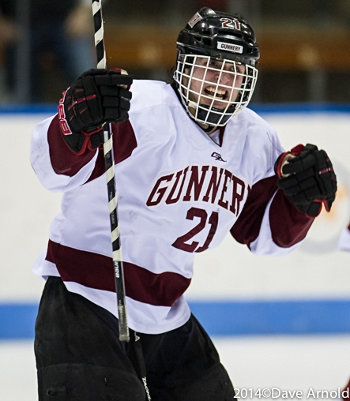 A rocket from Gunnery's Joey Fallon with 2:02 left in regulation tied the title game at 2-2 -- and sent it to OT
(Photo: Dave Arnold Photography)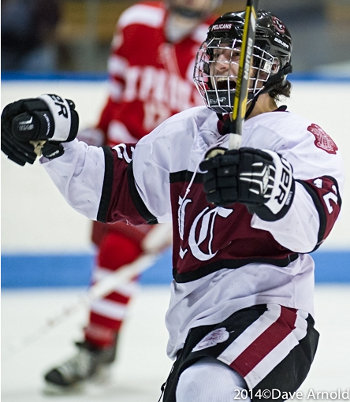 Junior Alex Esposito (2g,1a) came up big in Loomis' 3-2 win over St. Paul's in the Large School title game Sunday at Yale's Ingalls Rink
(Photo: Dave Arnold Photography)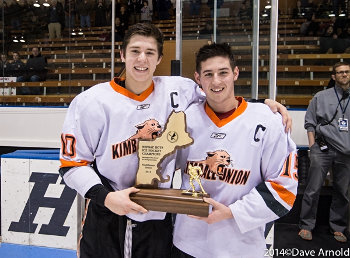 KUA co-captains AJ Greer and JD Dudek display some hardware after winning Sunday's Small School title with a 5-1 win over Dexter
(Photo: Dave Arnold Photography)