Established 1996 -- Celebrating Our 25th Year
Mon. 11/25/13

Prep Composite, Thanksgiving Week
Mon. Nov. 25
Rye Country Day @ Portledge, 4:00 pm

Tues. Nov. 26
Hoosac @ Albany Academy, 4:00 pm
Portledge @ Delbarton, 4:30 pm (S)
Moses Brown @ Rivers, 5:00 pm (S)

Wed. Nov. 27
Middlesex Black Bears @ Thayer, 9:00 am (S)
Hoosac @ Moses Brown, 3:45 pm

Thurs. Nov. 28
Happy Thanksgiving!

Fri. Nov. 29:

Shady Side Academy Thanksgiving Classic -- Schedule
Northeast Showcase at Tilton School -- Schedule

Other Games of Fri. Nov. 29:
Stanstead College @ CEGEP Sainte-Foy, 2:30 pm
St. Andrew's College @ Belmont Hill, 4:00 pm (S)

Sat. Nov. 30:

Belmont Hill Jamboree
@ Belmont Hill School; Belmont, Mass.
(Five schools: Belmont Hill, Governor's, Proctor, St. Andrew's, Winchendon.
All games will consist of three 15-minute periods. Ice will be made between the second and third periods.
8:30 am -- Belmont Hill vs. Winchendon
10:00 am -- Governor's Academy vs. Proctor Academy
12:00 pm -- Winchendon vs. St. Andrew's College
1:30 pm -- Proctor Academy vs. Belmont Hill
3:30 pm -- St. Andrew's College vs. Governor's Academy

Rivers Jamboree
@ The Rivers School; Weston, Mass.
(Four schools: BB&N, Pingree, Rivers, Thayer.)
There will be four mini-games, each 25 minutes running time. Here is the schedule:
12:00 pm -- Rivers vs. Thayer
12:45 pm -- Thayer vs. BB&N
1:30 pm -- Rivers vs. Pingree
2:15 pm -- BB&N vs. Pingree

Shady Side Academy Thanksgiving Classic -- Schedule
Northeast Showcase at Tilton School -- Schedule

Other games of Sat. Nov. 30:
CEGEP Sainte-Foy @ Stanstead College, 2:00 pm
Moses Brown @ North Yarmouth Academy, 3:15 pm


Sun. Dec. 1:

Proctor Academy Jamboree
@ Andover, NH
(Five schools: Hebron, Holderness, Lawrence, Proctor, and Stanstead.)
The games will be 30 minutes long, stop-time.
9:00 am – Proctor vs. Holderness
10:00 am – Lawrence vs. Hebron
11:00 am – Stanstead vs. Holderness
12:00 pm – Proctor vs. Lawrence
1:00 pm – Hebron vs. Holderness
2:00 pm – Stanstead vs. Lawrence
3:00 pm – Hebron vs. Proctor
4:00 pm – Stanstead vs. Proctor

St. Paul's Jamboree
@ Concord, NH (Day 1 of 2)
(All scrimmages and games will consist of three 18-minute periods.)
(Three schools: St. Paul's, Loomis, Tabor.)
10:00 am – SPS vs. Loomis – scrimmage (Gordon Rink)
10:00 am – Tabor practice (Ingalls Rink)
4:00 pm -- SPS vs. Tabor (Gordon Rink)
4:00 pm -- Loomis practice (Ingalls Rink)

Shady Side Academy Thanksgiving Classic -- Schedule
Northeast Showcase at Tilton School -- Schedule

Other Games of Sun. Dec. 1:
St. Andrew's College @ Dexter, 10:15 am (S)
Nichols vs. Northwood Junior, 11:30 am (@ Union College)
Red Bank Catholic @ Seton Hall Prep, 5:00 pm
Gloucester Catholic @ Don Bosco Prep, 6:15 pm


Mon. Dec. 2:

St. Paul's Jamboree
@ Concord, NH (Day 2 of 2)
(All scrimmages and games will consist of three 18-minute periods.)
10:00 am – Loomis vs. Tabor – NEPSIHA game (Gordon Rink)
12:15 pm – SPS vs. Groton – scrimmage (Gordon Rink)

Lawrence T. Piatelli Jamboree
@ Berkshire School; Sheffield, Mass.
(Eight schools: Berkshire, Brunswick, Canterbury, Gunnery, Kent, Nichols, Northwood Junior, Pomfret.)

Rink 1:
9:30 am – Pomfret vs. Brunswick
11:30 am – Berkshire vs. Nichols
1:30 pm – Canterbury vs. Pomfret
3:30 pm – Berkshire vs. Northwood

Rink 2:
10:00 am – Kent vs. Canterbury
12:00 pm – Northwood vs. Gunnery
2:00 pm – Brunswick vs. Nichols
4:00 pm – Gunnery vs. Kent

Other games of Mon. Dec 2:
Delbarton @ Gloucester Catholic, 4:00 pm
Brooks @ Exeter, 4:30 pm
Columbia Prep @ Portledge, 5:30 pm
Sat. 11/30/13

Saturday Nov. 30 Jamboree Results
Belmont Hill Jamboree (three 15-minute periods):
Belmont Hill 3, Winchendon 2
Proctor 2, Governor's 0
St. Andrew's 7, Winchendon 4
Belmont Hill 3, Proctor 1
St. Andrew's 7, Governor's 0

Rivers School Jamboree (all mini-games):
Rivers 0, Thayer 0
Thayer 3, BB&N 0
Rivers 2, Pingree 0
BB&N 2, Pingree 1



Sat. 11/29/13

Foegele Notches Hat Trick; SAC Tops Belmont Hill
Belmont, Mass. -- St. Andrew's College senior Warren Foegele, a fall '15 UNH recruit, notched a hat trick -- and added three assists -- to lead his team to a 6-2 win over Belmont Hill this afternoon.

It was, from the St. Andrew's perspective, another game, and they treated it as such. They are now 11-0-0. For Belmont Hill, however, it was very much a scrimmage. They wore practice jerseys, coach Jeremiah McCarthy still has final cuts to make and was tinkering with line combinations, and, well, the Hillies looked like what they were: a team that hasn't yet played a game.

This is not to take anything away from the visitors from Ontario. They are young, skating ten '97s, but are also a very formidable team.

In the first period, St. Andrew's tilted the ice their way and forced Belmont Hill senior goaltender Ryan McConnell to play a terrific period. We can't tell you what the shots were, but there were a lot – and McConnell stopped every one of them.

At the 2:09 mark of the second, Bel Hill broke out to a 1-0 lead when senior forward Dan Seibel stuffed a rebound past St. Andrew's senior goaltender Brett Nichol.

Less than a minute later, at 3:04, St. Andrew's got it right back when a shot from the right point by junior D Austin Cho broke past McConnell. Fogele and Adam Sinclair, a Harvard '15 recruit, got the assists.

Fogele made it 1-1 when he took a nice pass through the neutral zone from senior Matthew Kennedy, cut to the net and showed hands and patience in deking McConnell from in tight, sliding the puck past him at the 5:15 mark.

Less than three minutes later, on the PP, Fogele struck again, taking a pass from Cho at the top of the right faceoff circle and firing a rocket that beat McConnell top corner to the glove side, making it 3-1 at the 7:59 mark.

With 4:46 left in the second, a shot from the point by Belmont Hill junior D Charlie Barrow found its way through traffic to cut the SAC lead to 3-2 at the second intermission.

The second was Belmont Hill's best period of the day.

In the third, St. Andrew's would again dominate, scoring three unanswered goals. The first, on the power play, came when senior captain Matthew Graham scored from a scrum in front at 11:58. Less than two minutes later, at 13:54, Fogele completed his hat trick, once again converting a nice tape-to-tape pass from Kennedy. A couple minutes later, with 2:10 left on the clock, and his team on the power play, senior Zac Masson tapped home a nice pass from the corner by Graham for the 6-2 final.

For Bel Hill, McConnell played better than the final score indicated. The St. Andrew's forwards were swarming in his end for long stretches, cycling the puck well, and generally forcing the Belmont Hill D to scramble. In addition, Belmont Hill took six minors, three of which SAC converted on.

Belmont Hill senior Matt Melanson failed to get on the scoreboard, though he came close in the second, forcing Nichol to come up with a big save. Despite having nothing to show for his efforts, Melanson was a consistent threat and will be counted on to come up with a big year for the Hillies. Senior Joe Welch was consistently good, too. (Senior Will Golonka was not in the lineup.)

For St. Andrew's, Foegele, who is almost certain to hear his name called at the NHL draft next June, was a constant force in all three zones, and very strong on the puck. He's a determined, hungry player who plays through guys, protects the puck well, and has a skill level that it is equal to his compete level.

Kennedy deserves credit for the excellent work he did getting the puck to Foegele on two of his three goals. LD Austin Cho provided offense from the blue line. RC Sinclair, who tweaked his back a couple weeks ago at the MPHL Showcase in Burlington, Vt., was back in action, and showed flashes but also a bit of rust.

SAC will be back in action at Belmont Hill's Jamboree starting at 9:30 Saturday morning. Proctor, Governor's, and Winchendon round out the five-team field.
Sat. 11/23/13

Exeter Edges Dexter on White OT Strike
Brookline, Mass. – A goal by postgrad David White at 1:28 of overtime lifted Exeter to a 3-2 win over host Dexter here today.

White, who was the Connecticut Player of the Year last season, scoring over 50 points for state champs Fairfield Prep, took a pass from Henry Hart and fired it – he has a shot -- from the slot past Dexter senior goalie Pat Fraser. Hart, a PG from the St. Thomas Academy (Minn.) team that has won the last three Class A titles in Minnesota had, seconds earlier, sprung senior center Kevin Neiley on a breakaway that Neiley couldn't finish off. His next pass did the trick, though.

A key point in the game came with 19 seconds left in the second period, as two Exeter players were penalized on the same play. Dexter, holding a 2-1 lead at the time, had a chance to perhaps put the game squarely in the win column, but failed to convert throughout the remaining seconds of the second as well as the 1:41 of a 5x3 power play to start the third. Exeter played the same three penalty killers – White, and sophomore d-men Peter Christie and Spenser Young -- for the entire duration. There was no scrambling around, either: Dexter was unable to muster a Grade A chance on that PP.
The big gun for Exeter today was 6'3", 198 lb. senior tri-captain Cody Rorick who scored two goals. After Kevin Hock, a new sophomore out of Catholic Memorial, put Dexter up 1-0 in the first, Rorick evened things up for Exeter midway through the second, as senior Patrick Besse hit him in front with a pass out from behind the goal line.

At 13:01 of the second Dexter junior star center Ryan Donato scored a beautiful goal to give his team the lead back at 2-1, breaking down the right side and firing a high shot at Exeter senior goalie Jack Parsons. Parsons stopped the initial shot but the rebound hung in the air long enough for Donato, as he was cutting outside the post, to tap the puck out of mid-air, waist high, past Parsons. 6'2" senior D Liam Feeney picked up an assist -- his second of the day -- on the play.

That goal was beginning to look like it would hold up for Dexter, but Dexter took a penalty late in the third, and, with 2:27 left in regulation, Rorick, off a pass from White, struck again, wristing a shot from the slot past Fraser.


Before the game, Exeter coach Dana Barbin worried that his team, which would be facing their third game in three days, and just had exams in the morning, might be ripe for the picking.

He was right, to a point. Dexter, which outshot Exeter 27-24, could have won it – especially if they had cashed in on that 5x3, which will no doubt haunt them for awhile.

"I could see we were gassed, but we hung in there," said Barbin afterward. "I have to give a lot of credit to White and Spenser Young and Peter Christie for that penalty kill on the 5-on-3. If Dexter scores there, we lose. All our d-men played well in this game."

For Exeter, White and Henry Hart are key additions up front. Both are PGs who have won state titles at the high school level, have a high skill level, and are dangerous every time they are on the ice. They will be getting a lot of college interest as the season goes along. Barbin had White playing with Henry Hart on the top line, which was centered by Neiley. On the second and third lines, Exeter has depth with junior Teddy Hart, sophomore Devin Moore, Rorick et al.

Exeter, until after the New Year's break, will have to do without 6'1" PG tri-captain and defenseman Matt Foley. The former Springfield Cathedral standout broke his collarbone a few weeks ago. 6'3" senior forward Patrick Quinn, the team's leading returning scorer and also a tri-captain, suffered a knee injury last week.

Dexter has some interesting players. We don't have to tell you about Donato, as we've written about him extensively. He looks to be the first New England prep school player – or New Englander of any stripe -- to hear his name called at June's NHL Draft.

6'2" senior defenseman Liam Feeney is Dexter's mainstay on defense, and critical to the team's success.

Extremely intriguing is 5'10", 165 lb. Dexter RD Sean Keohan, a '99 from Milton, Mass. Keohan, for a 14-year-old, looked like a veteran out there. Very smooth. Very poised. We had heard about Keohan when he played four or five games in the Top Gun Summer League down in Foxboro – a league loaded with older guys, college players and pros like Charlie Coyle. Keohan, we were told, held his own. Dexter coach Dan Donato doesn't much like playing freshman, but with Keohan there doesn't seem to be a sane reason not to play him. His is a name you may be hearing a lot of in years to come.

Sophomore RW Hock, who scored the above-mentioned goal, is an 11/96 birthdate who colleges will want to keep an eye on.

Ditto for new 6'2", 195 lb. new junior RW Sam D'Antuono, who comes to Dexter from Hingham High School. D'Antuono has a good stride and plays a power forward game. We didn't get a good read on his puck skills, but he looks like the kind of guy who needs to have a good playmaker to get him the puck. That didn't really happen for him today, but might well in time.

Sat. 11/23/13

Colton Leads Taft Past Avon
Avon, Conn. – Taft junior forward Ross Colton (2g,1a) figured in all three of his team's goals as the Rhinos took a 3-1 road win at Avon Old Farms this afternoon.

Taft, which had lost 2-1 in overtime to the U.S. Women's National Team Friday night, showed no ill effects in this afternoon's game. They had their legs, as did Avon. Both teams were flying and playing at a rapid pace, giving the game a playoff feel.
Indeed, the game was tied at 1-1 for most of the third, as Avon had come out after the second intermission with a lot of jump and almost capitalized on a pair of 2-on-1's but both times wound up hitting the post.

That left things up to Colton. A '96, the Robbinsville, NJ native has an impressive skill set – and he showed it on his game-winning goal at the 12:47 mark, toe-dragging an Avon defenseman and finishing it off with a hard backhand. The puck is like a magnet on Colton's stick, he's impressive on his edges, and he anticipates and reads plays very well. The one knock on Colton would be his play away from the puck and his lack of effort in the defensive zone.

Taft junior goalie Joseph Lissak, a big kid who plays his angles well and doesn't overcommit to shooters, was excellent today, kicking out 38 of 39 shots. He came up big early in the third when Avon, which outshot Taft 39-27.

Another Taft player to watch – and the best prospect for our money – would be junior defenseman T.J. Shultz, a '96 from Evanston, Illinois. Shultz is tall, lanky and eats up a ton of minutes for the Rhinos, playing big roles on Taft's power play and penalty kill. Schultz has the ability to rush the puck but is also very good at making quick decisions and getting the puck to his forwards in stride. His long reach and physicality make him a nightmare for opposing forwards in his end.
Avon, despite coming out on the short end of things today, looks like they are going to be a strong team this season. 6'0", 205 lb. junior D Austin Jadovich, a '96 from Simsbury, Conn. looks like he'll be taking a bigger role for the Winged Beavers this season. He's a good skater, and he threw some big-time hits throughout the game. Jadovich also generates offense using his feet and his ability to get shots through traffic and on net. Has a tendency to telegraph his passes a bit, though.

6'0", 170 lb. freshman D Ryan Ashe, a 10/21/98 birthdate and the only freshman on Avon's roster, was solid defensively and made simple yet smart plays with the puck. Ashe, whose father played defense for Avon in the mid '80s, comes to Avon from the Boston Jr. Bruins organization.

Up front, John Gardner's team has three very good lines that can all create scoring chances. 5'11", 170 lb. sophomore Tyler Carangelo, a '97, is very quick and can make things happen in hurry with his speed. Carangelo has very sleek hands in traffic, and is hard to hit when he has the puck – he protects it well. 6'0" senior captain Jackson Tucker scored the Winged Beavers' lone goal, stealing the puck in center ice midway through the first period and breaking in all alone, outwaiting Lissak, and roofing it off his backhand to tie the game at 1-1. Tucker battles hard and can really gather speed when he has room to get going. Avon, Conn. native Jake Gresh, a 5'10" sophomore, is tenacious on puck pursuits and has all the tools to be a point producer. Another Avon soph to keep an eye on is Matt Horton, who is listed at 5'7" 160, but appears smaller to us. Horton was consistently involved in plays and has sandpaper in his game that makes him fun to watch. Whether Horton is able to play Div. I hockey is a tough call given his size, but the late '96 could surprise people. 6'0" UConn recruit Liam Murphy, a new sophomore, was a non-factor for Avon today.
Thurs. 11/21/13

The Photo Project
As you may have noticed from USHR's home page, we're collecting archival hockey photos.

For schools, this is a great way to keep the past alive and impart a sense of tradition to future generations.

What we need is for coaches – or anyone who is interested – to dig about in the archives and find high-quality photos. We're looking for photos you like, the stuff that jumps out at you – old arenas, great players and teams, unusual pictures. If you like it, others will too.

What we'll do is pick the best of the best – from any era. We're looking for high-resolution photos that really pop when displayed. That's the main criteria, though the older the photo the less picky we'll be.

We're also looking for someone to volunteer on this project. This position requires a journalist's willingness to write, make calls, and dig in public and private collections to find out what's available. A good eye, a curator's attention to detail, and organizational skills are all desired traits. If you're interested, please write: cwarner (at) ushr.com

We're determined to do this right, and we also plan to start an online photo gallery – a USHR Wayback Machine – once we have enough photos to stock it with.


In addition, we will also be continuing to look for high-quality photos of players from today. We need good action shots and close-ups. Please send us what you have along with the game date, players in the photo, and anything else that's relevant. Please use the above email address or media (at) ushr.com

Thank you!
Wed. 11/20/13

Hoggers Start With a W
6'4" UConn recruit Ben Freeman's third period goal lifted host Northfield-Mt. Hermon to a 2-1 win over Stanstead College earlier this evening. Freeman, a junior from Falmouth, Maine, gathered the puck inside the circle and released a quick wrist shot just under the crossbar.

NMH looks like a team that that could crack the Top 10 this season. The Hoggers have depth and age on their side with 11 Seniors/PGs and seven juniors. In addition to Freeman, another key returnee is senior D – and team co-captain -- Corey Moriarty. In net, 6'2" junior Conor O'Brien, a '97 from Florida, will be NMH's #1 guy this year. The Hoggers have added some PGs who will play major roles for the Hoggers. 5'9", 170 lb. Bradley Allen, a Toronto native, is a waterbug type player who creates instant offense with his speed. He projects to be a DIII or low DI player. Freeman and Allen are joined on NMH's top line by 5'9", 165 lb. PG Jordan Dow. While he lacks flashiness and speed, Dow is well rounded. He makes smart decisions that continue plays and is not afraid to go to the dirty areas. An interesting prospect is 6'2" PG forward Matt Greenwood, from Oakville, Ontario. Greenwood doesn't skate particularly well but he has great hands and always seems to find the puck on his stick.

NMH has a dozen '95s on their roster, while Stanstead has two '94s and two '95s, so the age advantage resided with the Hoggers, and they had the edge in play, too, outshooting their visitors 34-19.

Stanstead junior F David Jankowski was not as good as he was over the weekend at the MPHL Showcase. However, Stanstead junior D Nathan Sanderson, who scored their only goal, a wrister through traffic, did have a good game. Senior F Cody Bean was also good for the Spartans.
The officiating was poor in this game, with Stanstead getting the worst of it, not to take anything away from NMH.

Prior to today's opener, NMH played two scrimmages, getting edged by Northwood 2-1 on Saturday, and topping Delbarton 2-0 on Sunday.
Mon. 11/18/13

Prep Composite Schedule, Week of Nov. 18th


Mon. Nov. 18
Seton Hall Prep @ Morristown Beard, 5:00 pm (S)

Tues. Nov. 19
Notre Dame @ Delbarton, 4:45 pm (S)
Maine Wild @ Bridgton Academy, 7:00 pm

Wed. Nov. 20
Upper Canada College @ St. Andrew's College, 2:15 pm
Hoosac @ Northwood Midgets, 2:30 pm (S)
Taft @ Brunswick, 3:00 pm
Pomfret @ Avon Old Farms, 4:00 pm
Albany Academy @ Millbrook, 4:00 pm (S)
Tilton @ Berwick, 4:00 pm (S)
New Hampton School @ Exeter, 4:00 pm
Holderness @ Vermont Academy, 4:00 pm
Stanstead College @ Northfield - Mt. Hermon, 4:45 pm

Thurs. Nov. 21
Randolph @ Seton Hall Prep, 4:00 pm (S)
Portledge @ Columbia Prep, 4:00 pm

Fri. Nov. 22
Northwood Prep vs. Springfield Jr. Pics (EJHL), 2:30 pm (@ Mullins Center, UMass)
Notre Dame @ Lawrenceville, 3:45 pm (S)
Westminster @ Brunswick, 5:00 pm
Hebron @ Exeter, 5:00 pm
Worcester Academy @ Brooks, 6:00 pm (S)
St. Andrew's College vs. Upper Canada College, 6:30 pm (@ St. Michael's, Toronto)
Proctor @ Milton, 7:00 pm (S)
U.S. National Women's Team @ Taft, 7:00 pm (S)
Bridgton Academy @ Selects Academy U18 AAA, 8:00 pm

Sat. Nov. 23
St. Andrew's College @ St. Michael's College School, 10:00 am
Taft @ Avon Old Farms, 2:00 pm
Bridgton Academy @ Selects Academy U18 AAA, 2:00 pm
Stanstead College @ Kimball Union, 2:00 pm
U.S. National Women's Team @ Salisbury, 2:00 pm (S)
Brunswick @ Hotchkiss, 2:00 pm
Delbarton @ Berkshire, 2:00 pm (S)
Hill School @ St. Sebastian's, 2:00 pm (S)
Thayer @ St. Mark's, 2:30 pm (S)
Williston-Northampton @ Canterbury, 2:30 pm
Tilton @ Kents Hill, 2:30 pm
Tabor @ Pomfret, 3:00 pm
Hoosac @ Northfield - Mt. Hermon, 3:00 pm
Millbrook @ Cushing, 4:15 pm
Exeter @ Dexter, 4:30 pm
Moses Brown @ Berwick, 5:00 pm
Gilmour Academy @ Pittsburgh Stars AAA, 6:00 pm
St. Andrew's College vs. Ridley College, 6:00 pm (@ St. Mike's, Toronto)

Sun. Nov. 24
Middlesex Bears vs. Hill School, 7:30 am (@ Wesleyan College)
Cushing vs. Stanstead College, 9:00 am (@ Dartmouth College)
Gilmour Academy @ Pittsburgh Stars AAA, 11:15 am

Mon. Nov. 25
Rye Country Day @ Portledge, 4:00 pm

Tue. Nov 26
Hoosac @ Albany Academy, 4:00 pm
Portledge @ Delbarton, 4:30 pm (S)
Moses Brown @ Rivers, 5:00 pm (S)

Wed. Nov 27
Hoosac @ Moses Brown, 3:45 pm



Fri. 11/15/13---updated

Frozen Fenway Prep & High School Schedule

-- At Fenway Park, 4 Yawkey Way, Boston, Mass. 02215

Tues. Dec. 31, 2013:
10:15 am -- Lincoln-Sudbury High School vs. Boston Latin
12:15 pm – Girls game – Hingham vs. Duxbury
2:30 pm – St. John's Prep vs. Malden Catholic

Wed. Jan. 8, 2014:
1:30 pm – Girls game – St. Paul's vs. Governor's Academy
3:15 pm – Brooks vs. BB&N
5:30 pm – Groton vs. St. Mark's
7:45 pm – Belmont Hill vs. St. Sebastian's

Sun. Jan. 12, 2014:
1:30 pm -- Kimball Union vs. Governor's Academy

As you are probably well aware, there are a number of men's and women's college games being played at Fenway, including a pair of Hockey East doubleheaders, one on Sat. Jan. 4 (Merrimack vs. PC, and Notre Dame vs. BC) and another on Sat. Jan. 11 (UMass-Lowell vs. Northeastern and Maine vs. BU).



Wed. 11/13/13

Belmont Hill Jamboree Schedule
Belmont Hill will be hosting its scrimmage jamboree on Sat. Nov. 30th. All games will consist of three 15-minute periods with ice made between the second and third periods.

Sat. Nov. 30, 2013 @ the Belmont Hill School:

8:30 am -- Belmont Hill vs. Winchendon
10:00 am -- Governor's Academy vs. Proctor Academy
12:00 pm -- Winchendon vs. St. Andrew's College
1:30 pm -- Proctor Academy vs. Belmont Hill
3:30 pm -- St. Andrew's College vs. Governor's Academy



Wed. 11/13/13

Rivers Jamboree Schedule

Rivers will be hosting a jamboree on Sat. Nov. 30th. There will be four mini-games, each 25 minutes running time. Here is the schedule:

12:00 pm -- Rivers vs. Thayer
12:45 pm -- Thayer vs. BB&N
1:30 pm -- Rivers vs. Pingree
2:15 pm -- BB&N vs. Pingree
Tues. 11/12/13--updated 11/14

Prep Composite Schedule, Week of Nov. 11

Wed. Nov. 13
Appleby College @ St. Andrew's College, 2:15 pm
New Hampton School @ Proctor, 4:00 pm (S)
Bridgton Academy @ Exeter, 4:30 pm

Fri. Nov. 15
MPHL Kickoff Classic @ South Burlington, VT (10 games today)
Academie St. Louis, Quebec @ Middlesex, 5:00 pm (S)
Bridgton Academy @ CEGEP Sainte-Foy, 7:00 pm

Sat. Nov. 16
MPHL Kickoff Classic @ South Burlington, VT (10 games today)
Northwood Prep vs. Northfield - Mt. Hermon, 10:00 am (@ Cushing Academy)
Bridgton Academy @ CEGEP Sainte-Foy, 12:00 pm
Berwick @ Cushing, 12:00 pm (S)
Academie St. Louis, Quebec @ Williston-Northampton, 1:30 pm (S)
North Yarmouth Academy @ Proctor, 2:00 pm
Lehigh Valley U18AA @ Kents Hill, 2:00 pm (S)
Gunnery@ Loomis, 2:30 pm (S)
Middlesex Bears @ Pomfret, 2:30 pm (S)
Lawrence Academy @ Andover, 2:30 pm (S)
New Hampton School @ Worcester Academy, 3:45 pm (S)
Brewster Academy @ Exeter, 4:00 pm
Deerfield @ Westminster, 4:00 pm (S)
Kuper Academy @ Groton, 4:30 pm (S)
Hill School vs. Canterbury, 7:00 pm (S) (@ Chelsea Piers, NYC)

Sun. Nov. 17
MPHL Kickoff Classic @ South Burlington, VT (5 games today)
Kuper Academy @ St. Mark's, 10:30 am (S)
Delbarton vs. Northfield - Mt. Hermon, 2:30 pm (S) (@ Yale)
Note: There are still quite a few prep schedules – including a couple dozen NEPSIHA teams -- that we are waiting on, so the above may not be complete.

We'll look for additional schedules over the next couple of days, see if any more schedules have been uploaded, and make additions as we go. We encourage prep coaches to post their schedules as soon as possible. Thanks!
Tues. 11/12/13

U.S. Women to Take on Prep Boys

The U.S. Women's National Team, back from the Four Nations Tournament in Lake Placid, will be playing a pair of games vs. boys prep teams next week.

On Friday night Nov. 22nd, they will be visiting Taft School for a 7:00 pm game. U.S. Head Coach Katey Stone is a Taft grad (class of '84) who went on to play her college hockey at UNH.

The following afternoon, Sat. Nov. 23, the National Team will visit Salisbury. Faceoff is at 2:00 pm.

In addition, the National Team will be playing the Boston Advantage in back-to-back games on Fri. Dec. 6th and Sat. Dec. 7th. The Friday night game will be at Salem, NH (7:00 pm) and the Saturday game will be at Phillips Andover (6:10 pm).

From there the team heads to Calgary to face Canada on Dec. 12th.

The National team will be using the Edge Sports Center in Bedford, Mass. as their center of operations before heading off to the Olympics in Sochi, Russia. The women's games will run from Feb. 8-17.


U.S. Women's National Team
Tues. 11/12/13

Delbarton's First Trip of Season to New England

Delbarton, which has won six straight New Jersey titles, will be facing off against Northfield-Mt. Hermon in a scrimmage this Sunday afternoon, Nov. 17th, at Yale's Ingalls Rink. Faceoff is at 2:30 pm.

Here are all the games Delbarton will be playing in New England this winter:

Sun. 11/17 -- vs. NMH (@ Yale) 2:30 pm (Scrimmage)
Sat. 11/23 -- at Berkshire (Scrimmage) 2:00 pm
Sat. 12/14 -- at Brunswick, 1:00 pm
Sun. 1/5 -- at Hotchkiss, 3:00 pm
Sat. 1/18 -- at Malden Catholic, 1:00 pm
Sun. 1/19 -- at Dexter, 11:00 am
Thurs. 2/13 vs. Fairfield Prep (@ Yale), 7:00 pm

Forward Chad Otterman, who was with the Jersey HItmen (EJHL) last season, is back with Delbarton for his senior season.




Mon. 11/11/13

Pre-Season Games at Cushing

There will be a pair of pre-season exhibition games at Cushing Academy on Saturday Nov. 16.

10:00 am -- NMH vs. Northwood
12:00 pm -- Cushing vs. Berwick

Northwood, in case you missed it, lost 2-1 to Minnesota White in the title game of the CCM National Invitational at New Hope, Minn. on Sun. Nov. 3rd.

Senior goaltender Aidan Pelino (Oakville, Ont.) was named to the all-tournament team, winning honors as the tournament's top goalie. Pelino was the only non-Minnesota player named to the squad.

To get to the finals, Northwood topped defending champion Shattuck-St. Mary's 4-2 on the first day and followed it up the next day with a 3-2 double OT win over Hill Academy. After a 10-minute 4x4 OT period, ice was cut, and a 20-min second OT period began. With 27 seconds left -- at 29:33 of OT -- senior F Alphee Herion, a late '95 from Virginia Beach, VA, won it for Northwood.

Northwood will be back Mon. Dec. 2 for the Piatelli Jamboree at the Berkshire School, as well as the St. Sebastian's Holiday Tournament Dec. 20-22.



Mon. 11/11/13

Note to Prep Coaches

We currently have over 40 prep schedules posted to USHR but are still missing a significant number. With that in mind, we just want to send out a friendly reminder to all coaches who haven't done so yet to get them posted as soon as possible. It's important because we need to get the weekly prep composite schedule for the coming season completed, and then check for accuracy so that there are no scheduling discrepancies or missing games. It's not an exaggeration to say that we take this duty seriously!

Note: If you run into technical issues, please contact: admin@ushr.com -- thanks!




Sun. 11/10/13

Box Scores from Fall Prep All-Star Games


U19 Game: Mass 5, Conn 3

1st Half:
Mass – Neil Conway (Miles Wood)
Conn – Benjamin Key-Coomis (Nick O'Connor)
Mass – Henry Hart (David White)
Conn – Michael Cusato (Bradley Allen)

2nd Half:
Conn – Christian Heidleberger (Nick O'Connor)
Mass – Kevin Neiley (Jake Mercier)
Mass – Henry Hart (Brendan Flanagan)
Mass – David White (Liam Feeney)

Penalties:
Mass -- 10 minors
Conn – 4 minors, 1 major

Goaltenders: Mass – Elijah Harris and Joel Daccord
Conn – Tucker Weppner and Samuel Keehn

USHR Three Stars:
1) Henry Hart, PG forward, Phillips Exeter
2) Kevin Neiley, PG forward, Phillips Exeter
3) Miles Wood, Jr. forward, Noble & Greenough

Note: There was a significant gap between the skill levels of the two teams. In the second half in particular, the Mass offense was more than Connecticut could handle. The ice got a little tilted.
***

Freshman/Soph Game: Mass 5, Conn 3

1st Half:
Conn – Satchel Clendenin (unassisted)
Mass -- Michael Young (Peter Christie)
Mass – Michael Young (Luther vom Eigen)
Conn --- Giacomo Messina (Ian Keller, Jack Adams)
Conn – Martino Picariello (Satchel Clendenin, Michael Major)

2nd Half:
Mass – Matt Koopman (Nicholas Hamre)
Mass – Nicholas Hamre (Matt Koopman)
Mass – Zach Tsekos (Derek Osik)

Penalties:
Mass -- 3 minors
Conn -- 2 minors

USHR Star of the Game:
Michael Young, 9th grade defenseman, Rivers




Sat. 11/9/13

MPHL Kickoff Coming Up

The Midwest Prep Hockey League (MPHL) is holding its annual Kickoff Tournament in South Burlington, Vt. (Cairns Arena) this coming Friday through Sunday Nov. 15-17.

The league holds the tournament in South Burlington in order to be within range of colleges in the Northeast as well as pro and junior scouts.

Each of the league's 10 teams will play five games over the weekend, and due to the compressed schedule games will consist of three 15-minute periods.

This is a good opportunity for college recruiters and scouts, as it will be the only time, other than the playoffs – won last season by the Edge School, 2-1, over St. Andrew's College -- that all league teams will be in one place.

The league, which has a new commissioner in Loyola head coach DJ LaVarre, has had a lot of success over the last few years.
Two years ago, F Mark Jankowski of Stanstead College, now a sophomore at Providence College, was a first round draft pick of the Calgary Flames.

This past June, Calgary drafted D John Gilmour, ex of Gilmour Academy and now also a sophomore at PC.

Last year, St. Andrew's College F Warren Foegele, who will be in action in S. Burlington this coming weekend, committed to UNH for the fall of '15.

Also last season, Ridley College goaltender Cam Hackett, now with the Green Bay Gamblers (USHL), committed to Cornell for fall '14.

Another commit from last season was Stanstead College's 6'4" D Alexandre Coulombe, who will be suiting up for the University of Vermont next fall. He's with the Penticton Vees (BCHL) right now.

Last month, 6'5" F Matt Ustaski, ex of Lake Forest Academy and now with the Langley Rivermen (BCHL), committed to the University of Wisconsin for the fall of '14.

Also last month, D Rory McGuire, who graduated from St. Andrews College last spring, committed to Colgate for '15. McGuire is now playing for the Victoria Grizzlies (BCHL) along with four of his former teammates from St. Andrew's.

The league web site can be found here:

MPHL website


The Schedule:

Fri. Nov. 15:
9:00 am – Stanstead College vs. Lake Forest Academy (Cairns 2)
9:00 am – Ridley College vs. Gilmour Academy (Cairns 1)
10:45 am – St. Andrew's College vs. Loyola Academy (Cairns 1)
10:45 am – Edge School vs. St. Francis High School (Cairns 2)
12:30 pm – Rice Memorial vs. Shady Side Academy (Cairns 1)
4:25 pm -- Lake Forest Academy vs. Ridley College (Cairns 1)
5:00 pm -- Loyola Academy vs. Stanstead College (Cairns 2)
6:45 pm -- St. Francis High School vs. St. Andrew's College (Cairns 2)
8:30 pm -- Shady Side Academy vs. Edge School (Cairns 2)
9:00 pm -- Gilmour Academy vs. Rice Memorial (Cairns 1)

Sat. Nov. 16:
9:00 am -- St. Andrew's College vs. Lake Forest Academy (Cairns 1)
9:00 am -- Rice Memorial vs. St. Francis High School (Cairns 2)
10:40 am -- Ridley College vs. Shady Side Academy (Cairns 1)
10:45 am -- Stanstead College vs. Gilmour Academy (Cairns 2)
12:25 pm -- Edge School vs. Loyola Academy (Cairns 1)
4:00 pm -- Shady Side Academy vs. St. Andrew's College (Cairns 2)
5:00 pm -- Gilmour Academy vs. Edge School (Cairns 1)
5:45 pm -- Lake Forest Academy vs. Rice Memorial (Cairns 2)
6:45 pm -- Loyola Academy vs. Ridley College (Cairns 1)
7:30 pm -- St. Francis High School vs. Stanstead College (Cairns 2)

Sun. Nov. 17:
9:00 am -- Edge School vs. Lake Forest Academy (Cairns 1)
9:00 am -- Ridley College vs. St. Francis High School (Cairns 2)
10:45 am -- St. Andrew's College vs. Gilmour Academy (Cairns 1)
10:45 am -- Stanstead College vs. Shady Side Academy (Cairns 2)
12:30 pm -- Rice Memorial vs. Loyola Academy (Cairns 1)



Fri. 11/8/13

Piatelli Jamboree

To be held Mon. Dec. 2, 2013 at the Berkshire School in Sheffield, Mass., on Route 41, under the shadow of Mount Everett (2,624 feet).

Rink 1:
9:30 am – Pomfret vs. Brunswick
11:30 am – Berkshire vs. Nichols
1:30 pm – Canterbury vs. Pomfret
3:30 pm – Berkshire vs. Northwood

Rink 2:
10:00 am – Kent vs. Canterbury
12:00 pm – Northwood vs. Gunnery
2:00 pm – Brunswick vs. Nichols
4:00 pm – Gunnery vs. Kent



Fri. 11/8/13

'Mini' Founders' League Jamboree

A mini Founders' League Jamboree will be held at the Hotchkiss School (Lakeville, Conn.) on Saturday Nov. 16th.

Each team will play two-period scrimmages. Periods will be 18 minutes long, with power plays and an ice cut in between periods. The last 10 minutes of each scrimmage will be played 4-on-4. During the 4-on-4, the offending player will be replaced on the ice without a man advantage.

The schedule:

Sat. Nov. 16th

2:30 pm – Salisbury vs. Trinity-Pawling (Dwyer Rink)
2:30 pm – Hotchkiss vs. Kent (Schmidt Rink)

4:00 pm – Salisbury vs. Kent (Dwyer Rink)
4:00 pm – Hotchkiss vs. Trinity-Pawling (Schmidt Rink)




Thurs. 11/7/13

St. Paul's School Jamboree

The St. Paul's School Jamboree will be a little different this year, as St. Paul's was unable to come up with a fourth team.

So the tournament, on Sun.-Mon. Dec. 1-2, will be a three-team affair. All scrimmages and games will consist of three 18-minute periods.

Sun. Dec. 1:
10:00 am – SPS vs. Loomis – scrimmage (Gordon Rink)
10:00 am – Tabor practice (Ingalls Rink)

4:00 pm -- SPS vs. Tabor (Gordon Rink)
4:00 pm -- Loomis practice (Ingalls Rink)

Mon. Dec. 2:
10:00 am – Loomis vs. Tabor – NEPSIHA game (Gordon Rink)
12:15 pm – SPS vs. Groton – scrimmage (Gordon Rink)




Thurs. 11/7/13

Proctor Jamboree

The former Lawrence Academy Jamboree has moved north to Proctor Academy (Andover, NH). It will be held on Sunday Dec. 1.

The games will be 30 minutes long, stop-time.

9:00 am – Proctor vs. Holderness
10:00 am – Lawrence vs. Hebron
11:00 am – Stanstead vs. Holderness
12:00 pm – Proctor vs. Lawrence
1:00 pm – Hebron vs. Holderness
2:00 pm – Stanstead vs. Lawrence
3:00 pm – Hebron vs. Proctor
4:00 pm – Stanstead vs. Proctor




Wed. 11/6/13-updated Mon. 11/11

Prep Schedules Posted

As of today, we have 40 schedules posted to USHR. We have italicized the latest additions.

Schedules:
Albany Academy, Austin Prep, Avon Old Farms, Berkshire, Berwick, Brewster Academy, Bridgton Academy, Brunswick, Choate, Cushing, Delbarton, Dexter, Don Bosco Prep, Gilmour Academy, Governor's Academy, Groton, Hebron, Hill School, Kent, Lawrence Academy, Middlesex, Millbrook, Nichols, North Yarmouth Academy, Northfield - Mt. Hermon, Pingree, Pomfret, Proctor, Rivers, Salisbury, Seton Hall Prep, St. Andrew's College, St. George's, St. Mark's, Stanstead College, Thayer, Trinity-Pawling, Westminster, Williston-Northampton, and Worcester Academy.

More go up every day, and soon we'll be listing rosters, too.

Thank you to all prep coaches.




Tues. 11/5/2013

A Big Change in Prep Playoffs

The New England Prep School Hockey Tournament has bid goodbye to the Icenter in Salem, NH. The new home, at least for this year, will be Yale University's Ingalls Rink, where the small school, large school, and open 'elite' tournaments – title games only -- will be held on Sunday March 2nd. Starting times are expected to be 2:15, 4:45, and 7:15 p.m.

The semifinals will be played the day before, Sat. March 1st, at the home rinks of the top-seeded schools, except when driving times between schools exceeds two hours and 45 minutes. If such a case arises, neutral sites will be utilized.

No longer will the New England amateur hockey community be able to watch the semifinals and finals all in one building, as we have become accustomed to over the past 20 years.

Pressure from athletic directors, led by Kent AD and long-time football coach Todd Marble, who for several years has made an issue of the time and cost of traveling to Salem, was the driving force behind the decision to scrap the all-in-one-site format.
NEPSIHA second-year president Sean McCann, the head coach at St. Sebastian's, is the man in the middle, as many prep coaches are upset over the new format. The decision, however, was not the coaches. The ADs voted it down.

"This is a one-year trial period," McCann told USHR. "We'll try it for a year. I understand that it has its pros and cons. I have heard both sides. But Yale University has a beautiful rink, and that is certainly a proper venue for prep hockey to showcase itself."

This has been building up for quite a while. It's long been clear that NEPSIHA would like to move their tournament to a medium-sized college rink, preferably in central New England or, failing that, shifting from an eastern New England to western New England college rink in alternate years. Everybody has been of one mind on that but, since ECAC and NESCAC colleges need to reserve their buildings for potential playoff games for both men's and women's programs, that idea remained stuck, and Salem, where the tournament has been held for 13 of the last 14 years, remained the default home.

"Our goal is to alternate between east and west," McCann said. "It would also work if we put it in the middle."
That actually was tried. In 2002, the tournament left Salem for UMass' cavernous Mullins Center, where fans bounced around like buckshot in a boxcar.
It's true that the travel has largely been a one-way proposition. Things came to a head last year when three of the four schools competing in the elite division Friday night semifinal all hailed from a tiny corner of northwest Connecticut, with the fourth, Westminster coming from a bit north of Hartford. In the days running up to last March's tournament rumors that Kent and others wouldn't be coming to Salem – but instead going rogue and playing their NEPSIHA semifinal games at home -- were flying all over the place. They were not unfounded: Marble was adamant about his unhappiness about traveling 175 miles to play Gunnery, which is only 20 miles from Kent, a jaunt down winding Connecticut country roads. Adding to the tension was the fact that many hockey coaches felt Marble's stance was hypocritical, given that he had taken Kent's football team to play a game in England in 2009, and then followed that up by taking the team overseas again, this time to Ireland, in 2012. That, hockey coaches felt, made any complaints over the cost and distance of a trip to Salem slightly ridiculous. But Marble was adamant -- and other ADs were in his corner.

"The three-day tournament was a great tradition," said McCann, "but, by more than a three to one vote, the NEPSAC board felt it was time to make a change that was better for the kids. And with the (semifinal) games at home rinks, all the faculty and students will be there."

"We're going to try to make it better," he added. "Of course, we'll have people who like it and people who don't."

Those upset with the change feel that it was important to hang in there with the current format for the good of the greater prep hockey community.
We agree. From this typist's point of view, the quality of the venue is less important than the quality of the tournament. Think how much more electric the Beanpot was in the old Boston Garden.
Salem, warts and all, was the place to be, a place where the prep game had some of its finest hours in this millenium, and a place where the prep hockey community came together as one. The atmosphere on some of those weekends was electric, particularly Saturdays, with busloads of kids coming from all over New England, alums appearing like ghosts from the past, and public school kids and youth hockey players from the Boston suburbs stopping in, mingling, curious to see what the prep game was all about. Then there were the casual fans and local types, folks not likely to go to any other prep games all year but who would walk out excited over all the hockey they saw -- for a mere five bucks. And last, though far from least, were the NHL scouts and college recruiters who would settle early into their seats behind the south goal, watching the more obscure small schools that they may have missed during the regular season, looking for that overlooked kid. Later in the day, the heavyweights would hit the ice and the scouts and recruiters could see how the kids they'd followed all season long would perform under the intense pressure. We weren't crazy about the recent addition of Friday night games, but we certainly loved those long Saturdays, even if the ice was pretty beat by the end.
The beauty of it all was that the college coaches could still hustle back to their games at night. If you're in Lakeville, Connecticut, as postcard pretty as that town is, you aren't getting back in time for your team's game, unless perhaps you're at Trinity College. If getting kids exposure to college recruiters means anything at all, the tournament must play those semifinals in one location.
There are those who will argue that more students and faculty will show up if a school is hosting a tournament in their home rink. That will certainly be true in some cases. But it will be hit or miss. You might have overstuffed rinks where people are actually turned away – how many busloads of Avon kids would it take to bust out the side walls of Gunnery's barn? There are also schools that are already on break when that first weekend of March comes around. That could be a real dud, atmosphere-wise. College hockey struggles with this, where home playoff games in March sometimes draw barely more than an early October exhibition against Dalhousie.

There are things that need to be changed, for sure. It's important that the tournament rotate between east and west, not only to make the driving distances equitable, but also to mix things up a bit. When that first Saturday in March rolls around, having to choose just one game to attend is going to be a sad exercise.

Basically, playing those semis all in one building was special, and if you have a special tradition going, you shouldn't give it up without a fight. It can be very hard to get back.

And someone else might fill the void.

Perhaps the Mass. Super 8 will move their tournament up by just one day, and all those college recruiters, NHL scouts, and Boston area fans may find something else to do on the first Saturday in March. After all, four games in one barn in one day is pretty enticing.

Sat. 11/2/13
Welcome to 2013-14
The 2013-14 Prep Pages are now officially open.
All of last season's news, rosters, schedules, and stats have been archived, and new material has started going into this season's pages. Half a dozen coaches have already uploaded their schedules, a number that will blossom over the next week.

Once we have a reasonable number of schedules posted, we will begin to keep you updated on which schedules are actually up, so you don't have to go looking for those that have yet to be uploaded.

We will also be posting jamboree and holiday tournament schedules. Look for those to start going up over the coming week as well.

Plus, we will have the news coverage you have come to expect. Hopefully, even more.
Welcome to the new season. We're glad to be here. We're glad you're here. And, as always, we thank you for your support.
Around the Rinks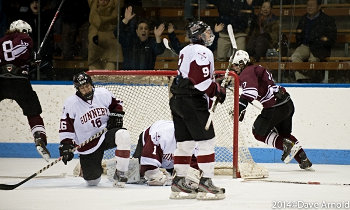 Salisbury's Evan Smith curls behind the net after scoring the game winner at 15:09 of OT off a nifty tic-tac-toe passing sequence with linemate Derek Barach. Twin brother Mitchell Smith jumps for joy
(Photo: Dave Arnold Photography)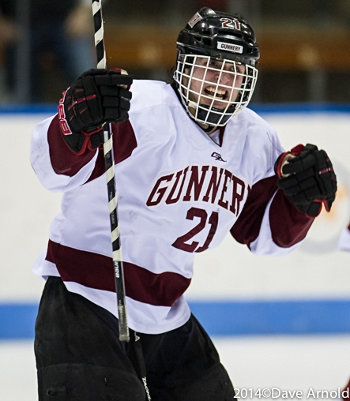 A rocket from Gunnery's Joey Fallon with 2:02 left in regulation tied the title game at 2-2 -- and sent it to OT
(Photo: Dave Arnold Photography)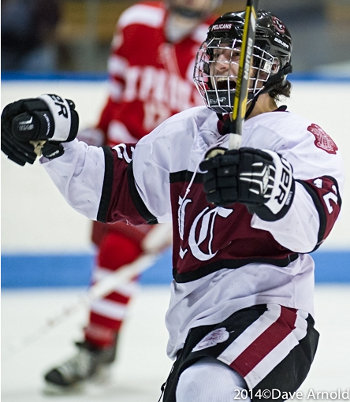 Junior Alex Esposito (2g,1a) came up big in Loomis' 3-2 win over St. Paul's in the Large School title game Sunday at Yale's Ingalls Rink
(Photo: Dave Arnold Photography)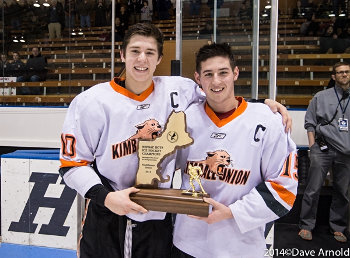 KUA co-captains AJ Greer and JD Dudek display some hardware after winning Sunday's Small School title with a 5-1 win over Dexter
(Photo: Dave Arnold Photography)