Note: With the prep season over, all news will now appear in the USHR News pages.

Sun. 3/4/18


Championship Sunday: KUA Repeats

Sunday, March 4, 2018
At Sullivan Arena
Saint Anselm College
Manchester, NH 03102

Elite 8 Championship Game

-- Armstrong's Two Goals Lead Wildcats

#1 Salisbury scored first and last, but in between #3 Kimball Union Academy scored three straight goals -- two by senior Andranik Armstrong -- to take a 3-2 win here tonight and repeat as NEPSAC champions.

Sean Dynan was terrific in goal, right to the final minutes when he held the fort after Salisbury pulled goaltender Bryan McGrath for the extra attacker and mounted a withering attack.

"Not everyone has that calmness under pressure that (Dynan) does," said KUA head coach Tim Whitehead afterward. "He never wavered. He was a rock for us."

Kimball Union was a little slow out of the gate as both teams felt each other out in the early going. It was Salisbury taking the early lead when senior Alex DiPaolo scored, with assists going to Arsenii Smekhov and Nick Capone. But KUA answered 24 seconds later when a Drew Bennett shot found a little daylight, deflecting off the back of McGrath's left pad and sneaking just inside the post to tie it at 1-1. Defensemen Jordan Harris and Bryce Dolan assisted. That's how the first period ended.

There was just one goal in the second, as Armstrong tipped a Dolan shot from the right point at 10:22 to make it 2-1 KUA, a lead the Wildcats would never relinquish.

In the third, Armstrong popped home a loose puck in front to extend the KUA lead to 3-1, with Logan Cash and Dolan assisting. It was Dolan's third helper of the night.

Salisbury goalie Bryan McGrath was called for tripping at 12:13, but KUA couldn't capitalize. Instead, right after the penalty expired, Salisbury pulled McGrath for the extra skater and DiPaolo got a nice bounce off the lively end boards and popped one by Dynan for an unassisted goal with three minutes remaining. It was DiPaolo's second goal of the night and cut KUA's lead to 3-2. Salisbury kept the extra attacker on for the remainder of the game, putting intense pressure on Dynan and the KUA skaters until the final buzzer. They couldn't get a puck to bounce their way.

"KUA played great today," said Salisbury head coach Andrew Will. "I thought we were a little tentative until the third period when we mixed up the lines a bit and started to play our game. I'm surprised we didn't get the puck in at the end, but KUA played better today and deserved the win."

"I am extremely proud of this group," added Will. "This was the best regular season in Salisbury's history. I'm just disappointed we couldn't send the seniors off with a championship."

KUA's Whitehead said repeating was "a little unexpected. We knew we had a good club. But, like last year, we had to go through some very good clubs to get here. It doesn't come easy. We got the last bounce."

"I thought it took us a while to get going, perhaps because last night's game (vs. Rivers) went four full periods. As the game went along, it was important to pick up the tempo and make that push. I've been around long enough to know that this game could have gone either way. After last night's game, we were just fortunate to be here."


***

Large School Championship Game

-- Brunswick Edges Thayer in OT, Wins First Prep Title

Brunswick topped Thayer 4-3 in OT as Jack Forrest put home the rebound of a Ryan Carmichael shot at the 6:40 mark. The goal came right after a sustained period of Thayer pressure at the other end.

It was Thayer pressure that forced overtime, as Brunswick built up a 3-1 lead heading into the third period, at which time Thayer struck for a pair of goals. At 12:06 of the third, a Jayson Dobay point shot deflected off Brunswick goalie Dan Dachille and Jay O'Brien's shin pad -- and into the net to make it a one-goal game.

It stayed that way for only a few minutes. With 2:49 left, Thayer wing Aidan McDonough rifled one from the slot, a power play goal, with assists going to Dobay and Evan Googins.

Shortly after the goal -- 26 seconds, to be precise -- Brunswick's Forrest took a dubious boarding call, but Thayer -- though O'Brien had a good opportunity -- was unable to capitalize. On to overtime.

Overtime was notable for the fact that Thayer dominated, hemming in Brunswick for a long stretch -- two or three minutes without a break -- and getting a couple good opportunities.

But no sooner did the puck get out of Brunswick's end and into the Thayer end, when Carmichael and Forrest went to work, and brought Brunswick its first-ever prep title.

Brunswick's longest winning streak during the season was two games until the past week. They got hot at the right time, winning their final regular season game and all three playoff games.

"I'm really proud of our senior leadership," head coach Ron VanBelle said. "While we didn't have winning-- or losing -- streaks during the season our boys stuck with it. Their compete level was awesome. I feel really good for the seniors. They're all local boys, too."

Asked about Thayer's third period comeback, VanBelle said, "We sat on the lead -- not intentionally -- but probably subconsciously. If you're trying to sit on a two-goal lead, it won't work."

It didn't, so the game moved on to OT, where Thayer dominated, putting strong pressure on Brunswick goalie Dan Dachille, who was on his game.

"I was thinking of what I'd say after the game," VanBelle said. "Something like 'It's alright boys, you played hard' -- and then we score."

***

Small School Championship Game

-- Fontaine Leads LA

#3 Lawrence 5, #4 New Hampton 4 -- Lawrence sophomore Gunnar Fontaine, from Braden Doyle and Drew Bavaro, scored a power play goal at 7:22 of overtime to lift Lawrence Academy to a 5-4 win over New Hampton and the 2018 Small School Championship here today.

It was Fontaine's second goal of the game. For New Hampton, junior Lynden Breen also had a pair of goals.

On the winning goal, Fontaine drove to the net and, reaching the top of the crease, directed the puck past New Hampton senior goalie Matt Sayles -- and the celebration began.

This was a back-and-forth game, with the two teams trading goals from start to finish.

In the first, LA took a 2-1 lead, with Murphy Gielow and Tyler Young scoring for the Spartans, and Michael Kane sandwiching a goal in between for the Huskies. The three goals all came in under three minutes.

In the second, just 1:02 in, Breen came out of the corner and sniped one to tie it up for New Hampton at 2-2 just 1:02 into the period. At 5:29, LA's Fontaine scored his first goal of the game, from Neil Shea, out of a scrum in front of Sayles. But Breen came right back late in the period, scoring to send the game to the third tied at 3-3.

In the third, LA's Connor Sweeney, from Sam Colangelo and Ethan Bastien, who returned for the playoffs after being out for weeks with a concussion, scored a nice goal off a drop pass just one minute into the period. At 7:05, New Hampton senior Zac Lanoue picked the puck off the stick of LA d-man Braden Doyle and broke in alone for an unassisted tally, tying the game at 4-4.

The game moved into OT -- and Fontaine's heroics.

"The boys believed in themselves and they believed in the guys next to them," said Lawrence head coach Robbie Barker. "I thought when we came out for the third we really started playing our type of hockey. We were aggressive on the forecheck. The third man stayed high. We forced turnovers. And we got pucks to the net."

"The kids deserve this. A lot of blood, sweat, and tears this year. The seniors believed -- and set the bar high for everyone."



Sat. 3/3/18

Saturday's Semifinals Scoreboard

Saturday, March 3, 2018 -- Semifinals

Elite 8:
1/8 vs. 4/5 -- @ Salisbury 3, Dexter 1
2/7 vs. 3/6 -- KUA 2 @ Rivers 1 (OT) -- Zach Whitehead OT goal at 17:29 of OT

Large School:
1/8 vs. 4/5 -- Brunswick 5 @ NMH 0
2/7 vs. 3/6 -- Thayer 4 @ St. Sebastian's 2

Small School:
1/8 vs. 4/5 -- New Hampton 3 @ Winchendon 2
2/7 vs. 3/6 -- Lawrence 3 @ Gunnery 2 (OT) -- Neil Shea OT goal at 12:27 of OT

***

Semifinal Highlights:
Whitehead OT Goal Returns KUA to Elite 8 Title Game
Weston, Mass. -- With 29 seconds remaining in overtime, a goal by sophomore Zach Whitehead, off a perfect pass from junior Seth Stadheim, lifted Kimball Union Academy to a 2-1 win over host Rivers in an Elite 8 semifinal here today.

With the win, KUA, the defending NEPSAC champion, advances to face Salisbury, 3-1 winners over Dexter, in the Elite 8 championship game Sunday in Manchester, NH (5:00 pm).

This one was a classic, easily the best prep game this reporter has seen all season. The atmosphere was great, too -- loud, with large, boistrous contingents from both schools. And a packed building to boot. Either team could have won, and each had numerous chances to do so.

The first period was all Rivers. Perhaps KUA had bus legs, but Rivers came out hard and fast, and the hero for the Wildcats was senior goalie Sean Dynan, who faced some some heavy pressure -- and turned everything aside.

A different KUA team came out in the second, and it took all of 13 seconds for the Wildcats to score the first goal of the game, with Thomas Samuelsen picking the puck off the end boards in the offensive zone and getting it out front to Logan Cash, who put a nifty deke on Rivers senior goalie Aidan Porter to make it 1-0. There were plenty of shifts in momentum in the period, and constant up-and-down action. Rivers tied it up at 13:00 when John Kantoros took a perfect stretch pass up the middle from John Corrigan and broke in alone, beating Dynan with a high wrister.

Rivers almost took a 2-1 lead right after, when, during a flurry of action around Dyson, Rivers sophomore Michael McEachern attempted to scoop the puck past Dyson. It would have gone in the net, too, but KUA d-man Jordan Harris reached his glove into the fray and batted the puck out of harm's way. With defensemen Christian Felton and Jack Klarner out of action, KUA was short on the blue line. Harris and his D partner, Bryce Dolan, logged major minutes.

In the third, the up-and-down action continued, but both goalies stood tall. From early in the period, it looked like one of those games that was destined for overtime. It just had that feeling.

Things opened up in overtime. Around the five minute mark, Rivers, on the PP (both teams had one in OT), had a great chance when a Pat Lawn shot from the point rebounded to Tyler Cappello, who was stoned by Dynan. Phillip Tresca followed up with another great chance, but Dynan had that one too.

And on it went. It looked like a second OT was in the offing until KUA got a break when third liners Whitehead and Stadheim broke in on a 2-on-1 and played it perfectly, with Stadheim picking up the puck in his own end, skating down the right side through the neutral zone and into the Rivers' end as Whitehead cut toward the center. Stadheim, a left shot, opened up and made a perfect pass across to Whitehead, who found space before Porter could get all the way over. And he didn't miss, setting off a celebration.

Afterwards, Zach's father, KUA head coach Tim Whitehead, said OT "was pretty even, it came down to who gets a break. And we were fortunate."

Whitehead said his goaltender, Dynan, was "fabulous, very calm, poised." Dynan had 41 saves on the night to Porter's 36. "He was huge. He kept us in the game in the first."

"In the second. I thought we came out hard, and played with more flow."

Whitehad said his defensemen, especially given the minutes they had to log, were outstanding. "Harris," he said, "played more than half the game, and was still bringing it at the end of OT."

Rivers' head coach Shawn McEachern said, "Our guys put it all out there. We just didn't get the bounces we needed."

"It was two great teams," McEachern added, "with the momentum going back-and-forth. KUA is good. They're big and strong. For us, Porter has been a rock all year. I don't think there's a better goalie in prep hockey. My kids are great. They represented the school well. It was a good year. Our only two losses came to teams in the Final Four -- Dexter and KUA. We won the Seb's Tournament, we won the Belmont Hill tournament. The guys have been unbelievable."
***
Brunswick 5 @ NMH 0 -- Brunswick completed its first three-game win streak of the season, getting hot at just the right time, blanking NMH and landing a spot in Sunday's Large School final.

They will face Thayer, a 4-2 winner at St. Sebastian's this afternoon.

Brunswick scored twice in the first and thrice in the second. Five different players -- Tom Richter, Charles Shaffer, Christian LeSueur, Edward Glassmeyer, and Henry Hill -- notched goals for the visitors.

In the third, NMH pushed back, putting more shots on net than in the first two periods combined. But Brunswick goaltender Dan Dachille (22/22) was up for them all.

NMH senior Eric Green (40/45) took the loss.

Lawrence Academy 3 @ Gunnery 2 (OT) -- A Neil Shea goal at 12:27 of overtime, from Braden Doyle and Sam Colangelo, lifted Lawrence Academy into Sunday's small school title game against New Hampton (12:00 pm).

The two teams traded goals in the first. Ethan Bastien put LA ahead in the second, and Gunnery's Zach Pellegrino, with the two teams playing 4x4, tied it at 2-2 early in the third. And that's where it stood until Shea came through in OT.

LA junior goaltender Ian Graiff (38/40) earned the win; Gunnery junior JP Mella (33/36) took the loss.

New Hampton 3 @ Winchendon 2 -- New Hampton never trailed in this one, taking a 2-0 lead in the second period on goals from Joe Dunlap and Michael Kane. Winchendon made it a one-goal game on a Cam Gendron tally early in the third, but New Hampton got it right back with a James Hatzepetros goal at 12:44. Winchendon made it a one-goal game again on a Ville Rainio goal with 41 seconds remaining. Matt Sayles (30/32) was the winning goaltender; James Corcoran (33/36) took the loss. New Hampton will face Lawrence Academy for the small school crown at noon tomorrow.

***
Sunday, March 4, 2018 -- Championships
At Sullivan Arena
Saint Anselm College
Manchester, NH 03102
All games will be livestreamed at www.nepsac.tv
Small School Championship Game: #3 Lawrence vs. #4 New Hampton, 12:00 pm
Large School Championship Game: #3 Thayer vs. #5 Brunswick, 2:30 pm
Elite 8 Championship Game: #1 Salisbury vs. #3 KUA, 5:00 pm



Wed. 2/28/18

Quarterfinals Highlights

-- Nisbet, Mullahy Lead Dexter Past Milton

Brookline, Mass. -- Senior Jack Nisbet had two goals and junior goaltender Derek Mullahy kicked out 31 shots as #4 Dexter topped #5 Milton 4-1 in an Elite 8 quarterfinal here today.

With the win, Dexter advances, and will hit the road for a semifinal tilt at Salisbury on Saturday (3:00 pm).

Today's game was played at a brisk pace. Dexter came out hard, and Milton was a bit flat-footed in the first period. Dexter got on the scoreboard at the 9:35 mark when, on a delayed penalty call, Nisbet picked up a pass in his end and cut down the right side with speed, going wide and then cutting in and jamming a shot past Milton junior goaltender Erik Voloshin to make it 1-0. It would be the only goal of the period, though it could have been worse, as Voloshin had to come up with 2-3 big saves to keep Milton in the game.

Dexter had a 10-8 edge in shots in the period.

In the second period, the Mustangs began to find their legs, and had opportunities on the power play, but Mullahy came up with some great saves, flashing quick pads, and an equally quick blocker and glove.

But Dexter didn't slow down, making it 2-0 when senior D Jack Rathbone made one of the passes we've come to expect from him, a beauty zipping right up the middle onto the stick of Ian Murphy who drive to the net -- into the net, actually, puck and all -- at the 6:45 mark.

Twenty-six seconds later, Murphy took a penalty, and Milton had some opportunities. Problem was, Mullahy was up for them all. Milton would have the edge in power play opportunities throughout the game, but Dexter played strong D, and what the shot-blockers or defensemen couldn't handle, Mullahy did.

Milton's Voloshin made a couple terrific saves -- on Chase McInnis and Rathbone -- with about four minutes left in the period.

Later in the period, at 14:28, Dexter sophomore Ben Raymond, from sophomore defenseman John Fusco and junior center John Farinacci, made it 3-0. On Raymond's shot, a strong high wrister with a quick release from the right faceoff circle, Voloshin had little to no chance.

Shots in the second favored Dexter, 13-11.

The third was Milton's best period, but they couldn't get a puck past Mullahy until there was 5:50 left in the game, and that, on the power play, featured some tic-tac-toe passing by Milton's top line of Tiger Zhang, Tyler Campbell, and Quinton Fox. Zhang put it home to make it a 3-1 game.

Milton kept at it, but Nisbet's second goal of the night -- a rush down the right side, similar to his first, but finished off with a high wrister -- salted the game away for Dexter.

Milton had a 13-7 edge in shots in the third -- and there were others that were blocked. For the game, Milton outshot Dexter, 32-20.

"I think our team speed is what got us over the hump today," said Dexter head coach Dan Donato. "We tried to use that to beat their D wide. We came out ready to play and our PK was a huge factor. AJ Caprio was great blocking shots. That energized the players."

"I was impressed with Milton," Donato added. "They play with discipline. And I was impressed with the way our guys battled."

"Hats off to Dexter," said Milton head coach Paul Cannata. "They played hard, blocked shots, got sticks in there -- they earned a good win. They have some excellent players and they pushed the pace."

"It took us a while to find our game, but we had some good looks on the power play in the second. We could have tied it up then, but then they come down and instead of a 1-1 game, it's 2-1 and now we're chasing the game."

"Mullahy made 6-7-8 excellent saves," Cannata added. "From goal to forwards, they were deeper and better. But we had a great group this year. We went two months without losing a game. Any time you're in the Elite 8 you love your team."

Notes:

-- Before the opening faceoff, there was a ceremony for former Dexter star Ryan Donato. As the Donato family gathered at center ice, Ryan, wearing his Olympic jersey with the familiar #16, walked out in front of an adoring home crowd. A banner was unfurled at the far end, and Ryan dropped the puck for the ceremonial faceoff. News crews were there from local Boston TV stations to capture it.

-- When Dexter travels to Salisbury Saturday, it will mark their first-ever appearance there. And, of course, Salisbury is where Dan Donato earned his coaching spurs, leading a long parade of powerhouse teams. Asked about it, Donato said, "I have so many great memories. And I have a ton of respect for all the guys there. I'm looking forward to it."

-- In 11 of the 12 quarterfinal matchups today, the higher-seed won. The only exception was #5 Brunswick blanking #4 Williston, 2-0.


***
Elite 8:

-- McGrath, Salisbury Blank Westy
-- Porter Stops 41; Rivers Beats Cushing
-- KUA, Dynan Slam the Door on Exeter

@ #1 Salisbury 3, #8 Westminster 0 -- PG goaltender Bryan McGrath posted a 23-save shutout and Brett Willits scored the game-winning goal just 15 seconds into the game to lead Salisbury past Westminster, 3-0. Noah Lee and Alex DiPaolo also scored for Salisbury, and Matt Holmes added two assists. Westminster senior Alex Gadowski (34/37) took the loss. Salisbury will host Dexter in a Saturday semifinal (3:00 pm).

#2 Rivers 4, #7 Cushing 1 -- Cushing tied the game up at 1-1 on a Patrick Borella goal 36 seconds into the third period. But Rivers responded, finishing the game with three unanswered goals -- from Tyler Capello, John Kantaros and, with an empty-netter, Billy Shea. Senior G Aidan Porter (41/42) earned the win; Cushing sophomore Joe Sharib (29/32) took the loss. Rivers will host KUA in a Saturday semifinal (4:30 pm).

#3 KUA 3, #6 Exeter 0 -- KUA senior G Sean Dynan had a 20-save shutout and Andranik Armstrong, Jordan Harris and Thomas Samuelsen (ENG) scored for KUA. Exeter sophomore G Ryan Welch (38/40) was the hard-luck loser. KUA travels to Rivers for a semifinal matchup Saturday.

#4 Dexter 4, #5 Milton 1 -- see above.

***
Large School:

-- Valiquette, Green Lead Hoggers
-- Seb's Davenport Wins it in OT
-- Carmichael, Dachille Keep it Going for Brunswick

#1 NMH 2, #8 Nobles 1 -- After Jerry Harding scored at 6:19 of the first to tie the game at 1-1, it took a goal from NMH senior Kyle Valiquette with 2:22 left in regulation for the Hoggers to pull this one out. NMH senior G Eric Green was excellent again, stopping 32 of 33 shots. Nobles senior Matt Lane (19/21) took the loss.

#2 St. Sebastian's 2, #7 Loomis 1 (OT) -- A James Davenport goal, from Liam Connors and Will Kiley at 1:04 of overtime, lifted the Arrows to a hard-fought 2-1 win here today. After a scoreless first period, Loomis junior Reilly Connors drew first blood, scoring midway through the period, Anthony Cipollone assisting. At 6:51 of the third, Seb's sophomore Liam Devlin, from defensemen Jayden Struble and James Davenport, tied it at 1-1 and set up overtime, where Davenport came through with the biggest goal of the season. Sophomore G Drew Commesso (24/25) earned the win; Loomis senior Patrick Pugliese (32/34) took a tough loss. Seb's will host Keller Division rival Thayer -- they just played each other five days ago -- on Saturday at 2:00 pm.

#3 Thayer 6, #6 Trinity-Pawling 0 -- No box score available.

#5 Brunswick 2, #4 Williston 0 -- The only goal that mattered today was Ryan Carmichael's second period tally, from Charles Shaffer and Jack Forrest. Schaffer added an ENG with five seconds left. This was a goalies' game, with Brunswick junior Dan Dachille (25/25) posting the shutout. Williston junior Greg Iverson (33/34) took the hard-luck loss. Brunswick will be at NMH for a Saturday semifinal matchup.


***
Small School:

-- Young, Shea, Fontaine Lead LA Attack
-- Gatcomb Notches Pair in Gunnery Win
-- Uhler, Sayles Come Through for Huskies

#1 Winchendon 5, #8 Vermont 2 -- No box score available.

#2 Gunnery 4, #7 Canterbury 2 -- Gunnery sophomore Mark D'agostino broke a 2-2 tie with what turned out to be the game-winning goal at 14:12 of the second period. Midway through the third, Gunnery's Marc Gatcomb salted it away with his second goal of the game. Senior Jericho Petkovich had a goal and an assist for Canterbury. Gunnery junior JP Mella (25/27) earned the win; Canterbury senior Anthony Cusano (31/35) took the loss. Gunnery will host Lawrence Academy Saturday (1:30 pm).

#3 Lawrence 6, #6 St. Mark's 2 -- Tyler Young (2g, 2a), Neil Shea (1g,3a) and Gunnar Fontaine (1g,2a) led LA's attack. Danny Ciccarello and Nolan Moore scored the St. Mark's goals. LA junior G Ian Graiff (16/18) got the win; St. Mark's senior G CJ McKennitt (39/45) took the loss. LA will travel to Gunnery for a Saturday semifinal.

#4 New Hampton 3, #5 Millbrook 0 -- Lukas Uhler (2g,1a) figured in all three of New Hampton's goals, and Michael Kane (1g,1a) added two points. Junior G Matt Sayles (29/29) came through with the shutout. Millbrook junior G Cam Fernanadez (32/35) took the loss. New Hampton travels to Winchendon on Saturday (4:00 pm).


***
Saturday, March 3, 2018 -- Semifinals Schedule

Elite 8:
1/8 vs. 4/5 -- Dexter @ Salisbury, 3:00 pm
2/7 vs. 3/6 -- KUA @ Rivers, 4:30 pm

Large School:
1/8 vs. 4/5 -- Brunswick @ NMH, 1:00 pm
2/7 vs. 3/6 -- Thayer @ St. Sebastian's, 2:00 pm 1:00 pm

Small School:
1/8 vs. 4/5 -- New Hampton @ Winchendon, 4:00 pm
2/7 vs. 3/6 -- Lawrence @ Gunnery, 1:30 pm
New England Prep Hockey News
Around the Rinks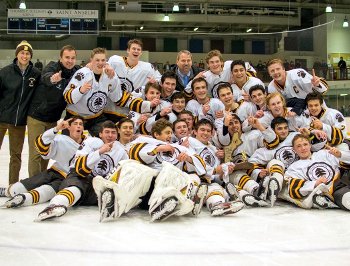 Brunswick celebrates its Large School Championship after a 4-3 OT win over Thayer.